Like the idea of a Kamado ceramic smoker and grill but put off by the price tag, here is how you can make your one with a trip to the garden center.
The amazing Kamado grill makes cooking more efficient and food tastier. The ceramic oven idea is not new. Fired by charcoal, traditional Kamado style ovens have been around for centuries. These are used in the Middle East and the Far East for cooking and baking. Think tandoori oven and the tasty, succulent tandoori chicken.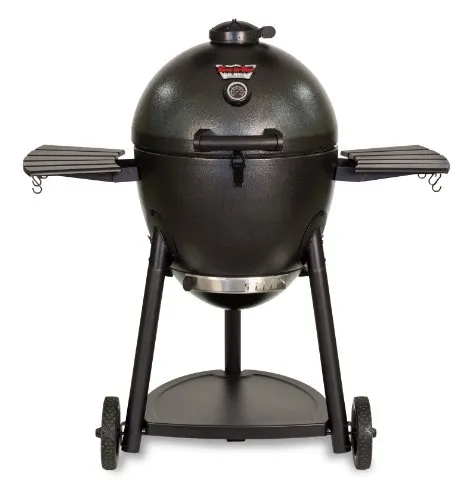 Top 5 of the Best DIY Flower Pot Smoker BBQ as Rated by Viewers
We searched the web for some fine examples of DIY Kamado charcoal smokers that you can put together in your spare time, quickly and at a fraction of the cost of say a commercially available Big Green Egg or Akorn Kamado Grill from Char-Griller (shown above) or Kamado Joe. The list of DIY videos below are arranged by popularity based on views at the time of writing.
From the Cottage Life DIY channel on YouTube, here is a two pot easy to get started design. You will see a similar design below. If you like this design, go through both videos and pick up the best bits from each of them to make your own ultimate flower pot smoker. It's also helpful to get the right size pot that will fit an off the shell barbecue grill or cooking grate like one shown in the video. Another off the shelf item is the charcoal grate that you can use as the base.
[youtube https://www.youtube.com/watch?v=yjV0qlVho6k?rel=0]
The Flowerpot Smoker Galileo is quick to put together but as the handle is just above the top vent, remember to use an oven mitt when removing the top half of the flower pot. The video also demonstrate how effective the smoker is at cooking a slab of meat. We like the thermometer idea. It lets you monitor the heat in the cooking chamber so you can decide if you need to top up with burning coal or close the inlet vents underneath to slow down the fire. Cooking with a digital thermometer is also a smart move as it takes out any guessing work.
[youtube https://www.youtube.com/watch?v=kld3zeQ1C0E?rel=0]
A very convincing egg alternative, given its shape, the smoker has a round bottom terracotta pot for lid and a tall conventional terracotta flower pot for base. The video does not really show you how it is all put together and it uses an electric burner instead of charcoal. Other useful accessories are the barbecue thermometer and hot plate. For other cooking methods, see how to cook a whole turkey the flower pot method where the oven is fired by a gas cooker using a similar big and small flowerpot arrangement, the video shows you how to prepare a whole turkey and cook this in a flowerpot setup without the need for a real oven.
[youtube https://www.youtube.com/watch?v=6hVR0CWmyU4?rel=0]
Step by step video showing a cross between Alton Brown's flower pot smoker and a Kamado BBQ pit design. We like this well thought out design as it uses everyday cooking accessories and cookie tin to build a fire bowl. There is even a colander in there somewhere. Definitely check this out to further amp up your own smoker design. It does make the design of the DIY Kamado style cooker more complicated and we won't recommend this for beginners as you will need to mount three flower pot legs to hold a small weber grill to hold a flower pot base as a heat diffuser and a second bigger barbecue grill above that as cooking grate.
[youtube https://www.youtube.com/watch?v=ONsnlSMkMn4?rel=0]
This is again a finished product so does not offer the steps but gives you a good idea of what you can do with own design. It has what looks like a heat shield inside made from a metal tin. This stops the fire from burning the meat directly. What we like about the design is the dual handle on the lid. Instead of one handle on the top of the lid, which typically is too close the the vent. You can pretty much stop watching from 1.25 as the video pans to the vegetable garden and talks about this.
[youtube https://www.youtube.com/watch?v=F1l70p5l3U0?rel=0]
Now for something a little different, what about a Tandoor Oven. The owner of the video, Ricky show us how to make a tandoor oven using three terracotta flower pots of different sizes. This may be a bit more complicated than the standard ports shown below but it is a different smoker, one that is modeled after the famous cylindrical clay oven used in for cooking and baking. The tandoor is used for cooking in Southern, Central and Western Asia. It is perfect for skewered meat and flat bread but not so much for big chums of meat or whole chicken.
[youtube https://www.youtube.com/watch?v=8Ukb_WoUG2Q?rel=0]
Want something that looks more like the Big Green Egg, what about a smoker complete with a roll away stand made from a custom block table. For the ultimate DIYer, here is the most complete and easily the closest you can get to the Big Green Egg but be prepared for a lot of hard work. This will take hours even days to complete and is definitely not recommended for beginners. The result however, is most rewarding and does everything that the commercial option does without the hefty price tag.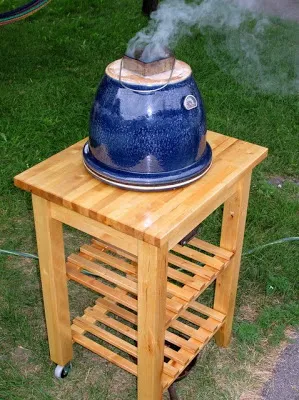 What Next
Check out our attempt at making an improved charcoal smoker from flower pots. Here is our attempt at making our own smoker and grill from flower pots. Make Your Own Improved Charcoal Terra Cotta Smoker