Indoor flower pots and planters do not come cheap. What if you can make them yourself for next to nothing? In fact, these pots and planters came straight out of the recycling bin. Here are some really easy up-cycling projects with plastic bottles to reduce waste and create plenty of pots and planters for any home.
12 Best Flower Pots Ideas from Plastic Bottles
Simply cutting up your milk bottles or carbonated soda drink bottles won't do. Go the extra mile and personalise them with these ideas. Use acrylic paint and colour them in a pastel colour. Use fat markers to add details. Don't forget the plastic top. These screw top caps can double as snout or nose for your very own plant pot. To follow the individual tutorials on how to create these wonderful DIY flower pots, click on the individual images below.
1. Piggy and Feline Flower Pots by Mothers' Union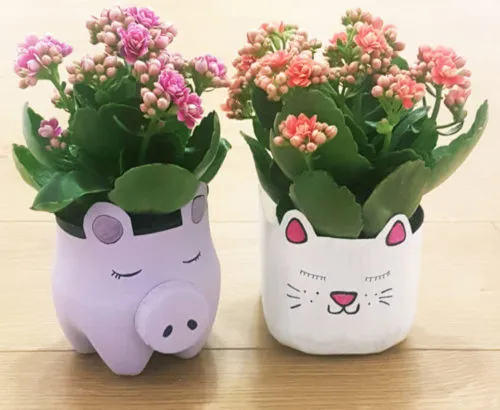 2. Black and White Owls by Amazing Interior Design
In the same vein, these DIY plastic bottle owl vases doubles as candle holders and works well as flower pots too. Ideas by Amazing Interior Design.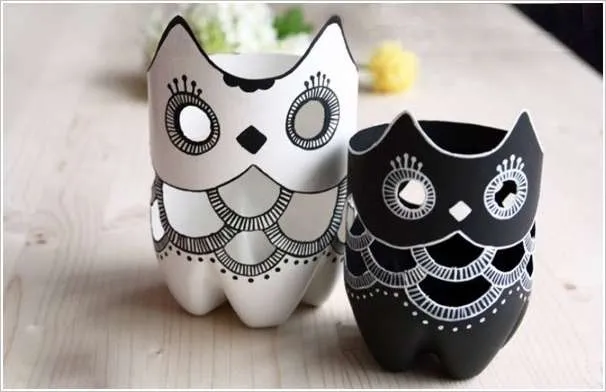 3. Bunny and Bear Posted on Naver.com
Another variation of the same, this time a bunny and a bear. Originally posted on naver.com this has since been re-posted by several other sites.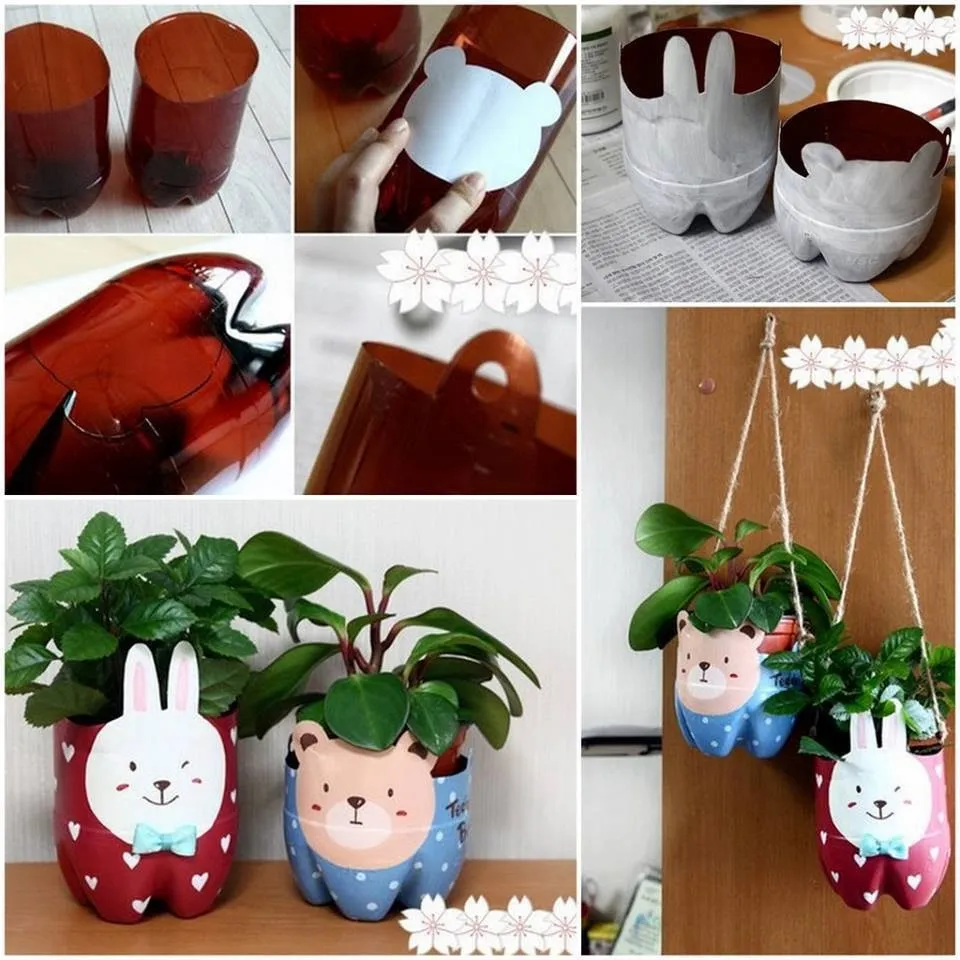 4. Flower Vase and Pot by Bittu Art's n Craft Creations
Bejeweled flower vase and pot with red pompoms made from green Sprite or 7Up bottles by Bittu Art's n Craft Creations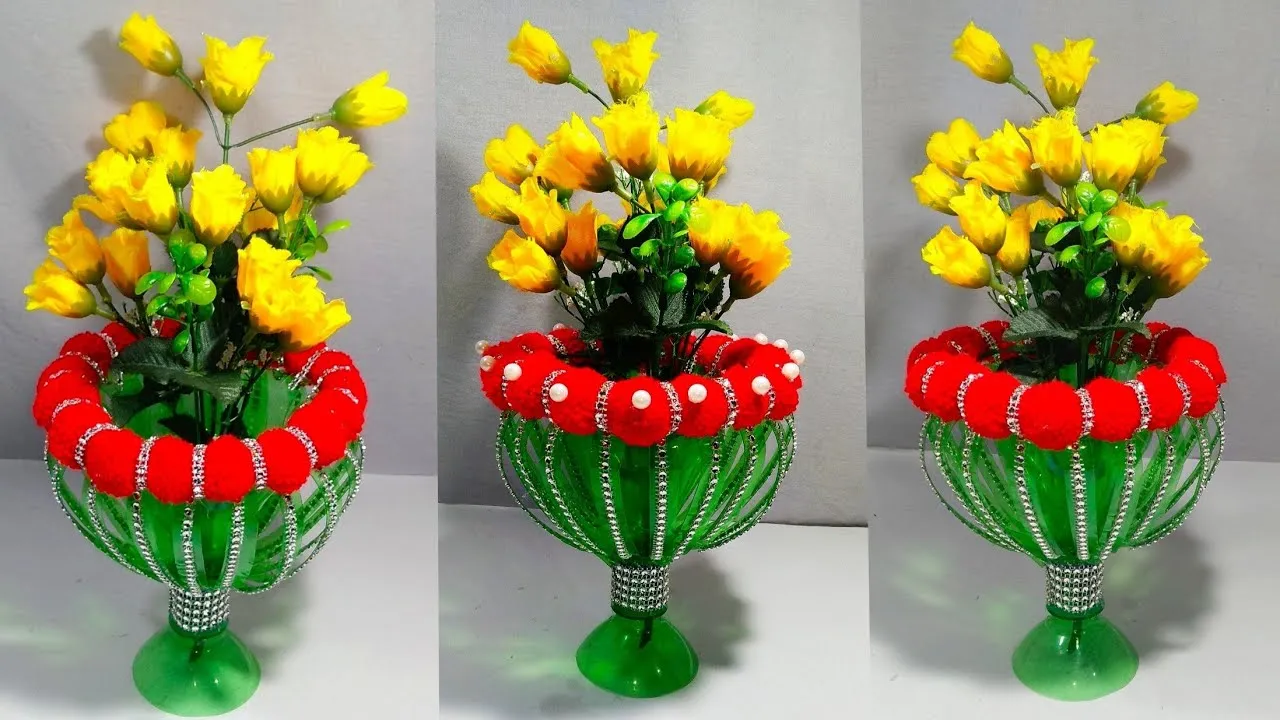 5. Gold and Speckled White Goblets and Pots
We are not sure of the original source of this idea as many people have lay claims to this. It is pretty much self explanatory based on the images. Half a bottle by making a wavy incision and cut around, then use both ends of the plastic bottle. With the screw cap attached, glue to top end to an old CD to make your goblet. Finally, paint it gold or white with specks of black as in the image.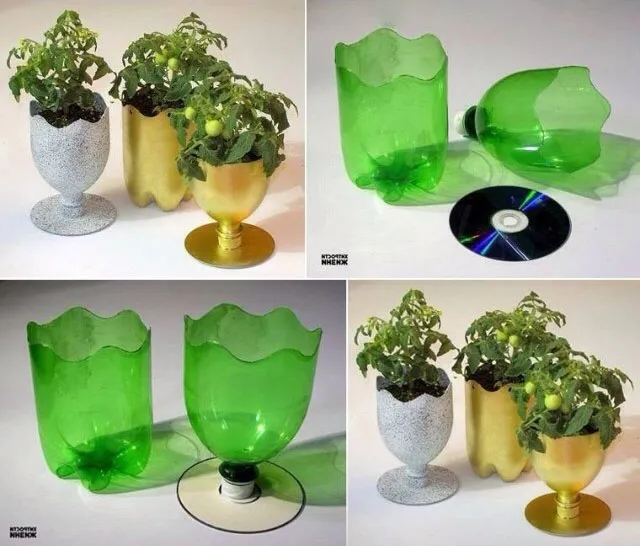 6. Super Simple Recycled Plastic Bottle Planters
If you have googly eyes, big colourful buttons or other stick on craft bits, these will work too, to create your cute little recycled plastic bottle planters. Check out Super Simple by clicking on the image below for step-by-step instructions.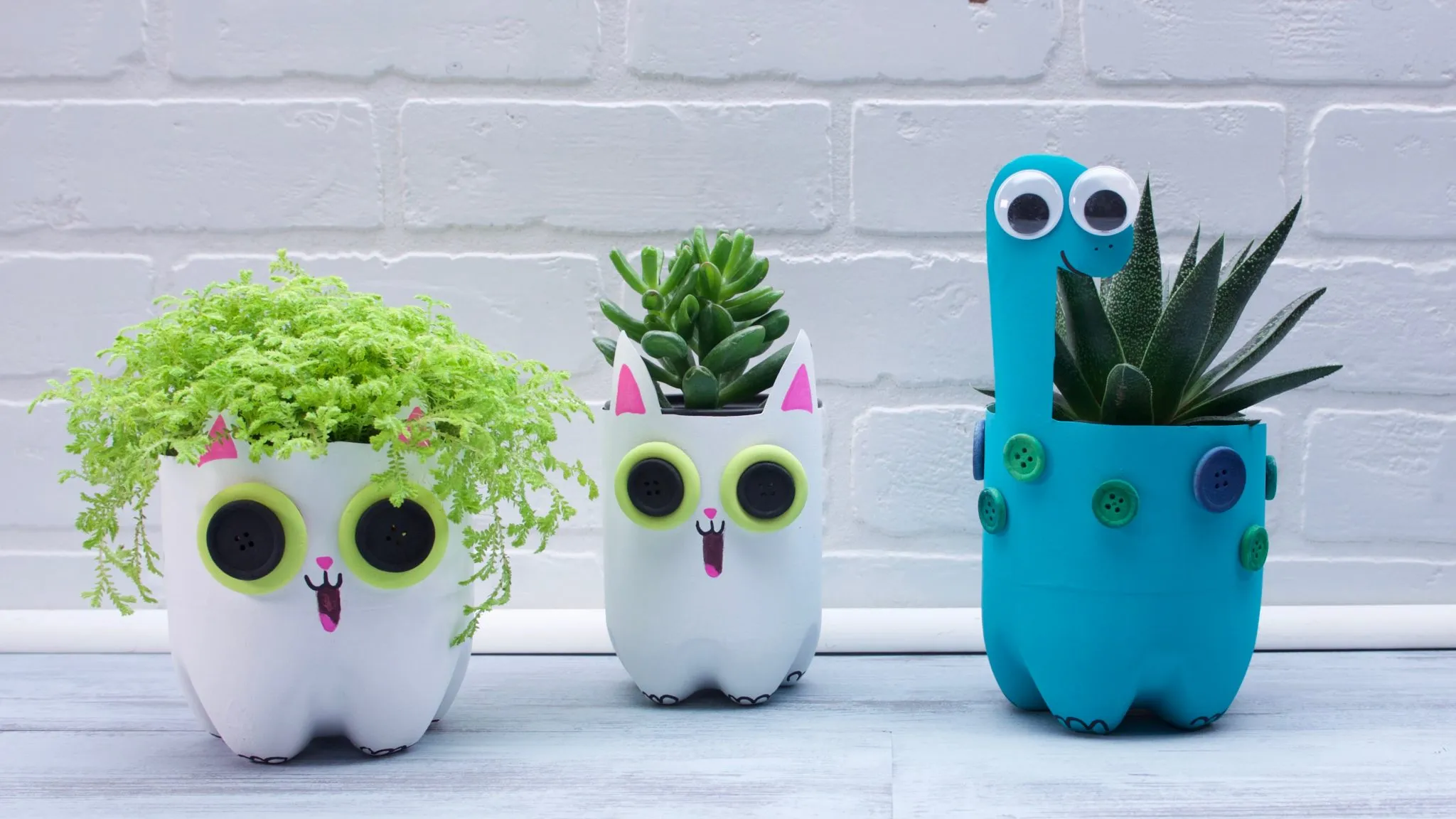 7. How to Make DIY Animal Planters Out of Soda Bottles by Good Housekeeping
Need more inspiring and cute character pots. Check out the video below by Good Housekeeping. Character ideas include mouse, cat and panda.
8. DIY Soda Bottle Planters from Cartoon Network – The Amazing World of Gumball
Next, we have a tutorial video from Cartoon Network with step-by-step guide to create characters from the Amazing World of Gumball.
9. Beautiful Flower Garden Tower from Plastic Bottles
Want something bigger, what about those 5 litre plastic water bottles you have kicking around. Turn them into Tower Gardens by suspending them one under the other. Be sure to use striking colours to make them stand out.
If you need room for more plants, the only way is up. Perfect for small gardens and balconies. A plastic PVC pipe is fed through the bottles and work as a post to hold the different levels apart. The bottom most bottle had plaster of Paris poured in and around the PVC pipe. This doubles both as weight and to keep the center post in the middle.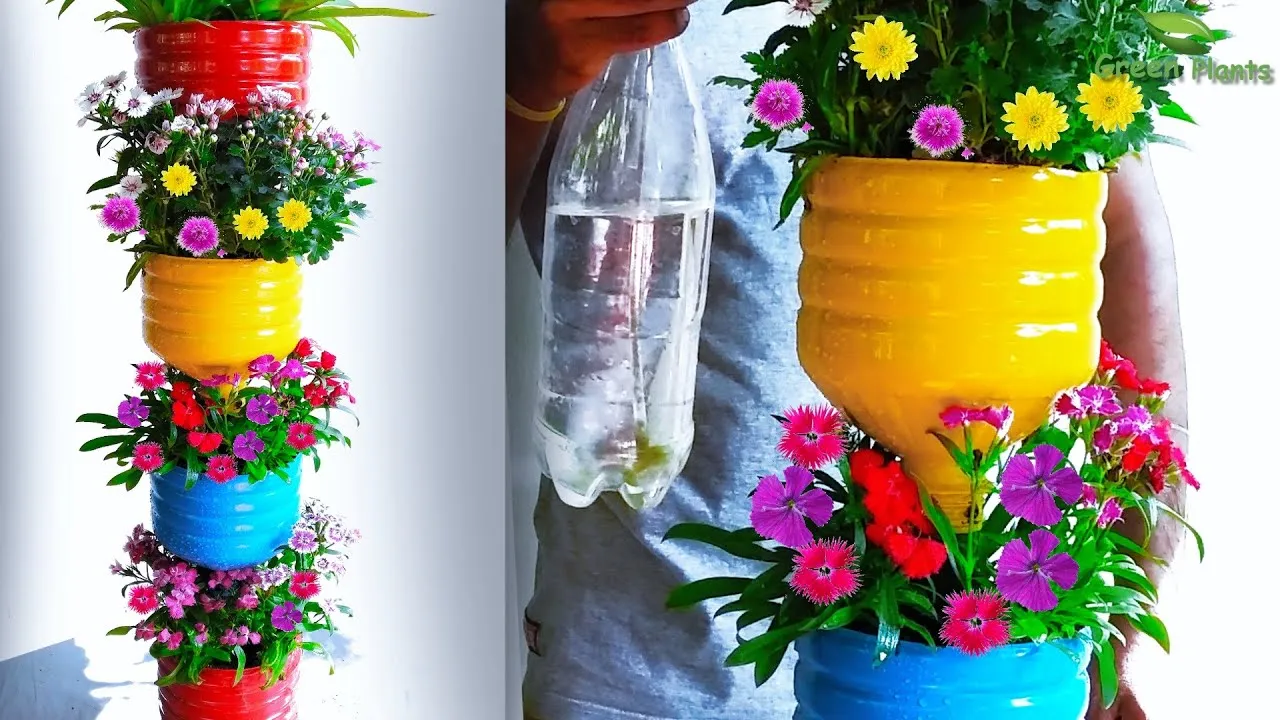 10. DIY Recycled Plastic Bottle Piggy Planters
The steps have been documented by diyways.com but the original video can be seen below. It involves gluing four smaller bottles with screw cap still intact to the side of a big water bottle as trotters. Create a cross section cut-off on the top, leave bits for the ears, cut out the bottom of two small water bottles for the eyes, spray paint, glue the eyes and dot it.
11. Two DIY Plastic Pots You Can Make At Home
Here is a tutorial video by Backyard Crafts that shows you how to turn a plastic soda bottle and a washing detergent bottle into planters. You may need to make sure the detergent bottle stand on its side and does not tip over easily.
12. Vertical Garden – Hanging or Wall Mounted Garden
In this photo you will find three different types of vertical vegetable garden. These can be both indoor, shaded or outdoor. The first uses a series of soda bottles hung upside down and attached top to bottom. The second is a modified PVC pipe hung vertically with holes on one side, not quite the plastic bottles we cover here but there is more. The third is a series of soda bottle hung horizontally, each with a square hole cut off its side for the plants. Together they make for a perfect vertical garden. See photo below for comparison. Click on the photo to access the YouTube video.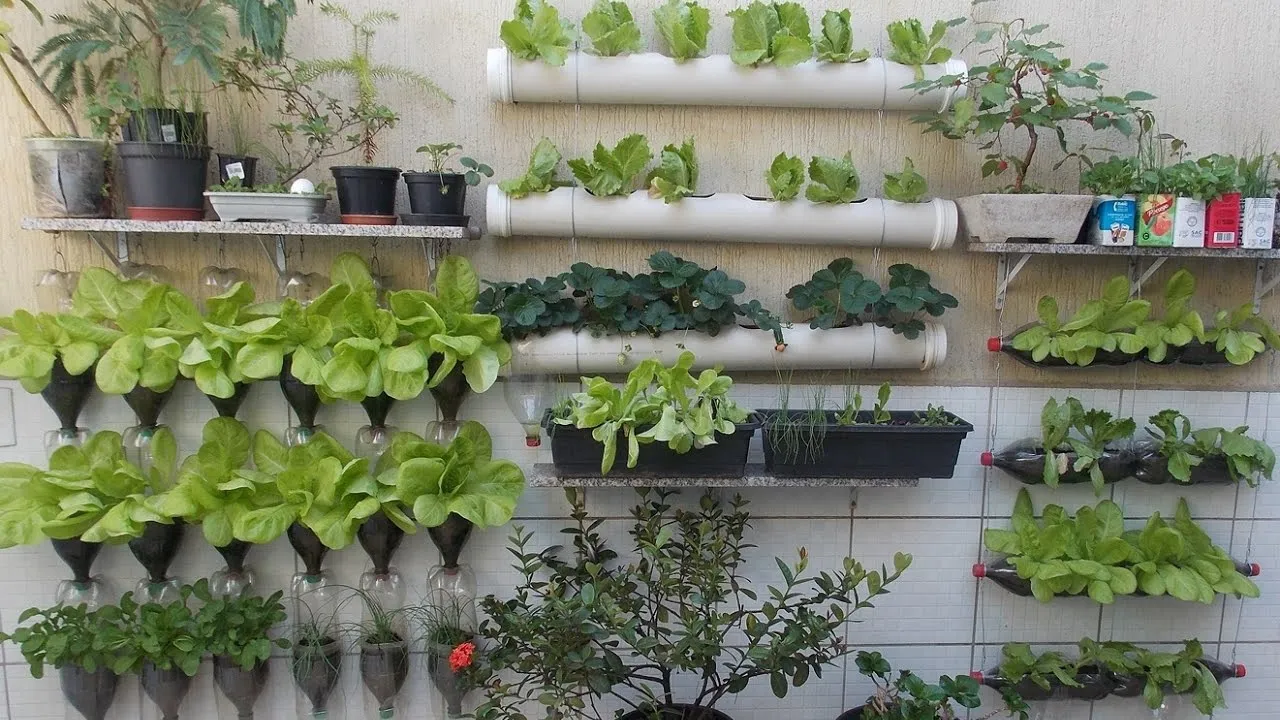 What Else is Out There
We could not quite establish the source of the following designs, but they are great ideas all the same.