We've all been there, when the weather's tremendously bad outside, and the kids have been stuck indoors for far too long. They're bouncing of the walls, getting under your feet and generally need to work off some pent-up energy. You could head out to a jungle gym or indoor play area, but you've got work piling on your desk or dinner to prepare.
They're begging you for screen time, and in your moment of true adult discipline you're holding out, yet just what would the perfect answer be?
Here's the perfect solution – indoor gym and climbing frames.
Climbing frames, trapeze bars, swings, even climbing holds have long been associated with the outdoors, but no longer. Here in this post we want to introduce you to some pretty interesting pieces of equipment, which can be set up easily and safely in your home.
Some like the climbing frames and training wall sets, may require additional space, others like the Gorilla Gym simply need a doorway, while the climbing stones, may just need some imagination.
All indoor climbing rigs and gyms recommended here are for use only under adult supervision but you could work in the same room and keep and eye on them.
Depending on the size of your room or available space, you can choose one of the following space efficient gym kits that mount to the door frame or if space is not a concern, a full-sized floor to ceiling gym kit for the room.

This original article was featured first on our sister site Colour My Learning and has been adapted for our audience here at Colour My Living. We hope you enjoy the article. Feel free to leave your thoughts below and share our articles on social media
Indoor Swing, Plastic Rings, Trapeze Bar, Climbing Ladder, and Swinging Rope
The Gorilla gym is the perfect solution for indoor activities with the proviso that your door frames are the conventional sort (63 to 92 cm or 25 to 36 inches opening). The kit consists of a variety of activities – indoor swing, gymnastic rings, trapeze bar, climbing ladder and singing rope.
With no screws, no holes to drill or nails to hammer this activity kit is both easy to install and portable. You will however need to follow the fitting instructions closely and only install on a door frame with trim. Both the top hanger and side grips are important to secure the bracket to the door frame.
You door trim must stick out with a minimum of 0.6cm depth and the doorway must have an opening of between 25-inch to 36-inch. You will also need room around the door, enough clearance for the steel bar. The minimum width around the door must be 39-inch or 99cm. Fitted correctly, it can hold up to 135kg in weight, so even adults may have a go, although the recommended ages are 3 to 10.
Great for homes with limited space, multiple attachments offers hours of fun on various activities.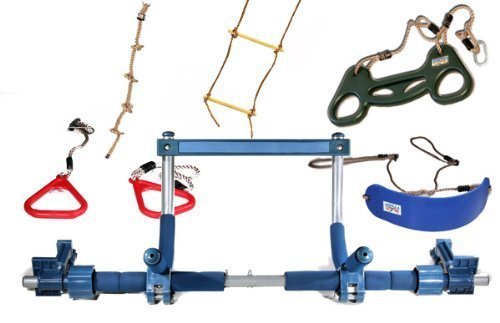 Key Features:
Requirements: Door frames width 63-92 cm
Load capacity: 135kg
The Gorilla Gym Kids indoor set is also available as Gym1 Deluxe Indoor Playground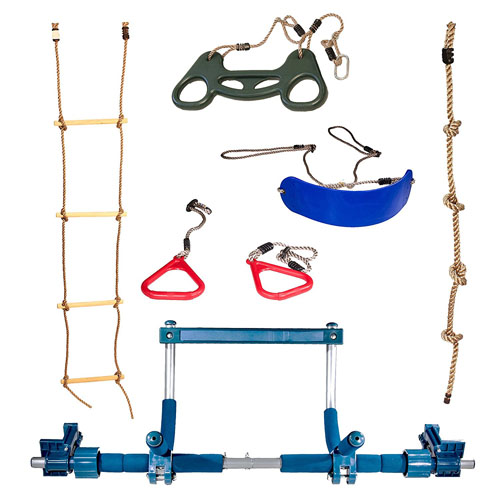 Trapeze Bar and Gymnastic Rings Combo for Doorway Gym
Similar to the Gorilla Gym Kids indoor gym except the DreamGYM model comes with fixed fittings for the support bar. The support on either ends of the steel bar is screwed permanently to the door frame. The steel bar itself is adjustable to fit door frames from 24-inches to 36-inches width.
The steel bar can be removed and stored away when not in use or when you need the extra headroom to move things through the door. It may not have as many accessories as the earlier example but it does come with a trapeze bar and gymnastic rings combo. The steel bar itself doubles as a pull bar for bigger children.
With the hexagonal fitting on either ends of the steel bar, there is no change of the steel bar spinning or becoming lose during use for added peace of mind. The doorway gym is an easy, low cost and space efficient way to add an indoor gym to any home. It will also get the kids off their screens and get the much needed workout especially during the winter months.
Solid removable steel bar with fixed holders for stability and support. Not as many attachment options but enough to keep kids happy.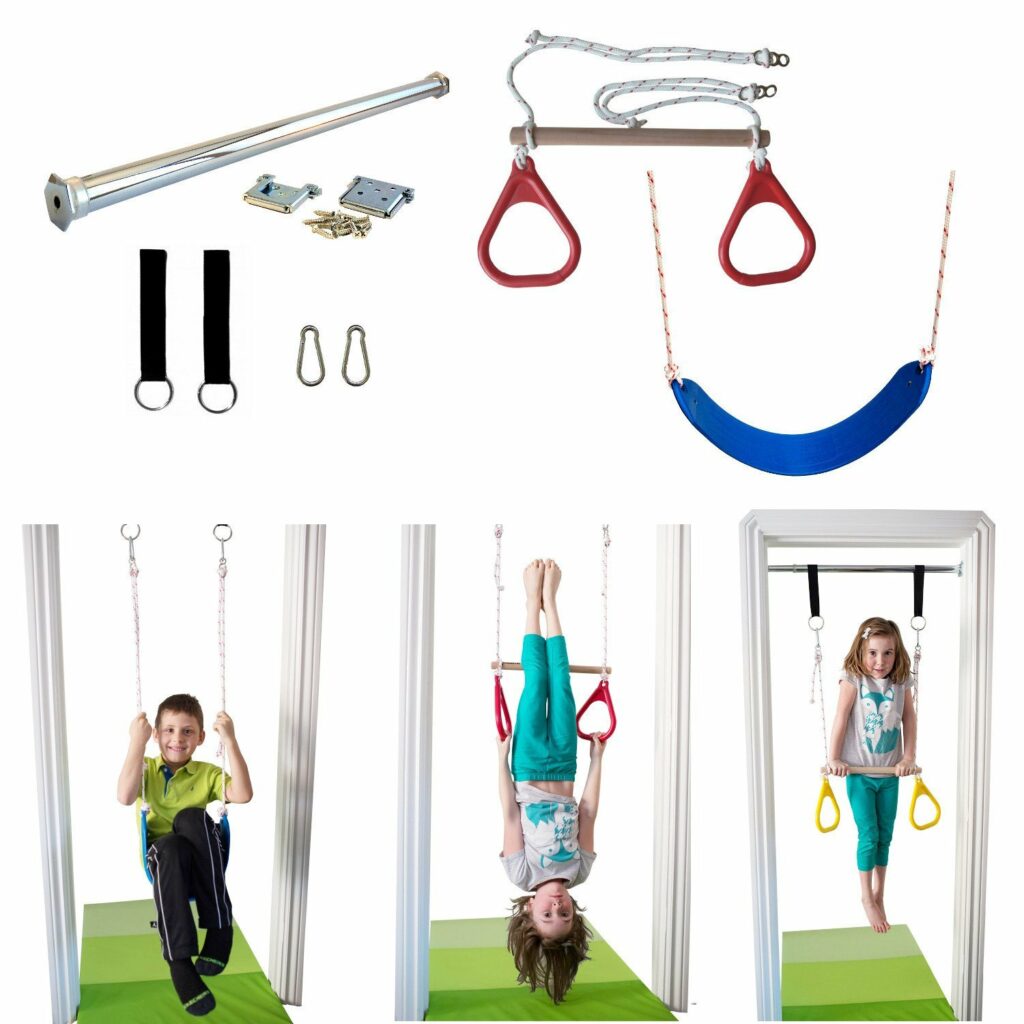 Key features:
Requirements: fits door frames 24-inch to 36-inch width
Load capacity: 200lbs (90 kg)
Indoor Kids Playground Set for Home Exercise, Sports, Fitness and Training Wall Bars with Wood Rungs & Pull Up Bar incl. Gymnastic Rings, Climbing Rope, Climbing Net and Trapeze Rope.
Perhaps more suited to a dedicated play room the NiroSport FitTop Indoor Training Gym is certainly an impressive combination of a variety of activities incorporating wood rungs, a pull-up bar, gymnastic rings, a climbing rope and net and even a trapeze rope.
Assembly is relatively straightforward, without the need for drills, hammers or nails. It does require a room height ranging from 2 to 2.9 m (95 to 114 inches) depending on your chosen model. You will need to specify this at the point of purchase so be on the looking for the room height options.
This is a complete indoor climbing frame suitable not only for use at home but in schools, nurseries and gymnasiums. Once fitted, it will have a load capacity of 130 kg (286lbs).
You will need plenty of space and probably the height to accommodate this rig but it will be worth it. Big enough for a small group of kids with hours of fun, the NiroSport is the most complete indoor gym on our list.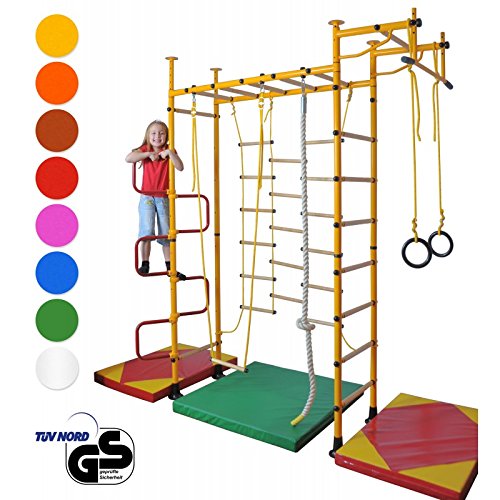 Key features:
Requirements: room height ranging from 2 to 2.9 m (95 to 114 inches)
Load capacity: 130kg
Gymnastic Sport Complex for Childrens that includes a Wall Bars, Gym, Rope Swing, Rope Ladder, Horizontal Bar, Slide and Rings.
If an all steel construction is not to your taste, the Swedish Ladder would be your choice as a children's home gym. The structure is made from high quality beech wood with the vertical guides made from pine wood. It has a total of 10 cross bars and all wooden parts are varnished and polished for a smooth finish.
The ladder will need a clear wall with the main wall bars fixed to the wall and a height clearance of 220cm. The wooden frame measures 80cm width and the top bars will overhang at 65cm deep.
This generous gym kit comes with horizontal bars all across the main frames, ropes, rings, rope swing, rope ladder and detachable horizontal bar as well as a slide. The unit comes flat packed so assembly will be required with all fixings and fittings in the box including wall mounting set.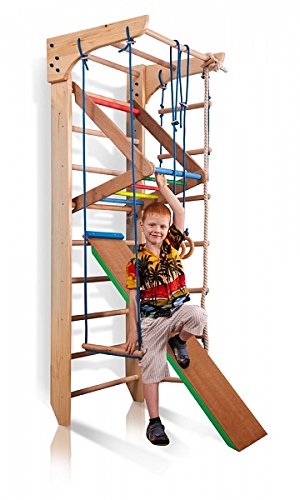 All wooden construction makes this a friendlier and more approachable climbing frame. Different attachment, movable horizontal bar and slide offers more play options and adaptable to different kids of different ages.
Key features:
Requirements: assembly required. Mounts to wall so will need a free wall and space around it.
Load capacity: 130 kg, 2 years old to adults. Removable bars has a load capacity of up to 100 kg.
Christopeit Hercules Indoor playing and climbing frame is a wall-mounted climbing and gym frame designed for indoor use. It comes with wall bars, gym wall, rope ladder and height adjustable horizontal bar. You also get a climbing rope and gymnastics rings for more advanced chidren.
The climbing frame is suitable for children over 3 years old and has a load capacity of up to 100 kg. The horizontal bar measures 84cm while the step intervals are 26cm high. Please note that your ceiling height must be at least 210 cm tall to fit this climbing frame.
The Christopeit Hercules is an all-steel climbing frame that needs to be wall mounted. While it has many attachments and options, it doesn't take up much floor space and can sit at the end of the room.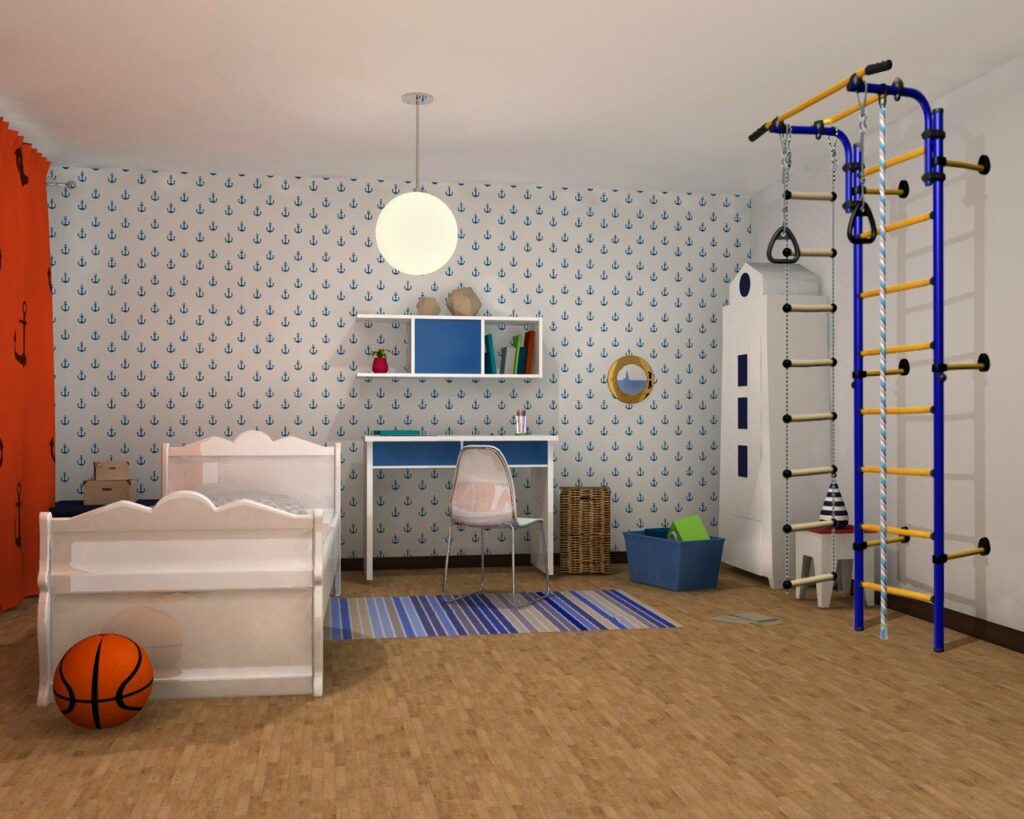 Key Features:
Max User Weight: 100 Kg, Product Dimensions: Length 84 cm, Width: 86 cm, Height 210 – 227 cm
Zimmer Height the system is designed to work in a room height of at least 210 cm
Horizontal Bar Width: 84 cm, Width of conductors: 49 cm, step interval: 26 cm
This mega pack has 10 heavy duty climbing foot holds for tree house/climbing frame
If your kids love wall climbing, these coloured climbing stones will be perfect. You will however need to find a suitably strong frame and thick board on which to mount these. You will also need to find the suitable layout design for your kids. Depending on their age and height, these climbing hand and foot holds can be placed in any way you like.
The climbing stones are made from durable and solid poly-resin measuring approximately 80 to 90 mm in width. You will find that these are not only great for indoor on a climbing frame but works just as well outdoor for access to three house or on other wooden play equipments.
These stones allow your child to learn and improve on their co-ordination and problem solving skills as they move up the stones and towards to top of the climbing frame. As they are designed for both indoor and outdoor uses, they come with galvanised and rust proof fixings and fasteners.
A pack of 10 is enough to fill a board of approximately 1m by 2m in size so if you are working on a bigger climbing frame, simply scale up and buy multiples of the 10 pack. Be sure to use a think board and a strong frame for better support. You get a choice of colours to choose from with different combinations of red, green, blue and yellow.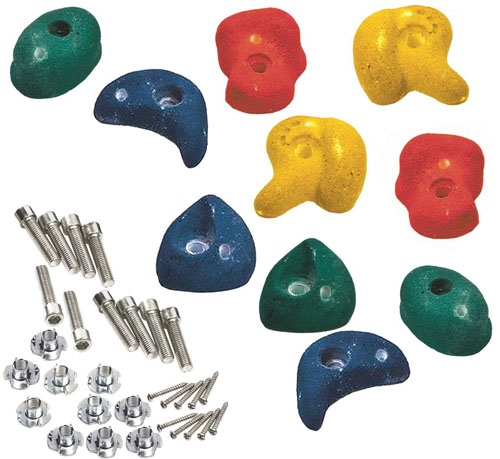 Start by looking at some of the climbing boards in the play grounds to help map out the climbing stones on your own custom climbing wall. For a more challenging climb, space the stones out further.