After watching The Gentlemen by Guy Ritchie, I started looking up tables with BBQ grill built-in on the web for inspiration. I am talking about the scene with Hugh Grant and Raymond Smith in the garden patio. There was a rectangular dining table with a full length grill and chimney in the middle. It got every grill master talking.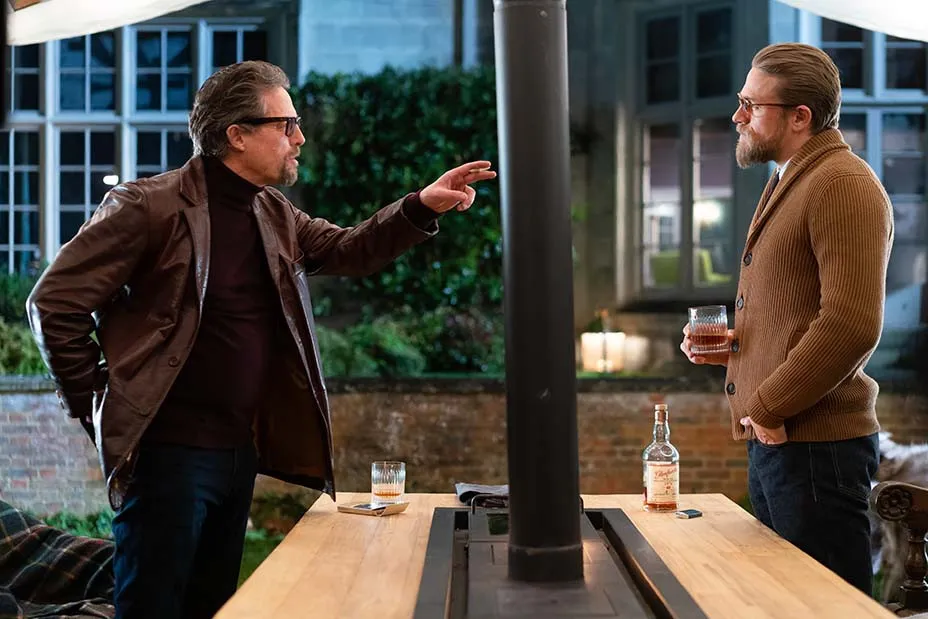 So here I am with my quest to find the best DIY barbecue dining table, or inspirations for one.
1. DIY Barbecue Table by Make it Extreme
Perhaps one of the more complex DIY Barbecue Table is one by Make It Extreme featured on Instructables. The big table sits 10 comfortably and 12 at a push. The custom-built grill sits in the middle of the table just like the one we see in "The Gentlemen" minus the chimney. There is plenty of surface on the table for plates, glasses and cutlery and food all around. For its construction, the table is made using a metal frame with an all metal barbecue fire pit. The table top is made from marine plywood. Overall, the table measures 250cm width and 120cm depth.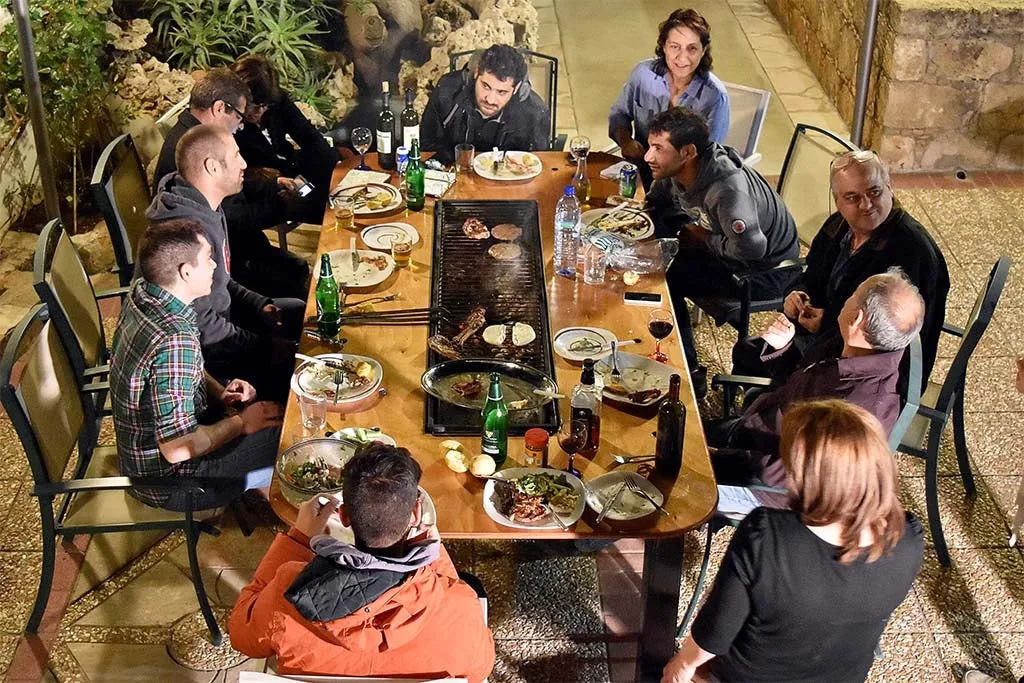 Watch the Video Here
---
2. Grill/Fire Pit Table made out of repurposed pallet
1001pallets.com features a grill table made from repurposed pallet. The legs aren't tall enough, but it can certainly be increased to table height. It also uses a small round kettle BBQ, which again is affordable and easy to get your hands on. If you can find a decent pallet for this project, some big and study fence posts for table legs and your choice of outdoor paint, this is an easy and quick project to build. Plus, it is easily the most affordable DIY BBQ Table.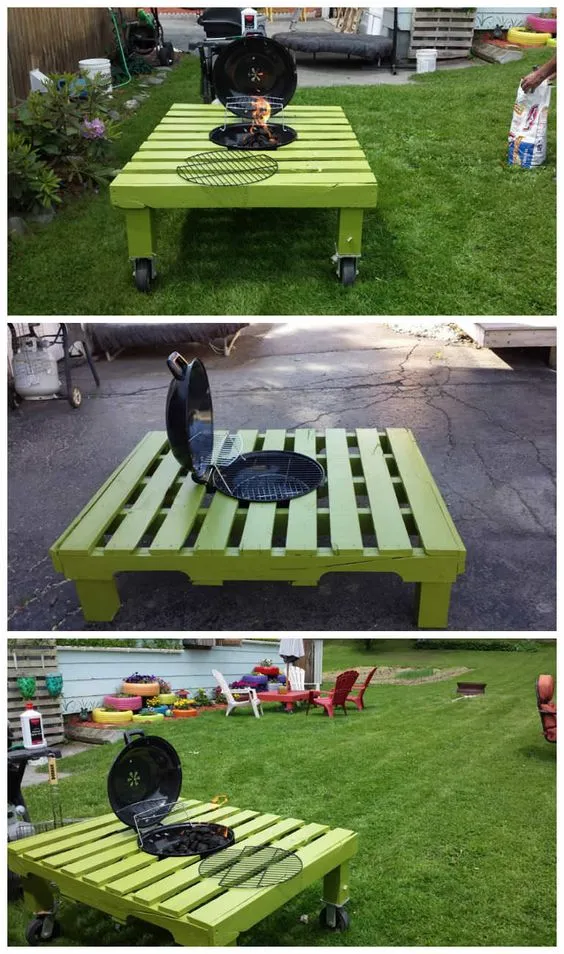 Search Kettle BBQ Grill on Amazon
---
3. How to Build a Fire Table by Mark Petersen
Next, we have an outdoor fire table by Mark Petersen (published on familyhandyman.com). The DIY table with gas fire pit is built to be tough and to withstand the elements to live outdoor 24/7. The build incorporates an off-the-shelf propane fire pit. This is perhaps where one needs to start.
Choosing and ordering the firepit, then design the table around it. The post includes step-by-step instructions on building the table frame and table top. The latter is made from concrete, poured into a custom melamine mould with a hole in the middle for the propane fire pit. There is built-in storage under the table for a propane tank with controls mounted on the table's side panel.
For our purpose, replace the propane fire pit with a wide and narrow gas fired grill. Again, get this first before designing the BBQ dining table around it.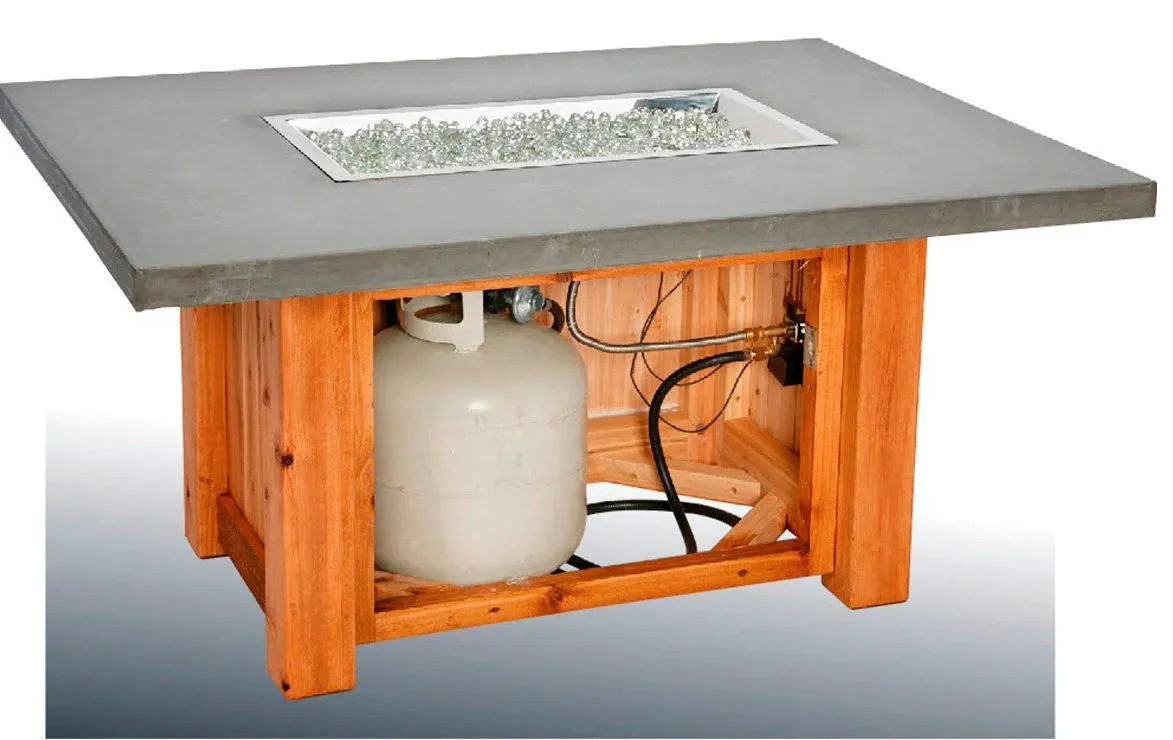 ---
4. DIY Table with Cooking Plate! – Scaffold Board Furniture
From the Brothers Make channel on YouTube comes this next entry, a DIY Table with Cooking Plate. The video is very easy to follow, and it is inspiring to see how the brothers got along to make a pretty decent dining table. Everything fits well and glued with wooden dowel to hold them together, including the table top which is made from scaffold boards. If nothing, this is a great DIY video for a pretty sturdy dining table.
Next, for the grill, the brothers used an off-the-shelf electric grill plate with non-stick surface. The handles were removed and a hole big enough to embed the hot plate flat on the tabletop was cut. Aluminium angles were used to create a box that will carry the hot plate.The depth of one of the side of the aluminium angle is as big as the height of the grill plate. The result, a nice and flush hot plate that sits inside the box attached to the table. To protect the diners, you can install an insulating heat guard made from plywood around the aluminium angles.
Watch the Video Here
---
5. Making Picnic Tables with Built-in Grills
Again, from another YouTube channel, this time from I Like To Make Stuff comes this DIY picnic table with a twist. It has a couple of small grills built-in. You can visit the website to download the building plan to for a small fee and start building your own picnic table. The grills may be small but with instant fire from the propane burners, it is both quick and clean. It is also safe for the wooden table surface. No scorched marks on the table from firewood or charcoal sparks.
Now, in order to insulate the heat and fire from the grill from getting to the table, bricks are used to enclose it. There fire has no direct contact with any wooden parts. Back to the gas fired grill, these are made from replacement grill burners, gas lines with nozzles made from camping stoves, push button ignitor and small camping fuel bottles. If that is too much for you, consider a small propane BBQ gas grill. Either way start with the grill and build your table around it.
Watch the Video Here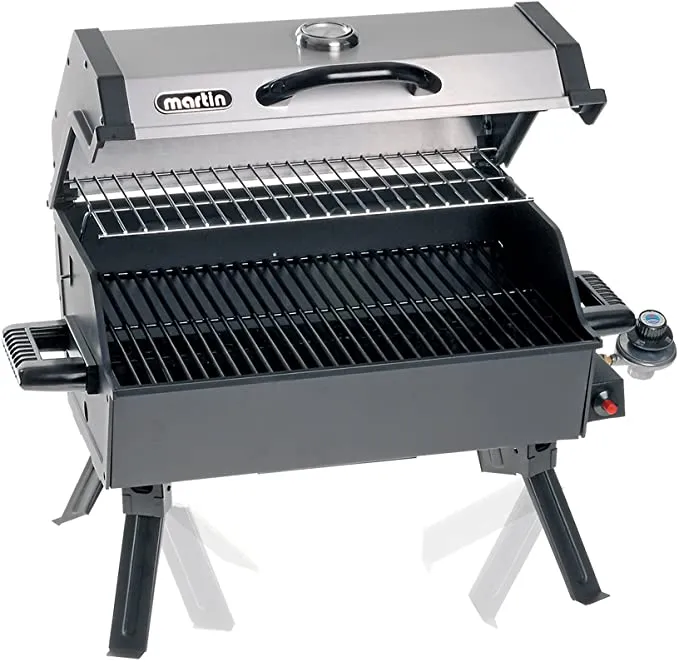 Search Propane BBQ Grill on Amazon
---
6. Korean BBQ Table Installation
Ever been to a Korean BBQ restaurant and thought how it would be nice to have one of those BBQ equipped table at home. You can buy the round charcoal grill and install it onto any wooden table. If you haven't got one, an outdoor patio table from your local garden center or DIY store would work just as well, saving you time and effort building a table from scratch.
However, we would still consider reinforcing and insulating the table to support the grill. Cutting a round hole to fit the BBQ bowl may be a little tricky, but not impossible with a jigsaw. The video only lasts for less than two minutes, so this can easily be the quickest DIY BBQ table to install.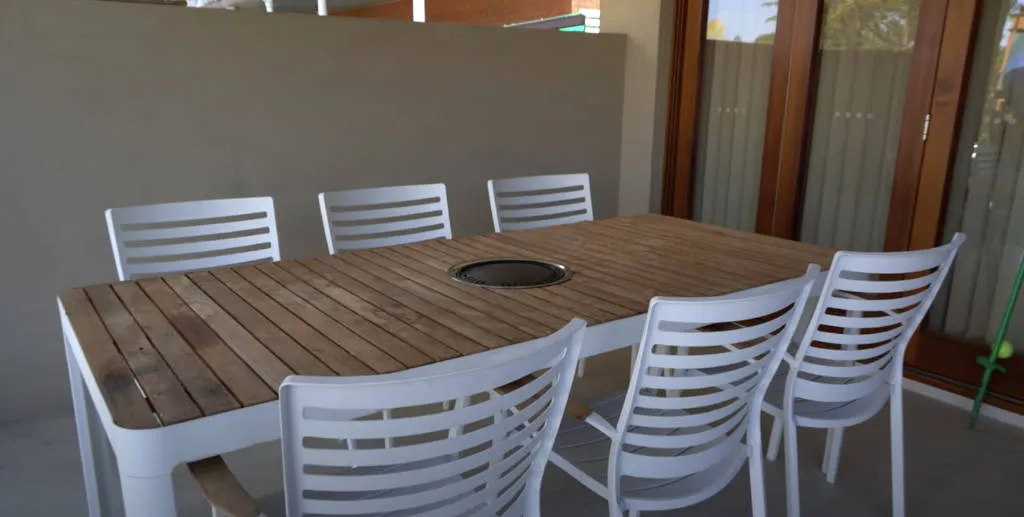 Watch the Video Here
Search Korean BBQ Grill on Amazon
---
7. Weber Charcoal Hanging Grill Table
Now if a Korean round Charcoal grill is not big enough, what about a full size kettle BBQ from Weber. This next grill table project is also a retrofit grill using a full size wooden dining table. A great giant hole is cut off-center but you can always place the weber charcoal grill in the middle. The grill measures 22.5-inch and the hole is just big enough for the lower half to sit in it with the lip clinging on the tabletop.
For insulation, a series of screws were used to create a gap between the grill and the wood, not the most elegant but it works to protect the table. A handy U-bolt is attached to the side of the table to function as a holder for the lid. Dave Erickson, the builder, also reinforced the table, added paper towel holder and locking swivel castors to complete the build.
Watch the Video Here
Search Weber BBQ Grill on Amazon
---
8. Hexagonal 6-Seater Dining Table with Grill from JAG Grill
Okay, so this is not quite a DIY build, but inspiring all the same. While it only sits six people, the round table barbecue is the biggest on our list. That is because it comes with a hexagonal grill in the middle with the option to stack an elevated grill in the middle. Each guest will have their own grill to cook their own food.
But that is not all, there is ample table surface for their plates and cutleries too. It is even big enough to accommodate up to 8 people comfortably. The ready-made table does not come cheap and can be taken apart quickly for transportation and storage. If you are going the whole hog in your design for a really amazing DIY barbecue dining table, this is an option you do not want to miss.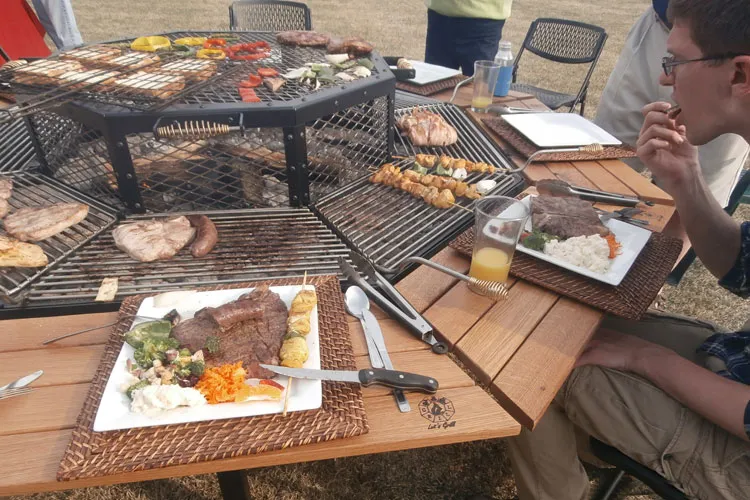 Watch the Video Here
---
Need More Inspiration
We leave you with what is dubbed the world's most beautiful dining table with three independently fired gas barbecue grills built-in from iBBQ. We have seen this table on several sites including a feature on forbes.com. The table design has a modern contemporary feel with the right amount of wood and stainless steel. It even comes with built-in electronic flame ignition with keyed safety lockout switch and programmable RGB colour LED. Perfect for entertaining. Now, if you are going to build your own, what is better way to start than to 'borrow' ideas, get inspiration and ideas from.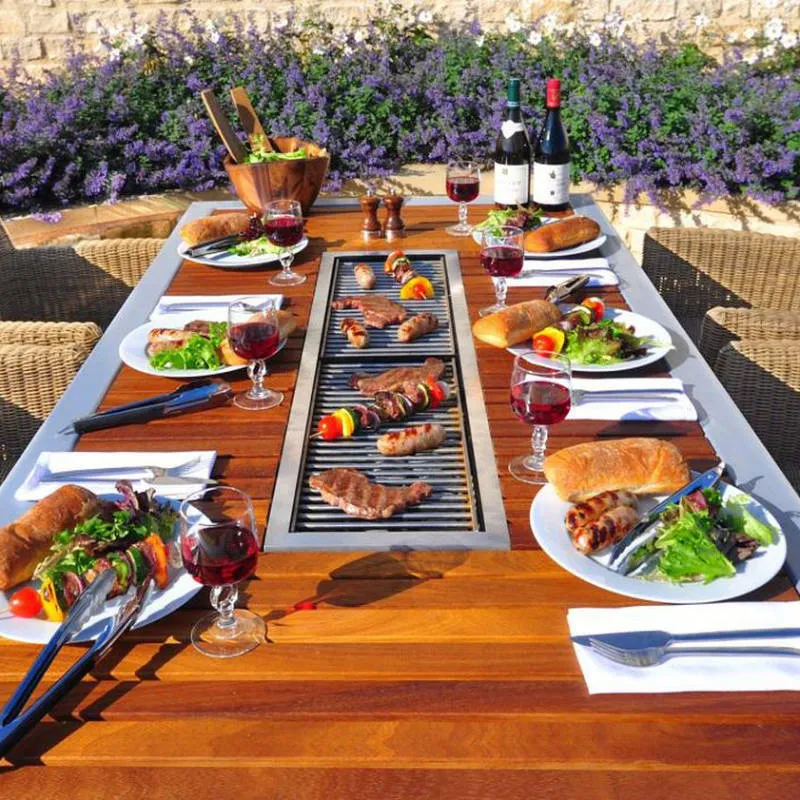 Watch the Video Here
Got a Barbecue Dining Table or similar DIY project to share with us, leave your comment below.