Is the slouchy beanie still fashionable these days? I'm not exactly sure, but I certainly like the laid-back, 'couldn't care less' appeal of it's style, add that to my often crazy wind-blown hair, it's a perfect combination.
Confession:
I am not a crafter, nor do I particularly enjoy sewing or making stuff.
Now that that's out the way, I must admit to having at some point in my childhood trying my hand at crocheting – oh you know, those simple, simple (did I say simple) projects that could be finished in a couple of hours – and headband, a book mark, a pencil case, those kinds of projects. That was about as long as my attention span on a project would last.
That said, I have been after a nice warm woolly hat, and nothing available in the shops quite appealed so I had a casual look to see how difficult it might be to make my own slouchy beanie, yes, pick up the crochet needle!
And you know what, I was so pleasantly surprised! Although not always a beginner project, a slouchy beanie was exactly the kind of hat I wanted and bonus points, it would only take at most a couple of hours to finish. Having said that, let it be known that it would take an expert crocheter a couple of hours, which meant if I doubled or even tripled the time, I could have a beanie for myself by the end of the day! Hooray!
6 Easy Beginner Crochet Tutorials for a Slouchy Beanie
So I had a good look at an almost never-ending list of available options and I narrowed down the choices to just these six that I wanted to try and have a go at making. Some are obviously slightly more difficult that others, some are more slouchy, some use really heavy weight wool but generally all of them can be finished in a fairly short amount of time, mostly with basic stitches and best of all, if you're not sure about anything, most of them have a video tutorial too, and if not, then they do direct you to a decent video tutorial for the more advanced stitches.
So here we go. Here are my favourite six, exceedingly easy, slouchy beanie projects. If you do decide to make one, do let me know which one and why you chose it.
To get you started, you'll need a pair of scissors, wool and crochet hooks. The optional bits are crochet needles, and maybe even pom pom makers.
Mama in a Stitch's Beanie consists really of crocheting a simple tube and then ultimately tying the top of the hat together gathered with a woven thread through the top.
My favourite bit is the fact that you don't need to count stitches or keep an eye on how many circles or rounds you're making. Essentially all you need to do is to crochet right up to 9 or 10 inches tall, finish it up and then simply weave the same thread through the top and pull it all together to complete a fantastic laid back beanie.
The hat is made with the granite or moss stitch which is not exactly the most basic of stitches, but the video tutorial, makes it relatively easy to follow.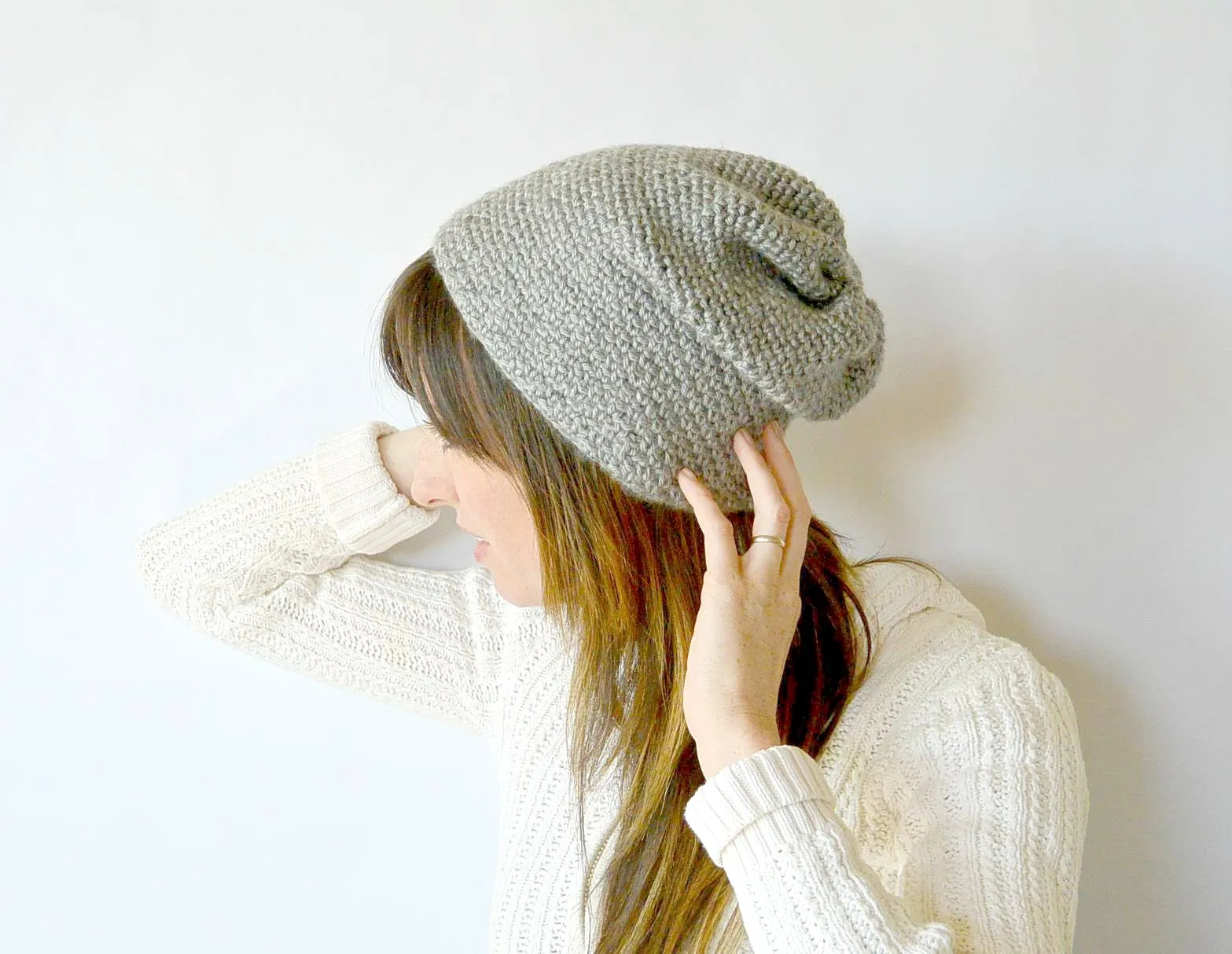 ---
This simple slouchy crochet hat is only slightly slouchy so if you're looking for something terribly lazy and laid back then this isn't quite it. However it made my list based on the fact that it is pretty simple based on the slip stitch, single and double crochet.
It does start with a magic loop, which isn't too difficult to follow, but after that it becomes fairly straightforward and repetitive. The banding at the bottom is enhanced by a very simple, but extremely professional looking ribbon.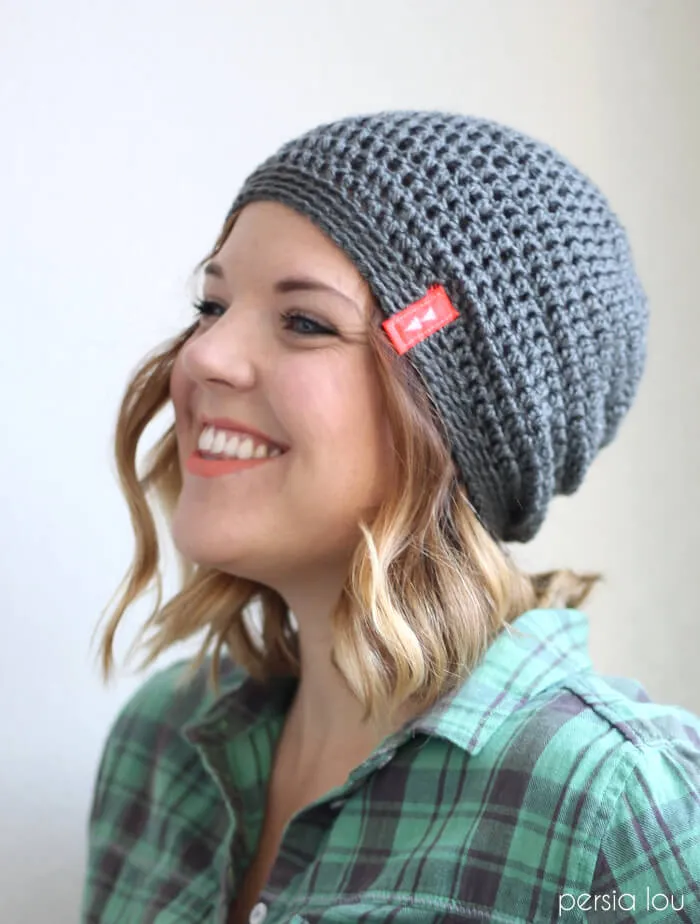 ---
This 30-minute beginner slouchy hat might take a bit longer that 30 minutes for the true beginner but it's certainly a great place to start given that it uses basic stitches and the fact that it's fairly 'holey' makes it a quicker project to complete.
Although not exceedingly slouchy, there is a slight give on the hat and the fact that the stitches are large and artistic, gives it a nice laid-back feel. There's even a youtube tutorial to help with getting started.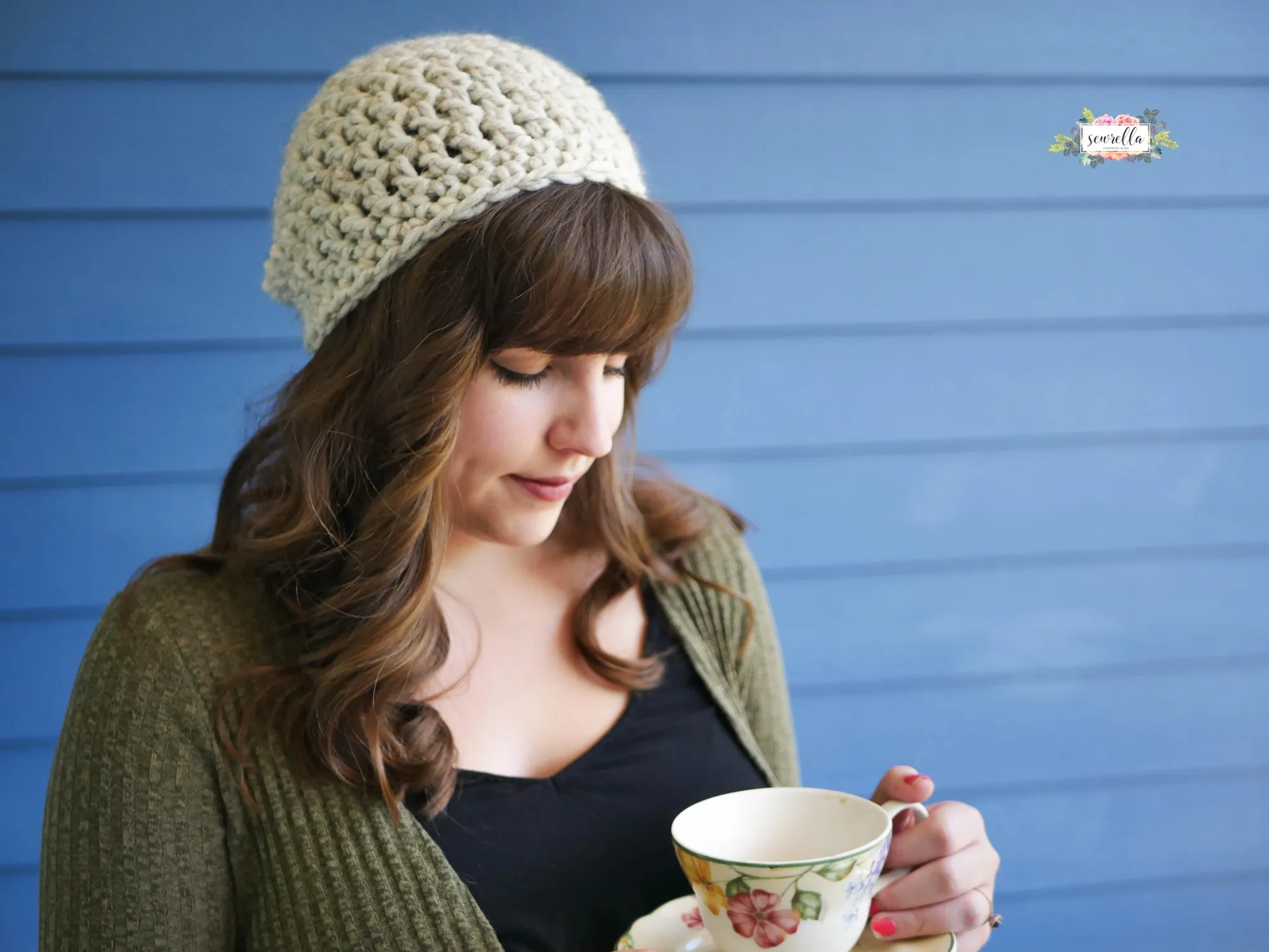 ---
This gorgeous beanie starts from bottom up, making up a first band that serves as the base of the beanie. You can somewhat vary it's length to snugly fit your own hat size. Breann recommends measuring it around your head before sewing the ends of the band together to make the first row.
Following on from that the pattern is fairly straight-forward with single crochet, double crochet and single back loops.
The top end of the hat is woven closed with the thread interwoven through the final row and then pulled to cinch the top together.
There's no video but there are some very clear photographs to help you make sure you're on the right track.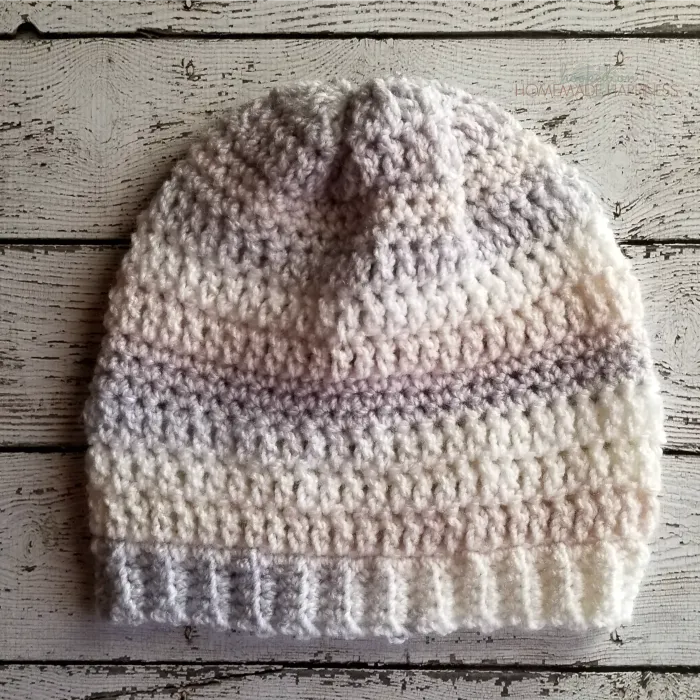 ---
This pretty slouchy beanie also starts at the brim, which begins with a nice ribbed pattern that is repeated through the hat. Once you've crocheted the brim and measured it to fit, the hat is then followed on with a variety of stitches including chain stitches, single crochet, half double crochet, double crochet, the front post double crochet and front loop.
This pattern with its variety in design makes a very attractive hat, although the stitches do at first, appear to be slightly more complicated to the beginner.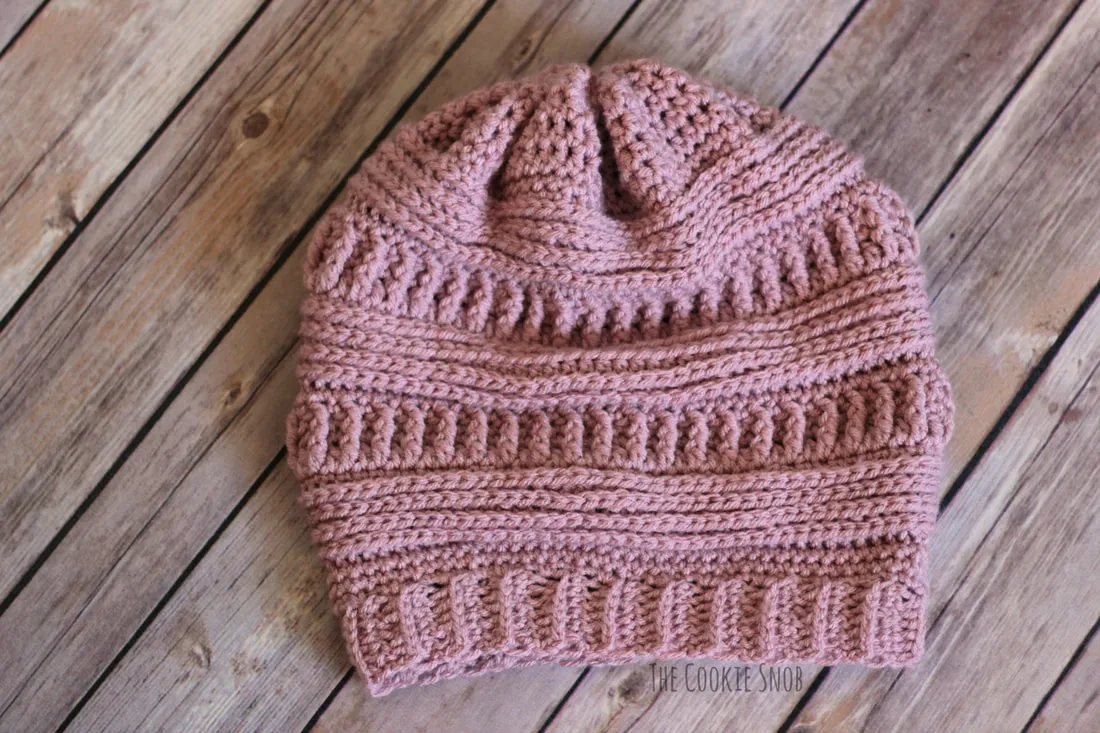 ---
This is my personal favourite on this list of slouchy beanies. I'm not sure if it's the fine stitches in contrast with the rather laid back feel of the slouch that gives it a slightly grown up yet relaxed look, or the very clever repeating pattern and plain down-to-earth colour that just makes it so appealing.
This beanie starts with a magic circle, so in essence starts at the top end of the hat. A magic circle is not too hard to get the hang off with a a bit of practise (see below for more tips). It usually does give a much smoother end (or beginning) to the hat.
This project although easy, does require a special stitch, the herringbone half double crochet, which is described in detail and does have a linked video.
Once you start off the magic circle, the crocheting simply goes on and on in a circular fashion with an increasing number of stitches until you get to the body and the brim of the hat.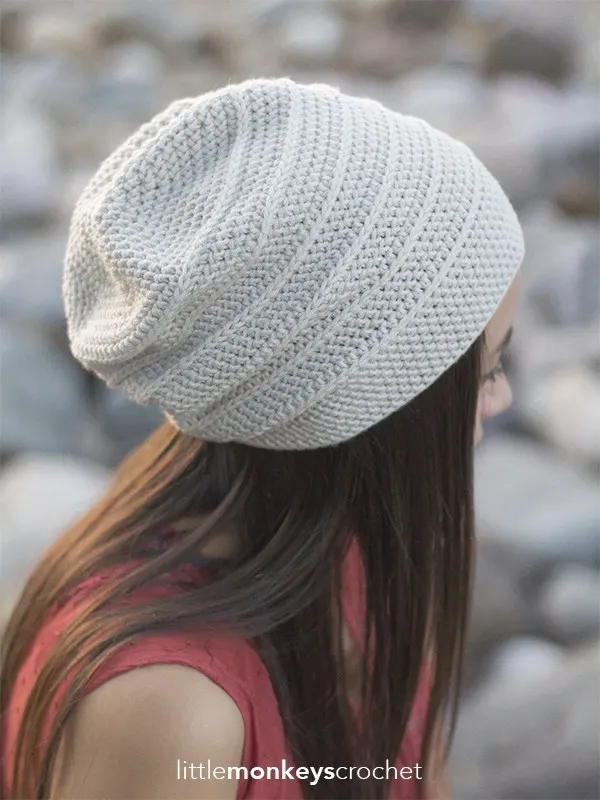 ---
For absolute beginners:
If you're better at interpreting written instructions, this article written with very detailed photos is perfect for the beginner. Followed by various links for learning to crochet, including how to read crochet patterns:  https://www.craftsy.com/crocheting/article/crochet-for-beginners/
Sometimes it's so much easier to just watch a video that you can pause and restart as you need. There are a number of beginner tutorial videos on Youtube, but this is one of my favourites.
Beginner tutorial video:  https://www.youtube.com/watch?v=eqca00LdmAc
With a lot of circular shaped objects in crochet, tend to start with what is known as the Magic circle. This essentially is the dimpled top-end of a beanie, sock or the fingertips of a glove. It's not too difficult, although I needed a couple of tries to get it perfect.
To learn how to start with a Magic Circle: https://www.youtube.com/watch?v=CMPPAfXez8Q
Crochet beginner essentials (links to Amazon):
If you are inspired to start on a new slouchy beanie hat project, do let us know which one you're attempting and share your gorgeous creations with us.