Are you on a hunt for an exciting landscaping project for your garden? Are you gathering ideas to spice up things in your plain old backyard? Does your roof garden need a little dose of color and excitement? If so, then you've definitely arrived at the right place.
Your garden is a beautiful and colorful respite from the indoors. The crisp, fresh breeze, the subtle ruffling of the leaves and warm rays of sunlight can lift everyone's spirits. To make your garden even more attractive and inviting, jazz it up with the following ideas.
1. Garden Solar Lights
Garden fairy lights simply make the outdoors magical. As dusk falls, and little bulbs light up the garden in their own enchanting way, the lure of being outdoors and a beautiful summer's evening is hard to resist.
If you love garden lights and want maximum use out of them in summer without adding any costs to your electricity bill, solar lights are the ideal option. Install solar paneled lights and create an enchanting and serene ambiance in your garden. Solar lights are available in various colors and styles.
You can also tie strings of fairy light on the trees and enhance the overall verdant look, create sparkly layers of festooned bulbs on your patio and deck, and put up an ornamental solar-powered light piece on your front door for a wonderful welcome. If there is a stony pathway going down your lawn bordered by parterres, a line of dimly lit stakes can really light things up.
Here are some of our favourite solar powered LED string lights you can use for both indoor and outdoor:
---
2. Outdoor Fire Pits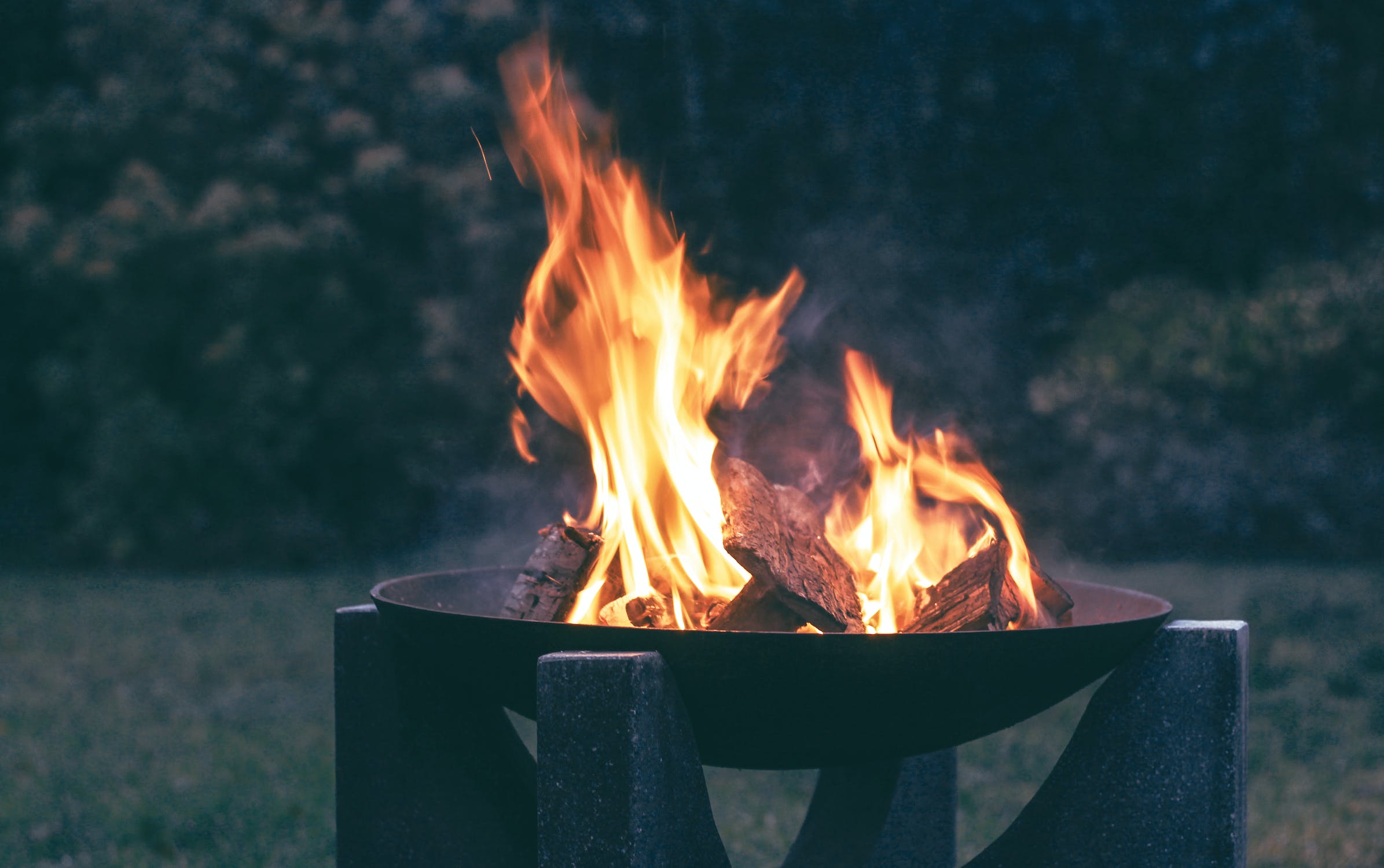 Fix an outdoor fire pit in your garden and effortlessly paint a picture-perfect setup for a wintry night with the aromas of burning wood enveloping the surroundings. Whether you are planning to camp out under the star-kissed night skies, have a fancy cookout or host an intimate get-together in your garden, a burning fire pit brings a glow in your outdoor space as well as the much-needed warmth on a cold winter night. Fire pits are available in different forms. Stone bowls look quite chic and natural and are reasonably priced. For barbecues and cookouts, you can opt for a grill-fire pit.
Here are some of our favorite fire pits, a good old conventional steel fire bowl, a modern bonfire pit and a more substantial propane fired fireplace table:
---
3. Solar Water Fountain
Totally Zen and exotic in appearance, solar water fountain is a decorative fountain solely powered by solar energy. Yes, you don't need electricity or annoying wires to make it work! Moreover, they are environmentally friendly, economical, and easy to install and maintain. Pay a visit to any garden centre and you will come across numerous beautiful designs such as cascading waterfalls, quaint birdbaths, solar ponds, and deep wells. The only downside is that they may not work at nighttime or during cloudy weather. Some solar water fountains come with a battery so that they can work well into the night after sun down.
Here are some of our favourite solar powered water feature:
If you already have a water feature or a pond or would rather make your own water feature, you can still add a solar water fountain using standalone solar fountain pumps. The add-on fountain is essentially a floating waterproof solar panel powering a water pump underneath. The pump forces water out from the nozzle in the middle. Different nozzle adapters are supplied so you can find the right one for your pond, water feature or bird bath. As it is a free floating self contained unit, there are no cables or separate solar panel. The entire unit is waterproof and can be submerged in water. As soon as sufficient sunlight falls on the onboard solar panel, the pump will start up automatically.
4. Solar Bird Feeder
When the bird-enthusiast in you want to transform your secluded garden into a scenic sanctuary for feathered friends, you cannot go wrong with a solar bird feeder. Utilizing sun's energy and boasting unique functions, the bird feeders make a lovely addition to your fauna-friendly green haven. Put food for the birdies in the feeder and watch the colorful flocks of birds arrive to have some quick nibbles. The solar bird feeders are illuminated at night and keep the squirrels away. From lighthouses and lanterns to snowman and angels, you will find a myriad of designs in the market.
---
5. Garden Lanterns
If you don't want to waste your money on permanent light fixtures, garden lanterns are excellent and affordable option. You can hang them high on the tree branches or place them on the staircase leading to the front door. There is a huge variety of lanterns easily available – candle-lit, battery powered and solar panelled. Furthermore, numerous designs and colors can be readily found. If you are into arts and craft, you can fabricate a set of customized lanterns for your garden on your own! These can either be lid by battery powered candles, battery operated string lights, solar lights or just the plan old wax candle.
6. Steel Waterfall Blade
Cascading waterfalls are one of the best parts about the nature. Absolutely sublime and breathtakingly beautiful, they are a visual delight. While you can't have Niagara Falls in your backyard, you can surely be blessed with a lovely and audible waterfall by installing a steel waterfall blade. The blades optimize the flow of water and create sheets of cascading waterfall. This would require that you already have a pond, water feature or pool or looking to install one. It is easily mounted to brick walls and sleepers. To enhance the effect, you can opt for a steel blade with LED lights built into it. Take a seat in your garden, listen to the calming sounds of bubbling water, and imagine diving deep into an abyss.
Steel Waterfall Blade on Amazon
---
7. Sentry Garden Shed
If you have a verdurous garden, then you must have a number of gardening tools. The rusty watering-can must have looked pretty once, but currently it doesn't look appealing next to your brightly painted pots. Hide away the sickles and spades but not behind the bushes. Store them with style. Sentry garden shed enables you to put away your tools and accessories and adds a quaint touch to your outdoor space. The little house-shaped box with a thatched roof comes in a number of pastel colors and fits in quite well among the flourishing plants. It has 3 internal shelves and a roof hatch to store things.
Sentry Box Outdoor Storage on Amazon
---
8. Victorian Tall Wall Greenhouse
Not only greenhouses are gorgeous, but they are practical as well. Sadly, due to size issues, it can be impossible at times to build a stunning glasshouse with an array of blooms and fluttering butterflies. However, you can certainly place a Victorian tall wall greenhouse. Flexible, compact, and adjustable, the Victorian greenhouse is an ideal solution for limited spaces. It features internal shelves which are adjustable to accommodate tall plants, auto vents, independently opening doors, and a back panel. They are sold unpainted, so you can paint it up in a color of your choice. It is pricey but a lot economical than other greenhouses.
Victorian Greenhouses on Amazon
---
9. Garden Obelisks
Do you want to add some height to your garden in an arresting manner and instantly? Place a garden obelisk in a middle of thriving greens. Besides serving decorative purposes, they are rather useful if you are fond of growing climbing plants such as clematis and sweet peas. They are available in different shapes and sizes to support growth of different sorts of plants. Make sure you get a sturdy one with proper finish or else they will rust away with time. Clad in your climbers and bring an interesting dimension to your garden.
10. Garden Dining Setup
During balmy evenings and crispy cold nights, it will be nice to have dinner outside. Surrounded by mild scents of grass and fresh flowers, comforting sounds of night crawlers and wafts of breeze, you can have a magical candle dinner outdoors. Place a compact garden dining set in an empty spot and eat out in a unique ambiance whenever you fancy. To protect from sun and rainfall, you can install a parasol over it. You can go for any look – plain white, mix and match, pastel or whatever complements your lawn.
---
BONUS: Garden Gazebo
If you like the sun but not enough to get burned, get a garden gazebo for your patio, lawn or deck. After a long day in the sun, you can kick back and sit in your wicker sofa under the canopy with a glass of bubbly and take it easy.
These steel framed gazebos are strong, sturdy and built to last. They are usually finished with PA coated soft top for extra protection against harmful UV rays. You can also find some with side curtains and insect netting for that added shade, privacy and protection from insects at night. The fabric is removable should you need to clean it. Great for special events such as a garden parties, birthdays, family gathering, entertaining friends or simply to sit outside.
It is not a difficult task to create an eye-catching garden landscape. With some creativity and colors, you can transform your garden into a pleasant harbor of decor. Once you have jazzed things up, you will want to spend much more time outdoors.