A backyard jungle retreat is an excellent way to emulate nature in your homes. We've become so used to lawns that are manicured within a millimeter of perfection that our idea of enjoying the great outdoors have become pretty skewed over the years.
But if you plan to evoke nature in its full, tropical bloom, then a backyard jungle retreat is just for you. It won't just be a nice place for you and your kids to play and camp in, but it also enhances your surrounding with fresh cool air. Here's how you can create a lush, tropical jungle right inside your home.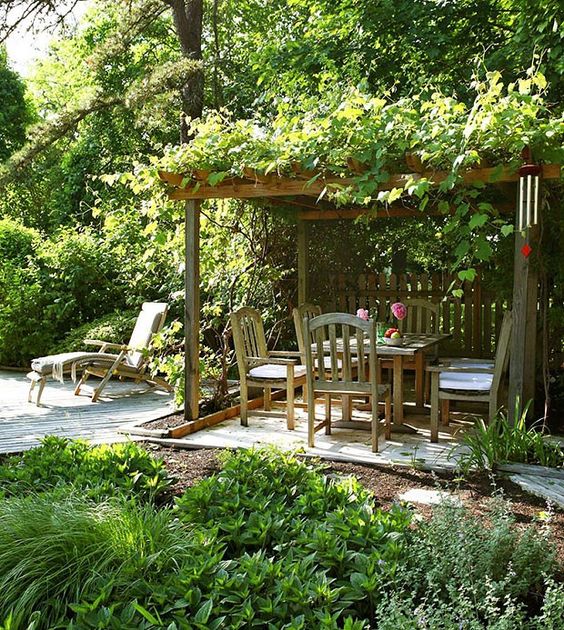 What do you need for a jungle retreat 
We look at what you need to create your own jungle retreat in your backyard starting with that all important foliage.
1. Grow plants 
Strategic plantation should always be on the top of your checklist when creating a jungle retreat. Just as with home decor, you have to layer the outdoors to create a dynamic ambiance. The first thing you should do is to create a backdrop of tall plants. Opt for bamboo and banana trees so that they provide shade and make a lush, tropical scene-setting for the rest of your garden.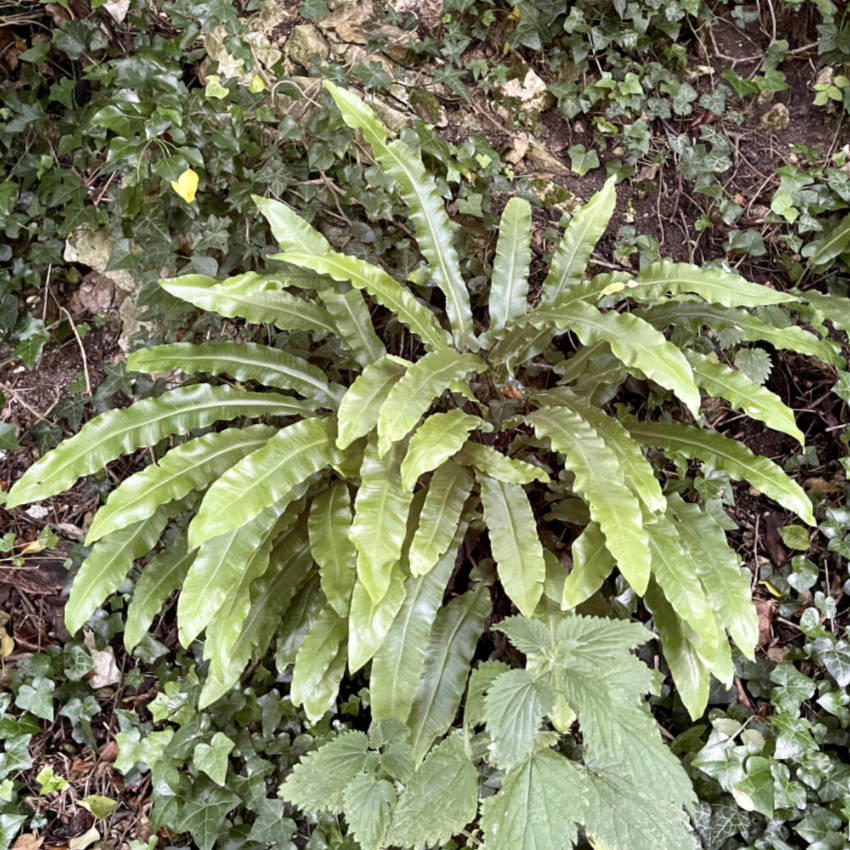 Ferns and shrubs would make ideal mid-level plants for the retreat. Finally on the ground level, you can go for small shade-loving plants such as Plantain lilies and primroses. You can also add a variety of small ferns. These are hardy and low-maintenance plants. If you prefer colours, go for low level flowering plants. Consider adding several other regional trees and flowers to your yard that can grow well in the area where you live in. For a pop of color, intersperse with tropical flowering plants like bird of paradise, hibiscus, or bromeliads.
Pro tip: Try to opt for perennials as they provide year long foliage and don't wilt away as the seasons change. It's all about creating the right ground cover, so you should opt for creepers like money plant that spread their leaves
2. Add a pond or water feature
Building a water reservoir in your backyard in the form of a pond would make it all the more of an inviting space. You can use it to take a dip during warm summer afternoons, or turn it into an aquatic habitat for fishes, frogs and turtles. Here is also your chance to add a water fall as well as sculptures either in the water or surrounding the pond to keep it interesting.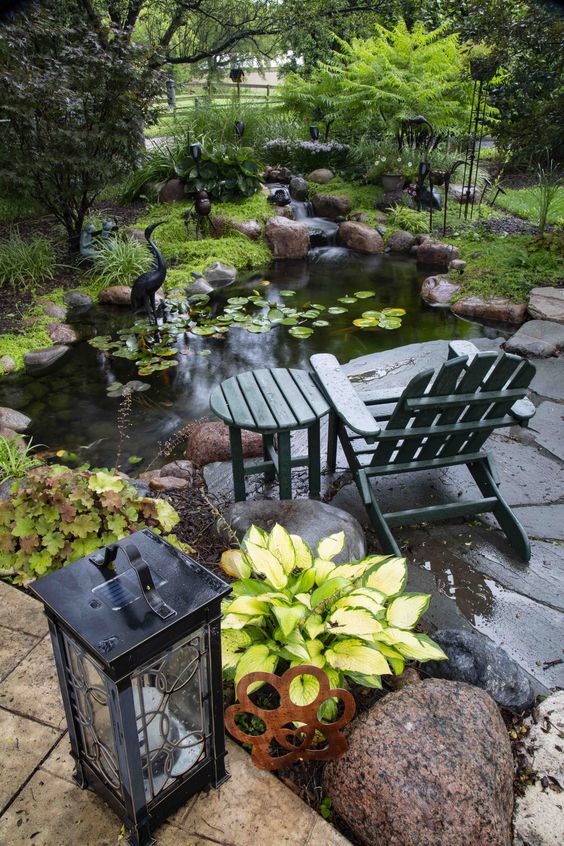 Installing a pond should not cost you too much. All you need to do is get the space dug out, install a pump, a filter to clean the water from the pump, a liner to keep the water from penetrating into the ground, an underlayment and a GFCI outlet to power the pump. You can surround it with rounded rocks to create a natural-looking embankment. Add lily pads, cardinal flowers, water lettuce and other pond plants for colour and to add vibrance to your pond.
For a more manageable project, a small fountain, self contained water feature, or even a solar powered water fountain can create a sense of tranquility. The sound of trickling water is soothing and can help mask city noises. For a touch of the exotic, add water lilies or floating lotus flowers to your water feature.
Pro Tip: Consider adding a shishi odishi, which is a Japanese style fountain that consists of flowing water and bamboo elements.
3. Got for a pergola
You'll definitely need a space in your backyard to sit down and enjoy your jungle retreat, and a pergola is an excellent way to do that. You can erect one in the form of a trellis and place it in the center of your garden. It can have a stonework floor and the top can be embellished with creepers like english vine or more. If your mood calls for it, then you can even have vegetable vines like cucumbers arranged on the pergola top. They'll add to the jungle vibe of your backyard while also providing cool shade from the sun.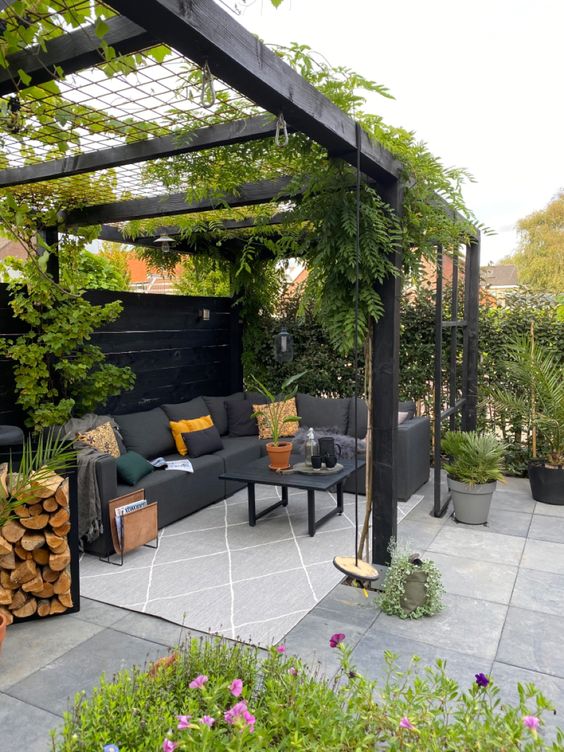 4. Make it bird-friendly!
An essential element to any backyard jungle retreat is welcoming wildlife. This is where birdscaping comes in. Creating a bird-friendly environment in your backyard will allow birds to visit and nest in your garden. The result, a serene atmosphere with the relaxing sounds of bird songs and twitters. It might also help you indulge in some nature therapy as the sound of chirping birds can automatically help you relax.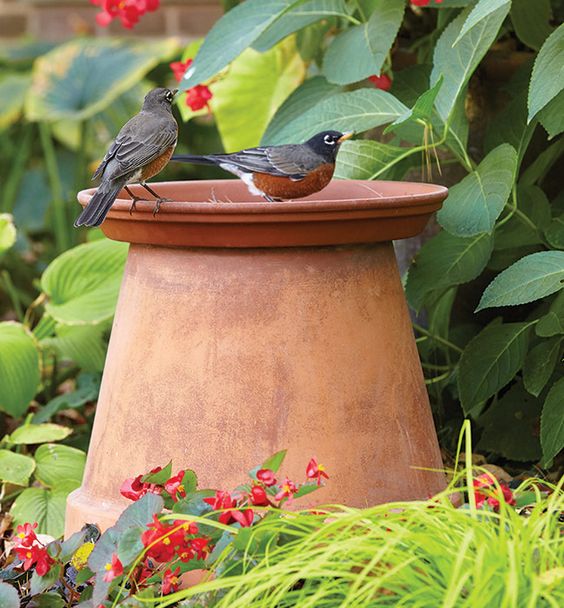 You can create a bird-friendly environment by opting for a birdbath and placing bird feeders at different spots in your backyard. You can add bird seed blends to the feeders or an assortment of fruit, breadcrumbs and rice. As for bird baths, you can get one constructed in place or improvise one with hanging planters or water-filled dishes on top of posts. Either would get the job done!
5. Add furniture
Next, you would want to add furniture to make your jungle retreat somewhere you can relax and watch the birds fly by as you sip on a glass of lemonade and enjoy a book.
It's imperative that you choose pieces that are sturdy, weather-resistant, and complement the all-natural vibe without getting damaged by the elements. You also want something that goes with the surrounding, ideally nothing too contemporary or it would look out-of-place. Wooden or furniture made from natural material is always good.
Pro tip: You should go for teak and other weather-resistant outdoor wood and fabric options so that the furniture doesn't get damaged. Look for sturdy and weather resistant unit that can withstand being outside all season. If going for wood, look for teak or treated wood and make sure you oil or varnish them to protect them from UV and rot. Consider furniture cover for the wet and cold months.
Here are some furniture additions you can make in your backyard jungle retreat:
A. Add a hammock
Hammocks are casual, beautiful, and one of the best types of furnishings to complement your backyard jungle-retreat. They come in different sizes and materials so you can always pick one according to your budget and requirements. If you wish to go with a weatherproof option, you can opt for heavy duty synthetics such as sunbrella, olefin, duraCord and textilene.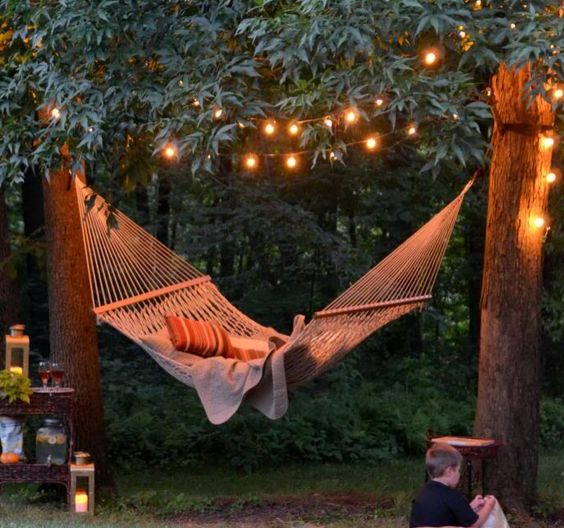 These materials are low maintenance, convenient to clean, fast drying as well as resistant to UV radiation in order to prevent the colours from fading away too quickly. Make sure you pick a sturdy hammock so it can bear your weight easily and securely. Get a professional to securely attach it to some strong, firm-rooted trees and you will have the perfect spot to lie down and chill in on a nice warm afternoon.
B. Add a rocking chair
Rocking chairs are perfect relaxing spots for your jungle retreat. A hardwood rocking chair would perfectly compliment the natural theme of the jungle retreat and be sturdy enough to last with you a long time.
An excellent way to integrate the jungle vibe with modern furniture is to surround them with lush planters. It could be a large swiss cheese plant or even a small lime tree. The idea is to make sure that it complements the tropical surroundings without looking too out of place.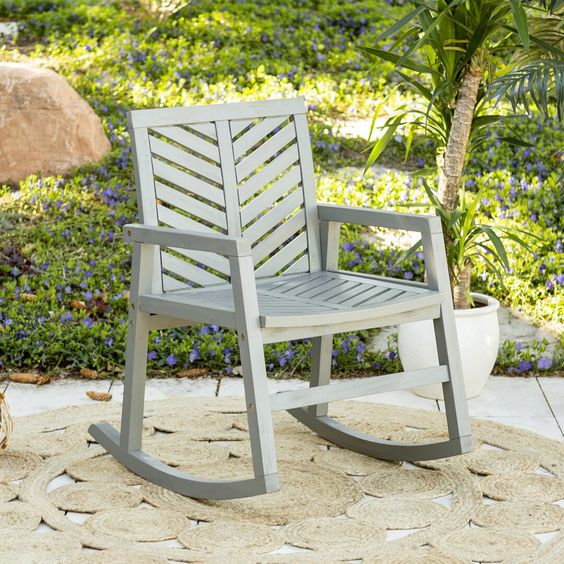 Make sure you get the chair varnished in order to make sure that it retains its appearance for a long time and stays free of termites and pest damage. Alternatively, you can go for low maintenance options like powder-coated steel or plastic.
Pro Tips: Add some comfy cushions atop your chairs, kick back and enjoy the scenery.
D. Add a Deckchair or Sun Lounger
There probably won't be a lot of sun light, mostly shades if get your jungle retreat right but still, there is nothing stopping you from getting a deck chair or a lounger if you have the space for it. Perfect for an afternoon snooze outdoor, a chance to cool down for a change. A respite from the heat on a hot day.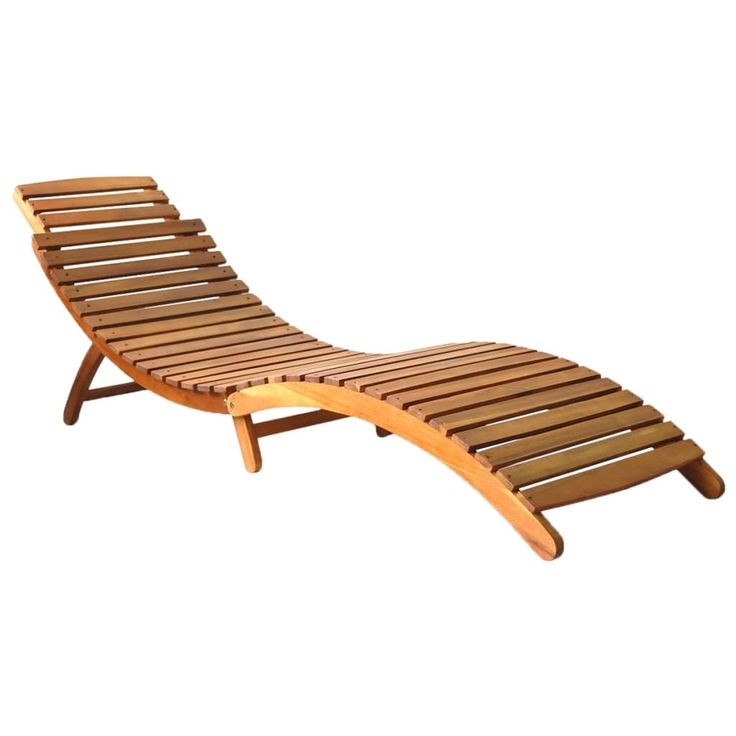 E. Outdoor Dining Set
Moving on, you can also add dining table and chairs to your jungle retreat. Great for entertaining, slow al fresco meal or just tea. Having it outdoor in your very own jungle retreat makes it that bit more special.
Search Wooden Garden Furniture on Amazon
6. Build a gazebo
A gazebo would make a perfect shady spot for you to rest in on an excessively sunny day or when it rains. You can get a solid wooden gazebo constructed in your backyard in a style of your choosing and add benches inside to create a comfortable resting area. The artsy, natural vibe of it will also complement the jungle-vibe of your backyard.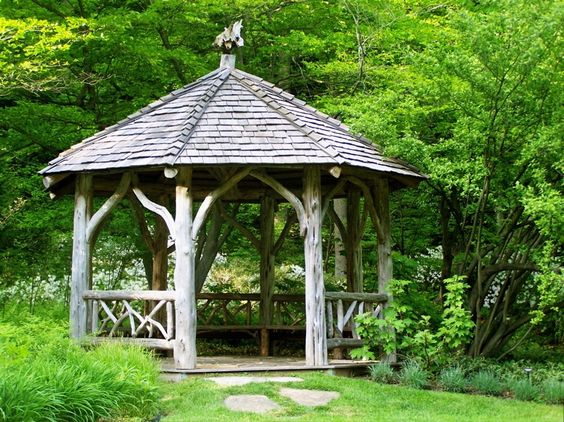 The spot can also serve as a barbecue shed or a sheltered picnic or sheltered picnic spot. You can also convert the gazebo into a Tiki bar with a wooden countertop and some wine glasses to make refreshing margaritas in. The possibilities are limitless!
7. Add some mellow lighting
While they are best relished during daytime, jungle retreats have a vibe of their own during the evening. Sounds of nocturnal birds, crickets and crisp nighttime air under a sky full of stars creates a lovely aura which you would want to sit down and revel in, and you can't do any of that without good illumination.
When the sun sets, strategic lighting can make a dramatic impact. Solar-powered lanterns, string lights delicately hung amongst the branches, or low-voltage landscape lighting can provide a soft glow that highlights the plants and pathways. This not only adds to the ambiance but also extends the hours you can enjoy your jungle retreat.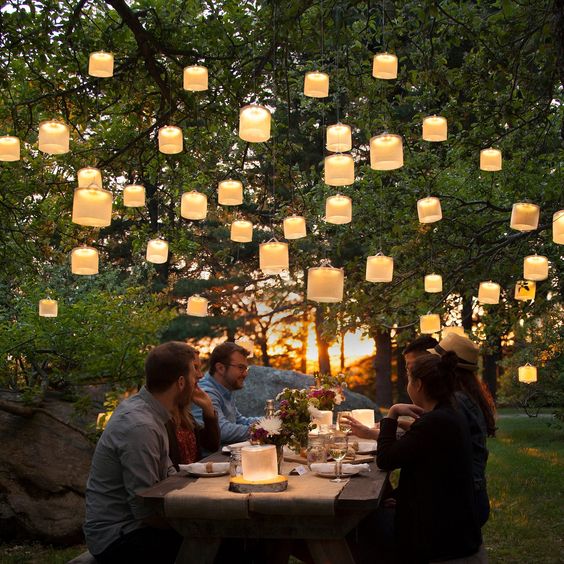 Some mellow lighting would be perfect for visibility during these hours without disturbing the quiet sanctity of the atmosphere. You can go for some dim lamps on your veranda or some warm LED lights which would glow in the porch without disturbing nocturnal wildlife. You can also hang LED lanterns from the trees to create an aesthetically pleasant look.
8. Garden Arbor
Garden Arbor be it metal or wooden placed at the entrance to your jungle retreat works well with a path to lure people into the space.It also doubles as trellis for climbers and flowers.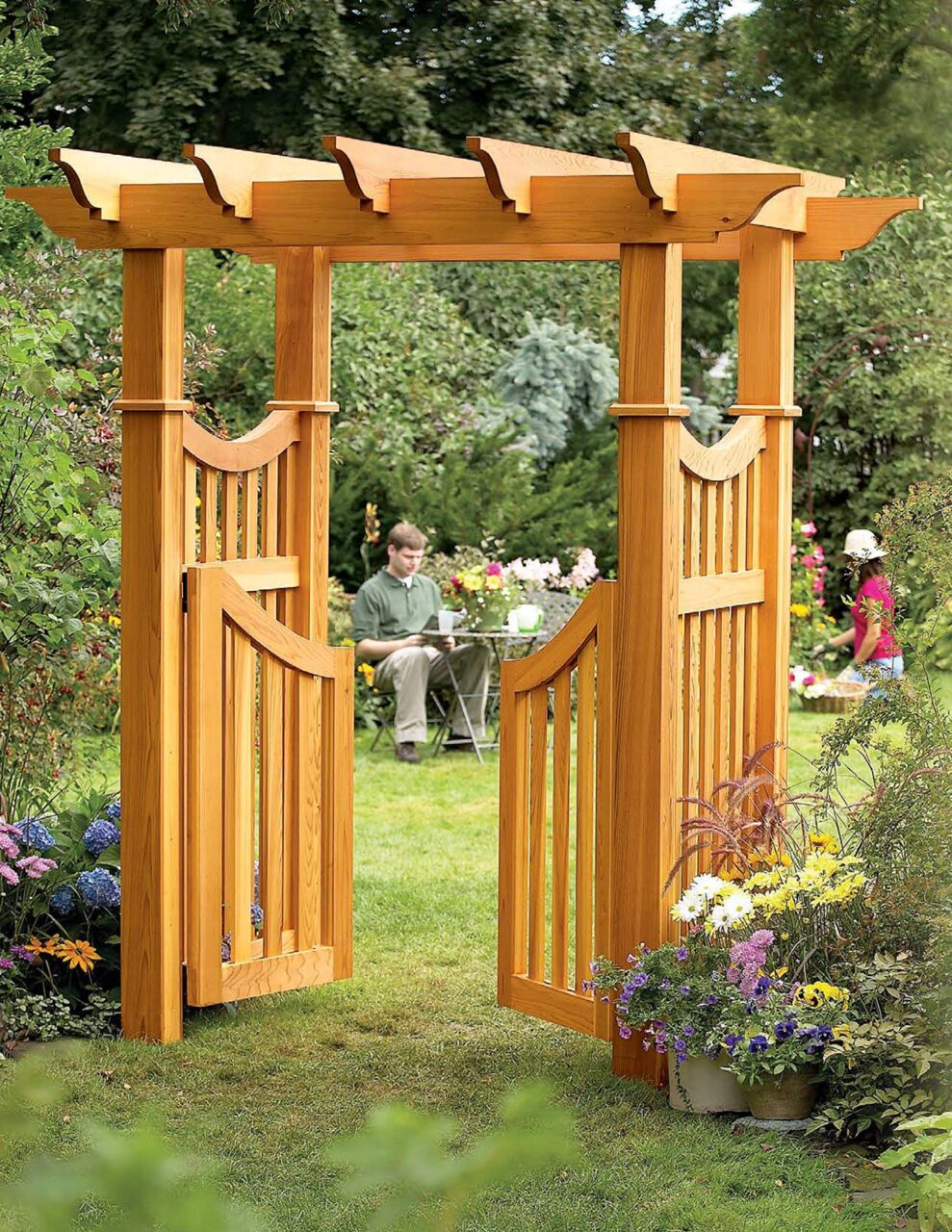 9. Modular Furniture
Modular furniture – one that is made out of teak, rattan, or wicker – can make an excellent addition to your outdoor areas. The idea is to opt for pieces that can be arranged and rearranged to suit the chaotic vibe of an outdoor jungle retreat. If you prefer a more shaded location, try that pergola we mentioned earlier in this article.
Incorporate seating that invites relaxation and contemplation. Modular furniture, hammocks, swing chairs, or even a bench nestled among the foliage can be perfect for lounging on a lazy afternoon. Choose weather-resistant materials that blend with the natural environment.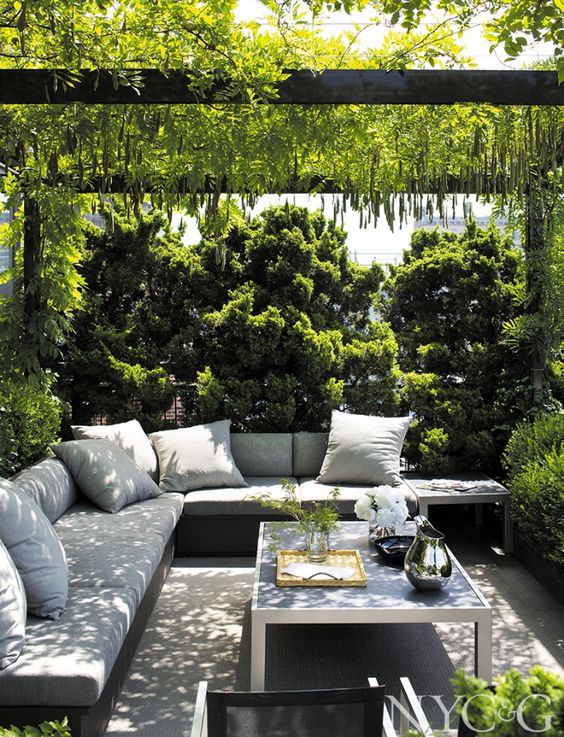 10. Introduce Earthy Accents
Final touches like a stone path, a wooden bridge over your pond, or statues hidden among the plants can add character. Incorporate materials that feel at home in the jungle—wood, stone, and terracotta are all excellent choices.
Maintenance Tips
Remember, jungles are inherently wild, so don't be too rigid with maintenance. However, regular pruning, especially in growing seasons, will keep your retreat navigable and tidy. Also, ensure you have a good irrigation system in place to maintain the lushness of your jungle.
Creating a jungle retreat in your backyard is about embracing nature's untamed beauty and cultivating a space that feels both vibrant and serene. With these steps, you'll be well on your way to creating a backyard jungle that serves as a private getaway for relaxation and adventure, right outside your door.
ZG