It has not always been this way. Until recently I used to detest ironing, the inexplicable necessity to hot press blouses, shirts and trousers for the sake of appearance seemed to be a pain at best and a farce at worse.
But then, one day after having left the bed linen a little too long in the dryer, the creases and folds seemed just too messy to ignore and for the first time in my life, I began to actually enjoy ironing. The almost mindful meditative action of smoothing out creases to produce a perfectly smooth, shiny surface of crease-free linen actually felt like quite an achievement.
I still hardly iron everything, (I remember an old landlady, from whom I used to rent a room, back in those student-days, who used to iron everything including her undergarments!) but I am a convert to the beautiful smooth crease-free sheets that line my bed.
Best Rotary Irons and Are They Worth It
That said, an iron and a typical sized iron board, are not really the easiest tools for pressing large king sized duvet covers and fitted sheets, so it was a real revelation to find these luxury rotary irons. The thought of perfect results with minimal effort seems well-worth the couple of grand one of these babies cost.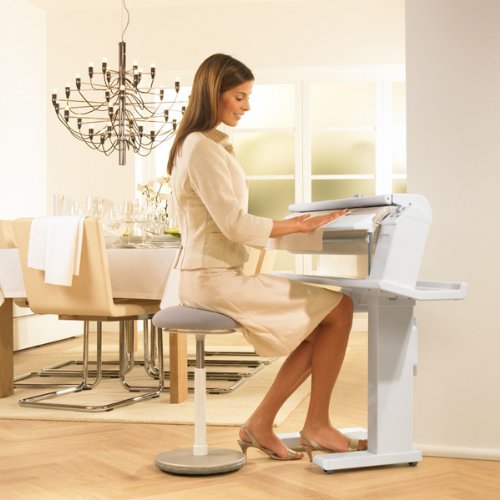 Well worth their price in the long run, considering the amounts one would pay to have sheets, tablecloths and napkins professionally laundered and pressed, these irons are God-send to owners of small bed-and-breakfasts and inns, but also a very welcome addition to individual house-holds, where beautiful smooth satiny sheets, perfectly pressed table cloths and napkins, and beautifully ironed clothes are a necessity. Even every day clothes, from trousers to shirts to perfectly pleased skirts become a simple task for these ironing machines.
Miele's Rotary Irons
The Miele Rotary Irons are like the Rolls Royce of ironing. Set up a little differently from the traditional board and iron, these German made rotary irons are based on a roller system which are perfect for sheets, napkins, table clothes, even shirts and trousers, once you get the hang of how they work.
These rotary irons are based on a roller in which the washed linen is fed in to. A foot pedal lowers the heating element holding the item to be ironed against the roller and as the ironing progresses, the item progresses completely pressed out through the other side.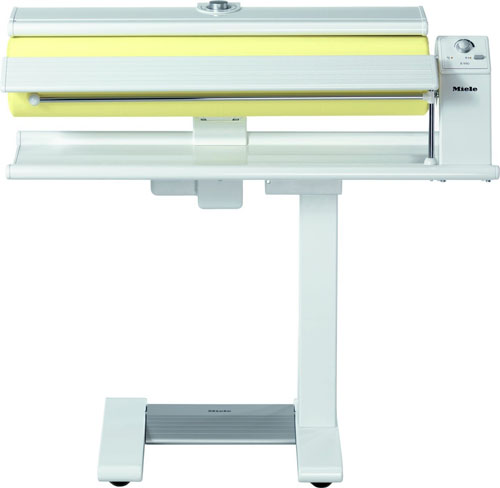 Easy to use control panel with 

temperature selection (3 settings) and fabric indicator

Wide width roller with open end design

Foot pedal to control the variable speed roller

Fold away design and wheels for easy storage

Aluminium feeder board, swing out bar for hanging laundry
Finger guard and emergency release button
Extra leg room for comfortable ironing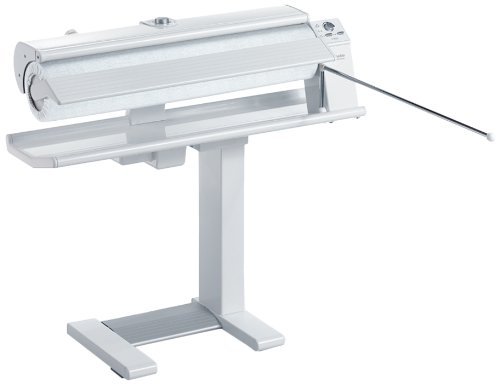 All the features on the Miele B990E plus
Freely selectable temperature settings and
Steam function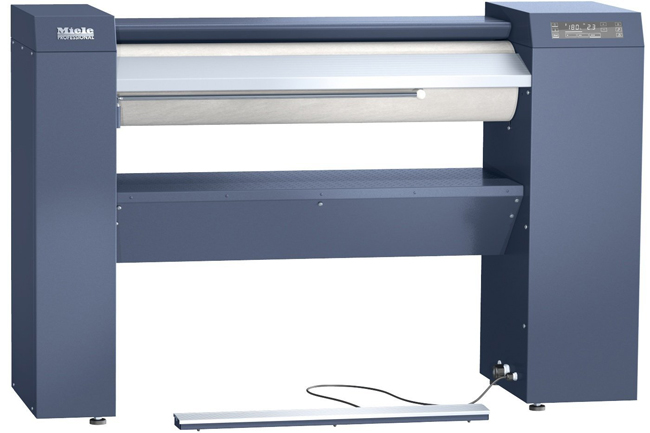 The mother of all rotary irons, the Miele PM1210 is a commercial rotary iron but if you have the room for it and runs a school, hostel or hotel, this will definitely make your life a lot easier.
Compact footprint with high throughput

Outfeed table with honeycomb perforation pattern for fast laundry cool down

Flexcontrol foot switch can be conveniently positioned in front of the machine to stop roller fast

Airing bar – laundry items can be draped over the bar for airing without creasing

Durable and temperature resistant aramid needle felt cloth