Magazines provide us with some of the best inspirations on how to keep our homes looking pretty organised and clutter-free. The irony is that magazine collections can also cause the most clutter around the house when left unorganised.
Top 10 Best Magazine Storage Solutions for the Home Office
To avoid this travesty, here are some of the most unique and eye-catching magazine storage ideas you can get for your home or office:
1. Macramé Wall Magazine Holder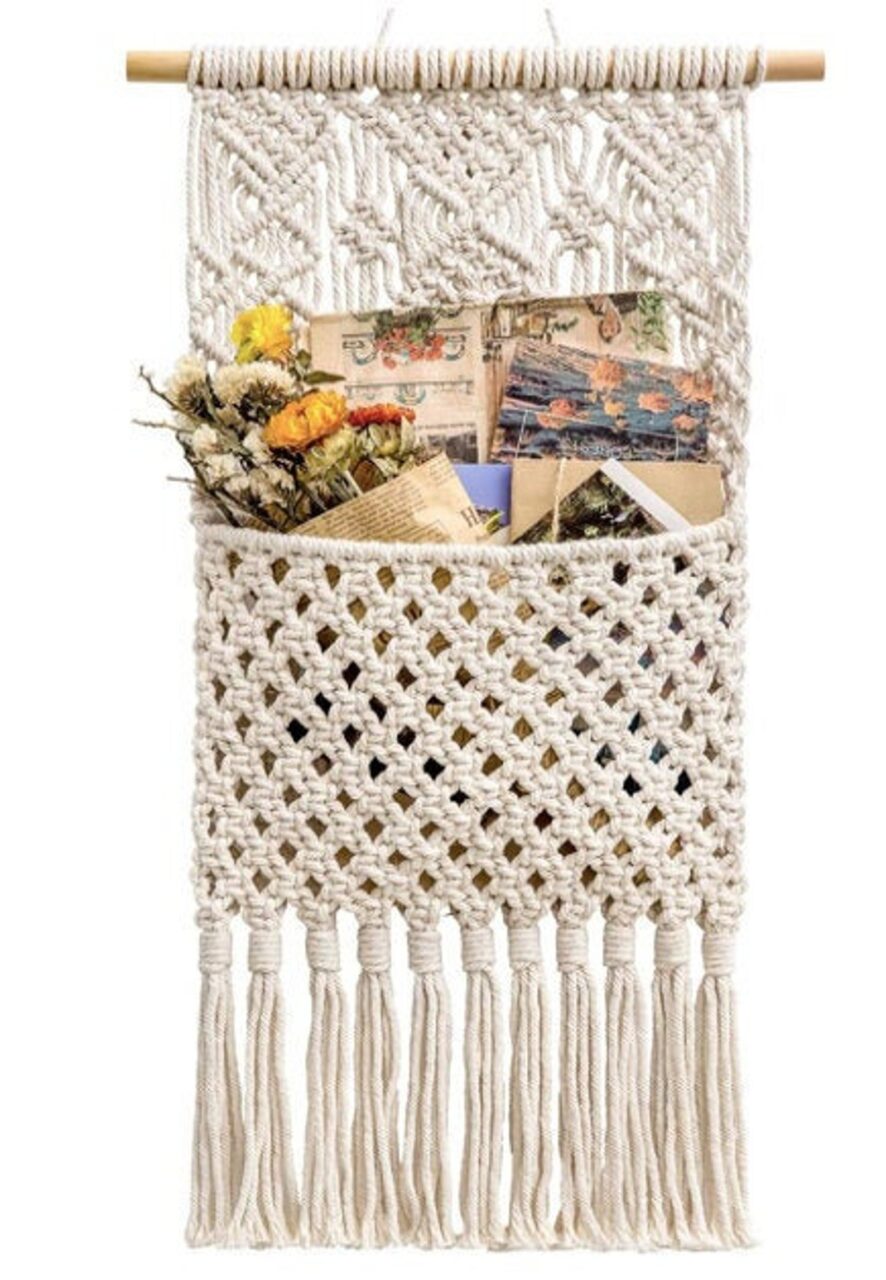 Macramé pieces always add a touch of rustic charm to any space. Now you can add a functional twist to your wall decor by getting a macramé wall magazine holder. Despite its dainty appearance, this sturdy woven pouch can hold dozens of magazines at a time. But it can also serve a double purpose, especially when you hang it right by the door.
It can hold letters and monthly bills, keeping them visible so you won't forget to check and deal with them later. You can also use it to keep your wallet, phone, or keys — for easy access every time you have to head out.
This magazine holder blends pretty well with any room, so you can keep your favorite magazines in various parts of the home where you love to read. You may also complement it with macramé potholders and picture frames for a more cohesive bohemian look around the house.
2. Macramé Armrest Organizer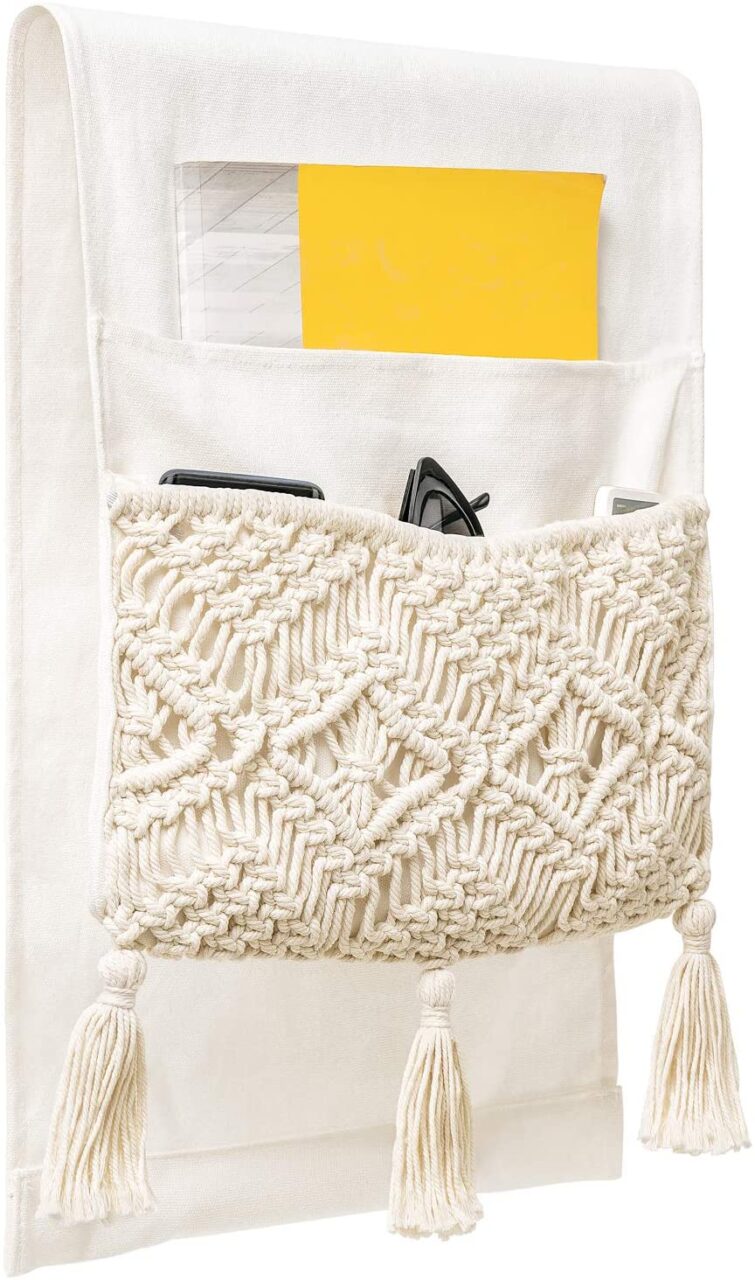 Search Macrame Armrest Organizer on Amazon
Woven storage pouches don't only look amazing when hung on the walls. For easy access to your magazines when you or your guests are lounging in the living room, you need a magazine storage space you can reach without getting up from the couch or chair.
Luckily, this doesn't mean you have to completely shelf the macramé idea. This armrest organizer repurposes the typical wall cover and makes it into a pouch that can easily attach on couch armrests. Aside from holding your prized magazines, this organizer also serves as a handy storage space for your remote control, so you can say goodbye to burrowing around the couch to look for the stray RC.
3. Wood & Metal Standing Rack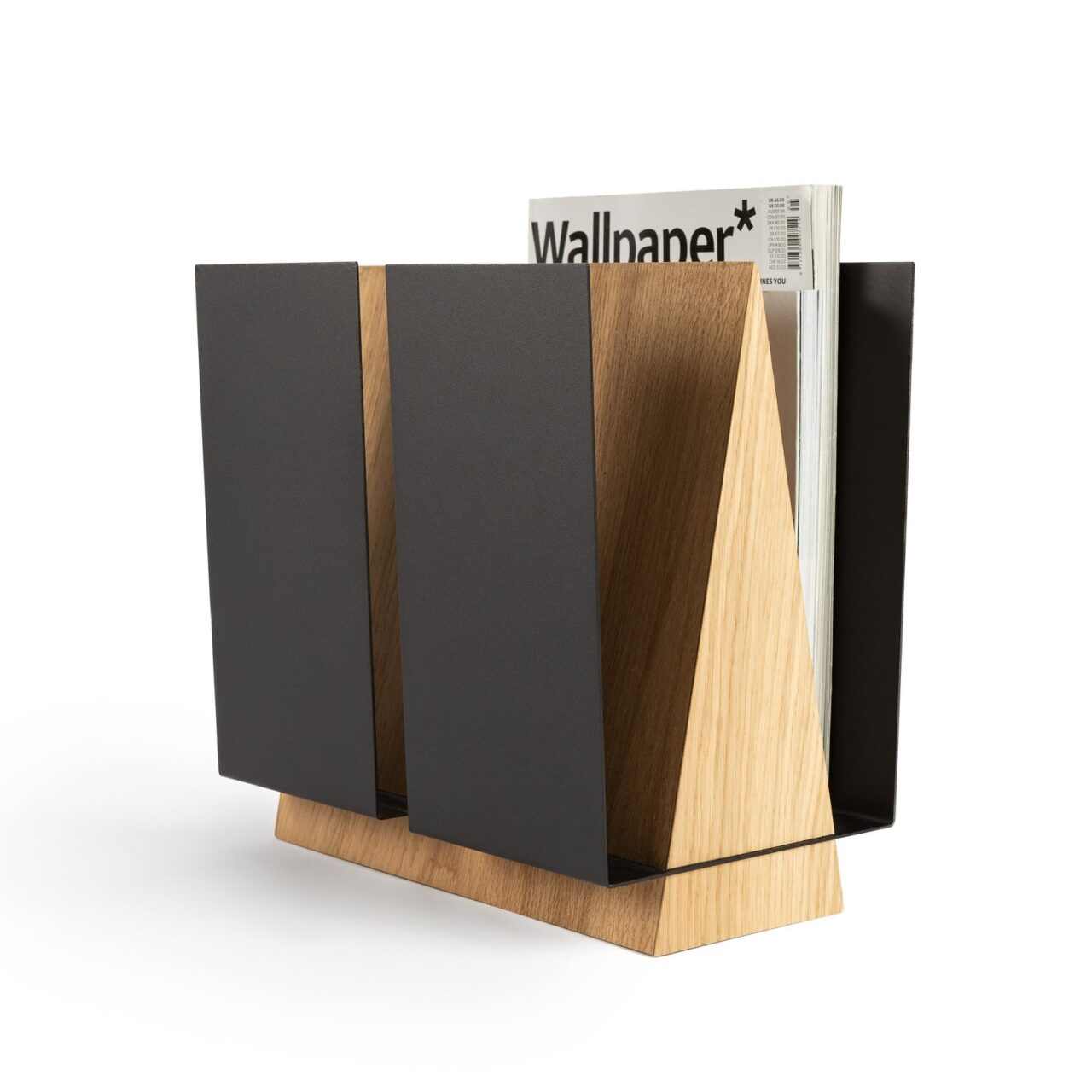 If you are fond of collecting thick, special edition magazines, then you're going to need something sturdier than a magazine pouch that hangs on the wall or chair. This wood and metal magazine holder is one of the sturdiest magazine racks you can get. As a solid, freestanding rack, it doesn't have any restrictions when it comes to the weight of your magazines. As long as you can fit your favorite releases between the wood and metal slabs, you'll be good to go.
This magazine holder has a sleek, modern design that makes it a perfect decorative addition to any room. You can place it on the kitchen counter to hold your favorite cookbooks, in the bedroom for your nighttime reads, and of course in the living room, for easy access to your favorite leisure reads.
The modern design of this standing rack also fits right in with any office or business setting. Its sleek design is sure to delight guests in your office or commercial space.
4. Italian Leather Magazine Wall Mount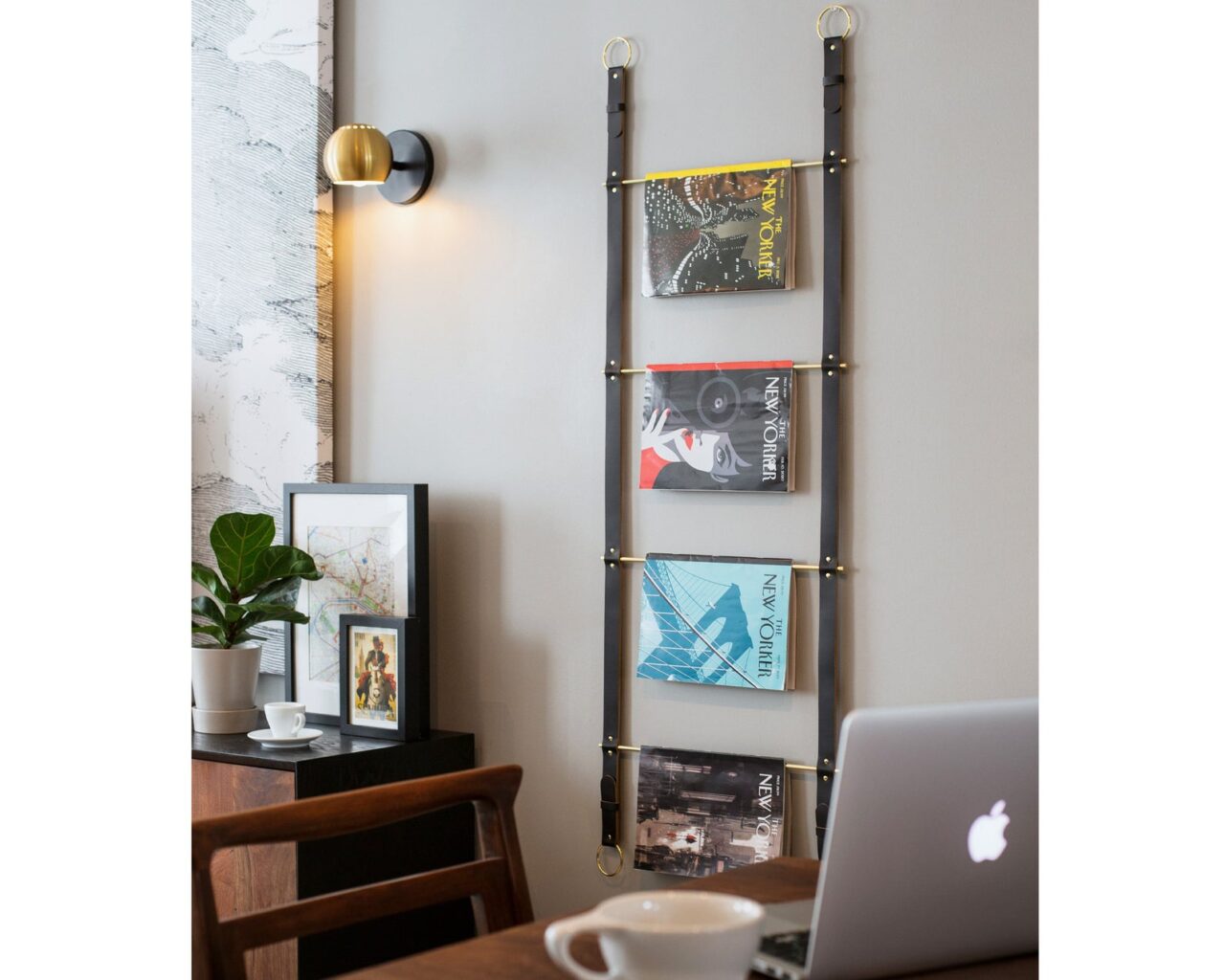 This eye-catching statement piece is the perfect space saver for your home or office, but take note that it will only let you display a select few magazines. You can either display your all-time favorites or only the current issues of your magazine subscriptions on this wall mount.
The black leather straps and the gold and brass rails create a pleasing contrast that's sure to wow visitors of your living room or office. Its carefully thought-out details also give off a minimalist vibe, allowing it to blend well with your interior space while still standing out due to its unique look and concept.
It's perfect for those who are not fond of holding on to back issues of magazines to keep their living/working space clutter-free. Otherwise, you can just opt to buy a separate box for magazines that can't be displayed on your wall mount.
5. Woven Water Hyacinth Basket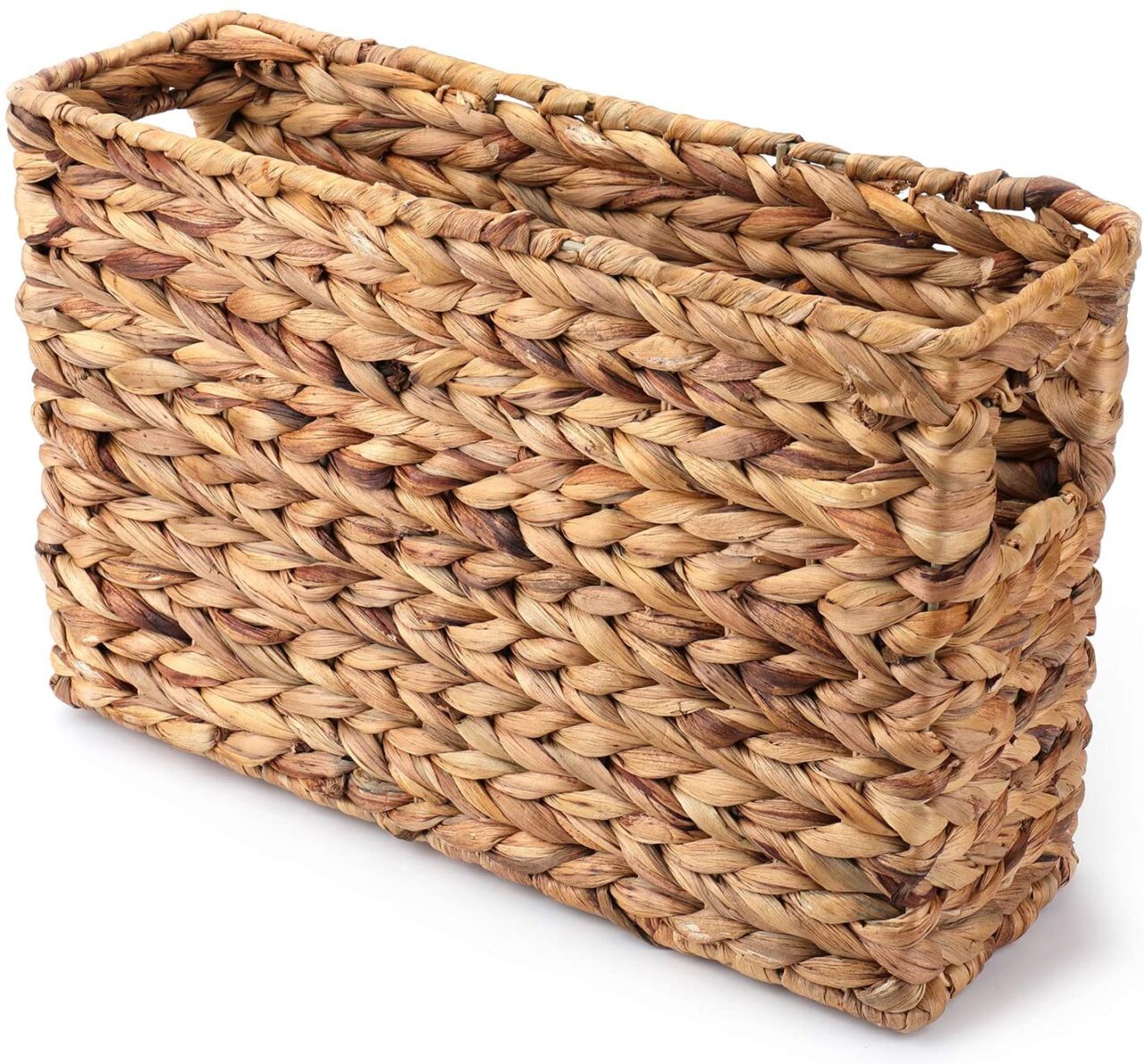 Search Woven Water Hyacinth Basket on Amazon
Are you tired of seeing your magazine collection clutter up your living space? What you need is a dependable, stylish magazine rack. Here are 10 of our best recommendations.
Speaking of separate boxes, here's a stylish caddy to tuck your magazines in. This highly durable water hyacinth basket can hold just about any kind of clutter you have lying around the house, but it's best used for your magazine collection. The wide-open top makes it easy for you to rummage through your magazine collection to pick one to read. It also features convenient handles, making it highly portable and easy to carry to whichever part of the home you feel like reading in.
Also, this woven water hyacinth caddy is carefully made so as not to scratch or scuff tables and other surfaces where you'd be placing it on. Additionally, the neutral, earthy color compliments all interior styles and decors.
6. Minimalist Steel Standing Rack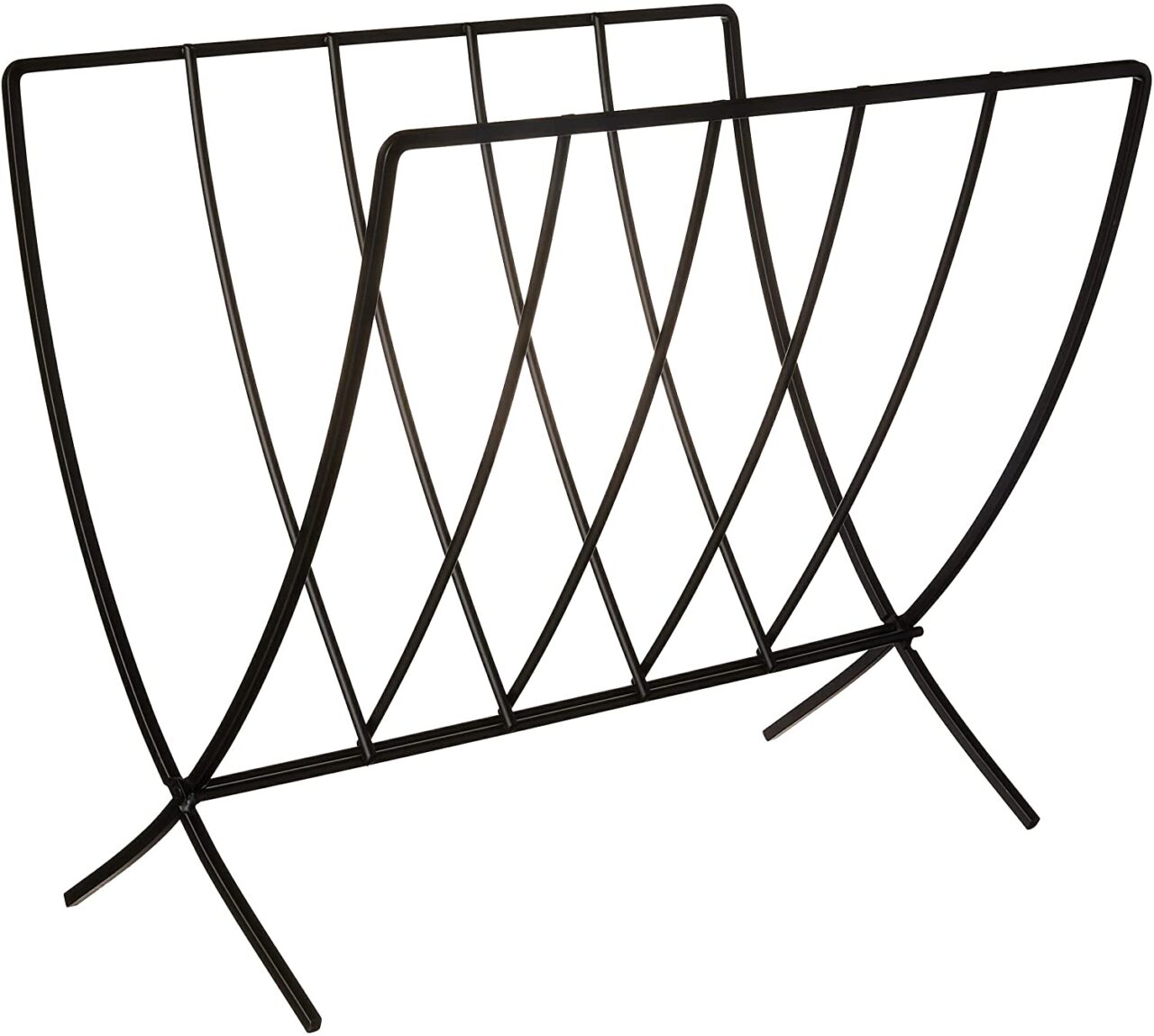 Search Minimalist Steel Standing Rack on Amazon
If you're looking for something that has a more industrial rather than natural feel to it, this chic steel magazine rack is perfect for you. The smooth lines, taken together with a black matte finish, provides a sophisticated style that's very attractive. The sides are curved, adding a touch of dynamism to the piece while preventing any damage to your magazines.
This freestanding magazine rack is also very stable, so it can carry even your heaviest magazines and periodicals. Even so, it has a slim design that saves you a lot of space, as well as an open-look setup that allows easy browsing of your magazine collection.
Like most of the magazine holders on this list, this steel standing rack may also serve other purposes, such as displaying some of your vinyl records.
7. Tweed Fabric Magazine Rack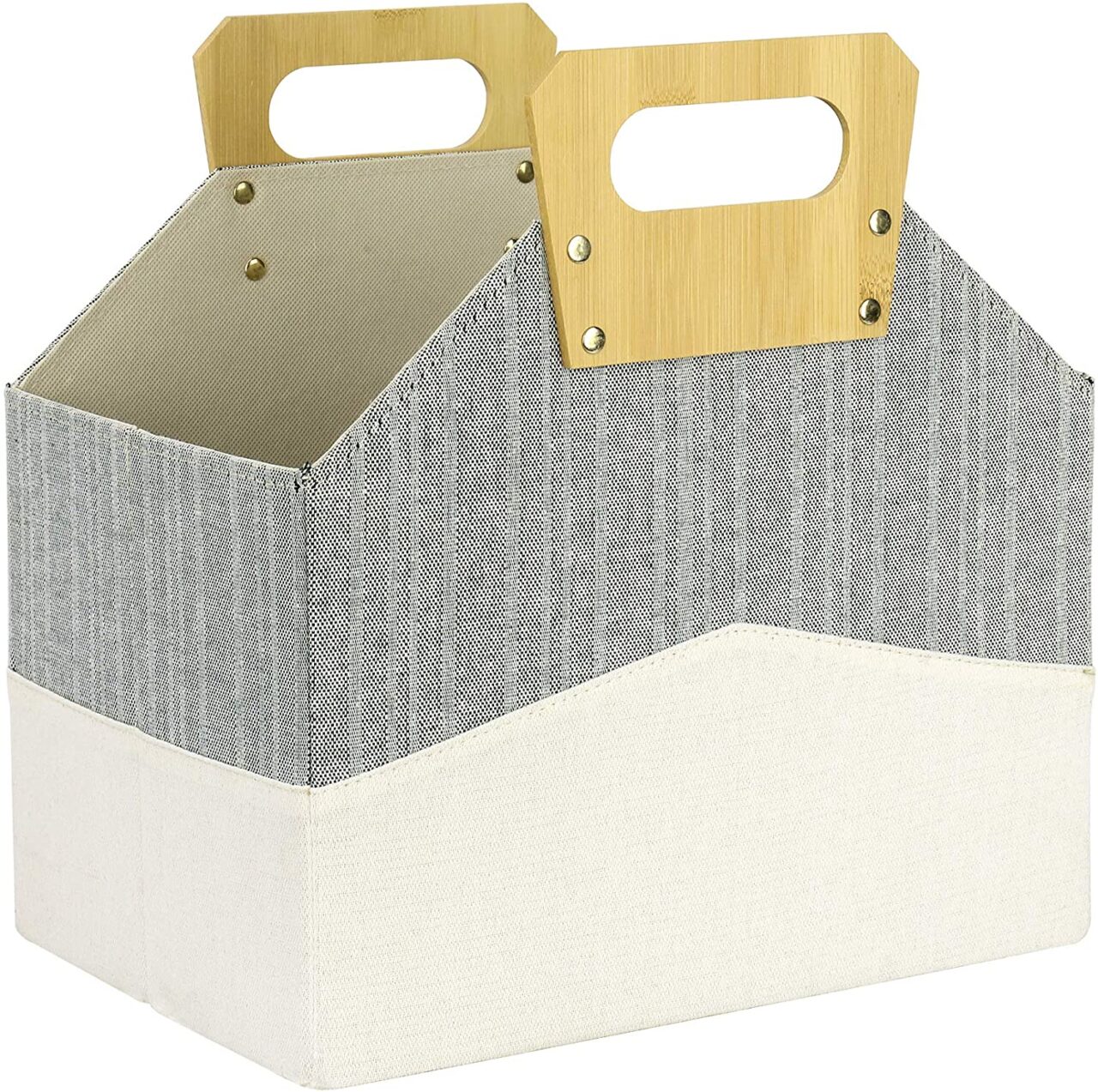 Search Tweed Fabric Magazine Rack on Amazon
For those who love accumulating quite a lot of magazines, this tweed fabric magazine holder could be a perfect choice. It has massive space and can hold dozens of regular magazines at a time. Its quaint milk box shape is also one of a kind, making it perfect for those who are looking for eye-catching accessories to accentuate their living room.
The dual palette of off-white and light gray is easy on the eye, while the bamboo handles create a slight contrast that blends functionality with sound style. Aside from such an intentional design, what sets this piece apart from other magazine holders is that it can be folded flat for easy keeping when not in use.
Those who prefer environment-friendly home accessories would be delighted to find out that this stylish rack is also made from reclaimed and planet-friendly materials like bamboo and recyclable cardboard. Because it is practically free of any chemicals, it is also skin-friendly and does not contain any irritating smells.
8. Two-Tier Coffee Table & Magazine Rack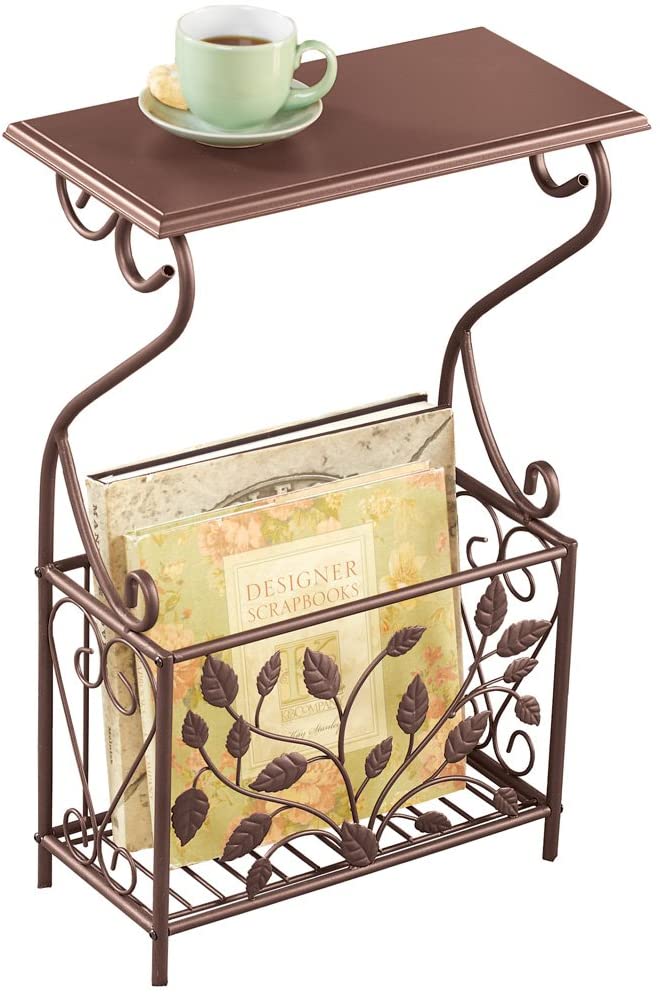 Search Two-Tier Coffee Table Magazine Rack on Amazon
Sometimes, we need more than just a magazine stand. Well, this two-tier piece is actually a side table and a sizable magazine rack rolled into one. After all, is there anything better than curling up on the couch on a rainy day all bundled up, flipping through your favorite magazine with a cup of piping hot tea or coffee at hand?
This stylish table is the perfect companion for that. It has a wooden tabletop perfect for some light snacks, and a leaf-accented iron box at the bottom to hold all your favorite leisure reads. It is no doubt one of the most stable magazine racks on this list and is just the right size to pair with your sofa or reading chair.
9. Bamboo Magazine Holder with Handle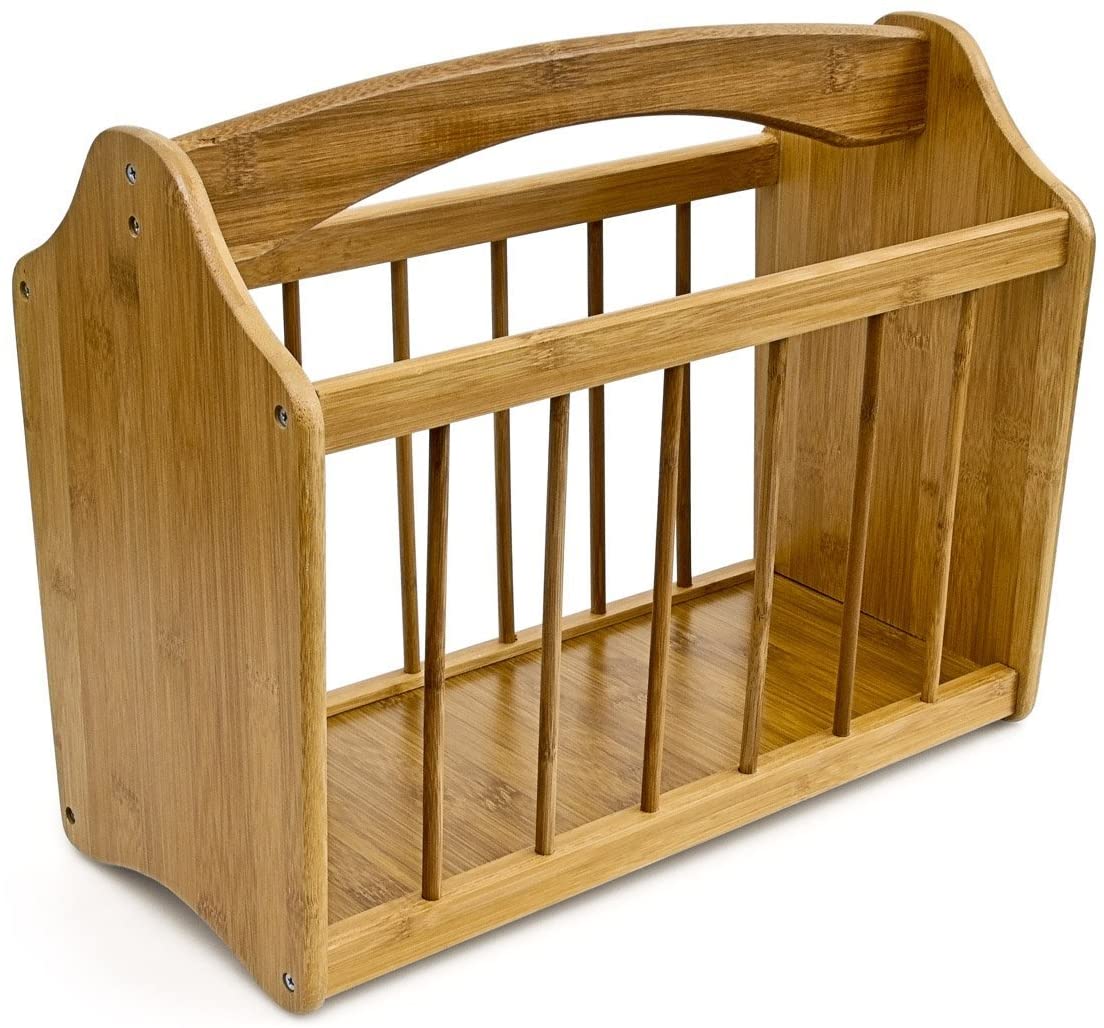 Search Bamboo Magazine Holder on Amazon
The simplest magazine stands can be the prettiest, and this bamboo caddy is the perfect example. It doesn't have any intricate details, yet it makes quite the statement with its warm colour, which would fit right into your natural and modern interior design work. Made from robust bamboo, this piece would probably be around for a couple of generations before it even starts to show signs of wear and tear.
It can carry a few magazines at a time, which means it's perfect for waiting rooms and cafeterias where people may be expected to do some light reading while waiting for their food or companions. It's also a great home decor, and the long, durable handle would surely come in handy anytime you need to transport your magazines from one place to another.
10. Wooden Mallet Magazine Stand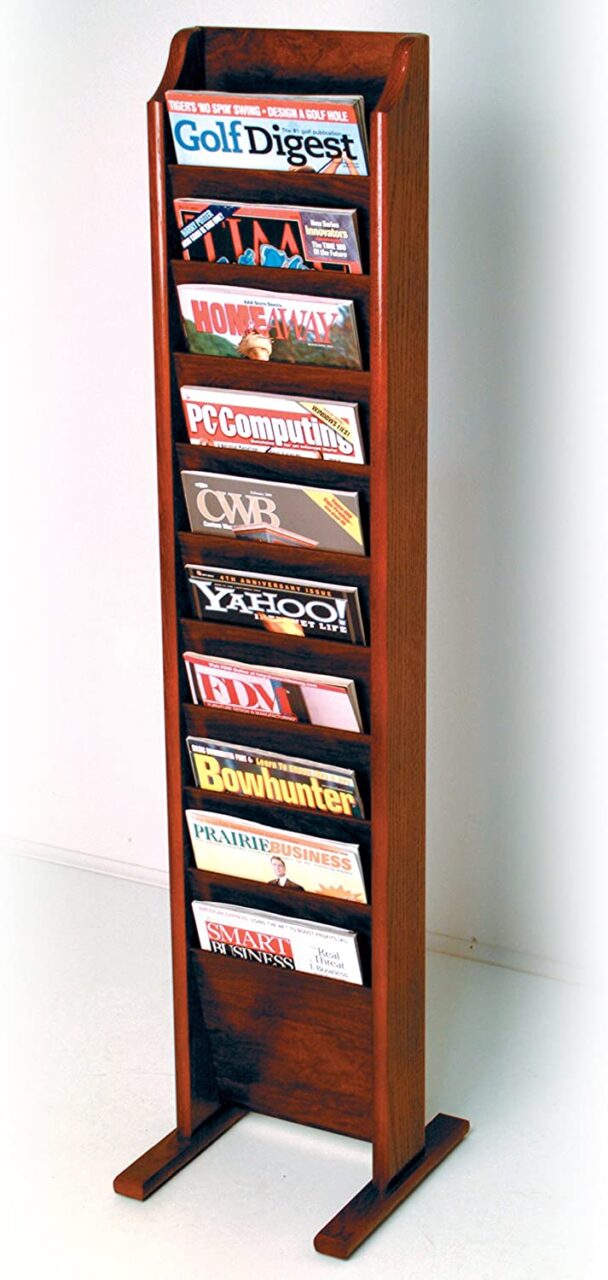 Search Wooden Mallet Magazine Stand on Amazon
If you're quite the magazine subscriber, you need something that can hold over 20 magazines at a time. This freestanding oak rack might just be the right choice for you. With 10 angled pockets, this stand will give you more than enough space for all your monthly issues.
The dividers are designed to give each of your magazines maximum visibility. This is the kind of magazine stand you'd see at a library, so it's truly perfect for collectors and those who have acquired quite the collection of magazines in their personal libraries.
Final Thoughts
A clutter-free home is a peaceful home. A magazine stand, rack, or caddy that could neatly keep all your reading materials is thus your ally in keeping the home organized, even if you can't yet swap your physical magazines for digital copies.
Article by Bella Toledo, Edited by Li-ling Ooi