Coffee tables are often the focal point of the living room. Picking the right coffee table not only enhances the space, but offers a place for books, drinks, screens and board games. And, if you like having friends and family over, it is as much functional as it is a centre for social interaction.
A coffee table is a must have in every living room. No living room is complete without one. Depending on your taste, there are plenty of different styles to choose from. We intend to break down the different styles and timeless designs designers are bringing to the table. For functional as much as it is aesthetically pleasing coffee tables, read on."
For The Love Of Coffee Tables
If you have been following us for a while, you know that here at Colour My Living we are great fans of coffee tables. Not just because we enjoy lounging around the living room, coffee in one hand and a good book in another but the very idea that it holds together the communal space. It does this by creating a balance between useable surfaces and the sofa or couch. Surround it with single, dual and three seaters and you have yourself a complete living room.
We love a good wooden coffee table. With its aesthetic good looks, natural wood grain, warm brown shades and style, it lends itself as a great conversation piece.
These low-slung tables placed in front of the sofa can also serve as a foot stool when nobody is looking. Talk about multi-function. Here is to enhancing your personal comfort level, taking the meaning of putting your feet up literally."
As a lasting and durable material, wood will endure the test of time. Modern pieces with retro or mid-century inspired styles are just as attractive as its modern contemporary counterparts. Picking the right design will elevate the style in your living room.
Which Wooden Coffee Table is Right for You
We have broken down the different styles used when designing a timeless wooden coffee table. The list below is our most comprehensive and we intend to cover all the different coffee table designs under each heading.
Rustic
Industrial
Vintage
Retro
Mid-century
Nestling
Modern
Contemporary – Scandinavian inspired
Minimalist
Quirky – triangular or geometrical shape with rounded edges
Lifttop
Glamorous and Premium
Top 12 Best Wooden Coffee Tables: There is a style to suit everyone
Here are 12 of the most stylish wooden coffee tables that will enhance the look and feel of any living space.
At all times, we observe our own unwritten rule of only choosing coffee tables with solid wood construction. However, modern coffee table designs now come with a mix of laminates, steel, chrome metal, plastic, glass, marble, brass apart from solid wood. Sometimes; Durable MDF, engineered wood, particle boards and laminates with wood grains and textures are chosen as a more sustainable material.
1. Rustic – Chandler Rustic Solid Wood Coffee Table by Emerald Home
This rustic open shelf coffee table is made from solid wood and steel. The lower shelf offers some storage for magazines, books and storage boxes while the table top above lets you serve up drinks, place your tech, put down your book and reading glasses and more.
The solid wood and steel construction makes this rustic piece durable as much as it is stylish. Take distressed solid wood finish adds to the character while the solid steel angled legs and cross-bracing with exposed metal fastening rivets gives it an industrial feel.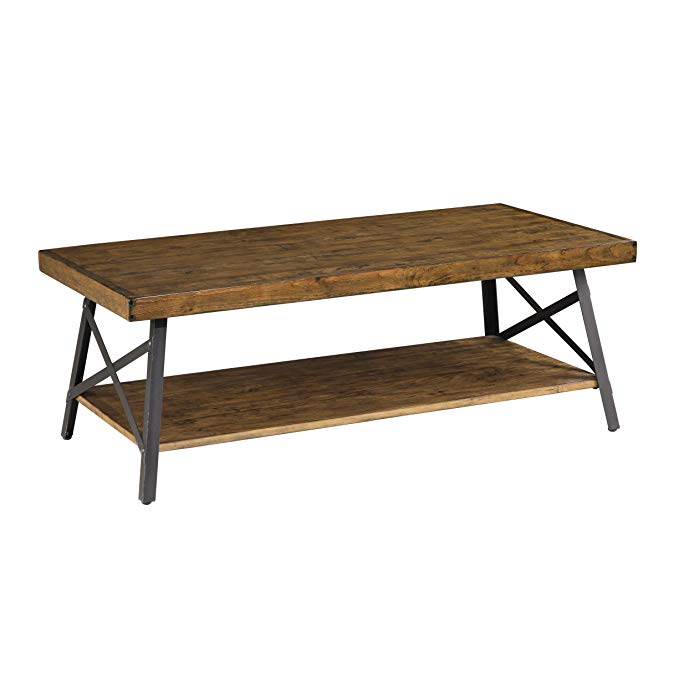 2. Industrial – Green Forest Round Industrial Oak Coffee Table with Open Shelf
The oak finished round coffee table has a very distinctive industrial feel to it with strong metal legs and open lower shelf with metal mesh as the storage surface. The two-tier farmhouse style table is an instant classic. Measuring 35.5-inch in diameter, it offers plenty of table top surface and equally big storage space underneath. The only thing that it lacks is a real solid wood table top, favouring instead the use of high quality MDF wooden board with 3D wood grain.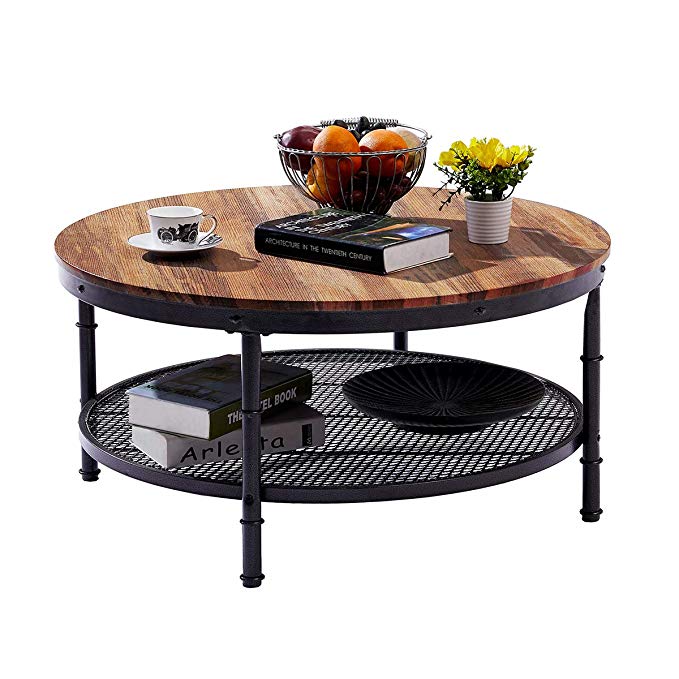 3. Vintage – Coffee Table with Removable Tray Vintage Country Chic
This vintage country chic coffee table has a removable top that doubles as a tray. Removing the tray lets you access the storage space inside the table. It also benefits from an open shelf storage on the side.
Remove the integrated tray and flip it over to reveal a pair of built-in iron handles, perfect for serving food and drinks as well as a tray for TV dinners. Finished in light wood tone, the coffee table is supported by four iron legs, each made from three iron bars.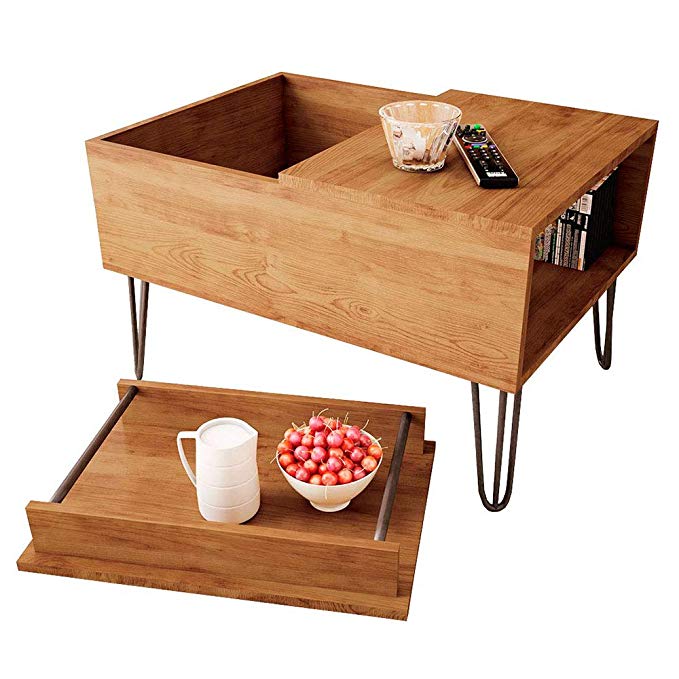 4. Retro – Aldwin Farmhouse Grey Storage Coffee Table with Pine Wood
The Aldwin Farmhouse Coffee Table has tonnes of storage. It is essentially a trunk that also doubles as a coffee table. Access the storage space through two flip up table tops. The weathered gray finish accentuates a rustic farmhouse styling beautifully.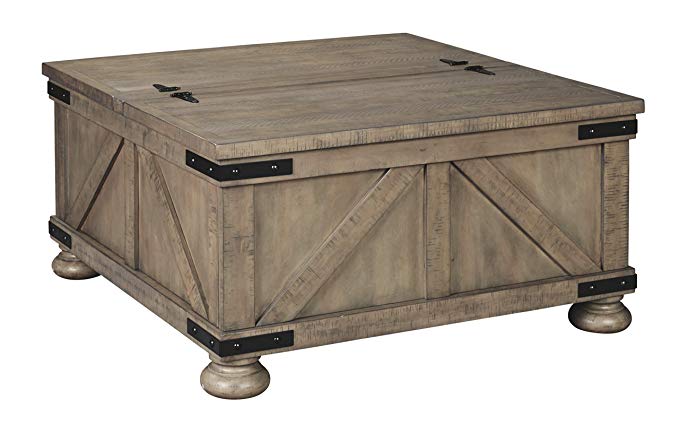 The table is made of pine veneers, pine wood and engineered wood finished in gray. It is designed with crossbuck details, metal bracket accents and a 2 sided hinged lift top (with stay arms). Matching side tables are also available.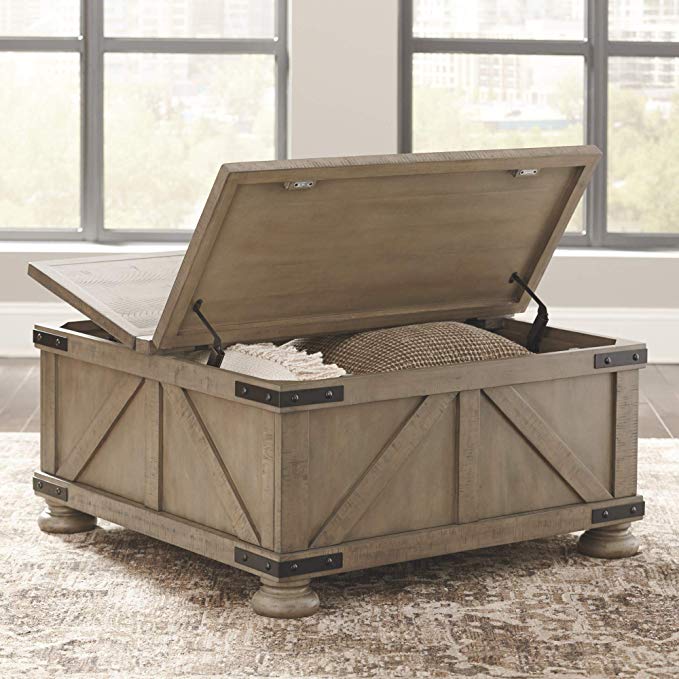 5. Mid-century – IWELL Coffee Table with Storage Shelf
Made from high quality particle board wrapped in smooth durable and waterproof laminate, the IWELL coffee table with storage shelf has a mid-century style. It has ample storage space with the open shelf underneath for books, board games, puzzle and even drinks if you need the table top.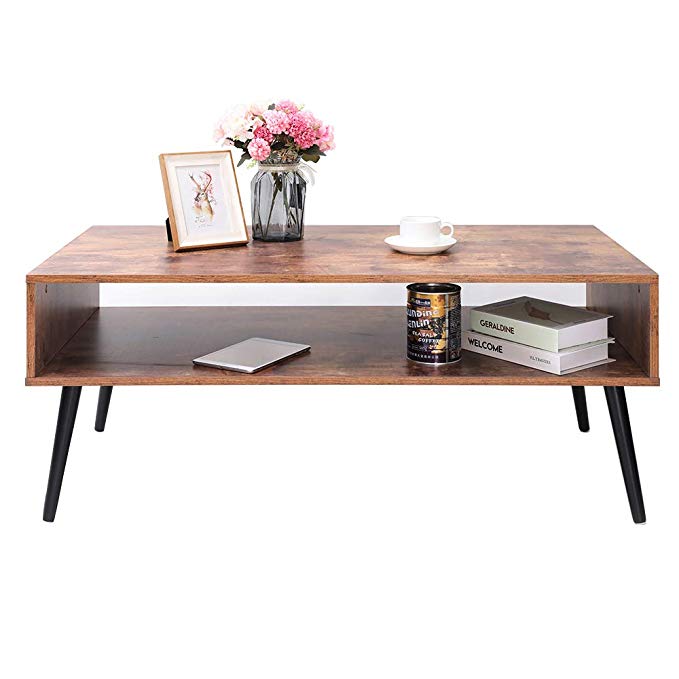 6. Nesting – Nesting Coffee Tables for the Living Room
These rounded triangular nesting coffee table set offers not two but three tables in one. The MDF table tops are finished in walnut design and is supported by three sturdy hair pin metal legs each. Nesting coffee tables offer the flexibility of multiple coffee tables where you need them. You just have to spread them out.
When you are done, simply nest them together again to free up floor space. In medium to small sizes, these coffee tables can be used as end table, plant stand, telephone table, foot rest or even as night stand in the bedroom.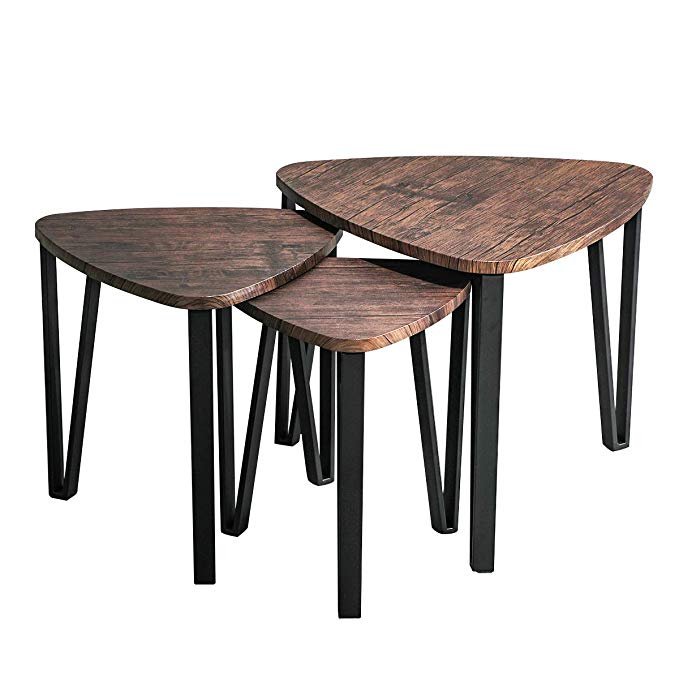 7. Modern – Mcombo Modern Coffee Table
The table top is made from laminated particle board using durable and waterproof laminate with natural wood texture. It is supported by four sturdy, matte-black iron frame allow the table to take up to 220 lbs. The manufactured wood is wrapped to look like it is 3.9-inch thick making the modern coffee table look and feel strong and chunky.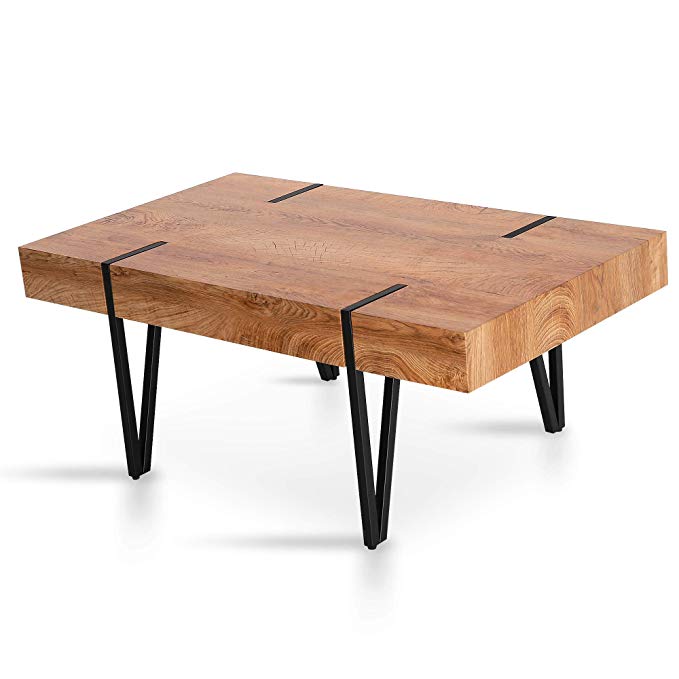 8. Contemporary – Ashley Haroflyn Contemporary Gray Square Cocktail Table Open Design
The contemporary square coffee table is spacious and full of character. The table is made from acacia wood and is designed with a rustic grey finish. The butcher block styling and angular crisscross legs gives it a contemporary feel. As it is 40-inch square, it works well as a cocktail table. You can also find matching end tables if you need more of the same in the living room.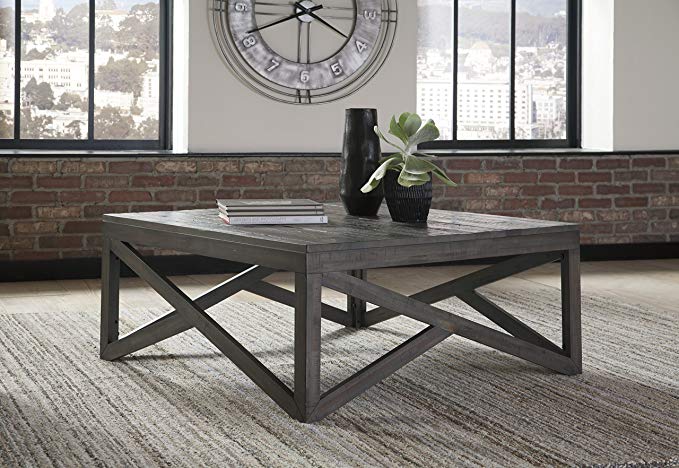 9. Minimalist – Wooden Coffee Table with Tempered Glass Legs
This sturdy and minimalist coffee table has tempered glass as legs. The modern wood top coffee table is chunky yet simple in design. The glass legs make the table look like it is floating and offers the room an illusion of space. The table top however is made from laminated particle board with a smooth wear-resistant surface and is wrapped to look like 2.9-inch thick.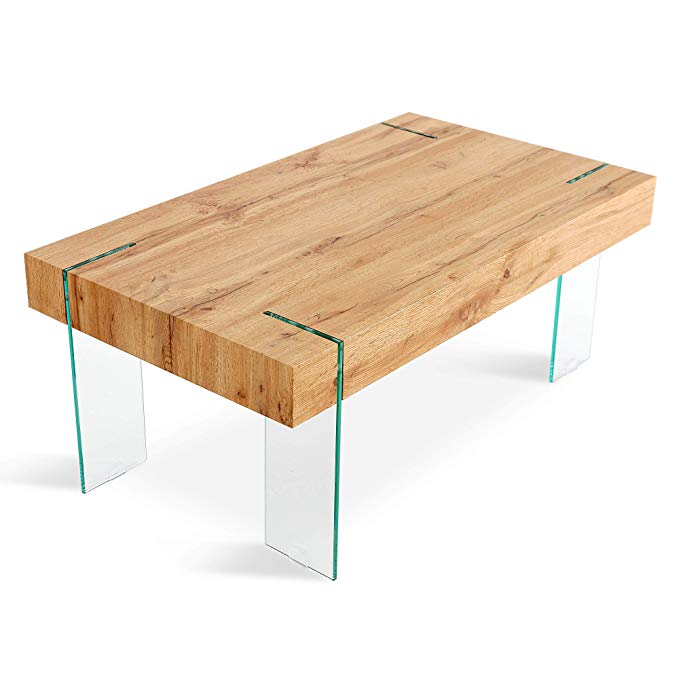 10. Quirky –
Aingoo Small Coffee Table on Vintage Steel Frame
It is unmistaken that the Aingoo Small Coffee Table is a quirky number. Not only does it spot a retro chic minimalist look but the duckweed three tiered tabletop from small to medium to large offers a fun way use the table.
These tabletops are supported by a tubular all steel frame measuring 38mm in diameter. The three legs are held together for rigidity and it is said that the table is strong enough to support a regular adult. However, the table tops are made from 18mm thickened MDF with wood grain laminate.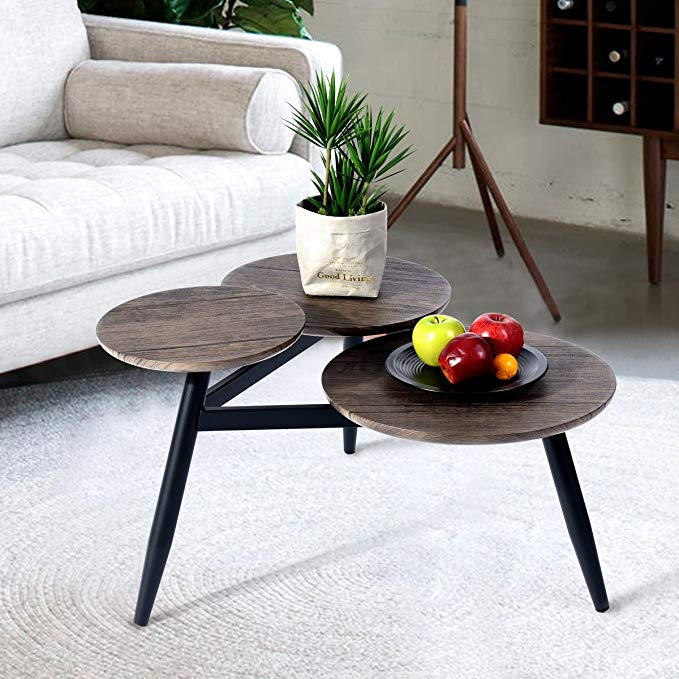 11. Lift-top – Carson Forge Lift Top Coffee Table in Cherry
This Carson Forge lift top coffee table in cherry has plenty of storage underneath from hidden to open shelves. But, what sets it apart from the rest of the coffee table here is the top that lifts up and bends forward. This allows you to use it as a worktop in front of the couch. The elevated height will meet your comfort level perfectly so you can work with ease without bending forward. Made from engineered wood, it is finished in Washington Cherry.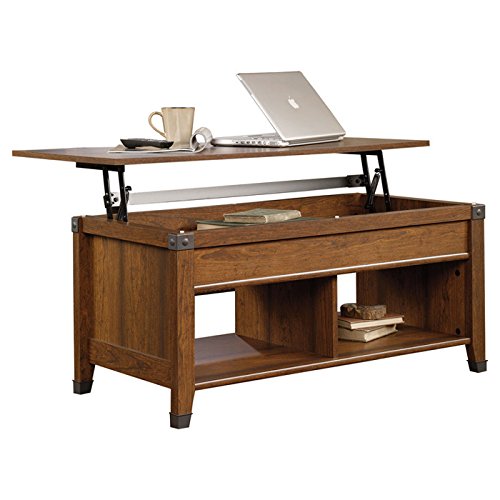 12. Glamorous and Premium – Concept SoHo Coffee Tables
The Concept SoHo range below offers a glamorous and premium without the heavy price tag.