The kitchen island is a trendy modern kitchen addition. It's usually located in the center of the space and has aisle spaces on three sides to accommodate circulation. Over the years, this element has seen a lot of upgrades and the contemporary kitchen island is still evolving with users' needs.
So, here's a list of some unique and ergonomic kitchen island inspirations that you can use to upgrade or redesign yours:
1. Built-in sinks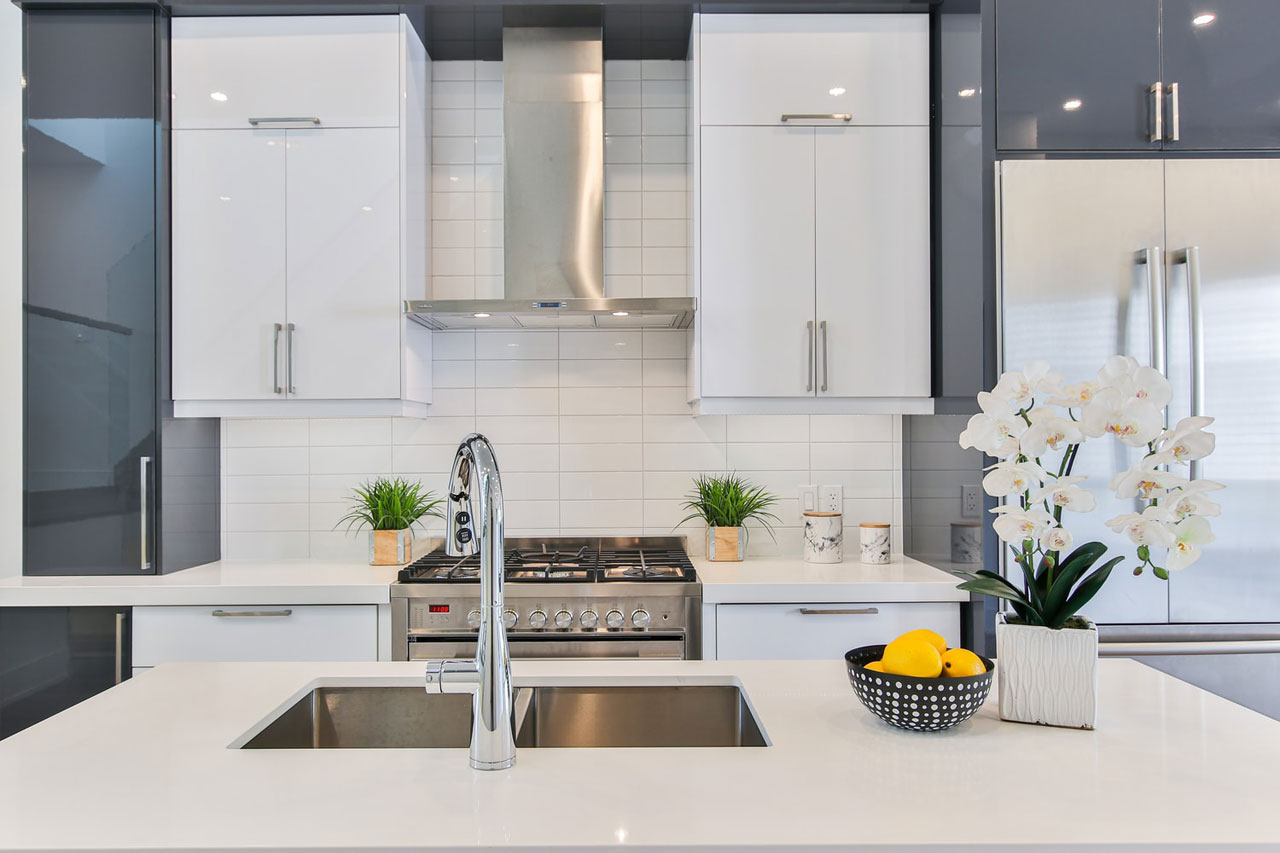 Kitchen islands with integrated sinks are some of the best remodeling investments that you'll ever make. Since they're directly installed in front of the hood and hob, they help optimize the work area in the kitchen. You can go for an under-mount sink to make the whole thing feel super holistic.
2. Edgeless designs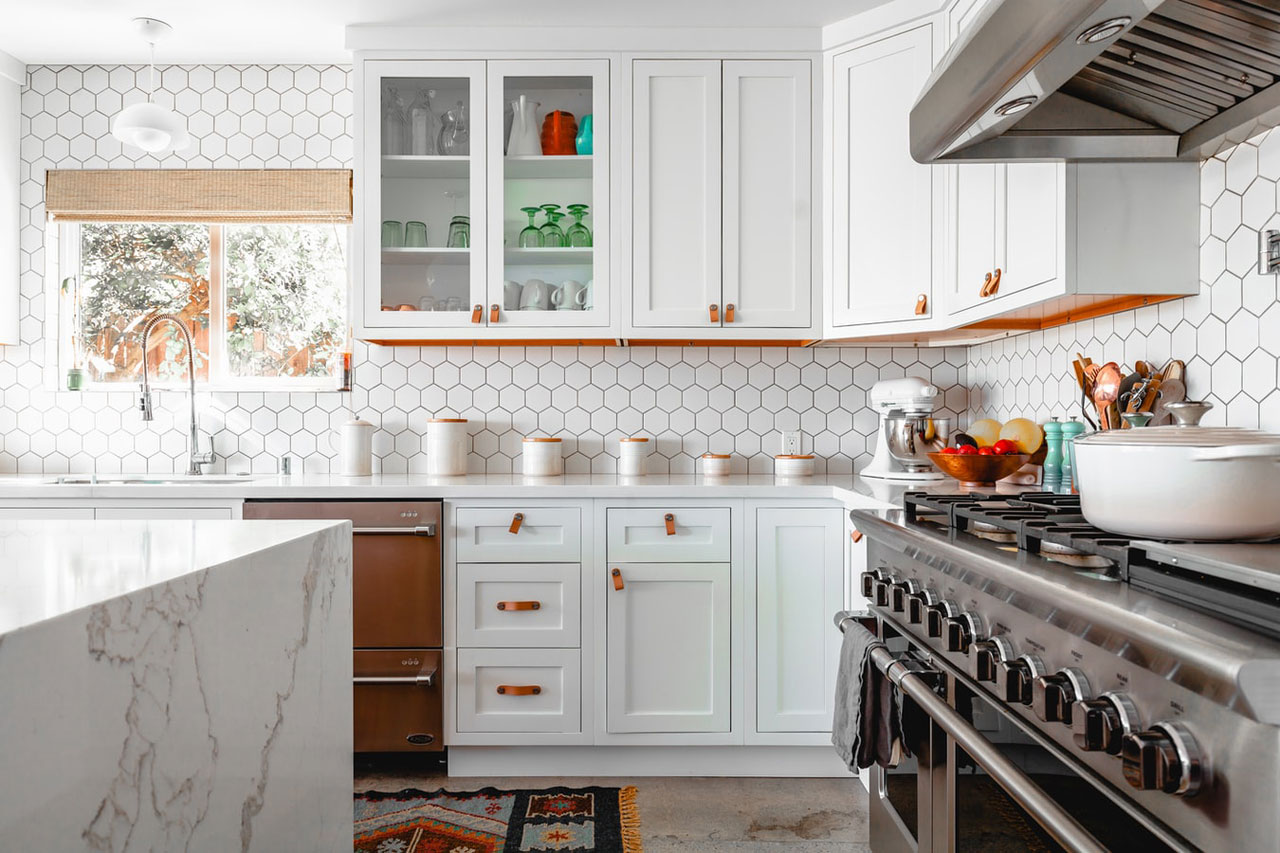 Countertops with smooth, seamless edges are considered the trendiest these days. Such islands don't have a nosing. They're edgeless and the top seamlessly transitions into the side. The clean, minimalist look of these islands is perfectly articulated in modern and contemporary kitchens. They're usually finished in marble and other stones so that the joinery is barely ever visible.
3. Built-in appliances and cabinets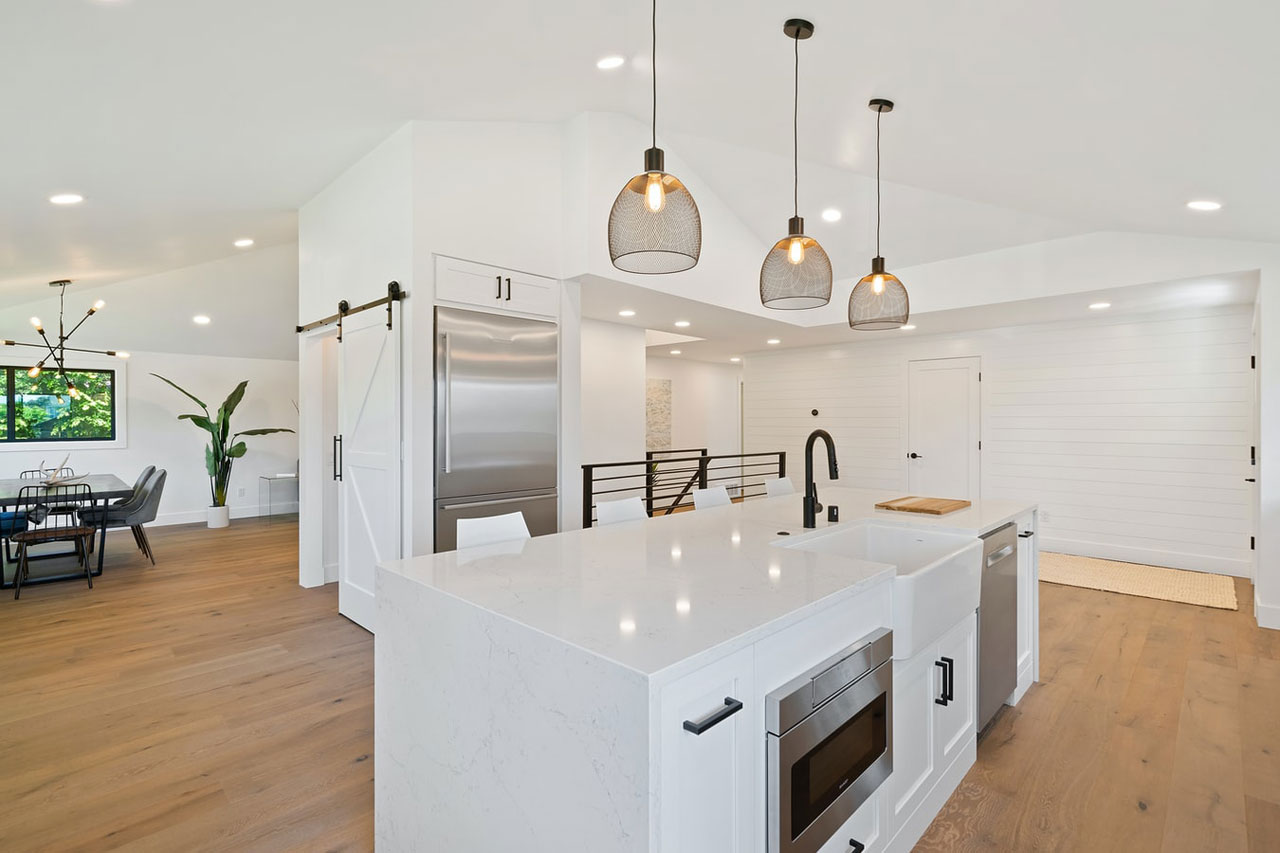 The trendiest kitchen island is the one that's functionally viable as well. Therefore, an island with built-in appliances is considered one of the best ones out there. Larger ones don't just have a sink or an electric hob installed on the countertop surface, but they also come with built-in ovens. The left-over space is utilized in storage, where pullout drawers and cabinets are adjusted for optimal use.
4. Unique materials
If you want a kitchen island that stands out, then you can pick one that boasts a unique material scheme. Metal cladding is always a delight when featured in distinguished finishes. The corrugated or galvanized finish is especially charming, and when paired with beautiful stone tops, they look all the more stunning. It's all about choosing the right metal-to-stone combo.
5. The curved aesthetic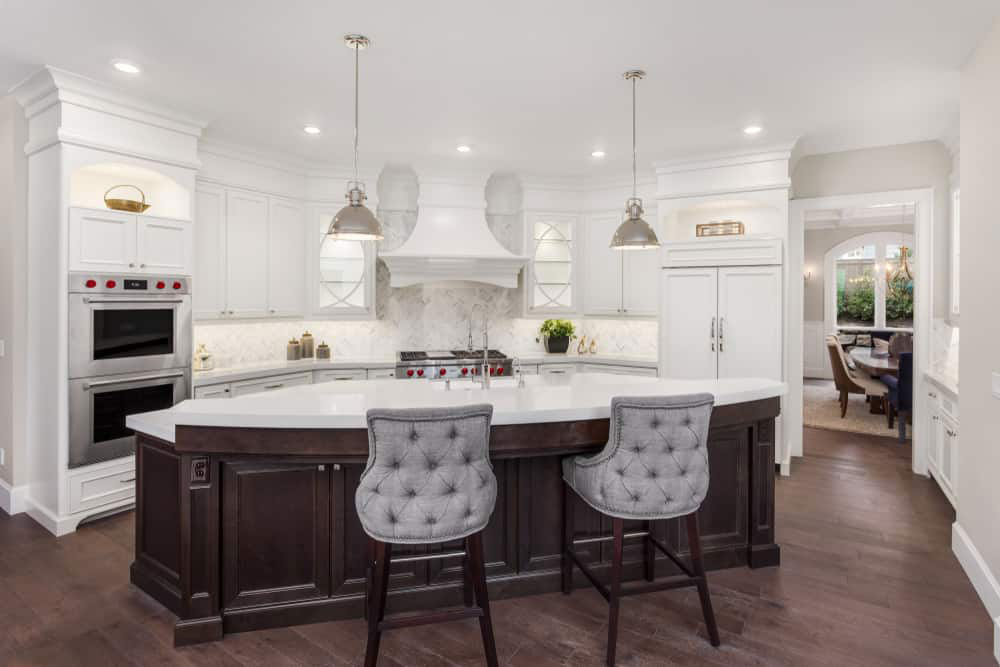 Source: Home Stratosphere
For a small kitchen with a limited amount of space, you can always opt for a stylish round kitchen island. Although unconventional, it's a great way to style your kitchens without having to compromise on the space. Round islands can also be incorporated in large kitchens as well, and they look pretty majestic when featured in an oversized space.
6. With a built in breakfast bar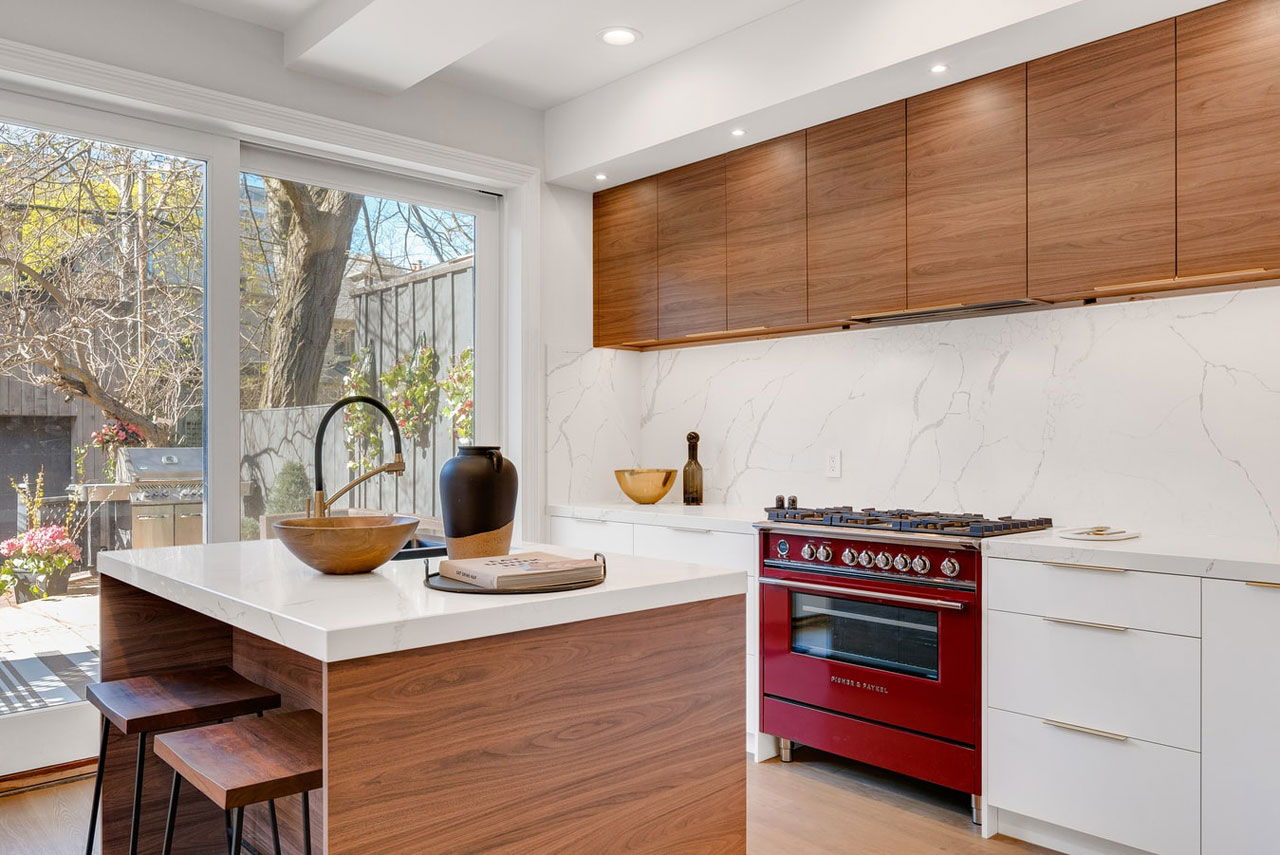 If you're wondering whether you should opt for a breakfast bar or a kitchen island, then you'll be glad to know that you can opt for both in a single package. Your island can be transformed into a partial breakfast bar where the backside is recessed inside and stools are pushed within. This dual-purposed invention is perfect for those who have a small kitchen space that they want to make the most of.
7. The dining-table effect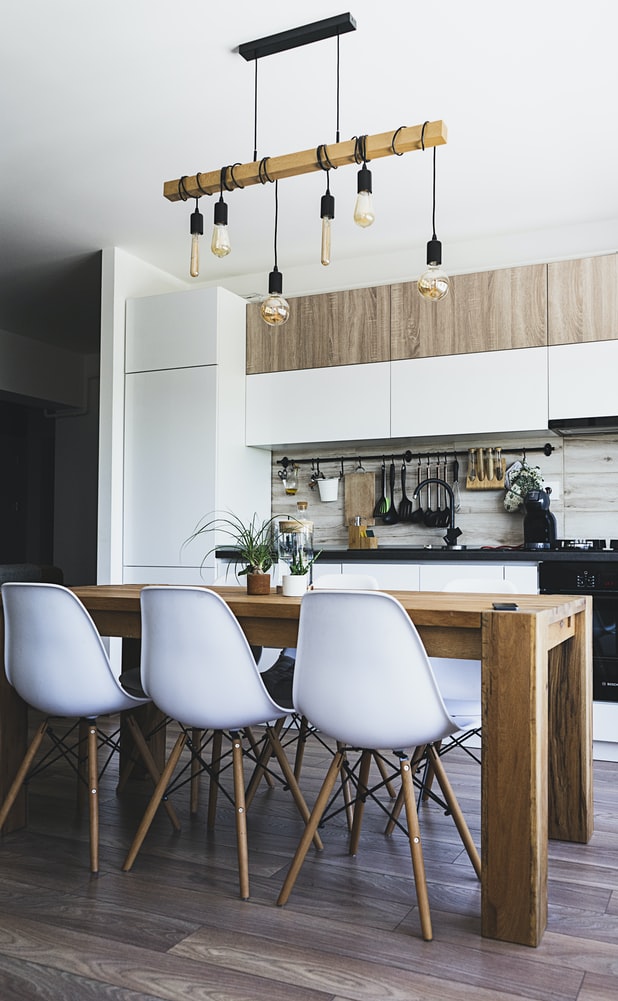 Your kitchen island doesn't always have to be heavyset and broad. It can be designed like a dining table as well. The idea is great for people who want to emulate openness in their kitchens. Since the island style is simply just a chunky dining table, it turns the space into an open kitchen diner, great for those strapped for space. No need for a separate dining area. This type of a kitchen island idea can also be emulated in small or medium sized kitchens because of its lightweight visuals. If you have more room, you can add a matching dining table alongside the kitchen island maximising entertaining space in the same open kitchen dining design.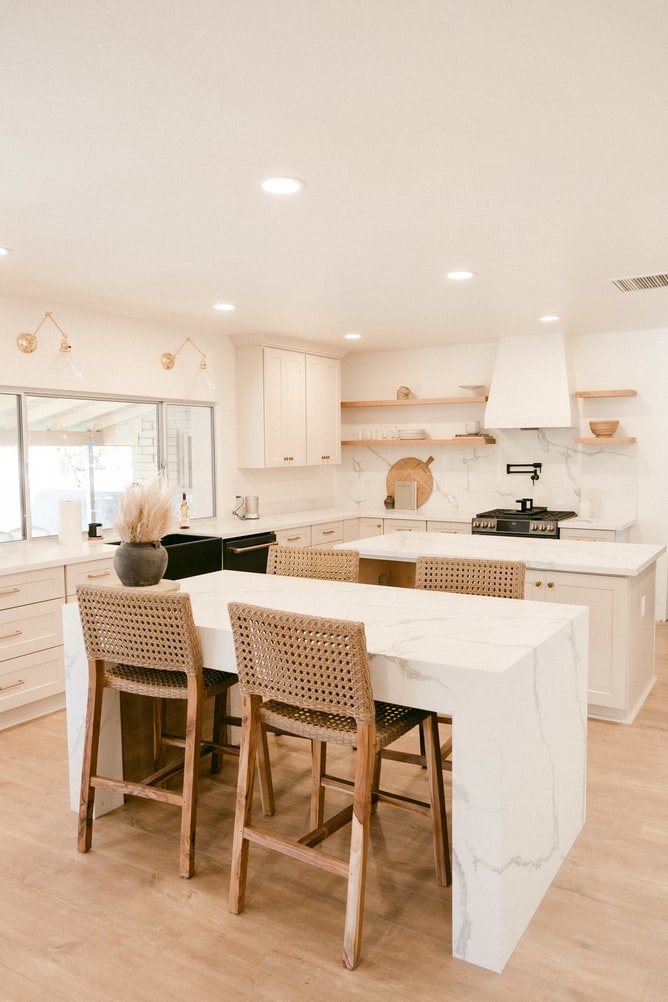 8. The one with sideways seating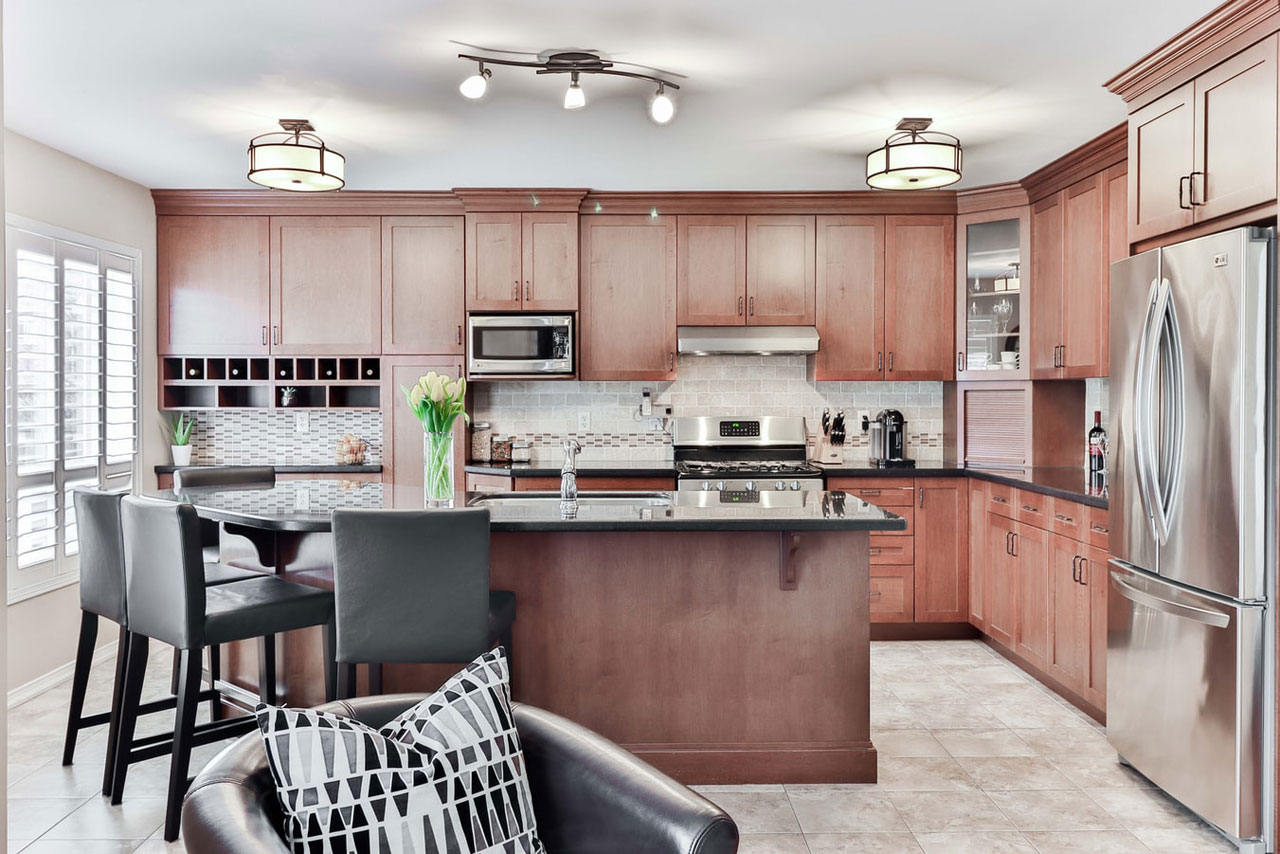 This kitchen island design is certainly one for the books, where the corner top extends sideways like a counter and is complemented with contrasting stools. It's a really unique look and takes leave from the conventional one-sided bar-style seating. Additionally, you can customize the overall aesthetic to suit the rest of your interior theme. For example, the base of the island can be crafted in classical cuts to give it a vintage appeal.
9. Boasting statement light fixtures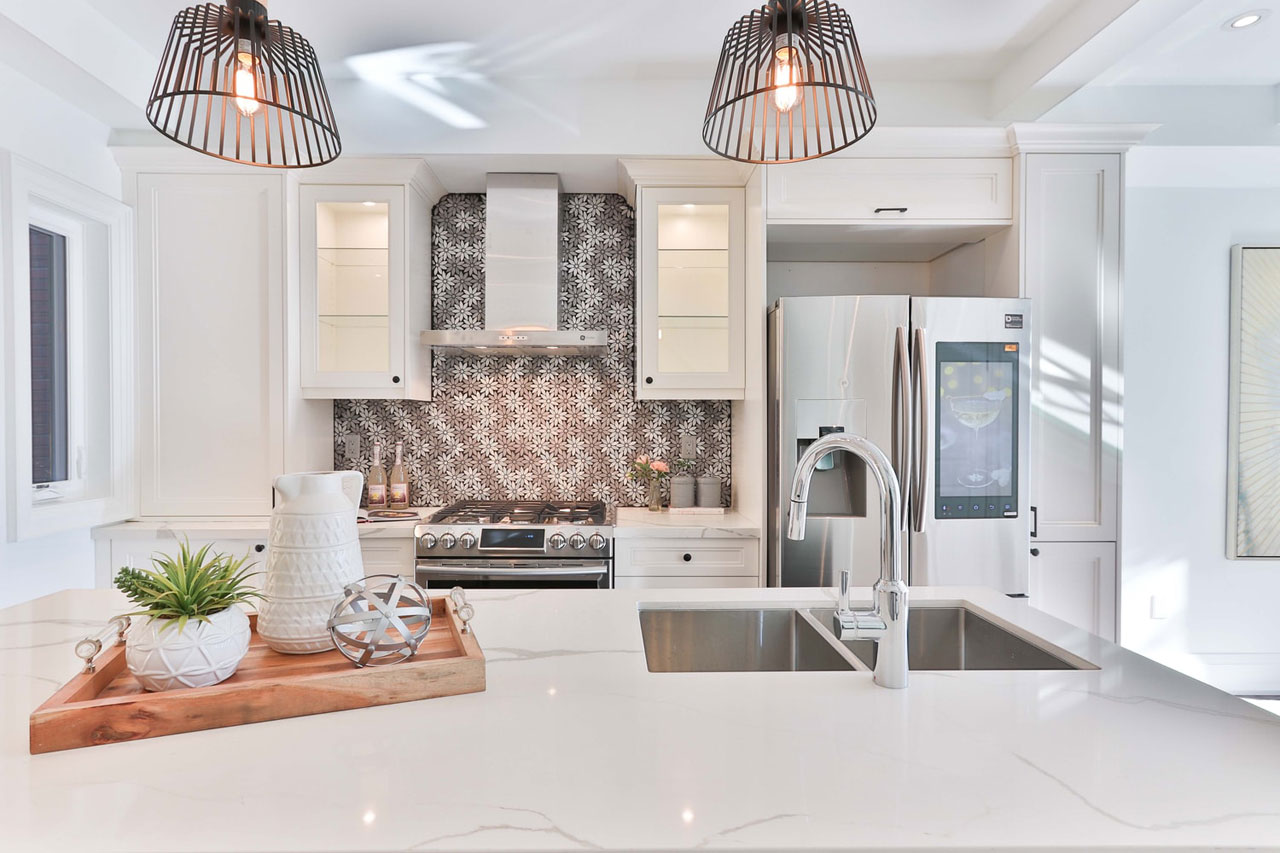 You can give your kitchen islands a fantastic visual flair by installing gorgeous statement lights above them. Now, there's a large variety that you can choose from. It may include a single, sculptural fixture that hangs low over the island top, or it can be a cluster of beautiful pendent lights that add drama to the island design.
One rule of thumb to remember when selection light fixtures for your kitchen island: match them with the bar stool finishes so that they contrast the island finish.
10. The island pantry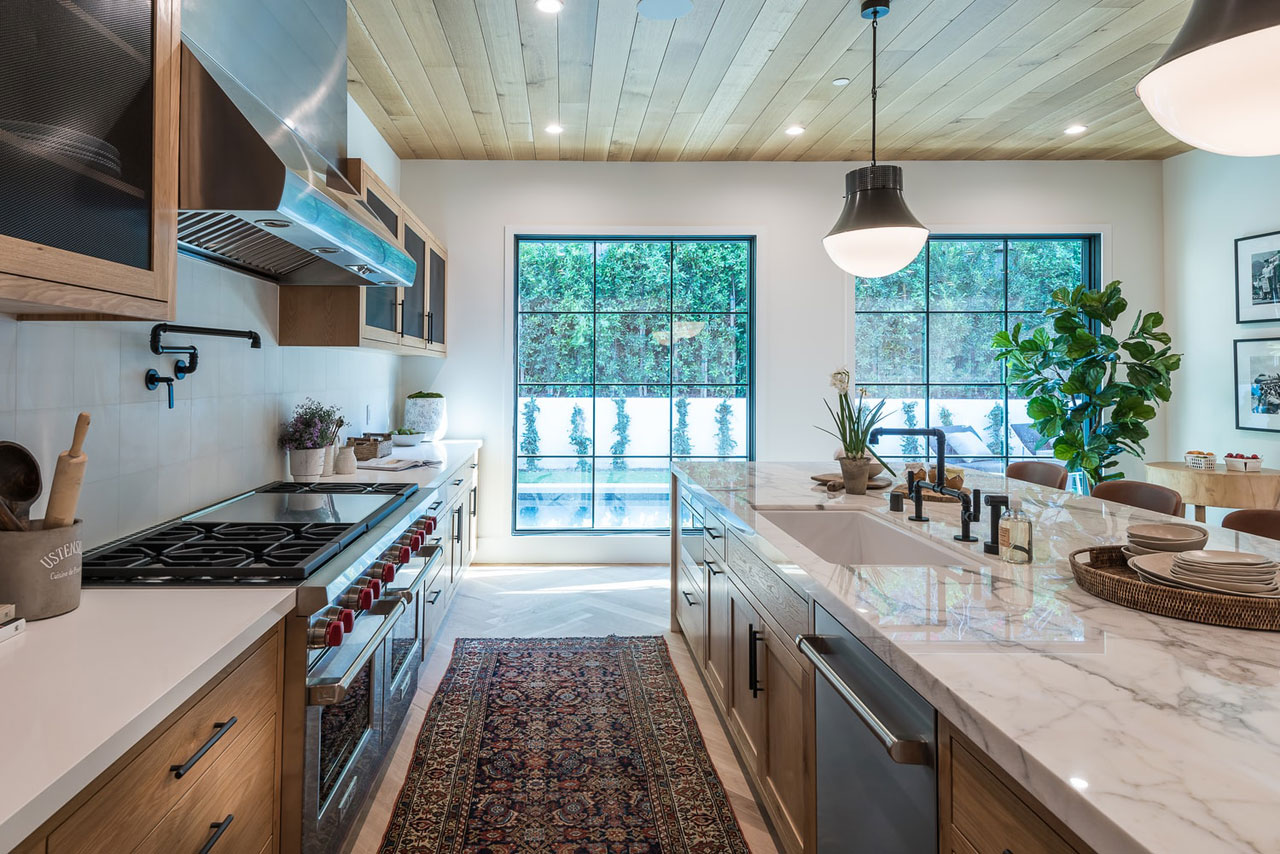 A kitchen island is oversized and broad for a reason: you can design a lot of storage inside it, and if you're short on pantry space, then the island is the perfect place to accommodate it. You can design pullout drawers of different sizes as well as cabinets with interesting hardware in it. You can even add hangers for pots and pans on the side for holistic storage. This is a great way to give a functional flair to a mostly aesthetics-oriented kitchen island.
11. The slim fit island aesthetic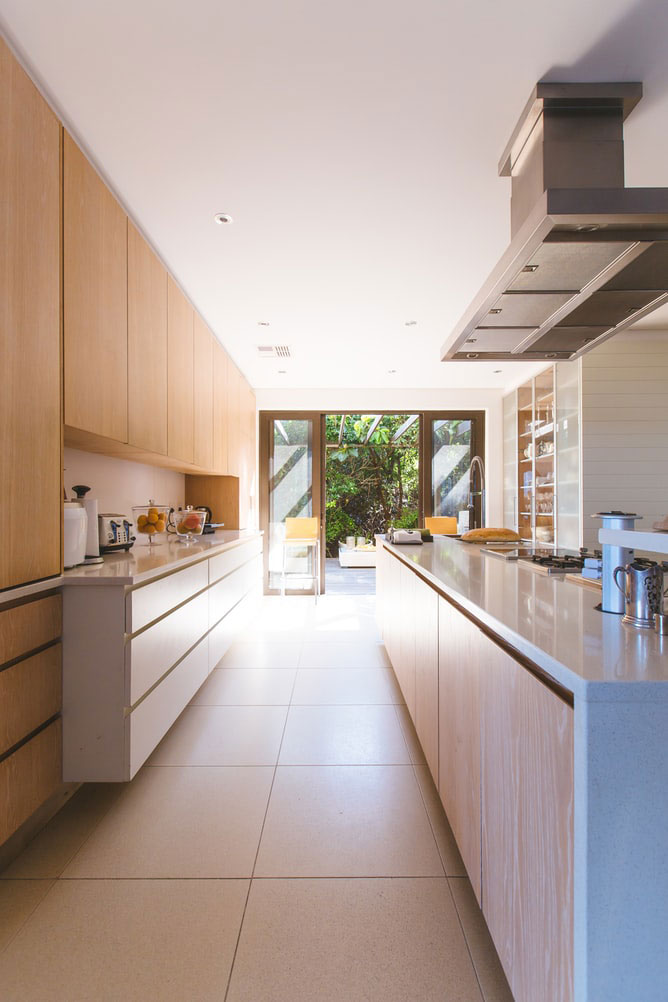 Who says that your kitchen island has to be large, rectangular, and always oversized? Because it doesn't! In fact, the best kitchen islands are the ones that complement the size of your space. So if you have a slim or narrow kitchen, then you can design an island that suits its dimensions. Instead of being broad and space-consuming, it can be narrower to accommodate good circulation around the countertops!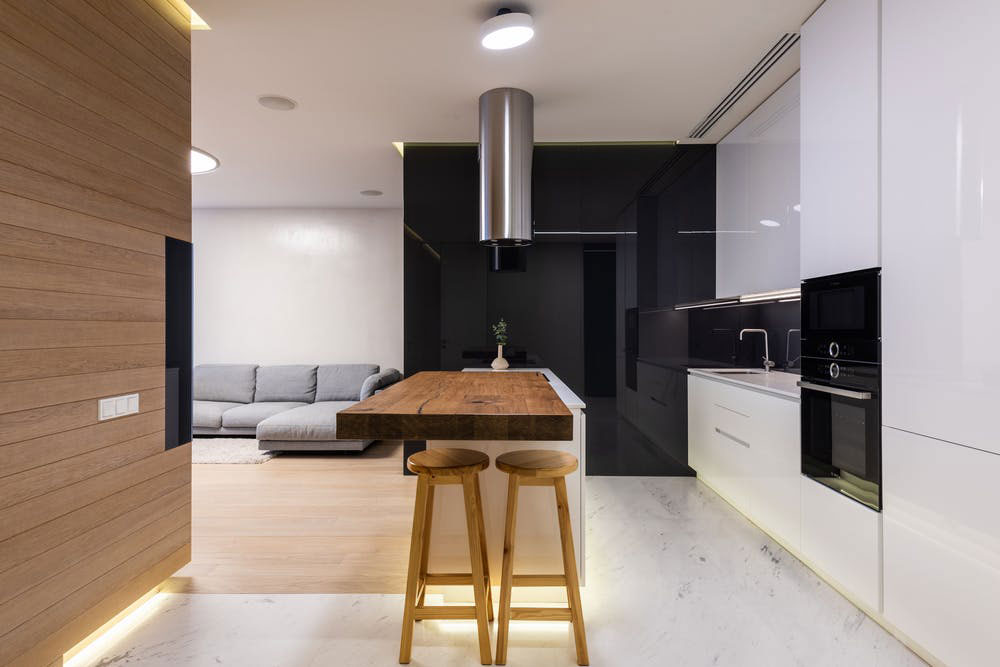 12. The extended dining table aesthetic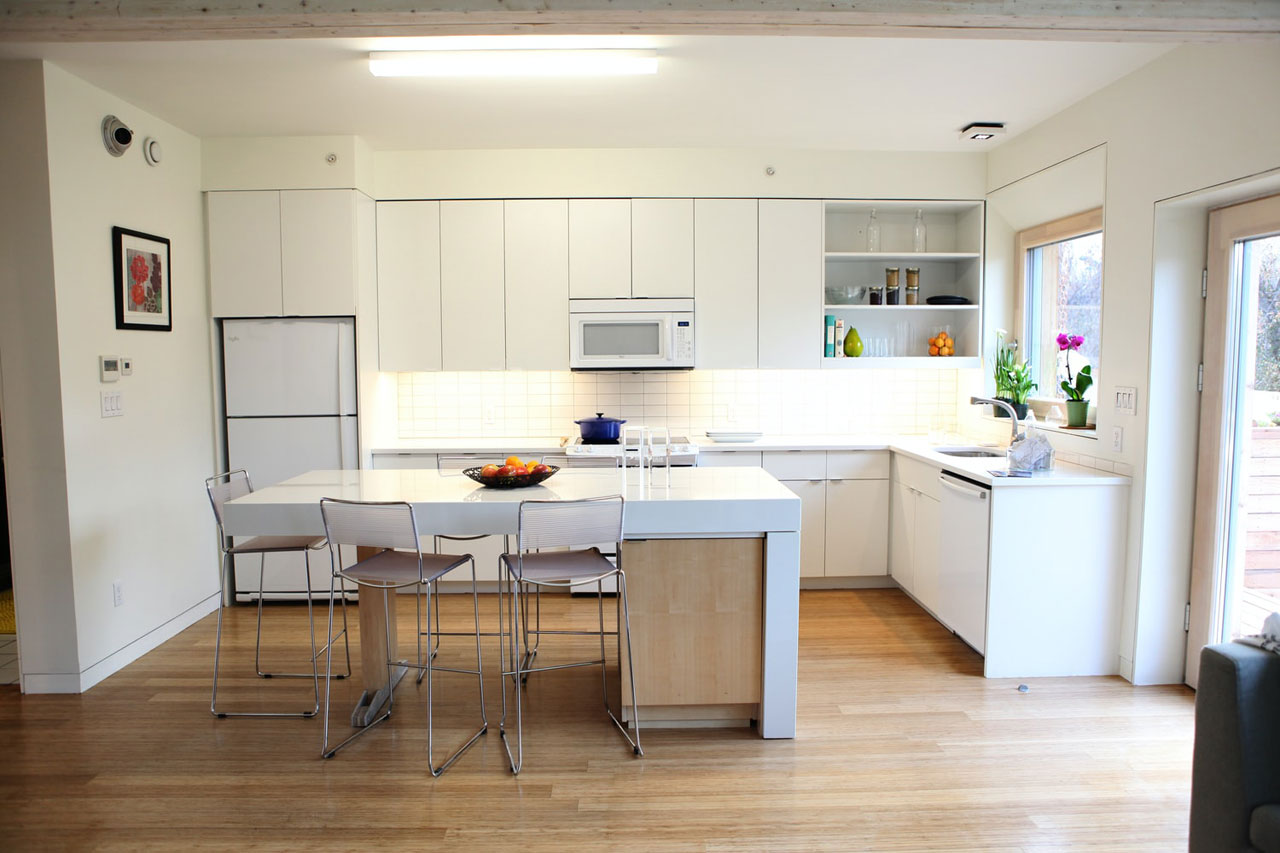 These days, one of the most popular kitchen island trends is the one that extends into a dining table. The first half of it is a complete island (sometimes installed with a sink or a hob) and the latter half is an actual dining table. The seamless transition from island to table is really inspiration-worthy.  This idea is perfect for accommodating a nice dinner with family and friends right in the heart of your kitchens.
Take a look at these 2021 kitchen island trends for a stylish kitchen upgrade!
13. The built-in storage beside the sitting effect
If you want to optimize your kitchen island into a handy dining area, then consider adding some storage on either side of the seating. It doesn't have to be too much – just a couple of drawers or a cabinet can do the trick. The idea is to make the dining experience easier for everyone, so even when someone is sitting on the stool, they can simply reach into the adjoining drawer and pull out the eating-ware without having to get up and search the rest of the kitchen.
14. The classic minimalist look
If you want your kitchen island to exude timeless charisma, then go for a minimalist aesthetic like the one featured above. The wood-and-white material scheme is simply stunning and the smooth, clean lines of the whole island exude modern charisma. Even the bar stools have been chosen to complement the simple look. When combined together, everything pulls together perfectly to deliver a beautiful, effortless, and straightforward aesthetic.
15. The one like a bar
If you don't want a central island that takes up too much space, then this one is the perfect idea for you. Instead of a typical centerpiece, you can design your kitchen island like an oversized breakfast bar. It will maintain its large physical girth and grand presence, but won't take up too much of your kitchen's space. You can even add a breakfast bar-like sitting area at the front to give it a dual-working aesthetic.
16. Ultra Modern Kitchen Counter
Take sophistication and style to the next level with an ultra modern kitchen island. Without making your it busier than it needs to be with breakfast canteen, cooker or pedestal seating, the island can just be one large kitchen worktop for food preparations. With the right amount of storage, including floor to ceiling cabinets, you can achieve a totally minimalist look too. Nothing left out, just one clean surface after another. Let there be order in the kitchen.
17. Rustic Kitchen Island
A stark contrast from matching units and modern cabinets, a rustic kitchen island works just as well to add a touch of charm and character to any kitchen. This can be a made from recycled wood or up-cycled old table, the choice is yours. It can be designed with open, closed or mixed storage and would certainly add colour to any plain kitchen. Perfect to introduce a natural tone to make your kitchen lively and homey.
18. The Square One
If you have a square kitchen, use a square kitchen island to complete it. Kitchen island does not need to be rectangular or pill shape. Pick one that works best for the space in your kitchen. Here, it can be used completely to add extra storage and worktop or half and half, with storage on one side and breakfast nook on the other.
19. Stainless Steel Kitchen Island
Stainless steel units works in any kitchen as it is pretty neutral when it comes to pairing other cabinets, worktops and other pieces of furniture in the kitchen. Same goes to stainless steel kitchen island. Bring a bit of that commercial styled kitchen feel into the mix at home by combining the material with wood, steel or marble. If nothing else, it will go well with overhead extractor hood, splash back, stainless steel cooker and other appliances you may have in the same finish.
20. Never too small
No kitchen is too small for a kitchen island. The easiest and quickest way to add extra worktop to any small kitchen is to go with a standalone kitchen island you can pick up from a furniture retailer. These ready made kitchen island can be fitted with lockable castors allowing it to be moved around easily. A favourite material and design for such an island would be all natural hardwearing wood with integrated drawer and open shelves for quick access. Easily one of the most affordable option, this means anyone can have a kitchen island or kitchen trolley if it comes with wheels. For those with a bit more room; a small, fixed island works well too, to complete the island.
So, these are some great kitchen island inspirations from our gallery. If you're thinking of adding one to your own kitchen, then these are all the inspirations that you need!
ZG