There are few things as heartwarming as a mug or in this case, a jar of tasty, warm, perfectly seasoned, creamy, filling soup on a cold wintery day. These food jars, ranging from a small 10 ounces to a relatively large 25 ounce lunch jar, all provide the ability to keep food warm for several hours – which make them perfect for a healthy warm soup lunch packed from home, ready for lunch-time at school or in the office.
Most of these thermoses are single containers that will keep food warm for a good 4 to 5 hours or longer. A number of them are also beautifully patterned and decorated to appeal to school-age children, and of course, for more options, the larger bento-styled thermoses offer multiple bowls within the carrier – so even a complete meal is possible!
Whether you decide to fill your food jar with a thick creamy soup, or a clear bone broth topped up with sliced and shredded vegetables and noodles, a warm meal is simply something to look forward to in the colder months and in the heat of summer, keeping food cold is also a possibility!
Here in this post, we have, for convenience broken down the food jars by size. The large bento-styled thermoses are listed with the large jars. Do you have any favourite food jar recipes?
SMALL (10-15 Ounces)
MEDIUM (16 to 20 Ounces)
LARGE (More than 20 Ounces) & BENTOS
SMALL (10-15 Ounces)
There are enough for individuals and great for packing warm lunches to schools. Smaller 10-ounce food jar is sufficient for kids and toddlers while bigger 15-ounce is enough for young persons or adults.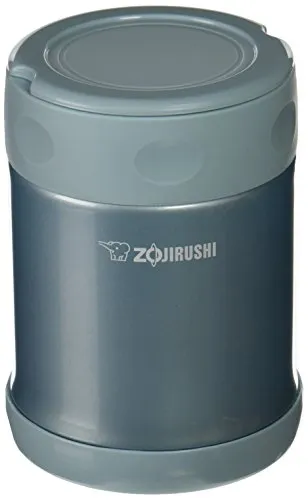 Available in Aqua (as shown above), Black and silver (next on our list) or pink, the Zojirushi 11.8 ounce stainless steel food jar has a grip friendly cover with dimples to make it easier to open. While the top and bottom is lined with BPA free plastic, the container itself and cover is made from stainless steel. The main body has a clear coating to help reduce fingerprints thus making it easy to clean. A bigger option is also available with 16.9-ounce capacity or 0.5 Litres.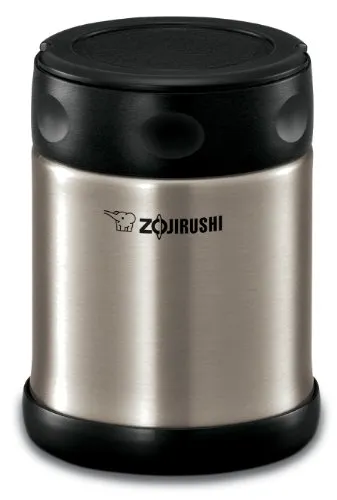 Zojirushi is a big name in Japan. Started in 1918 as a manufacturer of hand-blown vacuum bottles, they company is today well known for vacuum insulated containers. Made with durable 18/8 stainless steel, the container will not rush, tarnish or stain. Just like the previous Zojirushi container or all Zojirushi containers for that matter, the lid is fashion in a way that it has a gasket that allows users to release the pressure inside, making it easier to open the container. A wide opening also mean that it is easy to take food directly from the jar and clean later.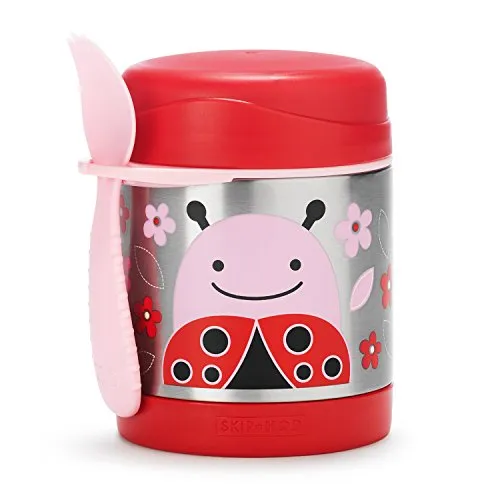 Available in a multitude of designs and colours, including matching bags and accessories such as bottles, the Skip Hop Baby Zoo range of food jar is a small 11-ounce container perfect for kids portion. It can keep food warm for up to 5 hours or cold food for 5 hours. There is a handy spork, a cross between spoon and fork that can be attached to the jar for ease of transport.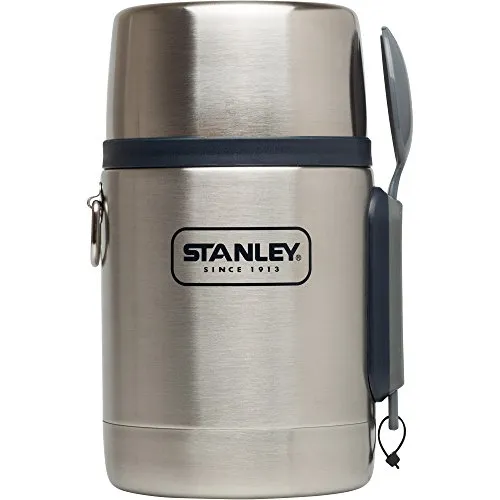 An adult option with bigger capacity, the Stanley Adventure Vacuum Food Jar has a 14 ounce capacity and is made from stainless steel. It also has a spork that can be attached to the container when not in use or for ease of transport. The container has a wide mouth making it easy to reach and eat food directly from the jar and clean later. A much bigger 18 ounce and 24 ounce version of the Adventure Food Jar is also available in the range from Stanley.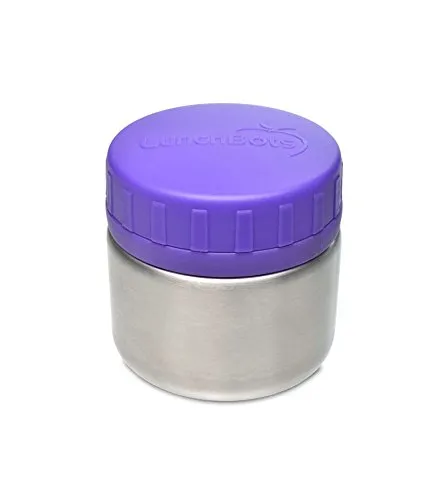 This is the smallest of our stainless steel food container, the LunchBots Rounds are not exactly insulated, but a food jar nonetheless. It is great for small portions such as snaps, dips, fruits and finger foods and is perfect for little ones. LunchBots have companion products such as the Uno, Duo, Trip and Quad as well as Cinco Bento containers if you find the range useful. Bigger Rounds at 8-ounce or 16-ounce are available if you wish to extend your collection.
ALSO: LunchBots Rounds Stainless Steel Food Container 8 Ounce and 16 ounce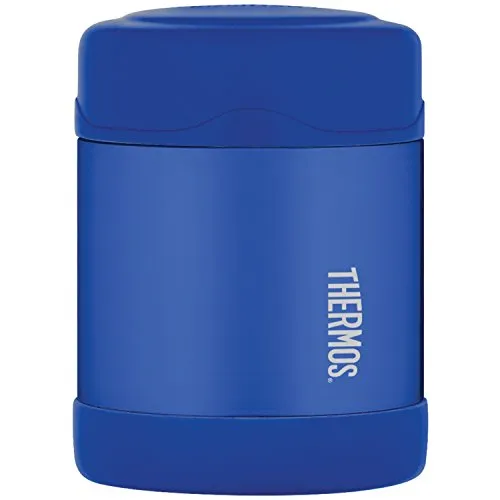 A popular food jar from Thermos, it is available in a variety of colours and designs to suit both boys or girls. The jar has a moderate 10-ounce capacity, perfect for the lunch packs and small enough to take anywhere. Thermos uses their vacuum insulation technology for maximum temperature retention, hot or cold. Like other containers in our list, the Funtainer food jar to keep warm food hot for 5 hours and cold food cold for 7 hours.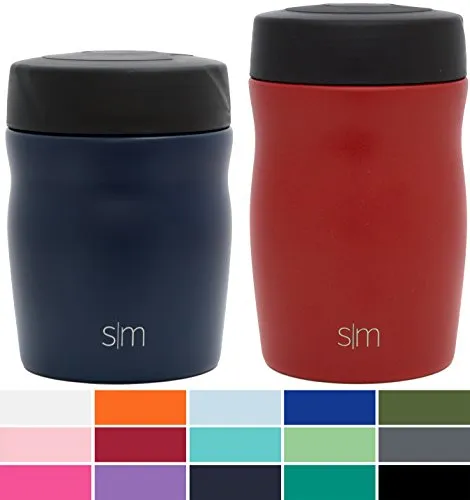 Available in a variety of colours, the Simple Modern range of food jars has a simplistic design. The containers are double-walled and vacuum insulated. It is capable of keeping warm food hot up to 8 hours and cold up to 12 hours. Made from stainless steel, the outer body has a premium and durable coating. Available in two sizes, 12 ounce and 16 ounce.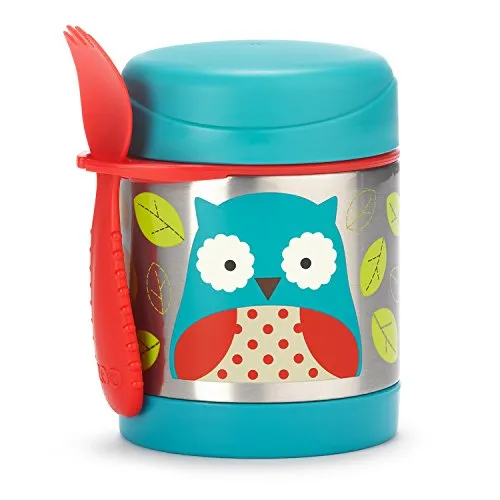 We already featured the Livie Ladybug food jar from Skip Hop Baby Zoo range, here is another popular food jar with Otis Owl. As before, the food jar is perfect for kids and has companion optional bags, lunch packs and drinks bottles to complete your collection. It comes complete with a spork and holder so there is no need to carry separate utensils.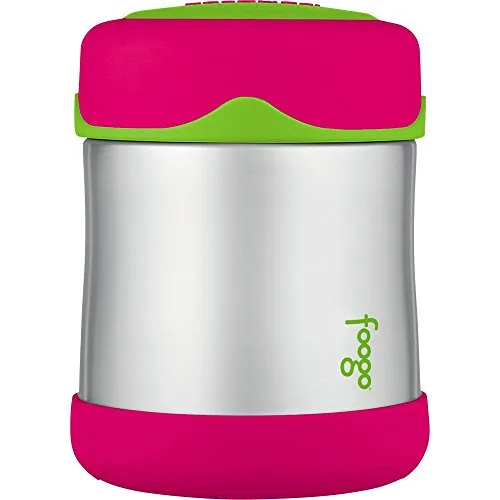 Thermos's FOOGO series is another amazing choice from the company. Like the Funtainer, the FOOGO is a 10 ounce container designed with kids in mind. The stainless steel interior and exterior is durable and can withstand daily use. Perfect as an addition to the lunch pack or toddlers on the go, the jar has an ergonomically-designed lid with a rubber grip for easy handling. The base of the jar is non-slip and scratch resistant. The wide opening means its easy to fill, eat from and clean.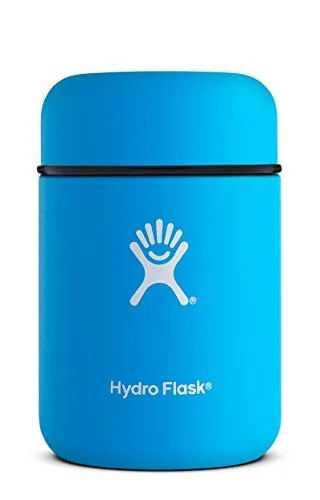 Available in five different attractive colours depending and in two sizes, 12-ounce or 18-ounce, the Hydro Flask has some really fresh and cool colours such as Mango, Kiwi, Pacific (shown above), Plum and of course the straight stainless steel. The branding and logo also keeps the container interesting. The jar can keep cold or hot food for up to 3 hours with its double-walled, vacuum insulated TempShield insulation.
---
MEDIUM (16 to 20 Ounces)
Now for a look at medium sized food jar, enough for a young person or grown adult.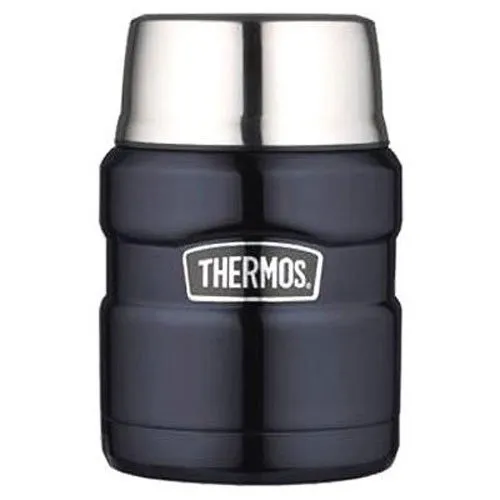 While smaller Thermos jars are available in a variety of colours and design motifs, the bigger Thermos jars are more for grown ups with darker shades. Thermos Stainless King is available in Midnight Blue (shown above), Matt Black, Cranberry or straight Stainless Steel. The jar has a modest 16 ounce capacity, easy to fill wide mouth, durable interior and exterior design and a sizeable lid that can double as a serving bowl and includes a telescopic stainless steel spoon.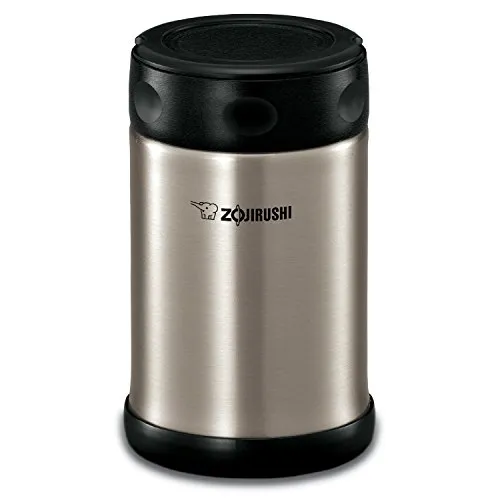 The bigger version of the Zojirushis that dominated our small, 10-15 ounce list, comes at a capacity of 16.9 ounce. Like its smaller counterpart, the food jar has a dimpled lid to make it easier to grab and open. The stainless steel outer body is finished with a clear-coat to reduce fingerprints and make it easy to clean. The container is great for keeping hot meals, soups, oatmeal, cold desserts and beverages (hot or cold) or anything type of food you can think of. It has a wide opening making it easy to fill, to eat directly from and to clean out.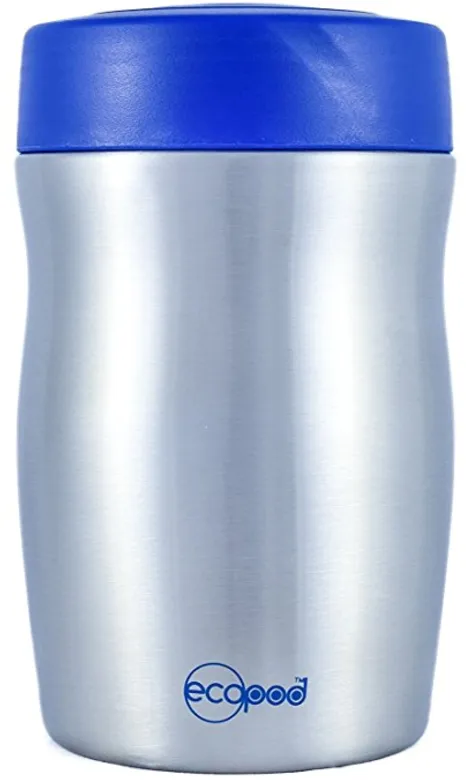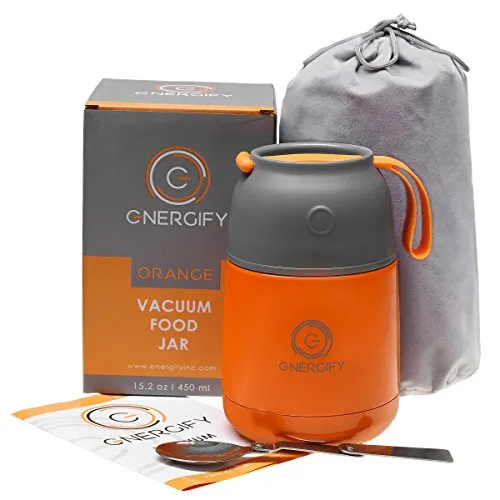 A two tone design, available in orange with grey lid with a handy strap or with a bigger 22 ounce capacity but in dark grey with grey lid also with a handy strap, the ENERGIFY Vacuum Food Jar is both attractive and functional. With a wide opening, you will have the convenience of filling, eating from and afterwards cleaning the food flask in a flash. The jar has a double walled design to help keep food cool or hot for longer. The container is made from stainless steel with protective silicone base and grippy lid which doubles as a deep serving bowl. You can let the pressure out using the pressure release button on the lid for a hassle free opening. It also comes with a foldable spoon and carry bag.
The bigger of Stanley's Adventure series, the 18-ounce is the middle child between the 14 ounce and the 24 ounce. It has an insulated to keep food warm or cold for up to 12 hours and leak proof design with wide mouth. The lid doubles as a serving bowl and the full size spork is a welcome addition and it attaches to the body of the jar when for easy of carriage.
The Kuuk Lunch and Soup Container lets you bring hot food and drinks with you anywhere, retaining the right temperature for longer with its airtight leak free inner cover. To open, simply press the pressure release button and twist the inner cover. The outer lid can be used as a serving bowl or mug. Made from 18/8 food-grade stainless steel, the flask is durable and elegantly finished.
BlinkOne Food Jar has a foldable plastic spoon hidden in a separate compartment in the lid. The container is insulated to keep hot or cold food at the right temperature for longer. With its generous 16 ounce capacity, its perfect for adult or young person. Using double walled insulation, you can expect to have your hot food kept warm for 4 – 8 hours and cold food cold for up to 8 hours. While the canister itself is made from stainless steel, both the lid and base is made from BPA free Polypropylene.
If you like choices, here is a simple yet functional food jar available in a variety of colours. The food container is double walled and vacuum insulated and is capable of keeping hot food warm for up to 8 hours and cold food up to 12 hours. The powder coated exterior keeps finger prints off while the BPA free lid is light and easy to secure and open. Take your food straight from the jar with its wide opening, you will however, need to bring your own spoon.
The Hydro Flask range was also featured in our line-up of small food jars above. Here, we look at the bigger 18 ounce variety. The double-walled and vacuum insulated canister with TempShield insulation keeps hot or cold food for up to 3 hours. Made from stainless steel, the flask is durable, tough and built to last.
Great for keeping hot or cold food, Stanley Mountain Vacuum Food Jar has a large 20 ounce capacity that keeps food hot for 13 hours or cold for 11 hours. Made from 18/8 stainless steel, the flask has an integrated spork and a good sized lid that doubles as a bowl.
---
LARGE (More than 20 Ounces) & BENTOS
And finally, for thermos food jar bigger than 20-ounce and bentos, great for sharing and small families.
Double walled insulation and leak proof design makes this attractive vacuum food jar a must have for those looking for a big 22 ounce container. Using only food grade stainless steel, the vacuum jar is both safe for the family and looks great too. It comes with a handy velvet carry gag and foldable spoon but even without the bag, there is a carry strap on the lid so carrying it around is easy. It has a non-slip base for better grip even on smooth surface and stops the container from being scratched.
The biggest in the Adventure series, this Stanley Adventure Food Jar has a whooping 24 ounce capacity and is capable of keeping hot or cold food for even longer, up to 15 hours. It has a no nonsense design and look, very much like a conventional flask, only bigger. The lid doubles as a big bowl. If you have a big appetite or want to carry enough food for a small family, look no further.
With the capacity equivalent to 0.75 Liters, the Zojirushi 25 ounce food jar has sufficient volume to carry large portion of food. Vacuum insulated with 18/8 stainless steel construction, the container is durable and clean with a tight fitted lid that includes a gasket seal to avoid leaks and keep the heat in. It is available in Aqua Blue (shown above) or Shiny Pink with matching lid and rubber base.
Often you need to carry more than one type of food or wish not to have to wait for one to finish before passing the jar on to the next person if you are sharing the food. Mr Bento from Zojirushi is a bento style stainless steel food jar that carries up to 4 separate bowls. Open the insulated lid and lift out the bowls to start enjoying your food. If you are carrying different foods, there is a main bowl, a soup bowl and two side bowls. If you wish to carry for up to 4 people in your family, then use the different bowls to do so. It keeps hot and cold food for up to 6 hours. It also comes with a handy bag and the outer double walled vacuum flask is available in four colours; apple red, gun metallic, lemon yellow and silver.
Similar to the bento above, Ms. Bento has three instead of four separate food bowls each with its own insulated lid and spork with protective cover attachment. The vacuum insulated stainless steel food jar keeps food warm and desserts cold for longer. For travels, keep the jar in the included tote bag, perfect for picnic, camping or any outings.
The biggest vacuum food flask, the KUUK thermos has a 58 ounce capacity. Inside, you find three separate stackable stainless steel bowls but unlike the Zojirushi, it does not have individual lids. Still, it is capable of keeping dry and wet food separately in its own bowl without mixing them. The container has a stainless steel body, silicone non-slip base and a high quality silicone lid.