Kettles don't often fail. In the past twenty three years, we have used a grand total of two kettles, and the last one did not even break down. Considering how long and how well kettles typically last, it may be worth putting some extra thought in to your next kettle purchase, especially if you're looking for something that fits a variety requirements, a look, environmental and energy-consumption considerations.
We've put together a list of questions, some essential, some less so, that will help you consolidate your thoughts and ideas on the next kettle you buy. After all, while they are not always expensive – yes there are designer ones which are – there are some factors that you may want to consider before just picking up your next kettle.
1. What energy source do you use- electric, stove-top
Top of the list of considerations for your next kettle is how it will be powered. Do you want an cordless electric kettle with its own base for power, or perhaps you prefer a stove-top model? A stove-top kettle is particularly handy if you have a range cooker such as the Aga, that has constant heat.
How your kettle will be powered will help to narrow down choices, styles and availability of the different types of kettles.
Modern electric kettles have an embeeded power base, while some budget versions do still have exposed heating elements. The main difference between the two veers towards the fact that if the element is exposed, the water level will have to always be above it to boil. A kettle with an embedded element, can usually boil smaller quantities of water.
2. Glass, plastic BPA-free, stainless steel, combination
Stove-top kettles invariably will be stainless steel with almost no plastic content apart from the handle, while an electric kettle will offer greater choice of material – glass, BPA-free plastic, stainless steel.
If going plastic-free is important to you, then look specifically at stainless steel or glass options. In most electric kettles, if made of stainless steel, many of them also market with a BPA-free water level window. Usually these kettles also have a plastic made filter. We have contacted manufacturers to confirm whether these are indeed BPA-free, but have yet to hear back.
If you're an adult only household, a fully glass kettle may be worth considering. It is a material that is clear and easy to see through to confirm water levels. If you live in a hard water area though, it may need descaling more often as built-up scale can become unsightly.
If you're not too worried about material, then plastic* kettles do offer a wide range and variety of styles. Many are now listed as BPA-free, although it is tenuous because while the material may be BPA-free, it could potentially contain other forms of Bi-phenols.
*Plastic kettles tend not to be recommended because of their potential seepage of Bisphenol-A and other phtalates which are toxic to humans in large quantities.
3. What maximum capacity of volume do you need to boil
Typically the largest capacity of kettles are 1.7 litres while overall they range for 1 to 1.5 litres. It is useful to estimate roughly what the largest capacity of water you might need to boil. This may go beyond just cups of tea or coffee. Typically 1.5 litres would comfortably make 3-4 mugs of hot drink.
However, if in your family you rapid boil water in preparation for cooking pasta, then a larger capacity kettle may be helpful here.
4. Do you need a water level 'window'?
A water level window allows you to see at a glance the amount of water in the kettle. It is often standard on an electric kettle, although stove-top kettles rarely have this option. Being able to see how much water there is in the kettle means you can boil just the right amount you need, shortening the time and saving yourself some money boiling more water than you need.
5. Power consumption/Speed of boiling
There is a direct correlation between power and speed of boiling in an electric kettle. If it is important to you that the kettle needs to boil quickly, a higher powered kettle is what you need. The power on electircal kettles typically lie in the range of 1700 – 3000 kWh. The power consumption of a kettle is directly related to how much water you need to boil at once. A larger amount of water will take a longer time to boil so will consume more electricity.
6. Are you concerned with noise levels?
While it is not possible to control the noise level of boiling stove top kettles, electric kettles come in a range of noise levels. This is related to the size of the heating element. The larger the heating element, the greater amount of water it can boil at any one time. While the heating continues until all the water has reached the boiling point, the turbulence of the water inside the kettle gives rise to the rolling boil sound. Noise levels for an electric kettle typically lie between 79 to 95 dB. Usually, the more expensive the kettle the more quiet it is, as more expensive kettles usually have larger heating elements.
7. Does it have an internal limescale filter
Virtually all electric kettles come equipped with a limescale filter. This is usually made of black plastic located on the inside of the spout with a metal mesh filter. In the hard water areas, it is a helpful physcial barrier to keep limescale out of your cup.
These filters are often removable so can be taken out to rinse or when you need to pour out the physical limescale build up in the kettle.
Read our article on how to descale your kettle with natural products.
8. Additional features – automatic shut-off, temperature control, keep warm.
Kettles are meant to serve one function only and that is just to boil water. Most will come with an automatic switch to turn off.  However, at the higher end of the market, there are some models that have temperature control or even a keep warm function.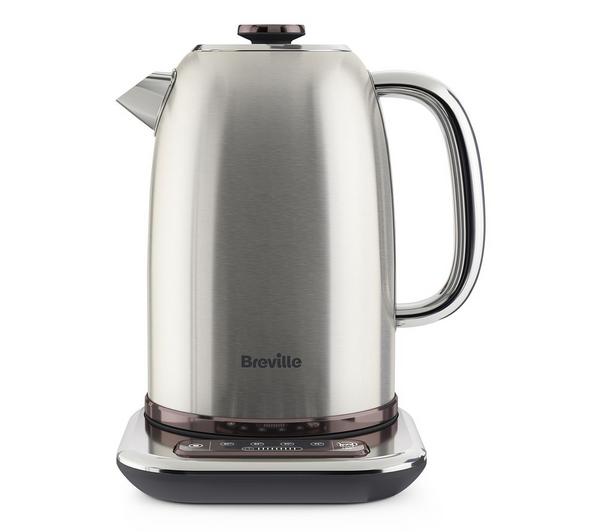 Search Kettle with Temperature Control on Amazon
The temperature control allows you to set the temperature at which to boil – 80, 85, 90 95 – are the usual options. Lower temperatures are usually recommended for herbal teas and tisanes. It is also recommended that coffee is made a slightly lower than boiling.
Some kettles have a keep-warm function. These kettles maintain the water at close to the chosen temperature and once it drops slightly lower, the kettle automatically re-boils the water to the chosen temperature.
These functions are also commonly found in the thermal hot water dispensers (on Amazon).
9. Price, aesthetics and brand
Other important considerations are of course, the cost of the kettle, what it looks like and if it's important to you, the brand. Prices of kettles range from the simple budget ones to the lavish designer end which of course also correlate to how it looks, special features and brand.
Given that a kettle is something you use everyday, it is worth spending a little more to get something you like and enjoy the look of and look forward to using.
10. Warranty – replacement and repair options
A final point to consider would be the warranty for the kettle. Although they rarely fail, in our experience, it may be worth considering the ones that offer repair and part replacement options. These may fall in to the upper tier of prices and it is definitely an individual preference as to whether it is worth that investment.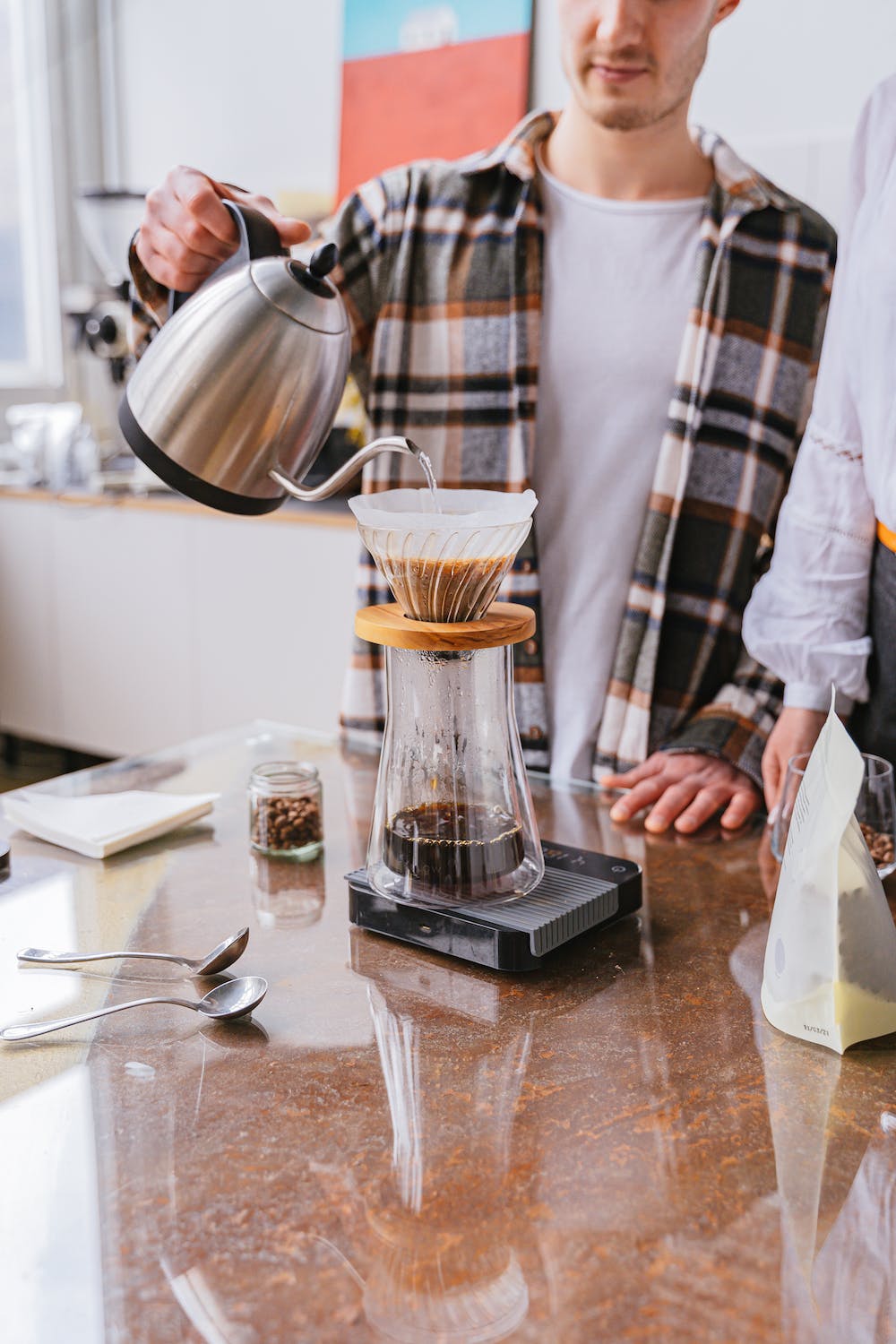 There is a special electric kettle designed for coffee lovers. The electric kettle come with long pour over  gooseneck spout. The long and thin spout deliver precise stream. Together with the angled handle, it deliver the right amount of water without splashing with a pour-over flow rate to suit those brewing the or coffee. If you fancy pouring your own filtered coffee, this is a must have. The Stagg EKG Electric Kettle comes temperature control, extraction timer and keep warm function.