At the heart of every true surround sound system is the AV receiver. To experience immersive sound like how movies are meant to be enjoyed in the cinema, your home theatre system needs a Dolby ATMOS AV receiver. We look at 9 of the best value receivers to complete your home cinema setup.
True Dolby Atmos Surround Sound
You can get a hybrid Dolby ATMOS sound experience from a sound bar or an all-in-one Blu-ray player with surround speakers but nothing beats a true multi-directional audio. To achieve this you need to start with a Dolby ATMOS AV receiver.
Firstly, a real Dolby ATMOS setup has 7.1 speaker channels. That's two front speakers, one centre, two ceiling or upward firing speakers, two rear speakers and one subwoofer. These connect to your favourite front speakers, centre speaker, surround or satellite speakers and ceiling or upward firing speakers (shown in the illustration below).
Once in place, and with the right AV receiver, you can then proceed to tune or optimise the speakers based on the acoustics of your room. This is achieve with the onboard calibration system and a calibration microphone. It does not really matter which speakers you choose, modern AV receivers should be able to work with these; analyse and optimise it to work sound seamlessly on all channels. All you have to do is add speakers.
Speakers To Go With Dolby ATMOS AV Receivers
If you are not one for choosing speakers for each channel, you can opt for a home cinema sound system speaker package. Examples of these are the as listed below, granted that some of these may require a pair of upward firing or ceiling speakers to achieve 7.1 speaker output. And, together with the right placement, you will be in Dolby ATMOS 'heaven'.
More Home Cinema Articles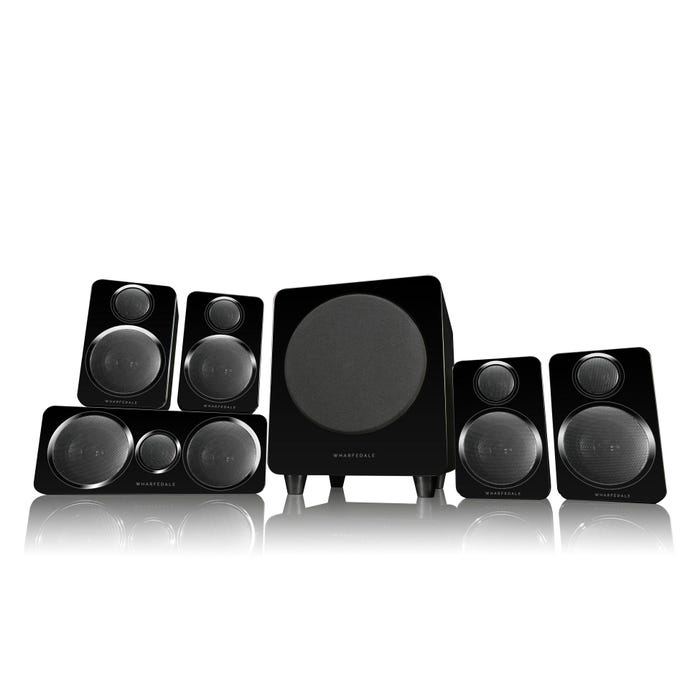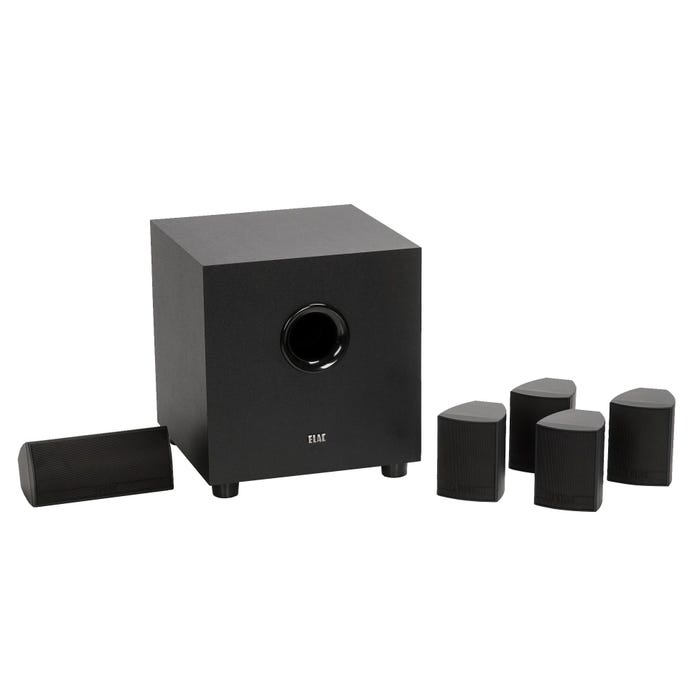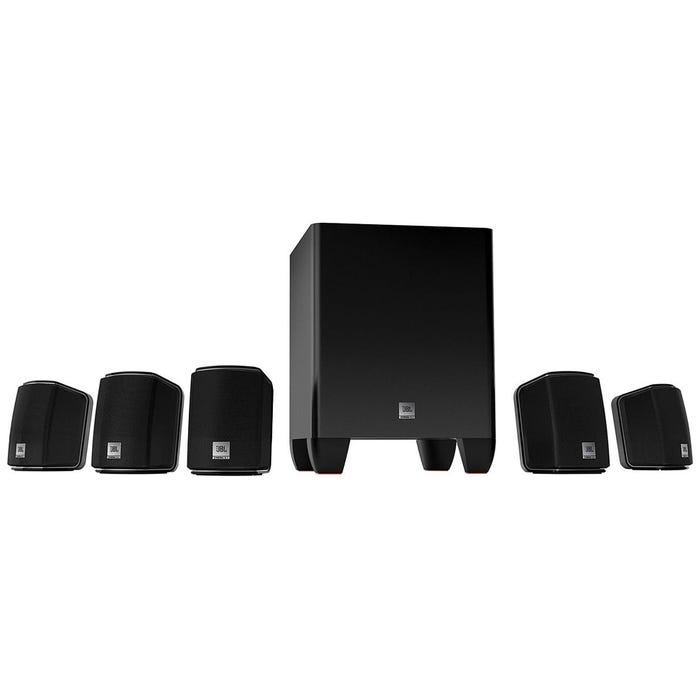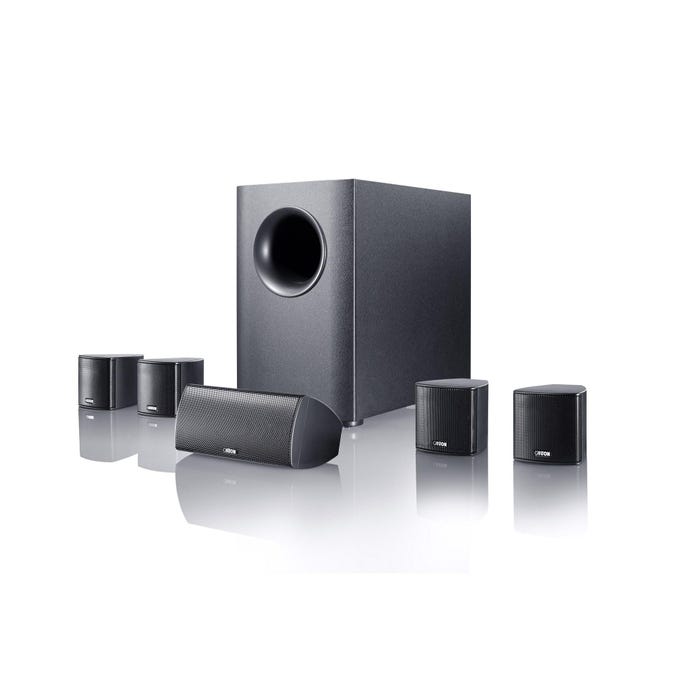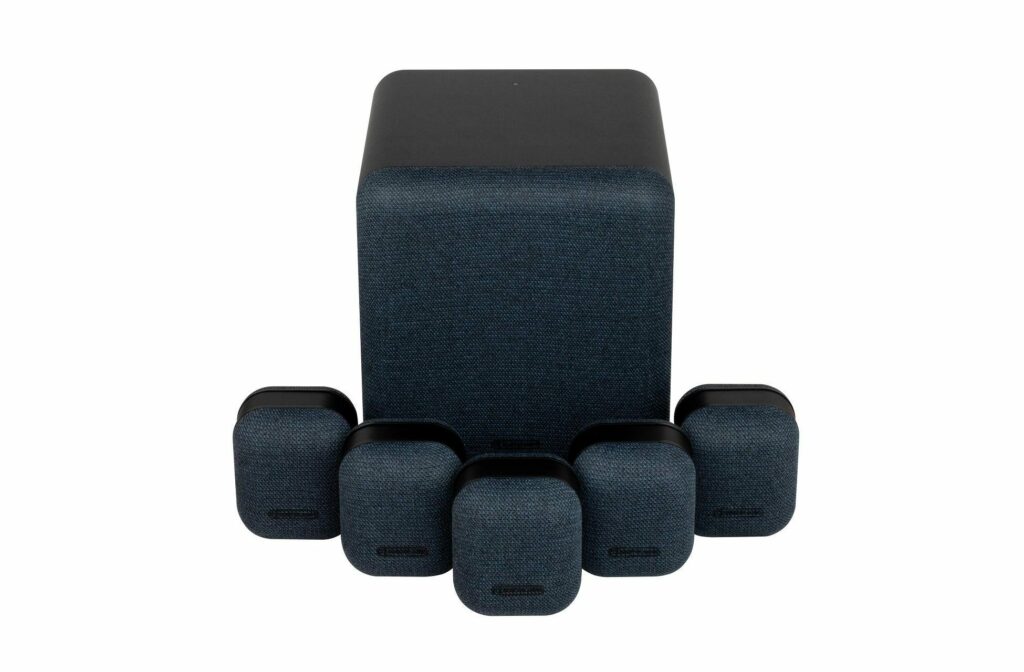 Things do stack up when you add the speakers of your choice; front, centre, ceiling or upward firing, rear satellite speakers and active sub woofer. Together with the right content and player, one that supports DTS:X surround and Dolby ATMOS, you will get the true spatial sound effects replicated at home.
Top 9 Best and Affordable Dolby ATMOS AV Receivers
We look at 9 of the best value AV receivers that support Dolby ATMOS surround.
Power Output: 1155W (165watt x 7 channels) with 2 subwoofer outputs and Phantom Rear Surround support
HDMI I/O: 6 in / 2 out (HDCP 2.2 – 6/2)
Bluetooth, WiFi, Airplay, Chromecast, Zone 2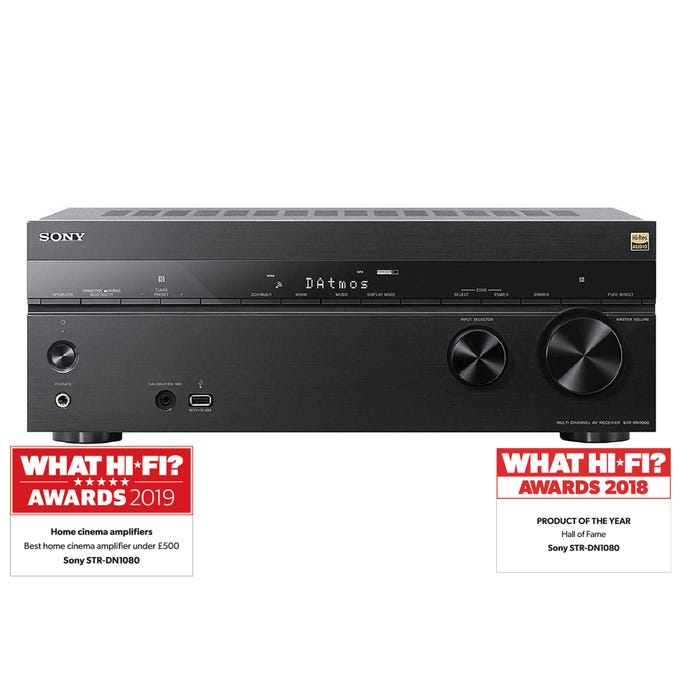 This multi award winning AV receiver from Sony is an audiophiles' favourite. With support for Dolby ATMOS and DTS:X it offers the complete 7.2 or 5.2.2 channel outputs, together with a whole host of connectivity for all your players, streamers and mobile devices. It's all one needs to complete their home theatre setup.
Beyond the home theatre, the system also supports AirPlay, DLNA, Internet Radio Service, Wireless Connectivity, USB, Bluetooth, Optical and Coaxial inputs as well as multi-room support. Plus, support for Google Chromecastmeans you can stream music, podcasts and audio apps straight from the cloud.
Multi-Award Winner
Available since 2017, the STRDN1080 is still going strong. With consistent performance and sound quality it has garnered awards year after year. Other new features that makes it stand out include sixth HDMI ports with 4K pass through, HDR, Dolby Vision and HDCP 2.2 support at 60fps ensures that picture quality is not compromised. Then there is two HDMI outputs, two subwoofer outputs for powered subwoofers, two WiFi antenna for dual-band WiFi and support for Spotify Connect and Sony's SongPal Link system.
---
Output Power: up to 150W per channel x 7 channels, 2 subwoofer output
HDMI I/O: 5 in/2 out (TV and video projector or additional TV to watch the same content)
Bluetooth and WiFi with music streaming support
MusicCast wireless surround capability and Multi-room Compatible, Zone 2 (powered)
Amazon Alexa and Google Assistant voice control compatible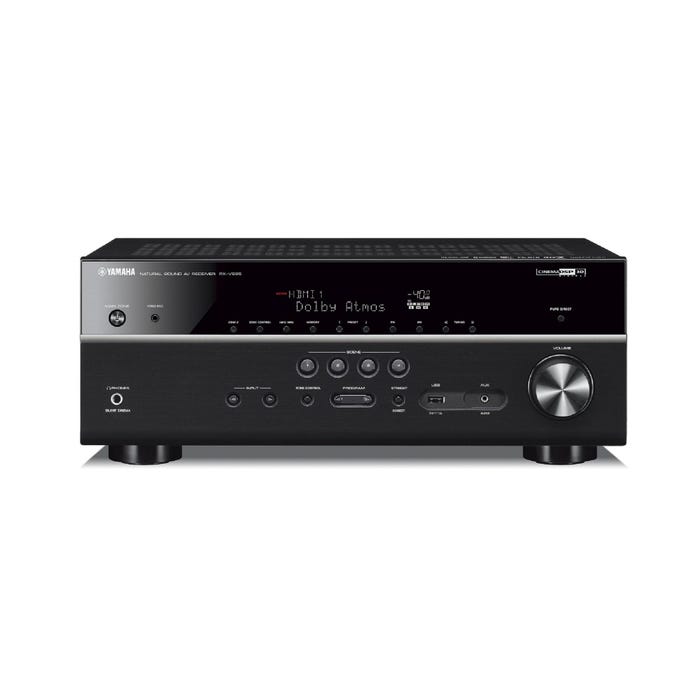 The higher of two models from Yamaha that found it's place on our list here, the RX-V685 comes with ALEXA and Google Assistant voice service support. It is also the highest model in the RX-V 85 series. With everything one needs from 5 HDMI inputs and 2 outputs that support 4K pass through and support Dolby Vision, HDR10 and Hybrid Log-Gamma via HDCP2 and eARC. You are assured of best quality video.
However, what is most important is Dolby ATMOS and DTS:X cinema surround sound compatibility. The Yamaha receiver consistently deliver on rich and realistic surround sound. You can pin point and position the individual sounds including moving ones virtually in the room which is really cool. Plus, WiFi and Bluetooth connectivity brings with it Apple AirPlay 2, MusicCast and music streaming services.
It is worth noting that the on-board Bluetooth adapter works both ways allowing you to connect a source such as your mobile device or a player such as your headphones. Use the YPAO RSC sound optimisation microphone to automatically set the Cinema DSP parameters and optimise the surround sound once you have positioned the speakers.
---
Output Power: up to 145W per channel x 7 channels, 2 subwoofer outputs
HDMI I/O: 4 in/1 out
Bluetooth and WiFi with music streaming support
MusicCast wireless surround capability and Multi-room Compatible, Zone B
Amazon Alexa and Google Assistant voice control compatible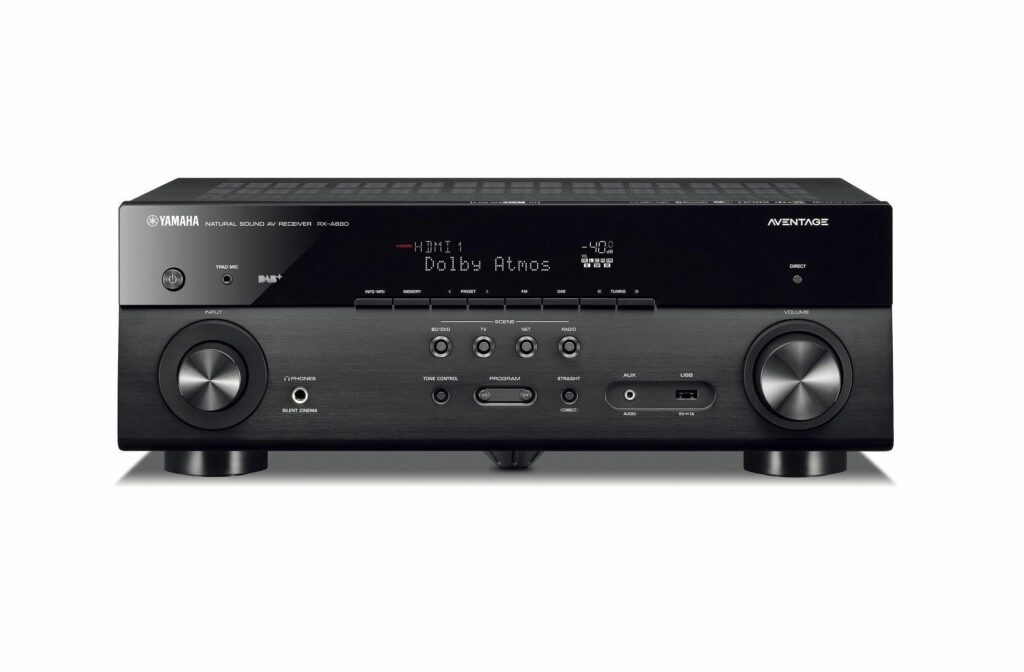 While RX-V685 is top of the range for the RX-V85 series, the RX-A680 on the other hand is the entry level AV receiver from Yamaha's premium AVENTAGE line or the RX-A80 series. The Aventage line brings studio grade sound and video enhancements to the home users.
Apart from one being from the premium Aventage range, Both RX-V685 and this RX-A680 shares many features including the price tag. The most important among these being Dolby Atmos and DTS:X support. The main difference being the number of HDMI ports. This entry level Aventage supports 4 HDMI inputs and 1 HDMI output only.
Beyond that, you still get the same WiFi and Bluetooth connectivity which means support for MusicCast wireless speakers, access to streaming services, App Control as well as ALEXA and Google Assistant voice controls. For most people, you won't miss the extra HDMI input and output unless you have many HDMI players and streamers or a need for second TV or projector. You will gain a DAB/DAB+ Tuner for high quality radio station broadcasts not available on the RX-V685.
---
Power output: 160 W per channel (7 channels)
HDMI I/O: 6 in/2 out
Bluetooth and WiFi with music streaming support, powered Zone 2 with dedicated DAC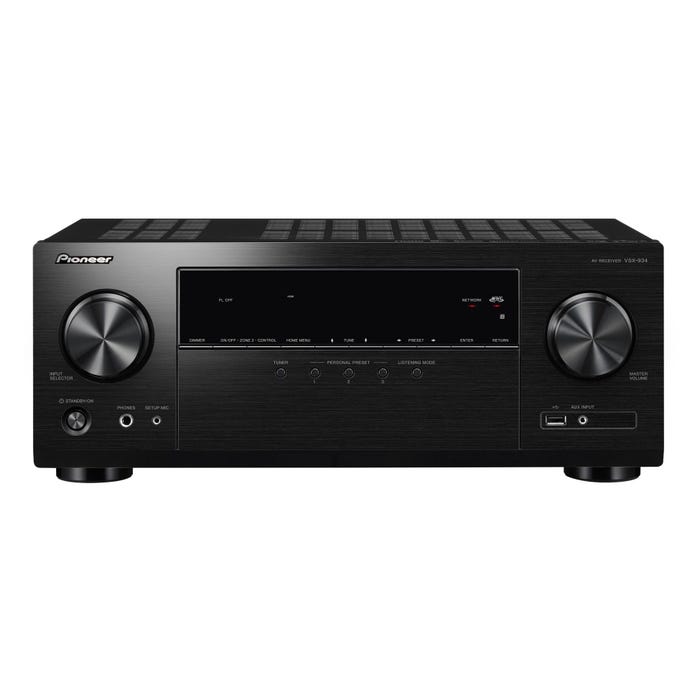 This Pioneer AV receiver, the VSX-934 ticks all the boxes as a good mid-range AV receiver. It supports 6 HDMI inputs with 4K Ultra HD pass through with HDR10, HLF and Dolby Vision via HDCP 2.2. For the surround sound, you can enjoy Dolby Atmos or DTS:X three dimensional surround. Like most receivers we have seen so far, this Pioneer receiver can drive a pair of speakers in another room playing from the same source, sometimes known as Zone 2 using a dedicated DAC.
There is a separate Zone B audio output terminal, again listening in on the same source. Pioneer suggests that this can be used to connect to a wireless headphone dock making it possible to listen via wireless headphones.
For connectivity, the box supports 6 HDMI inputs and 2 HDMI outputs, something you would expect from a high-end receiver. With WiFi and Bluetooth connectivity, the system plays well with AirPlay 2 and Bluetooth enabled players as well as support music streaming services. Control the receiver using Pioneer Remote App or included remote. While it has a conventional FM tuner, it does not have a DAB tuner.
---
Output power: 165 W per channel (7.2 channels), 1 sub out
HDMI I/O: 7in/2out (1 main out, 1 sub out ideal for projector)
Bluetooth and WiFi: DTS Play-Fi, AirPlay, Amazon Music, Spotify, Tidal, Deezer, TuneIn. Powered Zone 2 speakers
Chromecast Built-in with Google Assistant support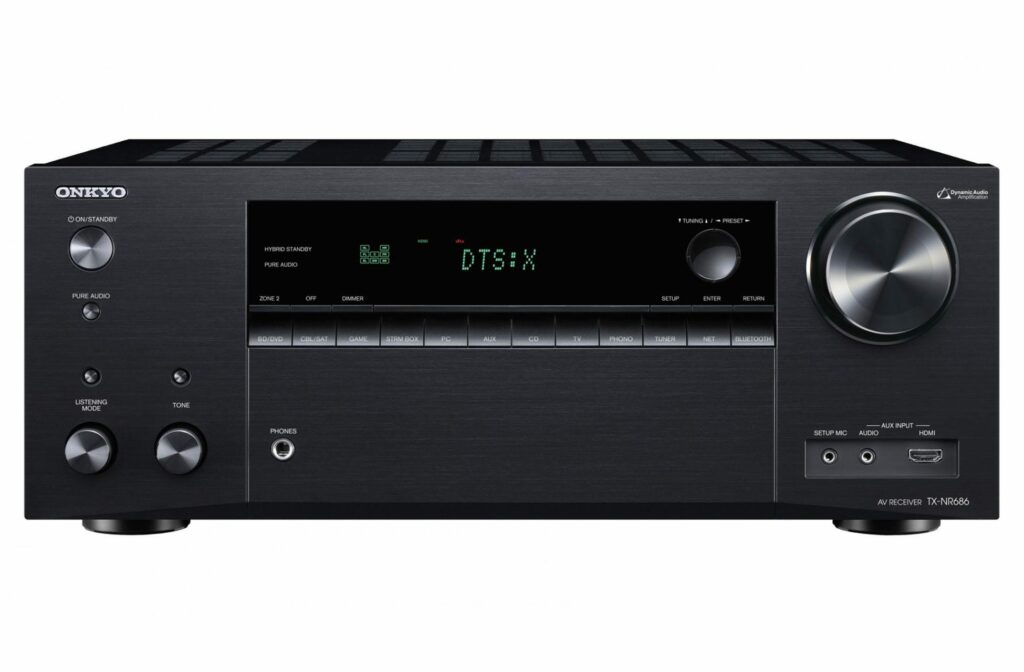 The Onkyo TX-NR686 is again a well rounded receiver. Supporting everything from THX certified Select to Dolby Atmos to DTS:X for surround audio. Additionally, it comes with Bluetooth and WiFi connectivity. Therefore, it supports remote control via Onkyo Controller app, AirPlay, Spotify, FlareConnect wireless multi-room audio and even Chromecast. The later includes support for Google Assistant for voice commands.
With 7 HDMI input ports, including one in front, the receiver has the highest number of input options. On top of that, everyone of those inputs support 4K Ultra HD pass through with HDR10, HLG, Dolby Vision for the highest quality video. For your listening pleasure, the system also supports Hi-Res audio playback and Dolby TrueHD.
---
Power output: 165W per channel (7.1 channels
HDMI I/O: 6in/1out
Bluetooth and WiFi, supports AirPlay, DTS Play-Fi and FlareConnect. Powered Zone 2
Chromecast built-in with Google Assistant support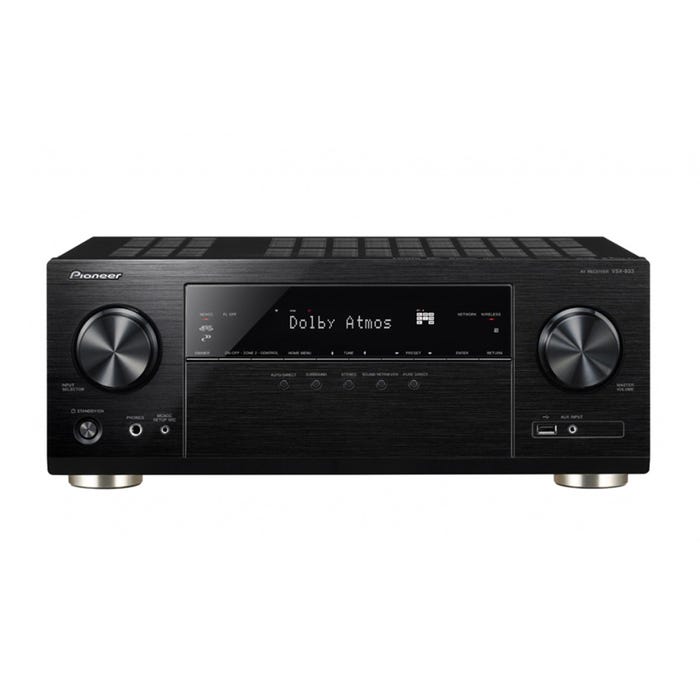 Priced to compete with the Onkyo TX-NR686 is this Pioneer VSX-933 is Dolby Atmos compatible with 5.2.2 channel output. This allows you to reproduce object-oriented sound in smooth, curving movements or realistic three dimensional movement overhead by the top speakers.
For pictures, you get 6 HDMI output ports and a single HDMI port. All ports support 4K pass through, Wide Colour Gamut (BT2020) and HDCP 2.2. For acoustic optimisation, place your speakers then use the supplied setup microphone to calibrate your speakers. The MCACC Auto Room Tuning system will gauge the sound field from your speakers and calibrate this accordingly.
While there is only 1 HDMI output, the receiver supports powered Zone 2 speaker output for music in a second room. The difference here is that it is capable of supporting simultaneous audio playback or play a different audio source in each zone at the same time.
---
Power Output: 80W per channel 7.2 channel surround with Zone B
HDMI: HDMI 2.0 with HDCP 2.2 (4-in/1-out) with 4K Ultra HD, HDR10, Dolby Vision, Hybrid Log-Gamma and BT.2020 support
Bluetooth and WiFi: Support MusicCast: add two MusicCast 20 speakers for surround. Supports AirPlay, Spotify Connect and
Works with Amazon Alexa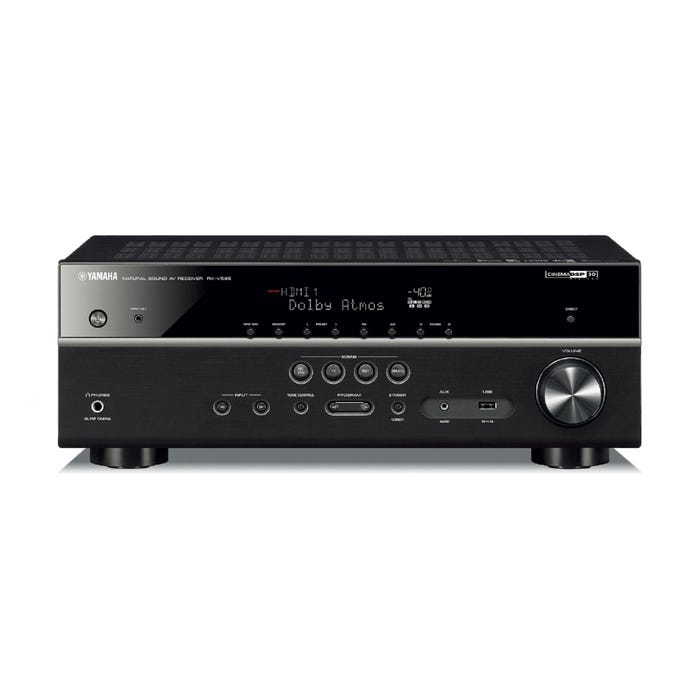 This is the lowest model of the three Yamaha receivers capable of supporting Dolby Atmos and DTS:X. Apart from lower rated amplifier output, it does not sacrifice on connectivity and features. It comes with 4 HDMI input and out output capable of 4K Ultra HD passthrough and enhanced Audio Return Channel (eARC).
eARC delivers full-resolution, multi-channel audio formats such as Dolby® TrueHD and DTS-HD® through your existing HDMI connection.
For connectivity there is WiFi and Bluetooth giving the receiver AirPlay 2, MusicCast wireless support for surround speakers, Multi room Audio and a whole host of music streaming services. The latter includes Spotify Connect, Pandora, Napster, Tidal, Deezer and more. In addition to that, it is also Alexa and Google Assistant compatible. This means you can ask Alexa or Google stream music from your stream services like Amazon Music and TuneIn with voice commands.
To optimise the sound to suit your room, use the included YPAO (Yamaha Parametric room Acoustic Optimizer) to analyse and automatically adjusts the various audio parameters to achieve the best quality audio for your room.
---
Power output: 1015W (145 watt x 7) channels plus 2 subwoofer output for 7.2 channels total
HDMI I/O: 4 in/1 out (HDR compatible) and Bluetooth.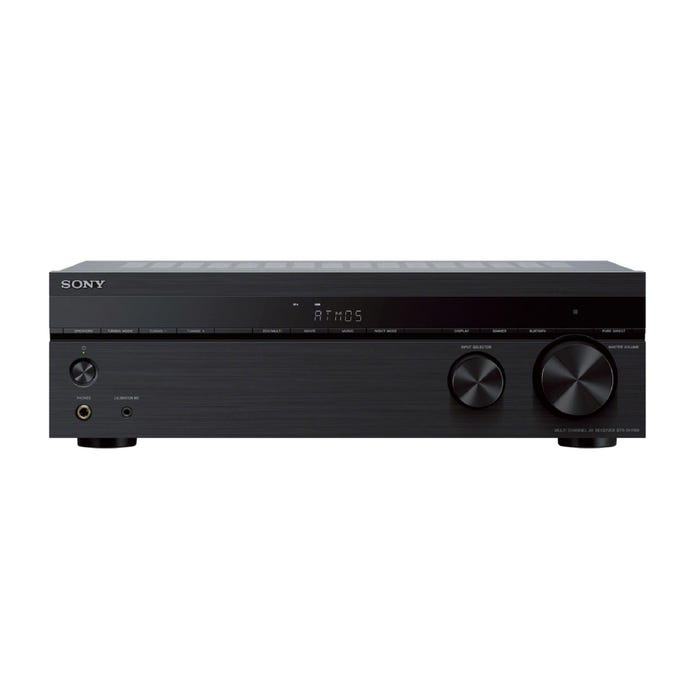 This lower model may not have as many HDMI ports or connectivity options as the Sony STR-DN1080 that tops our list but it is worthy of a place here in our list of affordable AV receivers that support Dolby ATMOS. There are four HDMI input ports and one HDMI output. These ports support HDCP 2.2, HDR, Dolby Vision and allow 4K pass-through. And, like the DN1080, it supports Advanced Auto Calibration (Adv. DCAC) technology. The Digital Cinema Auto Calibration system analyses the rooms' acoustics and speaker placement, calibrates and then optimise the sound. This ensures that the channels work perfectly together.
For wireless connectivity, there is only Bluetooth to content with. Nothing fancy like Chromecast or WiFi but that could be all one needs. Most streaming boxes or smart TV would have that music streaming, Internet radio or podcast capabilities. It also does not support multi-room or 2nd Zone sound like its bigger sibling. Total power output is lowered by 140 watt, at 1015 Watt, that's 145W per channel for all 7 outputs. It still offers 2 subwoofer output for powered subwoofers for a total of 7.2 channel configuration.
If you don't need WiFi connectivity, Chromecast for music or Music Center App control and still want a Sony than save yourself some money and get the Sony STR-DH790 instead. See table below for a quick comparison between the two Dolby Atmos and DTS:X enabled receivers. Coincidentally, this is also the cheapest, most affordably AV receiver in our line-up.
| | | |
| --- | --- | --- |
| | STR-DH790 | STR-DN1080 |
| Wattage | 1015W (145W x 7) | 1155W (165W x 7) |
| Channels | 7.2 | 7.2 + Phantom Rear Surround |
| Built-in Bluetooth and Wi-Fi | Bluetooth | Bluetooth, Wi-Fi |
| Network Services & Sources | — | Airplay, Chromecast, and more |
| Multi-Room Compatible/2nd Zone | — | Yes / Yes |
| 4K | Repeater HDCP 2.2 (All In/Out) | Repeater HDCP 2.2 (All In/Out) |
| HDMI Input/Output | 4 in/1 out w/ HDCP 2.2 support | 6 in/2 out w/ HDCP 2.2 support |
| Auto Calibration | Advanced D.C.A.C. | D.C.A.C. EX |
| Dolby Atmos / DTS:X | Yes/Yes | Yes/Yes |
| Music Center App | — | Yes |
---
Power Output: 135Watt x 5 channels and 1 Sub Output
HDMI I/O: 4in / 1out and Bluetooth. Supports Passive Zone B
While the Pioneer VSX-534 supports Dolby Atmos and DTS:X it will only output to 5.1 channel speaker layout. This does not bode well for those who wants true 5.2.1 or 7.1 spatial surround system. However, for those with only room for 5 speakers plus 1 subwoofer, and not looking to add more speakers, then the VSX-534 will work just fine.
There system is equipped with pretty standard features. These include the 4 HDMI intputs and 1 HDMI output that supports 4K pass through with Dolby Vision, HDR10, HLG, BT.2020 and HDCP2.2 compatibility. It also has a Zone B output albeit passive to feed audio signal to another amplifier for a second room.
For modern wireless connectivity, you will have to make do with just the Bluetooth connection. This allows you to pair with mobile devices and stream your music from there. Lastly, like all other receivers featured here, the VSX-534 supports auto surround optimisation in the shape of MCACC (Multi-Channel Acoustic Calibration) system, the same sound tuner used on Pioneers more expensive receivers.
---