These compact battery powered motion sensor LED lights are great for tight spaces and where you need light the most. Quick and easy to install with no wiring required, they come with rechargeable batteries with unique designs to suit your home decor.
There are plenty of applications for these wire-free battery operated motion sensor LED lights. If you need some inspiration, find them in our list below.
Where would you have motion sensor LED lights
under hanging kitchen cabinets
stairways and hallways
in the bathroom or toilet
in front of the fridge in the kitchen
inside the closets and storage units
near the floor in the bedroom
under stairs cupboard
in the car boot
under hanging book shelves
Features to consider
number of LED lights and brightness
brightness and colour temperature settings
operating modes: always on or motion activated
rechargeable battery via USB port or
replaceable AA/AAA batteries, some model uses C or D cells
magnetic mount
plastic or aluminium case
ceiling, wall or closet mount
nursery
attic and basement
garage and shed
pantry and shelves
Basically, anywhere where there is no easy access to mains or you prefer to use low power, energy efficient light source.
1. Brilliant Evolution Wireless Motion Sensor LED Ceiling Light 200 Lumen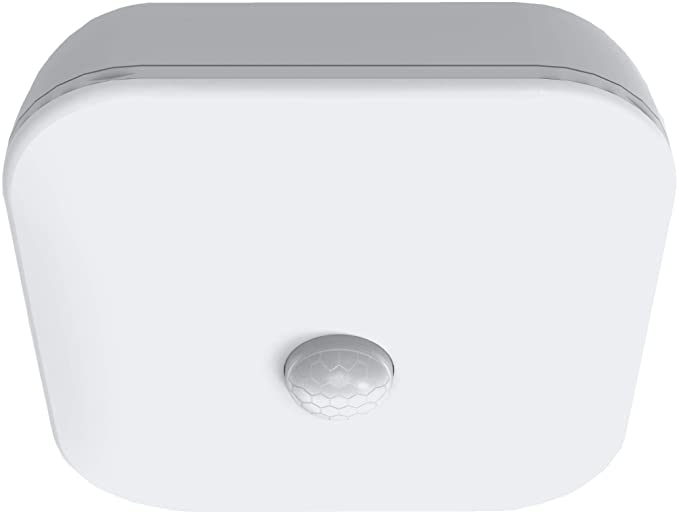 Search Brilliant Evolution Wireless Motion Sensor LED on Amazon
First on our list is this Brilliant Evolution Wireless Motion Sensor LED Ceiling light. It offers a good 200 Lumen brightness powered by 3 C batteries with enough power to last for up to 1 year based on 6-9 activations (30 seconds each time) per day. The unit is weather resistant and water tight so great for both indoor even in the bathroom and outdoor use.
2. Mr. Beams MB530 Wireless Battery-Operated Indoor/Outdoor Motion-Sensing Wall LED light 35 Lumen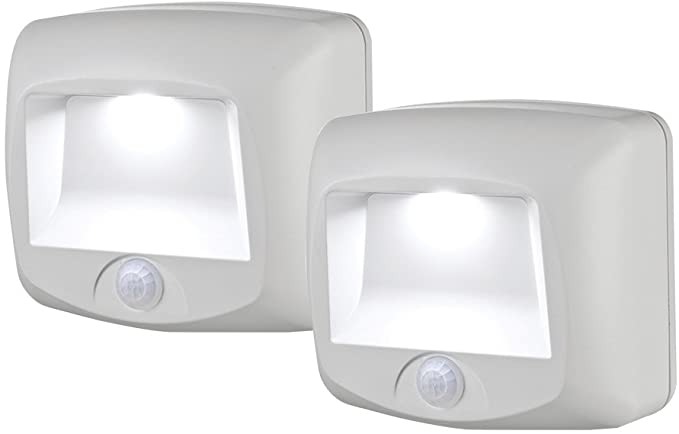 Search Mr Beams MB530 on Amazon
Not one for harsh lighting then Mr Beams MB530 with its indirect LED lighting is what you need. These use 3 C batteries and will last an average of 5000 activations with auto shut-off after 20 or 60 seconds. The case is weather proof and UV resistant so perfect for outdoor use too. With 35 Lumen of bright white light it can cover more than 120 square feet.
3. AMIR Wall Motion Sensor Light Cordless Battery-Powered LED Night Light 10-11 Lumen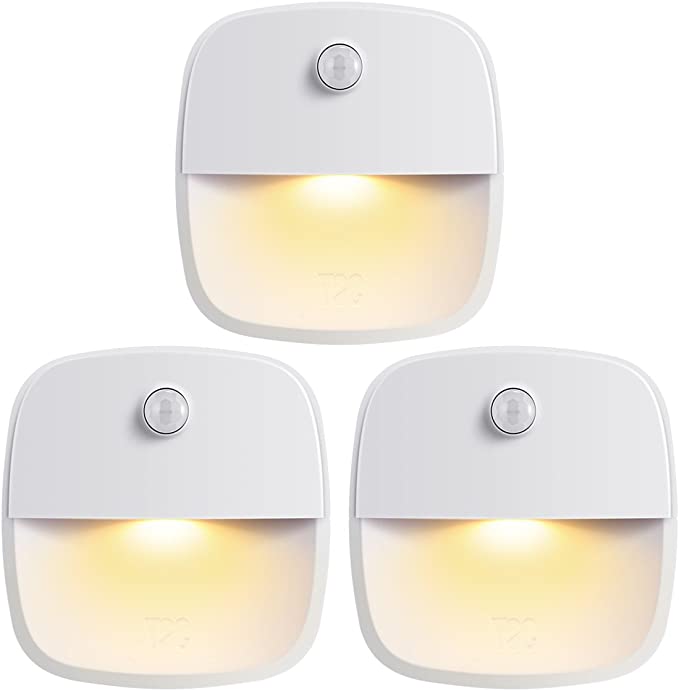 Search AMIR Wall Motion Sensor Light on Amazon
These AMIR wall mounted motion sensor light comes in set of threes and works well as night lights, for the stair way, or in the room to offer warm white or white light. You need to decide this at the time of purchase, they are not interchangeable. If you need more units, there is also a pack of 6. Once triggered, the light stays on for 20 seconds. Each unit is powered by 3 AAA batteries accessible from the back. Instead of harsh front facing light, these reflect off the surface emitting a soft light that is both glare free and better for the eye especially when you stumble out of bed in the dark. To mount them, use the supplied 3M adhesive stickers and apply them to the back.
4. BLS T01L LED Closet Light – Super Bright 20 LED Under Cabinet Lighting 180 Lumen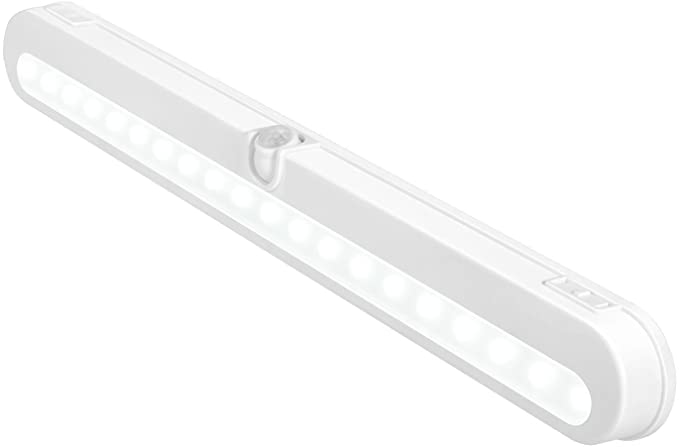 Search BLS T01L Close LED Light on Amazon
Measuring 14-inch long, it is the longest lighting module in our list. Available on its own or as a pair, in black or white as shown above, the BLS LED closet light is by no means compact but it comes with an adjustable mount for 90, 120 and 180 degrees for desired lighting angle in the wardrobe. Even the sensor is adjustable too if it is not detecting motion in the right place. The light will stay on for 20 seconds in auto mode. You can overwrite the PIR sensor and have it on permanently or off. With 20 LED lights, it pushes out 180 Lumen of soft white light from 3 AA batteries. With an average of 10 activations a day, we can expect up to 6 months of battery life.
5. Searik Motion Sensor LED Light 20 Lumen Battery Powered 6 Pack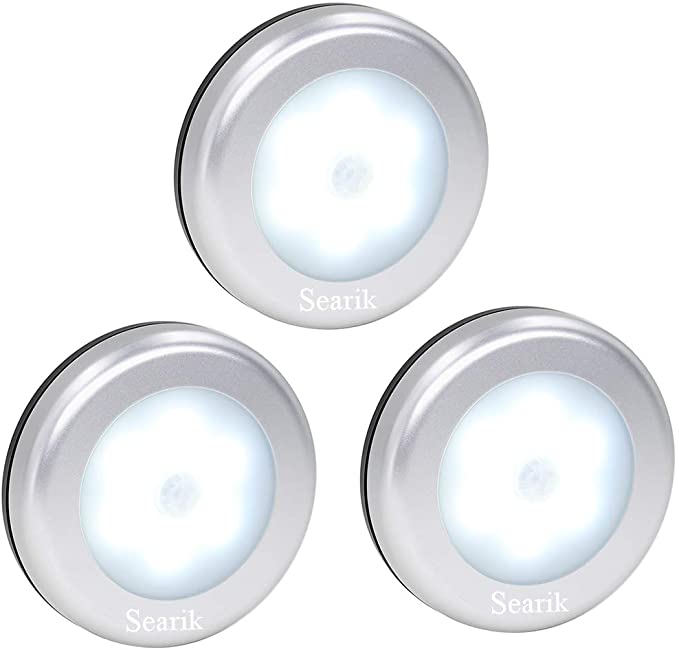 Search Searik Motion Sensor Light on Amazon
You may have seen this before and we don't blame you. The same circular LED light design has been around for a while with its plastic case and click to turn on lights. Except this time, it comes with a motion sensor mounted to the middle of the light. A twist to open back cover reveals 3 slots for 3 AAA batteries arranged in a triangle formation. The Searik battery light is not the brightest at 20 Lumen each but its lightweight design, built-in magnetic mount and included double sided adhesives lets you mount this anywhere, easily.
6. Yurnero Motion Sensor Ceiling Light Battery Operated 80 LED 300 Lumen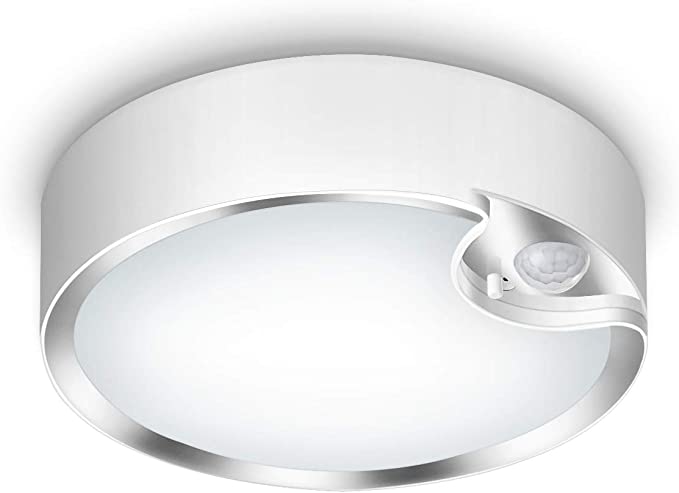 Search Yurnero Motion Sensor Ceiling Light on Amazon
Easily one of the most elegant of LED battery powered motion sensor light in our collection. The Yurnero Motion Sensor Ceiling Light is powered by 4 D batteries to drive its 80 LED lights for a maximum of 300 Lumen, bright enough to light up 182 square feet or space. Once triggered, that light stays on for 20 seconds. With fresh batteries, you can expect up to 6 months worth of lighting, with an average use of 20 activations per day. You have a choice between daylight or warm light at the time of purchase. The same ceiling light is also available from TOOWELL.
7. URPOWER Motion Sensor Light 10 LED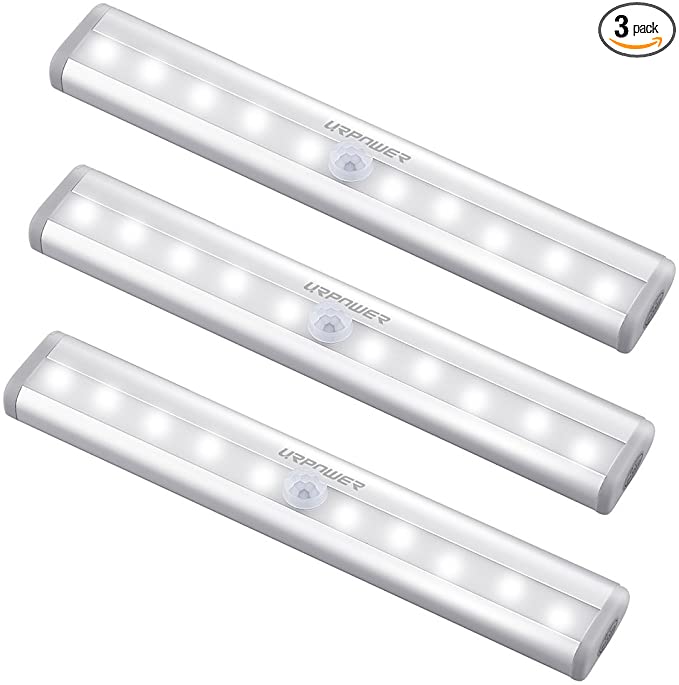 Search URPOWER Motion Sensor Light on Amazon
Using 4 AAA batteries to power the 10 LED lights, these 7.3-inch long closet light modules can light up your wardrobe, cupboard or anywhere you choose to apply it. The sensor will pick up motion within 10 feet and the energy saving design ensures the lamp has a long service life and lasting batteries. For mounting, it uses onboard magnet and metal plate with adhesive.
8. OxyLED Motion Sensor Closet Lights 10 LED Under Cabinet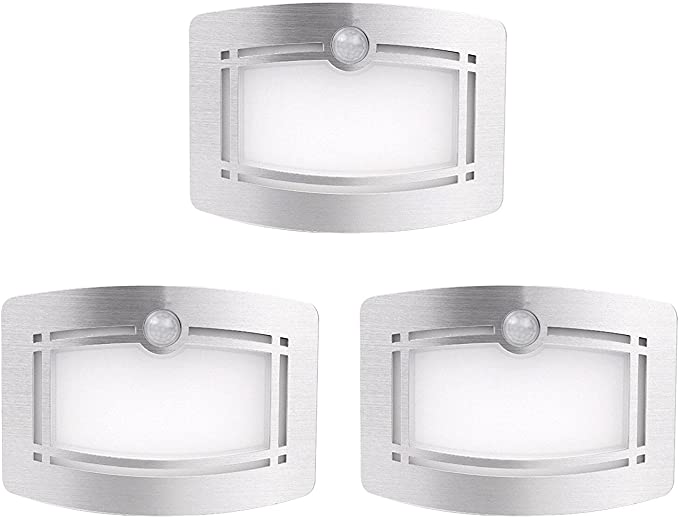 Search OxyLED Motion Sensor Wall Light on Amazon
OxyLED gained two spots on our list, the other is a closet or under cabinet bar light below. These however are wall lights. It comes with a facia finished in brushed aluminium allowing the wall lamp sconces to look good anywhere indoor. The motion sensor also picks up light level and the master light panel is big enough to illuminate within 3 meters for 15 seconds on trigger. For power, it uses 4 AA batteries and come with 3M double sided stickers to attach it to the wall if screws are not your thing. If you must have them side by side, it is recommended that you set them 4 metres apart to stop the light from reaching one another.
9. TOOWELL Motion Sensor Ceiling Light 180 Lumen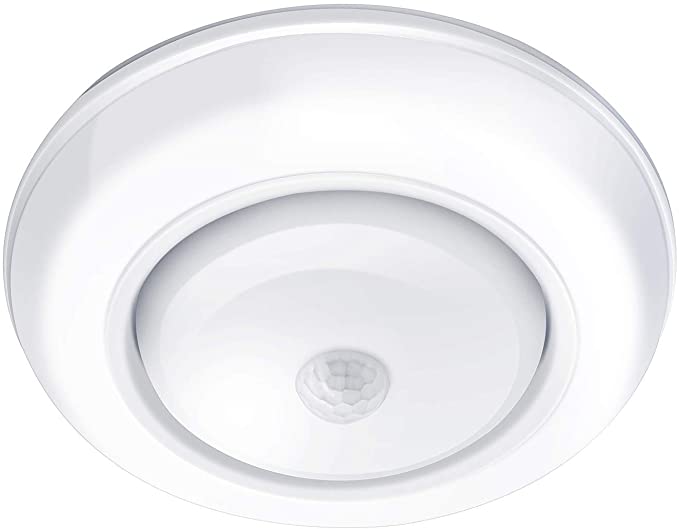 Search TOOWELL Motion Sensor Ceiling Light on Amazon
The third ceiling light entry in our list. This unit from TOOWELL has a more conventional look. It uses 4 AA batteries fitted to the back of the lighting unit covered with a twist to release back plate. Simply mount the backplate to the ceiling and attach the light unit after. Once triggered, it stays on for 20 seconds of no motion. With 17 LEDs, it is capable of producing up to 180 Lumen for light. The size of the unit is 5.4-inch diameter.
10. OxyLED Motion Sensor Closet Light Battery Operated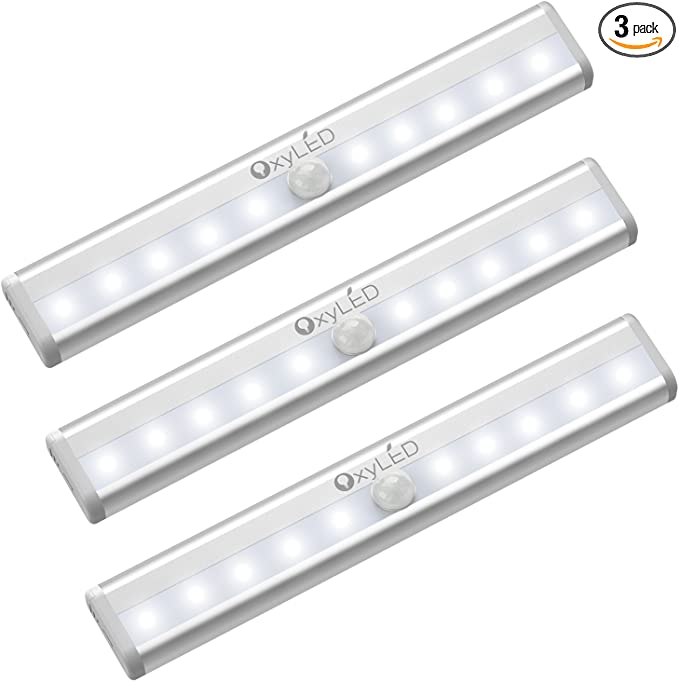 Search OxyLED Motion Sensor Closet Lights on Amazon
This next entry from OxyLED are these closet modules instead of wall mount ones. The onboard sensor can sense motion up to 10 feet distance and goes off after 15-18 seconds. You get 10 LED lights per bar and it is powered by 4 AAA batteries. Enclosed in durable aluminium alloy, you can mount this magnetically with no drilling or screwing required. An adhesive magnetic strip is supplied.
11. Meromore LED Closet Light, 30 LED Rechargeable Motion Sensor Light 270 Lumen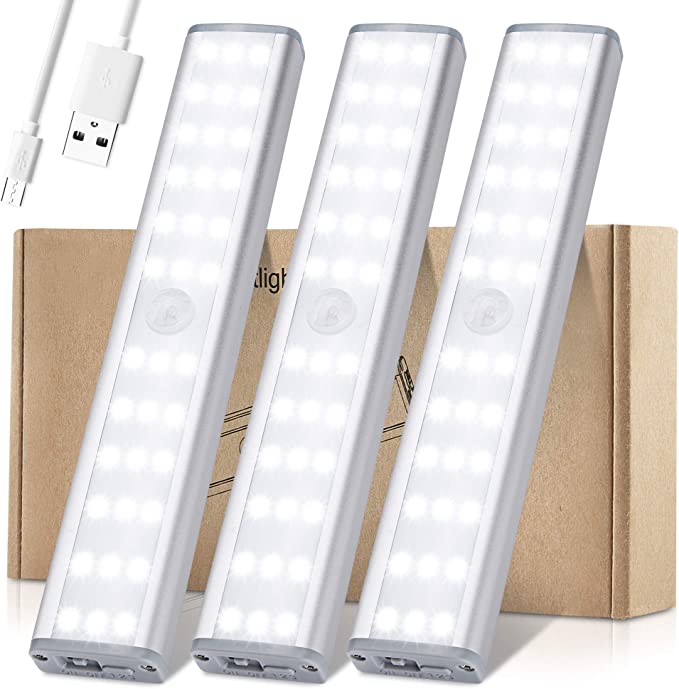 Search Meromore LED Closet Light on Amazon
Another closet light 3-pack, this time from Meromore. These LED motion activated closet lights are powered by 30 LEDs making them one of the brightest with 270 Lumen. The PIR motion sensor will cover 120 degrees and 3 meter distance. Once triggered, it will turn on for 15 seconds. Like most closet modules, each comes with built-in magnet on the back for mounting on metal surfaces. Magnetic strips with 3M adhesive applied to one side are supplied for when you need to attach to non-magnetic surfaces. But the best part is it uses 600mAh rechargeable battery that will last up to 1 month on a full charge and rechargeable via USB port.
12. Lineway Motion Sensor Ceiling Light Battery 180 Lumen
Search Lineway Motion Sensor LED Ceiling Light on Amazon
These LED ceiling lights with PIR motion sensors are available as individual or twin packs. It uses 4 x AA batteries and can last for about 3 months with around 8-10 activations per day. It will of course only come on at night and once triggered, will stay on for 20 seconds of no motion detected. Powered by 48 LEDs each of these is capable of 180 Lumen and can be switched to stay on if needed.
BONUS
Lightbix 24-LED Wireless Closet Motion Sensor LED Light 150 Lumen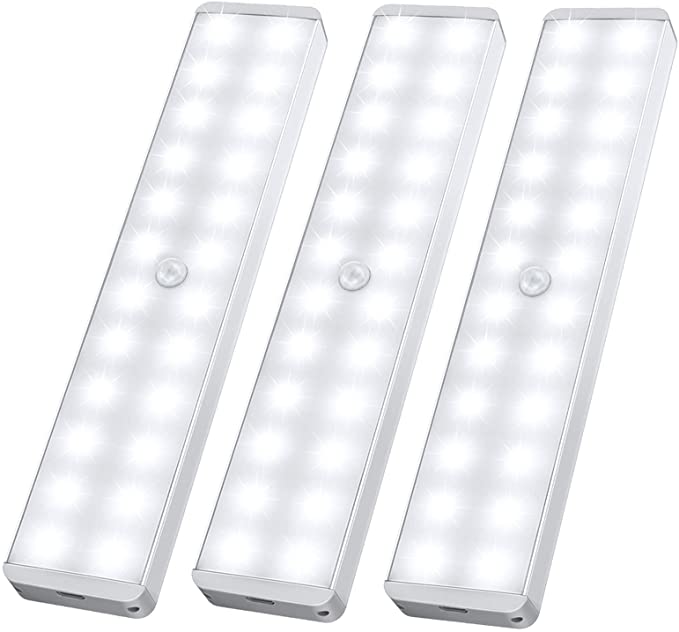 Search 24-LED Wireless Closet Motion Sensor LED on Amazon
Available in pure white or warm white, the 3 pack closet light is powered by 24 LED each offering up to 150 Lumen of brightness. Features include mode overide to always on or off, magnetic mount, red and blue indicator light for mode, 20 seconds light on trigger, 7.8-inch long, rechargeable battery for up to 20 days on sensor mode or 4-5 hours on always on mode. Charge via USB port.
Others
lexall 6 Pack LED Motion Sensor Lights, 10 LED Closet Battery Operated Lights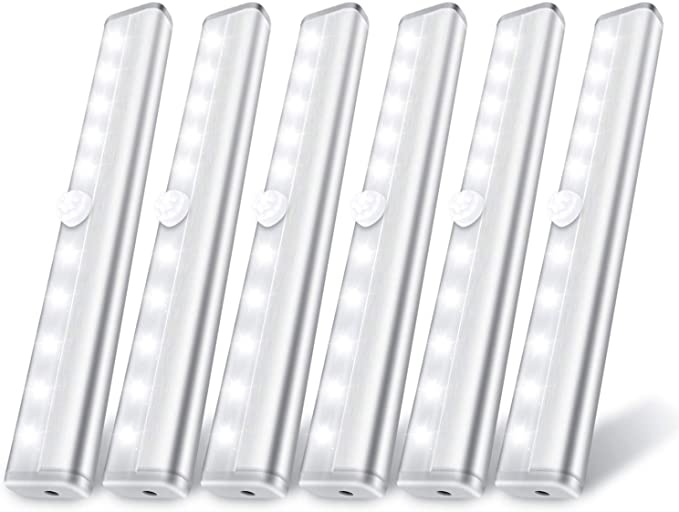 Need multiple light sources, consider the lexall 6 pack closet LED light complete with motion and light sensors plus magnetic mount. Once triggered, it will stay on for 25-30 seconds. Each module has 10 LED lights and is powered by 4 x AAA batteries. Magnetic strips with adhesive pads are also supplied to install the light module anywhere. Bear in mind that with all 6 modules, you are going to need 6 x 4 AAA batteries. Best get some rechargeable ones if you intend to use them near places with high traffic to reduce waste.
YANEGRT LED Under Cabinet Lighting Ultra Thin 54 LEDs 350 Lumen
Super thin and ultra bright, this YANEGRT option is great for under cabinet and closet. It measures only 0.5-inch thin, 12.5-inch long and 1.6-inch wide with 350 Lumen and 7000K colour temperature, it is one of the brighter options out there. It comes with built-in 2500mAh rechargeable battery and the standard motion and light sensor. The motion sensor can pick up motion from up to 3 meters within 100 degrees and turn on the light for 20 seconds. A slider switch lets you turn it to always on or completely off. When the battery is low, charge it via the USB port. As for mounting, it comes with magnets inside to go on a metalic surface. A metal strip with double-sided tape on one side is also supplied to mount on non-metalic surface.