When setting up a video surveillance system at home, cabling can be a right nightmare, be it for data or power or both. These totally wire-free security cameras are the best way to get you up quickly and hassle free.
Most wireless IP cameras still require power which takes out the flexibility of being able to place the security cameras anywhere you want. But what if there are solutions that are totally wire-free. We look at 5 of the best truly wireless security camera setup.
The Benefits of Truly Wireless Security Cameras
The easiest post-build home video security system to install is one that uses internal rechargeable battery making it completely wire-free. Just be prepared to charge the battery when it goes flat, a small price to pay compared to the cost and hassle of cabling.
A totally wire free security camera system is the best solution for DIYers. All one needs is to mount the cameras where they wish to monitor and that can be anywhere within the wireless range. Never have to worry about power and cabling.
Using one of these solutions also mean you are in control of your spending where monitoring is concerned. Typically, round the clock security surveillance services can be costly. These do-it-yourself security camera systems comes with free remote live feed, free basic cloud storage or paid cloud storage for remote recording and even ability to record locally to a hard drive. Most cloud storage contracts are flexible allowing you to cancel at anytime.
Battery life lasts for months and only takes up to a couple of hours to charge. Some model offers removable rechargeable battery and optional battery packs and chargers for quick swap out. How do these batteries last so long, the system only offer live feed and records to the cloud or locally when the motion or sound sensor is triggered.
The cameras are also feature packed with wide angle, high definition, motion sensor, night vision, high definition, mobile app alert as standard. Other features include built-in speaker and microphone for two way audio, on-board siren, built-in spotlight. This allows you to speak to anyone approaching the building be it the post man, courier guy, friends or family. The spotlight option doubles as motion sensor light, coming on when it detects movement and the siren can be activated remotely to ward off intruders.
There are two types of camera systems, ones that work independently or scalable with a base station. The single camera option is the cheapest but multiple camera pack may be cost effective if more coverage is required. Multiple camera packages starts from 2 to 6 or more. Th
Top 5 Totally Wire-Free Home WiFi Security Cameras with Rechargeable Battery for Indoor and Outdoor
In this article we look at 5 of the best completely wire free, self powered video cameras.
1. Arlo Pro 2 – up to 6 battery powered 1080p cameras, totally wire free, outdoor, base station, free or monthly plan option, Alexa support
Have up to 6 cameras, each recording Full HD 1080p quality live streams with integrated automatic night vision lens to cover all areas in or outside of your home without the hassle of cabling. The Arlo Pro 2 comes with upgraded video sensors for up to 1080p HD video recording, the cheaper Arlo Essential also records at 1080p HD resolution but with fewer features. If you are itching for more details, pick the Arlo Pro 3 or Arlo Ultra for 2K and 4K resolutions, respectively.

The Arlo Pro 2 is easy to setup, simply hook up the Base Station via the LAN port to your home wireless router for Internet and WiFi connection to the cameras, follow the setup steps and you will be up and running in no time.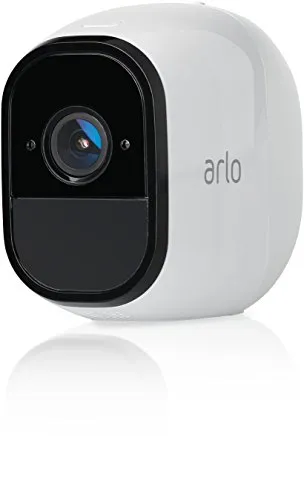 The system is completely cable free, no network or power cable, simply charge up the removable and rechargeable battery and you are in business. It last for months on charge depending on how busy the area you are covering, Arlo claims 4-6 months usage between charge.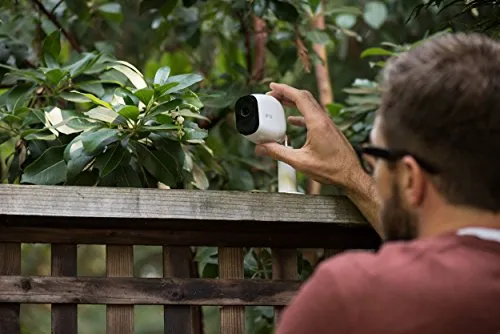 Just pick the right package with the correct number of cameras or purchase extra cameras to complete your very own integrated and connected video surveillance system.
The cameras are also IP65 rated meaning they are waterproof so can be placed outside. They also come with advanced motion detection with the use of wide angle PIR motion sensor, passive infrared technology and when plugged in, video based technology to pick up any movement. For night vision, it uses 850nm LEDs that illuminates up to 25 feet.
When plugged in to the mains and used indoor, up to 3 active zones can be created. These are highlighted areas in the camera's view to focus on and trigger a motion or sound alerts. Using the cameras plugged in and indoor also allows it to capture activities 3 seconds before a triggered event.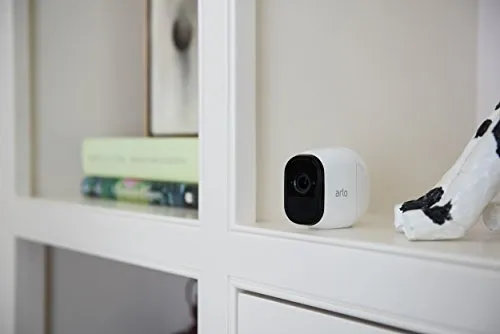 There is also a built-in 100+ decibel siren in the base station removing the need for a separate alarm siren. This can be controlled remotely or when motion or sound sets if off. You can connect a USB drive to the base station save your video recordings locally or use Arlo's free cloud storage for up to 7 days to keep tabs on motion and audio triggered video recording.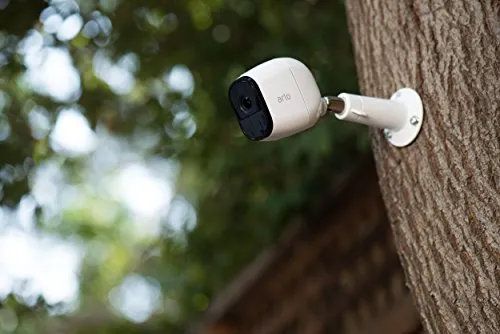 For efficiency, set the system to record motion or sound-triggered events and receive instant mobile alerts in even that movements are detected by the cameras. Use the Arlo app on your smartphone to connect to the Base Station and all its cameras. As the cameras have built-in mic and speaker, use the push-to-talk feature for a two way conversation if needed.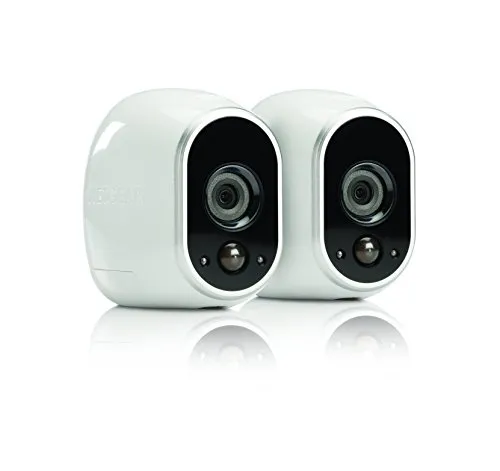 If you are using the camera system in a busy area it's worth considering extra removable and rechargeable batteries as well as Arlo Pro Charging Station that charges up to 2 batteries at a time and takes 90 minutes to fully charge a battery.
UPDATE: The Arlo Pro and Arlo Pro 2 now works with Alexa. If you have a screen Alexa device, you can tap into the live feed simply by asking, e.g. "Alexa, show the front door camera".
Camera Dimensions: 79.3 x 48.6 x 70.5 mm 136 grams
Video Resolution: 1080p (1920 x 1080 pixels)
Field of View: 130 degrees
NOTE: Free cloud storage plan includes 7 days of cloud recording for up to 5 cameras, pay to add more cameras and more days of cloud recording.
ALSO CONSIDER: Arlo Smart Security System with up to 6 cameras and the previous generation Arlo Pro, a cheaper and lower resolution wireless security camera system. The differences are listed below.
| | Arlo Pro 2 Camera | Arlo Essential Camera |
| --- | --- | --- |
| Video | Resolution: up to 1080p HD | Resolution: up to 1080p HD |
| Format | H.264 | H.264 |
| Imaging | Full Color | Full Color |
| | CMOS | CMOS |
| | Auto-adaptive white/black balance and exposure | Auto-adaptive white/black balance and exposure |
| Audio | Speaker | Speaker |
| | Microphone for 2-way audio | Microphone for 2-way audio |
| Motion Detection | Adjustable sensitivity | Adjustable sensitivity |
| | Automatic email alerts and push notifications | Automatic email alerts and push notifications |
| | Wire-Free motion detection | Wire-Free motion detection |
| | Passive infrared technology | Passive infrared technology |
| | Adjustable up to 23 feet | Adjustable up to 23 feet |
| | Plugged-in Motion Detection | |
| | Video based technology | |
| | Up to 3 activity zones | |
| | 3 second preview | |
| | Adjustable sound detection | |
| Digital Pan and Zoom | 8x digital zoom | 12x digital zoom |
| Night Vision | 850 nm LEDs: illuminates up to 25 feet | 850 nm LEDs: illuminates up to 25 feet |
| | IR cut-off filter | IR cut-off filter |
| Battery | 2440mAh rechargeable battery | 2440mAh rechargeable battery |
| | Battery life varies based on settings, usage, & temperature. Battery level indicator. | Battery life varies based on settings, usage, & temperature. Battery level indicator. |
| Field of View | Field of view: 130° | Field of view: 130° |
| Focus Range | Fixed focus (2 ft to infinity) | Fixed focus (2 ft to infinity) |
| Operating Temp. | -4° to 113° F (-20° C to 45° C) Weather Resistant IP65 | -4° to 113° F (-20° C to 45° C) Weather Resistant |
| Dimension | 3.1 x 1.9 x 2.8 in (79.3 x 48.6 x 70.5 mm) | 3.5 x 2.0 x 3.0 in (89 x 52 x 78.4 mm) |
| Weight | 4.8oz (136 g) | .72lb (331 g) |
Other Wireless Security Camreas from Arlo
A quick look at the features of the Arlo Pro 3 and Arlo Ultra
Arlo Pro 3: integrated spotlight, colour night vision, 2K HDR video capture, 160° viewing angle, 2-way audio, weather resistant, magnetic charging cable, magnetic mount, base station.
Arlo Ultra: integrated spotlight, colour night vision, 4K HDR video capture, 180° viewing angle with dewarping, auto zoom and tracking, 2-way audio with noise cancellation, weather resistant, built-in siren, base station
---
2. Ring Spotlight Cam – battery powered 1080p camera, totally wire free, outdoor, integrated spotlight, solar panel option, monthly plan available, Alexa support, no base station
From Ring comes the Spotlight Cam Battery and Spotlight Cam Solar with 1080p HD security camera, two-way audio, wide-angle camera, LED spotlights, siren and rechargeable battery pack. The battery can be charged manually with quick easy release or with the solar panel. The Ring Spotlight Cam is weather-resistant so can be used outdoor. While the battery version has its own spotlight, an option with built-in floodlight is also available but had to be wired. For the purpose of this article, we focus mainly on the totally wire-free Ring Spotlight Cam.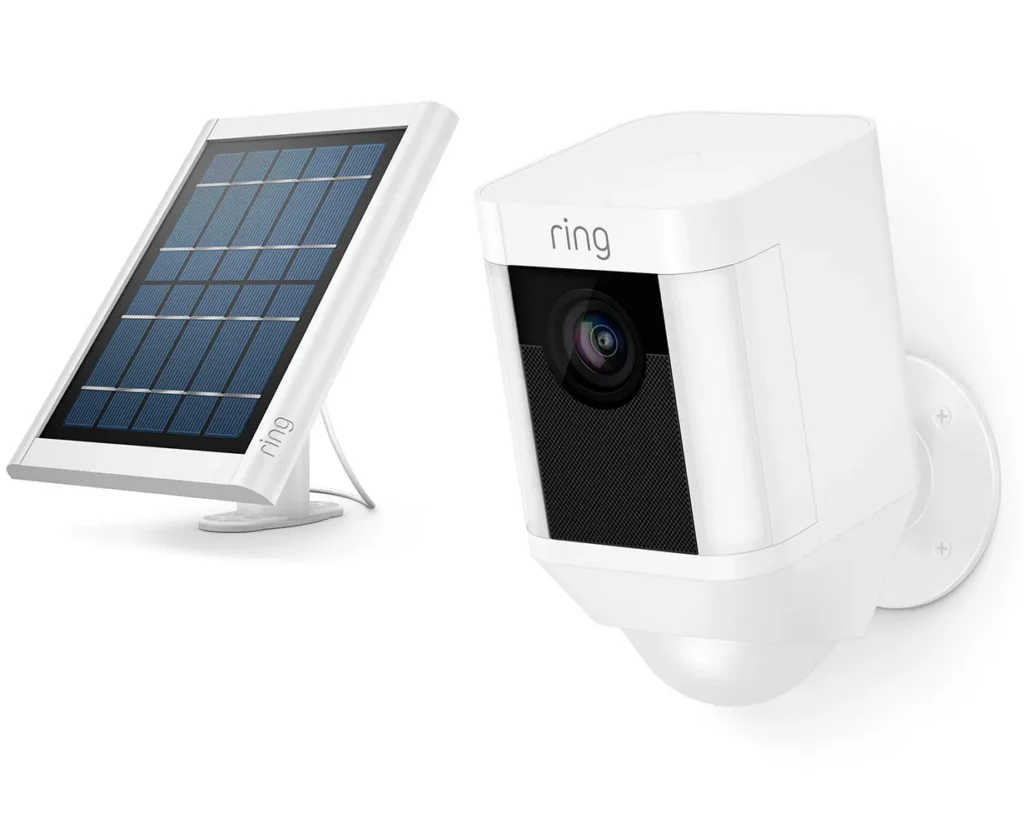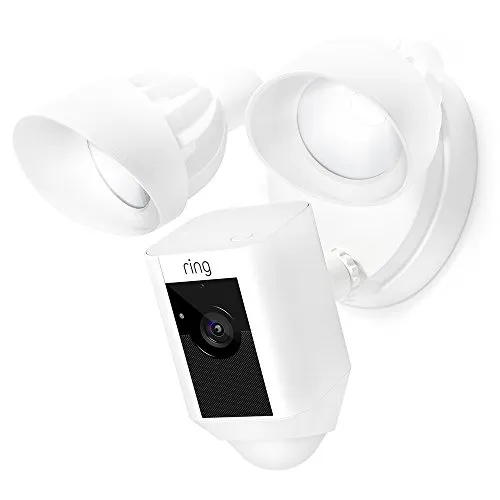 Use the adjustable motion sensors and create custom motion zones and scheduling to set the right level of motion-activated notifications or set it up for instant motion-activated alerts. While the LED spotlight is motion-activated, the camera still has infrared night vision to cover all bases. The on-board alarm emits 110db siren.
Like the standard Stick Up Cam without spotlight, the camera features quick release rechargeable battery pack, Live View for on-demand taps and apps for iOS, Android and Mac. The Ring Cameras now work with Alexa devices to launch real-time video using voice command. The siren can be activated remotely to drive away unwanted guests.
Unfortunately, unless you go with a monthly plan, you will not have access to recorded videos in the cloud triggered by motion and live events. The free monitoring features include real-time alerts on App, real-time motion alerts, real time video with Live View, custom motion detection, two-way talk and theft protection.
Dimensions: 12.6 x 6.91 x 7.59 cm
Video Resolution: 1280 x 1080 (1080p HD)
Field of View: 140° horizontal, 78° vertical
---
3. Ring Stick Up Cam – battery powered 1080p camera, totally wire free, indoor/outdoor, monthly plan available, no base station
The new Ring Stick Up Cam Battery is a weather resistant, wire free, mount anywhere camera. It lets you listen in and speak to the visitor or intruder with the two-way talk function. It is perfect to monitor entrances and comes with motion activated alerts. While the first generation Stick Up Cam was disadvantaged in that there is no onboard siren, the new Ring Stick Up Cam comes with an onboard siren.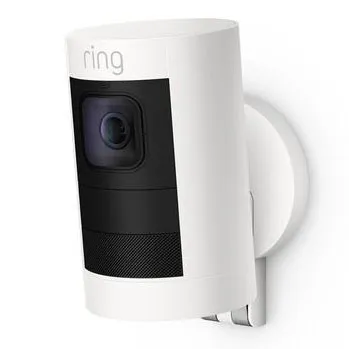 Adjustable motion sensors let you focus on your most important areas, while night vision sensors and a weather-resistant design let you protect your property or night, rain or shine. With the companion app, tap into Live View for on-demand video and audio. The wire free battery unit has easily accessible battery bay with quick release function so you can swap the rechargeable battery when it runs low.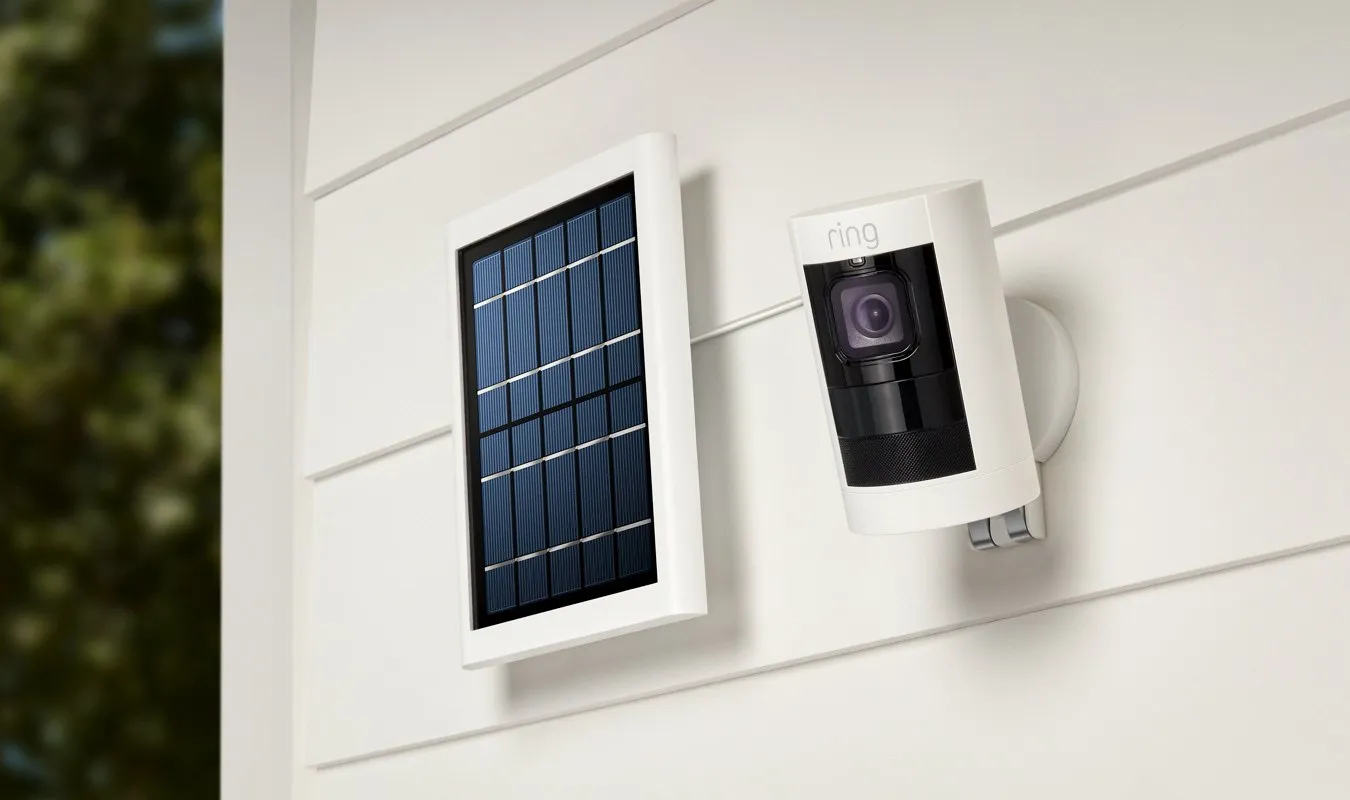 Get an optional Solar Panel to charge the onboard battery on the Rig Stick Up Cam during the day. A Ring Video Doorbell with camera option is also available.
You will however need a Ring Video Recording Basic plan for each camera that saves you live stream to the cloud for up to 60 days with anytime and anywhere access. If you have more than 3 cameras, it would be more cost effective to go for Ring Video Recording Protect plan that offers unlimited camera storage. Both are monthly plans with option to pay annually with some savings.
Dimensions: 9.70 cm x 6.00 cm x 6.00 cm
Field of View: 115° horizontal, 65° vertical
---
4. Canary Flex – battery powered 1080p camera, totally wire free, indoor/outdoor, monthly plan
Canary Flex it s a smaller sibling of the Canary, an all-in-one security camera with HD camera, siren and air monitor. The Flex however is a waterproof (IP65 rated), wire-free HD camera that can be used for both indoor or outdoor be it day or night, rain or shine. It can also be plugged in if you don't want the hassle of swapping the battery.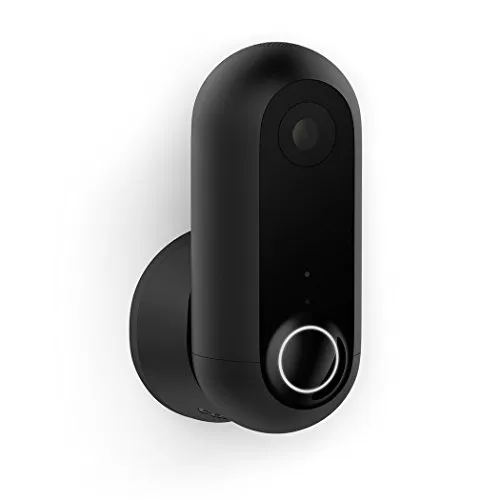 The magnetic 360° swivel base lets you rest the unit on a flat surface or mount it on a wall and twist it to any direction to suit. The autonomous wireless video camera records remarkably crisp HD video and audio with automatic night vision and a wide-angle lens for increased field of view.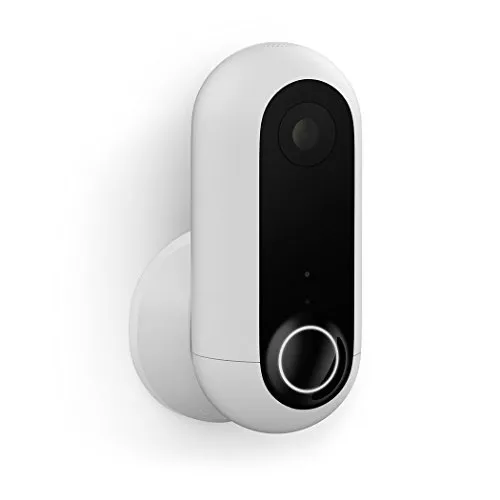 It has a built-in extended life 6700aAh Lithium-Ion rechargeable battery and works just as well powered via a cable. Dual-band Wi-Fi technology and Bluetooth delivers a robust signal for reliable performance. The companion Canary Mobile App lets you access multiple cameras and member services.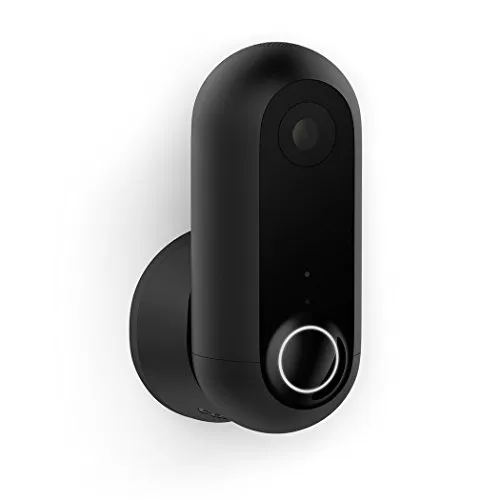 While it comes with a built-in speaker and microphone making it two-way talk capable, the feature yet to be activated at time of writing. Canary is looking to have this feature available in the coming months.
Without a Membership subscription, you can access video history in your timeline for up to 24 hours and can be shared by up to four devices. You can also bookmark and export your videos with unlimited downloads and sharing on social media.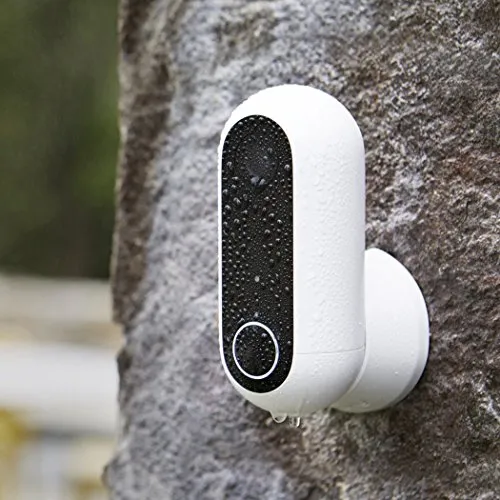 Monthly membership plan includes 30 days of recorded video history stored in the cloud with unlimited downloads and no data cap. One, up to three or four device plans are available with the later offering the option to add more cameras with a top up fee per camera.
Finally, you can access the cameras using the companion app on iOS or Android device. Web App is not currently supported.
Dimensions: Height: 4.35 in (11 cm), Diameter: 1.9 in (11 cm), Weight: .53 lbs (240 grams)
Video Resolution: 1920 x 1080
Field of View: 116 degrees
---
5. Blink XT2 – battery powered 1080p camera, totally wire free, indoor or outdoor, small base station, Alexa support
UPDATE: Now part of Amazon, the wireless security cameras from Blink have been streamline. The new cameras are simply called Blink Outdoor and Blink Indoor. They feature long battery life that lasts up to two years using only two AA lithium batteries. First set of batteries are included. It comes with motion detection alerts, two-way audio support, custom motion zones, HD resolution and support for Alexa. Currently, these are sold alongside Blink XT2 cameras below.
Blink XT2 is an affordable and easy to set up 1080p HD video camera that is battery-powered and truly wire-free, so it's easy to place and move within any indoor environment. The 1080p HD video capture offers a clear view of your home or business, with minimal distortion or blurring.
In addition, the XT cameras are also weather proof so safe for outdoor use, come with built-in temperature sensors, support night vision and low-light illumination and include an onboard motion sensor, two-way audio, Live View and motion recording.
The camera's on-board motion detector; when armed, detect any motion and triggers the recording of a short video clip. This in turn is sent as an alert to your smartphone in addition to the recorded event being stored in the cloud.
The camera is powered by standard 2 AA Lithium Batteries which can be replaced with high capacity rechargeable batteries available from third party. The manufacturer claims that the batteries will last for up to 2 years.
Using companion Blink iOS or Android apps, you can control the wireless cameras and access on-demand Live View video streaming. On top of that, the cameras also support voice control using Amazon Alexa Skill. This means you can arm, disarm and receive system information using voice command. You can also customise the motion detection, creating activity zones to avoid false alearts.
What makes it even more appealing apart from the affordable price tag is the free cloud storage for your footage with no contract or monthly fee to pay. Amazon, the company that owns Blink Home Security offers cloud storage for up to one year enough to store hundreds of recorded clips. See note below for limitations.
For night vision, the camera can record and view up to 1080p HD video with the help of intrared HD night vision both indoor and outdoor. Like Arlo Pro, the  Blink XT is available as 1, 2, 3 or 5 camera kit each with a Blink Sync Module, the center of every Blink Video Home Security system.
The Blink Sync Module enables up-to 10 wire-free Blink Security Cameras. On top of that, a second module can be added to extend the range in larger house, to create different zones for indoor and outdoor cameras or to control Blink systems in multiple locations. In the same vein, the multi-system support allows you to access each of your Blink home security systems from within a single Blink Home Monitor app account.
Another appeal of the Blink XT2 camera is that it uses two AA batteries that you can buy off the shelves or use third party high capacity rechargeable batteries. There is no premium to pay for proprietary battery packs.
NOTE: Standard video clips are limited to 5 seconds for efficiency, although you can increase this up to 60 seconds. At five seconds each clip uses up to 750KB of data. Live View is not continuous and lets you stream 30 seconds of video at a time.
If you need more, just tap continue for another 30 seconds, for instance. While the Blink's cloud storage for your recording is free, it is limited to 7200 seconds. In other words, that is enough for 1440 five-second events and Blink will automatically delete the oldest alert clips when the limit is reached.
---
The Ultra in this camera stands for Ultra HD capture. This means that the camera sensor is capable of capturing 4K high definition video. Therefore, it captures four times more detail than your standard HD camera.
With that level of resolution, you can recognise number plates, faces, heck even the brand logo on shirts or jacket and even zoom in digitally. Moreover, Arlo throws in HDR advanced image quality enhancement for good measure so you never miss out on the details in bright and dark areas in the video.

You can get one, two, three or four camera systems, each with a Smart Hub. If more cameras are needed, purchase add-on cameras separately. Each camera comes equipped with the following:
totally wire-free with onboard rechargeable battery
weather-resistant housing
4K & HDR level detail
enhanced colour night vision where these are typically black and white
motion triggered integrated spot light to ward off unwanted visitors
180 degrees diagonal field of vision for wide panoramic view
two noise cancelling microphones to reduce wind and ambience noise
speaker works with the microphones for 2-way audio with visitor
onboard siren that can be triggered remotely or automatically
Other clever features include automatic zoom and tracking that allows the camera to automatically focus and follow moving objects. Plus, the onboard A.I. even notifies you of the type of trigger such as people, packages, vehicles or animal.
Furthermore, you can add custom activity zones to only monitor certain areas in the field of vision while ignoring others. This is handy if you live on a busy street or the neighbours love their garden so much that it keeps triggering the alerts.
Use the Arlo app on your smartphone or tablet to keep track of things. Alternatively, you can connect to Apple Watch, Google Home Hub and Amazon Echo Show to see what's going on at home. Essential accessories include outdoor charging cable or solar panel with magnetic clasp to top up the charge.
Cloud recording is available for the first year with Arlo smart premier service with Rolling 30-day cloud recording (up to 10 cameras). There is a subscription fee to pay after that if you wish to continue. However, if you choose to stop, there will be no cloud recording. But, you can still have access to live stream remotely and 4K stream locally, receive push notifications, use auto track and zoom as well as two-way audio.