Looking for compact surround sound speakers but not willing to compromise on quality, here are some ready packaged home theatre surround speakers that will meet even the harshest cinema sound critics. These are truly small and compact with some no bigger than a Rubik's Cube.
Pick One of These Speaker Packages as Your Base Point
When it comes to picking the right speakers for your home theatre AV receiver, it can be a mine field. Things really start to get messy when you pick different make of speakers for the different channels. When you have a Dolby ATMOS receiver where you need up to 7.2.1 speakers, not only will the task be challenging but the price will stack up too. Enter, ready packaged speakers from manufacturers like Monitor Audio, Q Acoustics, Cambridge Audio and Focal.
With advances in sound engineering comes ultra compact satellite speakers that works well in a home theatre sound system. Each speaker is capable of producing the full range of sound without compromising on quality.
There are so many reasons why one would consider an ultra compact speaker package. These speakers are really compact, a great choice for the minimalist at heart. No big speaker boxes littered around the room or floor standing speakers that takes up loads of floor space. They don't take up much space on the shelves or media top surfaces. All the speakers featured here are also wall mountable with optional mounting kid perfect to keep the room tidy and clutter free.
Affordable Dolby ATMOS AV Receivers and Budget Surround Sound Speakers
These speaker packages have been proven to work with some of the best AV receivers in the market. While they are not the cheapest. For bargain hunters and those looking for affordable 5.1 or 7.1 surround speakers, check out our article on budget surround sound speakers. And, if you are only just starting to consider a home theatre system, don't forget to look up our list of best affordable Dolby ATMOS AV receivers for true surround sound.
Top 5 Best Mid Range Compact 5.1 Home Theatre Surround Speaker Packages
Here is a quick look at six of the best mid-range speaker packages. If you have a bit more money to spend on a surround sound system and not wanting to take any risk with a low budget setup, one of these packages are for you. Direct search links to Amazon below:
And now to take a closer look at these speaker packages.
1. Monitor Audio MASS 5.1 Speaker Package
Available in black, as shown or white, Monitor Audio MASS 5.1 speaker package is ultra compact. But don't be deceived by its size. Even with a slightly compact subwoofer and super small satellite speakers, the system produces loud booming sound. With rounded corners and dark grey fabric, it does not look out of place. Ideal for small to medium sized rooms or those who like to keep things minimalist, the Monitor Audio MASS 5.1 delivers cinema quality sound without large boxes.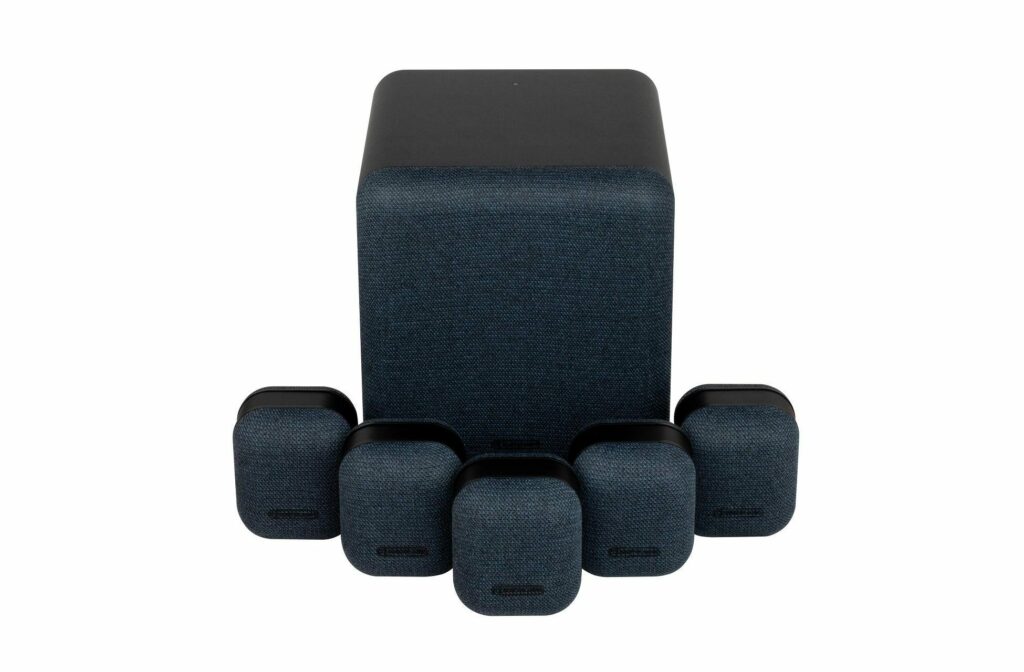 The speakers may be small but it uses two way design with a separate soft dome tweeter and mid-range driver that uses Monitor Audio's MMP II (Metal Matrix Polymer) cones. The result, bright and detailed high end plus clear and accurate speech and pinpoint special effects. In addition, the high rigidity cabinets reduce distortion for dynamic sound at higher levels.
Two-way sealed cabinet tuned for wide dispersion and optimal integration with MASS Subwoofer

3 1/2″ (89 mm) Mid-Bass driver with MMP II (Metal Matrix Polymer) cone technology

3/4″ (19 mm) soft dome tweeter with thermal protection

8 inch MMP II driver in the MASS Subwoofer for powerful low range

Compact design, with point-source acoustic alignment for precise audio focus and response
---
2. Q Acoustics 7000I PLUS 5.1 Speaker Package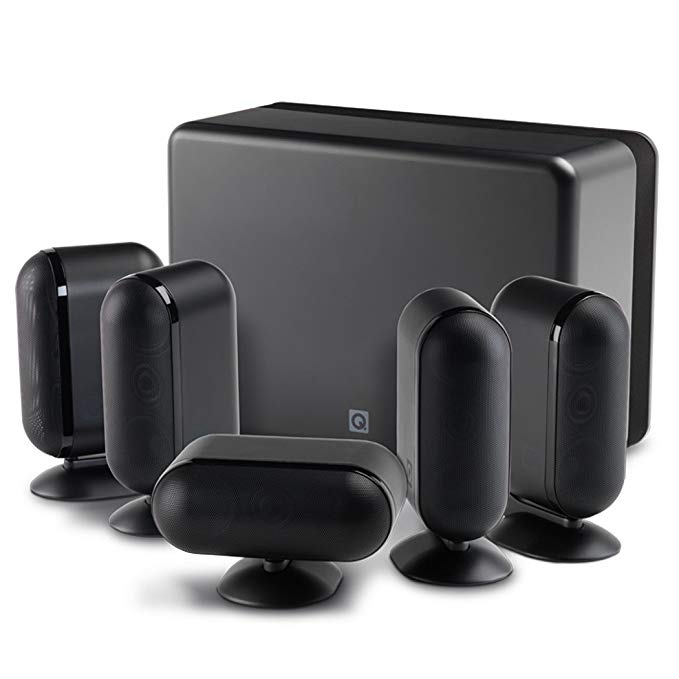 This award winning package from Q Acoustics, the Q7000i is a 5.1 channel speaker package that looks playful with its rounded corners and pill shape satellite speakers complete with stand. These speaker are again small but can really pull its weight, producing dynamic, crisp and detailed high quality sound. Combined with a compact woofer, the package offers a broad and detailed sound range for your entertainment centre.
For drivers, the woofer uses two lightweight cones with ultra long throw vs a big cone. The result is much improved speed for better depth and rumble. These are powered by a strong 140Watt amplifier. All that in a box no wider than 20cm. On the other hand, the speakers use 'Ring Radiator' treble units to better mid to high range.
---
The bigger of the two Cambridge Audio speaker packages, this one combines five MINX22 with a MINX X201 powered subwoofer. You can of course buy an extra pair of MIN22 or Cambridge Audio's ceiling speaker for downward firing sound to complete the 7.2.1 channels for a true Dolby ATMOS surround.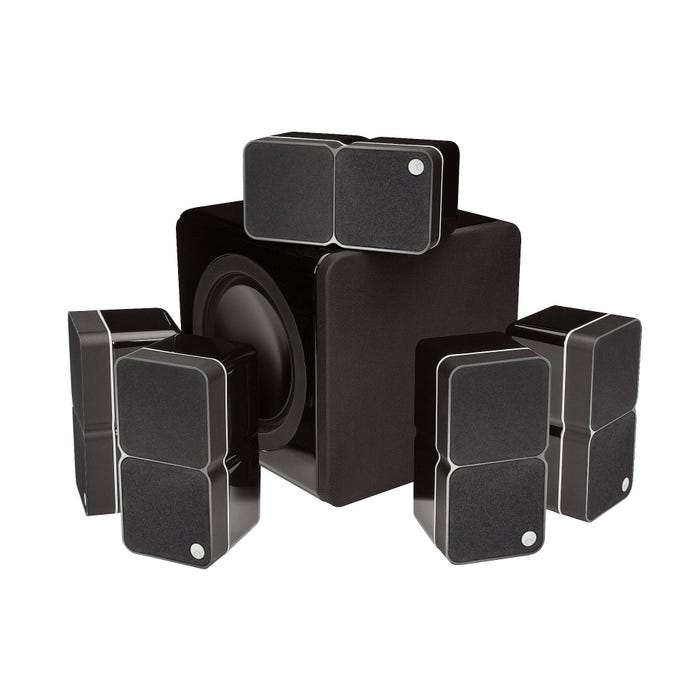 This setup does not come cheap. That is because instead of single firing driver, each satellite MIN22 comes with two drivers, a Balanced Mode Radiator driver unit and additional woofer. Yes, the MIN22 each comes with its own woofer built-in. These compact speakers are double the size of MIN12 but with a dedicated woofer unit, it offers a greater dynamic and scale of sound compared to the smaller MIN12.
We will cover the Cambridge Audio MINX X201 powered subwoofer in the next package.
---
Here is a combination of speakers from Cambridge Audio that works well together. The speaker package consists of five Cambridge Audio MIN12 and a MINX X201 subwoofer. You can add two more MIN12 and two more Cambridge Audio ceiling speakers to complete a Dolby ATMOS setup with 7.2.1 surround. However, the 5.1 package is a good starting point.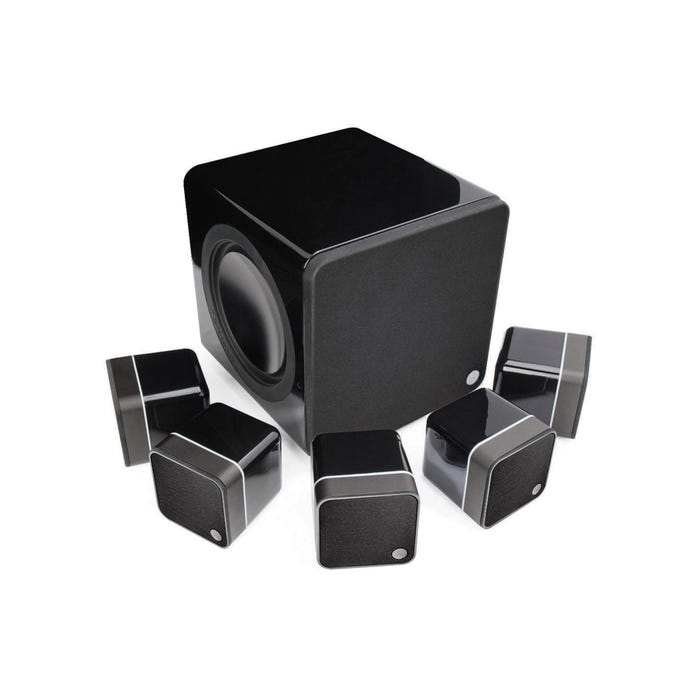 The MIN12 features a single Balanced Mode Radiator drive unit. This gives it pinpoint accuracy and detail in the sound even at high volume. Don't let the size turn you off, while it is no bigger than a Rubix's cube the MIN12 is truly dynamic and can push a wide range of sound easily without breaking. The low mid-range has also improved to work better with the subwoofer.
As for the Cambridge Audio X201 active subwoofer, it uses Cambrige Audio's own Digital Signal Processor and a powerful 200W amplifier to provide exceptional bass. The compact subwoofer has a bass cone constructed from aerospace grade aluminium. The powered cone is complemented with two passive cones for enhanced bass response with more detail and control.
---
A cheaper combination would be to replace the Z201 sub with the smaller SX120 as show below.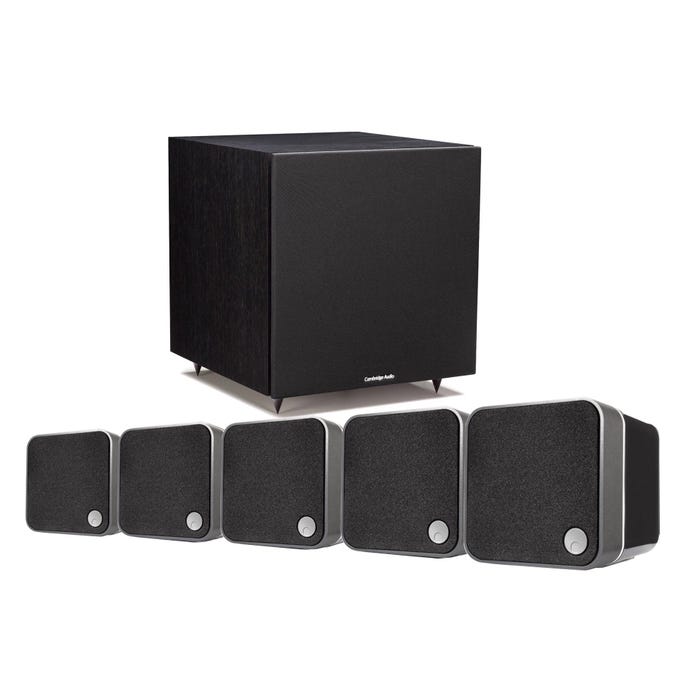 ---
5. Focal SIB EVO 5.1.2 Dolby Atmos Speaker Package
Here is a compact speaker package that is Dolby Atmos ready. While other 5.1 speaker packages we have seen so far requires either an upward firing speaker or a downward firing ceiling mount speaker to complete the 7.2.1 channels, the front channels on this package comes with its own upward firing channel. On top of that, all satellite channels are full range speakers. They combine soft dome treble drivers with Polyflex woofers to form complete two-way speaker for better clarity.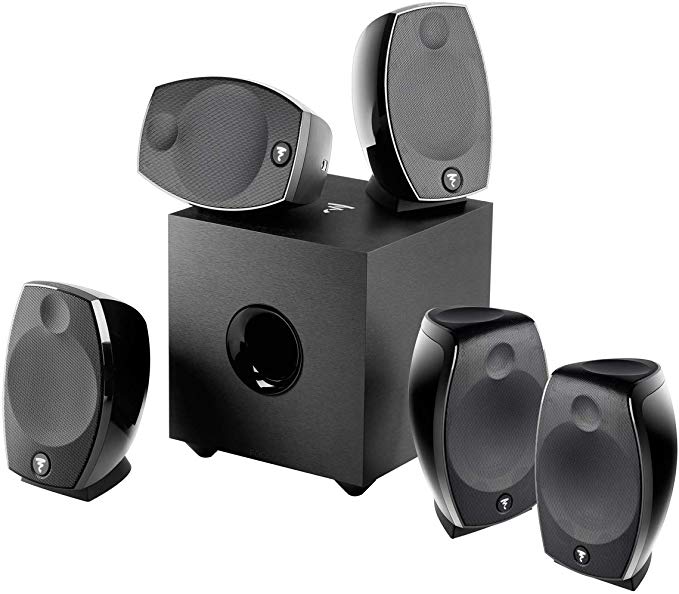 As for the sub, it uses an 8-inch Polyflex cone. The driver is downward firing and is backed by a powerful 200 Watt Class-D amplifier. It is capable of generating deep low range and bass that will complement the satellite speakers well.
Sib Evo is composed of a 5 Polyflex speaker driver and a ¾-inch silk dome tweeter integrated into a sizeable enclosure in order to give it extended frequency response

The Dolby Atmos loudspeaker is equipped with an additional 4-inch full-range Polyflex speaker driver on top dedicated to the Atmos effects

The Cub Evo subwoofer is 

quipped with an 8-inch speaker driver and a 200W Class D amplifier. It is characterised by its MDF structure and its Matt Black finish.