When designing your own home theatre system capable of supporting Dolby ATMOS surround, you will soon realise that you need to spend a lot on speakers given the different channels. Thankfully there are perfectly affordable packaged speaker systems which are designed to work well together.
It can be daunting when you have to choose your front channels, centre channel, active subwoofer, rear satellite channels and ceiling or upward firing speakers. And, when you have specified your setup with independent speaker pairs from different manufacturers, you will soon realise that it will amount to a huge bill.
To help you out with deciding on speakers that doesn't burn a hole in your wallet, we have brought together five of the best budget speaker packages. These budget systems come with active subwoofer and either 5 or 7 speakers for the other channels out of the box. They cost no more than 500 and are designed to work together.
How to Choose the Right Speakers for My AV Receiver
There are many approaches to buying speakers for your AV receiver. You can spend more or less on your speakers to make the most of your receiver. The idea is to spend just the right amount to get the best quality speakers to match your AV receiver. That is to say, if you have a cheap or entry level receiver, you don't want high end speakers. These will make the poor performance output from the receiver even more evident.
The Perfect Match
Conversely, if you have a mid-range or high-end receiver, you may consider spending a bit more on the speakers to make sure that the quality output from your AV receiver can be fully realised by good, high quality speakers. However, in this article, we are catering more towards those looking to build a home theatre system that supports Dolby ATMOS on a budget. Sort of a starter system. Not the high end stuff.
Room Size
Also, consider the size of your room. Naturally, if you have a big room, you would want big speakers. Floor standing speakers will of course take up more room but provide a more wholesome and consistent sound. If you live in a flat or apartment, then small speakers will suffice. In addition to that, you might consider mounting your speakers to free up the floor space and keep things tidy. Mounting also puts small speakers on the right listening height.
Impedance and Power Ratings
Other more technical bits to consider are the output ratings of your AV. The things to watch out for are the impedance and maximum power output. You then match this to the power rating and impedance of the speakers.
To put it in perspective, speakers with lower impedance means the more power it draws from the receiver. As an example, a 4-ohm speaker requires more power from the receiver compared to an 8-ohm speaker to produce the same level of sound. The normal ratings are from 4 to 8 ohm.
As for power ratings, the higher the power rating of the speakers, the better they are at coping with the output from your receiver. This translates directly to the loudness of the sound it is capable of producing.
Also, these speaker packages will have an active subwoofer. It's the "point 1" in the 5.1.2 or 5.1 channels. Again, the higher the power rating of the active subwoofer, the bigger the volume is can sustain without breaking.
Budget 5.1 and Dolby ATMOS Speaker Packages
When you are considering multi point speakers for your Dolby ATMOS surround system, you have established that there is really no two ways about this. You either have a real 5.1 or 5.2.1 surround sound or nothing at all. Hybrid surround sound bars or Dolby ATMOS enabled 2.1 systems are no where near as good as the real thing. We will be looking at five of the best budget speaker packages, that together with a Dolby ATMOS capable AV receiver, will put you in genuine surround sound heaven.
Top 5 Best Budget Speaker Packages for Dolby ATMOS
Check out five of the best speaker packages to build your Dolby ATMOS system. These are 5.2.1 or 5.1 speaker systems. If you decide on a 5.1 package, you may consider a pair of upward firing or ceiling speakers from the list in our next section. These will complete your Dolby ATMOS surround giving it the full seven channels plus subwoofer.
Starting off the award winning Wharfedale DX2 5.1 speaker package, we have a surround speaker package that is bigger than it seams. Based on Wharfedale's Diamond speakers, the front and rear satellite pairs takes up only 120 mm x 122 mm foot print each with a height of 190 mm. The centre channel measures 120 x 120 too in cross section and is 310 mm wide. Together with the active subwoofer they offer nothing short of crisp and clear sound, strong low and a wide range of high quality audio. All speakers except for the Subwoofer can be wall mounted if need be. The
Recommended Amplifier Power: 20 – 60 W per channel (Front and Satellite) Centre: 20 -100 W per channel. Subwoofer Amplifier Output: 70W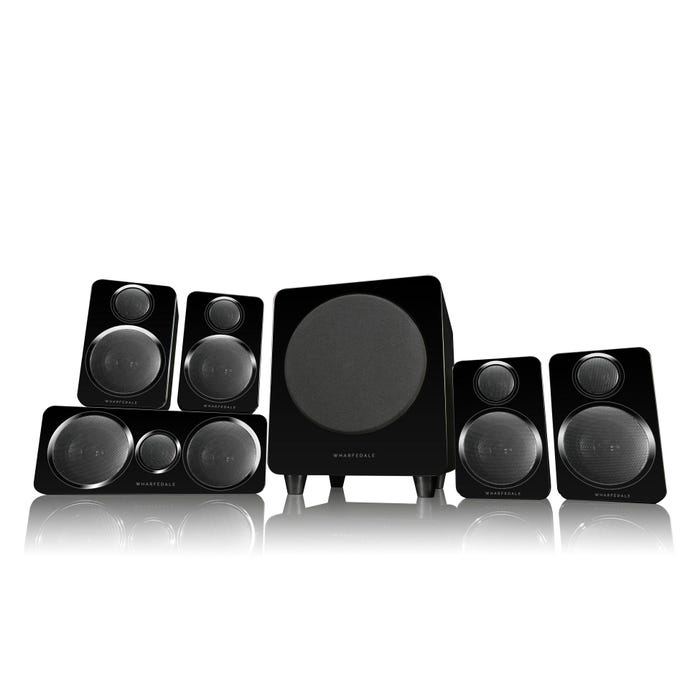 ---
A premium speaker package from Harman Kardon, this 5.1 channel home theater speaker system has a powerful 200W downward firing subwoofer. The satellite speakers are voice matched with 120W output each with 3-inch midrange and 0.5-inch tweeters. Together they produce rich, realistic and high performance sound to cover the entire dynamic range. While the four satellites are identical, the center channel CEN-TS11 is no bigger. If you are looking for a compact speaker system this is one to get. The package includes colour coded speaker cables and is perfect for those looking to setup a 7.2.1 channel Dolby Atmos surround with their AV Receiver.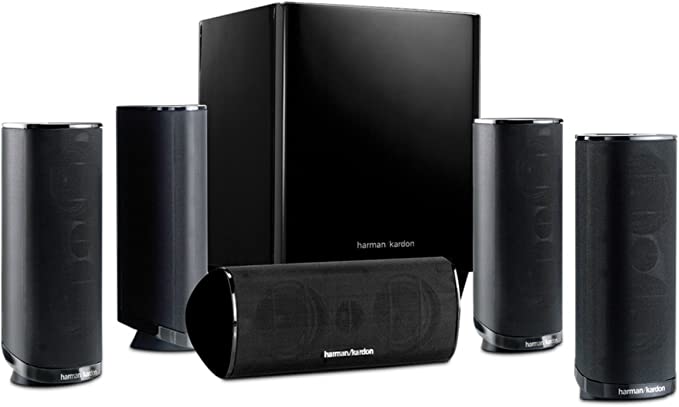 ---
Canton is a favourite among customers looking for an ultra compact setup. In fact, this together with the JBL and Elac speaker packages below are all compact surround sound speakers designed for small to medium rooms. But don't be deceived by its size, these speakers definitely punch above their ridiculously small case.
The four matched satellite, both front and back have separate tweeters and woofers. While the active subwoofer is capable of 100W of output power. Last but not least, the centre speaker uses twin woofers for a broader spread and more accurate vocal to image location. This means the sound remains tonally balanced. Together the sound stage envelopes the audience perfectly.
Finally, Canton has included wall brackets with the satellite speakers and the center channel which are easy to install so you don't have to spend any more money. Just be sure to mount or place the satellite speakers at or near listening height. However, the centre speaker can be placed either above or below the TV screen while the subwoofer can be anywhere in the room. The latter will need a distance of 30-50cm away from a hard wall.
Subwoofer power rating 100W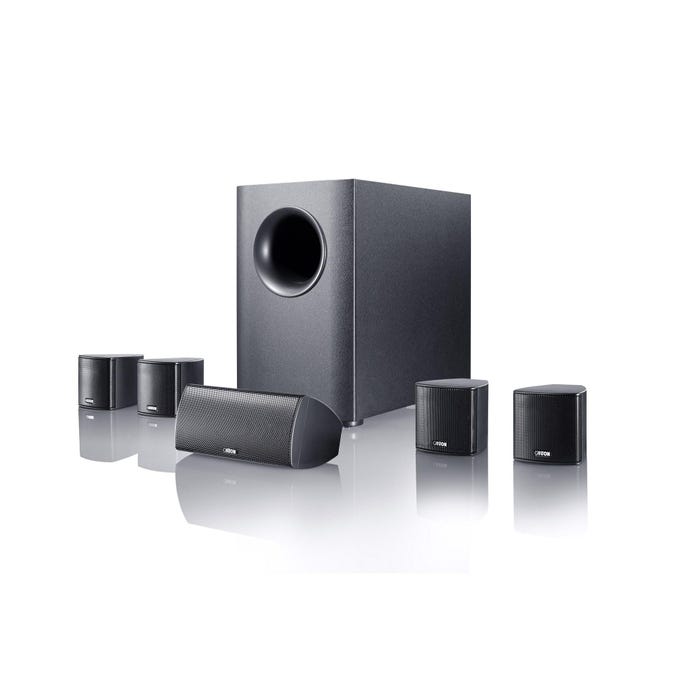 Canton Movie 75 5.1 Speakers on Amazon
---
Another small 5.1 surround speaker package, the JBL Cinema 510 features an active subwoofer with a 60W power rating. Perfect for bedrooms and small offices. What gives is the centre channel. It looks just like the other satellite speakers, front or rear and nothing like the wide centre speakers we are used to. Still, together with the powered subwoofer, it is capable of delivering clear and convincing voice and dynamic bass. The compact speakers makes them easy to place, taking up very little space and can be wall-mounted using built-in mounts.
Recommended power: 10 – 100 watts. Powered Sub output rating: 60W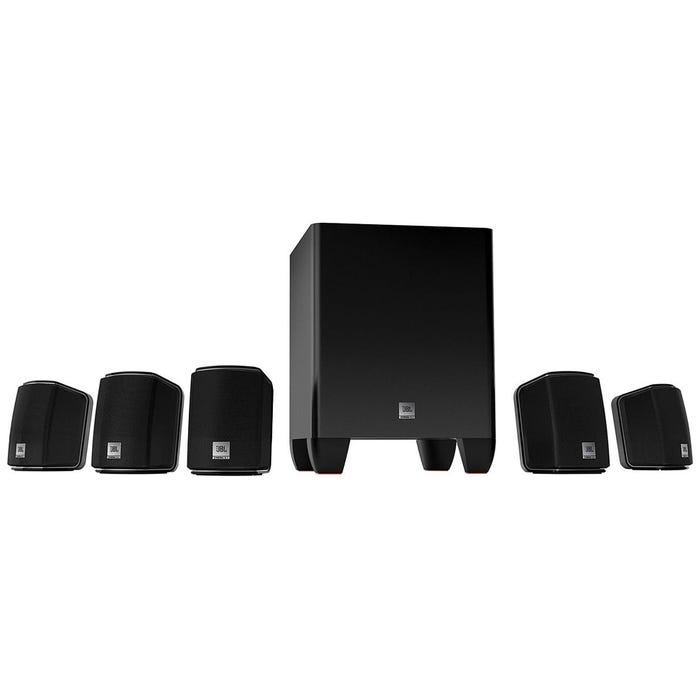 ---
This last compact speaker package from Elac may cost more than say the Canton Movie 75 and JBL Cinema 510. In fact, it costs almost the same as the Onkyo SKSHT588 we feature on our list. The premium quality build really delivers. Instead of using single drivers in each satellite speakers, it actually contains two speakers, a dedicated tweeter and a mid-range driver. You won't believe how such small speaker cabinets standing only 11cm tall can sound so good. The bass of course is separate and is powered and is fully adjustable to suit the acoustics and size of the room. It is also worth noting that dedicated wall mounting brackets are included.
Recommended power load: 50 W per channel. Active subwoofer output 60W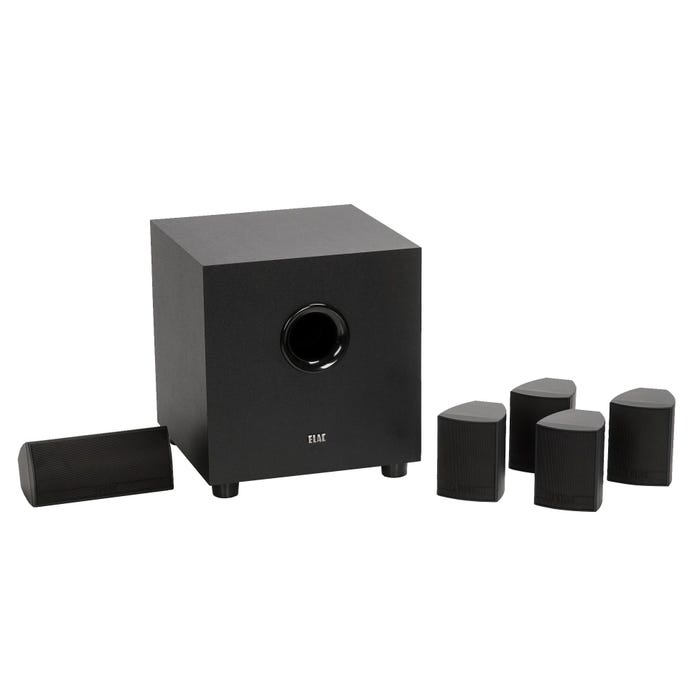 ---
This next package from Klipsch includes four satellite speakers that also fire upward for the height effects and together with front and back, pushes sweet Dolby Atmos surround effects to immerse the audience in the room. With the right AV receiver, this 5.1.4 setup will push multi dimentional sound enhanced by Klipsch's best in class 10-inch active subwoofer. Sit back and let those copper spun drivers and woofers drive your home theater to the next level.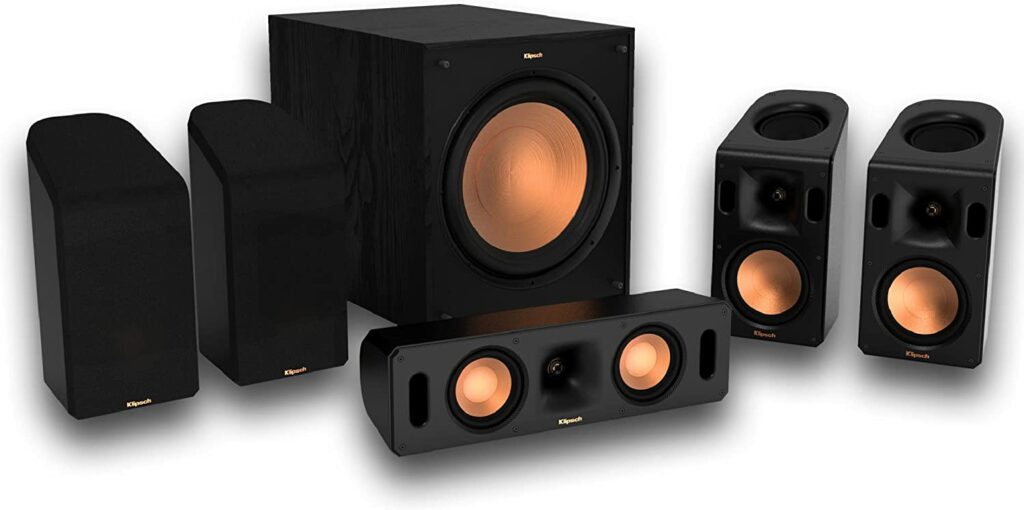 Klipsch also do a cheaper 5.1 surround sound system but with 5 speakers and a sub woofer but you are going to need speakers from the next section to complete the height effect for an immersive Dolby Atmos experience.

---
Upward Firing or Ceiling Speakers to Complete the Dolby ATMOS Surround
All Dolby ATMOS capable AV receivers have 7 channel outputs, plus one subwoofer. Here are a few Ceiling and Upward Firing pairs to complete the 5.1 speaker packages listed above. These turn them into 5.2.1 or 7.1 ATMOS ready system with all channels firing for an immersive sound experience.
These small but powerful ceiling speakers are designed to match the sound quality of your conventional bookshelf speakers. It takes into account the angles, frequencies and energy distribution when installed in the ceiling.
Power Rating: 60W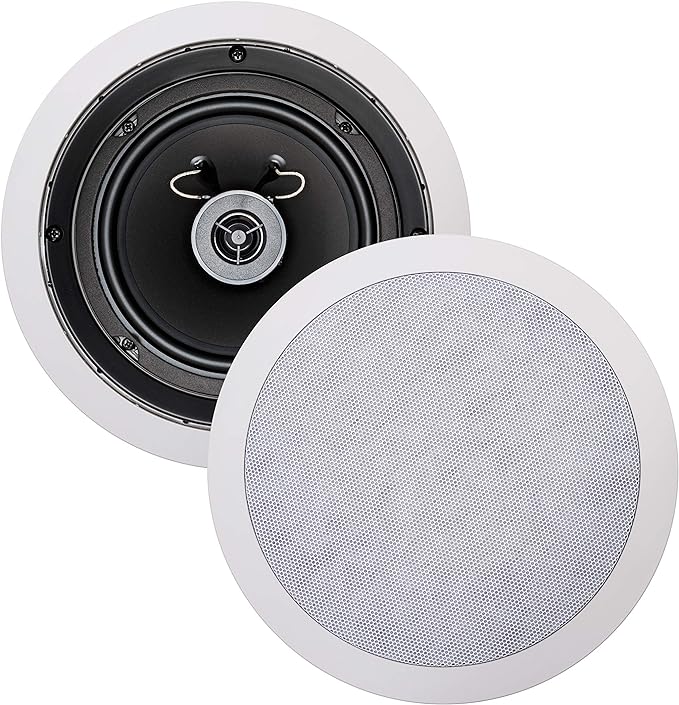 ---
From the KEF Ci-series comes this small but powerful ceiling pair, the KEF Ci130QR. KEF is known to offer tonal balance that favours accuracy and neutrality. These speakers using KEF's Uni-Q driver blends both mid-range and tweeter to make the speaker act as a single point source.
Power Rating: 80W
---
Sold individually, the Cambridge Audio Minx C46 are compact ceiling speakers. This makes the speaker unobtrusive and hidden discreetly away. It works and fits on standard spotlight mounting. Measuring 88mm in diameter, with a hole mount of 75mm it can be installed straight into existing hole cut for spotlight. Inside the speaker is a single Balanced Mode Radiator drive unit that combines both flat panel and conventional speakers to produce detailed and accurate sound even at high volume.
Power Rating: 200W
---
Lastly, these full size upward firing speakers don't come cheap but will complement big front and and floor standing speakers. For reference and to ensure that the foot print of the speakers fit on top of your existing or future front speakers, the dimensions are as follows, 180 x 259 x 174mm (WxDxH).
As an alternative to KEF above, if you already have full size multi driver speakers, this Sony top firing speaker comes with 3.94-inch drivers and can take up to 100W power. It is suitable for any AV that supports Dolby Atmos and DTS:X systems. Here is a case of splitting up your purchase to achieve a full set up when your budget allows it starting with front tower speakers and this upward firing speakers. Continue with  the SACS9 Subwoofer and then the SSCS8 center channel speaker. Finish with two SSCS5 bookshelf speakers as on a stand for rear channels.