Video doorbells do not have to be expensive. Here are a dozen of the best budget video doorbells under a hundred dollars with 1080p Full HD video feed, two-way audio and totally wire-free design. Plus, it doubles as a security camera for the door or porch with night vision, PIR motion detector and instant notification.
Budget Full HD Video Doorbells
As more and more video doorbell manufacturers join the market, we see an unprecedented rise in the number of options available to the consumers. This can only be a good thing as the pressure is on among them to compete on price and offer consumers more bang for their bucks. These cameras are not only affordable but feature-rich, some with specifications that you would only find on high-end doorbells.
The OEM Video Doorbells
Here is the catch, there are some doorbells which are based on the same OEM hardware but carry different brand names. They have the same features (and specifications) and use the same app for installation, notifications, 2-way chat, live feed view and control of its settings. These are still well received among consumers and are fully capable cameras. All that remains is how they compete in terms of price.
Leading the way in our top 8+5 budget video doorbell list is one such OEM Video Doorbells from XTU and ZUMIMALL. From our list below, you will discover that ZUMIMALL, XTU, MECO, UOKIER and GEREE are all based on the same camera. In other markets, these are sold under different names; Ctronics, AWOW and KAMEP. We start off by listing all the features and specifications of the OEM camera and then look at other proprietary cameras in turns.
XTU Video Doorbell Full HD
ZUMIMALL Video Doorbell Full HD
MECO Video Doorbell Full HD
UOKIER Video Doorbell Full HD
GEREE Video Doorbell Full HD
KAMEP Video Doorbell Full HD
Ctronics Video Doorbell Full HD
AWOW Video Doorbell Full HD
The cameras above share the same features and functionality.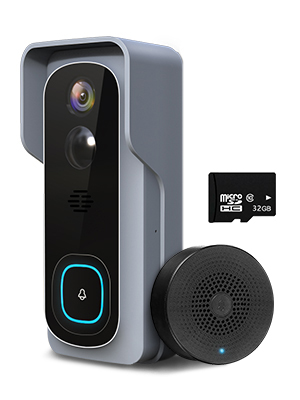 We look at the finest example of these OEM offerings, the XTU Doorbell Camera. Like all the other OEM cameras in this list, this is a wireless 2.4GHz only video doorbell powered by rechargeable battery so no wiring is required. The camera has a Full HD resolution, so 1080p or 1920 x 1080 pixel resolution, plenty for visitors walking right up to the door. The lens is capable of 166 degree wide angle view and support night vision, so doubles as security camera at night and still useful when the porch light is off.
There is no fish eye lens correction so while you get the widest viewing angle possible from the lens, things do look a bit warped around the edges. The Full HD resolution makes up for this, offering sufficiently sharp image with enough details.
Other features are pretty standard for doorbells these days, they include being able to carry out a two way conversation with your visitor, locally or remotely. Most would know this as the intercom function. The case is IP65 waterproof rated so it will withstand being outside whatever the weather and finally motion detection with PIR sensor allows the doorbell to alert you even before they press the button.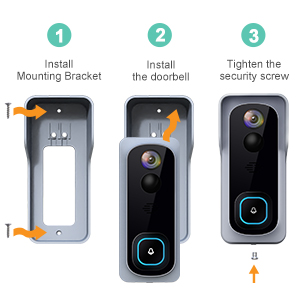 Mounting the wireless camera is easy. It comes with a wall mounted bracket complete with lens shield. The bracket needs to be mounted first on to the wall with two screws. You then click and seat the camera in place before securing it with a screw underneath. This is to facilitate quick dismount to allow you to charge the camera's battery.
What the unit also comes with is a separate wireless indoor chime. This is a luxury as typically, door chimes are a separate purchase. The chime is USB powered so you will need a USB adapter. However, what is most important about this camera is the availability of onboard 32GB SD card for local storage. This means there is no real need for remote clouds storage even though such an option is available if you don't mind paying a monthly subscription.
While the doorbell unit and chime operates wirelessly and is battery powered, if you have existing doorbell cables to your chime, you can use this instead. As long as the chime comes with two wires, you can connect these up using the instructions.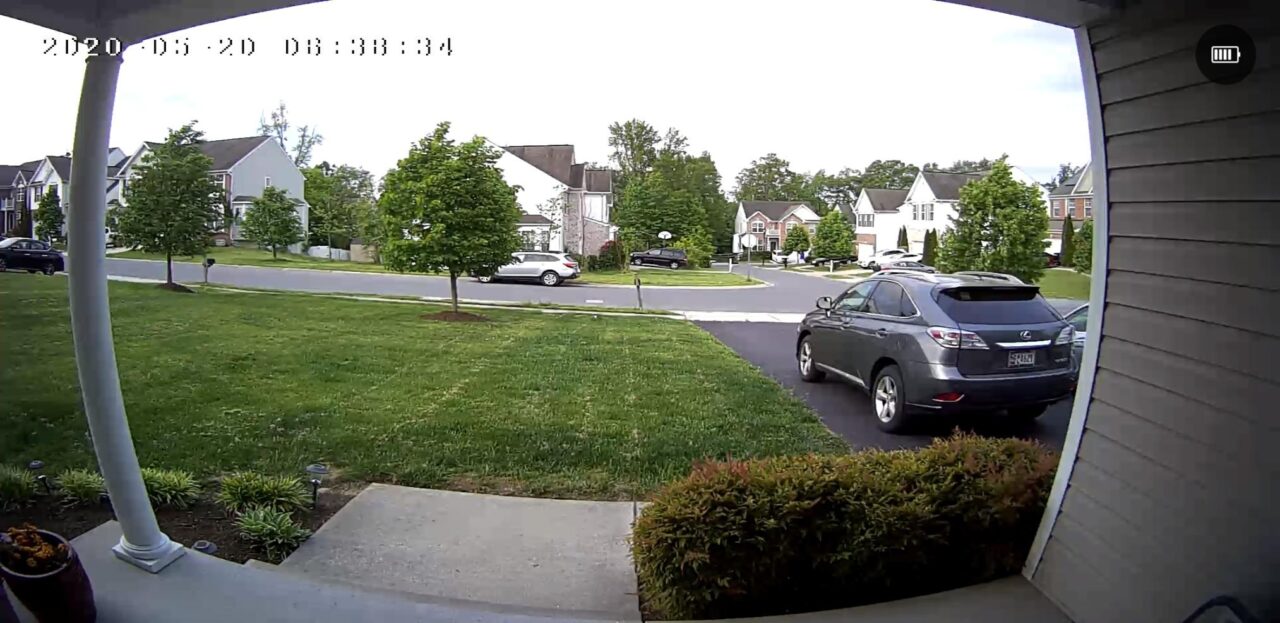 As for the app, use the shared CloudEdge app downloadable from Google Play or Apple App Store. Shared because, it is used by all the OEM cameras on the list above. This means it is well maintained, supported and is reliable. The CloudEdge app has an intuitive interface, making it easy to navigate and use. Use it for notification, live feed and two way chat with your visitor. For the latter, the on board speaker in the doorbell offers sufficiently loud and audible sound.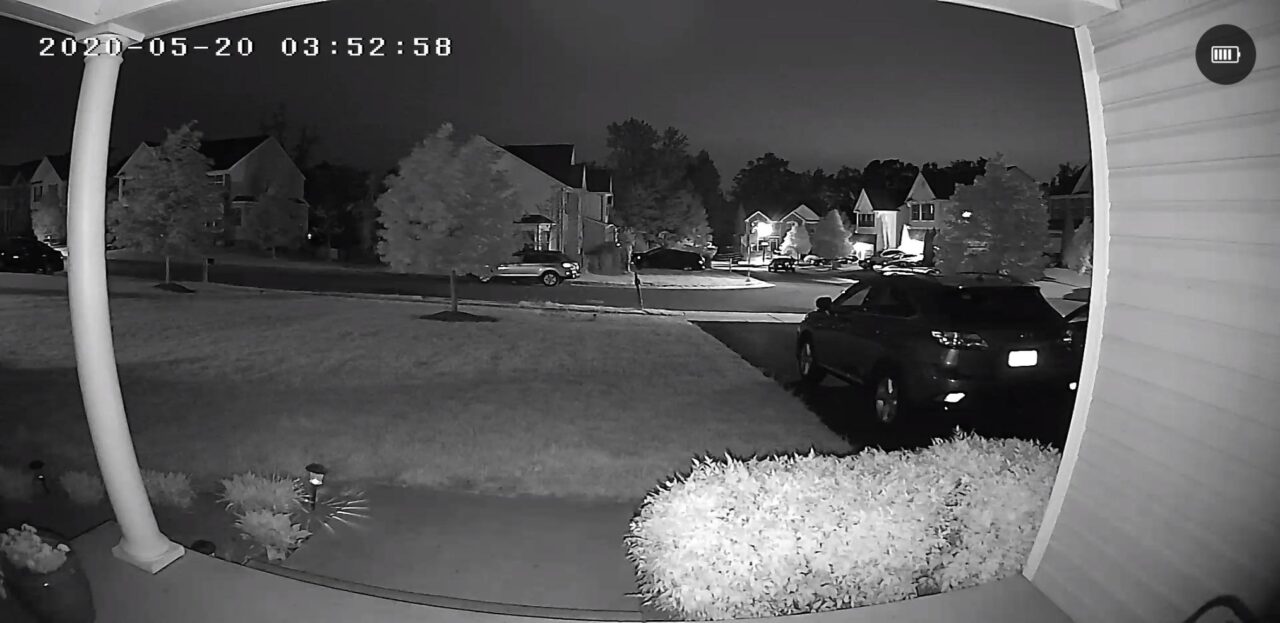 It worth noting again that this wireless video doorbell only supports 2.4GHz band, and will not work with 5GHz WiFi. Be sure to check that the signal is strong enough for where you intent to place the doorbell. And one last piece of advice, if you live in a busy area, with people or traffic passing the door frequently, be sure to turn down the sensitivity of the motion sensor. This not only reduce the notifications and triggers but prolong the battery life too. Depending on use, it should last up to 2 months per charge but with constant triggers, you may want to think about wiring it up.
5 More Budget Video Doorbells Under 100
Next we look at 6 more cameras which are proprietary to the manufacturers, unless you can tell us differently or they too start to license their cameras out to third party vendors.
Ring Video Doorbell (2nd Gen) Full HD
Remo+ RemoBell S Video Doorbell
Amcrest Video Doorbell Full HD
Toucan Video Doorbell Full HD
GazingSure Video Doorbell 2K
The unmistakable design in satin nickel that is a the Ring doorbell is now also available in bronze. Now, even though the 4th generation unit is out, the Ring Video Doorbell 2nd generation is still available as a budget option, which is what this list is about. Even as the most affordable offering from the company, the doorbell is not short of features. It captures Full HD video at 1080p. It also lets you adjust motion zones including near motion zones using infrared technology and come with a rechargeable battery built-in for a completely wire-free installation. Hard wire option is also available if you prefer. With the app, it allows you to receive notifications, see, hear and speak to the person at the door in real time and access all the settings.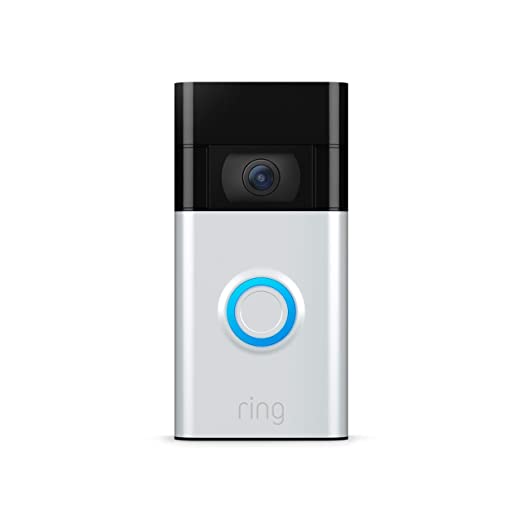 If you like the entry level Video Doorbell (2nd generation), you might wish to consider other more advanced alternatives from Ring. One of the useful feature of the doorbell is its ability to set motion zones. That way you can reduce unwanted triggers and false notifications.
---
We have seen the Remo+ RemoBell S Video Doorbell before in our other article, the Top 8 Best Smart Video Doorbells for Your Front Door: remote intercom, face recognition & more. The Remo+ is back again, this time, in our list of budget Full HD video doorbells seeing that it costs under 100. The Full HD doorbell is easily the sleekest and slimmest among the rest here.
---
The latest offering from Amcreat comes with a 4MP camera sensor for 2K video recording and feed and supports both 2.4GHz and 5GHz wireless band. It comes complete with microSD card slot so you can add your own local storage, AI human detection for more accurate notifications and onboard speaker and microphone for intercom function. The Full HD 1080p version shown below may support only 2.4GHz WiFi but it also comes with microSD slot, supports motion detection, and two way audio feed. Both needs to be connected to existing doorbell wiring for (16V-24V) power to work. You have been warned, this is not a battery powered doorbell.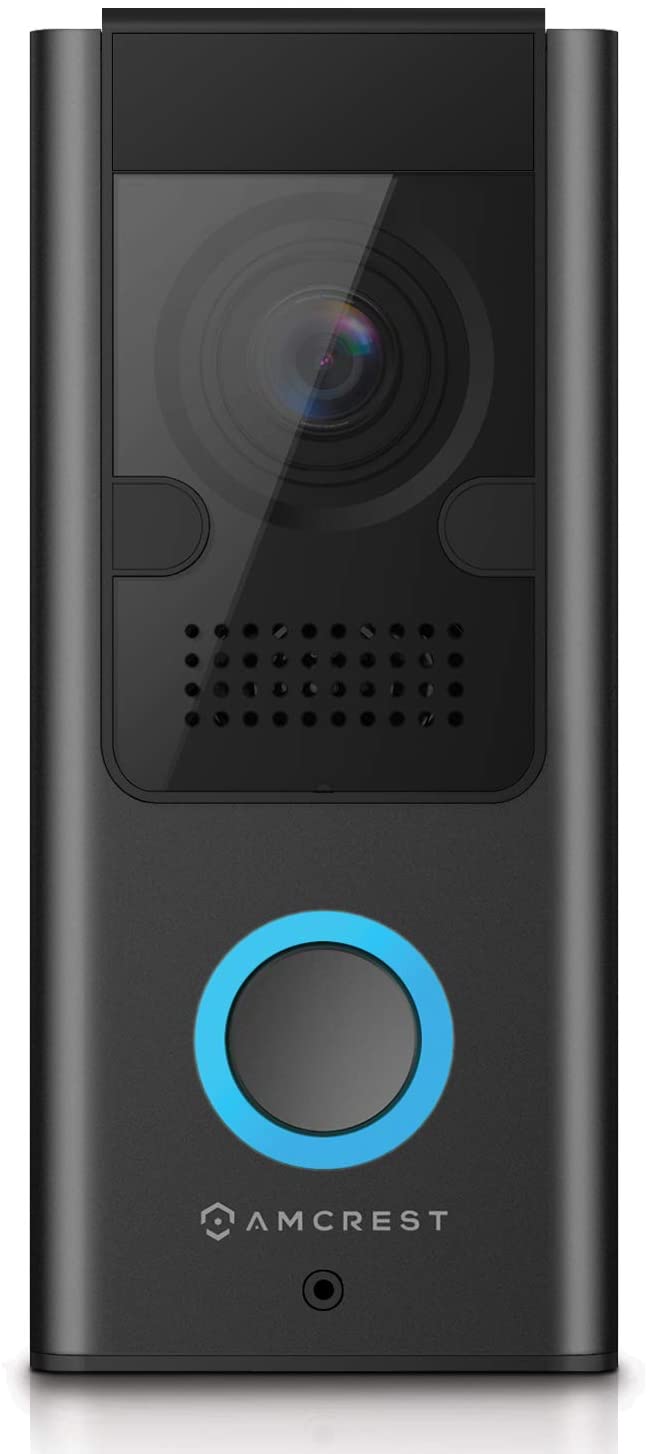 ---
Another Full HD doorbell, this battery powered wireless video doorbell supports motion detection, wide angle viewing up to 180 degrees and intercom function. It is also compatible with Alexa and Google Home. Advanced features include 9 customisable motion detection zones, night vision and the inclusion of Toucan Doorbell Chime with your purchase with the ability to connect up to 10 of these. The chime is also customisable with six different melodies. The SD card slow lets you add your own memory for local storage but like most budget units here, it only supports 2.4GHz WiFi band.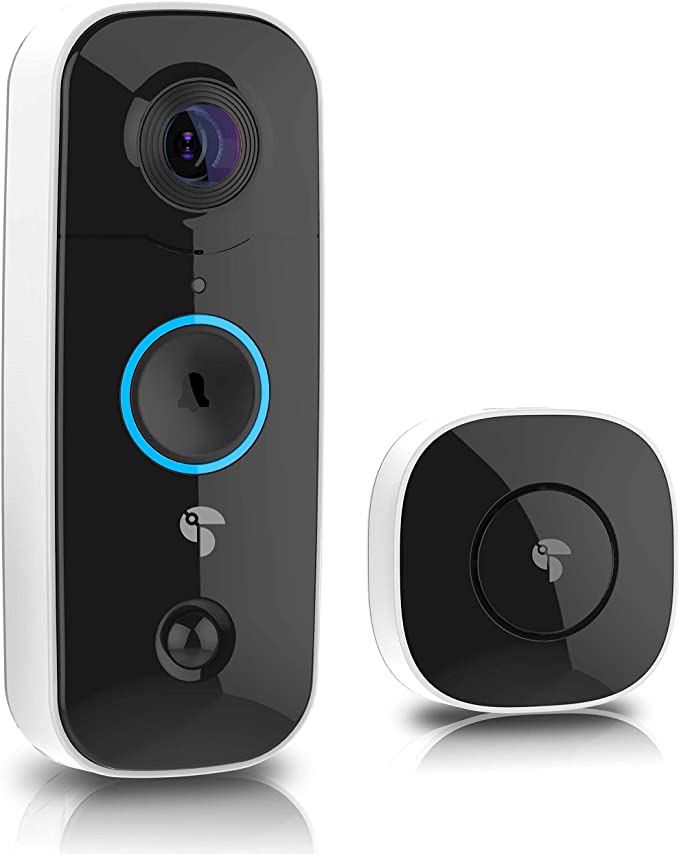 ---