We are fond of good audio and looks to match and wants at least one good speaker system in our homes. This is in addition to the smart speakers as though these nifty devices may be loud, smart speakers don't have an acute visual charm to complement stylish interiors nor the ability to produce crisp and punchy HiFi quality sound we are all after.
To be honest even the best sounding 5.1 or 7.1 home theatre units look like boring black boxes that are thoroughly out of place in a modern and minimalist designed interior. In some living rooms that have light-coloured wallpaper as the feature wall, wooden entertainment units like speakers need to have the right style and colour tone to match the backdrop.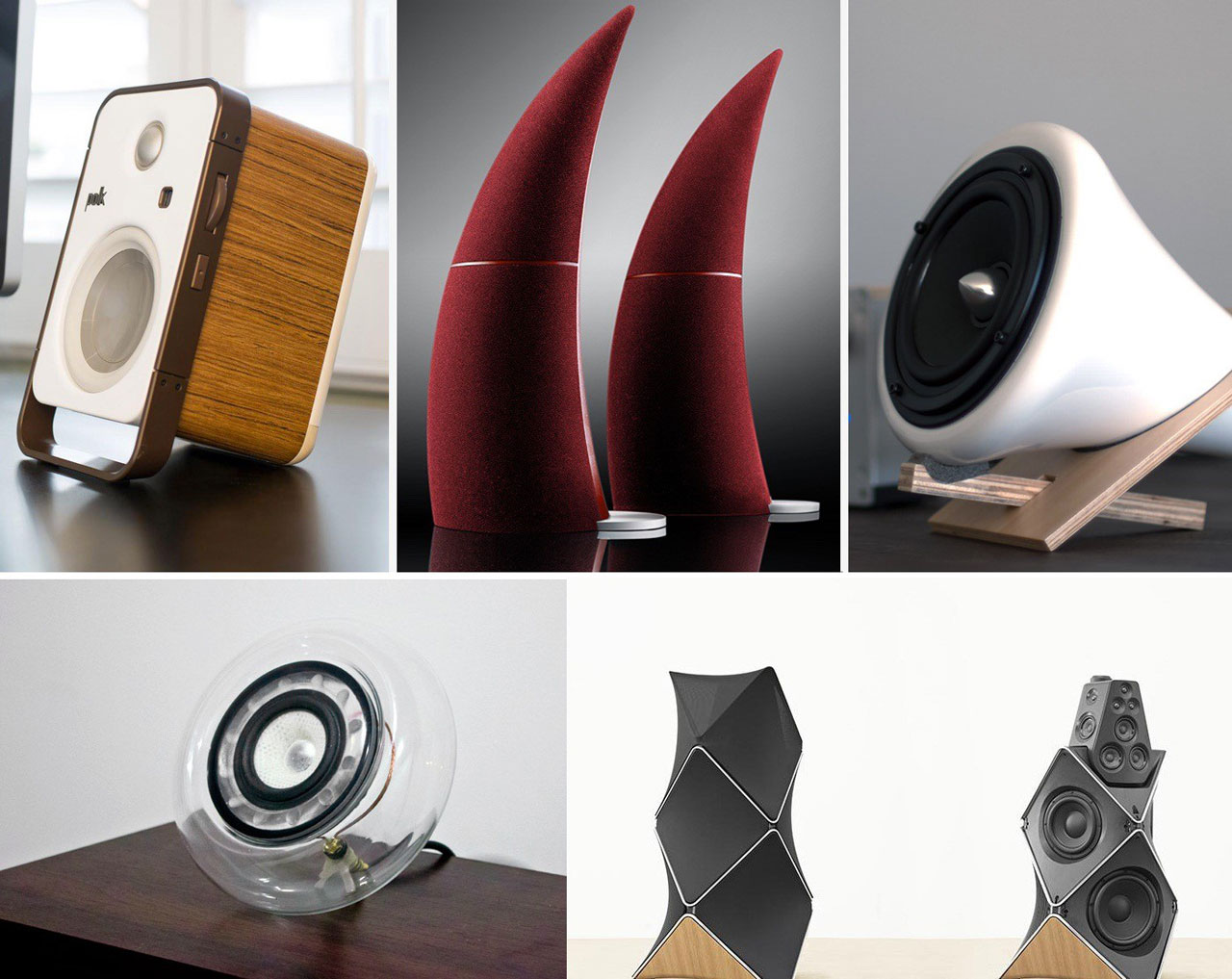 Today we have some designer speakers for you that are not only good at what they are meant for but also have exemplary style quotients. Well, it doesn't always have to do with utility as they are designed with one thing in mind, as fashion and statement piece for your home. If it were, the words suitability, matching and styling wouldn't have existed.
It doesn't matter if you are living in a blandly designed home or a luxury studio apartment, there is something on our list for everyone. The best part is these designer speakers won't cost you an arm or a leg and it's easy to pick one of these beauties staying within your budget. Here are our top picks.
Designer Wireless Speakers Under $500
We have broken our designer list into two, under and over $500. Let's start with the relatively affordable end.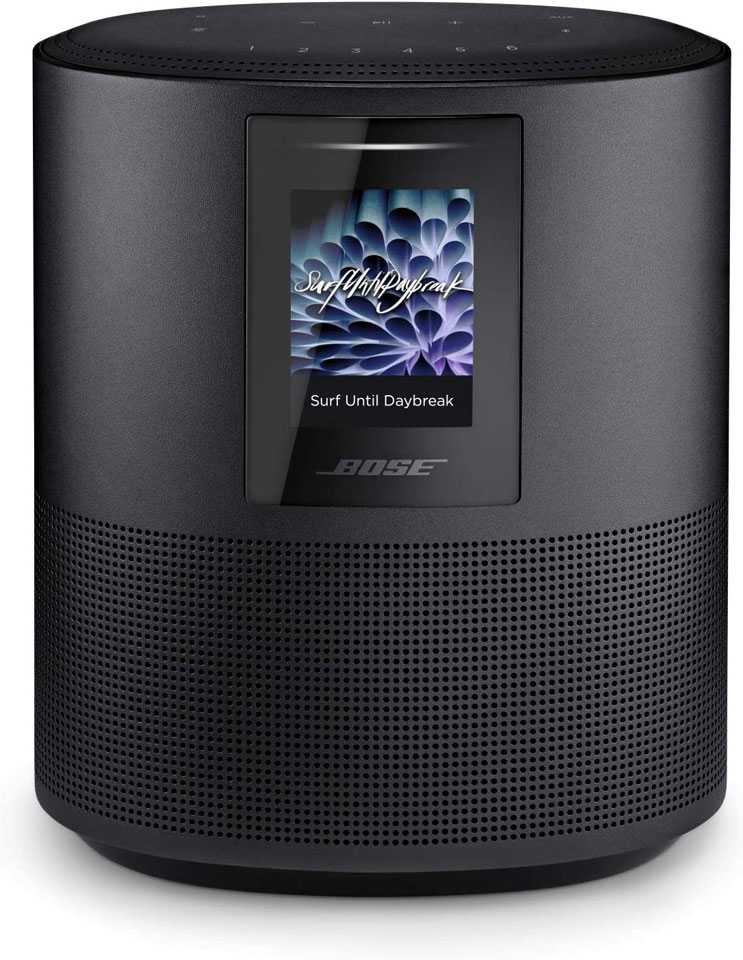 Let us start the budget list with a Bose and what is more appropriate than the Home Speaker 500. Single stereo speaker is hard to find from reputed brands but if Bose comes up with it, I would grab it with both hands. It can also handle home automation with both Alexa and Google Assistant. The Bose Home 500 can connect with your home Wi-Fi, AirPlay 2, or Bluetooth and lets out the premium audio quality Bose is known for. You can use the Bose Music App for controls or use the physical touch buttons at the top of the speaker.
Bose Home 500 is more of a HiFi smart speaker with an eight-mic array that picks up your voice with real precision and can do all that most smart speakers do. The speaker is powered by two audio drivers that are placed opposite to each other for the sound to bounce off walls and create a wide sound stage. The icing on the cake of this sub $400 smart speaker has a coloured LCD that displays the name and album art of the songs that are being played.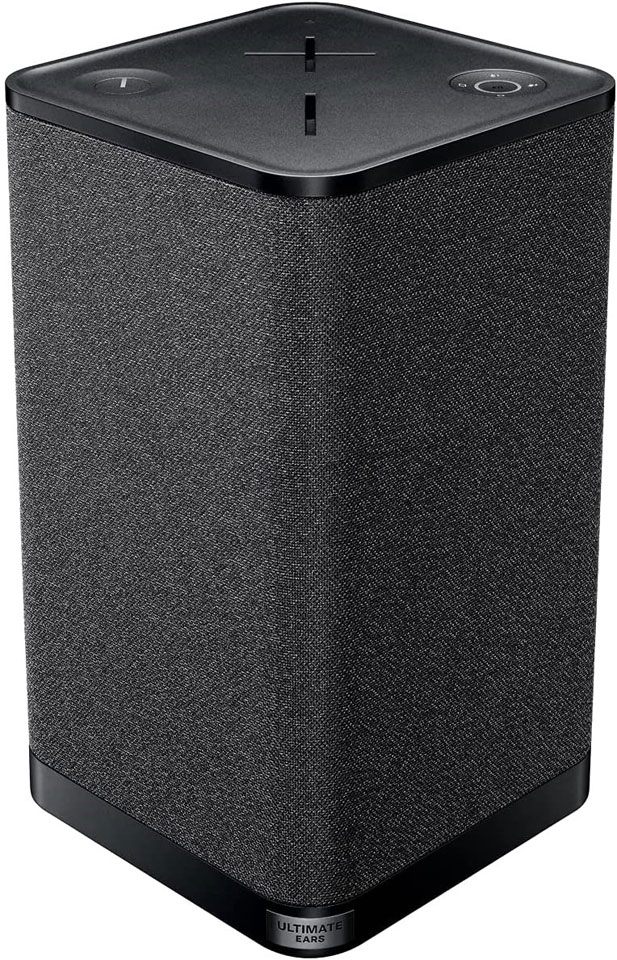 Gorgeous, exquisite and exude sheer class, these are the words you would utter if you own an Ultimate Ears Hyperboom. It is available for just about $400 but the sound you get is comparable to some of the best in the business. It is a symphony of ultimate bass, clarity and treble in a compact package that again, looks gorgeous. The Hyperboom is also a portable Bluetooth speaker with a massive 24-hour battery life that can be connected to four different audio sources at the same time with real-time audio switching capabilities.
The speaker comes with a built-in equalizer that adapts and changes based on the tracks being played. Another interesting feature is that it can also act as a power bank for your smartphone or tablet. There are manual controls on the top of the speaker but you can even go hands-free using the Hyperboom App.
However, though portable, the device weighs a lot and is huge due to the massive battery and big drivers. The up side to that is the loud volume it can pump out and deep bass. Also, there are devices in this range that support smart features through Alexa or Google Assistant but the Hyperboom lacks any smart features. It has both wired and wireless connectivity options and comes with an IPX4 rating making it splashproof.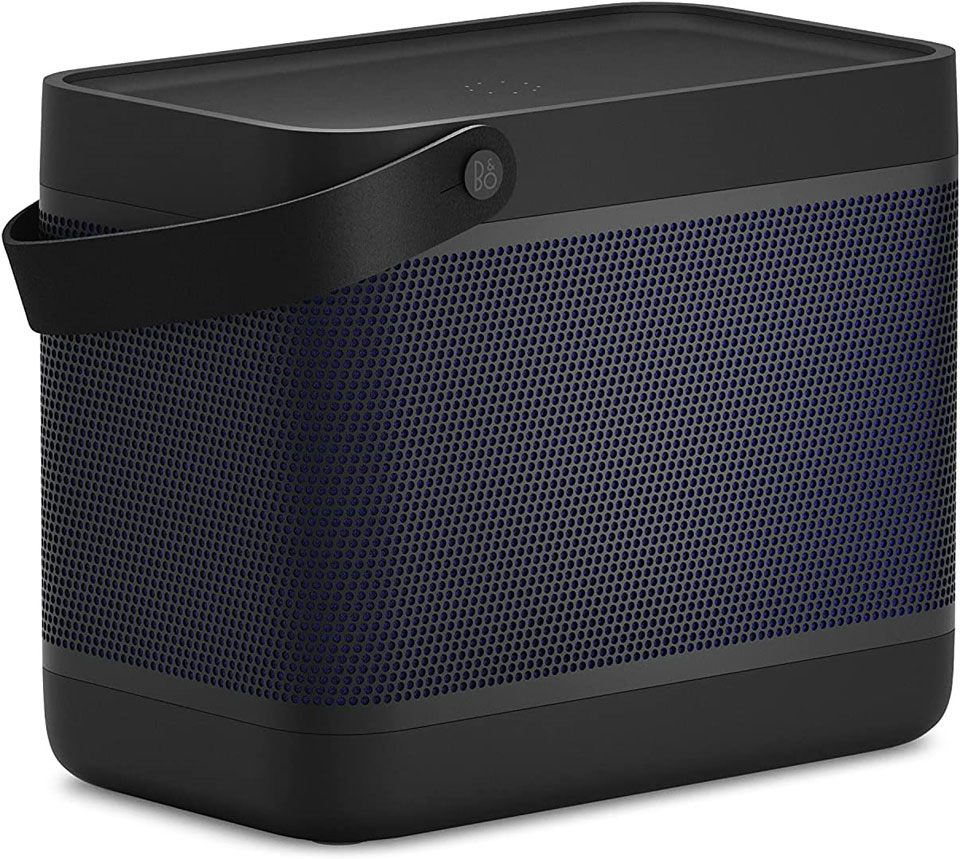 Bang and Olufsen is an ultra-premium brand that specializes in premium audio and with the Beolit 20, you get a high-quality wireless Bluetooth speaker for around $500. The portable speaker has an 8-hour battery inside that can be charged through a USB-C cable. The speaker also comes with wireless charging technology that can power other devices such as compatible smartphones and accessories.
The Beolit 20 can be connected through a 3.5mm audio jack or via Bluetooth. The bass delivered is best amongst speakers in the $500 range and the amplifiers inside let out a rich and detailed sound. Like most other premium wireless speakers here, you can pair it with another Beolit 20 speaker for superb stereo audio. It has a robust aluminium build with a rubberized finish that makes the Beolit 20 pleasure to hold and carry around. Ditch your cooler box, carry one of these instead and you will be the coolest guy in the block.
4. Klipsch The One II – The one that looks like a retro radio
Klipsch is more of a mainstream brand and not as premium as others on the list but they are well known to make high-quality speakers and headphones. The One II from Klipsch has four different variants all with retro looks to choose from, each priced differently. The highest variant is priced at around $250 with the cheapest one at over $100. This retro speaker can be connected via a 3.5mm aux cable as well as Bluetooth.
It is a excellent and affordable speaker in our list with 2.1 audio drivers inside a single unit. The drivers inside are professionally tuned for crystal-clear acoustic audio with punchy bass. One of the variants of the Klipsch is compatible with Google Assistant and another comes with an in-built switchable phono pre-amp with dual RCA inputs. Knobs and manual regulators for volume add to the spectacular retro looks of the device. You can easily be mistaken it for an old radio.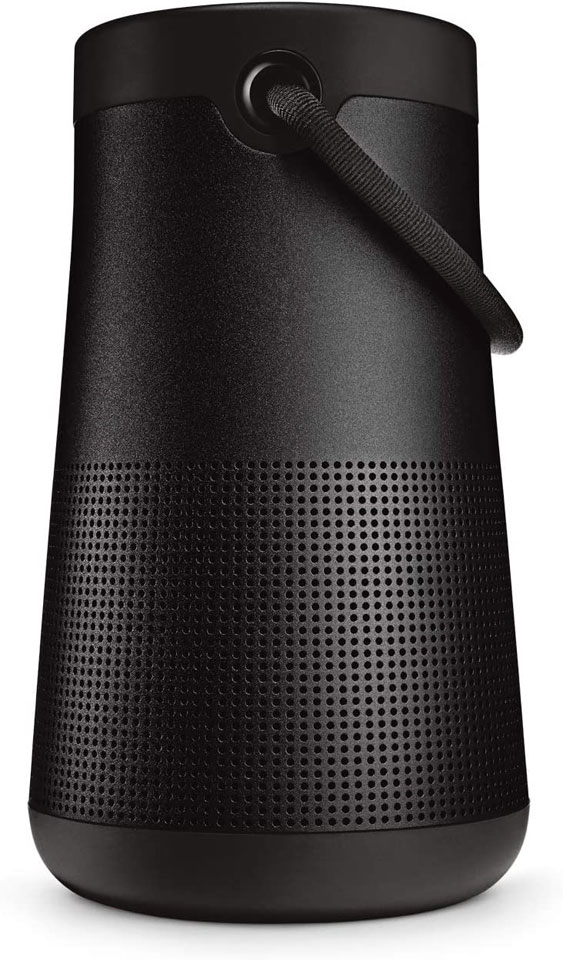 The Sound Link Revolve Plus from Bose comes with a long-lasting battery for non-stop entertainment and a handle for carrying the speakers around. It has somewhat of a strange design that looks like a bottle gourd standing upright. It comes in two colours and is engineered to occupy the center stage for its 360-degree sound distribution. The speaker has a 17-hour battery life and a built-in microphone allowing you to receive calls over Bluetooth.
The Revolve Plus comes with true 360 technology where the audio drivers inside the speaker housing is placed optimally for an even sound distribution. Bass levels are a bit on the lower side in comparison to other budget Bluetooth speakers but you can connect with the Bose Connect App to pair up the Revolve Plus with another compatible Bose speaker for a better bass experience. The Revolve Plus comes with an attractive price sub $350 price tag.
Designer Wireless Speakers Above $500
With the budget list done, let us look at some of the premium options from well-known brands. There is no ceiling to what you can get if you have deep pockets and hence, here are some of the best designer speakers we picked for you that are over $500.
6. Sonos Play 5 – The one with multi-room capability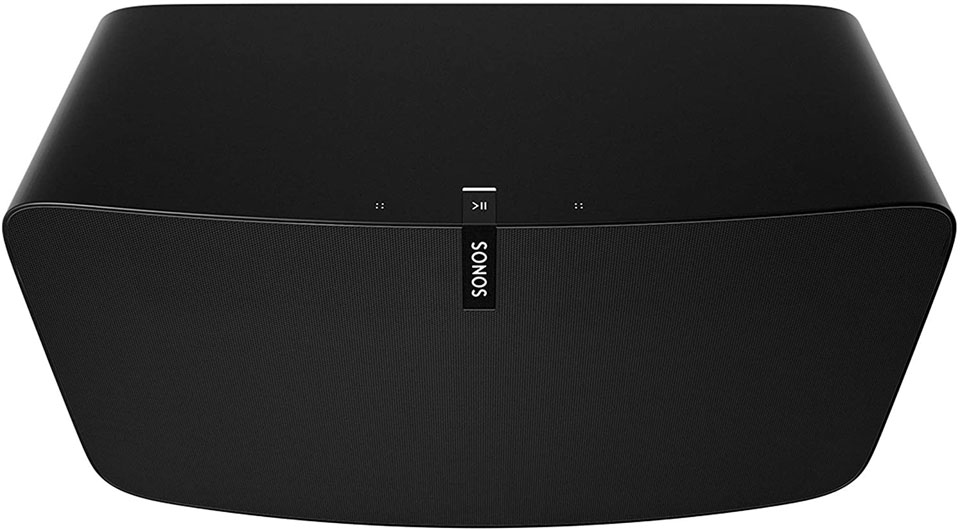 The Sonos Play 5 is the first on the list and priced around $800. It comes with orientation adjustment where if you pair 5 of them together and make them stand upright each of them play mono audio. This changes to stereo when all of them are placed in landscape mode. You can play separate songs in separate units or sync them up for perfect harmony throughout your home in multi-room mode. The Sonos Play 5 comes with three custom-designed woofers inside its enclosure for a rich and deep bass while cutting out reverb and echo.
The Sonos Play 5 relies on the Wi-Fi in your home for connection and direct streaming of the Internet or from your local network storage. Alternatively, you can use the aux port for a wired connection or AirPlay from iOS devices. It is compatible with Alexa and hence serves as a great entertainment device when added to your Alexa network. However, there are no batteries built-in and hence it is not as portable as it looks. For that, you will need either the Sonos Roam or the smaller Sonos Move. The Play 5 also works with other Sonos speakers for that perfect wireless home theatre set up.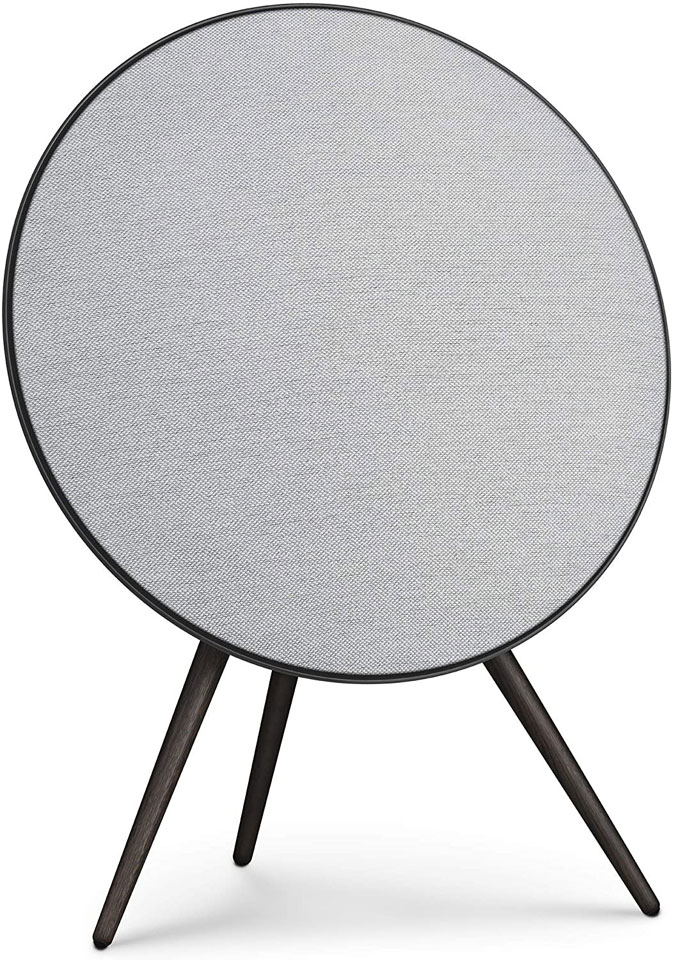 For the audiophiles, Bang and Olufsen is a familiar name. They are a premium audio brand extremely popular amongst sound engineers and people working in the music industry. If you happen to be one, you could have one of these in your home making style statements for you. The stands of this mesmerizer are made of pure wood and the fabric hides not just one or two but seven audio drivers and a one-inch sub-woofer. There is an omnidirectional spread of sound inside your room accompanied by active room compensation. You can choose to make it stand as in the image above or mount it on a wall for an optimum sound spread.
Connectivity features of the Beoplay A9 are abundant as in addition to Bluetooth, there is AirPlay 2, Chromecast and Wi-Fi. More than one unit of this speaker can be connected to each other for a full-on multiroom experience. As for the price, designer quality and brand seldom come cheap and you would have to shell out over $3000 for this masterpiece. There is a limited-edition variant that looks like the surface of the moon. Expect prices to go up by more than $300 and people go bonkers at its first look if you choose to have the moon edition delivered.
8. Devialet Phantom – The one that looks like it came from Star Wars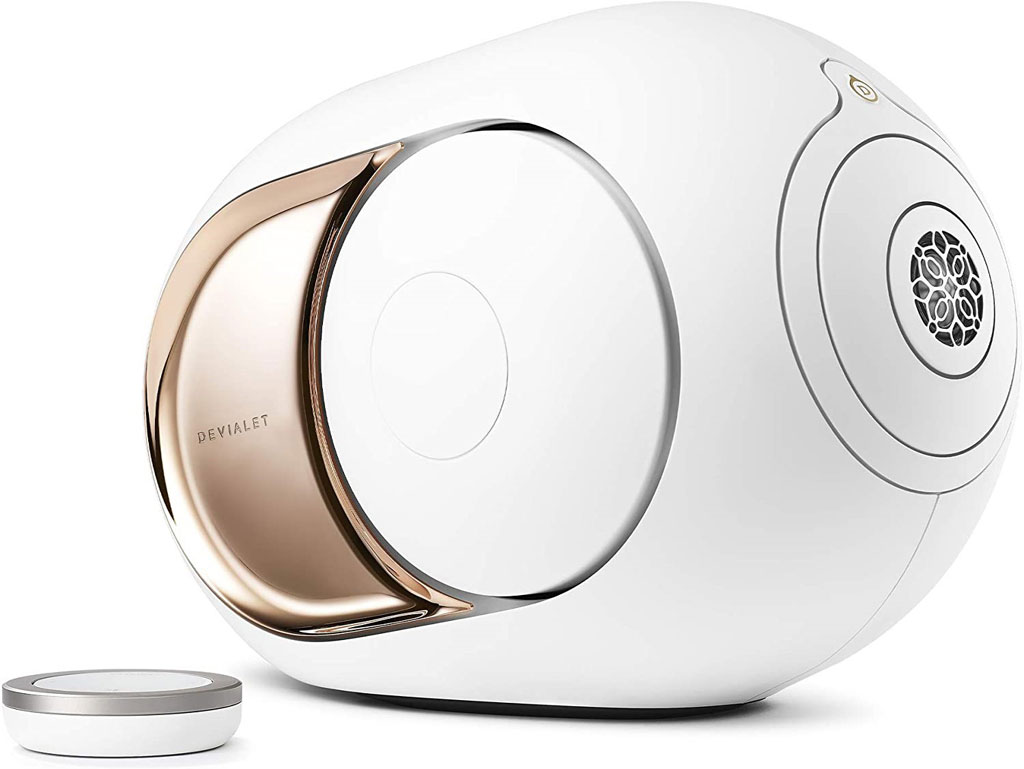 Capsule-shaped Devialet Phantom speakers look something from outer space. It is a wireless speaker from a premium brand that has futuristic styling and goes all guns blazing on performance. The Phantom has an ultra-punchy sound with excellent clarity and precision. It has a wide sound stage with powerful bass and treble. That is not all it manages four path-breaking technologies namely Analog Digital Hybrid, that delivers a sophisticated analog sound in combination with digital amplification.
Speaker Active Matching allows the reproduction of the exact rhythm and tempo of the music being played. Heart Bass Implosion is made possible through two lateral woofers that produce a dense sound and Evolutive Platform that that delivers platform and compatibility updates directly to the speaker.
Devialet's Hi-Fi wireless speaker comes with a remote for controlling the music and it supports AirPlay 2. While it offers room filling sound on its own, it excels even more when two are paired. It comes with Bluetooth 5.0 for extremely low latency during play and has an in-built battery that can be charged through USB. The Phantom is available for a price above $3000.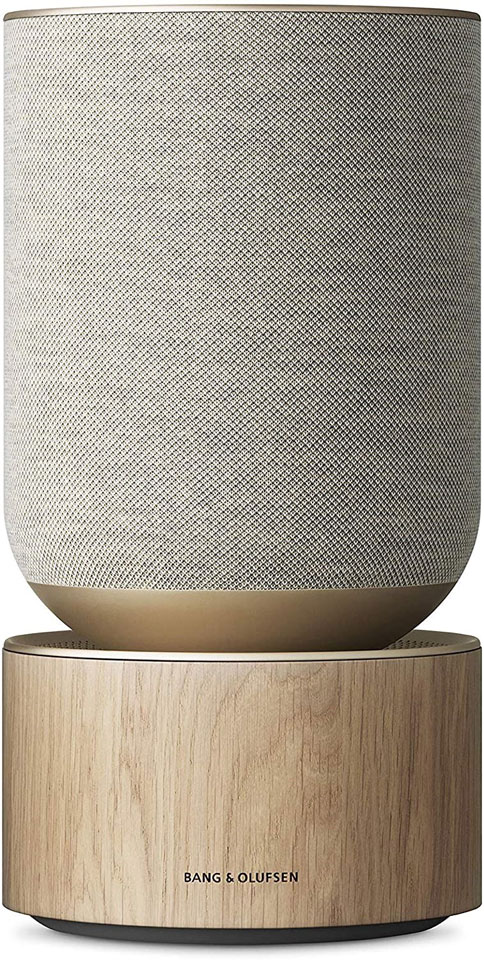 If you are in for extreme sophistication and style, you should look at the Beosound Balance from Bang and Olufsen. It is available for about $1000 less than the Beoplay A9 and though it retains few visual features from some plus-size smart speakers, it also has some exclusive design elements of its own that set it apart from regular speakers. It has a beautiful oak-crafted exterior base and a fabric-covered audio unit. It can be programmed to be loud as to fill an entire room or give out focussed sound to aid in meditation or sleep.
The Beosound Balance has solo play as well as multi-room playing capabilities through the Connected Play feature. It has proximity sensors that wake the device when it is approached and has beam formation sound for a multi-sound experience. The top fabric mesh covers seven-directional sound drivers for a balanced sound wherever it might be placed. It needs continuous power as there is no in-built battery and works on wireless connectivity.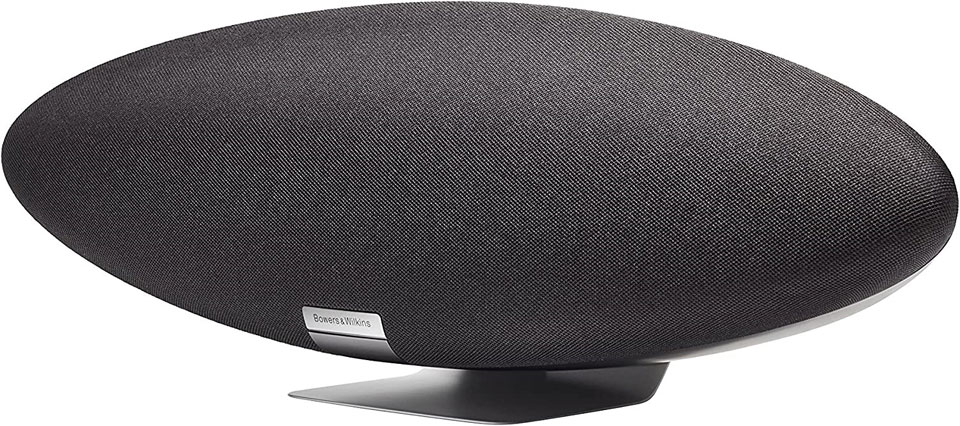 Want a speaker that looks like the replica of a World War I airship? Get the Zeppelin from Bowers and Wilkins. The brand itself came into the limelight for making quality products for premium users and the Zeppelin speakers are no different. Inside the mesh fabric are methodically placed five well-tuned audio drivers of which two are tweeters, two are midrange drivers and a mini sub-woofer that brings any audio you play on it to live. You might even feel that you are in the middle of a live show as the mesmerizing sound lift moods or lighten them.
This is perhaps the only speaker on the list today that comes with in-built Alexa that you can control using your voice. Additionally, there are hard switches at the rear end of the device. The Zeppelin comes with an upgradeable platform technology that would allow you to use the speaker in different ways such as multi-room play or full home automation as and when they are developed and pushed into the device over-the-air. You can get this 240-watt well-crafted Bluetooth speaker for around $800.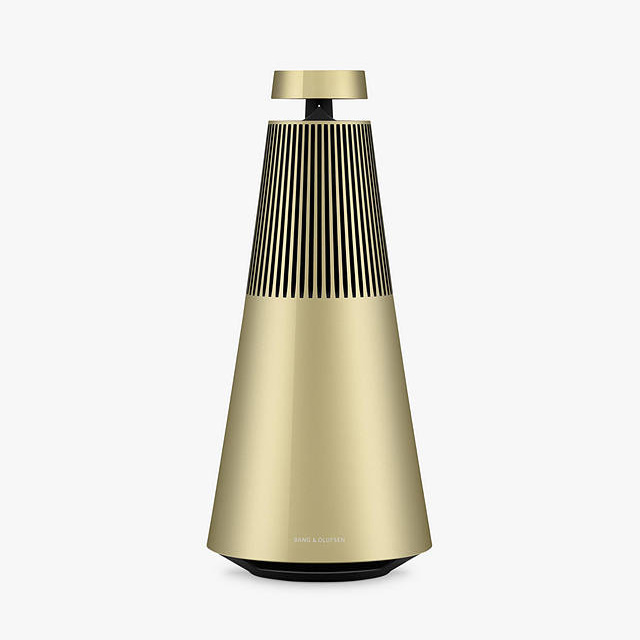 Want a smart speaker that also looks the part, this futuristic BeoSound II multi-room speaker system supports Google Assistant so any song is just a voice command away. Available in natural aluminium finish, brass or bronze, we love them all. Don't be fooled by the rocket shaped design, there is a 'method to the madness' as they say. The upside down cone, upper grill and vent allow HiFi sound to be projected in all directions, for a room filling listening experience. It also comes with the intuitive One Touch interface and apart from WiFi, it supports Bluetooth, AirPlay2 as well as Chromecast to stream direct from mobile devices. We are amazed at how it sounds even at high volume, serving up distortion-free acoustic sound quality, a true marvel.
Conclusion
Designer speakers work similar to regular speakers but each of them comes with a distinct design and style that is meant to create a wow factor, be a statement piece and falls right into a conversation point. They are costlier than regular speakers but the stylish design, functionality and HiFi sound quality give them the ability to create shockwaves across your apartment.
They exude style, sophisticated and excellent sound quality only a premium product can offer. Also, most branded designer speakers come with high-quality components inside a designer casing that enhance the interiors of your room and help you score some brownie points when you have your friends over. That is on top of the sound engineering and innovations that goes into the making of a truly desirable sound system.
Article by DEBJYOTI MUSTAFI edited by SAMUEL TAN