Dolby Atmos surround sound systems support up to 8 channels, sometimes more. These are determined by the AV receiver or sound bar, woofer and satellite speaker setup. You just have to decide which of these different speaker arrangements or audio channel configurations to choose. We look at how the different channels are arranged and which one to go for.
A multi-channel Dolby Atmos surround sound system offers 3 Dimensional sound, with multiple speakers working together to place an audio object within the user's listening bubble. Not only does it cover front, centre and rear for both left and right sides but it also covers sound from the top. With clever software algorithm, an audio object can move from anywhere within that bubble and you won't be able to say exactly which speaker the sound is coming from. That is the beauty of Dolby Atmos. A fully immersive sound experience that puts in the the action with clever surround sound effects.
The Different Dolby Atmos Audio Channel/Speaker Configurations
Depending on the number of channels or speakers supported or built into the surround system, be it an AV receiver with speakers or sound bar, it can take on one of the following configurations below. These are noted by a series of numbers for instance, 3.1.2 or 7.1.4. The numbers represent the number of specific audio channels that make up the configuration.
The first number tells us the number of horizontal speakers near ear level arranged around the audience in pairs except for the centre channel. The second number is simply the subwoofer for the low range sound. This need not be directional and can be anywhere in the room although most would leave it up front near the TV. The third number points out the number of ceiling mounted speakers or height elevated sound source. In the case of sound bars, the upward firing speakers that will bounce sound back from the ceiling to the audience are counted as such.
Here is a list of the different Dolby Atmos Speaker arrangements. Except for the last one, these are quite common among AV systems.
3.1.2 Channels
5.1.2 Channels
7.1.2 Channels
7.1.4 Channels
11.1.8 Channels
Let's start with the simplest and end with the most complex of Dolby Atmos audio channel configurations:
3.1.2 Channels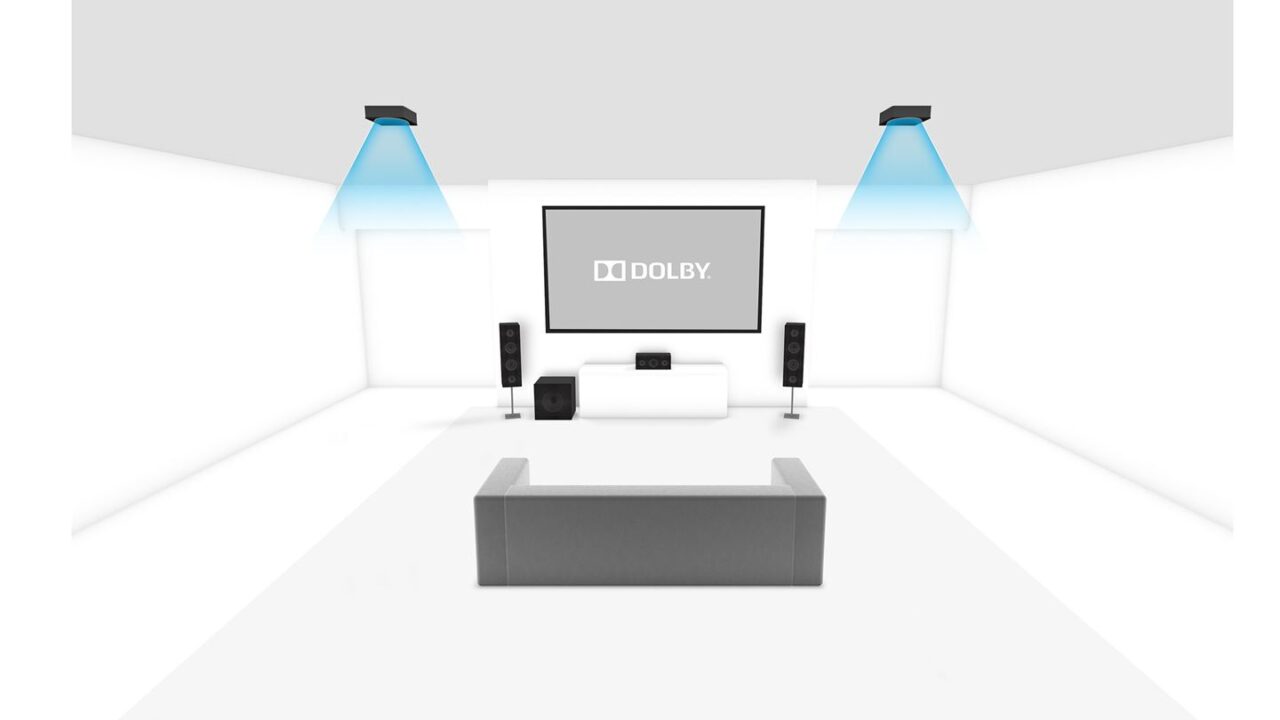 This is the absolute minimum for a Dolby Atmos sound stage. They consist of the right and left front channels, a centre channel, a subwoofer and two height elevation channels. The latter can be up firing speakers or ceiling mounted ones providing an added vertical dimension in sound. Affordable Dolby Atmos sound bars with subwoofer offer the simplest execution of a 3.1.2 channels setup with upward firing speakers.
5.1.2 Channels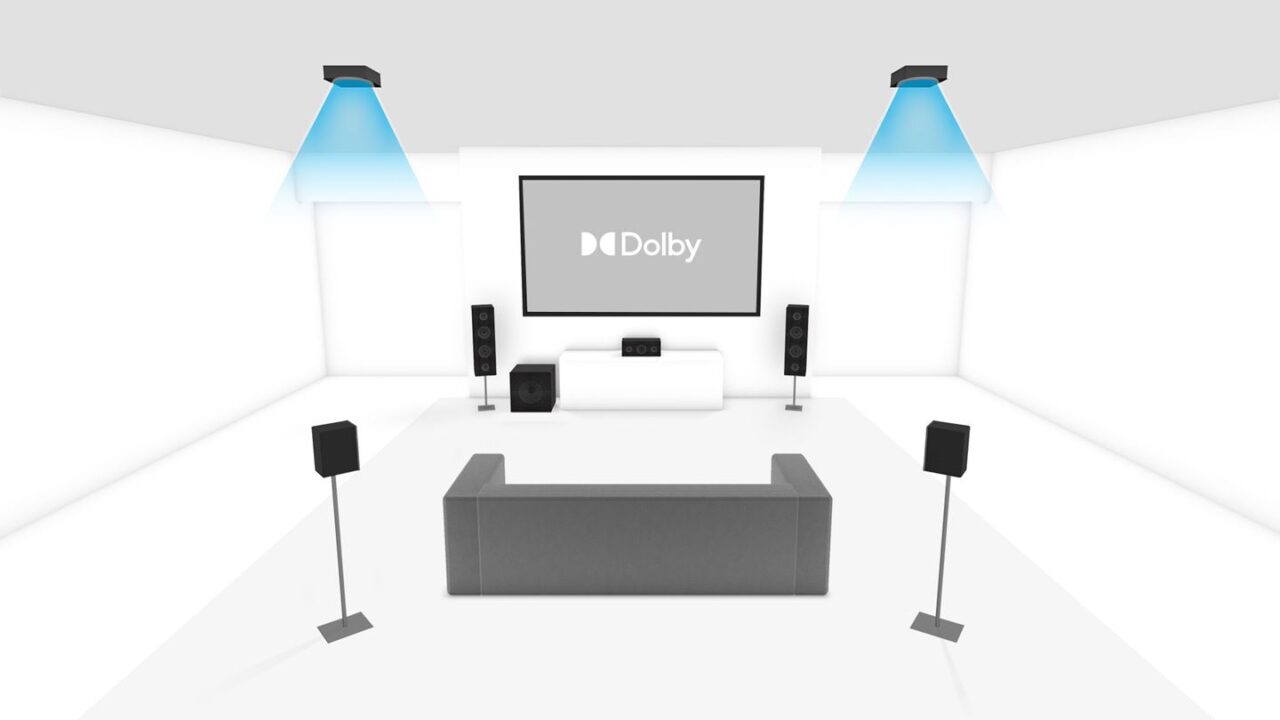 Next, we have an expanded surround system of the former with added rear surround speakers. For the basic 3.1.2 sound bar and subwoofer, these can sometimes be in the form of rear surround speakers add-on kit. Again, a simpler version of the 5.1.2 setup is to have the sound bounce off the ceiling instead of mounting physical speakers. An example of a sound bar that supports 5.1.2 is the VIZIO M-series 5.1.2 Premium Sound bar and LG Soundbar SP8YA. You can even have all four (2 front and 2 rear) speakers support upward firing speakers to add 4 extra height channels in a 5.1.4 setup but such a configuration is rare.
7.1.2 Channels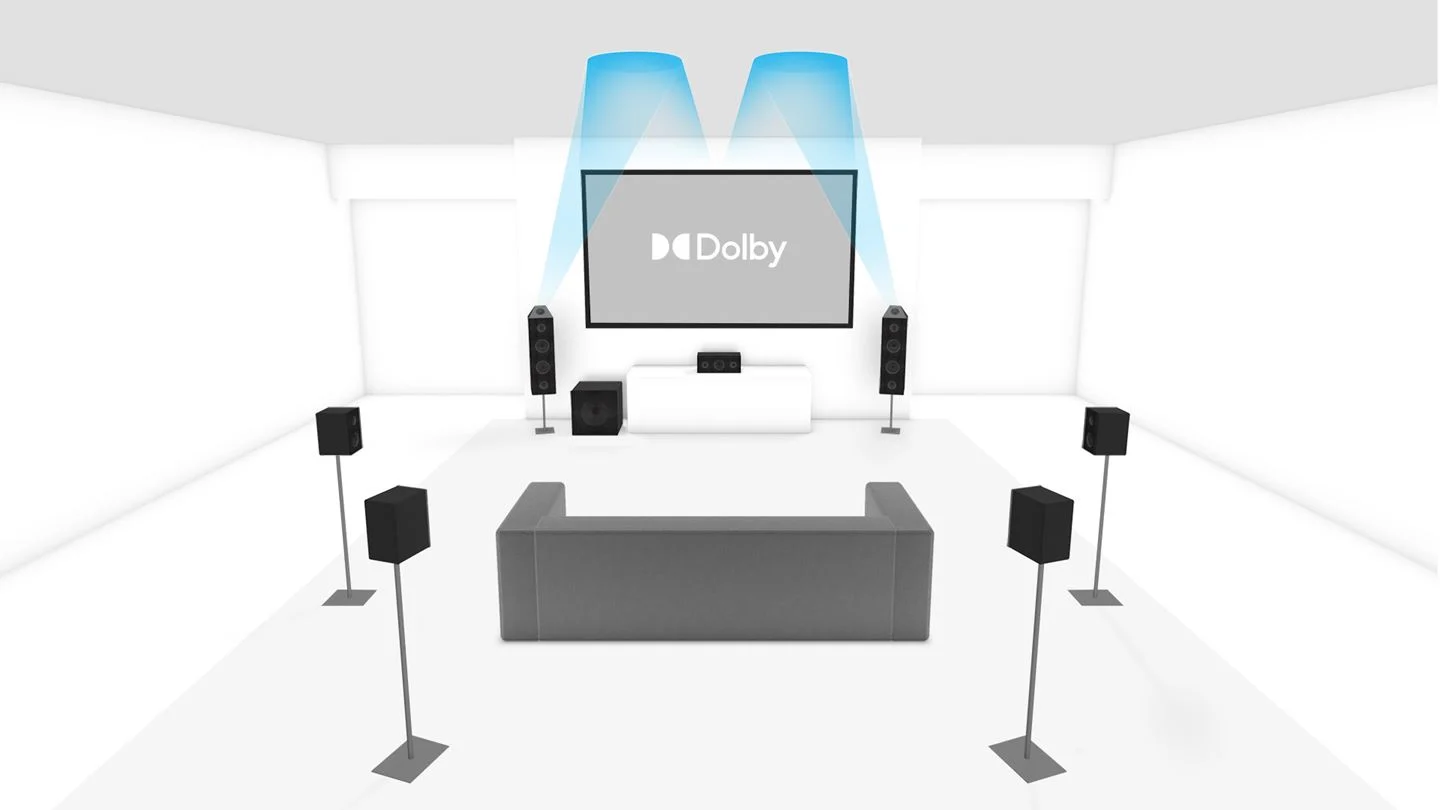 Common among modern AV receivers and expensive sound bars that support Dolby Atmos is this setup with 7 horizontal speakers, a subwoofer and two vertical speakers. Like the 5.1.2 setup above, the vertical channels can be ceiling mounted or reflected from the ceiling with up-firing speakers from the front. For sound bar with subwoofer, examples of this include the LG Soundbar SP9YA with rear speaker kit and Sony HT-G700 with simulated 7.1.2 channels.
7.1.4 Channels
High-end AV receivers and premium sound bars support up to 7.1.4 channel audio. LG Soundbar SP11RA is one such sound bar. A 7.1.4 channel audio comes with 7 horizontal sound sources, one subwoofer and 4 vertical sound sources.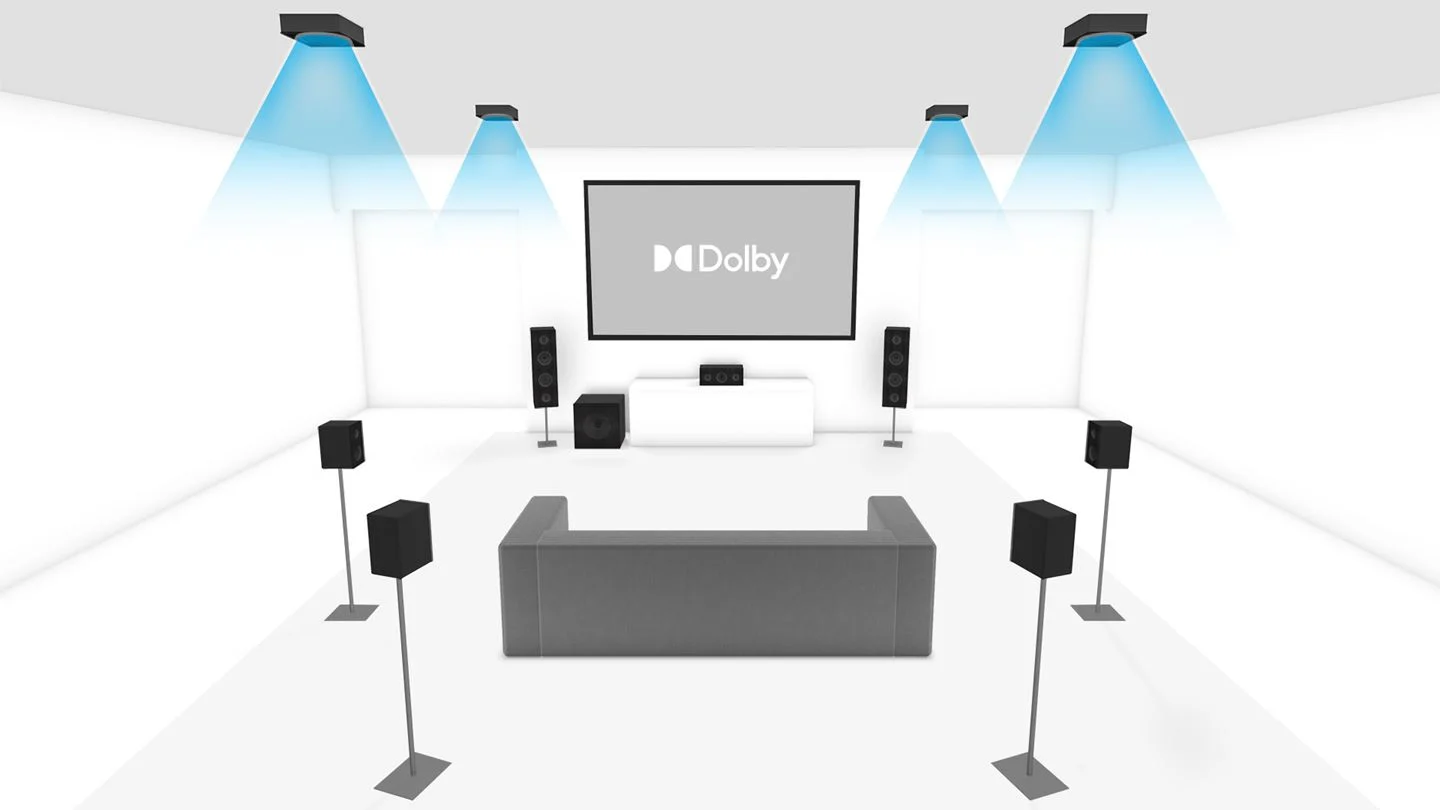 The four ceiling mounted speakers can be replaced with upward firing speakers that bounces sound off the ceiling, see below. These upward firing speakers are built into the sound bar or front right and left speakers and rear surround right and left speakers. For our example we quote the LG Soundbar SP11RA. It comes with a sound bar that serves up the front left and right with up firing speakers, a centre, a separate subwoofer and two satellite rear surround speakers complete with upward firing speakers.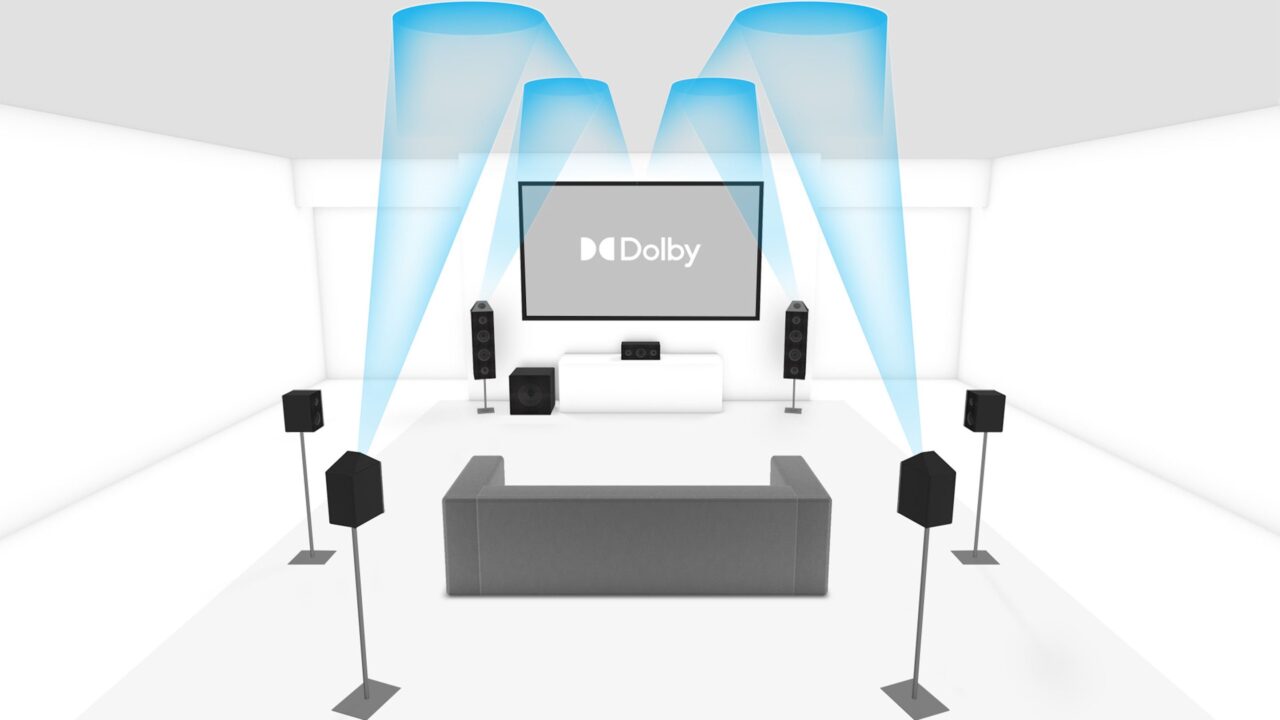 There is also a specifications for 7.1.6 overhead speaker setup but we have yet to see one supported on an AV receiver or sound bar. It is worth noting that in the case of AV receiver and speakers combination, the floor standing speakers shown above can also be wall mounted.
11.1.8 Channels
Finally, we haven't seen this on a home theatre system but that is not to say that it does not exist. As the numbers indicate, it uses 11 horizontal speakers, one subwoofer and 8 height or vertical speakers. Crazy as it sounds, I am sure someone out there would have this in their purpose built home cinema.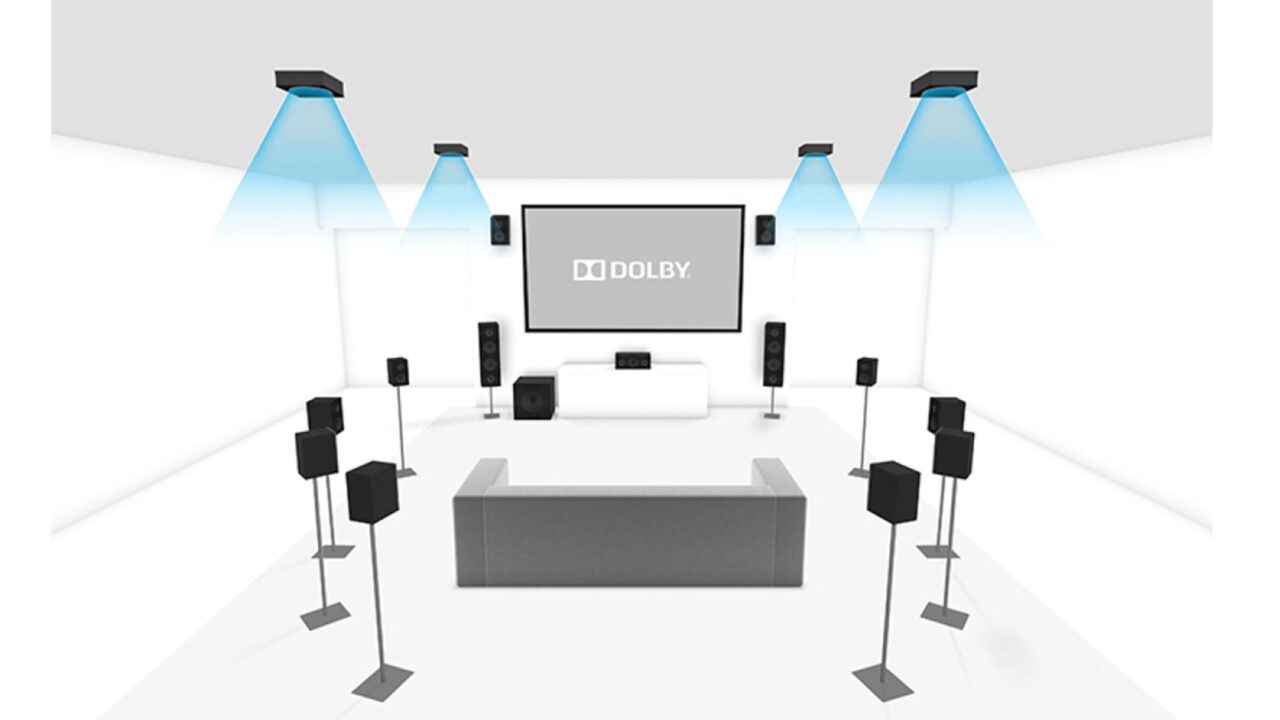 Which Dolby Atmos Configuration To Go For?
As many channels as your budget allows. The 3.1.2 configuration may be the cheapest, but it lacks the rear surround channels. If you have to get this, make sure you have a way to upgrade to 5.1.2 with add-on rear speaker kit. In our books, 5.1.2 is the absolute minimum configuration one should aim for. If money is not an issue, pick the 7.1.2 configuration or sound bar that supports this would meet most requirements. It also comes down to the space you intend to install the surround system. Naturally, smaller rooms means less space for speaker and medium to large room will allow you to space out and position the different speakers properly. Don't afraid to consider modern sound bars with multiple drivers and channels especially when they are aimed at different directions. These can be just as good as physically placed multi point speakers.