Over the years, we see different surround sound formats used by cinemas finding their way into our living room and home theatre and vice versa. We also see content being delivered via physical discs moving to on-demand streaming. They come with specific digital audio coding format for surround sound. Here, we look at the differences between the most common formats; Dolby Atmos, DTS:X, Dolby Digital Plus and Dolby Digital and what they do for you.
Dolby Atmos vs Dolby Digital Plus vs Dolby Digital vs DTS:X
You may come across one or all of the above either on the title cards of your shows on the streaming service, on the cover of your Blue Ray disc, on the Blu-Ray player or any AV systems and even on your mobile devices. These are surround sound technologies to encode and decode multi-channel audio in digital format. The latest of these being Dolby Atmos and DTS:X. Here, we look at the four most common coding technologies:
1. Dolby Digital (AC-3)

Dolby Digital started life in the cinemas in 1992. It then found its way into Laser Discs and DVDs as well as cable TVs, satellite and digital broadcast TV that support it. The surround sound encoding covers five separate sound channels all arranged horizontally as listed below. There is a sixth, none directional channel to cover the low range of the sound. This is usually provided by the sub woofer. Dolby Digital is an object-based surround with sound coming from different speakers to simulate directional audio.
Front Right Channel
Front Left Channel
Center Channel
Rear Surround Right Channel
Rear Surround Left Channel
Low frequency sound (Subwoofer)
These channels are sometimes shown as 5.1 with the number 5 referring to all the horizontal speakers and 1 for the subwoofer. As all directional speakers are mean to be arranged horizontally in a single plane, this is a 2D or two dimensional surround sound system.
2. Dolby Digital Plus (E-AC-3)

Dolby Digital Plus improves on the compression rate to support higher bit rate compared to Dolby Digital. It does this by increasing the efficiency using better digital encoding format. Sound files encoded using Dolby Digital Plus are smaller. It is also an object-based system, meaning sound is sent to different speakers to simulate directional audio. This can be to the front, centre, surround and rear speakers with the surround channels being the new addition.
With Dolby Digital Plus, the number of channels it supports is now eight moving up from 6 in the 5.1 channels above to 7.1 channels. The format is used by broadcast and streaming services as well as on Ultra HD Blu-Ray DVDs and for digital playback on mobile devices. Not only does it carry more channels, higher bit rate also translate to better qualitysound.
Lastly, there is the all important metadata support. This helps ensure that the viewer enjoys consistent surround sound throughout their content. This feature is also in use extensively by Dolby Atmos, which we will see in the next section. The two extra channels in 7.1 refers to the Surround Right and Surround Left channels placed between the front and rear surround speakers. All speakers are still arranged horizontally so the surround sound is still two dimensional.
Front Right Channel
Front Left Channel
Center Channel
Surround Right Channel
Surround Left Channel
Rear Surround Right Channel
Rear Surround Left Channel
Low frequency sound (Subwoofer)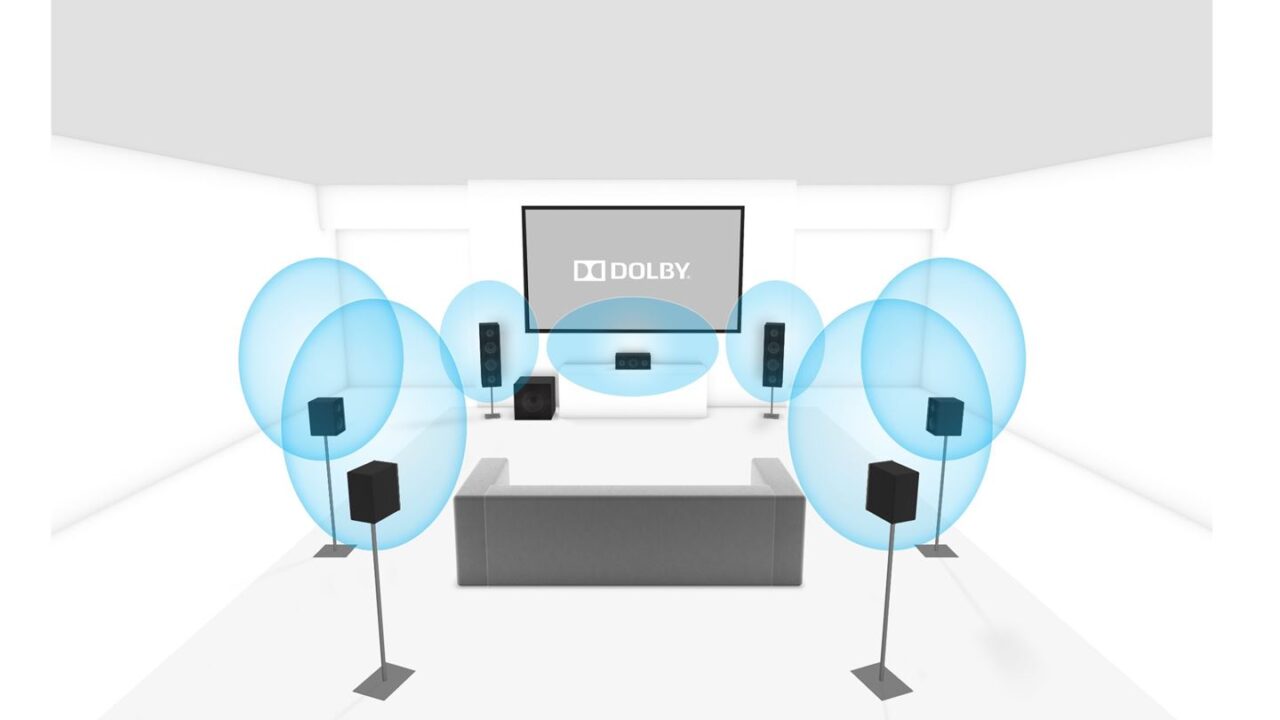 3. Dolby Atmos

Dolby Atmos is based on Dolby Digital Plus but with support for vertical placement of speakers on top of horizontal ones with help from the metadata in the encoding. A minimum of 8 channels is needed for a full sound stage but can be fewer. With the vertical speakers, it goes beyond object-based surround. Instead of using a particular speaker for direction, it uses multiple speakers to simulate a three directional space. It combines vertical and horizontal sound paths and clever sound enhancement in the decoder (sound bar or AV receiver), to project 3D sound for a fully immersive experience.
The encoding is gaining popularity with mobile devices such as smartphones, tablets, laptops and desktops supporting it. This is on top of sound bars and AV receivers. Content encoded with Dolby Atmos audio are usually delivered in UltraHD 4K Blue Ray discs or streaming services such as Amazon Prime, Apple TV+, Disney+ and Netflix.
Systems we see today range from 6 to 11 channels sometimes more depending on the hardware. These are configured as 3.1.2, 5.1.2, 5.1.4, 7.1.2 up to 7.1.4 channels on sound bar or home theatre systems. The first number represents the number of horizontal speakers, the second represents the sound bar and the third represents the number of vertical speakers.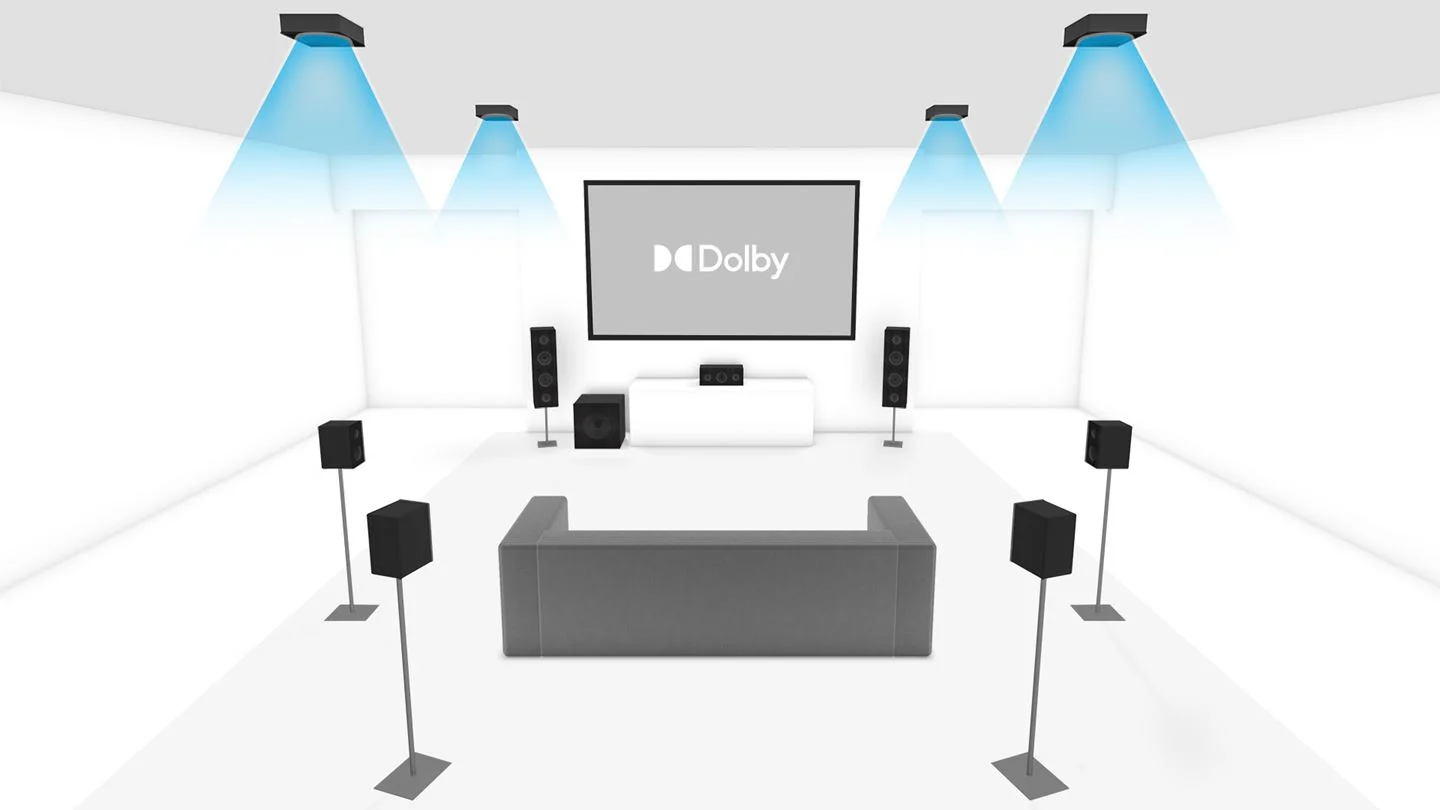 How does a sound bar create a Dolby Atmos sound stage
It is easy to imagine how a set up consisting of a Dolby Atmos AV receiver and speakers will work. Simply wire up the speakers to the connectors labelled on the back of the AV receiver and depending on how many speakers you add or is supported and the right speaker placement, you have yourself a Dolby Atmos sound stage.
However, things are a little different with sound bars. A 3.1.2 channel sound bar comes with left, centre and right channels as well as left and right vertical channels with upward firing speakers to bounce off sound from the ceiling to simulate sound from overhead. A 5.1.2 channel sound bar adds two more horizontal speakers to the 3.1.2 set up for two additional rear surround channels. A 5.1.4 sound bar adds two more upward firing speakers to the 5.1.2. This time on the rear surround channels. A 7.1.4 setup adds two more horizontal speakers to the 5.1.4, these are for the surround right and surround left channels.
You can learn more about which Dolby Atmos speaker arrangement is best for you here. Also, if you are considering Dolby Atmos Sound Bars and Subwoofer, check out some of the best and affordable units.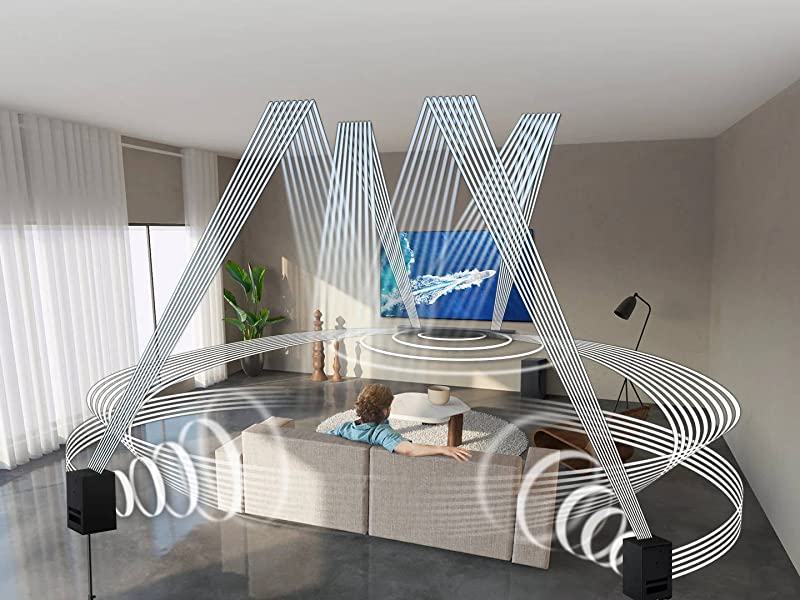 4. DTS:X
DTS:X is seen as a competitor to Dolby Atmos but as it is open source, manufacturers and content creators adopt this along side Dolby Atmos. That is to say, you do not have to worry about choosing one over the other, unlike Betamax over VHS you can have sound bars or AV receivers that support both DTS:X and Dolby Atmos. Some goes as far as supporting everything under the sun, to include Dolby Digital Plus, Dolby Digital and Dolby older Dolby Pro Logic II, Dolby Pro Logic and DTS audio surround. You can find out more about the older encoding formats; Dolby Pro Logic II, Dolby Pro Logic and DTS here.
Back to DTS:X. Like Dolby Atmos, it is a surround sound technology with one big difference. Instead of being proprietary, the technology is based on open source Multi-Dimensional Audio (MDA) platform. It is also a system that is adapted from the home theatre systems for use in the cinemas instead of the other way. The format encodes object-based audio streams for the video content and does not support height elevated speakers. So, if you already have a 5.1and 7.1 channel set up, chances are it already supports DTS:X surround sound.
If you look at the audio encoding performance, DTS:X actually supports higher bit rates therefore able to carry better sound quality. It also supports better control over the different sound components especially the voices in a dialogue. You can manually increase this up to better hear what is said on screen. Having said that, most sound bars support dialogue enhancement, clear voice and different sound modes to suit the content.
RELATED:
Affordable Dolby Atmos Sound Bars and Subwoofer
Different Dolby Atmos Speaker Arrangements & Which Setup To Go For