Sonos is not the only multi-room speakers in the market. Other big names are sharing the spotlight when it comes to multi-room audio. These high-end speakers are giving Sonos a run for its money.
Multi-room audio has come a long way. Not only are they capable of producing high quality sound, these speakers when paired or grouped together allow music to flow through room-to-room or even the entire house.
The ease of connectivity and control allow for direct streaming over the Internet from major music streaming services. Being wireless means, it does not need to be near a source or the router. Just a power connection to work.
In essence, the Wireless Multiroom system is a wireless speaker system that connects to your home Internet network and can be controlled easily via the free companion app on your mobile phone or tablet. The app not only lets you choose the source of your music; streaming service, Internet radio, media server or auxiliary input, it enables you to group speakers and play the same song in all rooms, or different songs in different rooms.
With voice activated assistances making their way into the speakers, it is becoming smart too making the best of services from Amazon, Google and Apple. We look at Sonos and its biggest rivals and compare their approaches to the whole multi-room sector.
Sonos
Success did not come overnight for Sonos. Being an early adopter, our first Sonos speaker, the first generation Play 5 was ahead of its time. We later added Sonos Play:1 and a further two Sonos One with Alexa built-in to our little Sonos empire. Of course, we don't intend to stop there, call us Sonos addicts, we just could not get enough of the thing. As multi-room speakers go, here is the trend setter, the company that started and led the wave of other multi-room systems.
Back then manufacturers such as Samsung with its R series Wireless 360 Smart Speakers, Yamaha with MusicCast speakers and LG were quick to respond with their own offerings. However, we are seeing other manufacturers joining the game, such as Audio Pro, Bluesound, Denon and Yamaha. The big three with consumer tech giants; Amazon, Google and Apple are also getting in on the action. We will write more about this later.
Fast forward to today, Sonos has progressed leaps and bounds coming up with not only multi-speakers but home cinema and recently the Architectural line. The Architectural line offers space filling sound without taking at space at all with in-ceiling and in-wall speakers, Sonos Amp and outdoor speakers. The Architectural range may not be wireless but it goes to show that Sonos is serious in providing an all-round audio solution.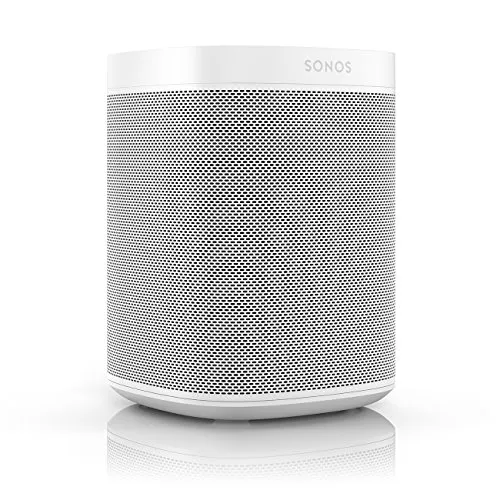 Sonos One
Back to the wireless multi-room speakers, Sonos's offerings include the Play:1 and Sonos One (with Alexa built-in), and Play:5. For home cinema, the speakers can be combined with Beam soundbar, Playbar, Playbase and Sub. Sonos Beam is the other Sonos speaker with Alexa built-in. The most popular of the speakers have to be Sonos One. The improved Play:1 sized speaker has a touch sensitive panel, far field microphone, an array of LED lights, AirPlay support and Alexa built-in.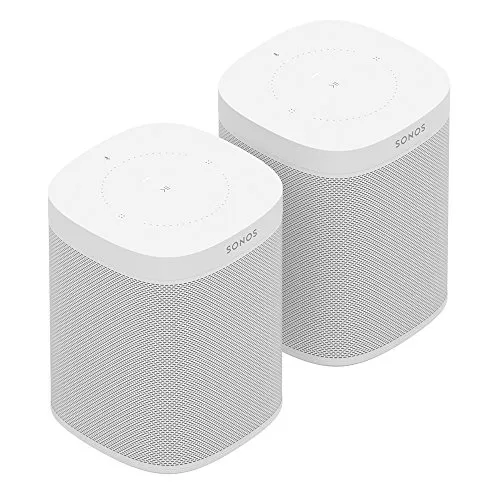 You can pair two Sonos Ones for stereo effects quickly with dedicated pairing button found on the back of the speaker just above the Ethernet port. The Sonos One embodies everything a multi-room system should be, superb quality sound, clear and detailed voice, solid bass and crisp and clean treble. You would want to listen to your entire collection of songs again over the speaker as it gives it character.
Sonos launched the second generation Sonos One, identical in design to the first but with improved processing speed and increase memory. Both Sonos One first and second generation uses four core processor, two Class D digital amplifiers, one tweeter, one mid-woofer.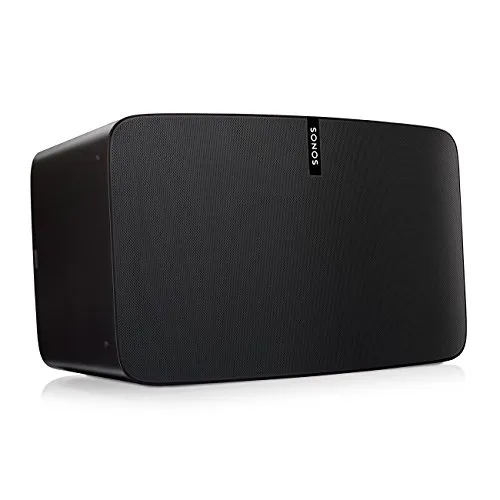 Sonos Play:5
There used to be a mid size speaker, the Play:3 but Sonos has since dropped this leaving only Play:1, Sonos One and Play:5. The next size up is now the big Play:5. While the speaker works with Alexa, it does not have Alexa built-in. You will need to get an Echo for that. Still, it is recognised as a smart device on the Alexa App allowing you to group it with your Echo for the room and play music to it automatically when asked in the room.
Given its size, the Play:5 pushes bigger volume with three tweeter and three mid-woofers each powered by its on Class-D digital amplifiers (a total of 6) and supports audio line-in. The second generation Play:5 also comes with capacitive touch control panel like on the Sonos One but no microphone or onboard Alexa voice control.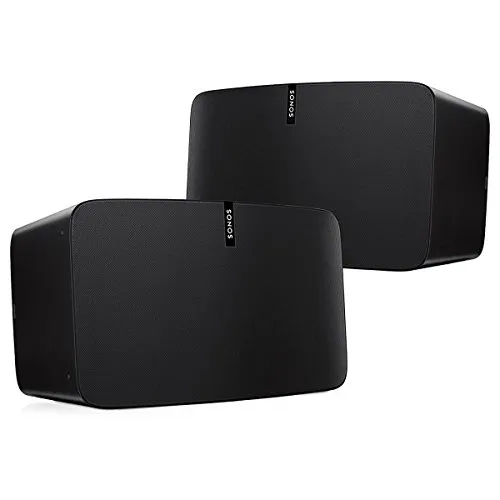 All Sonos speakers support AirPlay (except Play:1,  and Playbar), direct wireless streaming, Amazon Echo support or Alexa built-in, multi-room and direct music streaming from popular services, all 66 of them. It does not however support Bluetooth. This you will need to add yourself with a hack only available on Play:5 using the Aux-in or with Sonos Connect and Bluetooth receiver.
Related: Bluetooth Support for Sonos – how to connect via Bluetooth
The Sonos One is cheap and if you get it during the sales, you might be tempted to get a pair like we did to double the sound and volume. Enjoy real spatial stereo effect and even more spacious sound with full body and character thanks to Sonos acoustic architecture.
Sonos Home Cinema System
Home cinema oriented multi-room speakers that can be used with the speakers above include the Sonos Beam, Sonos Playbar, Sonos Playbase and Sonos Sub. For the number configurations you can have to achieve 3.1 or full 5.1 surround sound, see Sonos's Home Theater setups. To connect existing HiFi system, use the Sonos Connect turning the conventional wired system into part of the multi-room system. If you prefer to use your own speakers, the Sonos Ampis your option.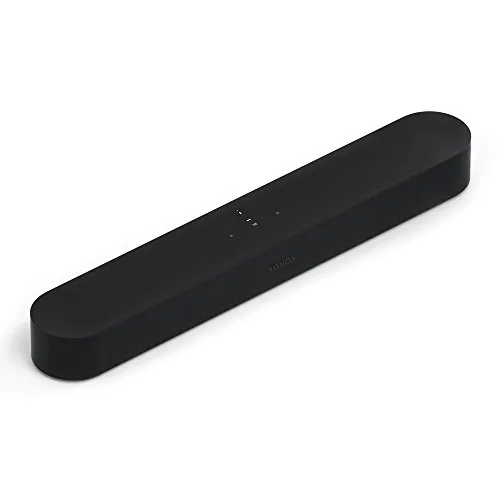 The speakers are also backed by a solid Sonos app that lets you play, tune and group the speakers. Over the years, we have seen the app mature, receiving constant updates to both the app and speakers firmware making it is easily the most reliable player out there. It scans and indexes local content on the NAS drives or iTunes libraries and offer a seamless universal search be it by artist, album or track for both local and connected streaming services. You can also create custom Sonos playlist by pull songs from multiple sources together. Apps are available for PC, Mac, iOS and Android devices.
Advantages
Good quality sound, dynamic range with plenty of low and detailed high.
Support for a good number of streaming services and local content on NAS
Alexa voice control and Amazon Echo support, Alexa built-in on Sonos One and Beam
App support is top notch, it gets better every time there is an update
Disadvantages
No Bluetooth support
No hi-res audio
Sub and Playbar still expensive for Home Cinema setup
---
Worthy Sonos Multi-room Audio System Alternatives
Looking for alternatives, you get pick some of these speakers at very competitive prices compare to Sonos's offerings. We look at 8 of the best Sonos multi-room alternatives.
1. Audio Pro – BEST FOR CONNECTIVITY,  SOUND & VALUE
From Sweden comes the retro looking award winning multi-room system. They consists of the Addon C3, Addon C5, Addon C10 and Link 1. The latter being the bridge between the speakers and existing wired Hi-Fi system. These speakers carry the boom box design, moving away from the conventional cloth wrapped and cylindrical shaped speakers you see from most of the manufacturers here. For something that resembles the convention, Audio Pro has A10 and A40 for that.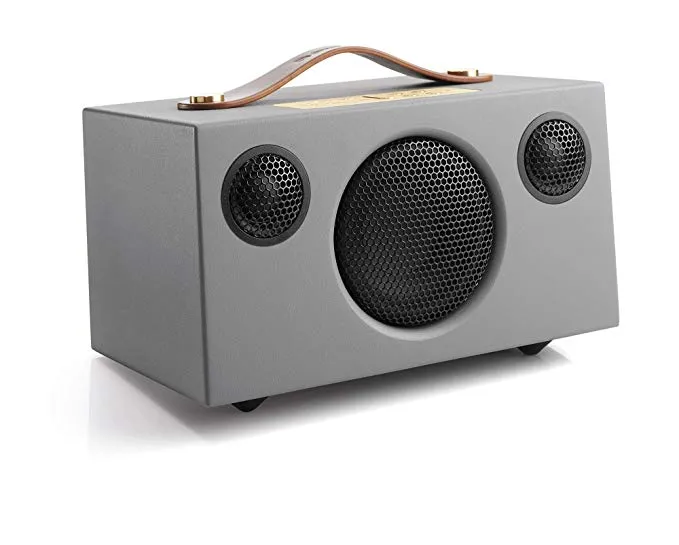 The Addon C3, C5 and C10 moved away from the fabric and rounded shape. What you get is a simple rectangular box with drivers, speaker grill, control panel on the top including Aux-in jack and a leather strap as handle. All speakers carry the signature 2.1 look with the tweeters on either side sandwiching the woofer in the middle. On the back you get RCA, 3.5mm and Ethernet apart from WiFi and Bluetooth 4.0 wireless connectivity as well as Airplay support. Of course, the higher the model, the bigger the speaker and power.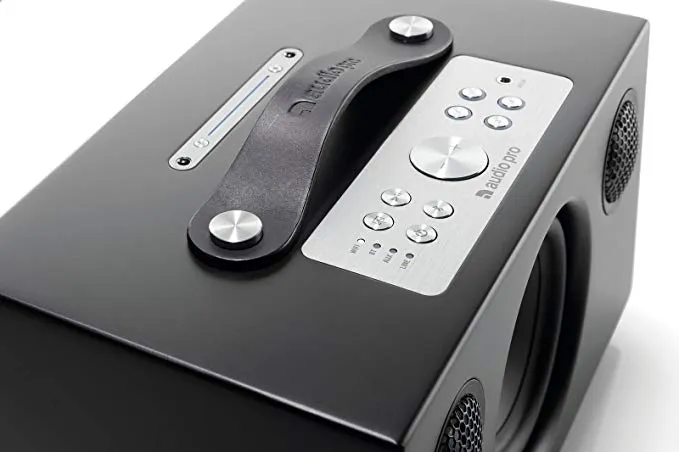 Moving with the times, voice control is added into the Addon C5. Known as the Addon C5A, it supports Amazon Alexa, the smart home assistant inherently. Using far field microphone, you can control the music playback, get weather forecast, daily news briefing and control other smart devices by barking your commands at the speaker. Being Audio Pro, the Addon C5A still spots RCA and 3.5mm input and the essential Bluetooth and WiFi connectivity plus Airplay support.
The speakers we consider for multiroom setups are as below:
Addon C3: 2x5W + 15W Digital class D with Tweeter: 2 x 3⁄4" textile dome and Woofer: 3.5" long throw (built-in rechargeable battery)
Addon C5 and C5A: 40W Digital class D amplifier with Tweeter: 2 x 3⁄4" textile dome and Woofer: 4" long throw, Sub output. USB DC output to charge mobile devices.
Addon C10: 80W Digital class D with Tweeter: 2 x 3⁄4" textile dome and Woofer: 5.25" long throw, Sub output.
Addon C-SUB: 200W Digital class D Woofer: 6.5" long throw with Passive radiators: 2 x 7.5″
Our favourite is the Addon C5A. Costing a little over half the price of Sonos Play:5 it comes with Alexa built-in so does not require a separate Amazon Echo for voice control and supports the Addon C-Sub.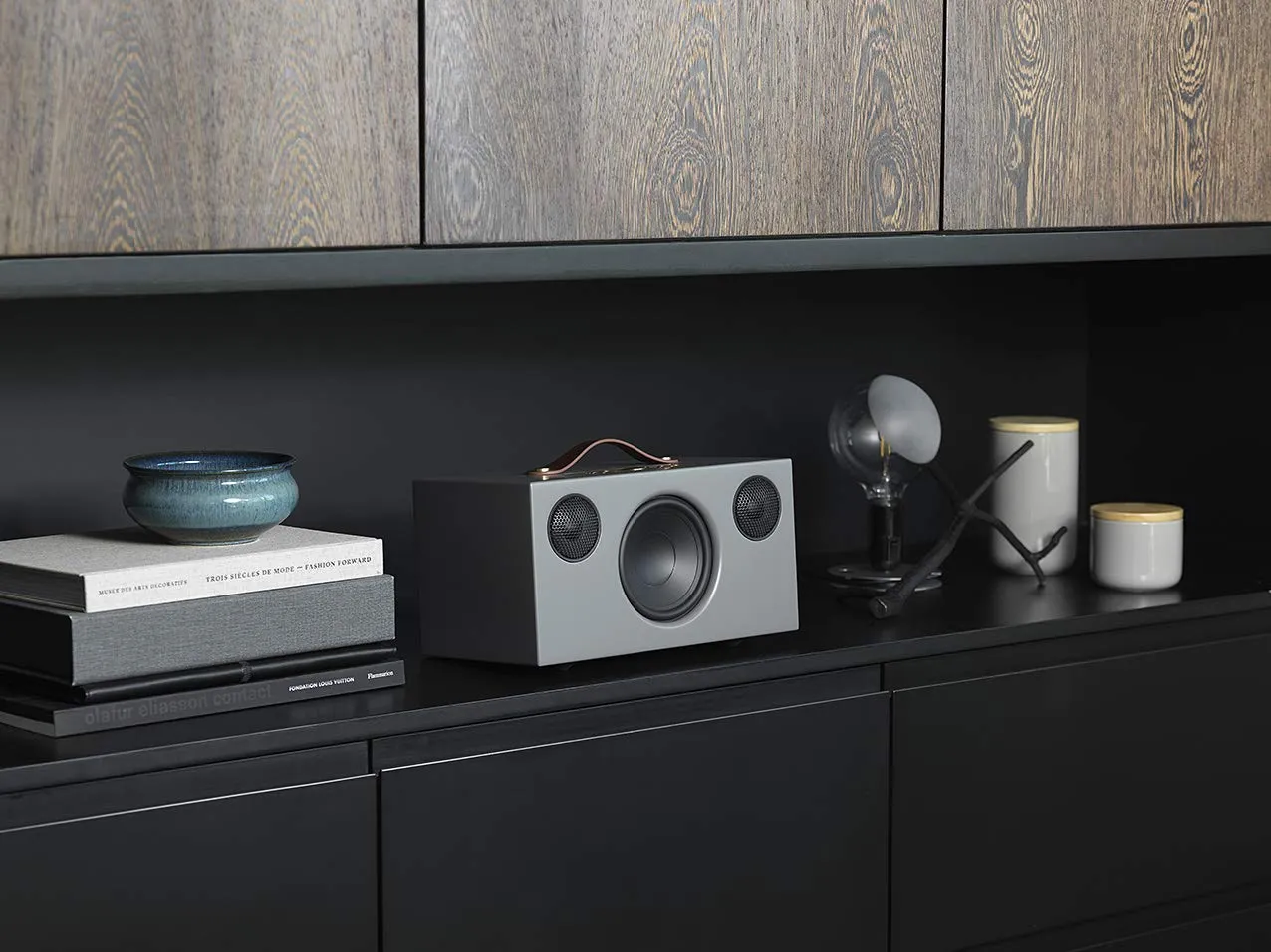 Other multi-room offerings from Audio Pro are the cylindrical fabric covered A10, an Apple HomePod look alike and equally generous in the fabric department, the A40 anniversary model. Both speakers stayed away from the retro look, favouring instead the scandinavian simplicity in design with elegance and sophistication. Both speakers carry the same level of connectivity enjoyed in by the Addon series. The A10 is seen as a direct competitor to Play:1 making it an affordable speaker for a small room. The A40 on the other hand is in a class of its own with a big ticket price nearly double that of the Play:5.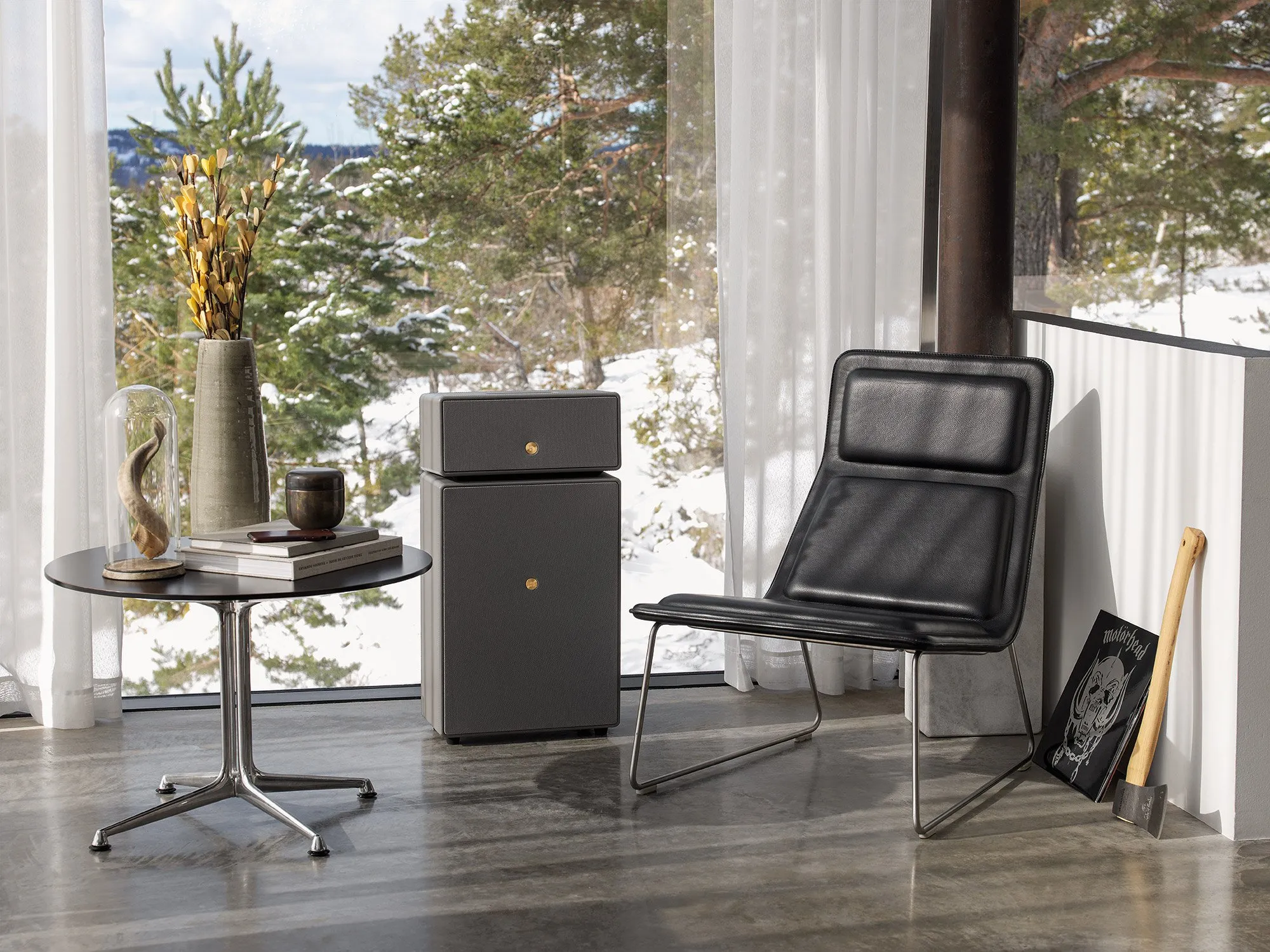 For something even bigger, the floor standing Audio Pro Drumfire pushes 300W total output. It has a dedicated high and mid-range unit (100W output) and big subwoofer on which it sits on (200W). The result is not only does it produces the volume required to shake any house but does so with Audio Pro's award winning signature audio. Price wise, apart from the A40, the A10, Addon series and Drumfire are unbeatable. You can't get any better sound at these prices. It doesn't however offer a home theatre solution like Sonos does. You can be creative, combining two speakers and a sub for stereo and extra low range.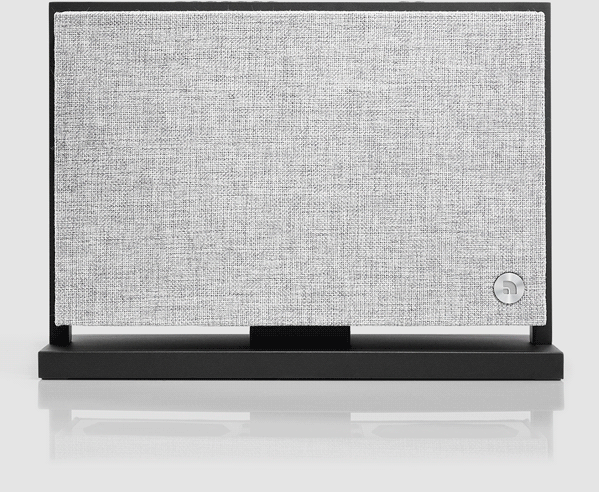 Related: Audio Pro Addon C-series Multi-room Sound System: affordable, fully capable Sonos alternative
---
2. Bluesound Generation 2i – HI-RES AUDIO, ALEXA & SIRI, TWO-WAY BLUETOOTH SUPPORT
Bluesound wireless speaker offerings are available in the shape of Pulse Flex 2i, Pulse Mini 2i and Pulse 2i. Like Sonos, they also offer wireless home cinema components in the form of the Soundbar 2i and the Pulse Sub. These can be grouped with Flex 2i speakers as surround. While more expensive than the Sonos, the Flex, Mini and Pulse can be seen as Play:1, Play:3 and Play:5 equivalents when judging purely based on size. But, the wireless multi-room music streamers have an advantage. They support Hi-Res audio streaming particularly the FLAC, MQA, WAV and AIFF files on top of the standard file formats.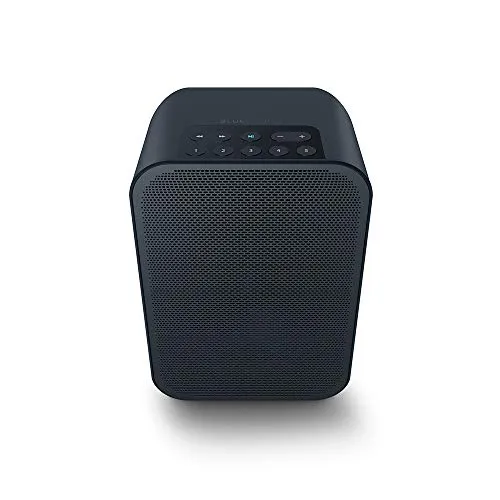 If you have been in the audiophile world long enough, you probably heard that Bluesound combines sound of the best names in music and technology. This includes amplification tech from NAD Electronics and acoustic tech from PSB Speakers.
The speakers support Bluetooth 4.1 aptX for CD quality sound on the Flex and two-way transmit and receive Bluetooth 5.0 aptX HD on Pulse Mini 2i and Pulse 2i. The latter offers studio quality music to compatible Bluetooth headphones and speakers. The naming system can be confusing. For a better idea of the range of speakers, see power output and driver configurations below:
Pulse Flex 2i: 25 watts total system power with 1 x 4″ (102mm), Woofer and 1 x 1″ 25mm, Tweeter
Pulse Mini 2i: 100 watts of total system power with 2 x 4" (102mm) Woofers and 2 x 3/4" (19mm) Tweeters
Pulse 2i: 150W total system power, bi-amplified (65W x 2 Woofer; 10W x 2 Tweeter) with 2 x 5.25" (133mm) Woofers and 2 x 1" (25mm) Tweeters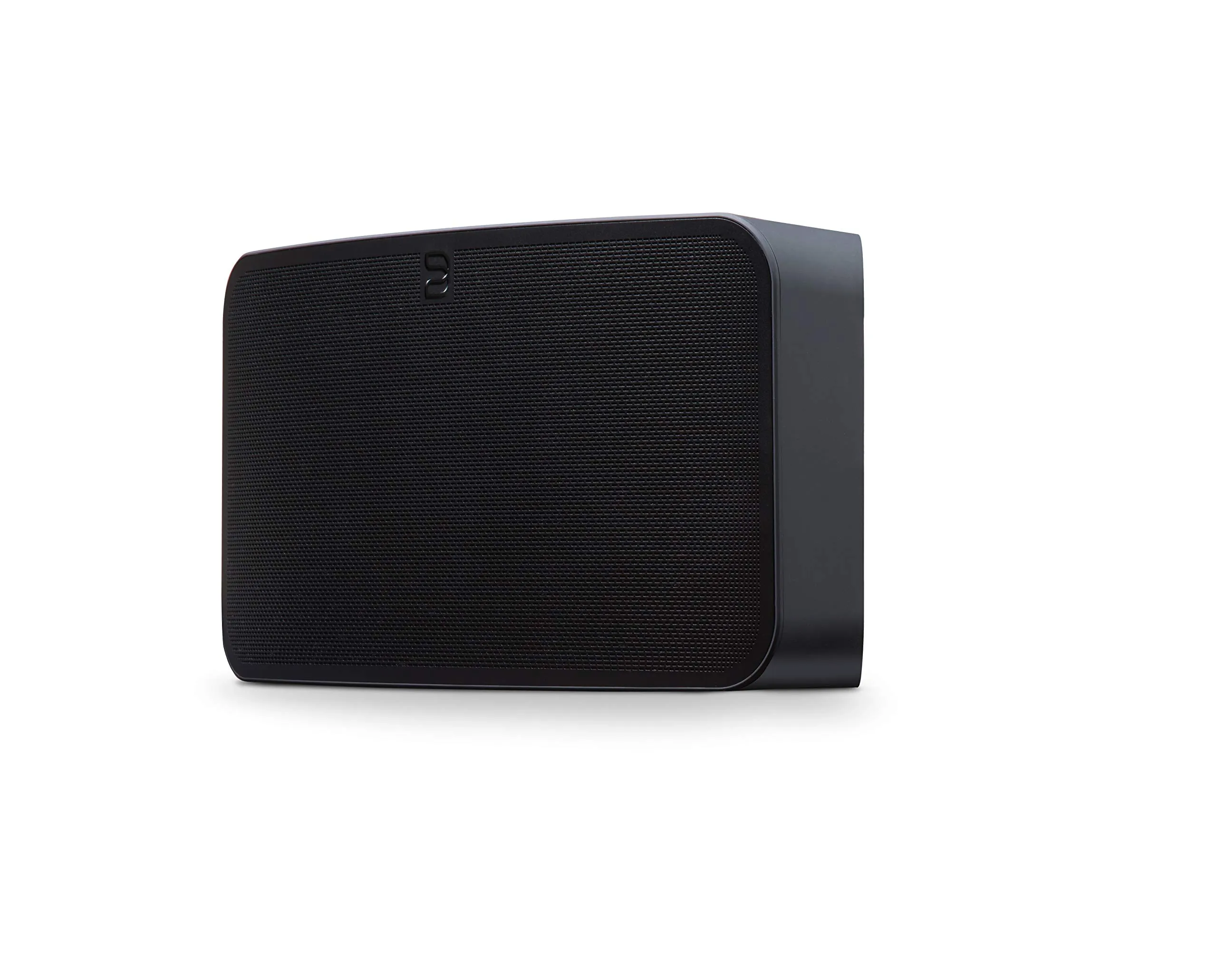 If support for Hi-Res audio is a must then look no further. Now in its second generation, hence the 2i, the speakers are Bluesound's commitment to hi-res audio support towards Hi-Fi ready multi-room sound system. On top of that, it also supports Alexa voice control using Amazon Echo device and Siri with Apple Home app. Both offering hands-free music control of personal libraries, streaming services and settings. Another feature not available on Sonos is the ability to playback media on USB memory sticks via the Type-A USB port.
Other premium features include dual Band WiFi 802.11ac, Gigabit Ethernet, support for optional rechargeable battery pack on the Flex, support for AirPlay 2, simple top panel controls and 3.5mm audio input. Two way Bluetooth support lets you use a wireless headset when you need to.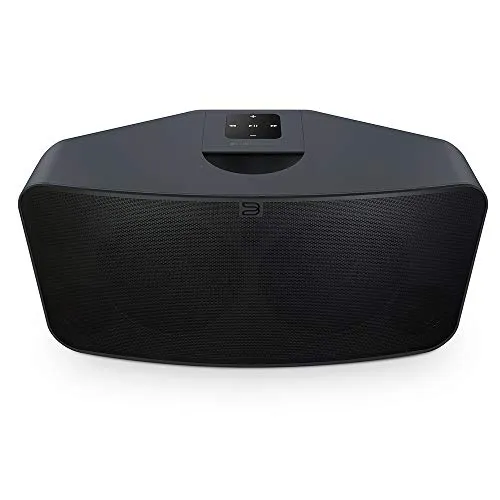 The chart topping Pulse 2i is Bluesound's most powerful Hi-Fi and multi-room ready speaker. It is slightly bigger and delivers volume on par compared to Sonos Play:5. It produces sound that can easily fill a big room pushing notes from the entire range of the listening spectrum. It does so with a pair 25mm tweeters and two 13cm bass drivers offering plenty of bass and rich sound.
Performance on the smaller Pulse Mini 2i and Pulse Flex 2i also full of character and body. Given that they are lower models, the Pulse Flex 2i misses out on two way Bluetooth connectivity but gained the ability to take an optional battery pack. This is attached to the back panel, turning it into a portable speaker. Thankfully, it is still small enough to be portable.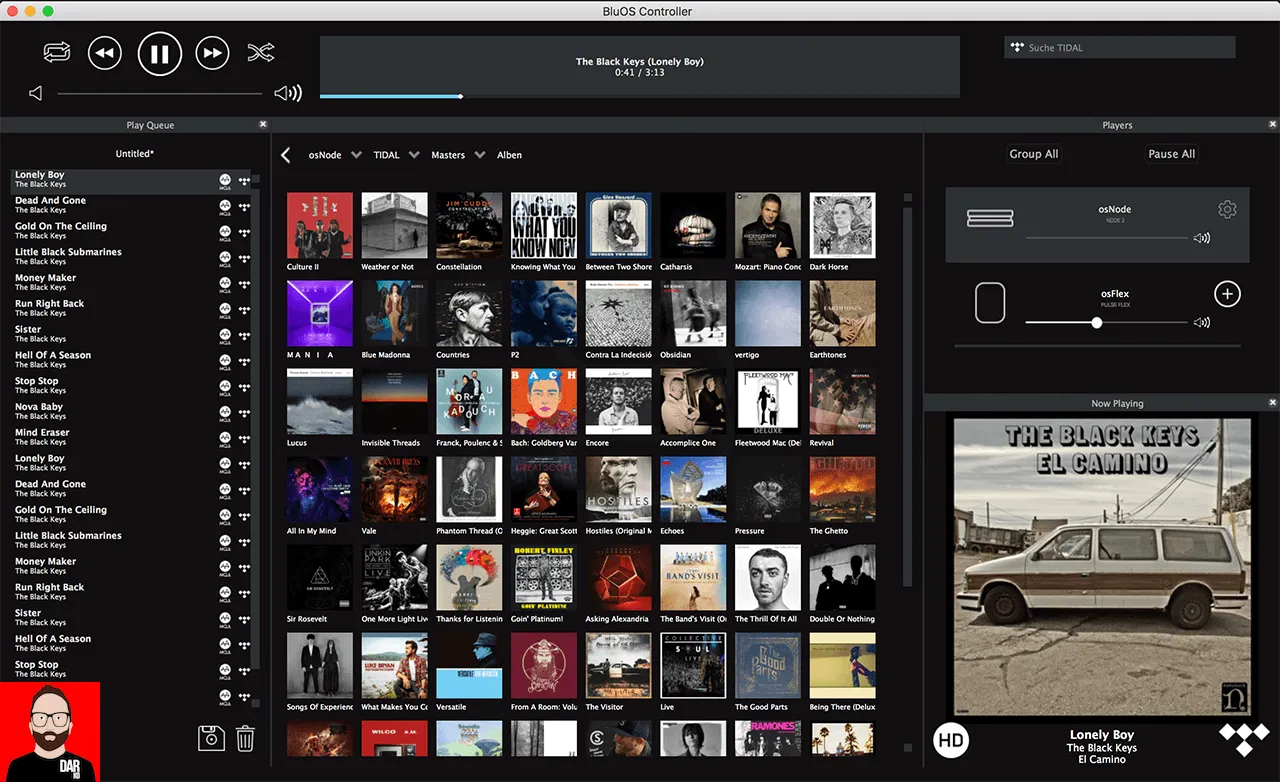 Download the BluOS controller app available for iOS, Android, Kindle Fire devices as well as Windows and Mac to control and stream music from over 20 streaming services. The app lets your speaker access and stream lossless music to every room. The speakers can handle high-resolution tracks at 24-bit/96kHz or 24-bit/192kHz, 6.5 times more data than the standard CD and stream uncompressed WAV, FLAC and ALAC music files over WiFi or a connected USB device.
Bluesound even aims to deliver end-to-end recording studio to speaker experience with Master Quality Authenticated (MQA) to any room with a powerful decoder and audio renderer for MQA. This means listener will enjoy exactly what the artist recorded and approved in the studio.
If you prefer to use your own speakers and enjoy mix your CD player and turntable with your multi-room setup, Bluesound got you covered. Two wireless multi-room hi-res music streamer the Node 2i and Powernode 2i are music streamer and streaming amplifiers respectively that allows one to merge the traditional components such as premium speakers, analogue and digital players and subwoofer with modern technology.
The Node 2i music streamer will require a stereo amplifier or AC receiver to work. Modern tech includes wireless access to streaming internet radio stations, cloud music services or local music library. Other supported technologies include AirPlay 2 and Amazon's Alexa voice assistant via Echo device. Ask Alexa to play saved playlists, select your favorite radio station, adjust volume levels, or even group Players for multi-room playback. The Node 2i can also stream to multiple Bluesound Players widening your choice of media to any speaker in the house. The system is again controlled using the BluOS controller app.
If you prefer nothing less than hi-res music or have access to premium music streaming services such as TIDAL, Spotify or Qobuz, Bluesound is your option.
Advantages
Hi-res audio format support
Hi-res streaming service support
Two-way Bluetooth connectivity*
AirPlay2, Bluetooth 5.0 aptX HD* and Dual band WiFi support
Alexa voice control via Amazon Echo
Disadvantages
Naming system can be confusing
Costly
(*except Pulse Flex 2i)
---
3. Bose SoundTouch – BEST FOR PRESET BUTTONS
Bose SoundTouch 10, 20 and 30 are wireless multi-room systems that can easily be equated to Sonos's offering of Play:1, Play:3 and Play:5 in the past but the SoundTouch 30 series III (3rd gen for everyone else) while priced to compete with the Sonos Play:5 is much bigger than the Play:5. Prefer to use existing speakers or Hi-Fi the SoundTouch SA-5 amplifier or SoundTouch Wireless Link adapter bring wireless streaming music to your favourite speakers. All speakers in the SoundTouch series support voice control with the use of an Echo device. For Alexa built-in speakers, get the Bose Home Speaker 500, Soundbar 500 or Soundbar 700.
Bose SoundTouch 10, 20 and 30
The SoundTouch 10 is more of a bedside table, kitchen counter or study cabinet unit. Priced to compete with Play:1 and on some level Sonos One, the SoundTouch is Bose's smallest but still very competent speaker in the series. Even for its size it is able to dish out excellence audio performance with same full and rich sound you would get from Bose's sound system.
The mid range SoundTouch 20 is almost as big as Play:5 and SoundTouch 30 is huge in comparison. Both feature a front facing OLED display and includes Auxiliary input and Bluetooth support apart from WiFi. The SoundTouch 30has two high/midrange drivers combined with a single subwoofer and offers considerably more ommph in the low range, pushing out punchy and weighted bass.
On all speakers, use the SoundTouch app to configure, stream music over WiFi or Bluetooth, connect to different music streaming services like Spotify and Deezer as well as access stored music library. It also lets you personalise the presets for one-touch access. There are six preset buttons on the speakers for instant access to your favourite playlist or stations. A handy remote controller is also included and even the entry level speaker supports 3.5mm auxiliary analogue input apart from Bluetooth for flexibility not found on Sonos Play:1. The bigger SoundTouch 30 also includes Ethernet connectivity not found on SoundTouch 10.
Bose Smart Speaker 500 – ALEXA BUILT-IN
As a response to Apple HomePod, Bose came out with Bose Home Speaker 500. It has a built-in colour display that shows the album cover and settings as well as Alexa built-in. The Home Speaker 500 produces room filling extra wide wall-to-wall stereo sound with side facing drivers. This creates a wider soundstage compared to other speakers in its class.
Bose Smart Speaker 500
The interface has also been brought up to date with capacitive touch to pause or play, increase or decrease volume, switch to line-in or Bluetooth source, switch off the microphone or choose one of the six presets. The speaker comes with custom designed 8 microphone array for superior voice pickup. Note that the Bose Smart Speaker 500 uses a different app, Bose Music app designed for the new Bose family of smart speakers and soundbars.
All systems have an advantage over Sonos in that, they support Bluetooth connectivity.
Advantages
Bose signature sound quality
6 quick programmable shortcut buttons
SoundTouch 30 is bigger than competitors' in the same class
Bluetooth and Dual band WiFi support
Disadvantages
No hi-res audio
App could be better
---
4. Denon HEOS – BEST FOR CONNECTIVITY, HI-RES AUDIO, ALEXA & GOOGLE ASSISTANT SUPPORT
The HEOS Wireless Multi-room Speaker System from Denon is a family of wireless music system which includes sound bar, sub, wireless speakers and amplifiers. Wireless speaker wise, unlike Sonos with Play:1 or Sonos One, Play:3 and Play:5, Denon has 4 speakers in this category. They are the HEOS 1 (HS2) for small rooms, HEOS 3 (HS2) for small to medium rooms, HEOS 5 (HS2) for medium to large rooms and HEOS 7 (HS2) for bigger spaces. Except for HEOS1, the speakers have an upside down diamond shape profile from the side. The driver and amp configurations are as below:
HEOS 1 HS2: 1 mid woofer and 1 precision dome tweeter with dual channel digital amp
HEOS 3 HS2: 2 wide range drivers with Advanced DSP powered by 2 Class D amp
HEOS 5 HS2: 4 drivers – 2 tweeters, 2 mid-woofers and 1 passive radiator powered by 4 Class D amp
HEOS 7 HS2: 5 drivers – 2 tweeters, 2 mid-woofers, 1 subwoofer and 2 passive radiators powered by 5 Class D amp
The wireless speakers are easy to setup and will get you ready to stream using the companion app from streaming services such as Amazon Music, Tidal, Deezer, SoundCloud, Spotify, TuneIn and more. It will also play music from a device or USB flash drive via USB port. Simply connect your flash drive or USB hard disk into the built-in USB portand have the content play locally or on any or all HEOS players on the network. Not something you can do with Sonos speakers. Other form of connectivity include Bluetooth (although no aptX support) 3.5mm stereo analogue auxiliary line-in and DLNA compliant music server on NAS via WiFi.
The lack fo aptX support means no CD quality music streaming via Bluetooth.
Like Bluesound, these speakers support high resolution audio. Hi-res file format supported include WAV, ALAC and FLAC with up to and including 24-bit/192kHz. The speakers also support Alexa and Google Assistant with the relevant Amazon Echo or Google Home devices. They can be paired to form a proper stereo setup using the app. Overall, the speakers performed pretty well making it a good alternative to Sonos speakers. The HEOS 7 HS2 being the biggest, pushes its weight with big and spacious sound. For even more bass, link any of the speakers up with HEOS Subwoofer.
The equivalent to Bluesound's Node 2i and Powernode 2i is the HEOS Link HS2 and HEOS Amp HS2. The HEOS Link offers a way to stream music from iOS or Android device, own music library on NAS, online streaming music and radio station to any or all HEOS speakers. But the real reason for getting the Link is to bring those streaming options and multi-room audio to an existing HiFi or home cinema system. Like the speakers, it is equipped with dual band WiFi, USB port and RJ-45 ethernet port.
But central to the HEOS Link is the stereo pre-amp outputs and sub output for powered subwoofer. Output options are available in analogue coaxial and digital optical form. The unit also features an optical audio input, stereo line-in via RCA jacks and additional 3.5mm auxiliary input. If you already own Denon audio components and systems, hook up the included infrared transmitter to the Link then use the app to turn on the system and proceed to stream to your heart's content.
The HEOS Amp delivers on the same level of connectivity but instead of pre-amp outputs it has its own built-in Class D digital amplifier capable of delivering up to 100 watt per channel. Perfect for those looking to use their existing speakers. Additional speaker connectivity include sub output to a powered subwoofer. For analogue input, there is an analogue stereo input over RCA jacks and an additional 3.5mm line-in. Digital input is also available for digital music source.
Advantages
Hi-res audio format support
Hi-res streaming service support
USB, Line-in, RJ-45, headphone output (HEOS7)
Dual-band WiFi and Bluetooth connectivity
Amazon Alexa and Google Assistant voice control
Disadvantages
Hard to fault except that…
Speakers lack soul
---
5. Yamaha MusicCast – BEST FOR CONNECTIVITY OPTIONS, HI-RES & ALEXA SUPPORT
Yamaha's multi-room sound system offering centres around the MusicCast technology. The same technology is featured not only in their multi-room wireless speakers but in their sound bars, sub and AV receivers as well as wireless streaming amplifiers and HiFi systems. Standalone wireless speakers for multi-room system includes MusicCast 50, MusicCast 20, MusicCast WX-010 and MusicCast WX-030. The first two speakers are desktop type while the WX series are wall mountable.
MusicCast 50
From the top, the MusicCast 50 has an oval profile. The height of the unit measures only 4-3/4-inch (123mm). This makes it a rather wide and compact speaker. At 15-3/4-inch (400mm) wide its accommodates 4 front firing speakers. Of these, there are two 10cm woofers in the middle flanked by two 3cm dome tweeters. Together the array of speakers pump out 70W of maximum power output (35W + 35). This is enough to push high quality room filing audio for a house party.
Apart from WiFi and Bluetooth, the speaker not only support Yamaha's own MusicCast compatible products, but Apple AirPlay, Spotify Connect and for inputs; one optical, one 3.5mm stereo mini and one RCA input.
The speaker can be paired with another for spatial stereo or used as surround speakers with an AV receiver or sound bar, MusicCast compatible only mind. You can achieve this without the trailing cables or having to worry about wiring to the rear surround channels. For a small and simple setup, connect directly to a TV via RCA or optical input.
One can also take advantage of the built-in phono stage via the RCA, to hook up their CD player, turntable or other analogue source to listen to their favourite media.
Use the companion app, MusicCast Controller to access and stream music from Tidal, Deezer, Qobuz, Spotify, Pandora, Napster and more. Create your favourite playlists on the mobile device or computer and listen to them on the MusicCast 50 speaker. The system supports high-resolution audio with formats such as FLAC / WAV / AIFF: up to 192 kHz / 24-bit.
Soft touch buttons and preset memory as well as support for voice control via an Alexa device such as the Amazon Echo offers plenty of choices to interface with the speaker without pulling out your phone or tablet. In fact, you can control the entire home speaker system using Alexa.
Features
Music streaming services built-in
MusicCast multi-room technology
Alexa voice control compatibility
High-Resolution Audio Support
Connect to a TV for upgraded sound
Stereo pairing (requires 2 units)
Ability to be used as surround speakers with an AV receiver or sound bar ( on select MusicCast models only)
Soft-touch, simple presets for instant playback and Alarm
MusicCast 20
The MusicCast 20 is Sonos Play:1 equivalent with a near cylindrical shaped body. From the top it still spots a slightly oval profile. Underneath the grill you get a single 3-1/2-inch or 9cm woofer, a 1-1/8-inch or 3cm soft dome tweeter and two passive radiators. Together these drivers pump out 40W out maximum output power, 25W coming from the woofer and 15 from the tweeter.
The MusicCast 20 speaker can be used as a standalone wireless speaker, paired with another for a stereo setup, used as wireless surround speakers with compatible MusicCast cinema systems; AV receiver or sound bar.
Like the bigger sibling, the MusicCast 20 supports music streaming over WiFi managed with MusicCast Controller app, Bluetooth V4.2+ for direct streaming from mobile devices, High Resolution audio with formats like FLAC / WAV / AIFF: up to 192 kHz / 24-bit and True Sound technology. True Sound brings high quality audio as it was meant to be heard i.e. the sound as the artist, the producer, the composer, the creators intended. It does not however come with any optical or analogue inputs.
Still, the speaker lets you enjoy high-resolution audio in any space from one of the most compact MusicCast speaker measuring 150mm wide, 130mm deep and 186mm tall. Also like the bigger MusicCast 50, it has Alexa voice control integration. Use a separate Amazon Echo device to control the music playback on this and other MusicCast speakers in the house.
Features
Music streaming services built-in
MusicCast multi-room technology
Alexa voice control compatibility
High-Resolution Audio
Stereo pairing (requires 2 units)
Ability to be used as surround speakers with an AV receiver or sound bar on select MusicCast models only
Soft-touch, simple presets for instant playback & Alarm
Advantages
Yamaha MusicCast integration with AV receiver or Sound bar
MusicCast Stereo or Surround with another speaker
True Sound technology for high quality tuned audio with Yamaha's DSP
MusicCast 50 has plenty of connectivity options
High resolution audio support
Bluetooth and Dual band WiFi support
Alexa voice control integration via Alexa voice device (Amazon Echo)
Other MusicCast compatible speakers from Yamaha
The WX series are Yamaha's MusicCast compatible multi-room systems that are also wall mountable.
Despite the small size, the WX-010 packs plenty of advanced sound technology, for full, high-quality sound. It uses a 2-way, 2-speaker system with a 2.5 cm tweeter and 9 cm woofer, and features passive radiators on both the left and right sides. All together, it delivers amazingly dynamic and powerful sound from such a small package.
The bigger WX-030 has prism like profile from the top with with touch-type buttons for easy, convenient operation. Sound comes 2-way, 2 speaker system but scaled up from the WX-010 with a 9cm woofer and a bigger 3cm tweeter and one passive radiator.