We jumped at the chance the get the Amazon Fire TV Stick with their Pre-order offer for existing Amazon Prime and Prime Instant Video members. It was delivered on time and after living with it for two weeks, here is what we have to say.
We joined Prime more for the free next day delivery than anything. We were pleasantly surprised with how well and good we have enjoyed the Unlimited Streaming Service that Prime Instant Video has to offer.
Available separately, Prime Instant Video charges a small fee month for unlimited instant video streaming. If like us, you would also like fast next day delivery, you can pay an annual lump sum and become a Prime member which also includes the Prime Instant Video.
Note that, free next day delivery is only applicable on products fulfilled by Amazon. Delivery charges still apply for products on Amazon listed and supplied by third party. Here is a quick comparison between the two packages.
Prime Instant Video – £5.99 pm
Enjoy unlimited instant streaming of over 15,000 movies and TV shows
Watch anywhere, anytime with unlimited access throughout the UK
Watch exclusive hit TV shows before they air on British TV
Amazon Prime Member – £79 pa
Enjoy all the benefits of Amazon Prime Instant Video (listed above)
Borrow books from a choice of over 500,000 titles from the Kindle Owners' Lending Library
Get unlimited, FREE One-Day Delivery on millions of items
Amazon Prime also includes secure, unlimited photo storage with anywhere access if you have a Kindle Fire tablet or Amazon Phone
In our opinion, if you have the cash upfront, go for the Amazon Prime Member which is only £7.12 more and enjoy Kindle Owners' Lending Library as well as faster deliveries.
Amazon joins the video streaming game with the Amazon Fire TV set top box. While Roku and Google already released smaller versions of their streaming stick in the form of Roku Streaming Stick and Google Chromecast HDMI Streaming Media Player, Amazon has only just got their act together.
In the box you will find:
Amazon Fire TV Stick,
Amazon Fire TV Remote (Non-voice search)
HDMI extender cable
USB cable for power
Power adapter
AAA Batteries
Basic get started guide
Warranty information sheet
In the images below, we show you the unboxing; the content and all parts fitted and connected.
Amazon Fire TV Stick Setting Up For the First Time – Walkthrough
Here is a quick walk through of the initial setup process. All Fire TVs are pre-configured with your Amazon account so there is no need to login with your account and password but you do have to connected it to your wireless network; requiring your network's SSID and Pass Key.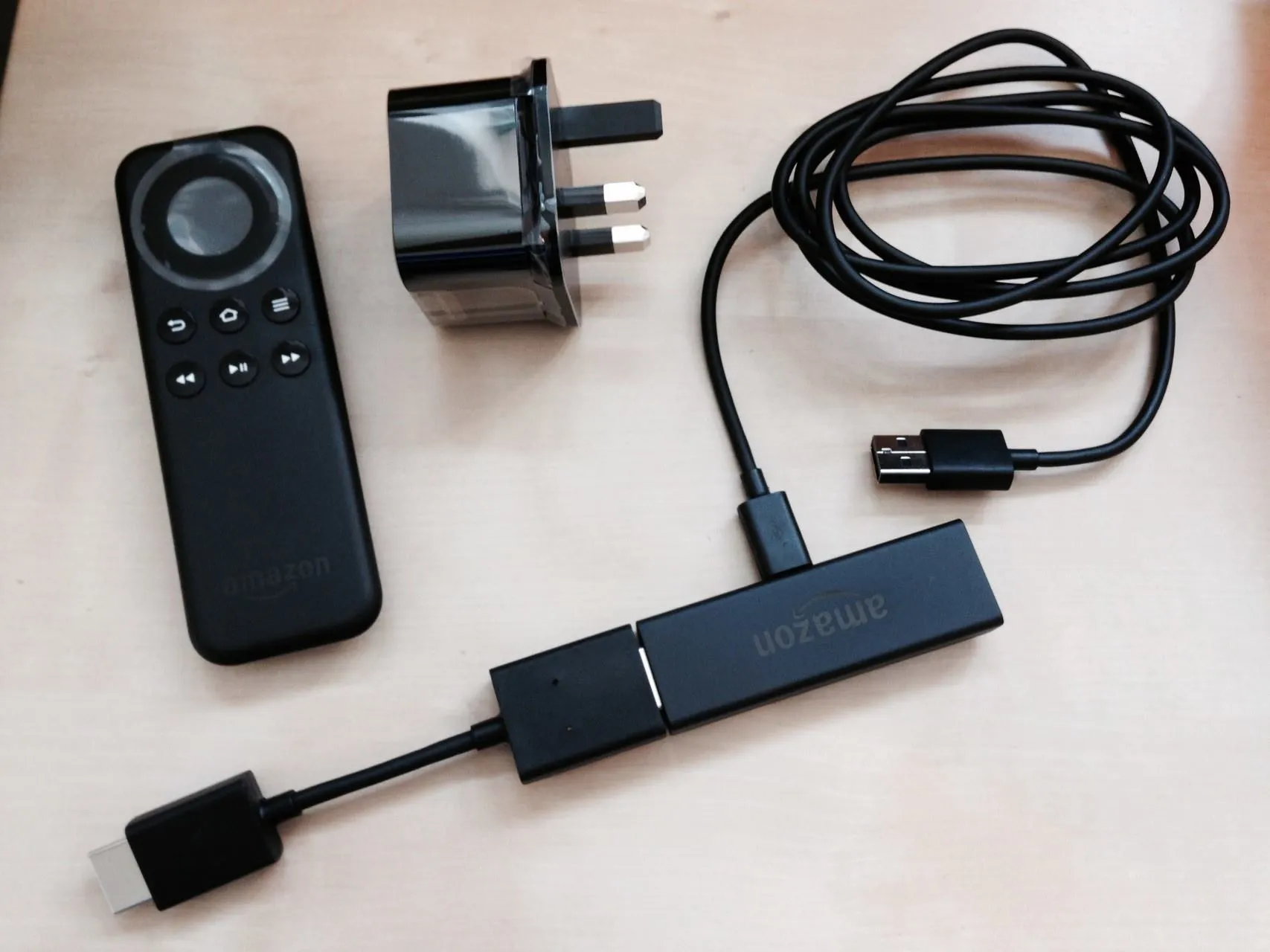 Connecting and Powering the Amazon Fire TV Stick
Connect one end of the USB cable to the Amazon Fire TV Stick and the other to the power adapter.
Plug the power adapter into a nearby wall socket.
Connect the Amazon Fire TV Stick tot he HDMI port on the back of your TV. A DHMI extender cable is provided should you need it to increase accessibility.
Turn on the TV and select the appropriate HDMI input.
Insert the included batteries into the remote and it should connect automatically to the TV.
After connecting the Amazon Fire TV stick and powering up for the first time you will be asked to:
Press the Home button to start
Choose Your Language
You will at this point receive a warning should you use a USB port on your television instead of hooking up the power adapter (more on this later)
Connect to your home network; here is where your SSID and Pass Key comes in handy. More so, if you network is hidden.
You will then be treated to a welcome and get started video. It is okay to skip this as you can go back to it later if you wish.
Using the On-board USB Port on your TV to Power Your Amazon Fire TV Stick
If you don't like trailing cables or lack the power point for another adapter, you may be able to use the USB port on your television to power the Amazon Fire TV Stick. While 'unsupported' and not recommended by Amazon, we were able to power up the stick using the on-board USB port. The USB power cable provided was a bit long as it was meant to go to the wall adapter but we used the cardboard binder from the original packaging to hold the excess cables together. You may consider using a cable tie.
Even though not recommended, we were able to run the Amazon Fire TV Stick from the on-board USB port, streaming whole movies and downloading apps to install with no lag in speed or impact to its wireless capability. However, it is worth testing this out on your TV as all USB ports are different and a suitably powered USB may be required to ensure the full and proper operation of the Fire TV Stick. You always have the adapter and with some clever cable management, may be able to high the cable from view.
If you have the Amazon Fire TV, you know the convenience of searching without maneuvering the onscreen keyboard with your voice remote. Simply press the voice search button and speak into your remote.
The Amazon Fire TV stick 's remote however, lacks the voice activated search. You can buy the voice activated remote separately or download the FireTV app for your smartphone or tablet. This is available for Amazon Fire Tablet, Apple iOS devices and Android devices.
Low Cost Alternative To Smarten Up Your TV
The Amazon Fire TV Stick, Google Chromecast and Roku Streaming Stick represent affordable add-ons to turn your TV into a smart and connected TV. Some older or first generation smart TV may benefit from one of these streaming sticks as well as they would be slow and out of date or no longer supported.
But if you are looking for something more substantial, check out the Top 5 Smart Streaming Set Top Boxes where we look at Roku 3 HD Streaming Player, Now TV, Apple TV, Amazon Fire TV and more.