There are plenty of ways to decorate your house and get it ready for the festive season with little to no money. Here are 10 easy ways to do just that this Christmas. There is something here for everyone.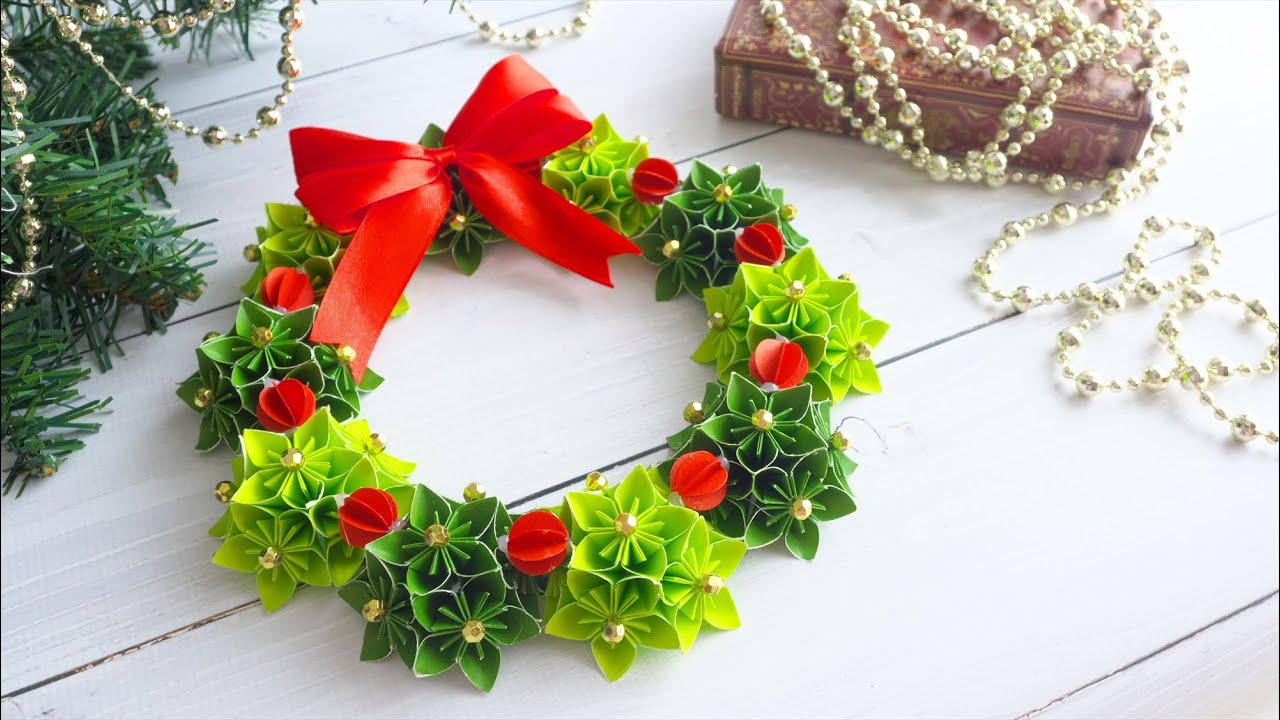 Decorate Your Home this Christmas on a Budget
Make your own Christmas Decorations:
Window Decorations – from big origami stars to paper snowflakes for the windows
Wreath – origami or natural foliage to build your own wreath from scratch
Hanging decoration – origami or natural hanging ornaments for the tree and home – bauble, hanging acorns etc
Christmas tree alternative – hanging twigs 2D Christmas tree with lights for the wall
Advent Calendar – hanging paper bags, use multi drawers, small Christmas wrapped numbered boxes,
Decorative gift boxes – use delivery boxes of various sizes, wrap in wrapping paper, finish with ribbons, hang or place under Christmas tree
Good old Christmas Cards as Decorations – place them on mantle, string together and hang them individually (also use ribbon)
Front Door – ribbon wrap the front door and add your wreath
BONUS: Outdoor decorations with willow: stars, tree decorations, wreath.
1. Window Decorations
From big stars to giant paper snowflakes, these are just some quick and easy ways to dress the windows at home, work or for your business. The idea here is to go big to really make an impact. You can of course add small paper cut-outs of snowflakes or stars here and there but the ones to steal the show are these.
DIY How to make Star Lantern by Art Craft & Ideas by SD
This is without a doubt the most popular window decoration for Christmas, a giant star lantern. It's up to you how many points you want your star to have, we recommend 5 as a minimum and 9 as a maximum. 7 pointed stars are quite common too. The reason for odd numbers is the way to hang these star. Also you might consider adding LED wire fairy lights but be sure to find a way to secure the battery pack if you decide to go with battery powered LED lights.
What you will need: paper, scissors, hole puncher, glue
3D Paper Snowflakes DIY by Becca Bliss
In this next video, Becca shows you the steps to make a giant 3D paper snowflakes using square pieces of paper. Again, just like the lantern above, each point is a single repeating unit. While you can add more points, 5 is the optimal number as snowflakes go. Even with Letter or A4 copy paper, you can get quite a big snowflake, big enough to make a real impact. You can find other snowflake designs from DIY 3D Snowflake Making Tutorial by DIY Crafts to complete the one below.
What you will need: paper, scissors, cellophane tape and stapler
2. Christmas Wreath
Here are some DIY Christmas wreath options made from paper or natural foliage. You can build your very own wreath from scratch and save yourself some money buying ready made ones.
The Paper Christmas Wreath from Craftastic
This Paper Christmas Wreath from Craftastic below is one of the easier. However, do check out these other options, 6 different paper craft wreathes from The Little Crafties and if you are up for a challenge, check out this origami paper wreath from re-uploaded by SimplePaperMade. It will take you some time to complete the details and 3D effects of this wreath will blow everyone away.
What you will need: paper, scissors, stapler and card board ring for the base.
Creating a Festive Wreath with Natural Materials by Garden Answer
This next wreath will suit those who prefers authenticity in their wreath and by that we mean one made from natural foliage and more. There are of course many different designs, and you will definitely have to get your hands dirty foraging for natural materials in your area but the result will be amazing, rivalling even those store bought wreaths.
Here is a list of suitable foliage for the perfect Christmas wreath, beyond ivy and holly:
Nordmann Fir
Lawson's Cypress
Myrtle
Perennial plants
Eucalyptus
Rosemary
Bay
Pine box
Privet
Other evergreen foliage
Failing that, if you have green and red garlands lying around, you can make a pretty decent Christmas wreath out of them with some aluminium or florist craft wires.
3. Hanging ornaments and decoration
If you have a new Christmas tree or are looking to add some new ornaments to an existing tree, here are at least nine different decorative ornaments you can make. These can be paper origami or natural hanging ornaments made from acorns, berries and leaves. They are perfect for the Christmas tree or anywhere around the home.
We start you off with 5 different paper origami Christmas ornaments from HM Creations. These are curler balls, Stella, Star and two different types of Bauble.
For something that does not involve paper and folding, try make hanging string star ornaments from strings and glue
Again with nothing but strings and glue, make your own twine ball with a help of a balloon
In the spirit of sustainability, here is how you can create a snowflake ornaments from twigs, small branches, leaves and acorns.
Back to paper origami and we have to warn you, the level for this is hard so proceed with caution. Here is how you can fold your own paper snowflakes.
Lastly, you can go crazy with this next video containing over 60 different hand made DIY Christmas ornaments by CreAtive by Nature DIY & Decor. If nothing, use it for inspiration but we would recommend fast forwarding through to get an overview before deciding on the design you want to build as the video is over three and a half hours long.
4. Christmas tree alternative
We are going to go out on a limp here and say you haven't got a Christmas tree and are looking to get one. They don't come cheap which is why you are here. Make your own hanging or free standing 2D or 3D Christmas tree using twigs and strings or round wooden dowels. These new spin on Christmas trees still let you hang your ornaments and are most certainly environmentally friendly. The photos below are self explanatory.
If you haven't got the room for a full blown tree even if it is only an alternative, see how you can build your own Christmas tree from paper below.
5. Advent Calendar
Make your own advent calendar out of brown paper bags, gift bags, multi drawer organiser, cake boxes, tubes, jars, shoe organiser and more. The important bit is to have it labelled with the number 1 to 25 and add your own Christmas touches. Here are some examples to get you inspired.
6. Decorative gift boxes
Use delivery boxes of various sizes, wrap them up in Christmas wrapping paper, finish with ribbons, hang or place under Christmas tree. Colour co-ordinate your ribbons and wrapping paper, stick to a fixed colour scheme i.e. same set of wrapping papers and ribbons and you can't go wrong.
7. Good old Christmas Cards
Place them on fireplace mantle, side tables, tv bench or any surface you can find. If you don't have the room, stick them on the wall. And if you don't have wall space, string them together or individually and hang them with strings or colourful ribbons. If you choose to string and hang them, use white tack adhesive putty so the don't leave any marks after.
8. Front Door
Wreath aside, there are many ways to dress up the front door for Christmas. Ribbon wrap the front door and add your home made wreath from above. If you have an all white front door, make a snowman, adding 'charcoal' eyes, mouth, buttons and even add carrot for nose, scarf and a top hat design. Here are some front door Christmas decoration for inspiration.
BONUS: Outdoor decorations
Make Christmas decorations from willow and twigs. Things you can make include stars, hearts, snow man, wreath, reindeer and more. Here are some examples.
Finally, make everything better with LED wire lights.
More Origami Resources over at colourmylearning.com