Hosting Christmas dinner goes beyond just preparing a seemingly never-ending array of food. Ensuring that your home tree and all it's lights and decorations are perfect and all the presents have been bought and wrapped…it is almost always a given that the table too needs to be at it's best. Typical Christmas table centrepieces have always been centred around wreaths and candles but it doesn't have to be just a pretty sight. Here are our suggestions for the ultimate foodie table centrepieces. Not just pretty but immensely edible too.
1. Filled brioche centrepiece with baked-camembert
Top of our list is the BBC Goodfood's filled Brioche Centrepiece. In this ultimate luxury Christmas bake, home-made brioche buns are filled with a variety of fillings, from quince to mushroom pate to roasted garlic and baked in a wreath shape.
While you may have to start the day before, preparing the dough, with a stand-mixer it is a fairly easy task. Once done, it's a case of leaving it over night to rise well. The dough is then divided in to five logs which are then divided again in to five buns. Each of the 25 buns are filled with the various filling and arranged around the mould-space of the baked camembert. Ten in the inner circle and 15 for the outer ring.
Actual baking time, with the cheese in place takes only about 15-20 minutes, so it is the perfect hands-off, quick bake that will give guest a beautiful, edible centrepiece.
Find the recipe here: Filled Brioche Centrepiece with baked-camembert
2. Cheesy Christmas tree bread
A Gouda Life's wonderfully festive Christmas tree bread rolls are a perfect starter-slash-centrepiece for any Christmas table. This inspired quick cheat bake is made for refrigerated pizza dough and both filled and topped with both mozzarella and parmesan cheese. The dough is divided into 30 portions filled with mozzarella and arranged into a Christmas tree shape. The balls are placed barely touching and then brushed with egg wash.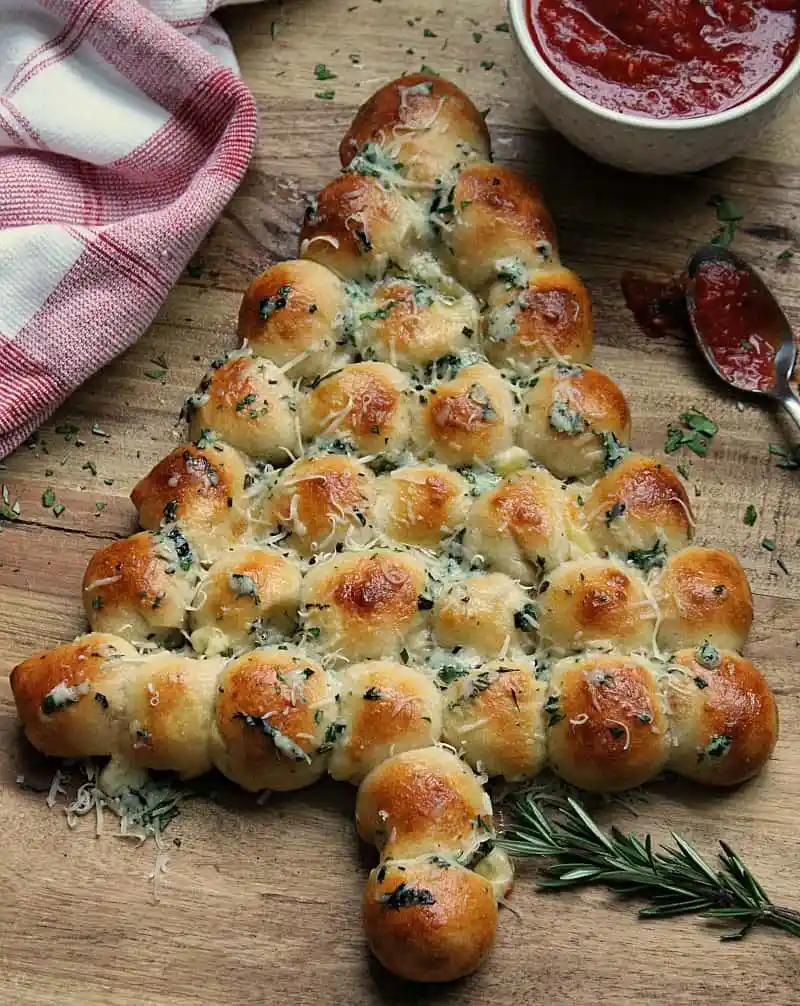 With a generous sprinkling of fresh rosemary, basil and parsley on top to finish off, the Christmas tree is then baked for 16-18 minutes. This festive bake can be served on it's own or with a dip – tomato-ey marinara, braised beef ragu or a buttery garlic butter scallops. All wonderfully scrumptious.
Find the recipe here: Cheesy Christmas Tree Bread
3. Cupcake Christmas tree
While the first two recommendations have been appetiser bakes, the Cupcake Christmas tree, also by BBC Goodfood is beautifully festive way to both decorate your table and present individual desserts.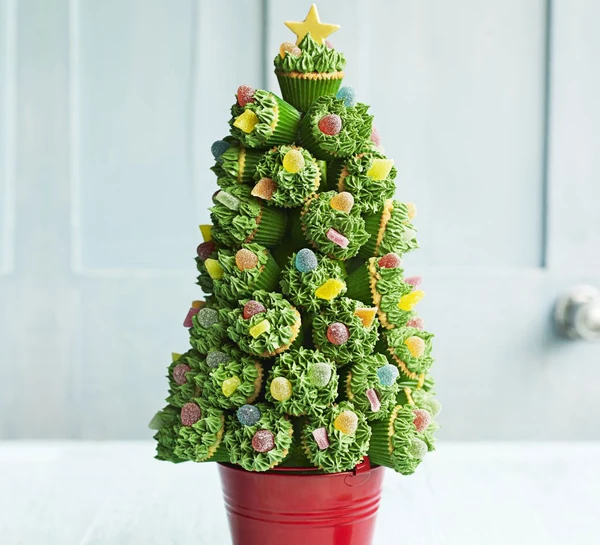 To make the cupcake Christmas tree, you will also need a (12 cm) cone-shaped foam and a plant pot in which to hold the cone. A total of 48 mini cupcakes are needed to cover the surface of the cone, although some reviewers have suggested having more (up to 56) if the cakes are packed in tightly.
The frosted mini cupcakes are mounted on the the foam base with cocktail sticks and then decorated with jelly sweets. While the example here is with green icing and sweets, an equally more grown up version can be created with white icing and silver and gold cake decorations. A large chocolate star is used to decorate the top of the cupcake tree.
Best of all, this tree can be made in advance as the cakes will last up to three days.
Find the recipe here: Cupcake Christmas Tree
4. Charcuterie Wreath and Grazing Boards
Grazing boards and charcuterie wreaths are a perfect edible centrepiece especially for the presentation of starters and appetisers. Depending on how many guests you have visiting or even how much edibles you would like to place out, you can arrange, organise and design the board to suit your needs and favourites.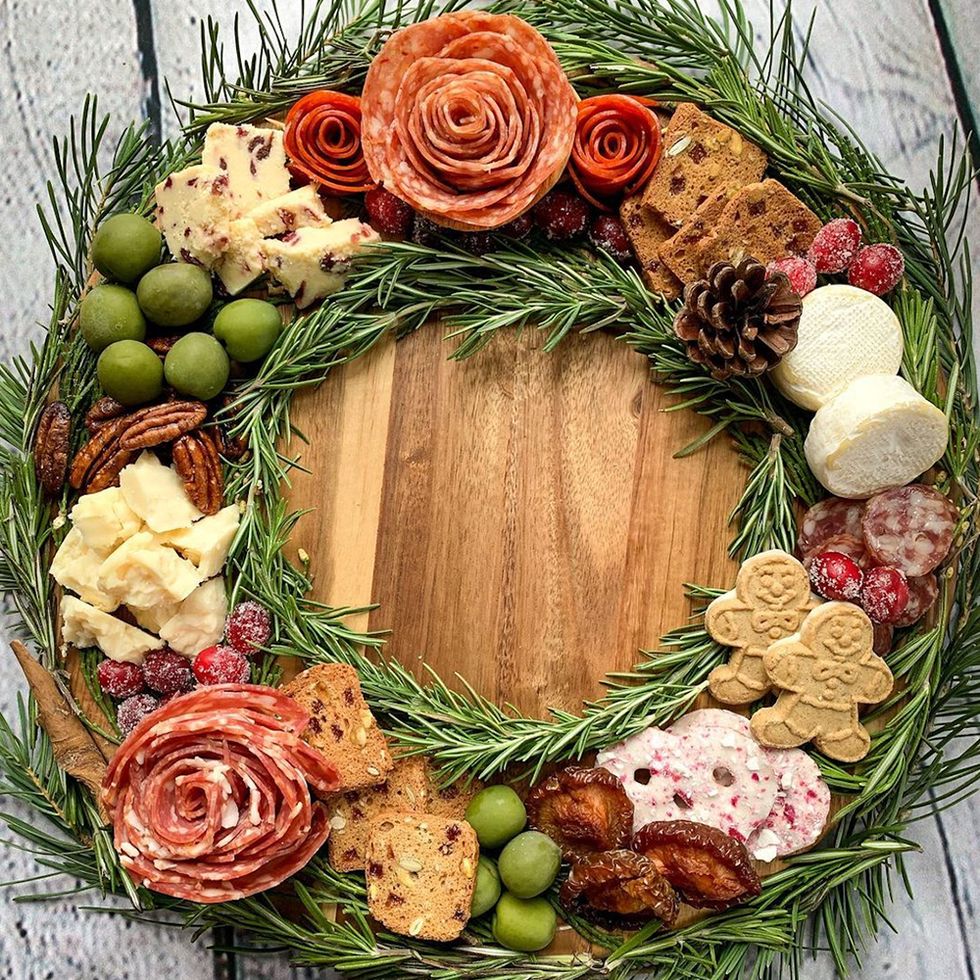 More details at Cosmopolitan: Charcuterie Wreath Christmas Appetiser
Start with a variety of sliced cheese and crackers, followed by bite-size fruits, such as cherry tomatoes, grapes and berries,  and create an organised array placed at different points on the board. Try to ensure that the different varieties of food and fruits are well distributed making it easy for the guests to reach.
Make sure to include a range of dried cured meats such as prosciutto, German ham, and Spanish Jamon. Thinly sliced pieces of meat can be arranged to form different floral shapes or roughly folded in to quarters and arranged in curves. Use small pots of dips to fill spaces and use herbs such as rosemary and dill to add colour variation.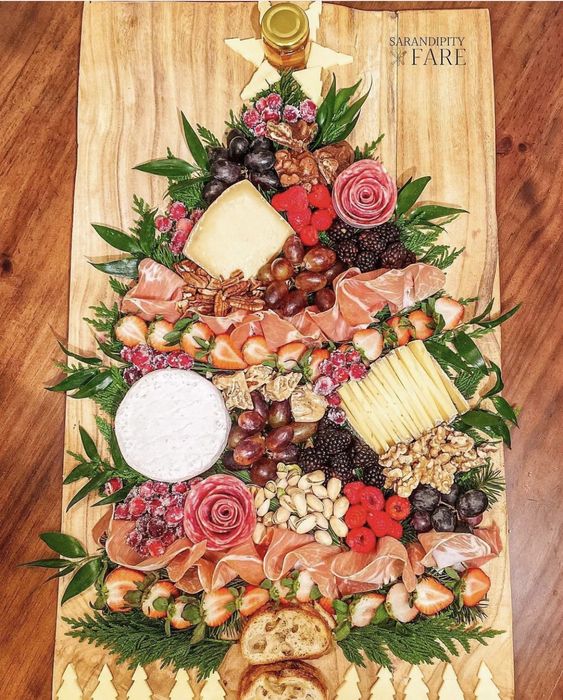 Find the recipe here: Charcuterie board with Charc Bites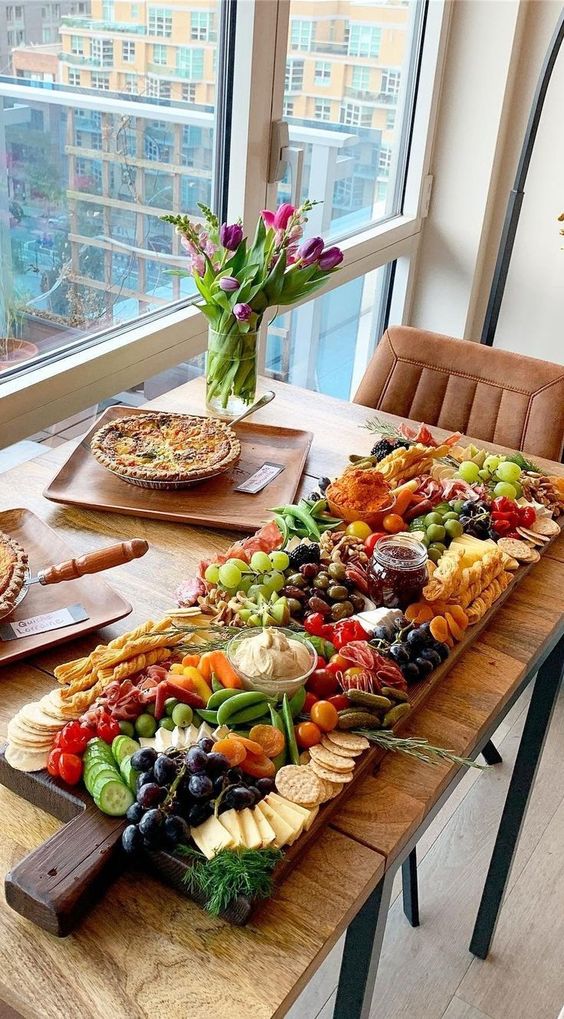 5. Fruit Christmas Tree
A mini edible Christmas Tree on the dining table is a perfectly enticing start to any Christmas meal, more so if the tree is made of healthy fruit. It is also the perfect family activity, to get the kids involved in helping to create the centrepiece.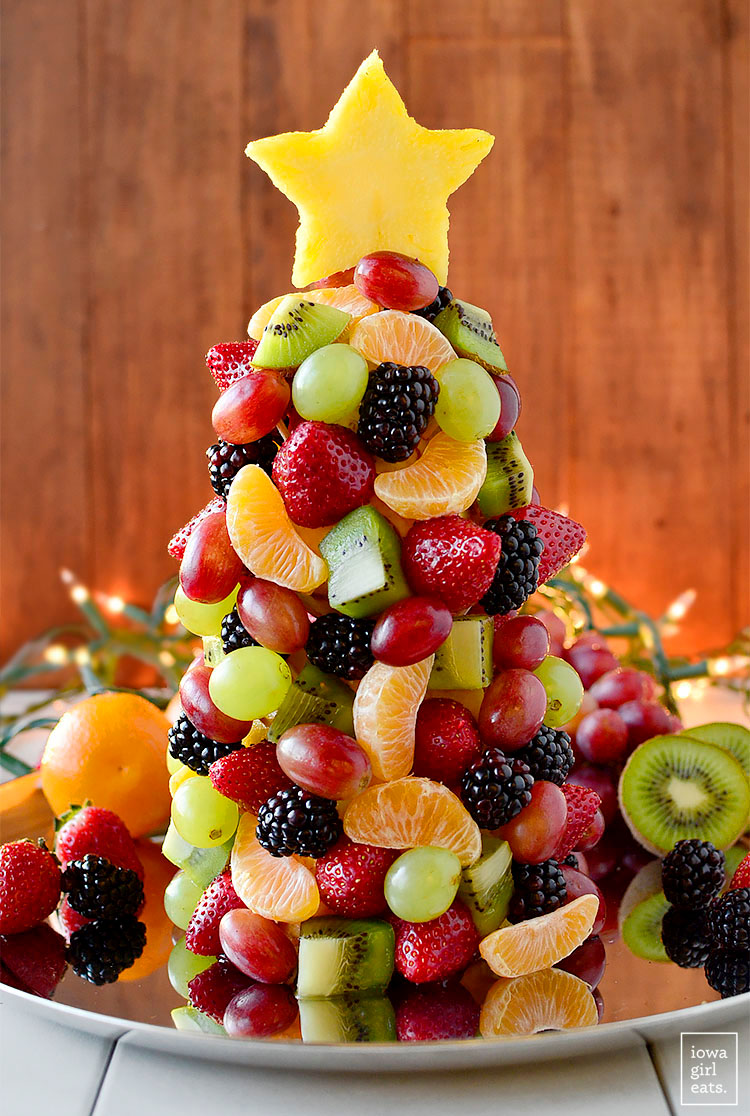 Using a cone-shaped pineapple as the base, different types of fruit, strawberries, grapes, cut kiwi, clementine pieces are attached to the base with cocktail sticks. A star is shaped from the pineapple is placed at the very top of the fruit 'tree'.
Find the recipe here: Fruit Christmas Tree
While a 3-dimensional Christmas tree is very enticing, a layered tree placed on a wooden board is no less attractive.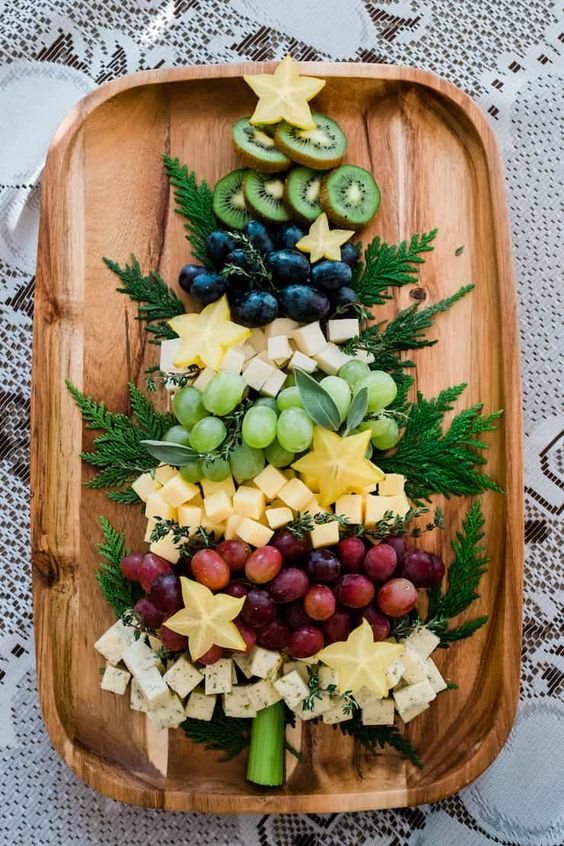 Alternative fruits with a variety of cubed cheeses, a Christmas tree shape is formed on a base of some fir leaves. If you can get hold a the tropical starfruit, it is the easiest solution to star shapes. Alternatively cut out some stars from pineapple.
Dressing your table, with candleholders, table cloths, napkin rings and specially reserved tableware ensures that the annual Christmas meal is made special. Table centrepieces do not have to be 'once displayed then hide away'. Foodie centrepieces are not just a perfect talking point and also an amazing way to ensure guests are welcome and relaxed with the ability to 'tear off a bite', pick a cake or simply graze from your welcoming centrepiece.