STOP, TAKE A BREATH, INHALE – EXHALE… If the stress this Christmas season is getting to you, and the thought of the multitude of preparations for the kitchen and gift buying is getting to you. Take a breather and try colouring. (Read our earlier post on why we think colouring for adults is great.)
Whether you're already a fan of colouring or new to it, you'll love these Christmas themed adult colouring books, just in time for the season.
Tis the Season to be Colouring
Here are 12 of the best and popular Christmas Colouring Books for adults in the market right now. These colouring books received their fair share of great reviews and are worth looking into if you are considering one for yourself or as a gift.
Creative Haven Snowflake Mandalas Coloring Book 

by

Marty Noble

Santa's Cats: Christmas Adult Coloring Book by Jason Hamilton

Christmas Coloring Book for Adults Fantastically Festive Patterns and Designs for Christmas Sparkle by Grace Sure

Creative Haven Christmas Trees Coloring Book by Barbara Lanza

Christmas Coloring Book: A Stress Management Coloring For Adults by Penny Farthing Graphics

Christmas Designs Adult Coloring Book by Peter Pauper Press

Creative Haven Vintage Christmas Greetings Coloring Book by Marty Noble

Coloring Christmas: An Adult Coloring Book by Paige Tate and Ashley Greenstone

Christmas Around the World Coloring Book  by Joan O'Brien

Merry Christmas Adult Coloring Book 

by

Bella Mosley

Home for the Holidays: A Hand-Crafted Adult Coloring Book by Galadriel A. L. Thompson
Let's take a closer look at each of these.
by Marty Noble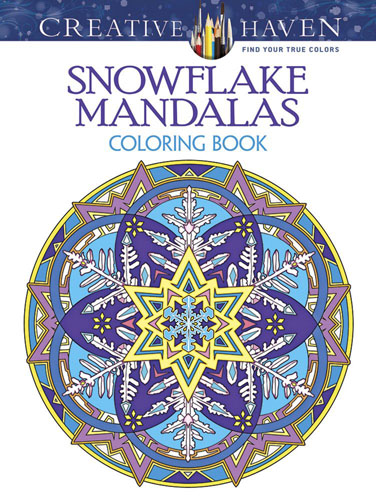 The book includes 31 mandalas inspired by snow flakes, with circular and star shaped patterns in a kaleidoscopic fashion ready to be coloured in. Pages are perforated and printed on one side only for easy removal and display.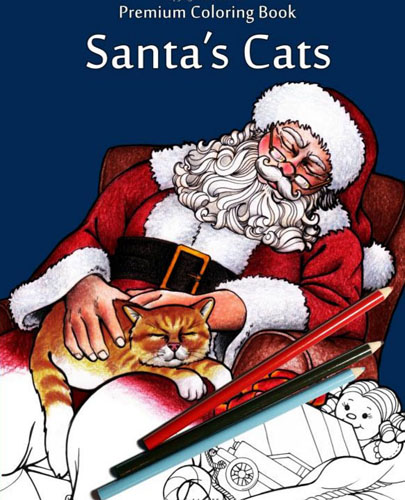 Great for people who love cats, the colouring book has 24 beautiful illustrations of Santa and his cats each in two sizes either full page or 4″ x 6″. The prints are single sided and once completed can be framed.
by Grace Sure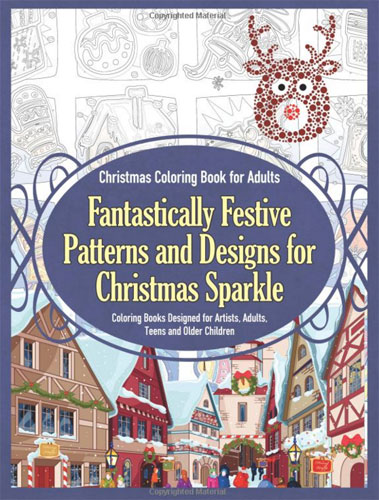 The book has 40 full page detailed christmas inspired designs and patterns plus an extra 10 full page bonus creative designs from Grace Sue's other adult colouring books. Prints are single sided 8.5 x 11-inch pages on high quality paper ready to be framed once completed.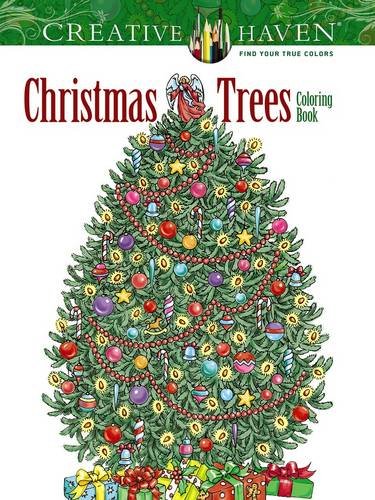 Over 30 Christmas trees to colour in each beautifully and artfully decorated. There are traditional as well as contemporary trees with themes that include Victorian, Floral, Tropical and Woodland. Pages are perforated and printed on one side only for ease of removal and framing.
by Penny Farthing Graphics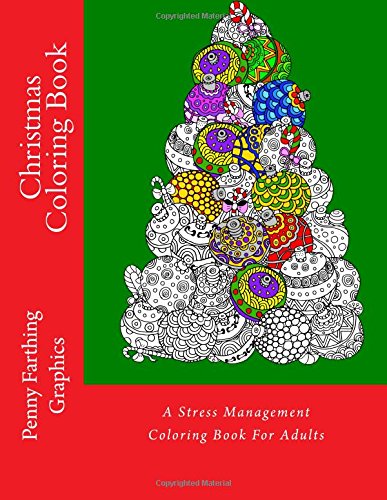 One of the biggest collection of images in all the colouring books featured here, there are 60 hand-curated images from artists all over the world. From Christmas trees, oodles of ornaments, snowy winter scenes, cute gingerbread houses and whimsical snowmen to many other charming images with each printed on its own page to reduce bleed-through.
by Peter Pauper Press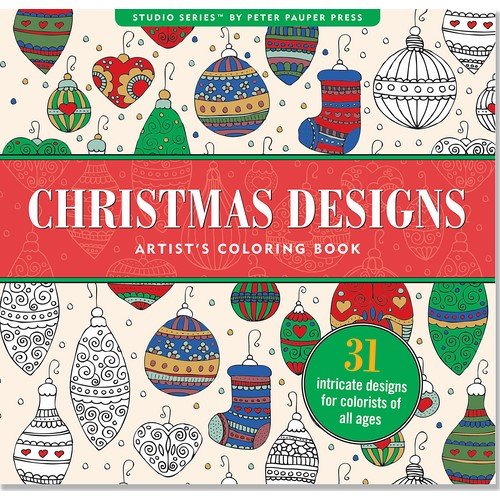 Colour in 31 full page Christmas inspired designs, there is one for everyday of December. Single sided printing on heavyweight acid free paper completed with micro-perforation for easy removal and framing, the book measures 9.5 inch wide x 9 inch high (square).
by Marty Noble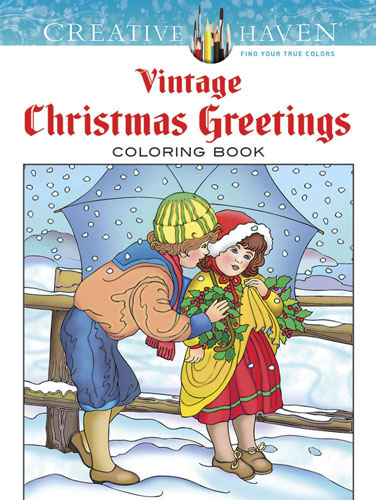 Over 30 vintage holiday greetings to colour in, 31 to be exact, each derived from rare sources. These detailed images are recreated from authentic vintage holiday greeting cards of a century ago. Great for the nostalgic and for those who love everything vintage and old-fashion.
by Paige Tate and Ashley Greenstone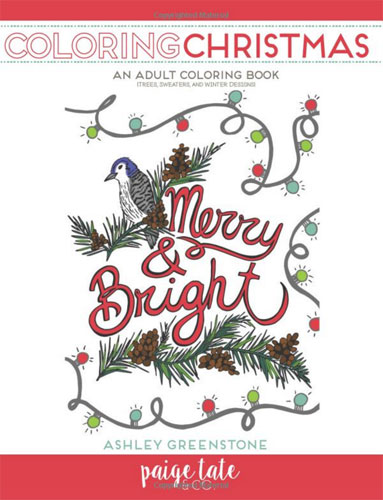 Trees , sweaters, gingerbread houses, mistletoe and winter designs are some of the 32 illustrations from Ashley Greenstone and published by Paige Tate. The book is made up of 25 full page illustrations printed one per page on light weight and bright white paper. Makers and gel pen will bleed through so only use colouring pencils. Two of the 25 illustrations continue into the binding while others have a small border and most of them (22) have text in them.
by Joan O'Brien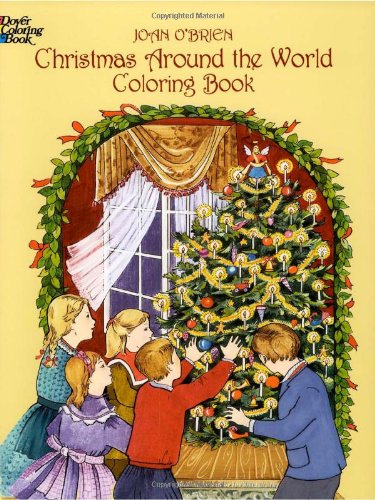 Learn how Christmas is celebrated around the world by coloring 30 pictures of young carolers in Great Britain, Mexican children playing under a piñata, a Swedish girl wearing a traditional crown of candles, Greek children parading with drums and triangles, an Australian family picnicking on a beach, and more.
by Bella Mosley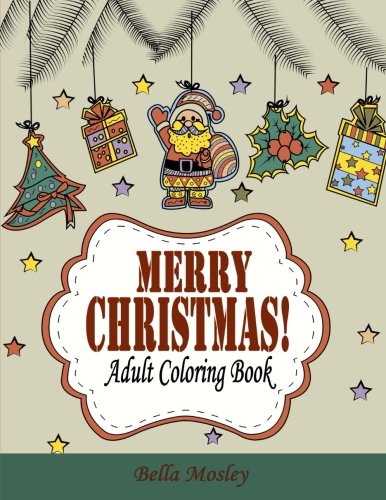 Over 30 fun and creative Christmas images that features: Santa on a sleigh, creative Christmas trees, cheerful reindeer, decorated ball and lights, dinging bell, delightful snowman, charming presents, nativity scene, dazzling snow flakes and much more. Each printed on single page to avoid bleed through and for easy framing.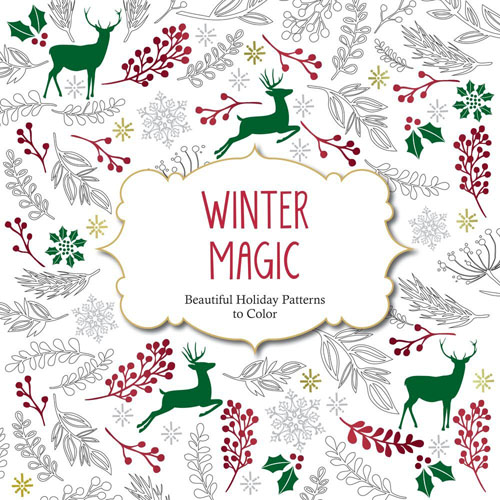 A square 9 inch by 9 inch book with 88 holiday patterns printed front and back (double sided) on medium weight bright white paper so colouring pencils and gel pens only. 53 of the illustrations have black backgrounds so use bright colours here and the rest (35) come with white background.
by
Galadriel A. L. Thompson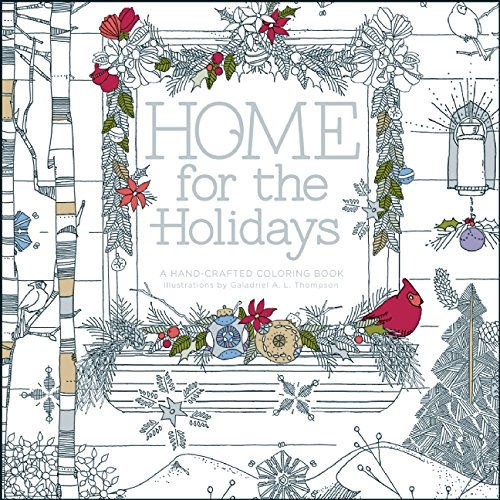 Beautiful adult coloring book with many pages of hand-drawn Holiday designs with a focus on Nature including a branch, holly berries, birds, deer, wreaths, ornaments, snowflakes, trees (Christmas and outside birch), candles, garlands, deer, holly, and even a kissing ball among many more designs.
The designs are printed double-sided on a good heavyweight white paper so colour pencils and gel pens only, no marker. The pages are perforated for easy removal. There are four designs which appear to be spread across two pages and which will be divided if you remove the pages from the book. The good news is that they can easily stand-alone as single page designs.
OTHERS
The Magical Christmas: A Colouring Book by Lizzie Mary Cullen 
Colour Me Christmas (A Really RELAXING Colouring Book) by Elizabeth James
Christmas Garden: Colouring Book by De-ann Black
Also: Festive Christmas: Colouring Book
Christmas Coloring Book for Adults by Celeste von Albrecht