Memories of convivial gatherings around the campfire at dusk, sharing laughter, exchanging stories and jokes are definitely happy memories for so many of us. Whether it was camping in the wild with family, or the nightly gatherings at summer camp, the smell of toasted marshmallows and being wrapped up in a warm rug, gatherings around a fire are always memorable.
A simple way to recreate this experience at home is with the modern fire pit. Not only do they allow a fire to be safely lit, but in many cases, you don't have to suffer on the sandy floor nor uncomfortable tree trunk. Instead everyone can sit perfectly comfortably surrounded by friends on patio dining furniture with the fire pit as a centrepiece.
Top 5 Best Fire Pits with BBQ Grill for Cooking
Here we have purposefully focussed here on fire pits that can double up as a bbq grill and in some cases, can even be used as an ice box to cool your drinks on a hot summer afternoon.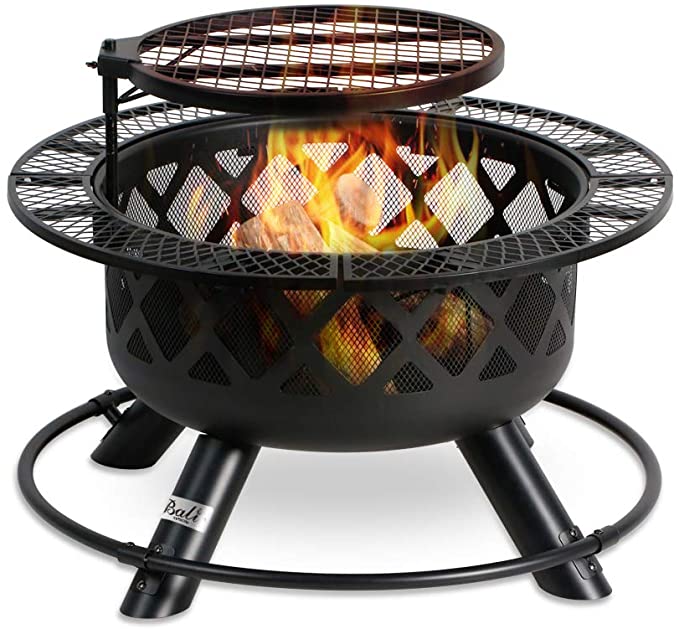 The Bali Outdoors Wood Burning Fire Pit is our top choice with a sturdy base raised above the ground on four legs. The circular steel ring bowl is enclosed in a mesh allowing for better ventilation. A convenient ring serves as a holder for items that you may wish to rest drinks or grilling utensils. The grill itself is an adjustable plate that and both rise up and down and swivels over the fire
What we love: the adjustable swivel grill makes this the perfect option for both enjoying the warn toasty fire and throwing some burgers or sausages on the grill for a last minute barbecue.
Made from durable steel, the FireBeauty Fire Pit is a pit that is raised 22" above ground on four sturdy legs. The fire bowl itself sits snugly within the raised holder with a grill, a mesh spark screen and a built-in wood grate. The grill is the perfect size for a couple of burgers and sausages for that last minute evening meal.
What we love: it comes with its own poker and a tote bag for carrying logs.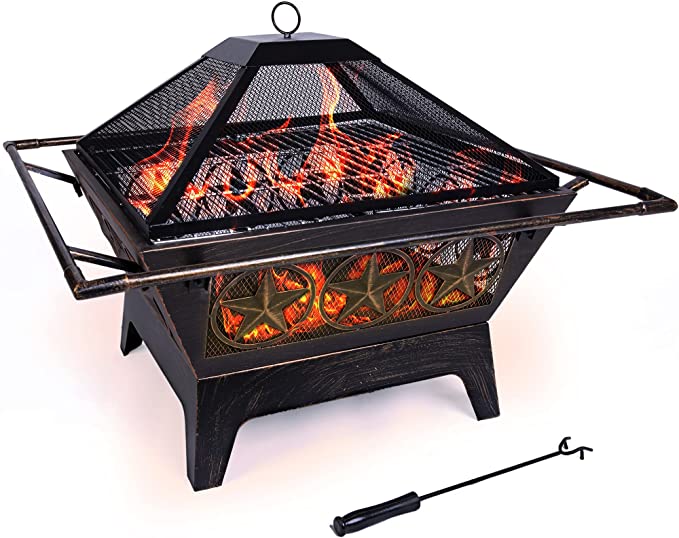 This square heavy duty tire pit is large at 32 inches square. The fire pit itself is made of heavy duty steel and finished with high temperature heat and rust resistance. The wire mesh surround allows the fire to be observed easily while it's mesh spark screen ensures safety at all times. The large square open space makes for easy cooking on the included grill grate.
What we love: rail feature adds an additional security dimension and makes cleaning easy.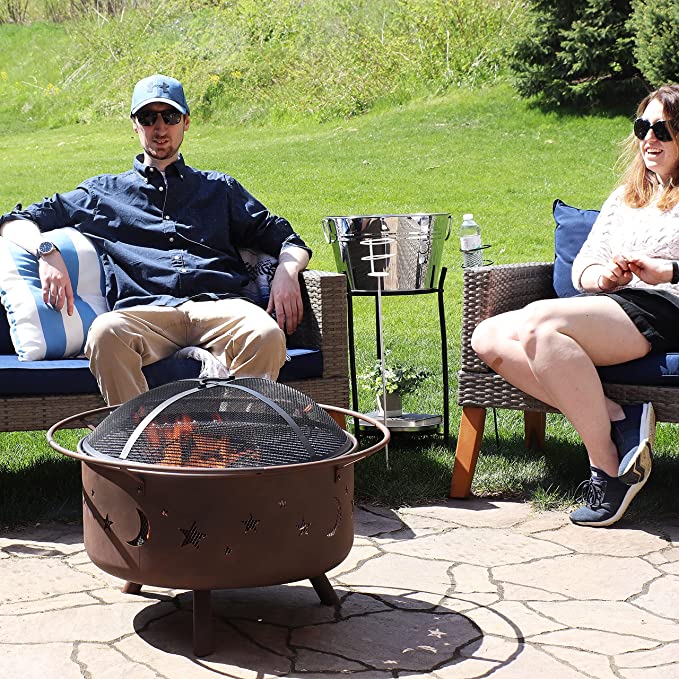 This low to the ground fire pit is a gorgeous example of artistry meets functionality. The fire bowl itself is made of thick heavy duty metal with star and moon cutouts that are back lit by the fire. Supported by three angled legs that provide stability, this fire pit is quick and easy to assemble and given its slightly smaller size more easily transportable. The included cooking grate offers the perfect opportunity for cooking and grilling around the fire.
What we love: the deep fire bowl with the artistic star and moon cutouts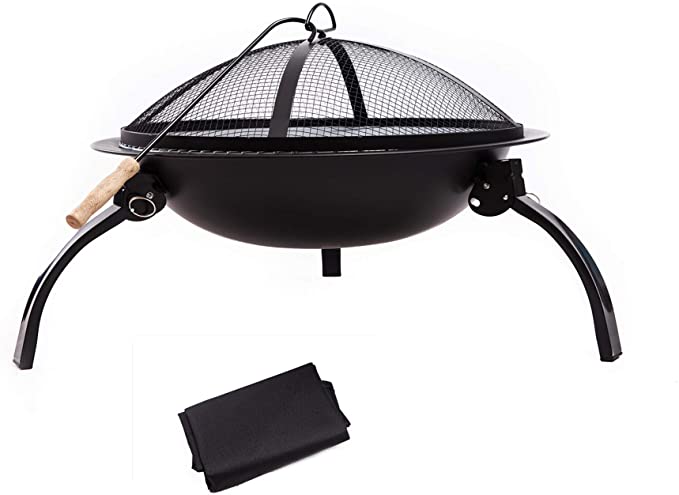 The ultimate portable fire pit with fold-up collapsible legs and it's own carrying bag. The Taponukea is perfect if you're on the go and looking to set up a camp-fire safely in mere minutes. Slightly smaller than the typical home fire pit, this one is designed with portability in mind and with its grill grate and fire mesh fitting perfectly in to it's own case, it's perfect for that weekend in the country.
What we love: super easy to pack up and go with it's own carrying case
Fire pits used to be the main outdoor garden attraction as the cooler autumn nights started drawing in and we tried to maximise our time outdoors wrapping up warm with fleece throws and streaming mugs of hot cocoa. No longer though, the fire pit has grown up to become a multi-purpose requirement that serves all through summer as well.
Safety Instructions and Warning on the Use of Outdoor Fire Pits
Instructions for Use:
Location: Place your fire pit on a level surface, at least 10 feet away from any structures, overhanging branches, or flammable materials. Ensure the area above the fire pit is completely open without any roof or covering.
Surface: Use on a non-flammable surface such as brick, stone, gravel, or a heat-resistant fire pit mat. Never place directly on wooden decks or grass.
Protection: Use a spark screen to prevent embers from escaping. Always have a fire extinguisher, bucket of water, or garden hose on hand.
Fuel: Only use recommended fuels such as seasoned hardwood or natural gas, depending on your fire pit type. Do not use soft woods like pine or cedar, as they can pop and throw sparks.
Lighting: Never use gasoline, kerosene, or other flammable liquids to start or 'freshen' a fire. If using a gas fire pit, check connections for leaks before igniting.
Supervision: Never leave the fire pit unattended while in use. Keep children and pets at a safe distance at all times.
Extinguishing: Ensure the fire is completely extinguished before leaving the fire pit area. If you've used wood, allow the ashes to cool completely and dispose of them in a metal container.
Maintenance: Regularly remove ash and debris. Check for damage or wear before each use. Do not operate if any part is damaged – replace as necessary.
Local Laws and Regulations: Always check and comply with local fire regulations before lighting an outdoor fire pit. Some areas have specific bylaws regarding the use of open flames in residential areas.
By adhering to these safety guidelines, you can enjoy the cozy allure of your outdoor fire pit while minimizing the risk of accidents. Always prioritize safety over convenience to protect yourself, your loved ones, and your property.