If you are self-employed, an entrepreneur or work from home and in need of a dedicated workspace, a garden office is just what you need. A dedicated workspace nestled in the tranquility of your garden can enhance productivity and provide a clear distinction between work and home life. But what does it take to create an ideal garden office? Let's explore the essentials.
1. Design
The first step is selecting the appropriate building for your garden office. Whether it's a converted shed, a purpose-built pod, or a log cabin, it should be insulated and weatherproof to provide comfort year-round. Large windows are also desirable for natural light and to enjoy views of the garden, which can boost your mood and creativity.
You may seek inspiration from the thousands of interior design inspiration boards, Pinterest, and Instagrams available online. Figure out if you wish to go for a contemporary look or an artsy retro style vibe.
Once you decide on what you want, you would ideally need to employ an architect or a garden building designer to design the layout for you. Some important things to be considered for the design are spacing, layout, materials, ventilation and drainage. Since this office is separate from the house, you also need to consider its structure and foundation.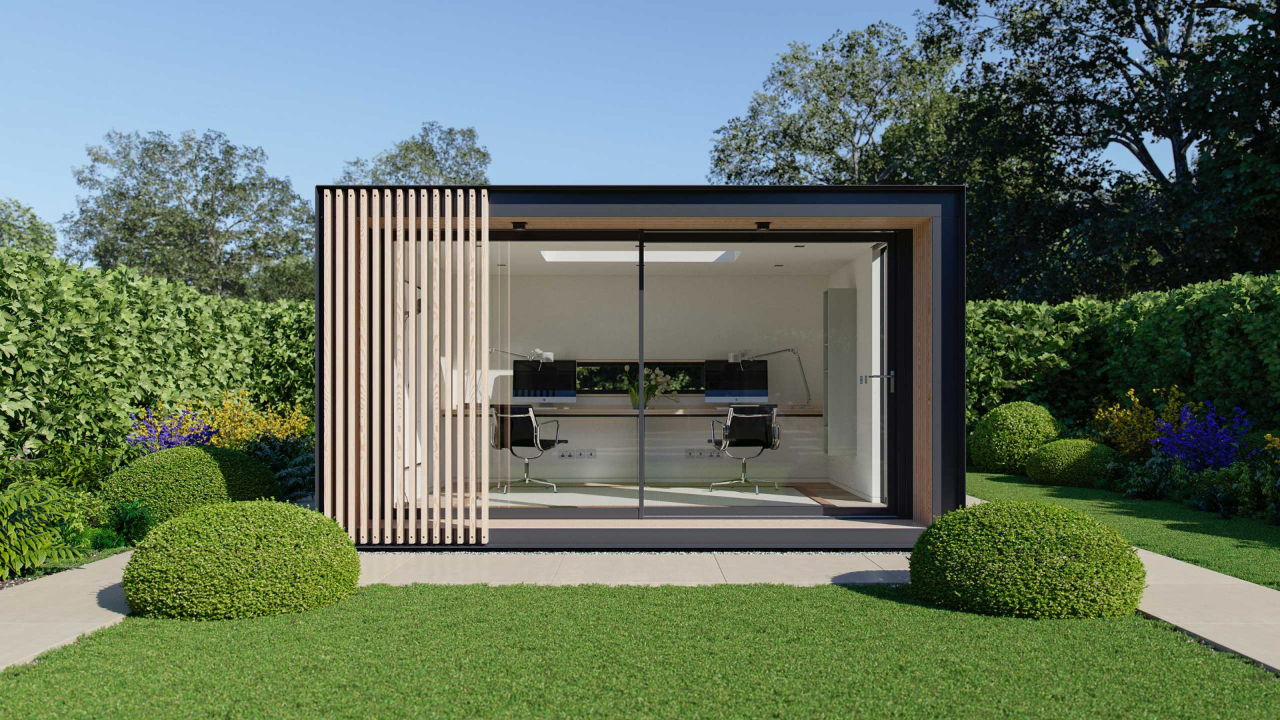 2. Construction plan
Construction plan is another thing you need to consider for a garden office. Choose the best possible site for construction. It needs to be conveniently located and should not become obstructive of any paths or walkways.
You would ideally want to hire a contractor to oversee the construction plan, including procuring building resources, tackling the red tape, and managing the labour. You may need to acquire permission to set up your workspace if your region requires you to do so. 
3. Power and connectivity
A reliable power supply and internet connection are non-negotiable for a functional garden office. Consider the logistics of extending your home's electricity and Wi-Fi to your garden room. Employ a professional to ensure safe installation, and consider sustainable.
For the sustainable option, you may opt for the installation of renewable energy sources like solar panels and residential windmills to save on energy bills. Remember to factor in batteries to store the charge for round-the-clock power. With enough sunlight, your garden office can even be totally off grid.
For Internet, a wired connection (Ethernet) is more stable than Wi-Fi, or you could opt for a separate internet line for your office. If you need to rely on your home's WiFi, get a strong repeater or invest in a mesh network. 
4. Insulation
Insulation is a highly significant aspect of any construction. Good insulation can establish a comfortable working environment and save up on energy costs by lowering the need for cooling and heating systems in your office. Insulation also plays a role in noise reduction, which allows you to work comfortably in a peaceful environment without noise interruptions. 
You can get the best insolation in the form of double glazed windows, concrete blocks, polystyrene foam boards, reflective systems or fiber insulation. You can invest in one according to your needs and affordability.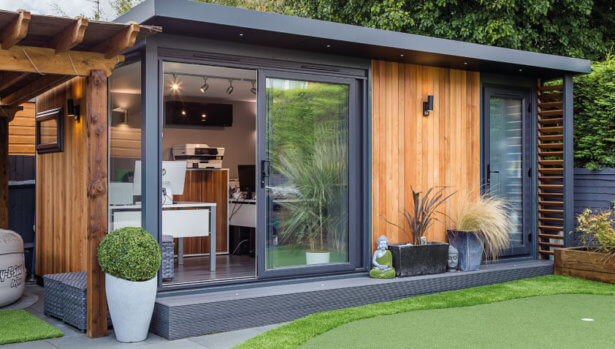 5. Climate Control
Your garden office should be a comfortable working environment regardless of the weather. Good insulation will minimize the need for heating in winter and cooling in summer. Additionally, consider a high-efficiency HVAC system, or for smaller spaces, a portable air conditioner or fan, and a space heater might suffice.
6. Windows and doors
Windows and doors are a key part of office design. Strategic positioning of windows ensures an ideal view for a productive and serene working environment as well as provides good ventilation and lighting. 
Adequate natural lighting will minimise the need for electric lighting and cut down on energy costs. Good natural ventilation can prove to be refreshing as well as keep your environment cool and temperate through cross ventilation. 
7. Lighting
While natural light is ideal, you'll also need good artificial lighting. LED daylight bulbs can reduce eye strain, and desk lamps can provide focused task lighting. Soft ambient lighting can be used for early mornings or evenings to create a calming atmosphere.
8. Interior
Interior design sets the whole mood for a productive and functional work environment. You need to take into account the types and quantities of the furniture items you require, including desks, seating and storage. You may wish to contact a local interior designer to give your setup a professional touch. 
Your room can be optimised to a particular theme or set it up for maximum convenience as a workspace. It is useful to create an environment that would suit your working needs, especially if you plan on working for extended periods of time on a regular basis. You would want to pick out comfortable and adjustable seats, an ergonomic desk and maybe even sound proof wall panels to provide yourself with the ideal environment required for a productive and effective working session.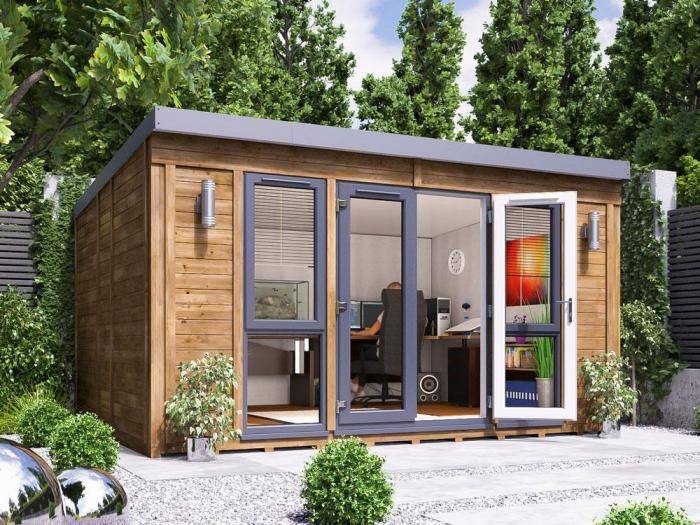 9. Ergonomic Furniture
Invest in good quality, ergonomic office furniture to ensure comfort during long work hours. An adjustable chair that supports your posture and a desk at the right height are essential. If space allows, an ergonomic standing desk can be a valuable addition for those wanting to alternate between sitting and standing.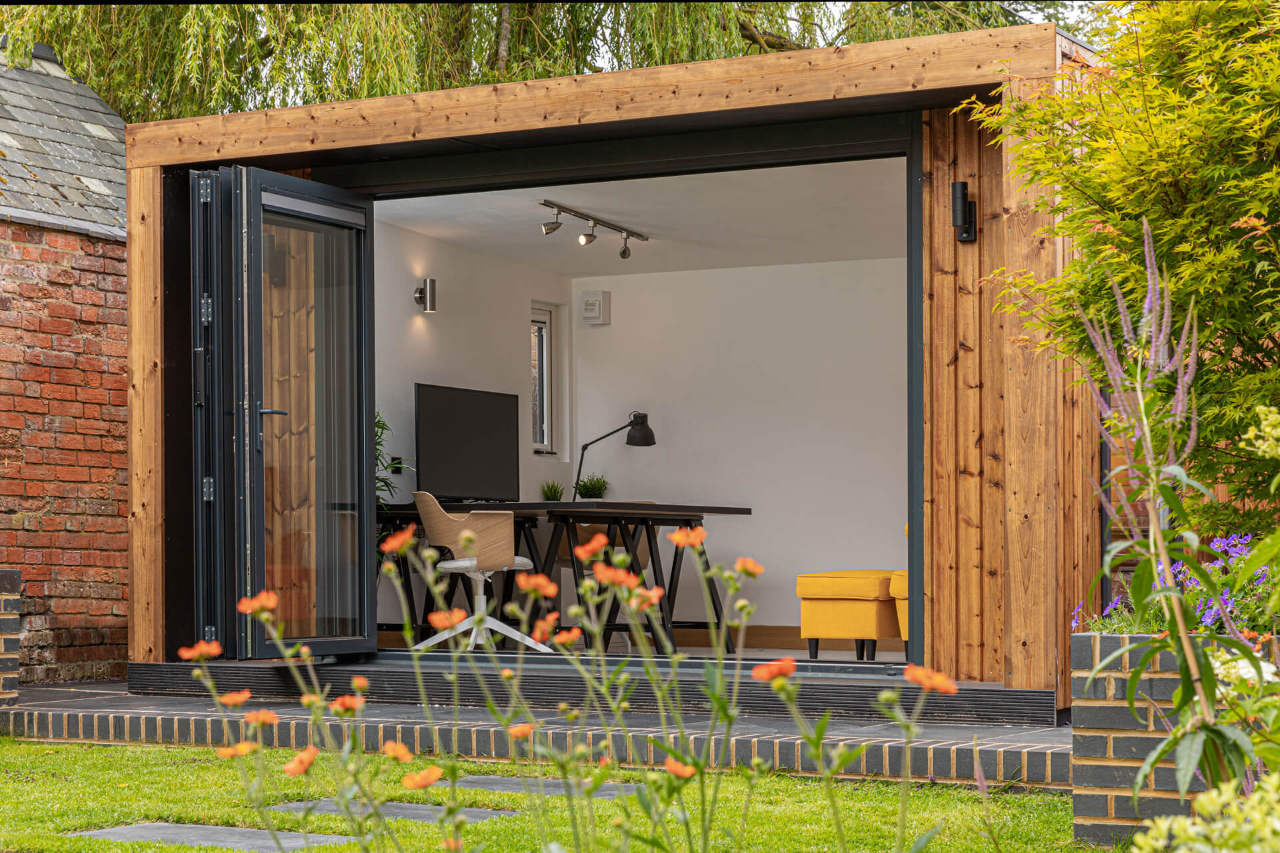 10. Storage
Every workspace requires some storage. Effective storage solutions will keep your office organized and clutter-free. Built-in shelves, cabinets, and desk organizers can help maximize space. A safe and well-constructed storage unit can take care of all of these by providing great organization and physical safety.
It is wise to invest in a file cabinet or a covered book rack where sensitive documents, equipments and other resources can be kept away from dust and moisture. You would also want to opt for a storage unit made either from steel or from synthetic materials other than wood in order to prevent termite attacks. 
11. Decor
A well-designed garden office should be a space that inspires you. Decorate with colors and art that stimulate productivity and creativity. Plants can improve air quality and bring a sense of calm, a bit more on this next. Personal touches like photos or a small coffee station can make the space more enjoyable to work in.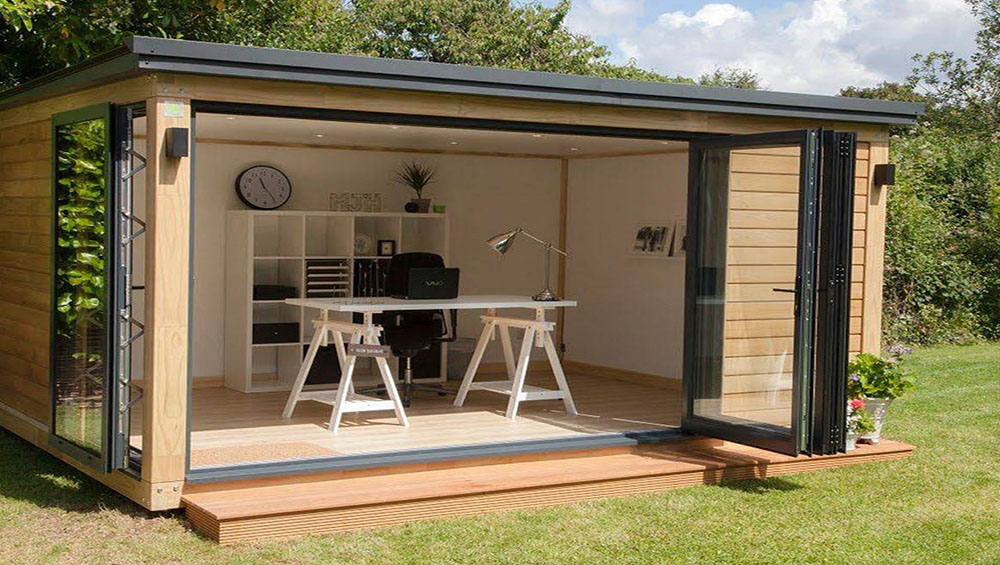 12. House Plants
House plants are a great idea as well! They will provide you with a green environment and a fresher air. You can place them in a planter next to an open window during daylight hours. Alternatively, invest in a smart indoor garden which could automatically water and nourish your plant to keep them in good shape. Plants would also absorb air pollutants from your work environment and keep you healthy and your respiratory system safe. 
13. Acoustics
Good acoustics are important to minimize distractions. If you're in a noisy area, soundproofing might be necessary. Inside, soft furnishings, rugs, and fabric blinds can help absorb sound and reduce echo.
14. Security
Security is paramount, especially if you're keeping technology or confidential documents in your garden office. Install robust locks, an alarm system, and consider smart security cameras for peace of mind.
15. Building Permits and Insurance
Before you begin, check local zoning laws to see if you need a permit to build a garden office. Also, talk to your insurance provider to ensure your office is covered under your home insurance policy.
Final Thoughts
A well-designed garden office is a sanctuary that can foster productivity and mental well-being. It requires thoughtful planning and investment, but the return is a serene and dedicated workspace that promotes work-life balance. With the right setup, your garden office will not only be a place of work but also a testament to the comfort and joy that nature and design can bring to your professional life. We hope it was helpful and provided you with some valuable insight into the requirements and considerations for the topic.
ZG