Coats and scarves, caps, hats and handbags, these things have a way of building up and getting out of hand and, coat hooks in the hallway are typically the perfect solution. But move over, boring old traditional wall hooks.
When you need to mount a coat hook on a wall, it's so easy to just go for the most practical solution. But with a little bit of digging, we've found some of the most gorgeous wall hooks, that are not only functional, they are creative pieces of art in their own right. So even when not in use, these wall hooks, will dress up the wall on which it is mounted.
They range from the exciting Umbra's Subway-themed hooks to nature-inspired birds on a branch, cast-iron antlers or how about an inspiring, yet functional city sky-line.
1. Umbra Subway Coat Hooks – 10 Hooks
One of the most creative coat hooks we have come across and practical too with 10 hook attached, the Umbra Subway Coat Hooks is made from powder coated steel. Mounted properly, each hook can hold up to 5 pounds. It looks great even without any items of clothes hanging on it as it will just act an a wall decoration. Credit to its designer, Alan Wisniewski.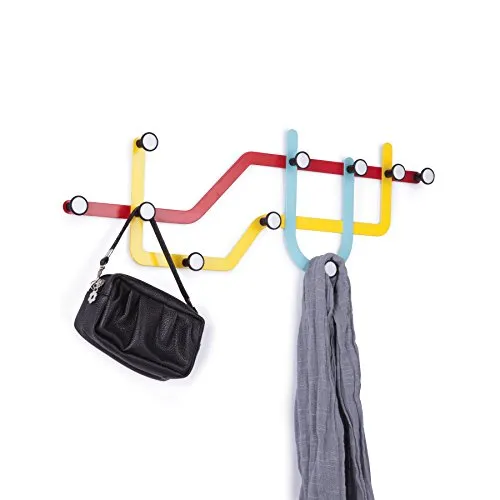 Umbra Subway Coat Hooks on Amazon
---
2. Coat Rack Shelf Wall-Mounted – 5 Hooks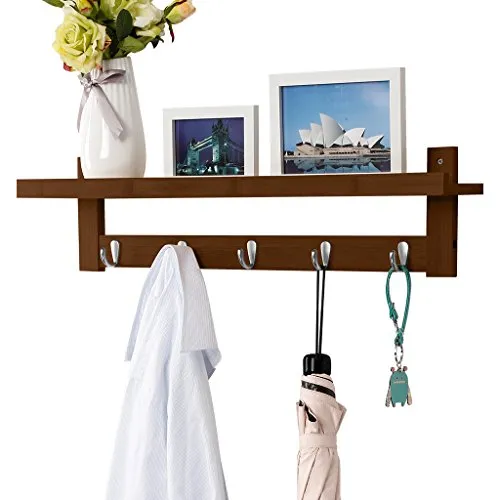 Wall-Mounted Coat Rack Shelf on Amazon
Not only a coat rack but a coat rack with wall mounted hooks and shelf, the Coat Rack Wall-Mounted Bamboo Wooden Hook Rack comes with 5 metal hooks and upper shelf for extra storage. The hooks are great not only for coats and jackets but for bags, scarves, umbrellas and dog leashes. Designed to hold up to 15kg of weight, you can leave all the family's coats and jackets on it and never worry about it fall apart. Just be sure you secure it properly to the wall. Shown here is the brown finish with a choice of natural bamboo colour to suit your taste.
---
3. Umbra Sticks Wall Hook – 5 Hooks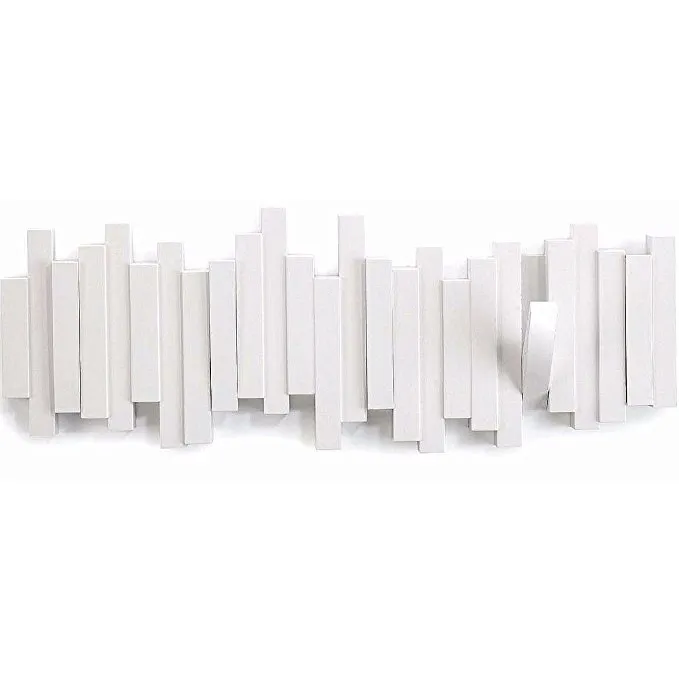 Umbra Sticks Wall Hook on Amazon
The Umbra Sticks 5-Hook Wall Hook available in Espresso, Black or White is a perfect example of Scandinavian inspired design and living. Simplicity and practicality go hand in hand making this wall hook not only look great but works well too. It may take a while for you to identify which of the hooks fold down. The clue is there is a slight gap between the sticks when they are actually the hooks. Otherwise, it gets hidden quite well when not in use turning it into a sort of wall decoration. Great for those whom are after a modern and minimalistic life. The manufacturer claims that each of the hooks can hold up to 5 pounds, just make sure you mount them properly.
---
4. Spectrum Sweep Rack Wall Mount – 5 Hooks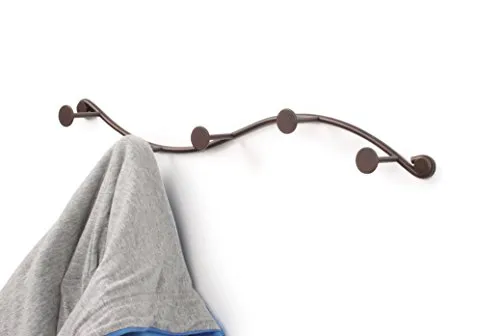 Spectrum Sweep Rack Wall Mount Hooks on Amazon
The spectrum sweep wall mounted coat hooks is a minimalistic coat hook set that is both functional and easy on the eye. The hooks are practical in that they are staggered and rounded. You also get plenty of room between the hooks for bigger heavier coats.  There are altogether 5 hooks in this wall mount set.
Color: Chrome, Stain Nickel or Black
Hang and store your hats, coats, purses and more
Functional as well as stylish
Sturdy steel construction
2″L x 18″W x 2.5″H
---
5. Spectrum Sweep Double Coat Rack – 8 Hooks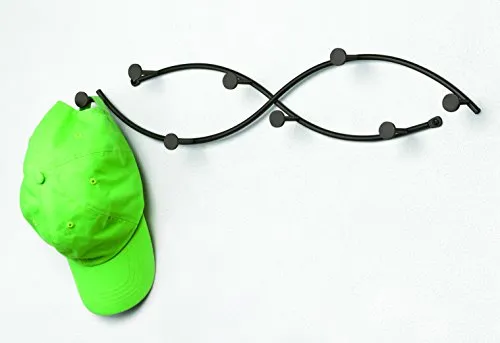 Spectrum Sweep Double Coat Rack on Amazon
If you like the Spectrum Sweep wall mounted coat rack, try two. This double sweep coat rack offers more hooks, up to 8 compared to 5 in the single sweep variety. The hooks are also staggered offering more space between them and ease of use. You get an optimum hanging room for your coats and jackets. Made from sturdy steel rods and rounded off hooks ensures a long service life and protection for whatever you choose to hang on it from hats, coats, purses and more.
---
6. Wall Mounted Metal Hooks Hangers – 6 Hooks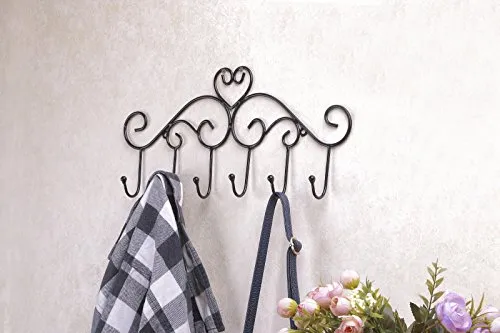 Wall Mounted Metal Hooks Hangers on Amazon
This wall mounted metal coat hooks has a decorative floral design finished with a heart in the center of the hooks. It provides 6 hanging hooks for keys, clothes, coats, hats, belts, towels and scarves. The hooks are even big enough for hanging cooking utensils, cups and bags in the kitchen Garden. To mount the hooks to the wall, all you need is two screws. The screws are included.
---
7. Creative Co-Op Cast Iron Wall Hooks – 5 x 3 Overlapping Hooks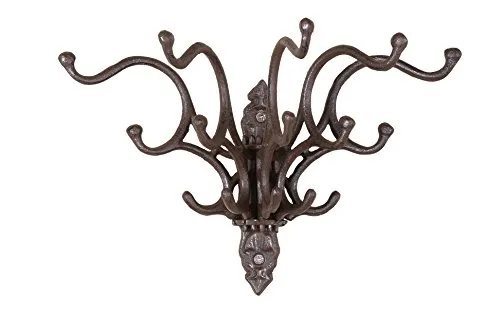 Creative Co-Op Cast Iron Wall Hooks in Rust Finish on Amazon
If rustic and vintage is your thing, this three tiered cast iron wall hook finished in rust colour if for you. There are altogether 15 hooks on this wall mounted set. The hooks are separated equally to allow for room between then. The taller hooks are further away from the wall while the shorter hooks are closer to the center. Together they stagger your items in a way that allows you to easily reach them. Keep things like hats and scarfs on the higher hooks and coats on the lower hooks.
Perfect for the bathroom, hallway or entryway
Made from cast iron with a rust finish
Measures 7.25 x 7.5 Inches
Mounting hardware not included
---
8. Comfify Cast Iron Wall Hanger – 5 Hooks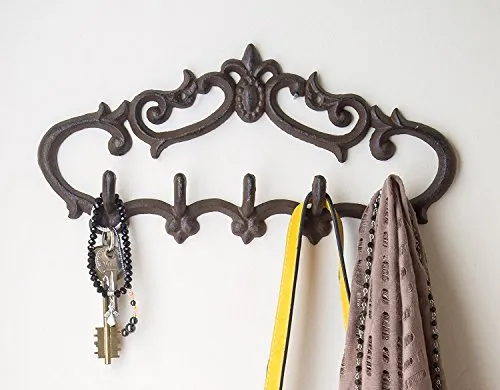 An excellent wall hanger with classy floral motif made from cast iron, the Comfify Cast Iron Wall Hanger offers a vintage feel to any room. It is a great choice for those who wants to introcude a little cottage atmosphere into their living space. It comes with 5 sturdy hooks that you can use for keys towels, shoulder sling bags and more. The decorative wall hanger is great for the doorway, living room, kitchen, hallway or even the bathroom. Being cast metal meant it is made to last and work for a long time. – Keys, Towels, etc – Wall Mounted, Metal, Heavy Duty, Rustic, Vintage, Decorative Gift Idea – 12.9 x 6.1"
---
9. Evibooin Decor Wall Mounted Coat Rack – 4 Hooks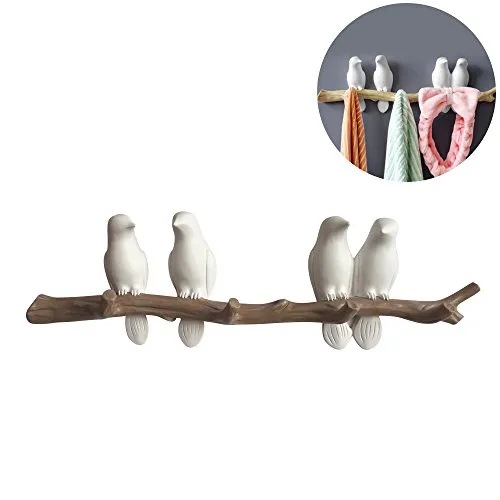 Evibooin Decor Wall Mounted Coat Rack
This unique Birds On a Tree Branch Hanger is a fusion of decorative art and essential function. Itconsists of 4 Hooks on the branch with two pairs of birds. It is made from high-quality eco-friendly tree resin and is water and corrosion – proof. It has a maximum weight hold of up to 11lb, so is perfect from clothes, keys, coats and hats.
It is 19″ long, 5.7″ tall and 2.4″ deep and weighs 2.2 lbs. Installation is fast and simple with 2 screws and 2 wall anchors included.
---
10. Cast Iron Birds on Branch Hanger – 6 Hooks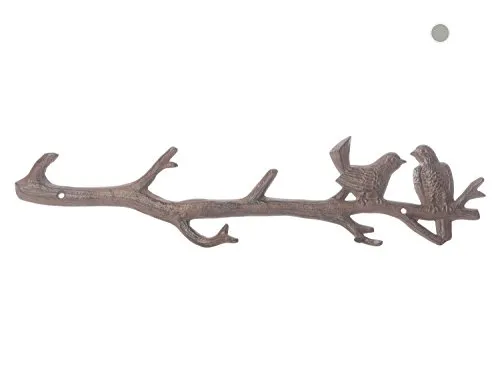 Cast Iron Birds on Branch Hanger
Another aviary themed wall hook, this time in vintage design made from cast iron and finished in rust brown. the hook is great for homes with a country feel. The branches act as hangers. There are four hooks on top and two hooks on the bottom. The wall mounted branch is great for coats, hats and towels. It is also great as a design piece for decorative hand crafts. The hooks are also small enough for items of jewellery and key chains. Being cast iron meant it is built to last and with that vintage look, it will be timeless. Plus, it is coated so as to not leave stains on your garments and the edges are rounded to avoid rips.
---
11. DEI Lucky Dog Wall Hook – 5 Hooks
If you love pets especially dogs, then you are going to love the lucky dog wall hooks. Made from cast metal, the hooks help bring that bit of the country to your home. The rustic and vintage finish in brown makes it that bit more convincing. Apart from items of clothing, you can use the hooks to hang your bags, keys, dog walking lead or dog whistle.
---
12. Umbra Skyline Wall Hook – 5 Hooks
For the city dwellers, bring some of that city magic into your home with this Umbra Skyline Wall Hooks. There are five fold away hooks that fold flat when not in use making it look like part of the city skyline. Each hook holds up to 5 pounds or 2.3kg. It will work for big or small spaces and hangs big or small items of clothings. The hanger is
Flip down hooks
Each hook holds up to 5 pounds (2.3 kg)
Mounting hardware included
Great for small spaces
Made of sturdy molded plastic
While coat hangers are an essential item for every home, they no longer have to compromise the style and look of your home. These coat hangers combine both good design and function to provide a functional yet beautiful item for your home.