Incorporating a wooden feature wall into your bedroom design is an excellent way to add warmth, texture, and a touch of nature to your personal sanctuary. However, before embarking on this transformative journey, it's important to consider various elements to ensure that your new feature wall not only enhances the aesthetic appeal of your room but also aligns with your lifestyle and decor preferences.
In this guide, we will explore key considerations such as the impact of room size and layout, the interplay of lighting with wood, the significance of choosing the right wood type and finish, the importance of coordinating with your existing colour scheme, and the practicalities of installation and maintenance.
If you are looking to introduce a wooden feature wall in other rooms and spaces, check out other articles below:
Key Considerations for Installing a Wooden Feature Wall to the Bedroom
Each of these factors plays a crucial role in creating a wooden feature wall that is not just visually appealing but also a harmonious and sustainable addition to your bedroom. Let's start with these considerations and then look at design ideas to help you design a feature wall that truly transforms your space.
1. Room Size and Layout
When considering a wooden feature wall for your bedroom, the size and layout of the room are crucial factors. In smaller bedrooms, a dark wood wall can make the space feel cramped and less inviting. To avoid this, opt for lighter woods that reflect light and create a sense of spaciousness. If you're set on darker woods, consider using them as accents rather than covering an entire wall. In contrast, larger bedrooms can benefit greatly from the rich, warm tones of dark wood. It adds a sense of luxury and depth, making the room feel more intimate and cozy.
The layout of the room also plays a significant role. For instance, placing a wooden feature wall opposite a natural light source can enhance the wood's texture and colour, maximising its aesthetic impact. In rooms with unusual layouts, a wooden wall can also become a focal point that draws the eye, helping to balance and harmonise the space. Ultimately, the goal is to choose a wood style and placement that complements and enhances your bedroom's size and layout, creating a harmonious and inviting retreat.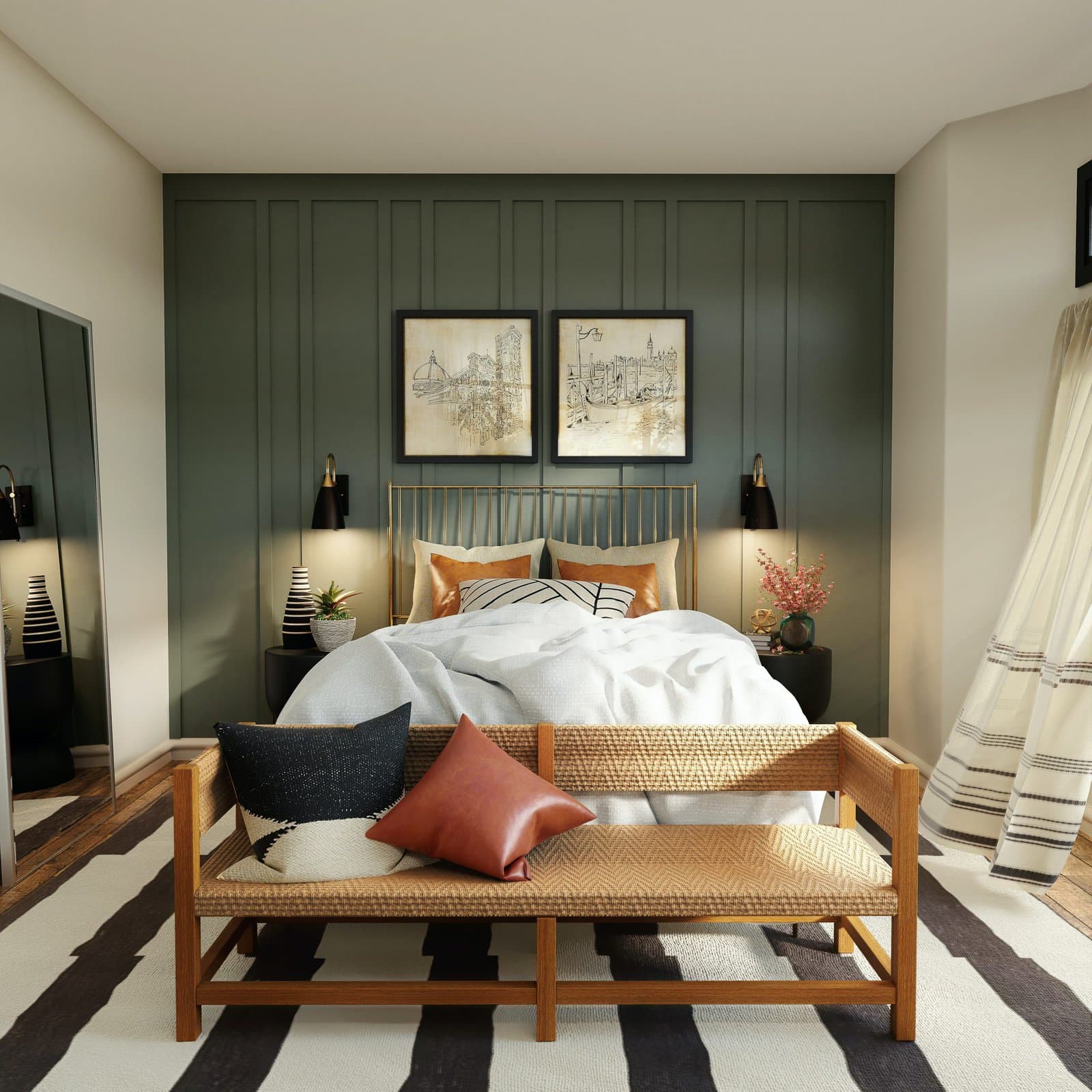 2. Lighting
The interplay of lighting with a wooden feature wall significantly impacts the ambiance of your bedroom. Natural lighting can bring out the subtle textures and hues in the wood, enhancing its natural beauty. In a room with ample sunlight, lighter woods like pine or birch can amplify this brightness, making the space feel airier and more open. Conversely, darker woods like walnut or mahogany tend to absorb light, which can create a more intimate and cozy atmosphere, ideal for bedrooms seeking a sense of tranquility and warmth.
Artificial lighting also plays a key role. Soft, warm artificial lights can accentuate the richness and depth of darker woods, while cooler, brighter lights can complement lighter woods, maintaining a fresh and serene environment. The placement and intensity of artificial lighting should be considered to avoid creating harsh shadows or overly bright spots that could detract from the wood's natural appeal. By thoughtfully pairing your wooden feature wall with the right balance of natural and artificial lighting, you can enhance the desired mood and aesthetic of your bedroom.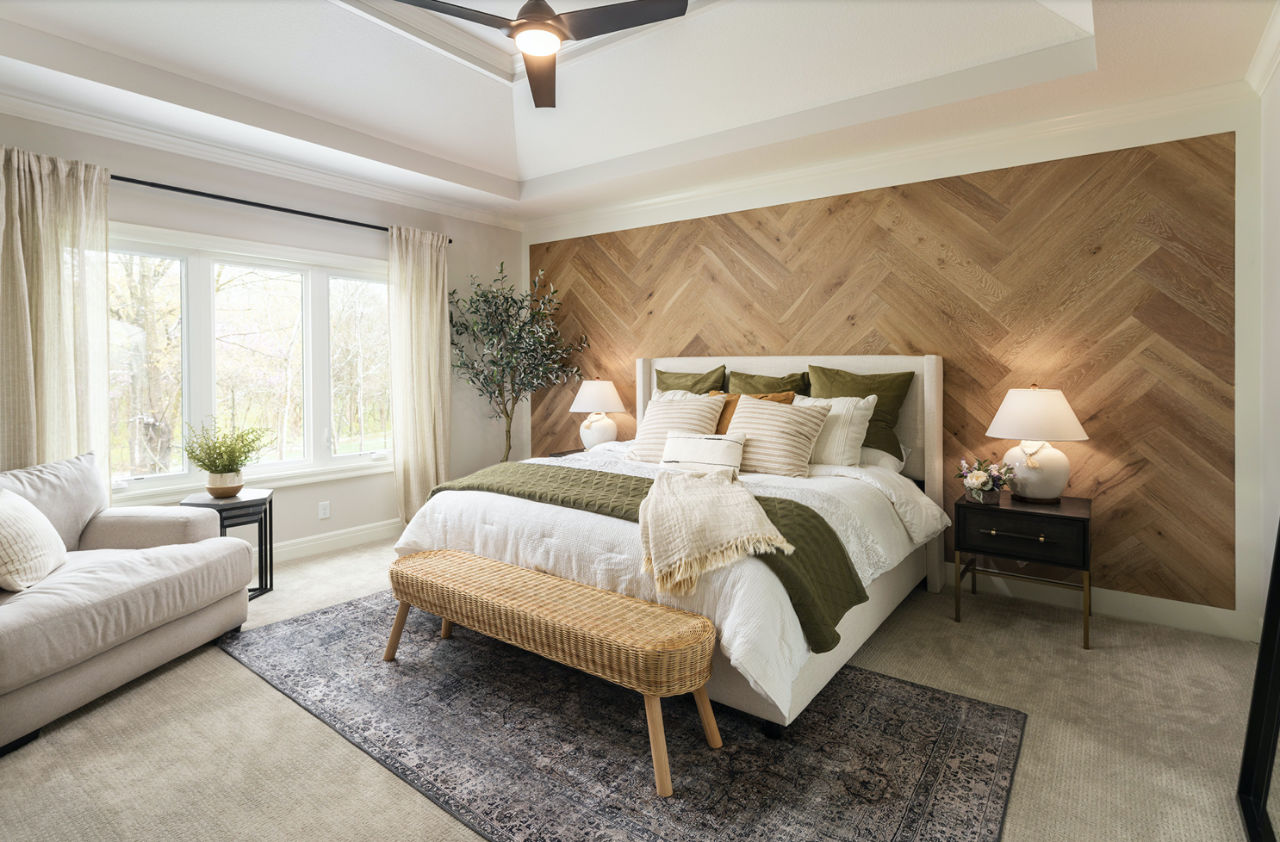 3. Wood Type and Finish
The selection of wood type and finish is a pivotal decision in creating a wooden feature wall, as it dictates not just the wall's appearance but also the overall mood of the room. Rustic reclaimed wood, with its weathered texture and rich history, brings an element of warmth and character, ideal for creating a cozy, vintage feel. On the other hand, woods like bamboo or maple offer a sleek, modern aesthetic, lending a clean and contemporary vibe to the space.
The finish of the wood further enhances its impact: a glossy finish reflects light and adds a luxurious sheen, making the room appear more elegant and polished. In contrast, a matte finish provides a more understated, natural look that complements a minimalist or Scandinavian-style decor. Stained wood offers endless possibilities, allowing you to tailor the colour to match or contrast with your existing colour scheme.
Whether you're aiming for a bold statement or a subtle enhancement, the type and finish of your wood can be tailored to achieve your desired effect, making your wooden feature wall a true reflection of your personal style.
4. Colour Scheme
The choice of wood for your feature wall should harmonise with your bedroom's existing colour scheme to create a cohesive and pleasing aesthetic. Neutral-toned woods, such as light oak or ash, offer versatility and can easily blend with a wide range of colour palettes, from soft pastels to more vibrant hues. They provide a subtle, organic backdrop that allows other elements in the room to shine.
On the other hand, opting for bold or contrasting wood colours can make a powerful design statement. Darker woods like ebony or walnut can create a striking contrast against lighter-coloured walls, bringing a sense of sophistication and drama to the space. Conversely, a brightly stained or painted wood wall can add a pop of colour and energy to a more neutral or monochromatic room.
The key is to balance the wood tones with the room's overall colour scheme and décor, ensuring that the feature wall complements rather than clashes with the existing design elements. This thoughtful consideration in colour harmony can transform your bedroom into a stylish and cohesive sanctuary.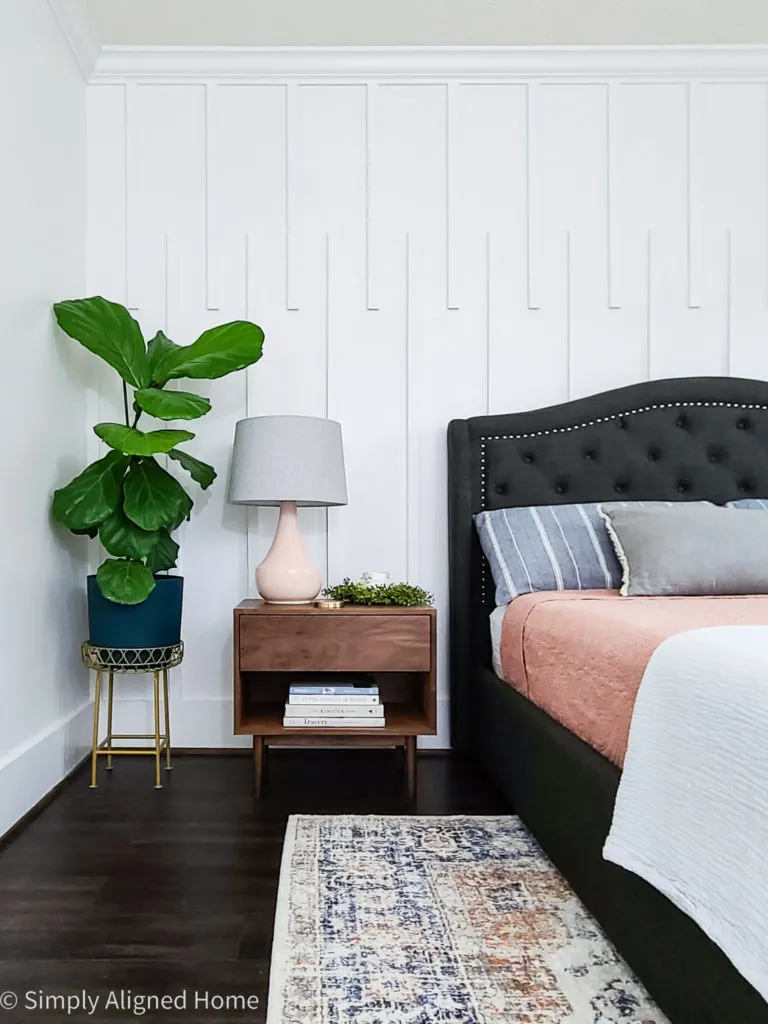 5. Installation and Maintenance
When adding a wooden feature wall to your bedroom, the ease of installation and ongoing maintenance are practical aspects that shouldn't be overlooked. Some wood types and designs might require professional installation, especially for more complex patterns like herringbone or chevron. Simpler designs, such as vertical or horizontal planks, might be more DIY-friendly.
The maintenance demands of the wood are also crucial. While certain woods, like teak or cedar, are more durable and require less upkeep, others might need regular treatment with oils or sealants to maintain their appearance and protect against wear and tear. Additionally, consider the wood's susceptibility to fading in sunlight or its reaction to the humidity levels in your home.
Opting for a wood and finish that align with your lifestyle and ability to maintain it will ensure that your feature wall remains a beautiful focal point in your bedroom for years to come.
24 Amazing Ideas for Wooden Wall Accent in the Bedroom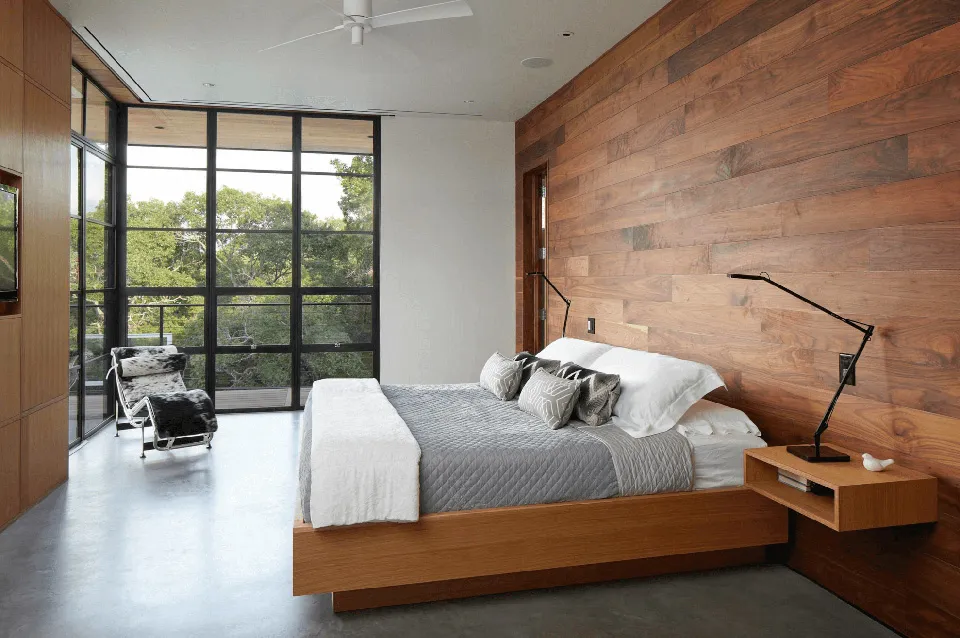 Source: Feature Wall Ideas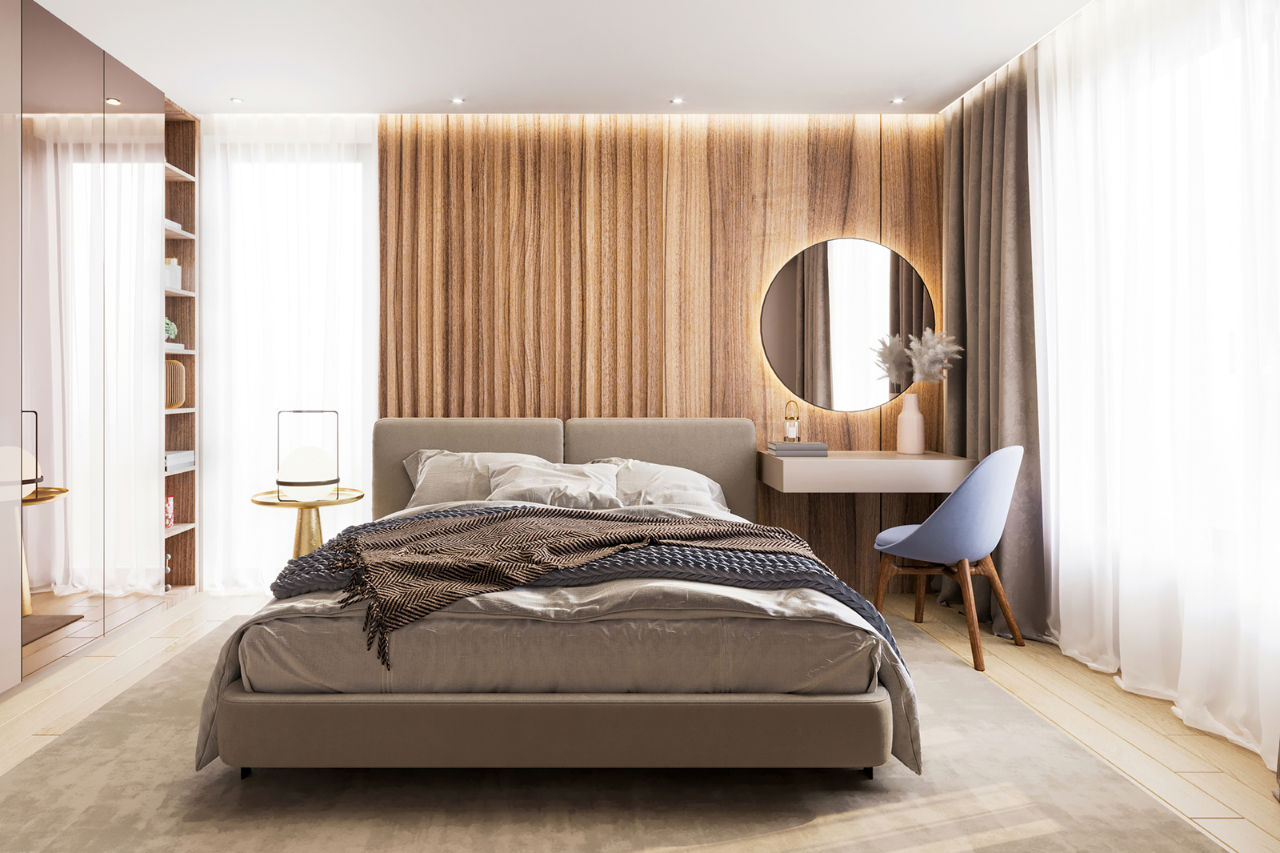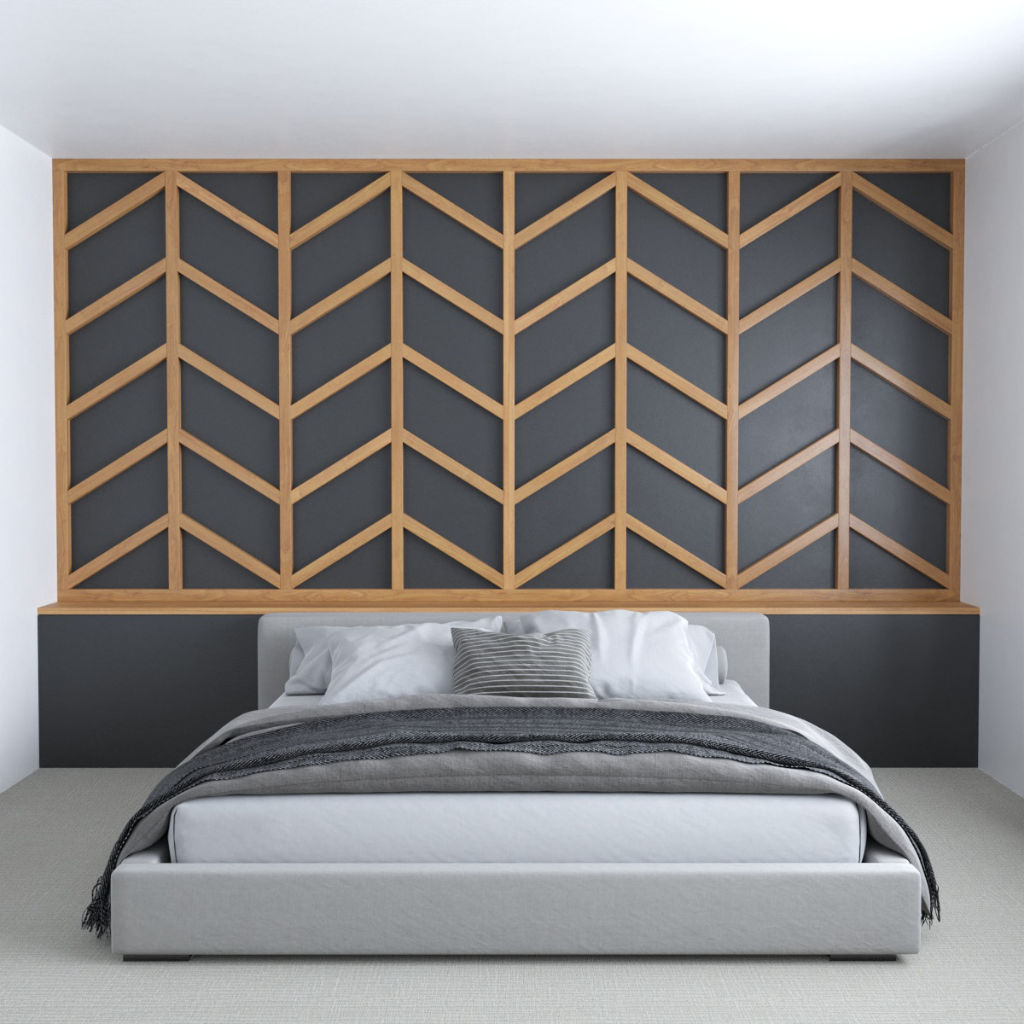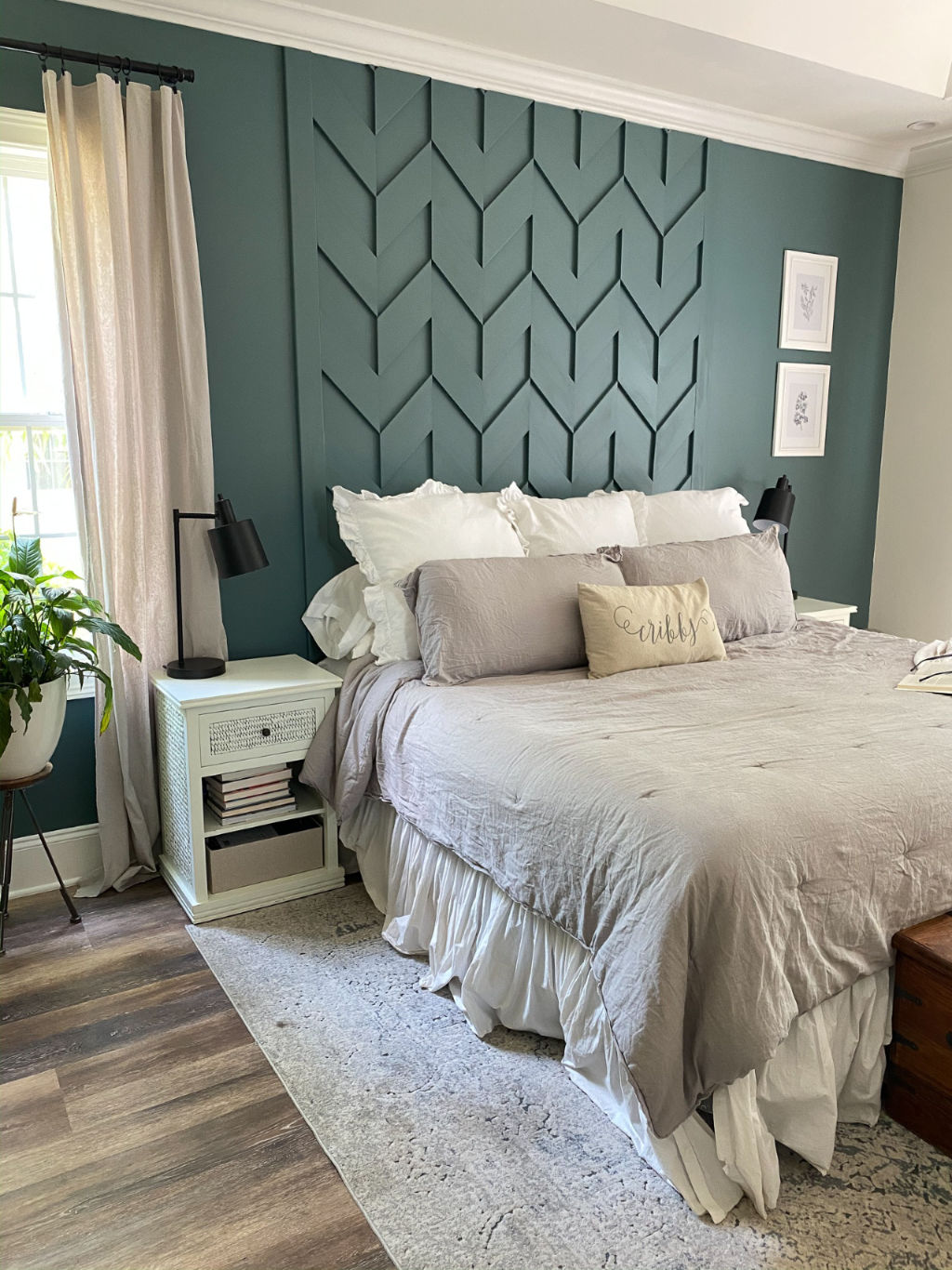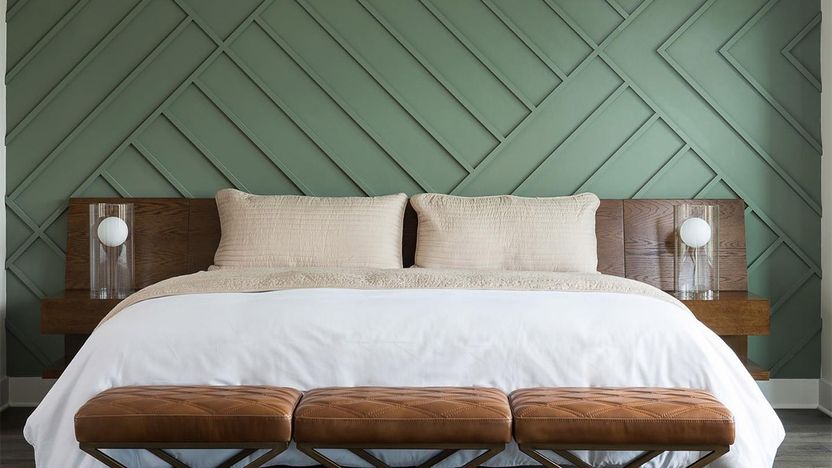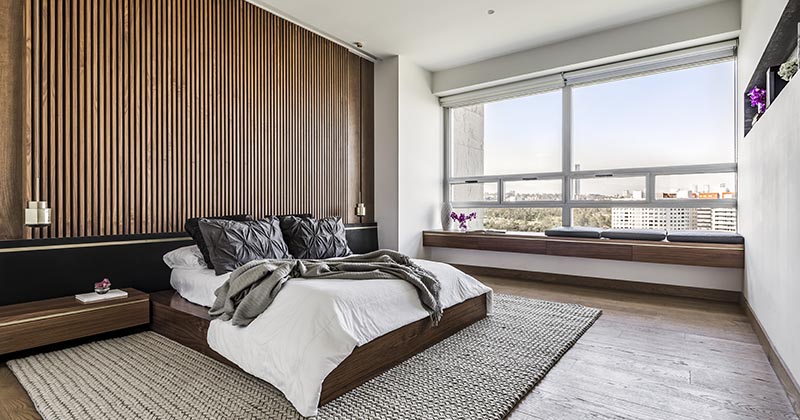 Search Feature Wall Fluted Wooden Panels on Amazon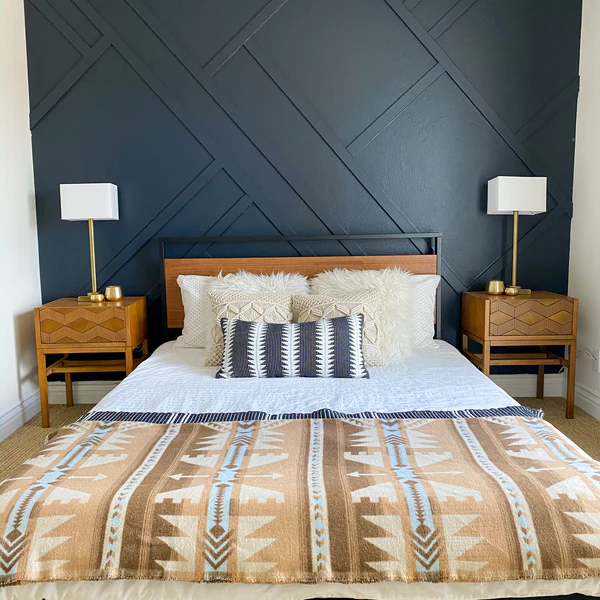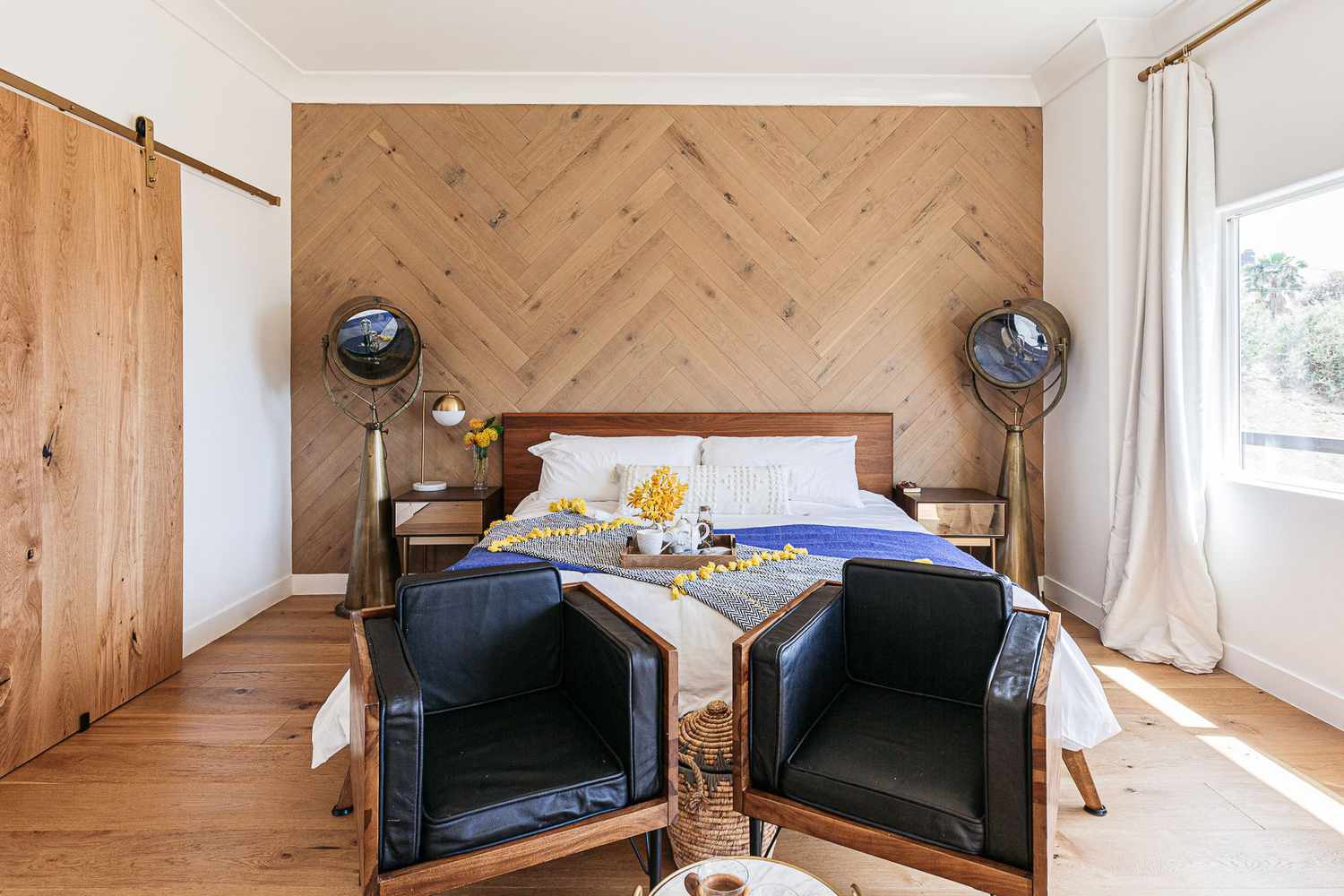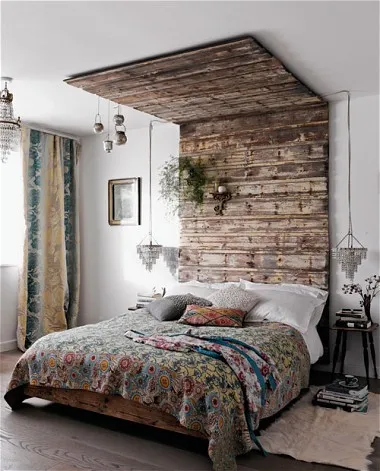 Source: Modern rustic: decorating your home with reclaimed timber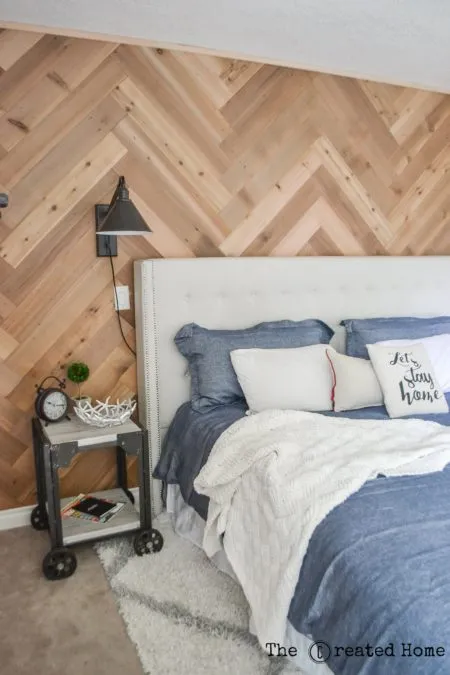 Source: How to DIY a Herringbone Accent Wall
This wooden and rustic canopy is made from reclaimed timber, treated with light oil and dressed with small potted plants, oil lamps and two small chandeliers gives this bedroom a contemporary feel.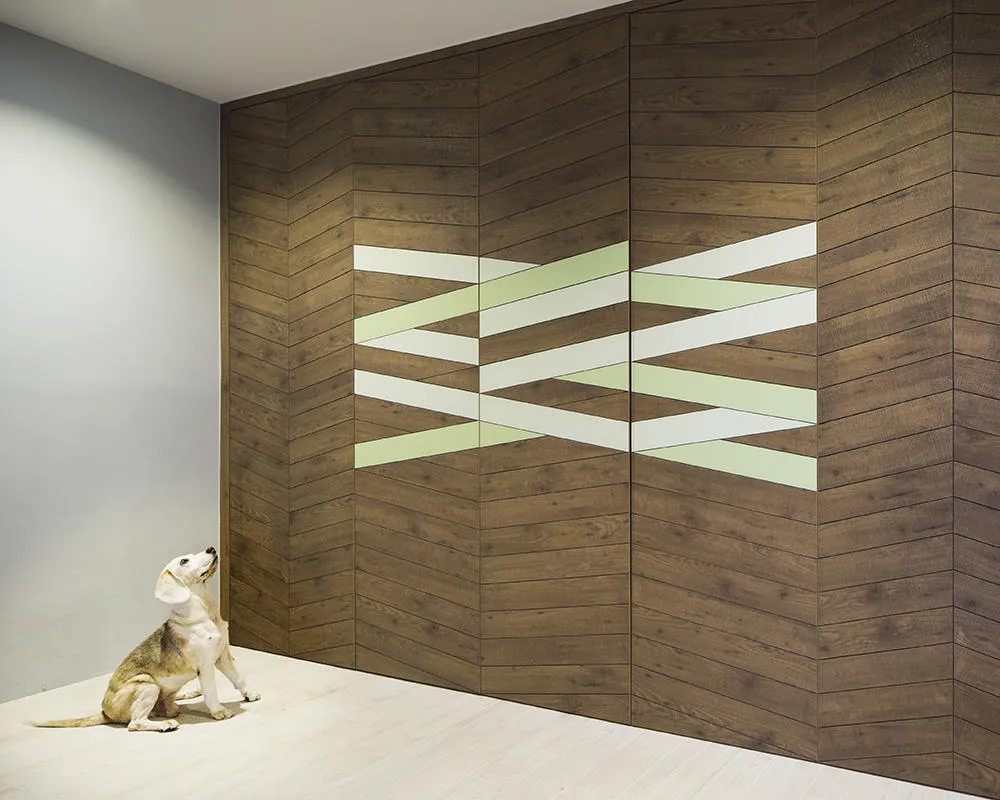 Source: 8 Ideas for Simple Contemporary Feature Walls
Source: Denis Rakaev designs a contemporary apartment in Kiev
Source: 8 Ideas for Simple Contemporary Feature Walls
Remember to check out our inspiring ideas for other rooms in the house.