Inspiring floating shelves from Wood, MDF & Laminate, Metal Bracket, Steel Frames, Cubes, Hexagonal Steel Frame and more. These are some of the best wall mounted shelf designs.
What Are Floating Shelves?
Floating shelves are wall-mounted shelves that have no visible supports. They appear to "float" on the wall, hence the name. The magic behind this floating illusion is a combination of sturdy brackets—usually made of metal—that are fixed to the wall and a hollow shelf that slides onto these brackets, concealing them completely. The result is a clean and streamlined look that can complement any room.
Some of the materials in the construction of these floating shelves are as follows:
PU Leather
Wood
MDF Board and Laminate
Metal Brakets
Steel Frames
Cubes from MDF and Laminate
Hexagonal Steel Frame
You can find the gallery at the bottom of this article arranged according to material used in its construction.
Why Use Floating Shelves?
Here are 5 good reasons for choosing floating shelves over your conventional wall mounted cabinet shelves.
1. Aesthetic Appeal
Floating shelves boast a sleek, contemporary design. They offer a way to display decorations, books, or photographs without the visual interruption of brackets or supports, thus maintaining clean lines and unobstructed design flow.
2. Space Saving
Ideal for smaller rooms or cramped spaces, they take up no floor space and can be placed anywhere on a wall, freeing up valuable square footage for other uses.
3. Versatility
Available in a myriad of materials, finishes, and sizes, floating shelves can fit virtually any decor style. They can be utilitarian in a bathroom or kitchen, sophisticated in a living room, or playful in a child's room.
4. Customisation
They can be arranged in any number of ways—stacked, side by side, staggered—allowing for a custom solution that can fit into odd angles or underutilised spaces that standard shelving units cannot.
5. Functional Decor
Floating shelves offer a way to organize and de-clutter a space while still allowing for decorative displays. They turn your objects into focal points, your trophies into art pieces, and your memorabilia into exhibitions.
Inspirational Gallery of Floating Shelves
Scroll down to explore the different designs to go on the walls of your living room, study and home office.
– WOOD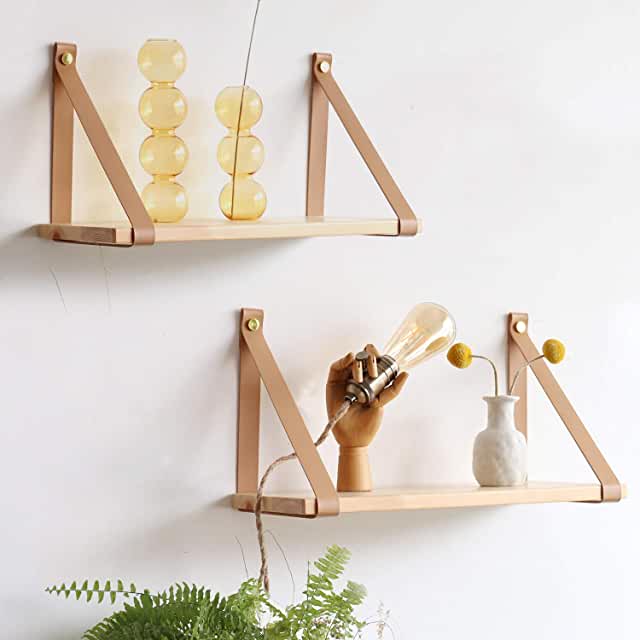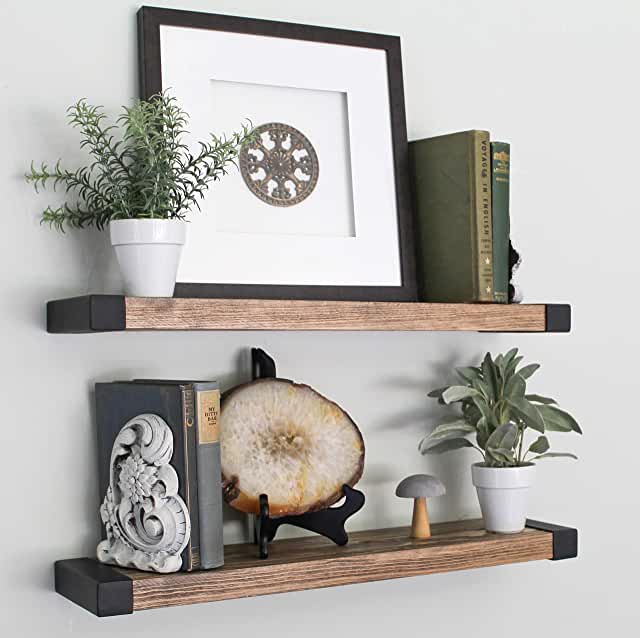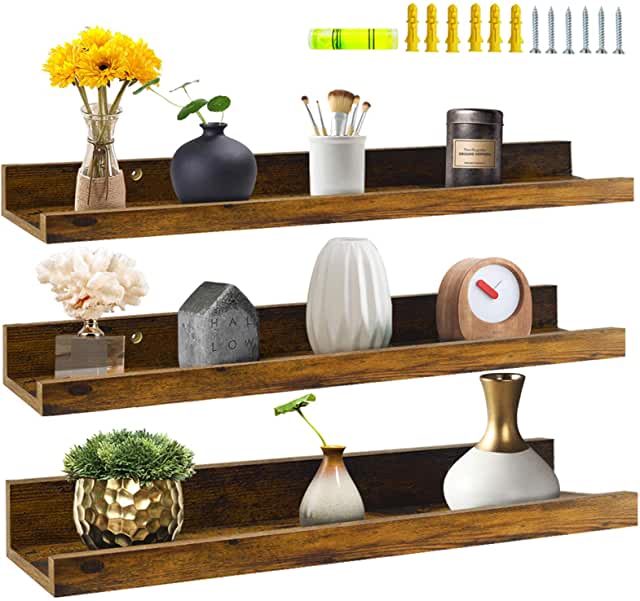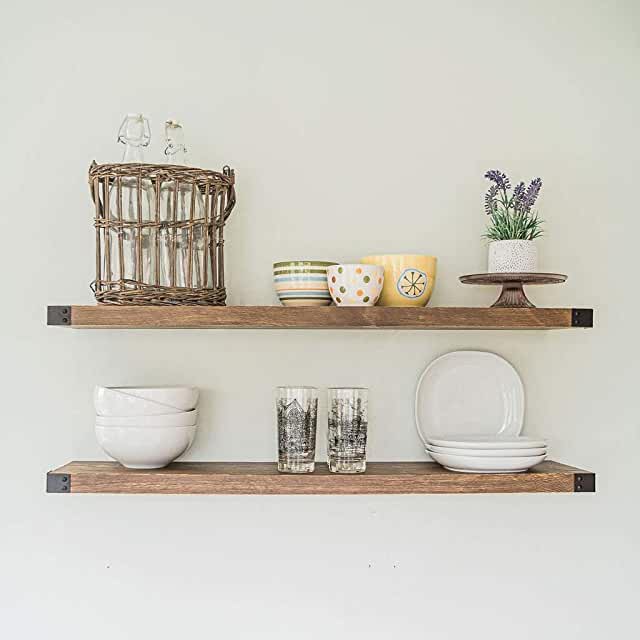 Search Floating Shelves on Amazon
– MDF BOARD & LAMINATE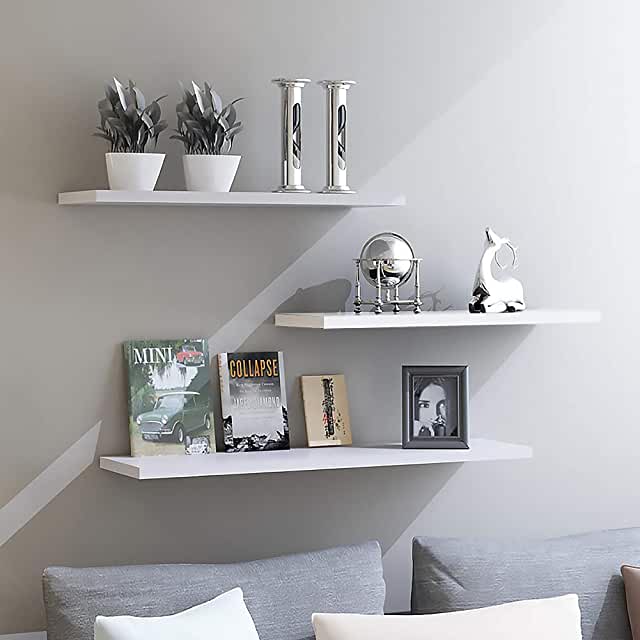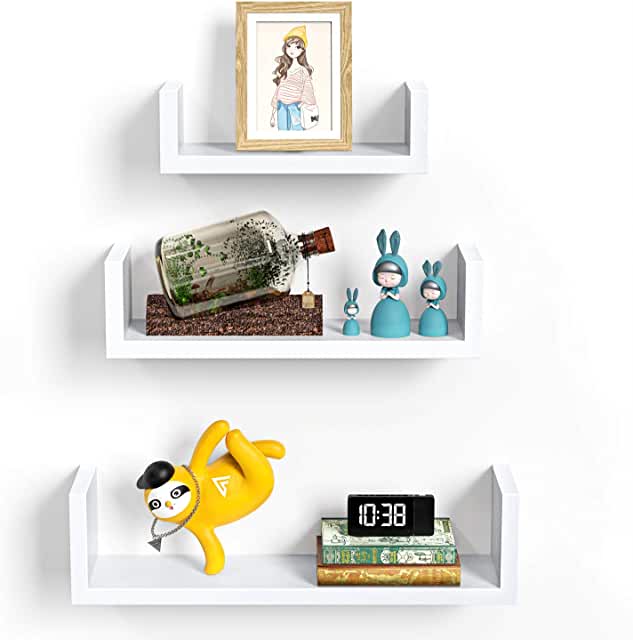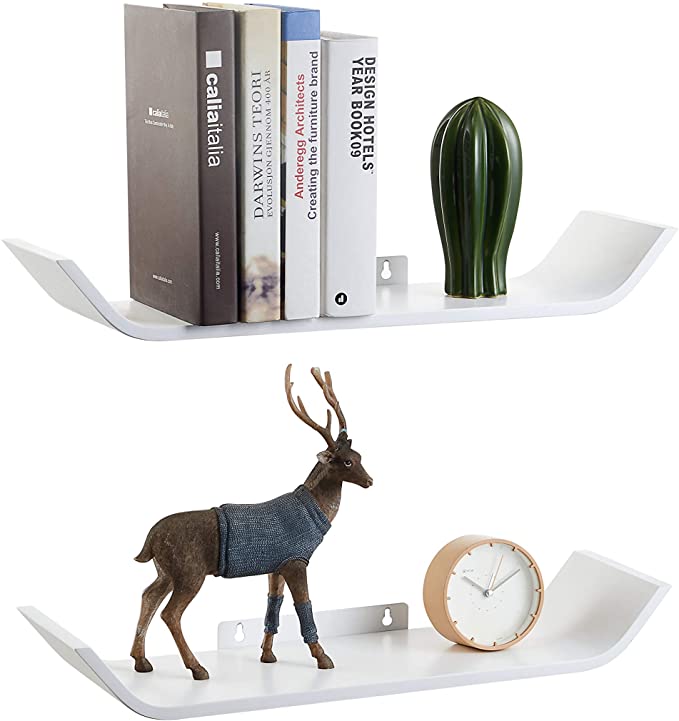 Search Floating Shelves on Amazon
– METAL BRACKET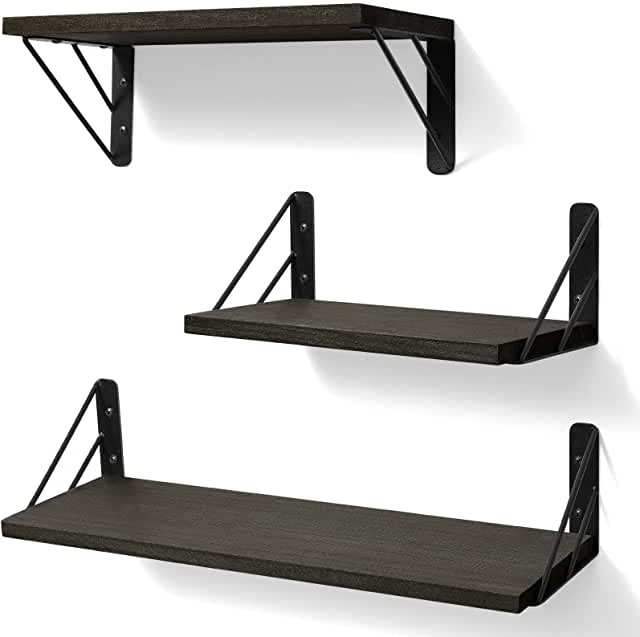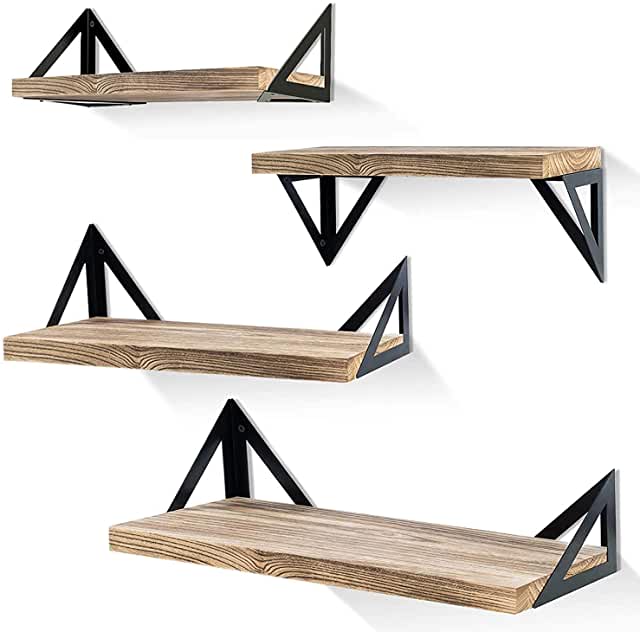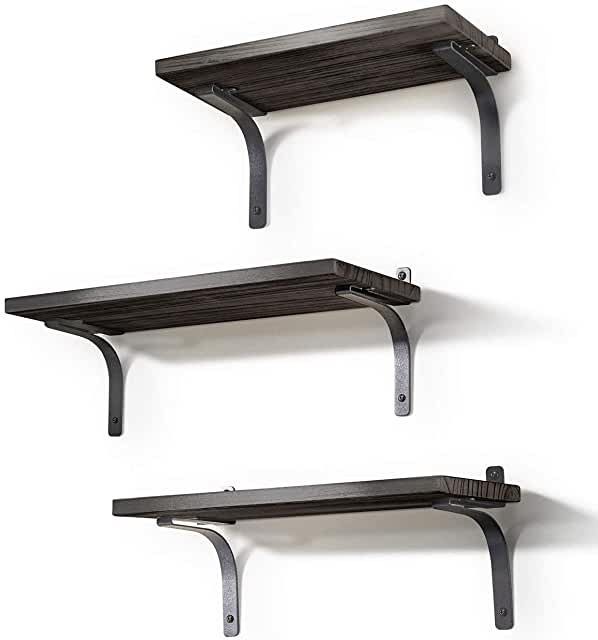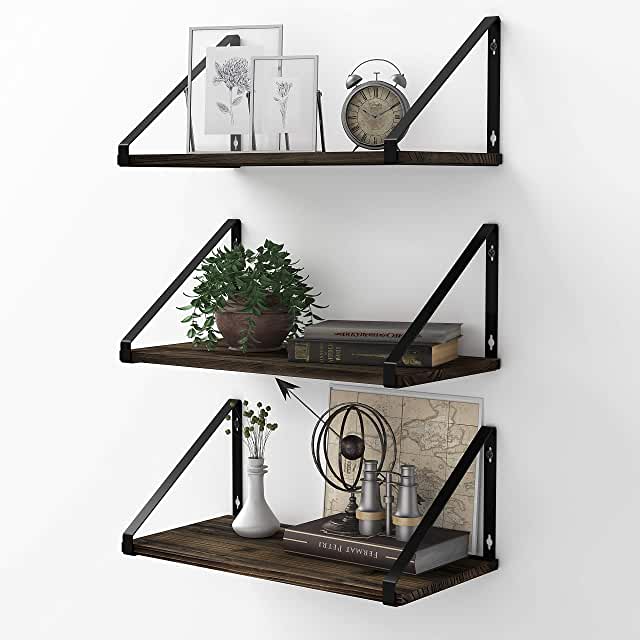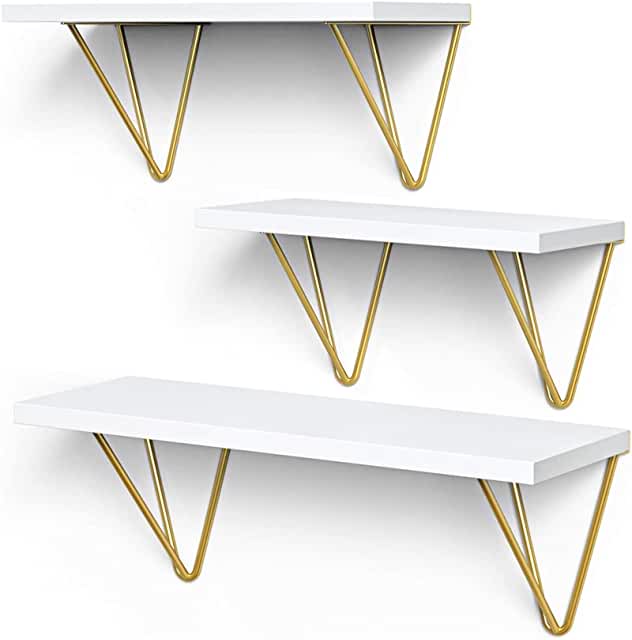 Search Floating Shelves on Amazon
– STEEL FRAME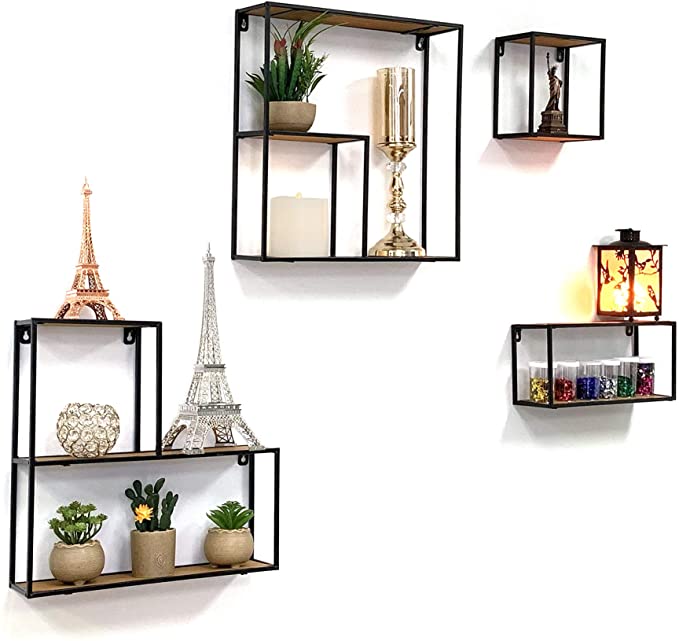 Search Floating Shelves on Amazon
– CUBES
– HEXAGONAL STEEL FRAME
Search Floating Shelves on Amazon
Drawbacks to Watch Out For
However, as with any design choice, floating shelves come with their own set of potential pitfalls that should be considered:
1. Weight Limitations
The biggest limitation of floating shelves is their capacity. They can't hold as much weight as traditional shelves with visible supports. This is something to seriously consider if you're planning to house an extensive collection of books or heavy decorative items.
2. Installation Challenges
Correctly installing floating shelves can be more complex than it seems. It requires finding studs in the wall for secure anchoring, ensuring the shelf is perfectly level, and sometimes even cutting into the drywall for a flush mount.
3. Irreversible Changes
Once installed, floating shelves make their mark—quite literally. If you ever decide to remove them, you'll likely be left with holes and potential wall damage that will need patching and painting.
4. Limited Adjustability
Unlike modular shelving units with adjustable heights, floating shelves are fixed. If your storage needs change, you can't adjust the shelves without starting the installation process anew.
5. Cost
Compared to traditional shelving, floating shelves can be more costly, especially for high-quality materials or custom designs that ensure both aesthetics and durability.
Embracing the Float
Embracing floating shelves means balancing their form and function with their limitations. They can create a striking feature in any room, provided you're aware of what you're displaying and how it interacts with the space. It's important to invest in quality materials and proper installation to ensure the longevity and safety of your floating shelves.
In short, if you're looking for a sleek, space-saving solution that offers a modern touch to your living space, floating shelves may be the right choice. Just be mindful of their constraints and plan accordingly. With the right approach, these shelves can not only float but also lift the design of your home to new heights.