Our homes are not designed with working from home (WFH) in mind. While simply adding a desk, a crucial part of a home office, to any available space in the house is sufficient for some, a more holistic and ergonomic workspace is required for the long term. So, if you're searching for some good ideas, here's an extensive list of work from home setups to guide you. We've catalogued different desk styles, spaces and their impact to the room in which they are installed, so let's take a look:
When kitting up your home office, do not only consider the available space for a desk but the ergonomics, style, colour and design. In order for your work from home (WFH) to efficient, it needs to go with your existing furniture, fit in the room it is in and most importantly, the goes with the way you work, here are some of the best ideas you can use for your own work from home WFH setup.
1. Wall mount desk in any room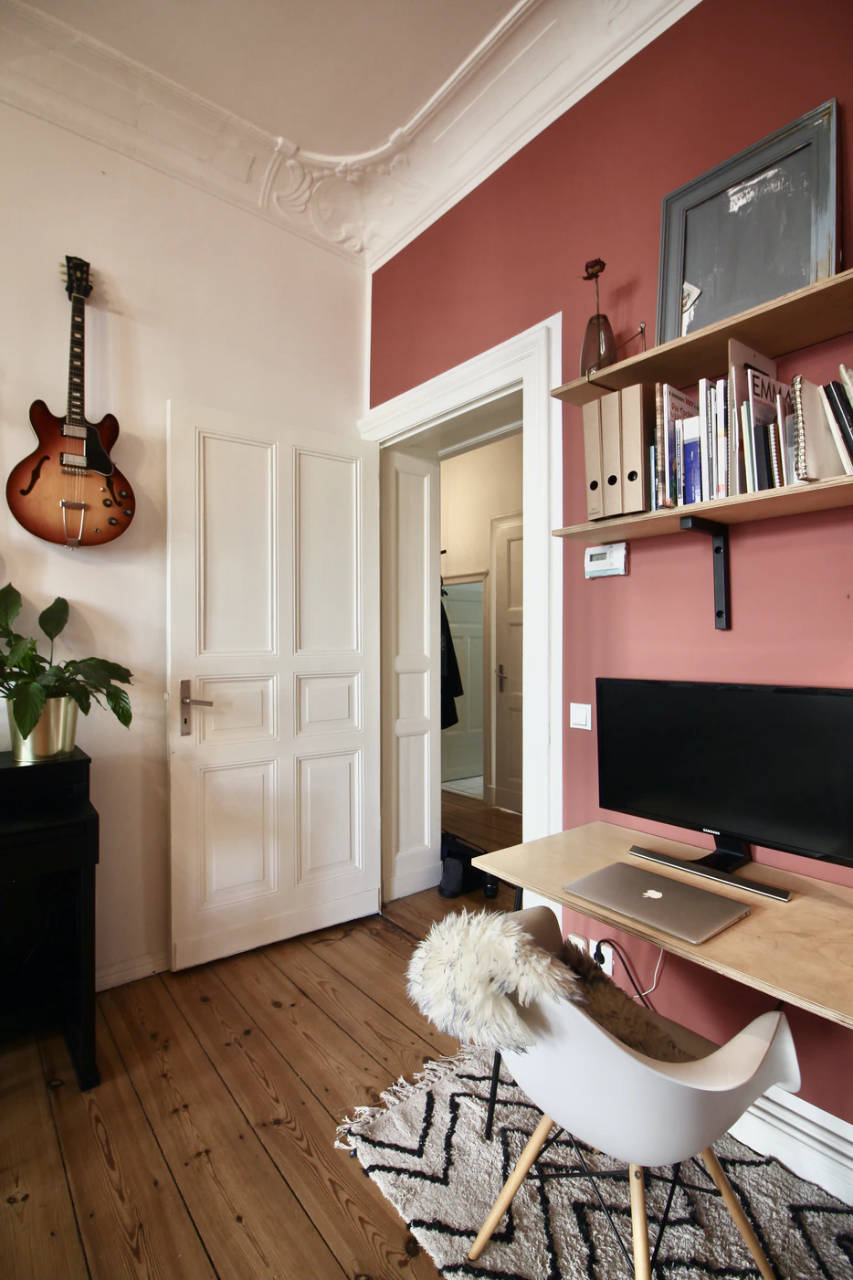 If you're looking for a space saving desk solution, then go for a simple wall mount one. It takes up zero floor space, is super compact, and can be paired with all types of chairs. The versatile aesthetics and ergonomic design of such desks is perfect to fit in any part of a home. You can set up this desk in your bedroom, living room, or even in a small nook that might have otherwise gone unused.
2. An artist's corner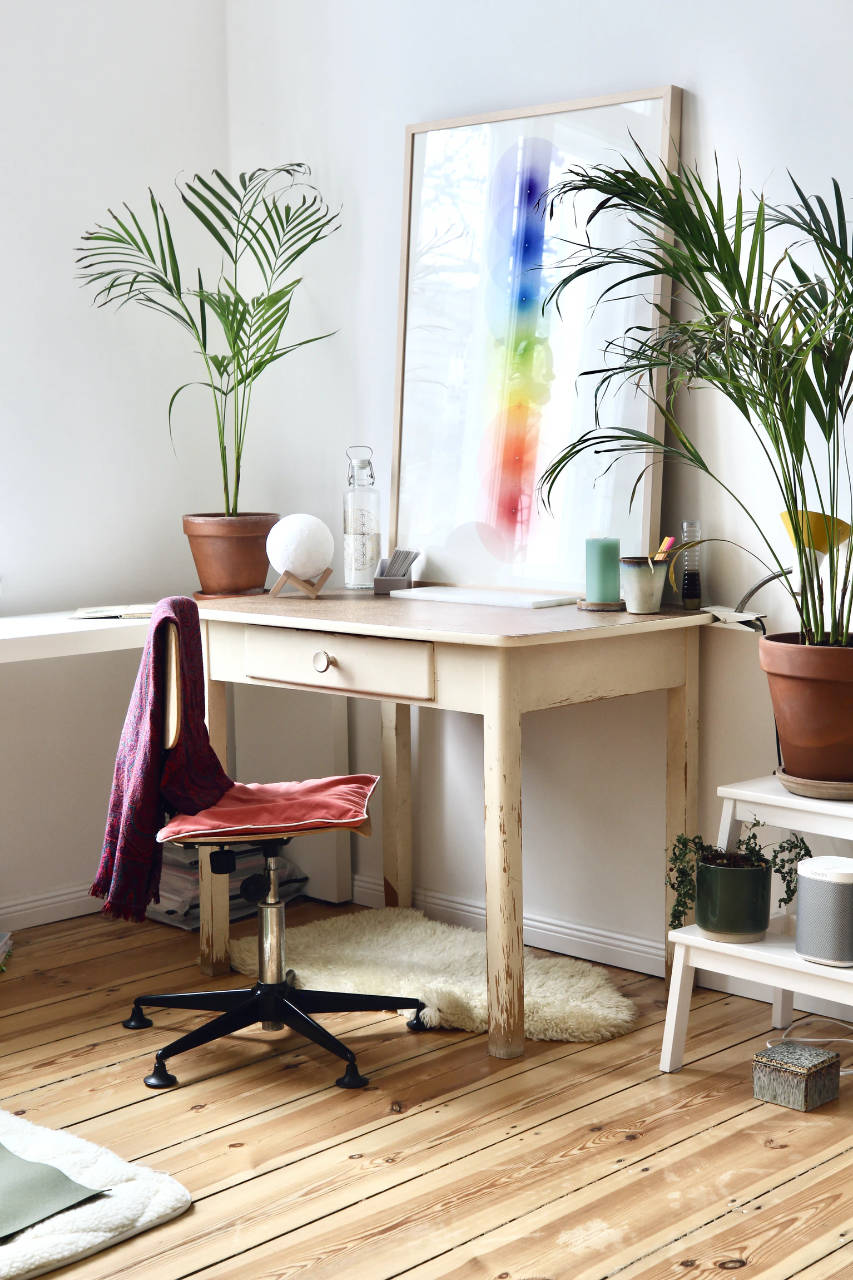 An artist always works with a lot of supplies, be it in the form of sheets, paints, colors, or other materials. Therefore, the desk that they use should always be oversized and able to accommodate all of their things. A large writing desk is always a good starting point, but if space in the room is an issue, you can look at other options as well. A computer desk as the bigger main worktop, flanked by smaller writing desks offers plenty of flexibility for the way an artist works. These can be arranged in L-shape for a corner or U-shape in a small room to maximise the use of space.
3. Mixed use office desk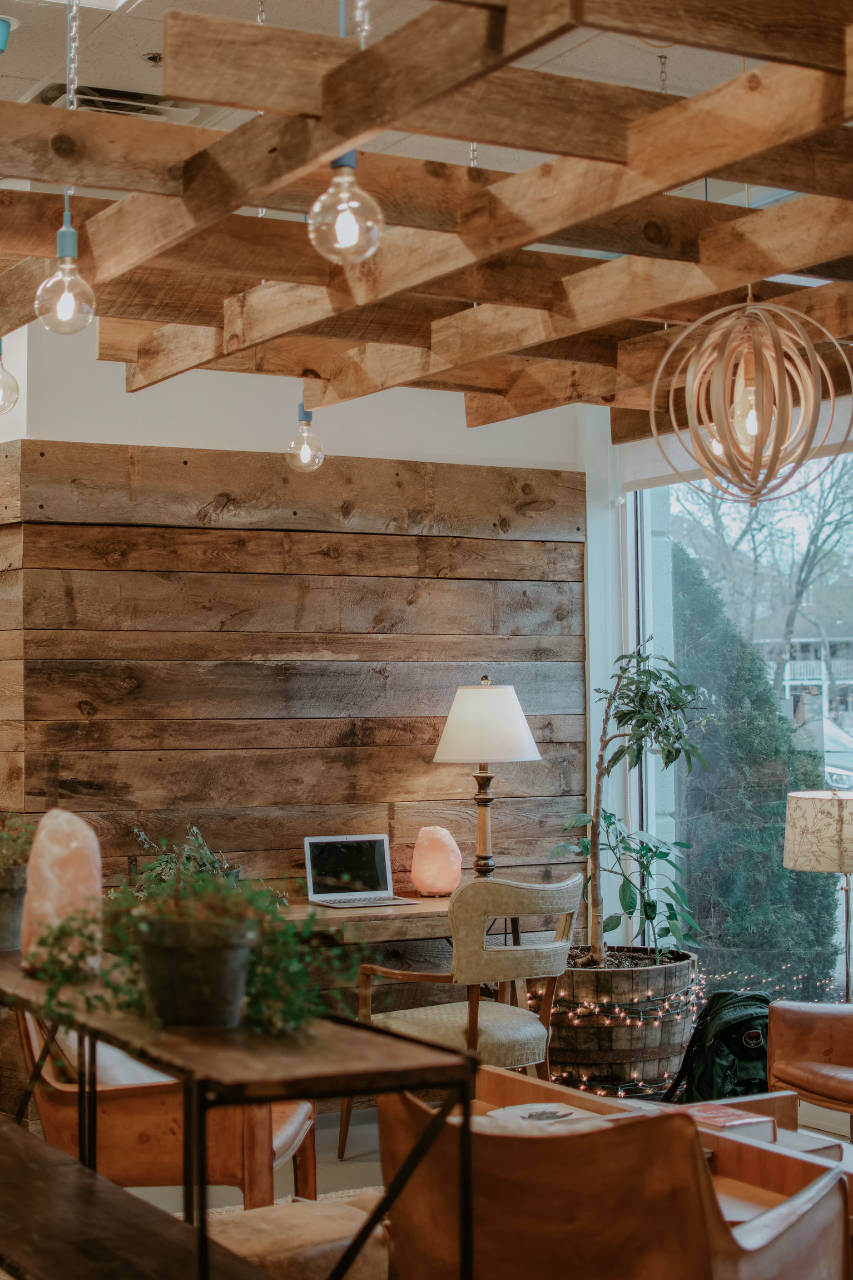 Making a small, cozy little office nook in a public area of your house is a great idea, especially if you don't want or have a separate room. However, it's always wise to have at least a little bit of separation between the work area and the rest of the space. For example, if you've set up an office in your lounge, then make your desk wall facing so that you won't get distracted while working. A small, compact writing desk is perfect for such areas. You can still entertain in the lounge, just have to turn your chair around and use the work desk as a place for tidbits, drinks and food apart from the coffee table.
4. The studio office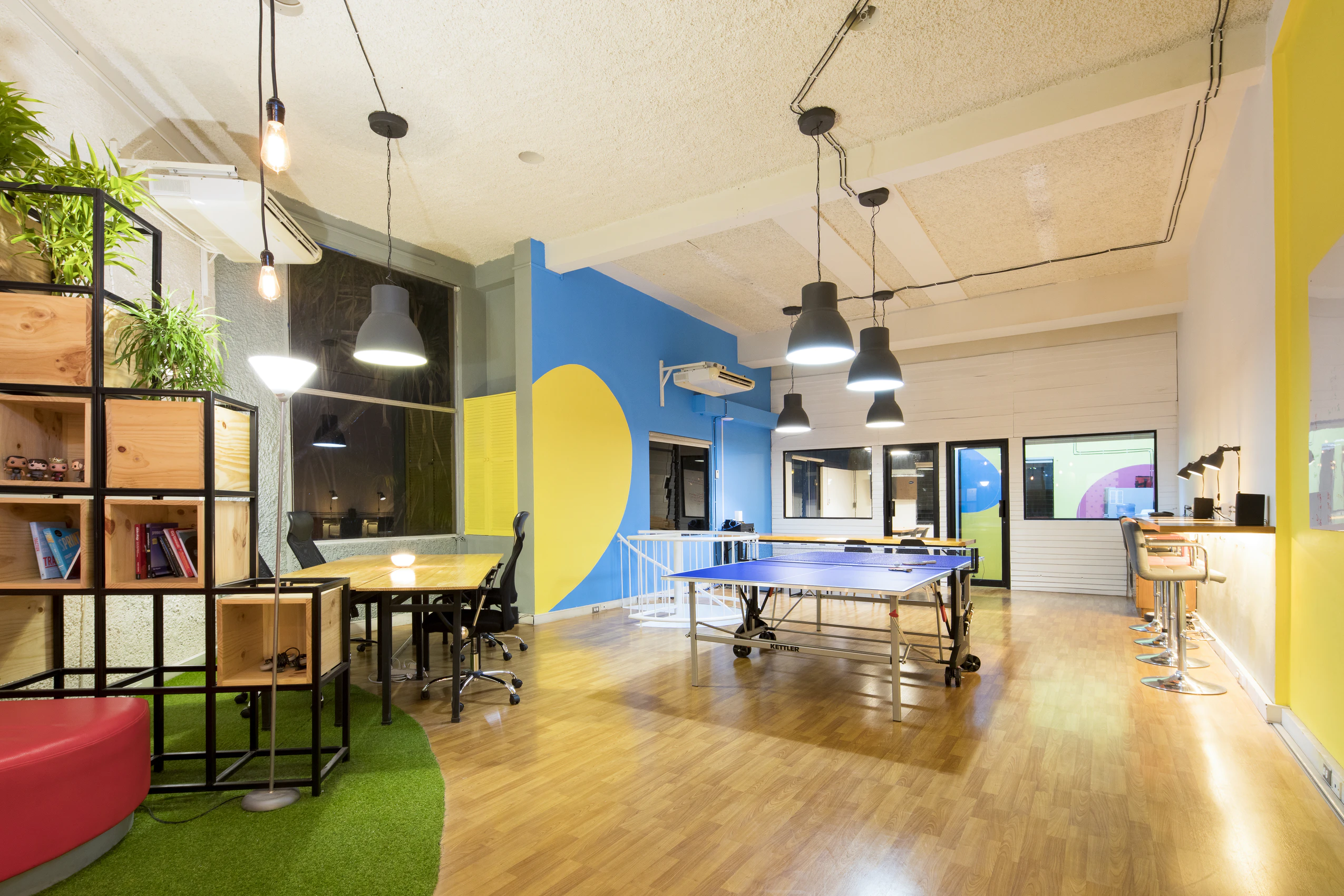 For people who don't like focused working spaces, a studio office is the best option. This could be in a separate building, converted garage, basement or barn. It consists of a large room that is outfitted with various areas. It may include a gaming zone, a relaxing area, and even a small conference area aside from the typical desk. The use of bright colors will add a lush vibrancy to the space as well, which may boost the users' mood and productivity. The idea is to emulate versatility in the ambiance so that the user doesn't feel bored while using it. Large work tables with ergonomic office chairs, lounge sofa and wall mounted table with high chairs create alternate work spaces. User can move around and use these different spaces or take a quick break.
5. Co-working home office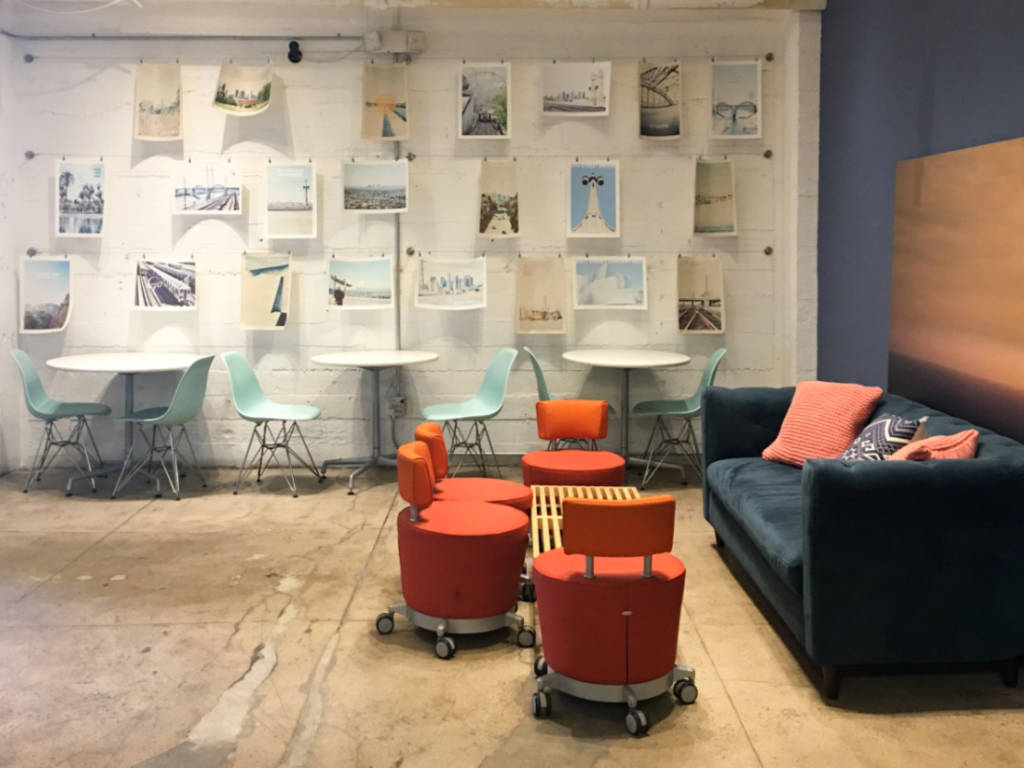 In a somewhat similar fashion to the studio office setup, your work from home office can emulate a co-working office space. This works well if you have two or more people who're working from home. You should design a shared working space. Such a home offices need a bit more space to accommodate all the furniture. It's best if you opt for small café style tables with two accompanying chairs each, so that everyone can have an individual workspace of their own. If you have any leftover space, then you can design a relaxing area with a sofa or a few accent chairs. For storage, use trolley with drawers that can also hold the printing station (a big name for the home printer). A co-working space at home would be ideal for a family that needs to work and study together. There is a benefit to having a shared working space to put everyone in the mood for working.
6. The extension of a bed
If you like working from the confines of your bedroom, then this is the kind of desk that you should choose for your home office. It consists of some customized carpentry, wherein, the wall credenza seamlessly transitions into a desk space. Some such designs even feature a platform bed that converts into a desk when it is folded. It's a smart way to design an ergonomic workspace in your bedroom.
7. Bring that cafe ambience home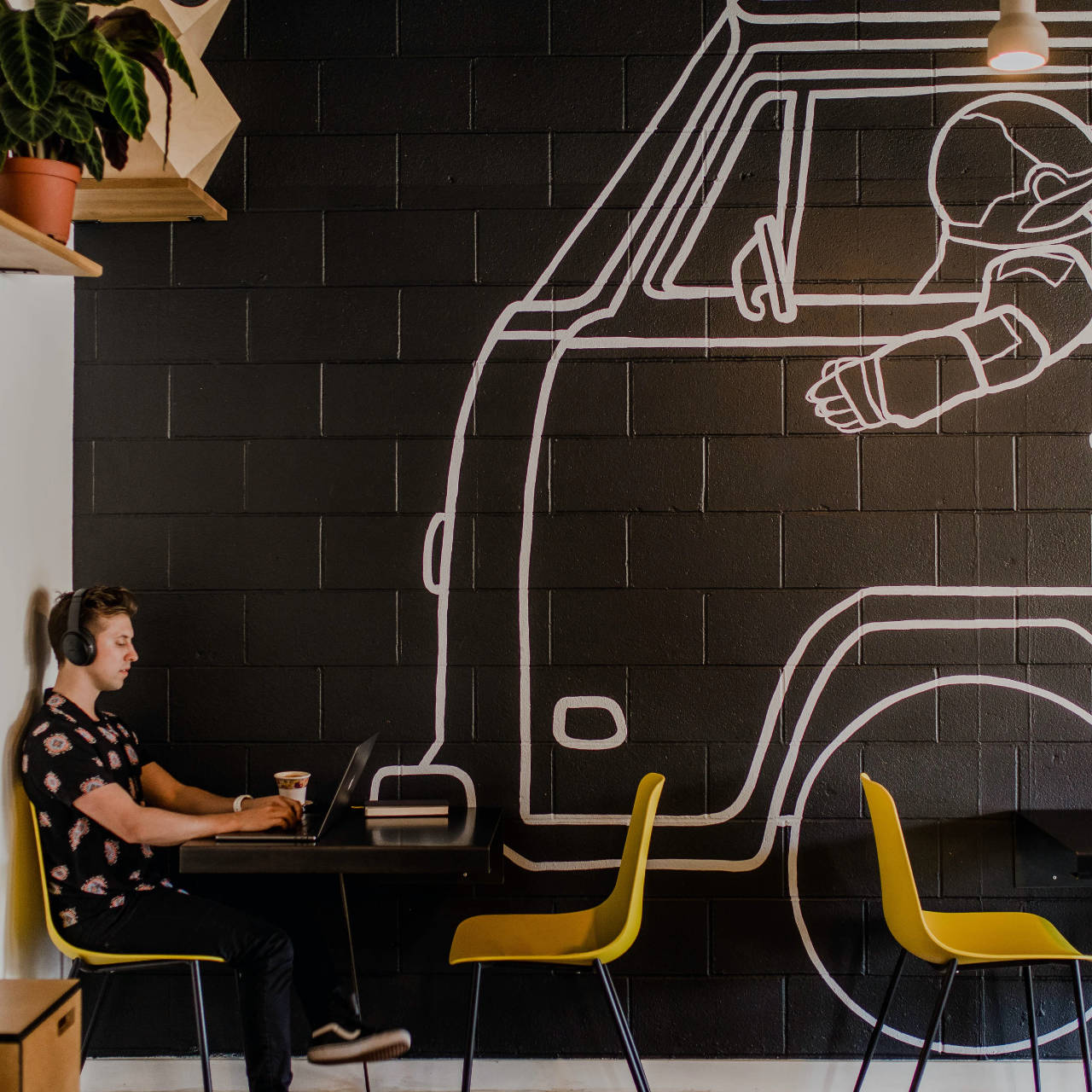 If you are missing the times you spent working in the cafe, enjoying your cup of coffee and tapping away on your computer while listening to your favourite tunes, you can re-create that cafe ambience at home. Dress up a wall in your room with funky design or neon lights, this could be the living room, study or kitchen. Install a couple of coffee tables, square ones work best for maximum work surface. Add comfy seats with backrest. Throw in a home espresso, coffee drip or bean-to-cup machine to complete the experience.
8. An office in the loft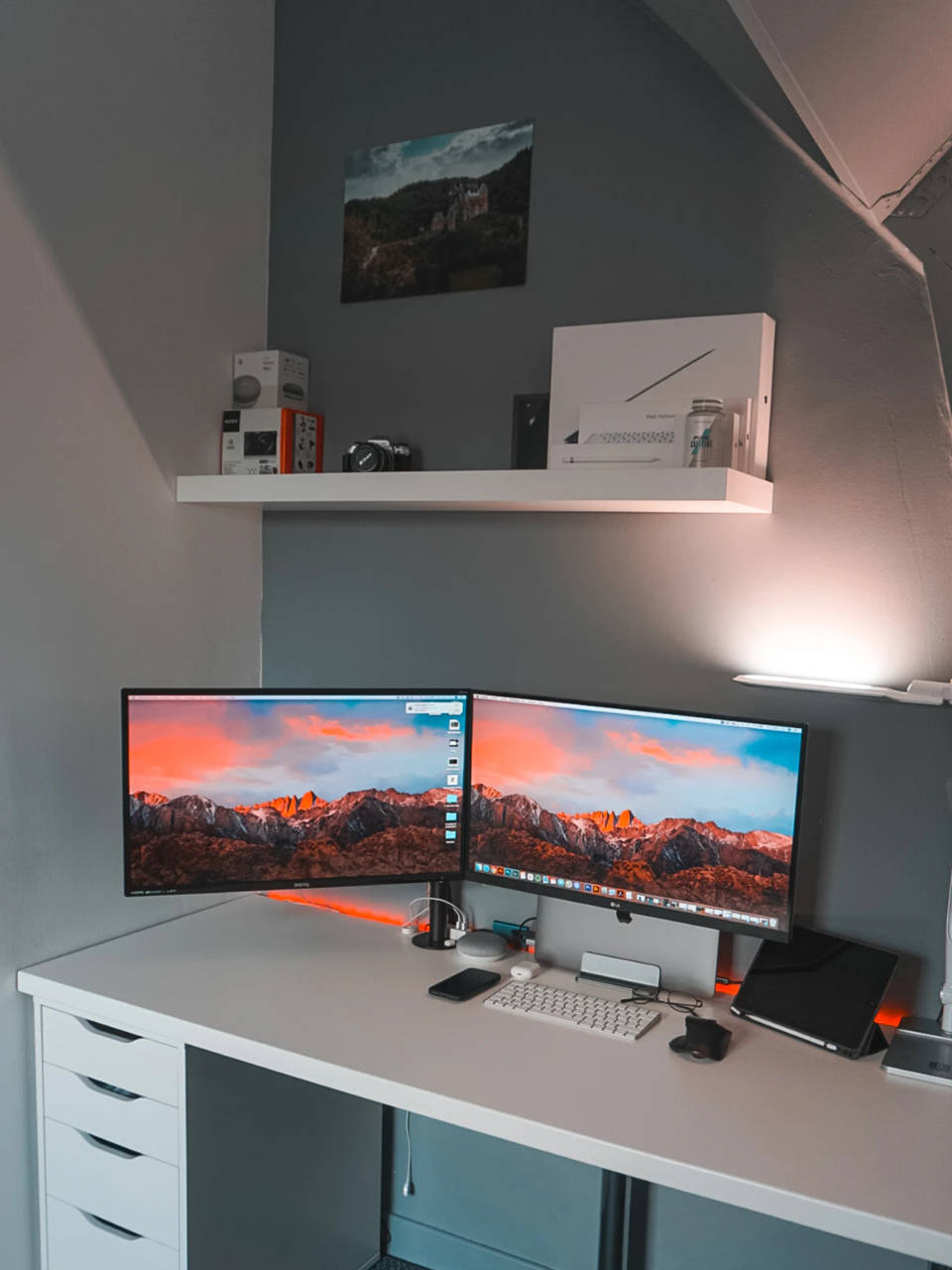 Another way to quickly add a dedicated home working space is to convert and add a work from home office in the loft. You may need to go with flat pack for this if access is limited. A corner unit and wall mounted shelves will work just fine. The desk need not be deep, enough for a writing space and room for your computer. For more natural light, consider installing a roof window for the loft.
9. Cosy corner cubicle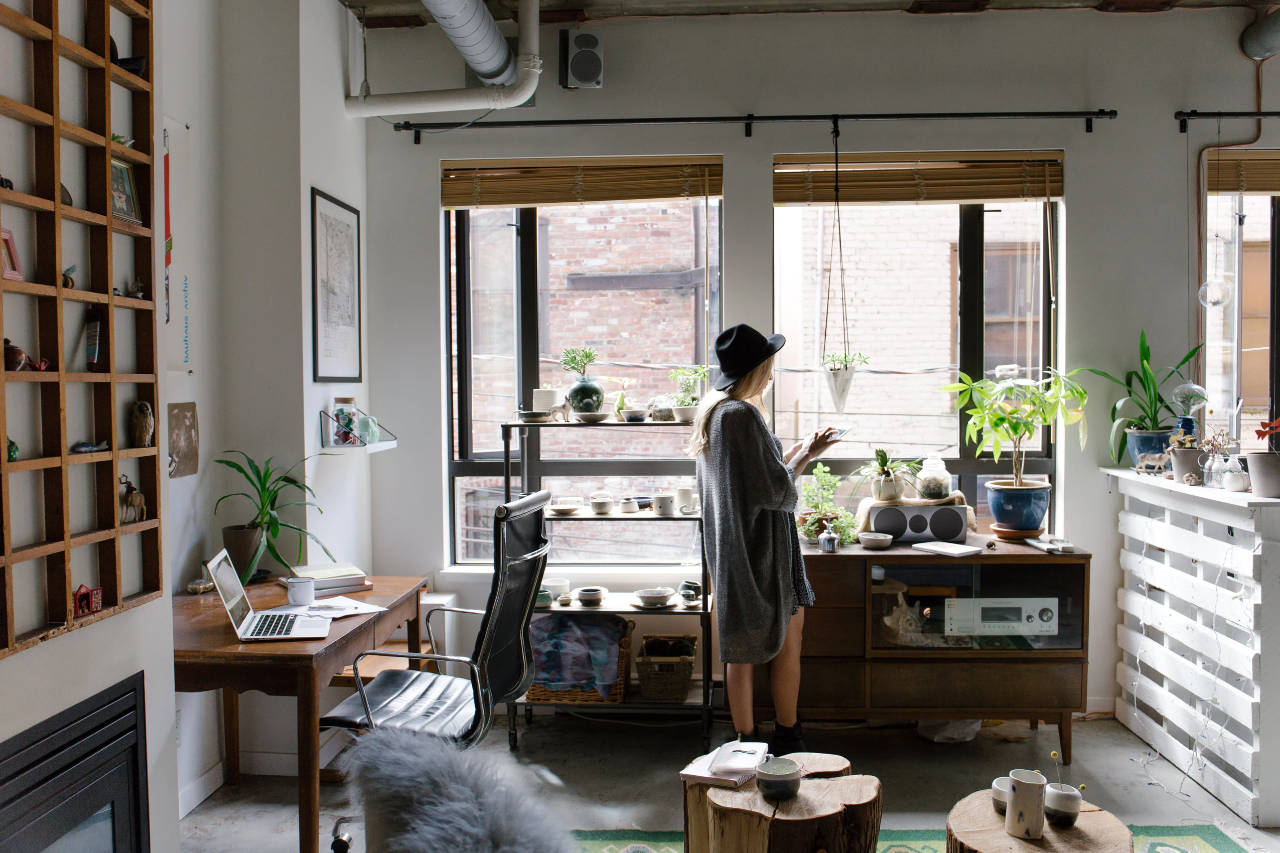 Missing your work cubicle corner in the office, pick a corner in your apartment or living space, and turn it into your cosy corner office. Make use of existing furniture like a writing table, sideboard and shelving unit to totally transform your work corner. And, if you are desperate for work-life separation at home, pick up a pallet, up-cycle and turn it into a room divider. When done right, it does not look out of place at all and will certainly maximise the use of space in any room.
10. All-white suite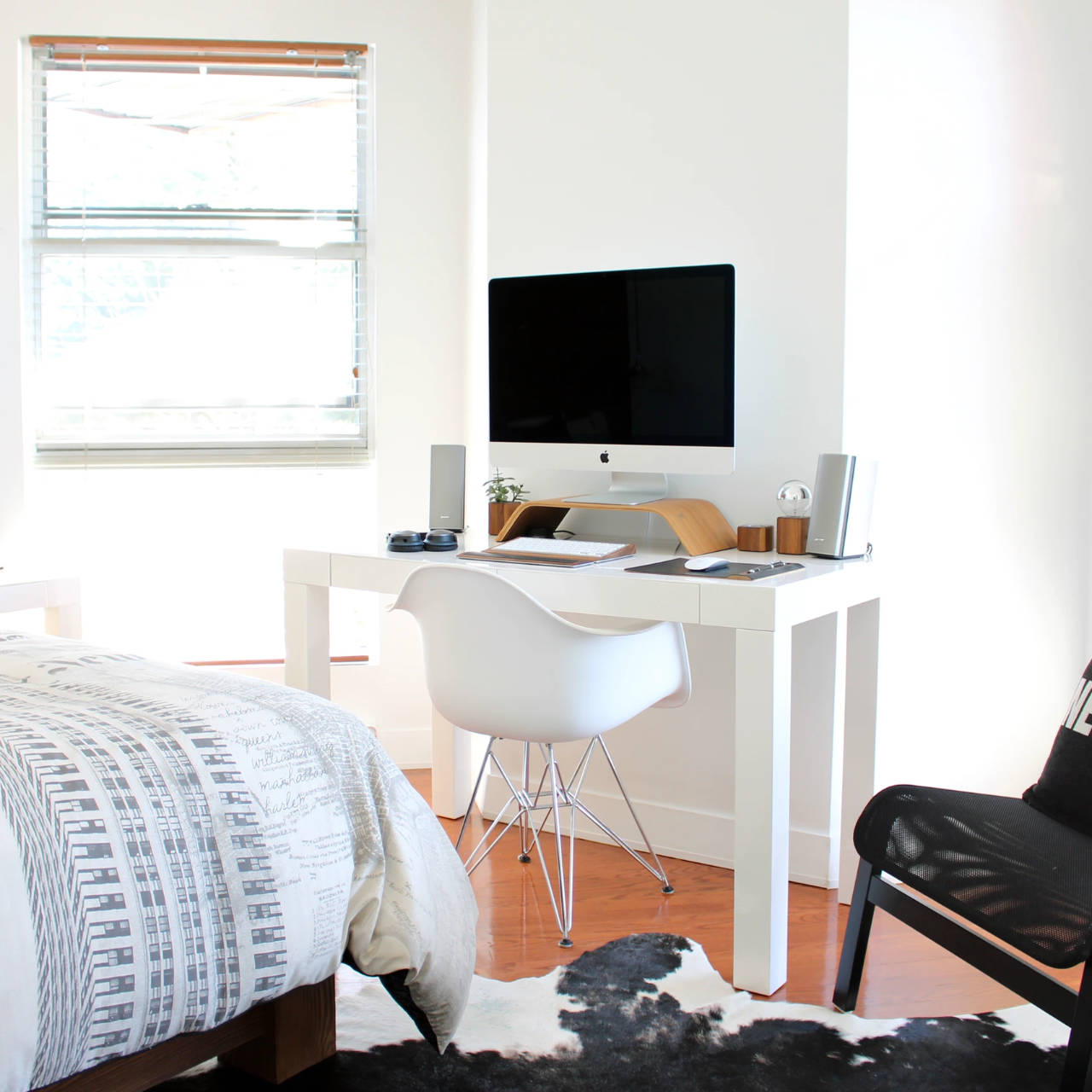 White does make the room brighter and more spacious. By not adding any more colours to the room, a white desk and white chair, will have the same effect and greatly improve the lightness in the room. This works especially well for a small room. Use an all-white suite for your work from home setup in a grown-up's bedroom, living room or kitchen. Its' neutral and muted style, allows it to go anywhere without attracting much attention.
11. Extension of the media console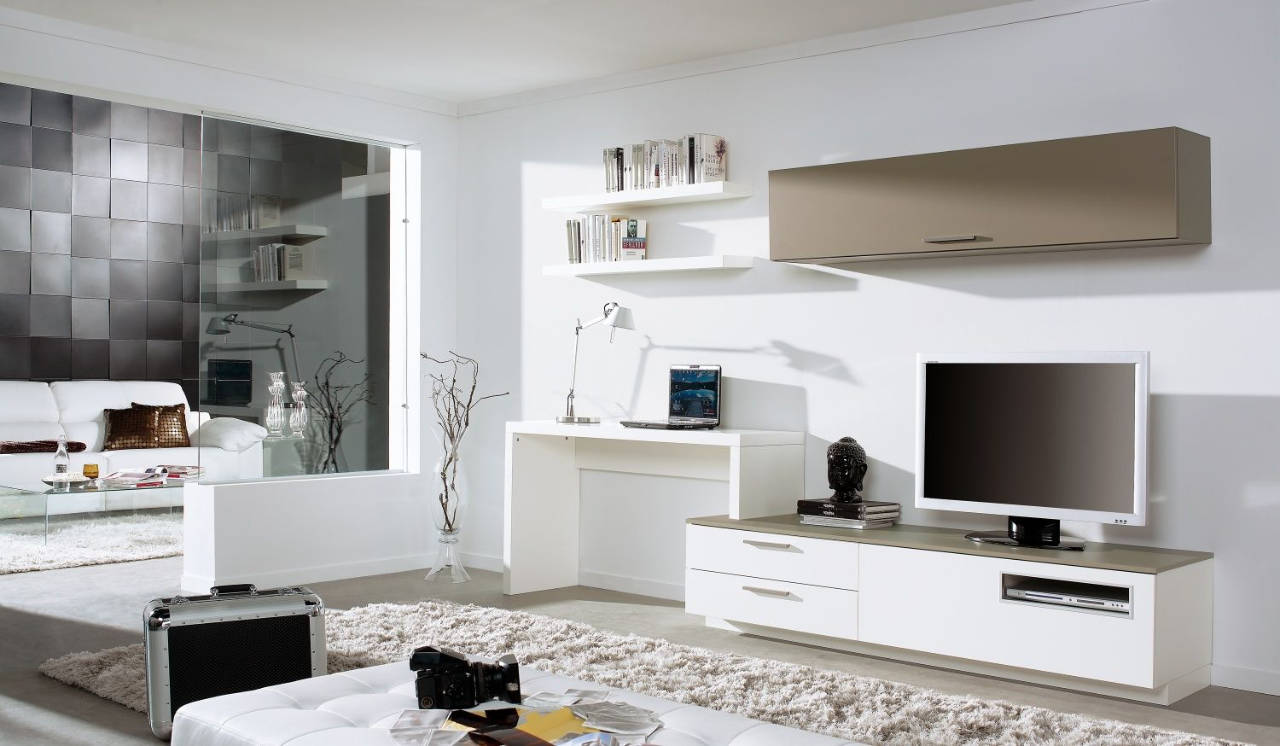 Remember the extension for the bed in the bedroom, the same can be added to the living room. An extension to the media console can be a retro-fit or a custom build work desk if you have the space for it will add a work from home corner in the living room.
12. The spare bedroom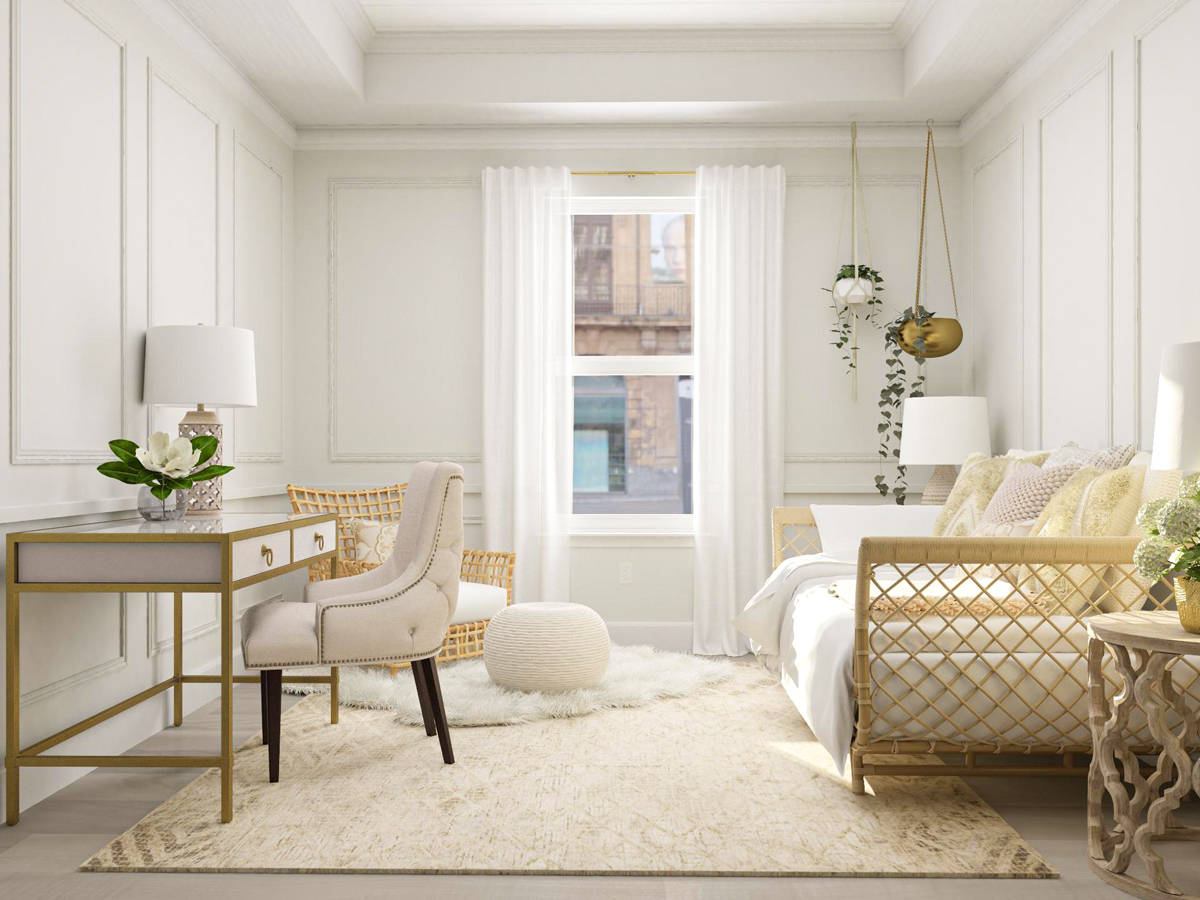 If you have a small spare bedroom to sacrifice, you can turn this into a dedicated home office. Again, pick a wall and lay out your work desk(s) be it single, dual or triple, depending on the number of workers at home. The good thing about using a spare bedroom as an office is that you can close the door for that extra quiet when you are working and shut it down when you finish, drawing a line between work and home. The disadvantage being you just lost the guest bedroom. We won't recommend it but if you must keep that extra bed, replace it with a sofa bed. This also means that you have to keep your work stuff tidy and stored safely away the you have a guest.
13. The writing desk aesthetic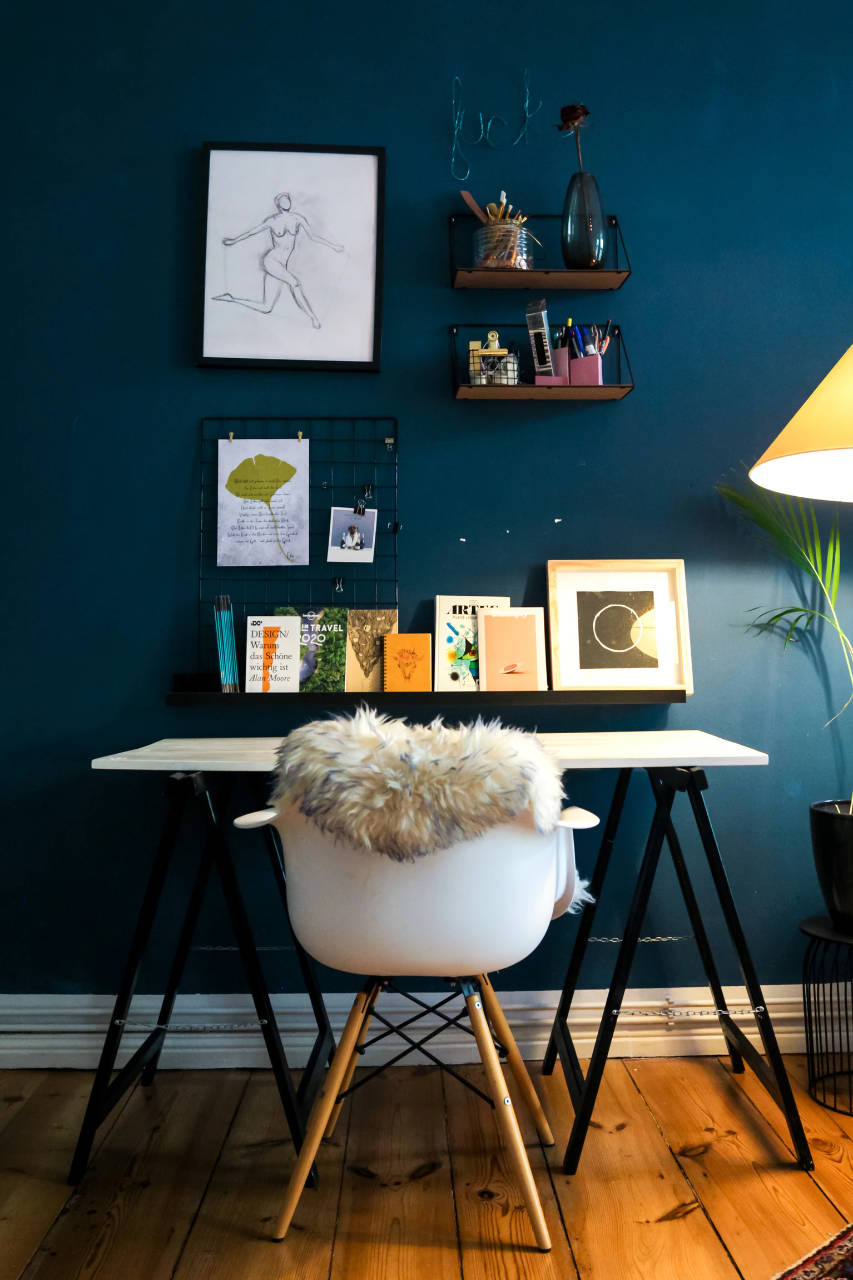 A writing desk basically consists of a simple table that is arranged in a wall-facing layout. It's small and perfect for homes that can't have a full-scale office room. Some have built-in drawers under the desktop, while others have smooth, simple work tops. The design of such desks can be personalized to suit your interior theme and they're versatile enough to complement any chair style. They look best with accompanying floating shelves so that the whole workspace feels holistic and pulled together.
14. The bookshelf desk
If you're looking for a desk that has just as much of a decorative appeal as it is functional, then go for a beautiful bookshelf-come-office desk. Instead of typical storage compartments, such desks have shelves that you can feature your décor in. The worktop is perfectly primed to carry out all office activities, but the side is designed like a shelf where you can feature all your favourite artwork, picture frames, plants, and other baubles. The design of such desks can be customised according to your visualisations, and it would look especially great in the office of a creative professional.
15. The modern executive home office
If space is not an issue, for executive home office that exude that rich, upscale vibe, it's best to opt for a modern executive desk. These desks are smaller in size than an actual executive desk. They are also visually light, so that the space that they are featured in can look spacious. Many of them feature stunning Scandinavian style aesthetics, so you can expect to find slim, slanted legs, sleek desktops with built-in storage, and neutral finishes. Pair such a desk with a classy chair and see how amazing the whole set-up looks.
16. Simple mid-century modern desk
A mid-century modern office desk is not only classic, but it's also a timeless investment. It's usually made out of solid wood, so it's sturdy and features ageless aesthetics. This style is typically articulated in the form of a writing desk, so if that's feasible for you, then this is the kind of aesthetic that you should opt for. It has a very intellectual appeal and looks like something an old-world professional or a seasoned writer would work on.
17. Sleek glass acrylic desk
If you're searching for some ideas to design a sleek, minimalist office space, then you need to opt for a transparent glass or acrylic /resin office desk. The idea is to select a material so transparent that it doesn't even feel like there's a worktop in the room. It'll basically feel like your computer or laptop is floating mid-air. It's best to complement such a desk with a bold chair and rug, so that the space doesn't end up feeling a bit too stark.
18. Under the stairs office
A compact writing desk can help you make the most of your under-stair alcoves. The right design can be easily pushed up against the wall. You can find many stylistic options in the market. It's a great way to create a focused working area in a home that's short on space. You can add a comfy chair and handy desk accessories to complete the whole look. If you've got some extra under-stair wall space, then you can also outfit that with floating shelves or a corkboard to file all your paper clutter.
19. Shared double desk
Working from home with a spouse or a partner who also needs the office? Or have kids who need a shared study space? This desk design is the perfect choice for both scenarios. The top is wall mounted and rests atop slim-fit stacked drawers to keep all stationary or office paraphernalia. The top half can be outfitted with any kind of a bookshelf design that suits your needs. It's an ergonomic choice of a desk if you need a shared workspace.
20. Full executive desk
We looked at a smart executive home office setup with a compact or smallish executive desk. If you have even more room, consider a full size executive desk. A full-length executive desk is the perfect way to add oomph, power, and infinite style to an office. It's mostly reserved for higher-ups who're up there on the corporate chain. The front of this desk is usually six-feet wide, so your office should always be double or triple this size, should you choose to bring in this desk within it. A custom-built executive desk to go with your wall storage and other furniture may just be what a real home office needs.
21. Corner work space
A beautiful corner desk cannot only help you optimize your office layout, but also double up your shelf style. It's just like an executive desk that's been outfitted in a corner instead of the middle of the room. You can personalize the design, materials, and finishes of such desks to make them feel interesting instead of conventional. For example, the desk top can be of live edge wood instead of a regular sleek finish while the body is done in smooth paint. Add in a contemporary chair and the whole layout would look absolutely striking!
22. Going that extra mile
If neither space nor budget is an issue for you, then it is really worth considering splashing out on your ultimate dream office, especially if you forsee spending a significant portion of your day at your desk in your home office.
Natural lighting is key in any work space. Of course, while the layout of your home office is important, pay close attention also to the styles of desk and office chair that you're furnishing with. Consider whether you'll need shelving for books or filing folders. And of course, you can always add your favourite art pieces for a personal touch.
This is a list of some great work from home designs and their benefits. We hope you'll be able to pick one that suits your office layout, theme, and style the best.
Edited by Samuel J. Tan
ZG