A wall full of books in the study or living room is quite common as part of any home's interior decor. Here, we look at some bespoke custom builds book shelves to standalone book cases to help you create that 'feature' wall. Here to inspire your next bookshelf design, pick from modern, contemporary, minimalist, mid-century, industrial or plain rustic to suit your taste.
You are probably here because you visited our earlier article on the subject, the inspired bookshelf styles and design ideas. If not, you may wish to explore that too in conjunction with below.
RELATED: Inspired Bookshelf Styles & Design Ideas
16. Wraparound Wall Shelf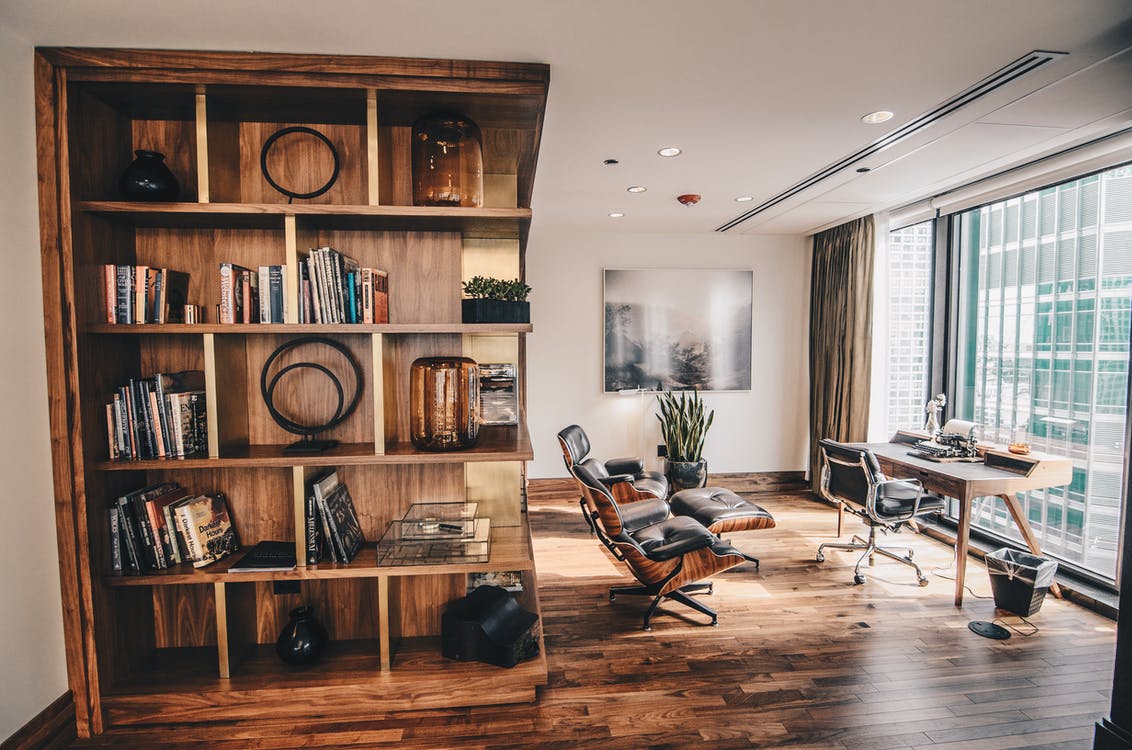 Floor to ceiling custom build shelves that wraps around the corner and encloses more than one side of the wall makes the most use of space, leaving nothing to chance. It also serves as a 'feature wall' when paired with the right material in this case, real wood and veneer in the same natural tone as the wooden flooring. This offers a rustic feel to the room, and is paired with mid-century work desk and mid-century modern Charles Eames style lounge chairs.
17. All White Suite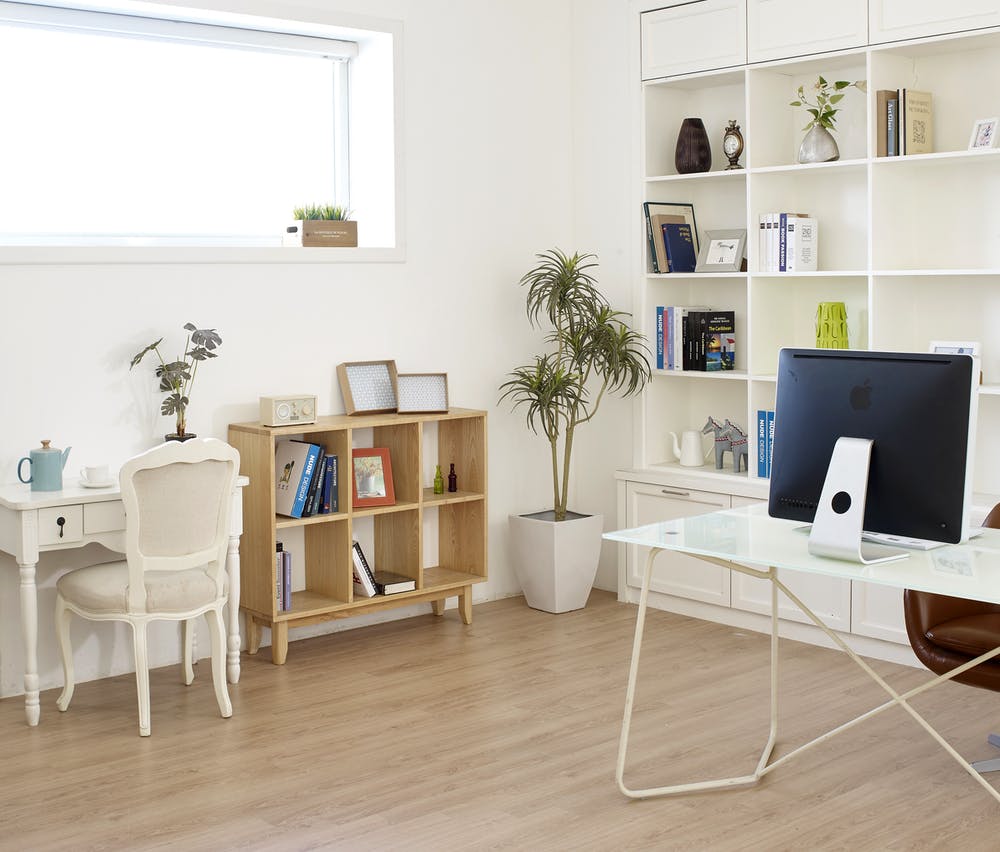 A white bookshelf is what you need for a small room. Together with other white and light natural tone furnitures, it makes the most of the natural light. Keeping some of the shelves free also makes a statement on its own.
18. Mid-century style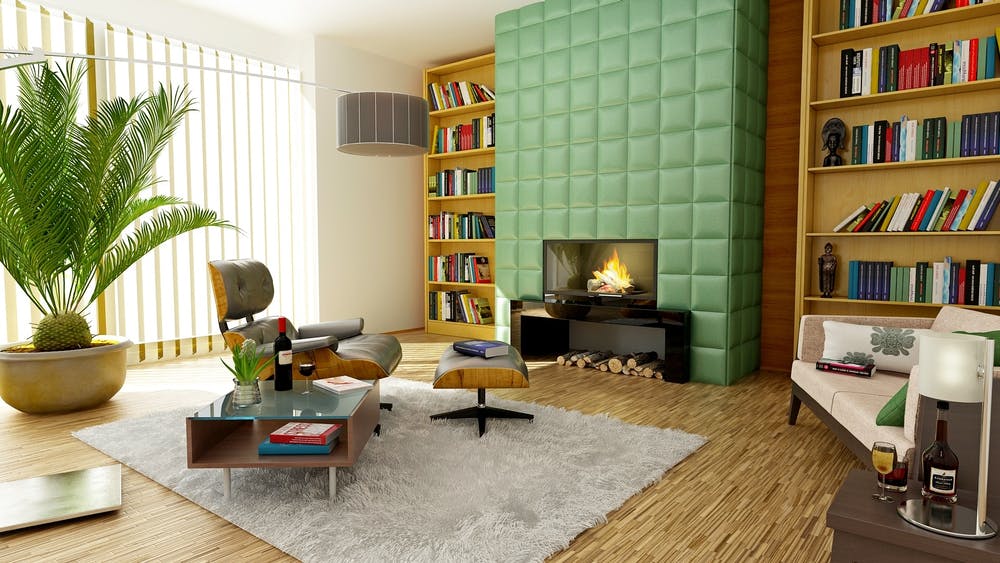 For that md-century vibe, go for open book cases in birch wood tone on either side of a statement fire place. Complete the room with Eames inspired lounge chair, foot stool, mid-century coffee table and sofa, and you have yourself a classic paradise.
19. Colour matched shelves, sideboard and table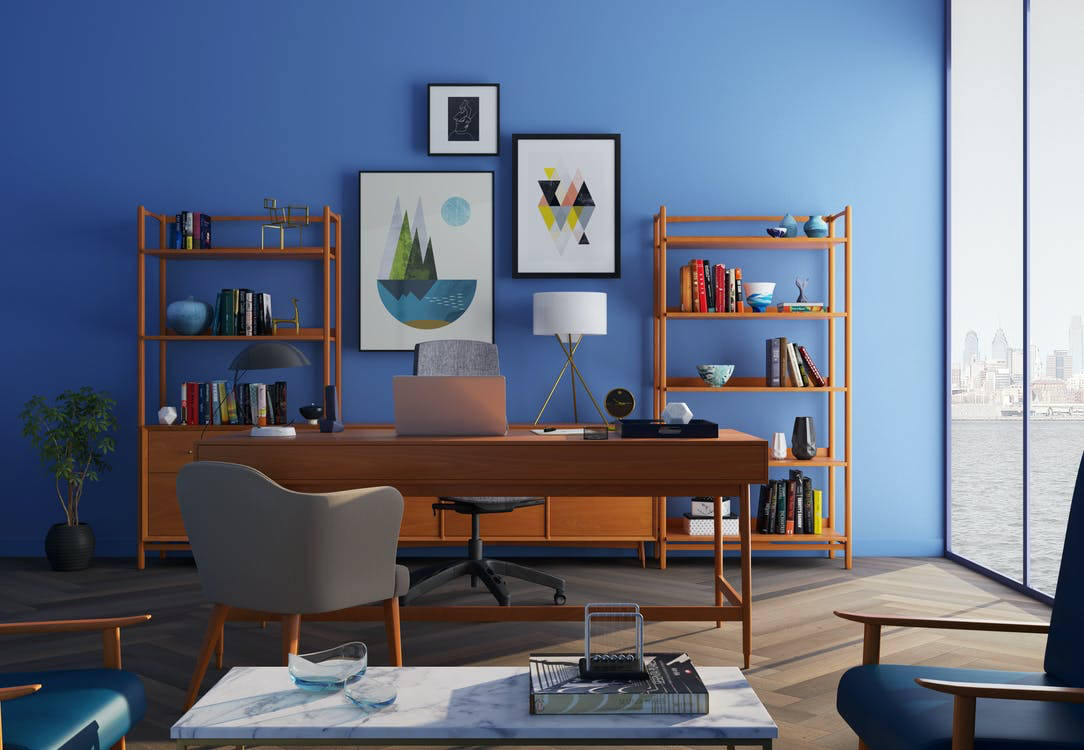 On the subject of mid-century furniture, take it to the next level with a complete set of matching furniture starting with that all important bookshelf. In this case a pair of book shelves, on either side of a sideboard in matching light brown wood tone. Other pieces that goes well with the bookshelves include full size work desk, sofa set and guest chair. Perfect for those looking to kit up their study.
20. Metal Frame Book Shelves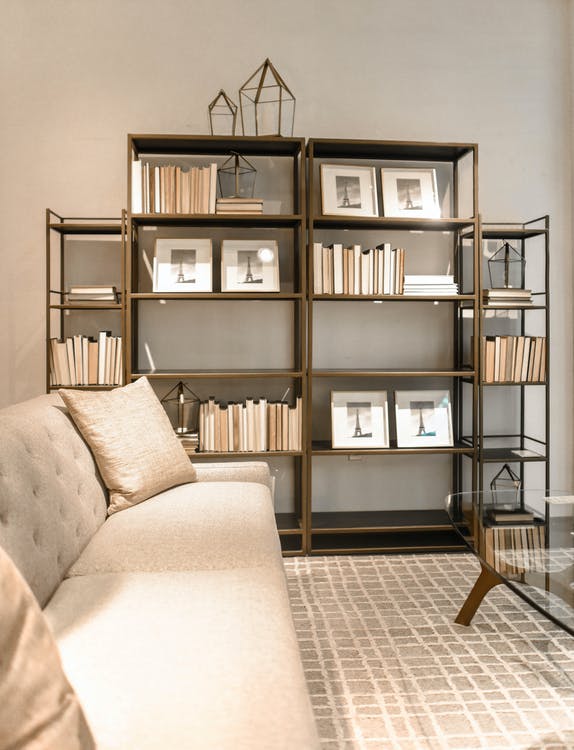 Metal frame bookshelf and display unit in antique gold offer a classy feel to any room. The stunningly slim lines and rectangular and square frames made from tubular and solid steel rods are not only minimalist but sturdy and strong too. Equally slim glass shelves or metal sheets are used as shelves to hold books, picture frames and decors.
Search Steel Frame Bookshelf on Amazon
21. Vintage standalone book case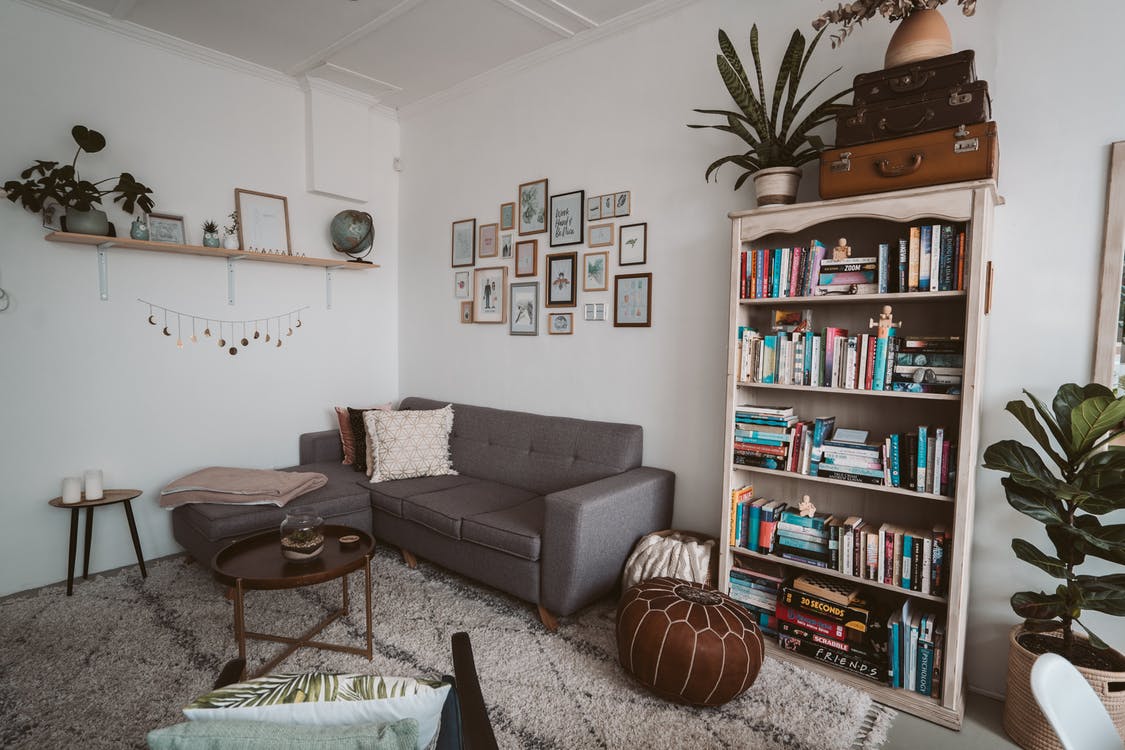 A good design does not have to be the latest style, case in point mid-century design. Old vintage style book case works just as well with the right furniture and complementary soft furnishing. Made from solid wood, they are super strong too and will carry all the books in your collection. You can choose to renew a second hand book case or buy a new solid wood unit in the vintage style colour that suits you.
22. Colour co-ordinated book shelves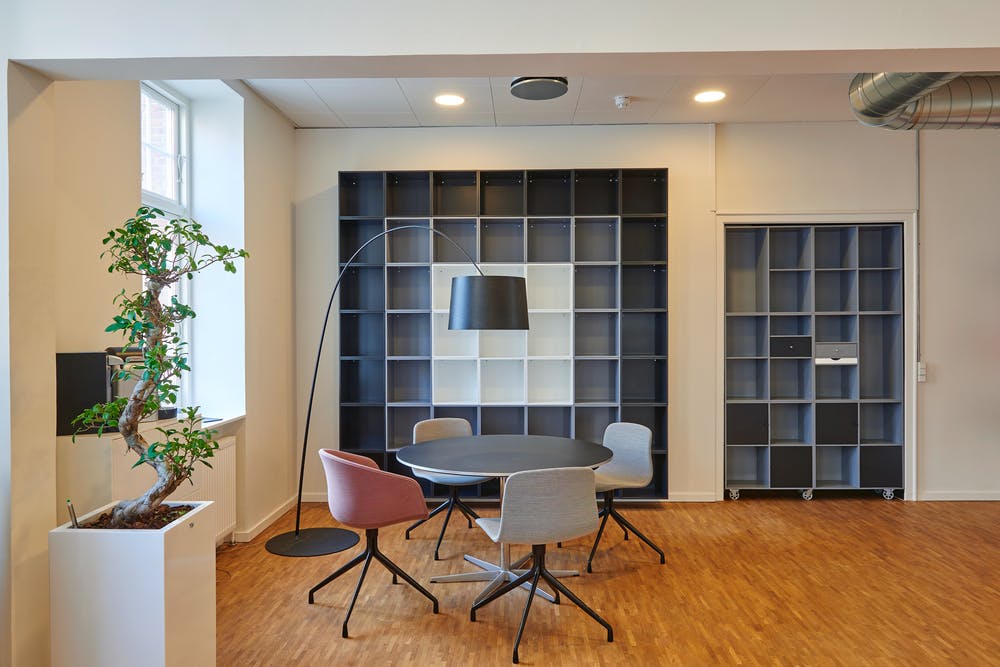 Here is another relatively easy to put together book shelf idea with square cube bookshelves, perfect to fill those niches and you get them in different colours too. These square cube storage shelves are modular so you can pretty much configure it to fit any space. They are both practical and functional and in our case, pretty pleasing to the eyes too. IKEA does a 5 x 5 square called the KALLAX if you are not one to assemble your own and as it is from IKEA, you can get accessories that fit perfectly in them such as doors, storage boxes, pull out drawers, glass shelves and mirror doors.
Search Square Cube Bookshelf on Amazon
23. Half empty & empty shelves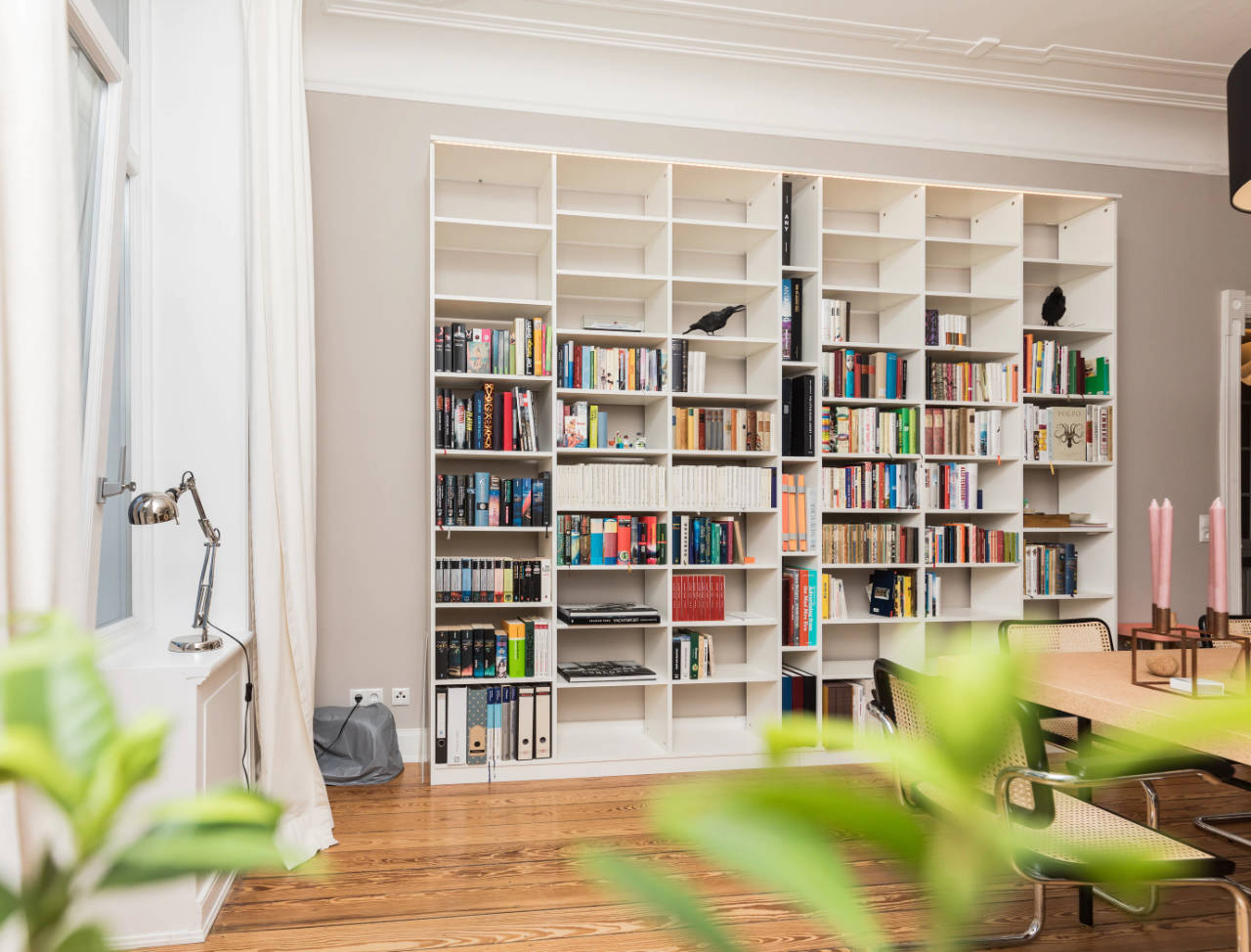 You may have it all the way up to the ceiling or close to it but it does not have to be completely filled.  Here's an idea, keep some of those book shelf compartments empty, especially those you can't reach without a chair or step ladder. Not only are they more practical with no health and safety risks hobbling on a stool to get to the top shelves, they create a sense of space. Empty shelves are actually quite nice. Try leaving some of those lower shelves empty too while you are at it as it is not easy for some to bent down to get what they want either.
24. Full Wall Rustic Library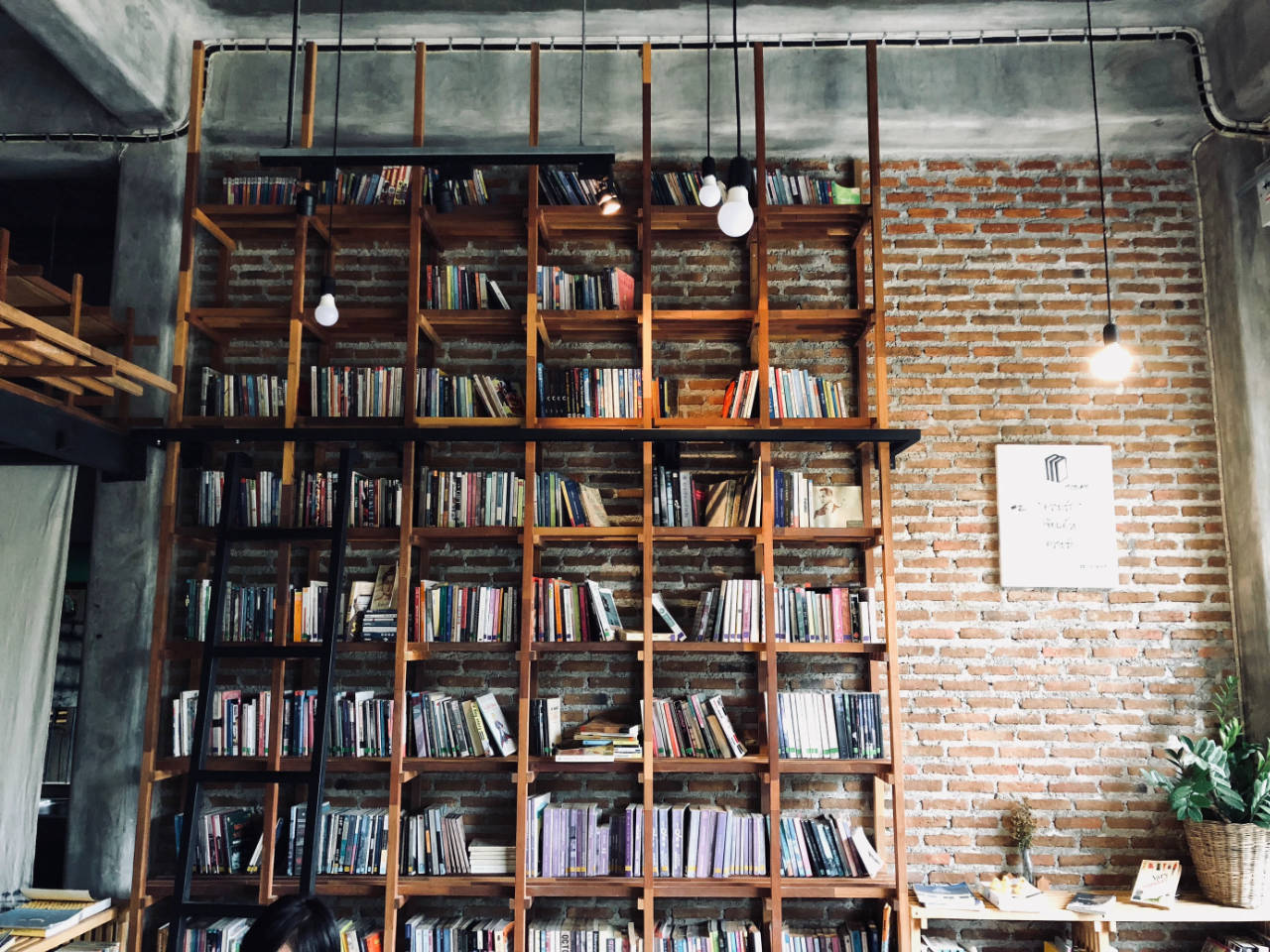 This next entry is perfect for DIYers and those seeking a rustic vibe. Made from rough sawn wood bolted to the wall from floor to ceiling, this quick to fit and cheap to assemble full wall rustic library is perfect for rooms with high ceilings. You may also want to add a step ladder for easy access to the books.
25. Shaker Style Book Shelves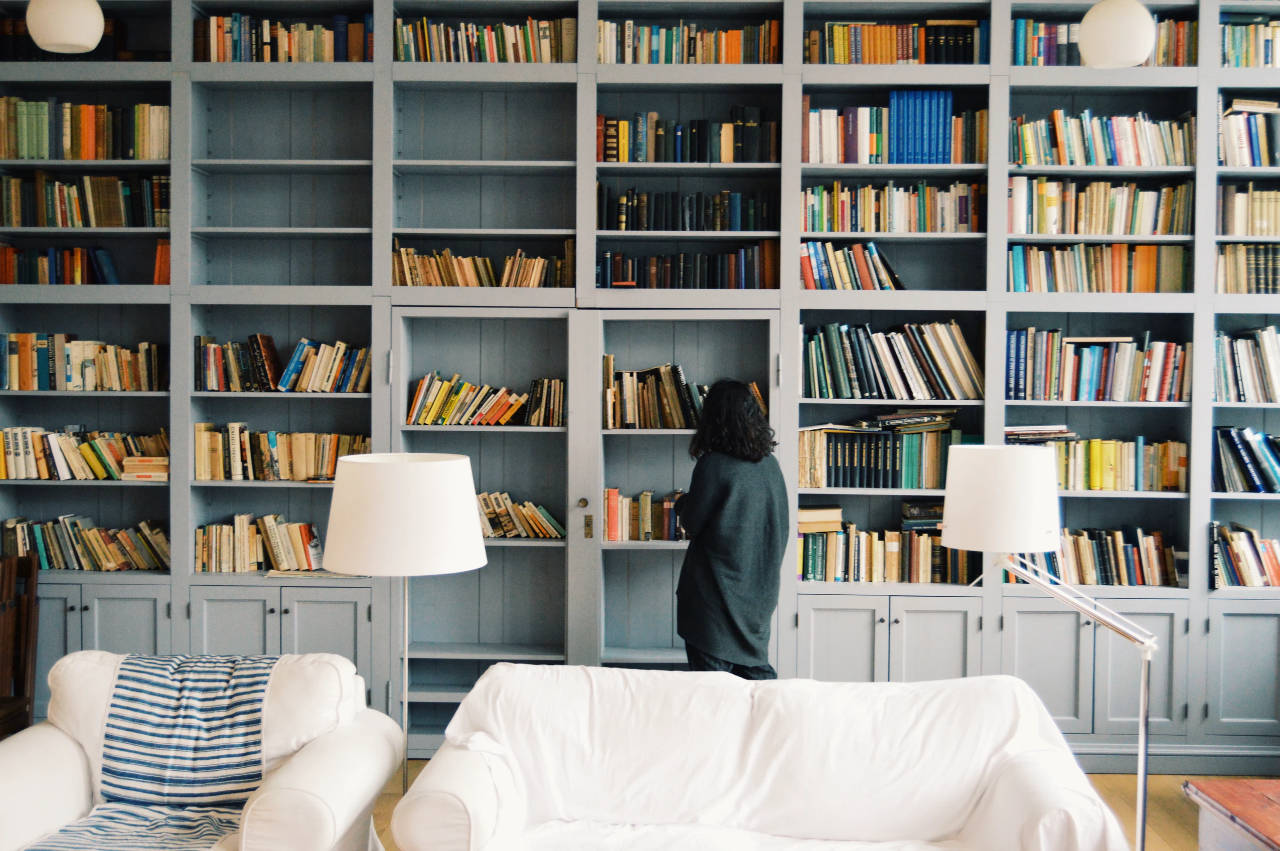 These shaker style floor to ceiling bookshelves in pebble grey comes complete with storage cabinets, displays and that iconic beaded-board backs. Made from solid hardwood and finished to the highest quality, they are not only practical and stylish but built to last. Perfect for those who appreciates traditional joinery and values lasting pieces of furniture.
26. Dark and mysterious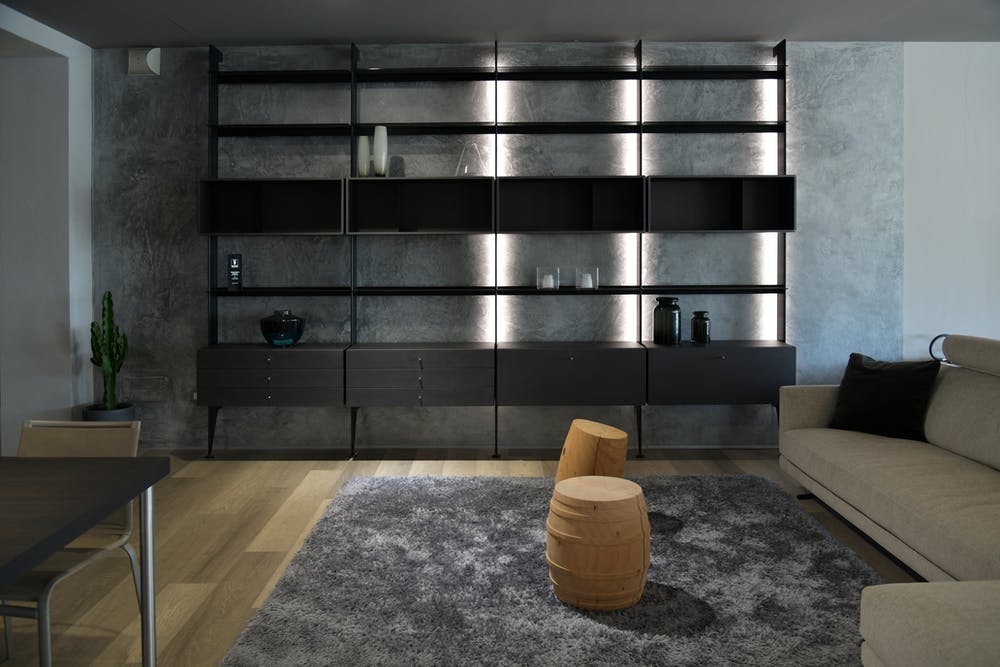 A stark contrast and a total opposite of the all-white suite, the dark and moody or dark and mysterious bookshelf is perfect for the modern living space. Not to draw too much attention to itself, it still offers the storage and shelves you need for your decors, books, picture frames and such. If you want to lighten it up, try hidden LED lights trips. Perfect for the TV room, bedroom or basement.
27. Chrome Shelves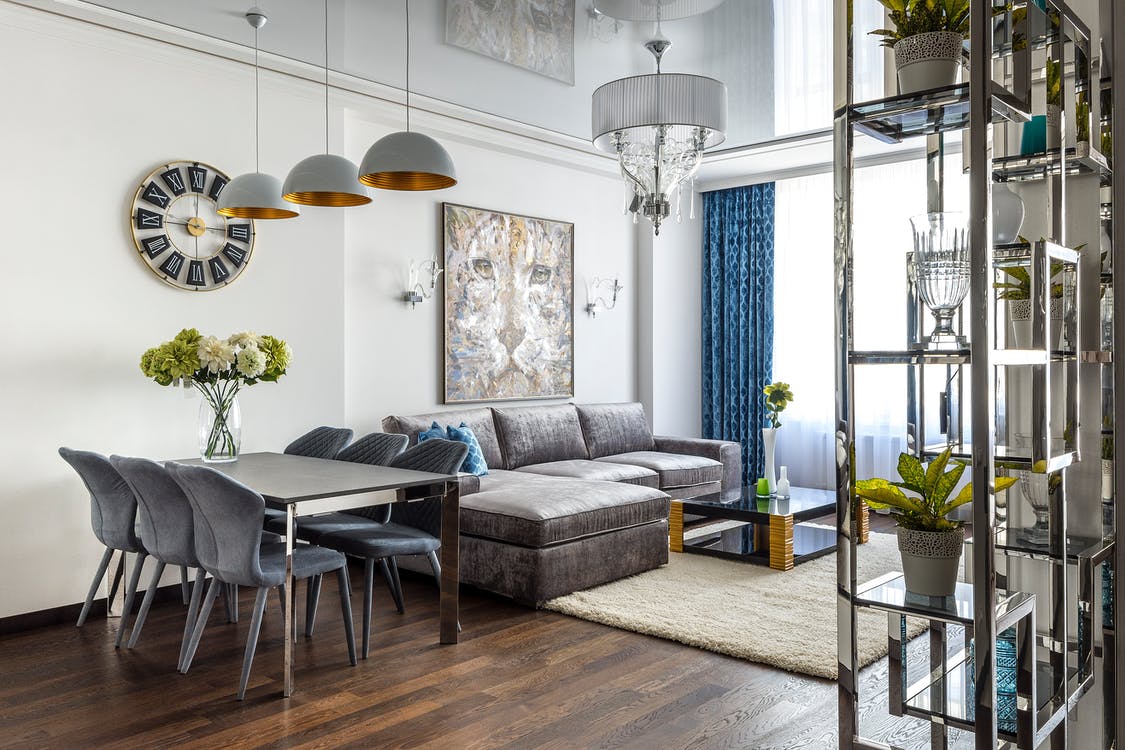 These double-sided, chrome finished shelves are great as dividers and as decorative furniture for your decors, planters and mantel piece. They go well with other modern furniture finished in glass, mirror, black, silver, grey or chrome. It is more of a statement shelf unit than it is for books. But, who is stopping you from displaying some of your favourite hard covers. There are several aperture sizes so you can pick and mix what goes where and each shelf is made from toughened glass for extra durability.
Search Chrome Bookcase on Amazon
28. Hallway book shelves and bench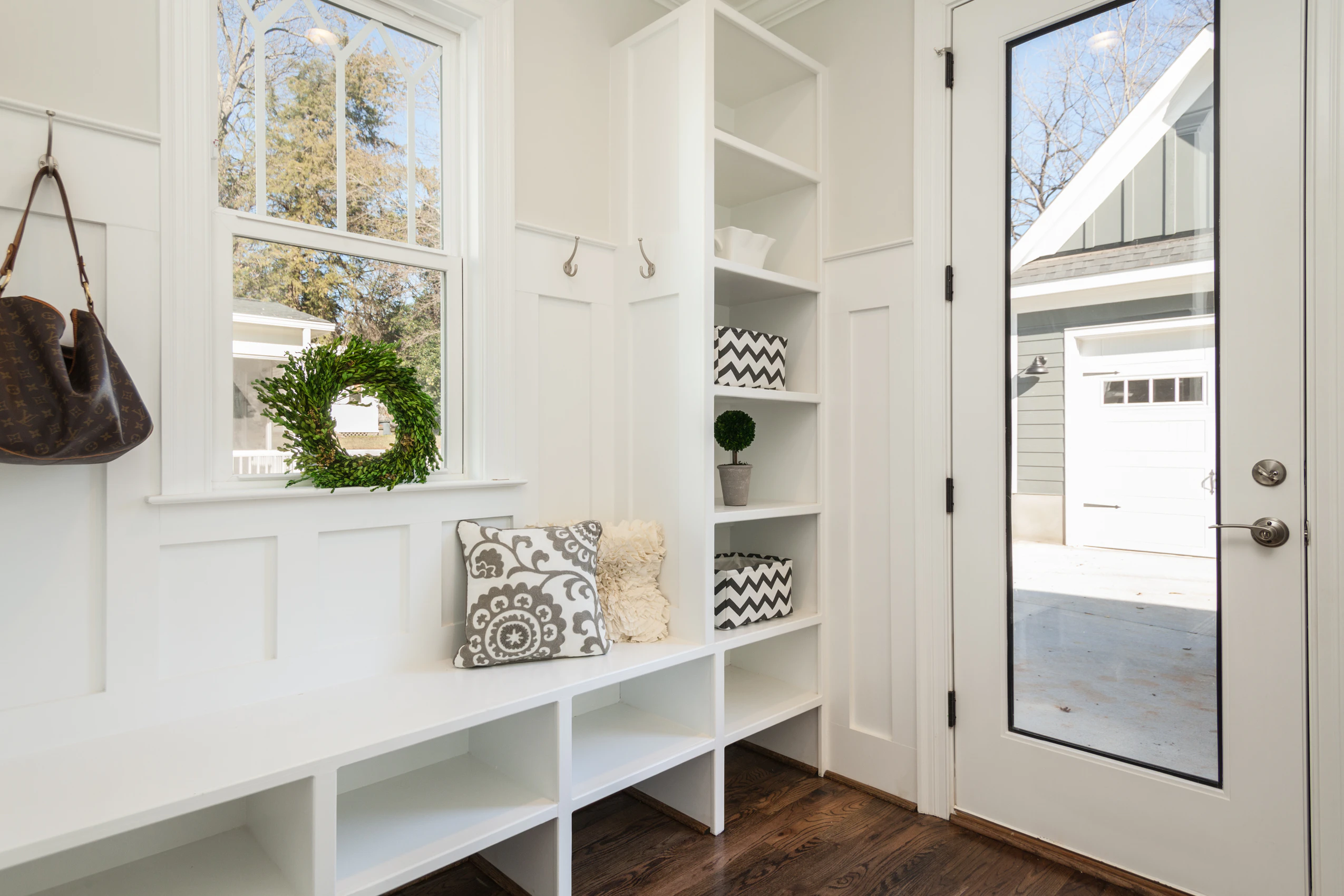 Be it for books, shoes, bags, accessories or simply just storage for keys and stuff you empty from your picket, you can't not have a custom built bookshelf in the hallway. If it can work in the study or living room, it can alway work in the hallway. What is more, the shelving unit will gets even more use and become truly practical if it comes with a bench topped with some cushions. Here is putting that hallway space to good use.
29. Media wall book shelves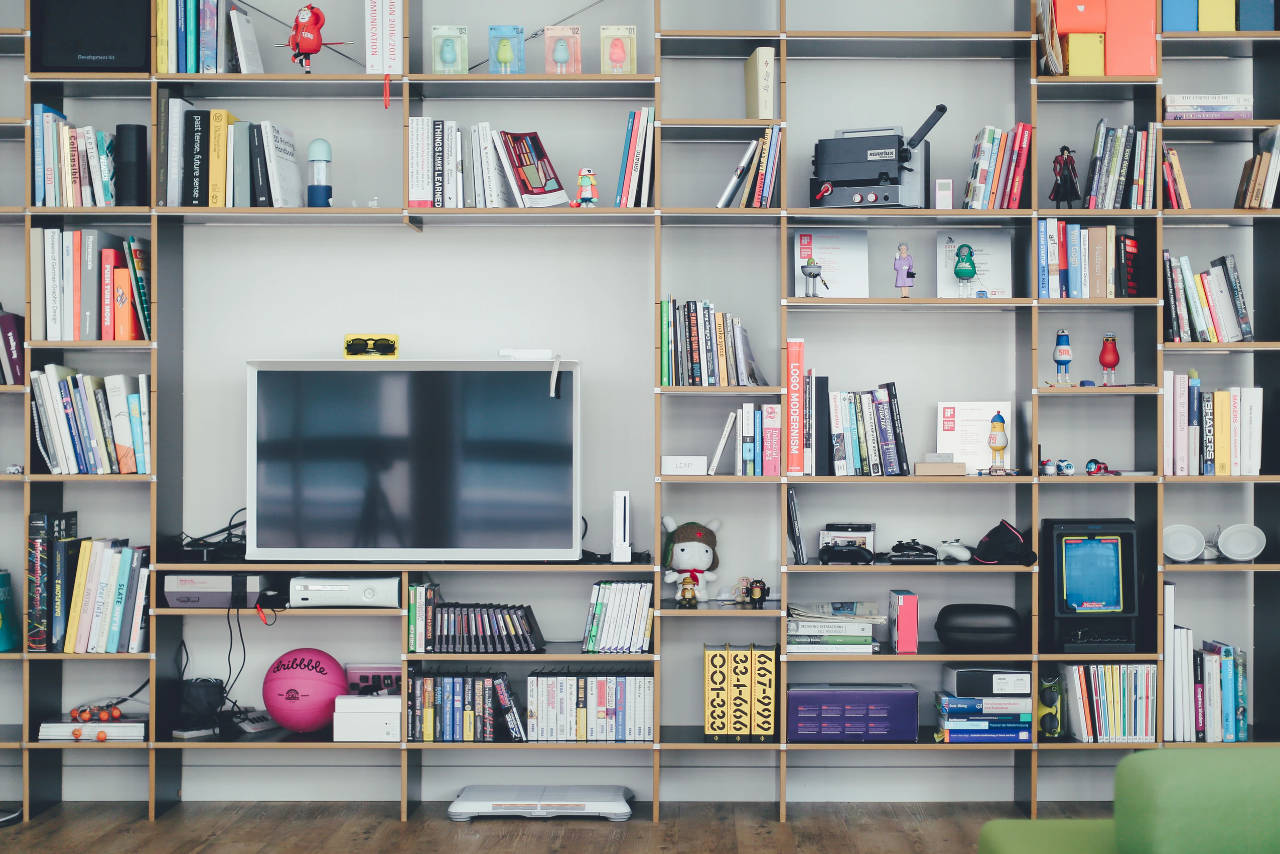 Next, we have the media wall book shelf. And, this is one that can go in the living room, games room, study or even the basement. It doesn't feel out of place at all, with it's streamline compartments ands and shelves. The theme here is practicality and fun. Everything from books to DVDs to game consoles, TV and speakers and toys just come together perfectly.
30. Bookshelf in the Reading Nook
Finally, we have book shelves designed around a reading nook in the house, where it is most practical. Where else would you have a book shelf other than the study. Here you can have a custom  built unit with seating space, coffee table, window bay seat and soft furnishing. The idea is to make it as cosy and as inviting as possible. A haven for book readers to put up their feet and dive deep into their book.
RELATED: Inspired Bookshelf Styles & Design Ideas