The kitchen is arguably the most functional room in a home. It's designed to accommodate cooking, preparation, gathering for meals, and lots of other activities. However, the countertops are where most of the action happens, and that's the thing that you have to focus on the most when choosing the perfect materials and finishes for your kitchens.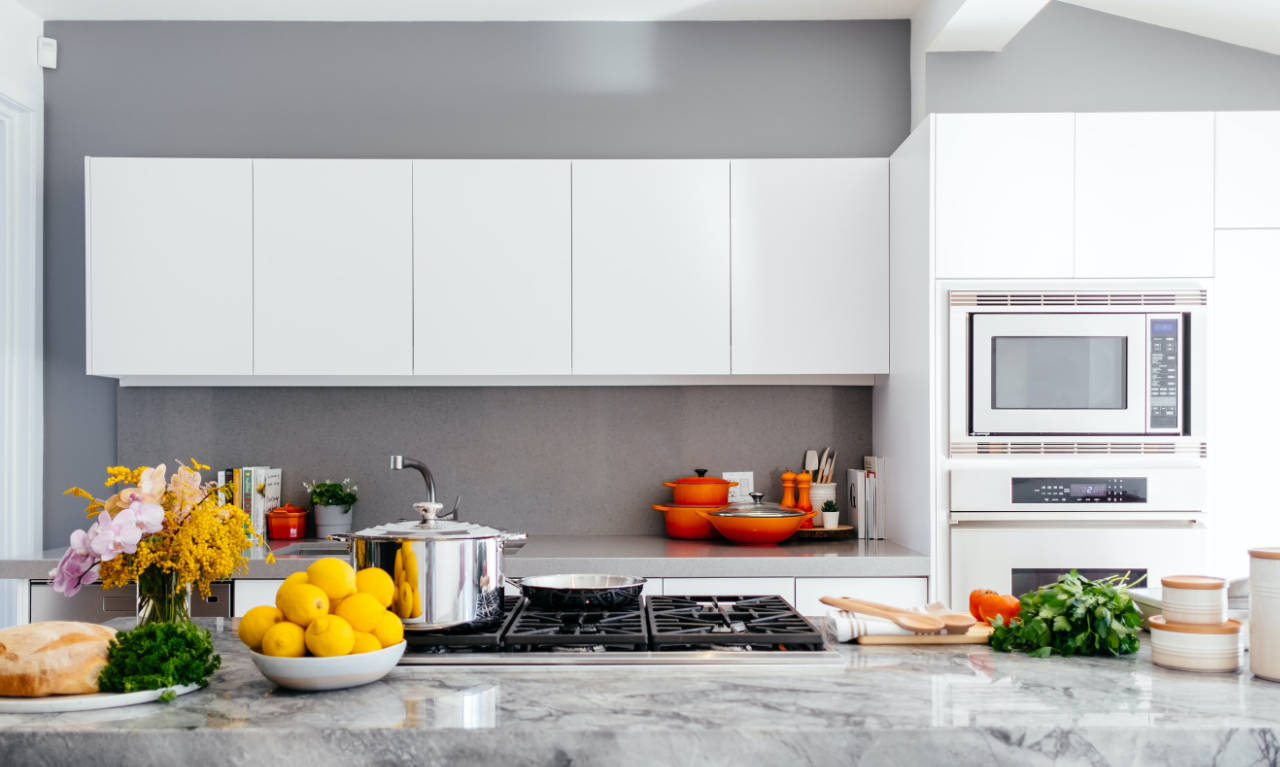 These countertops have to be aesthetically pleasant, but most important of all: functionally viable. They should be resilient and durable. The material should not be easily damaged, and if you're struggling to choose the right worktop, then you'll find this list very helpful, starting with overview below:
Real Wood
Engineered Stone – Quartz
Stainless Steel
Laminate
Marble
Granite
Acrylic/Resin
Concrete
1. Real Wood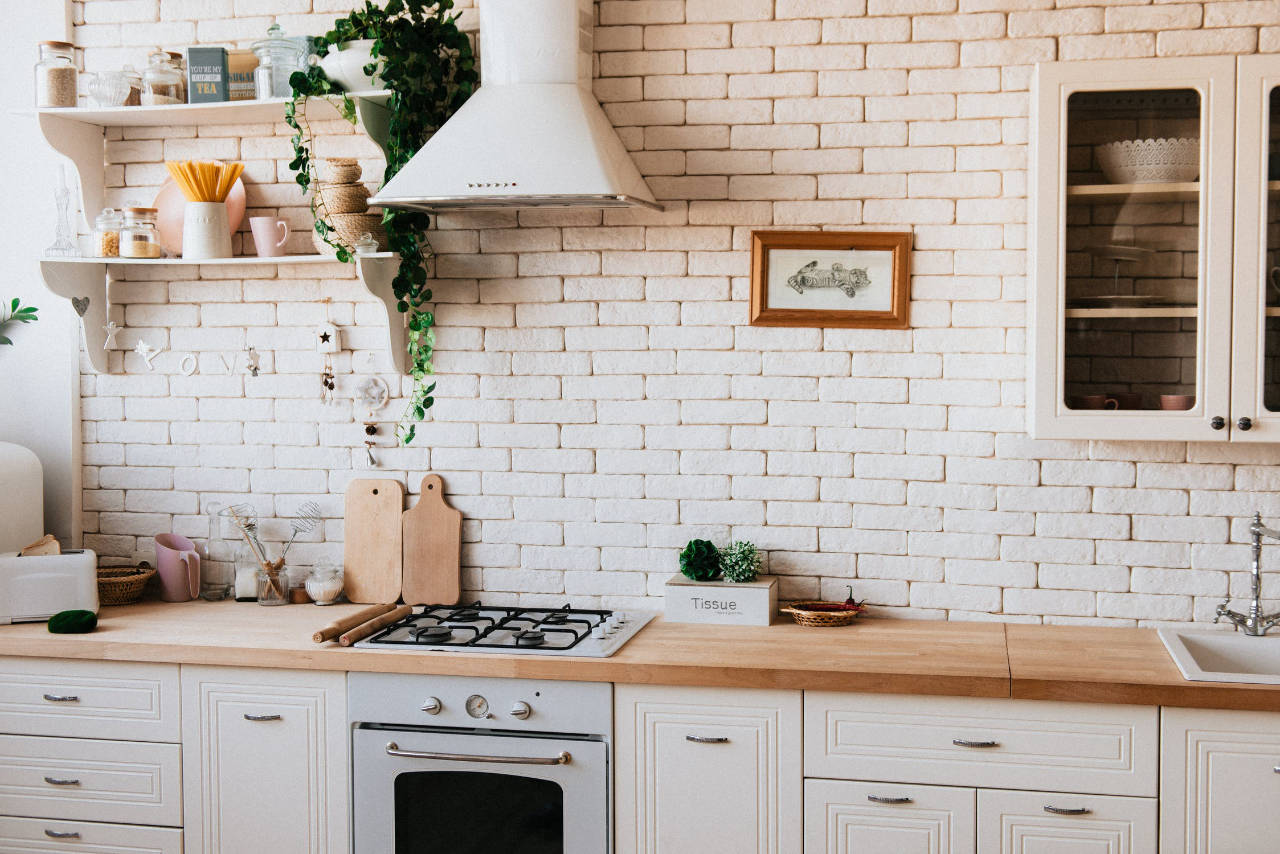 If you're wondering whether real wood can be used as a kitchen countertop surface, then the answer is: yes. However, it comes with a lot of attention during installation and afterwards in the form of maintenance. The most common form of wooden countertops include butcher blocks, which hail from the 1900s backstory of how butchers of that era found maple wood blocks glued together to be more resilient than simple wooden slabs.
These butcher-block countertops are still used in vintage and rustic inspired kitchens. But as far as modern themes are concerned, people prefer going for chemically treated real wood slabs instead.
Pros
The most viable benefit of real wood countertops is that they're budget friendly, ranging anywhere from $20 to $200, depending on the kind of wood and installation process.
Since wood is a porous material, you'll find that it'll absorb most of the white noise in your kitchens. From the clatter of utensils to the constant whir of appliances, there'll be less noise pollution.
In case of any knife marks or burns, the upper layer can be sanded and refinished for a brand new look.
Cons
The expansion and contraction of wood can cause unsavory cracks or gaps to appear on the countertop surface. Less so with engineered wood.
The wood also requires frequent oiling in order to maintain its sleek finish.
Perhaps the biggest disadvantage of wooden countertops is that they're not fireproof. And since the kitchen is all about cooking on high heat, this can be a big problem.
2. Engineered Stone – Quartz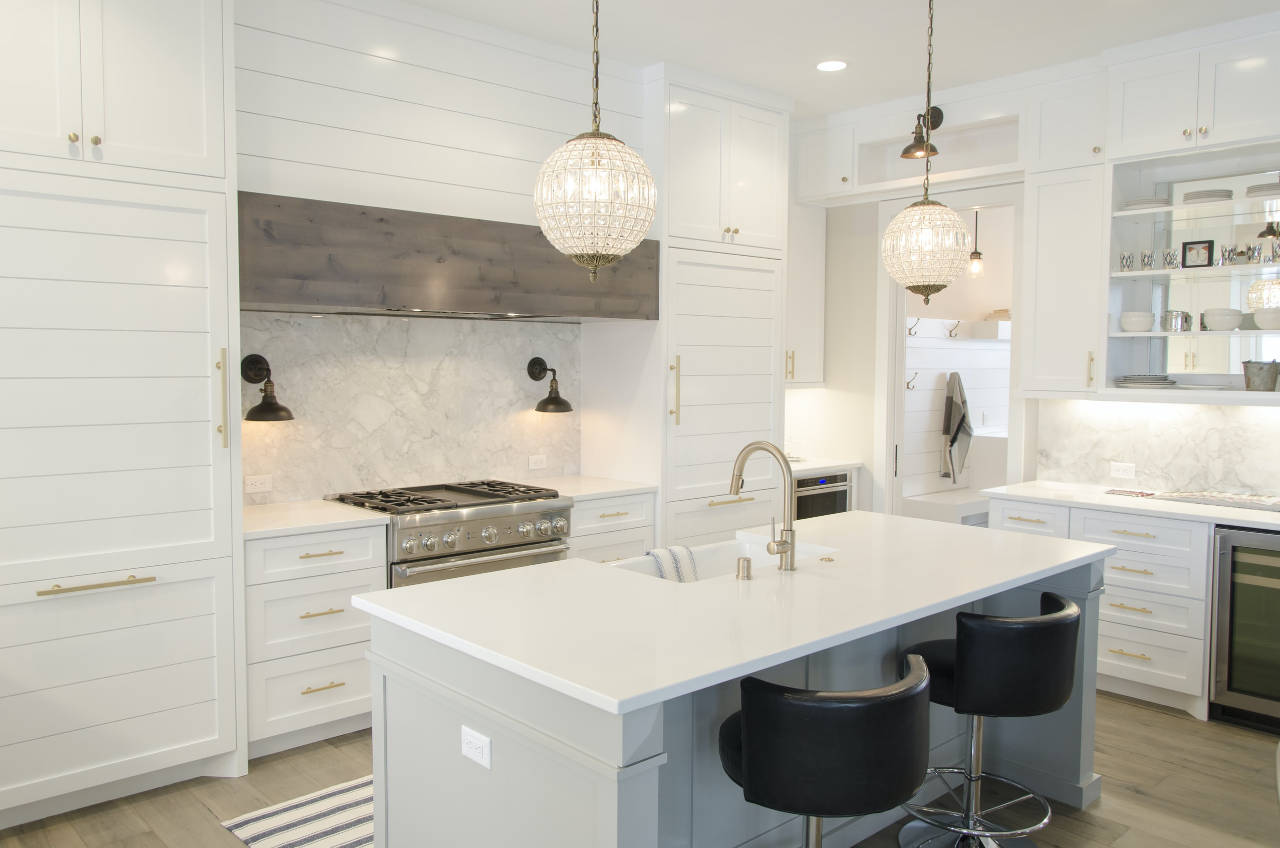 Engineered stone countertops are made out of quartz crystals that are held together with a resin. They're incredibly strong, heat resistant, and scratch resistant. While natural stones have a lower capacity to withstand the wear and tear that comes with a working kitchen, engineered quartz surfaces are designed to be much more durable and qualitative in comparison.
Pros
Engineered stone countertops come in various designs, most of which are highly unique and attractive.
Their unique manufacturing ensures that they're solid, will never crack, and the surface won't scorch either. They are highly durable and resistant to scratches and knocks.
They're easy to clean, hard-wearing and don't stain at all with its non-porous surface.d
Cons
Although rare, sudden temperature changes can make these countertops swell or contract, which might cause cracking.
It's recommended that the countertop be protected with a trivet before putting hot utensils directly on top of it.
3. Stainless Steel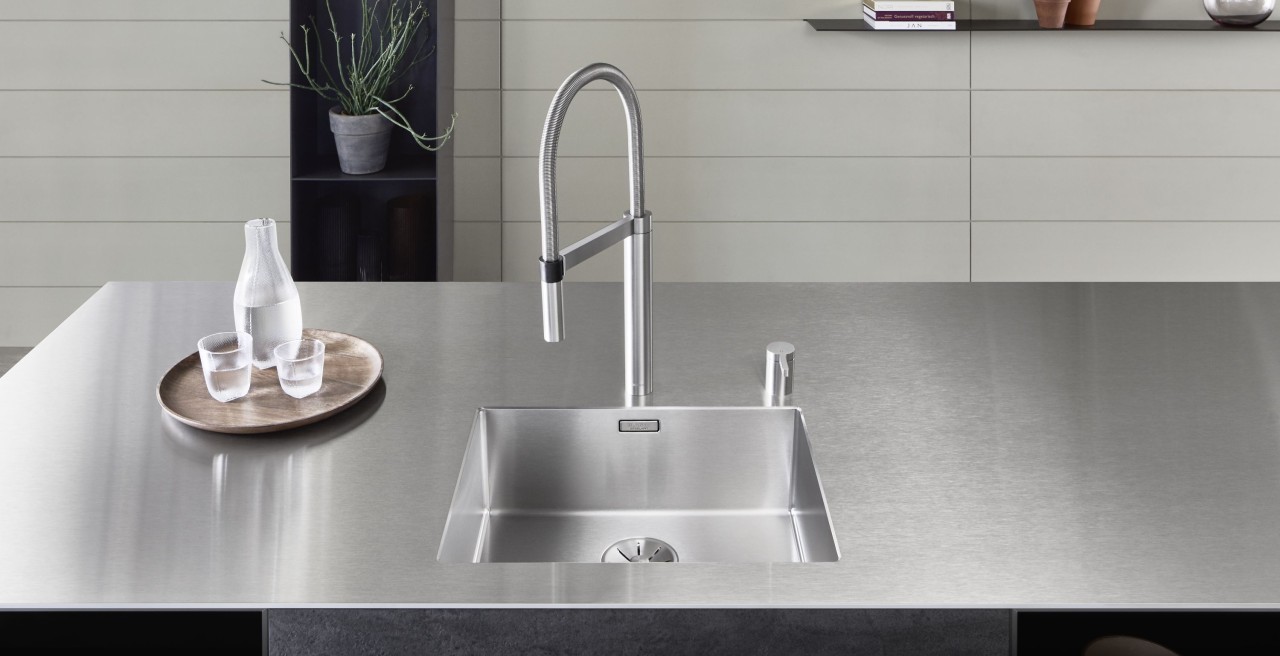 Stainless steel kitchen countertops are considered high-performance, and they're usually used in commercial kitchens. However, this material has seeped into residential kitchen genre as well, and is considered a good investment. Price wise, it costs approximately as much as marble – around $50 – $150. The steel sheet is selected on the basis of its gauge, which ranges between 14-20. The higher the gauge, the thinner the steel and vice versa. The thicker sheets cost the most.
Pros
Stainless steel is available in a variety of finishes, so you have a lot of aesthetic options. These include polished, matt, velvety, brushed and more.
The steel surface does not stain easily. However, strong bleach may mark the surface.
The metal used in these countertops is often recyclable.
Cons
Stainless steel countertops are susceptible to heat damage as well as rust – yes, even the food grade ones.
Beware of the noise – your utensils (and everything else) will touch the steel surface with a clatter.
Lower gauge steel can dent on impact, leaving an annoying ding on an otherwise perfect shiny surface. These are usually backed with MDF for stability and structure.
4. Laminate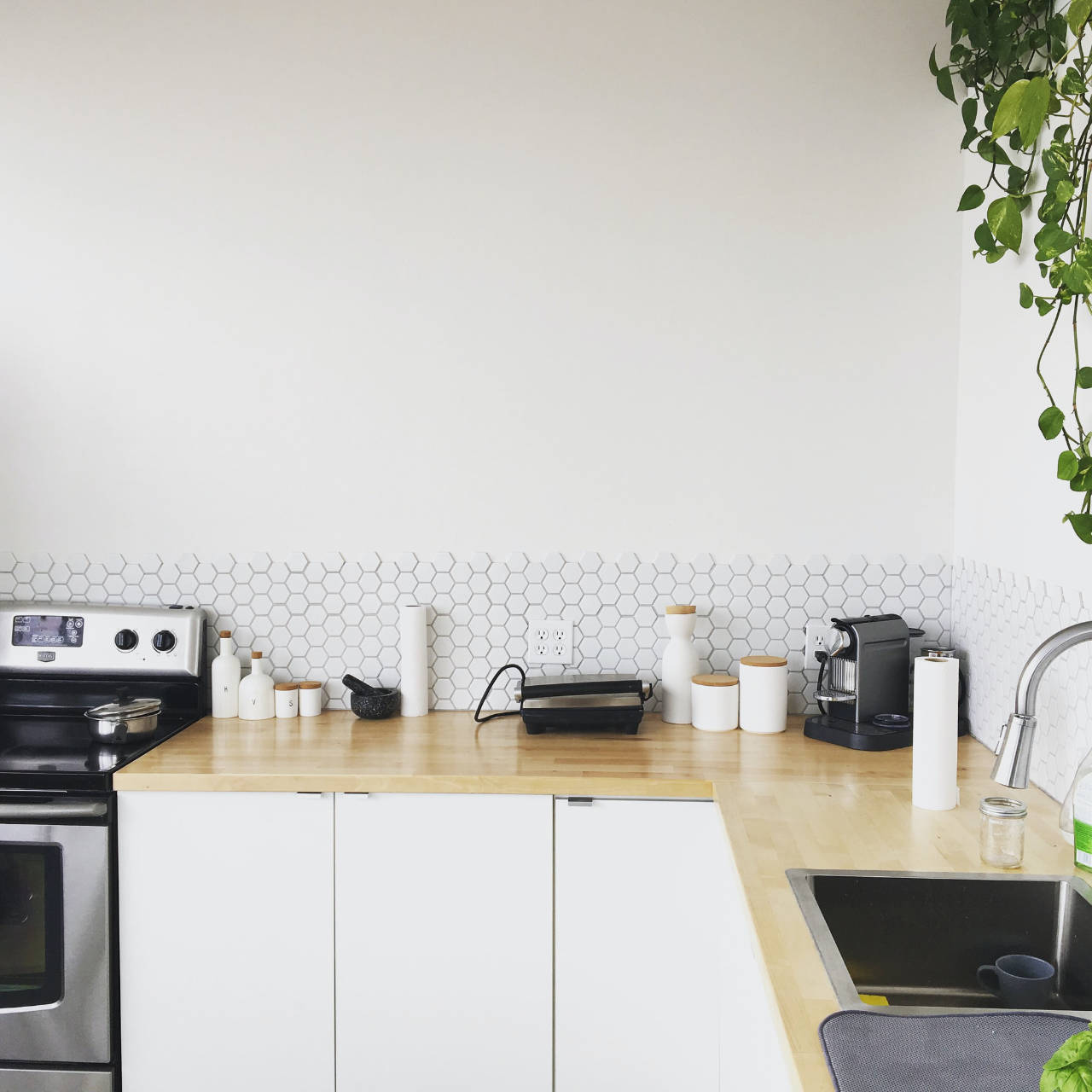 Laminated countertops have become a popular choice in kitchen interior designing. That's partially because of their low cost and partially because of their easy installation. With some guidance, one can also carry out a DIY installation for these. Other than that, laminates are available in so many finishes, so you can easily opt for a unique one that sets your kitchens apart.
Pros
The low cost of these laminates range from $15 to $30.
They're quite durable and are able to withstand the everyday wear and tear of kitchens.
The huge variety in finishes is a bonus for everyone who's theme conscious.
Cons
Laminates are not heat resistant, so you can't put hot utensils directly on top of them.
They can also stain easily, so it's best to be careful of any stains.
Expands to moisture and water if not sealed properly
5. Marble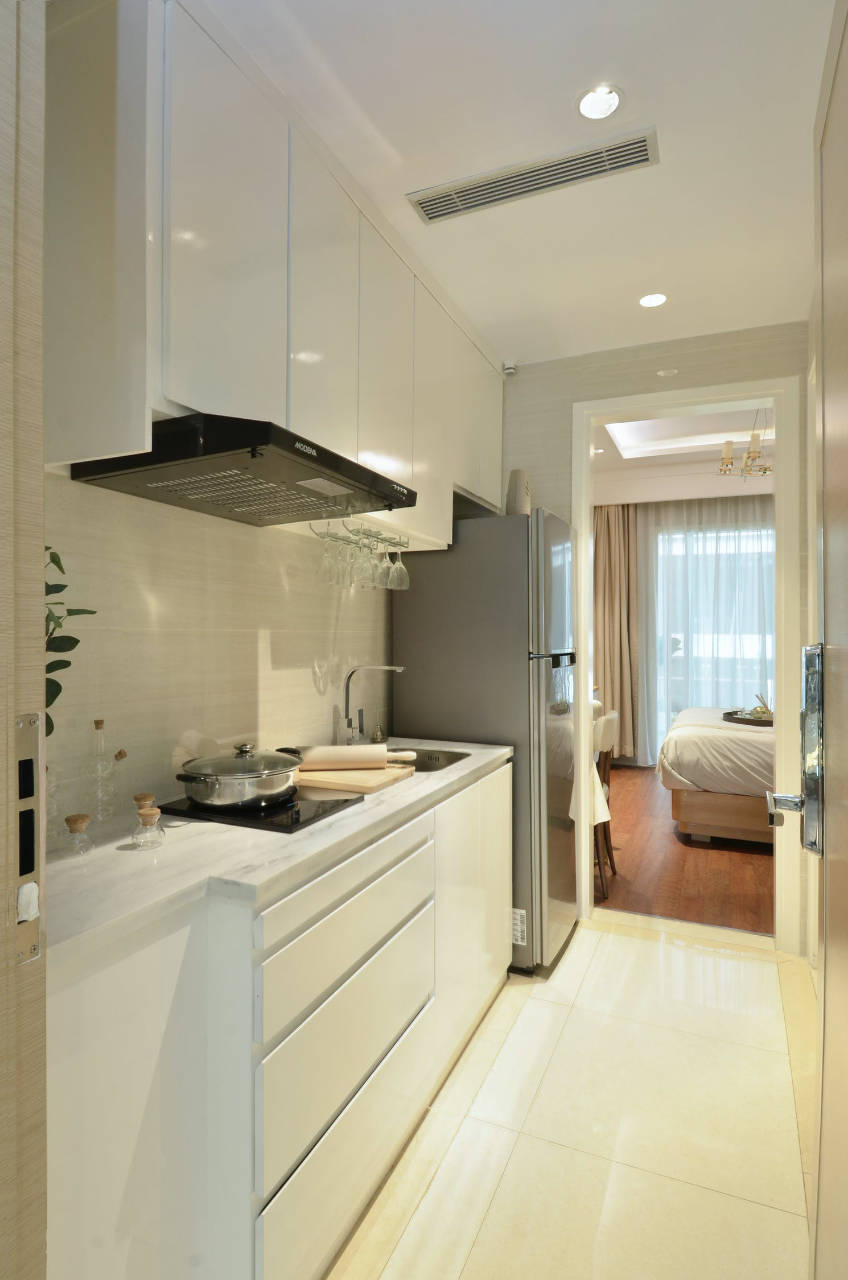 Marble is a natural stone and countertops made out of it are not just incredibly beautiful, but also very resilient. It's a popular choice with most homeowners as it gives the space a luxe vibe and it lies in a mid-range price point.
Pros
Well-maintained marble can add to your property value.
It comes in a lot of finishes, be it dark or light. Homeowners definitely appreciate the large variety.
It has a luxurious look, which can make your kitchen ambiance feel extravagant.
Cons
Marble countertops require regular maintenance and resealing to retain its sleek look.
It is susceptible to heat damage and can also stain due to its porous nature
Marble is a relatively soft stone, so it can also scratch and chip easily.
6. Granite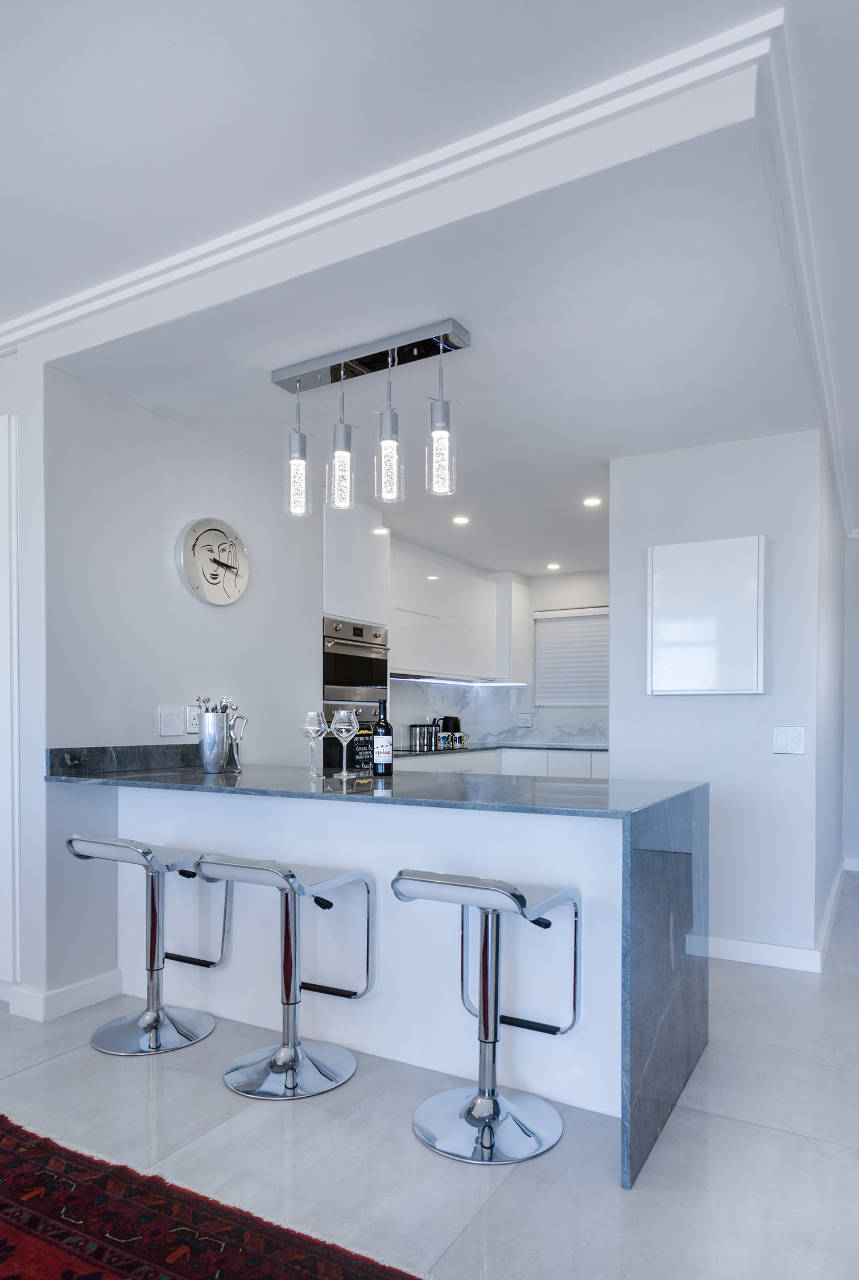 As one of the most expensive natural stones, granite is considered a premium quality kitchen countertop material. However, it makes up for its high price point by offering some amazing qualities. It's a stylish, durable, and incredibly attractive. Granite has a certain presence that exudes inherent luxury, and it's definitely one of the best material choices to furnish your kitchen countertops with.
Pros
Granite has amazing heat resistance, so it won't scorch or crack.
It's highly sustainable and eco-friendly.
It's elegant, sophisticated, and pairs well with most kitchen interior design themes.
It's a long-lasting material that can maintain its natural integrity and timelessness for years down the lane.
Cons
Granite is highly expensive.
If sealed in an improper way, the surface can be susceptible to staining and bacteria growth.
There are relatively fewer color and texture varieties in natural granite.
Which material is the kitchen countertop King? Figure out for yourself here!
7. Acrylic/Resin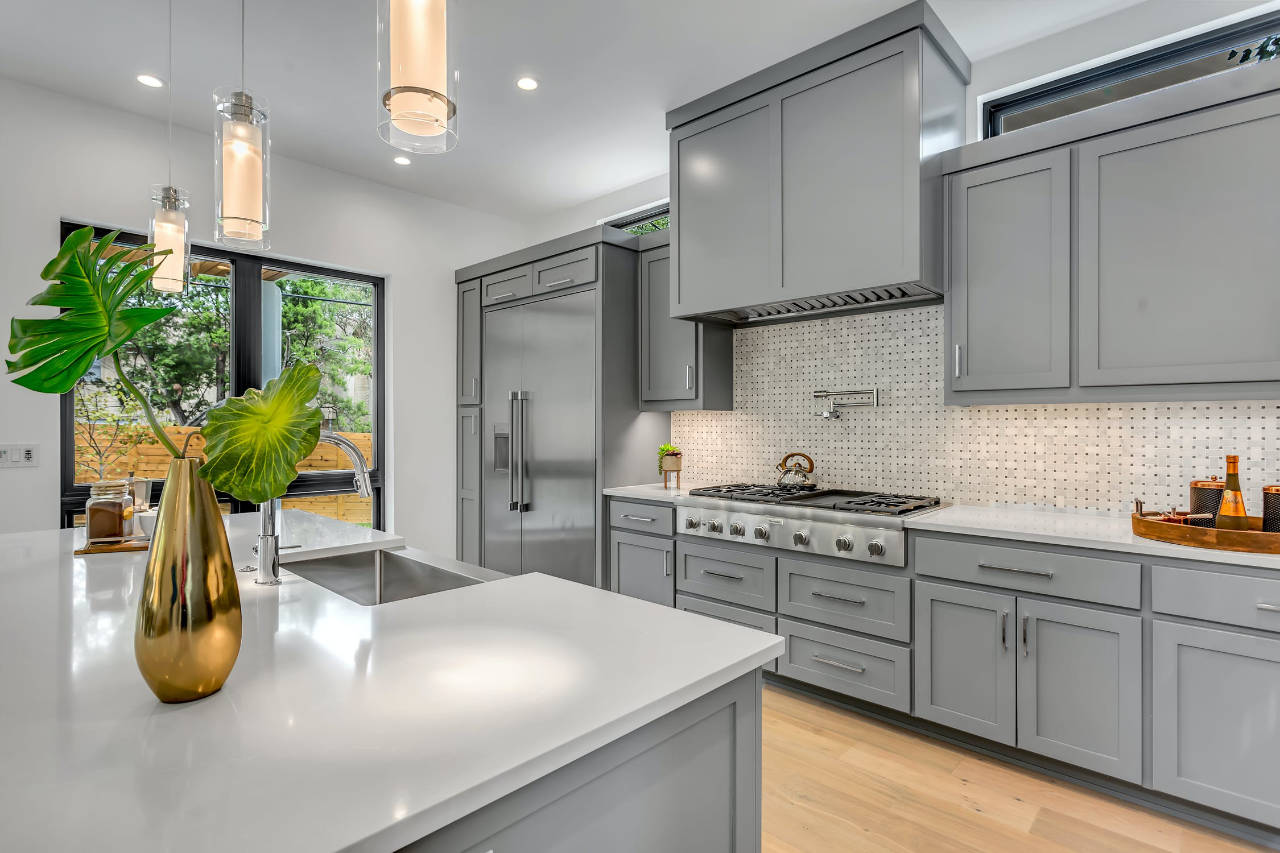 If you're in search for a composite kitchen material finish, then acrylic and resin based ones are definitely some of the best. This genre includes materials like Corian, Hi-Mac, Megnatite etc. and all of them have become popular choices over the last few years. They lie in a mid-price point range, and each one has its own unique characteristics to offer.
Pros
They're highly easy to clean and don't need regular maintenance.
They're rated as food-safe and hygienic.
The non-porous nature makes the surface hard to stain.
They can also be professionally repaired in case of any chipping
Cons
You might want to use trivets and cutting boards to keep the surface from damaging too quickly.
These composites are not fully impervious to heat or stain damage, so it's always best to be cognizant of your usage.
8. Concrete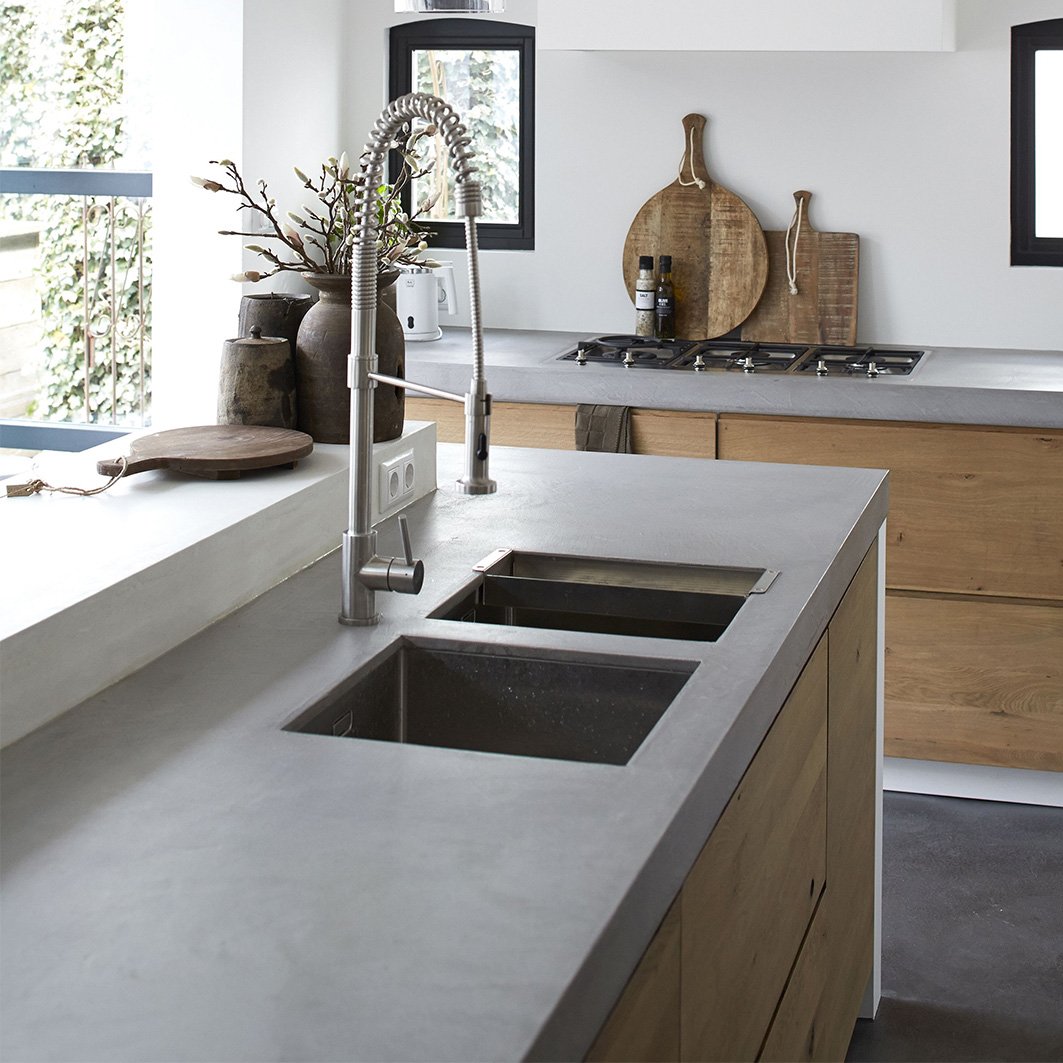 Concrete is considered a premium kitchen countertop material and it's value is right up there with granite and quartz. It's also stylish and has a very raw, edgy appeal that fits with most modern interior designs. Aside from trendy aesthetics, concrete also offers a lot of functional viability. It matches and contrasts well with most cabinet finishes, and is one of the best materials that you can opt for.
Pros
Concrete is made from a cement-sand mixture, so it is pretty solid and durable as a whole.
In case of any cracks or chipping, it can be easily repaired.
Its heat resistant material when properly sealed.
It has great aesthetic value.
Cons
Concrete can crack.
If not sealed properly, concrete can absorb spills which can cause staining.
BONUS: Veneer Worktops
Apart from real wood worktop above, you can also find thick veneer worktops for your kitchen. These are small pieces or layers of wood stuck together with strong adhesive to form a big and sturdy countertop giving you the beauty and finish of real wood, especially the unique wood grains and natural patters and the ease of installation. The advantages are similar to that of real wood with the option to sand and finish to different shades if need be.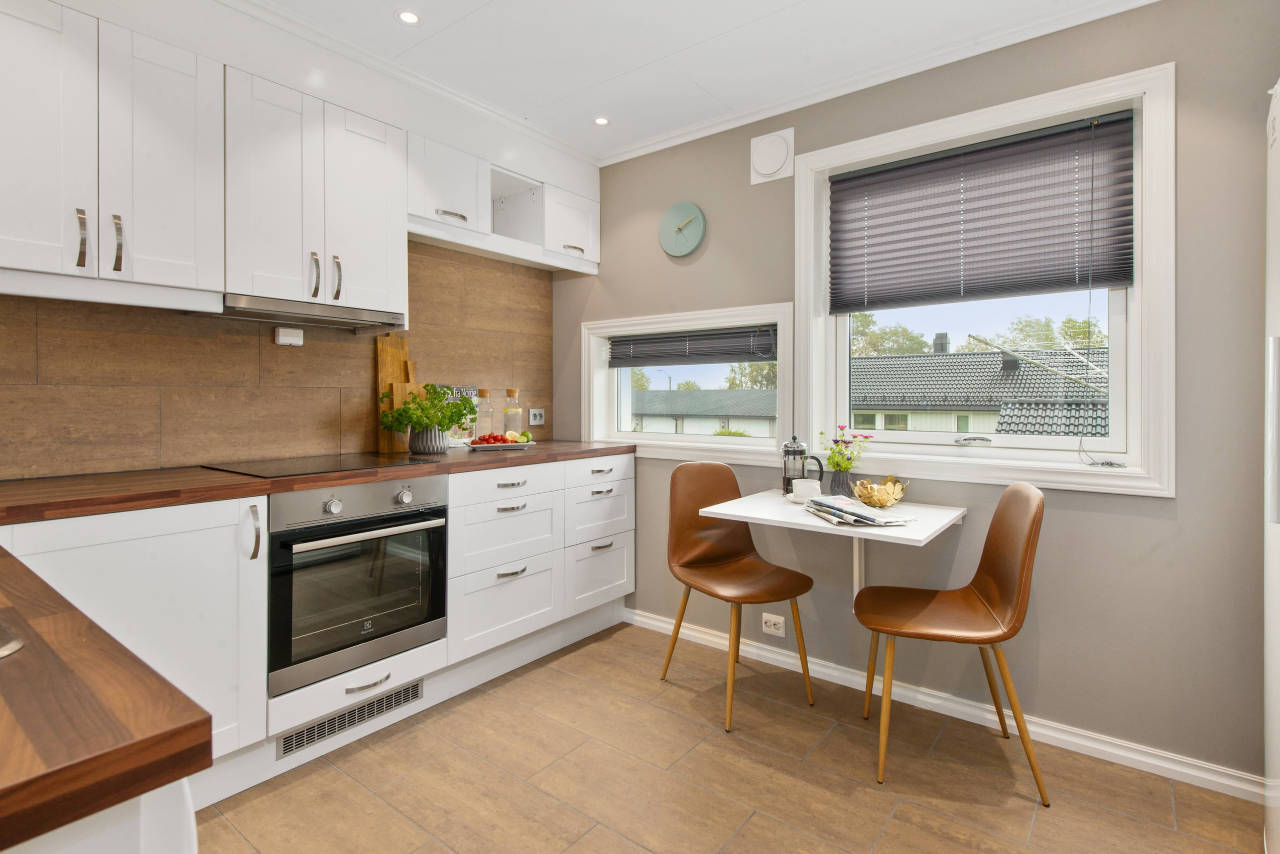 So these are some kitchen countertop options along with their pros and cons. We hope this list helps you find the perfect one for your own homes.
ZG