Third in our series of modern backyard designs, this time we focus on back gardens with fireplace or fire pit. If you are looking for ideas on how to design your backyard garden to incorporate an outdoor fireplace or fire pit, read on.
In order to make the most of your outdoor living space all through the year, you need to make it warm for the evenings especially during the autumn and winter months. There are portable or movable fire pits and there are custom built fire pit or outdoor fire place that will go nicely in any garden.
For this series, we start off with three photos of the same place.
Fire Pit Among the Hot Tub, Studio, Seating Area
So impressed with the design that we chose to highlight this in more than one image. The concrete custom built fireplace is of course our focus. Forget the studio in the background. This list is all about designer backyard with fire place or fire pit. Of course, the studio or reading retreat does help make the whole garden feels more inviting.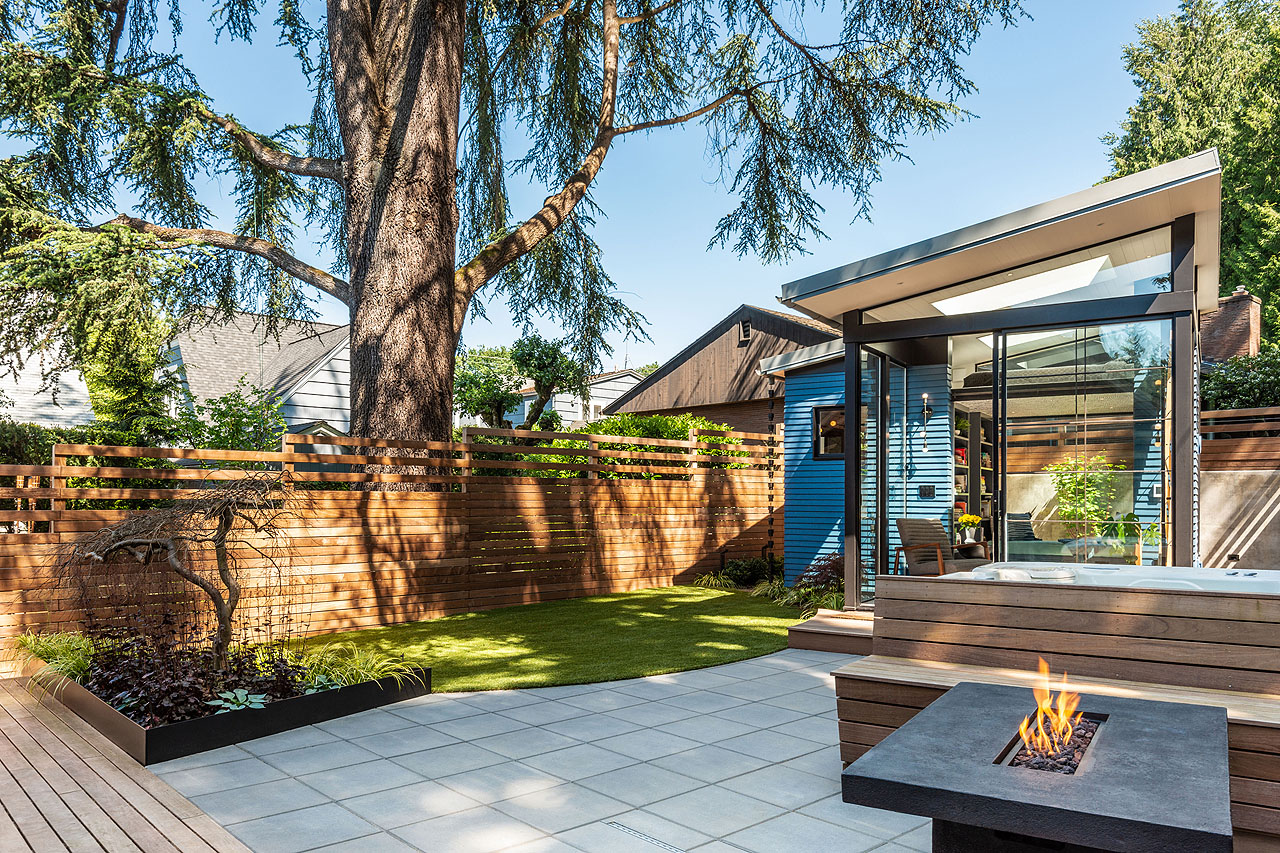 Modern Backyard by Board and Vellum – Backyard reading retreat with exterior fire pit and benefit from neighbours special tree.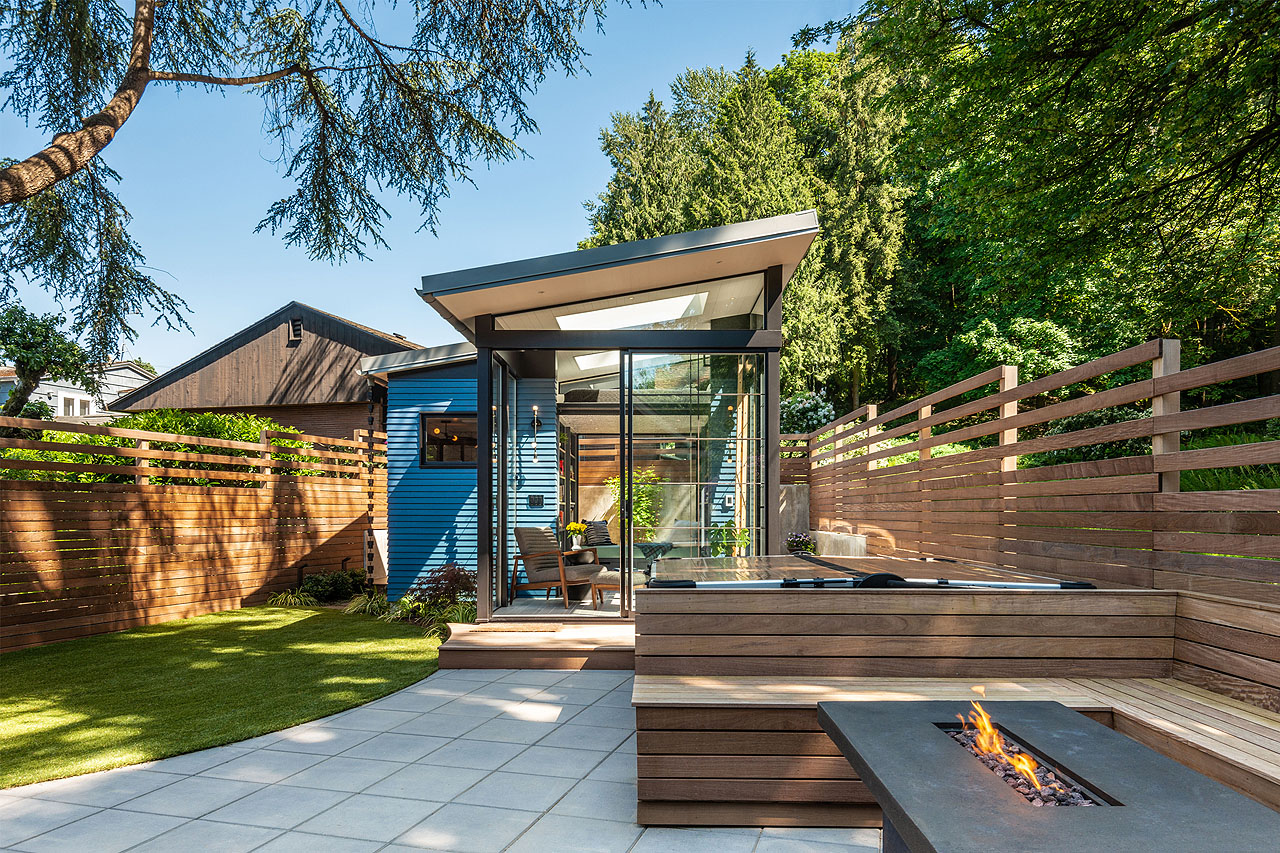 Modern Backyard by board and vellum another view of the backyard designed as a reading retreat with fire pit and seating area.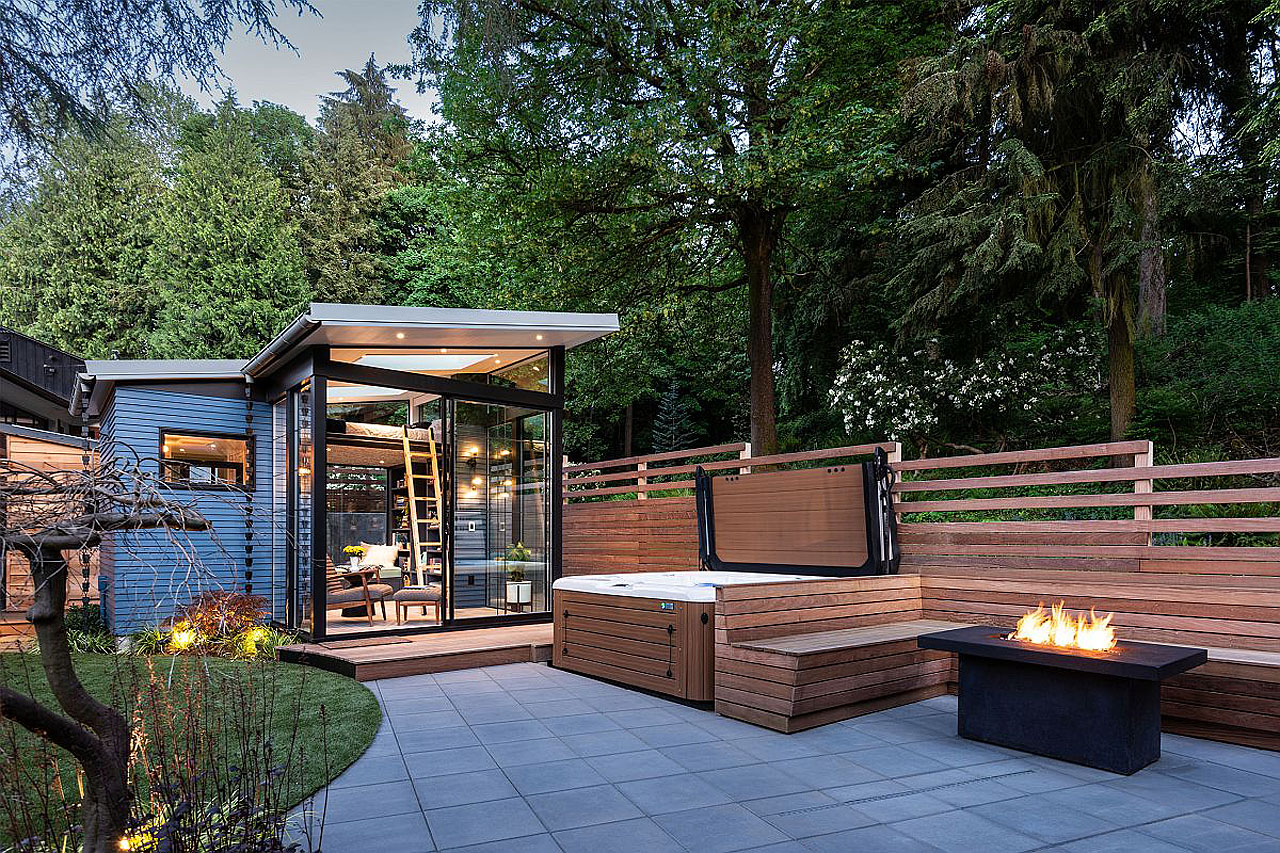 Another angle of the Modern-Backyard by Board and Vellum featuring the reading retreat in the far end, the hot tub and the all important fire pit wrapped in the L-shaped custom built bench. On top of that, the entire garden is wrapped in big stripe or slatted wooded fencing. Slatted fence gives the backyard an expansive feel and offers ventilation and air through the gaps while maintaining privacy.
Cozy Fire Pit Surrounded by L-Shaped Bench and Garden Chairs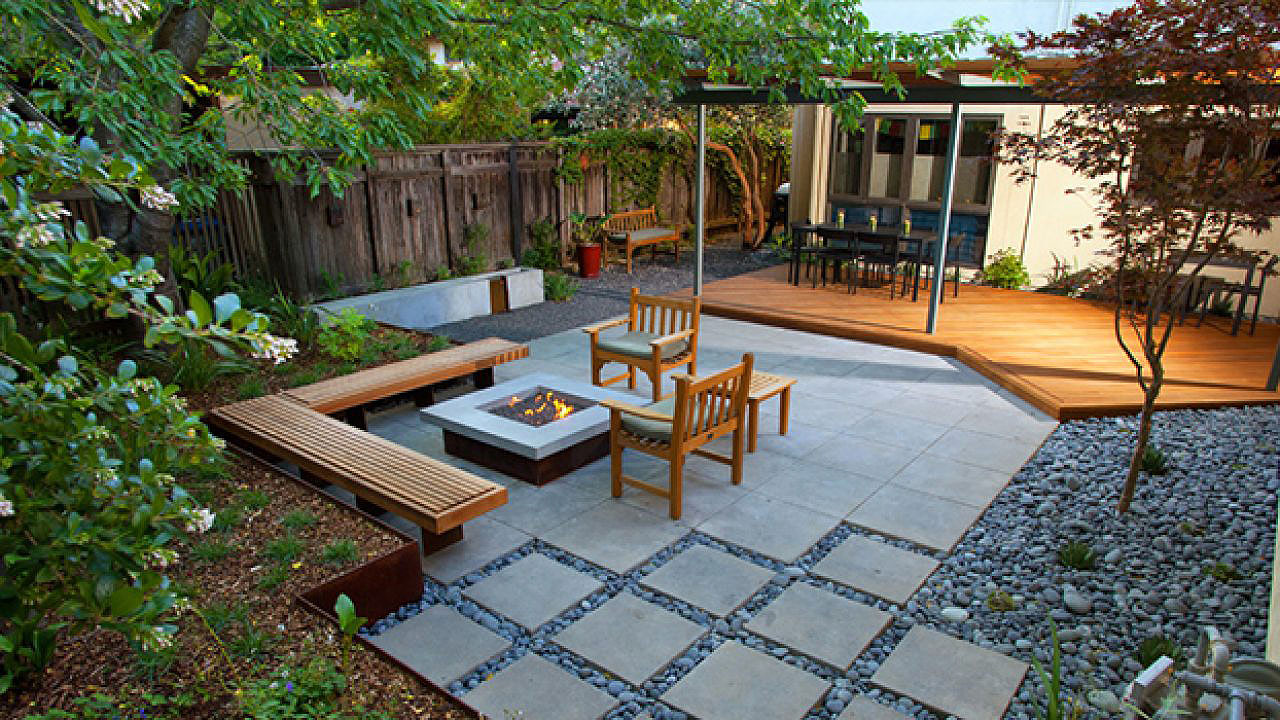 Modern Backyard Design with Captivating Landscape; decked area under pergola, fire pit with L-shaped bench and single seaters as well as coffee table in the open. While tiles with pebble borders, pebble patches and wooden deck cover the floor surface.
Urban Backyard with Grey Tone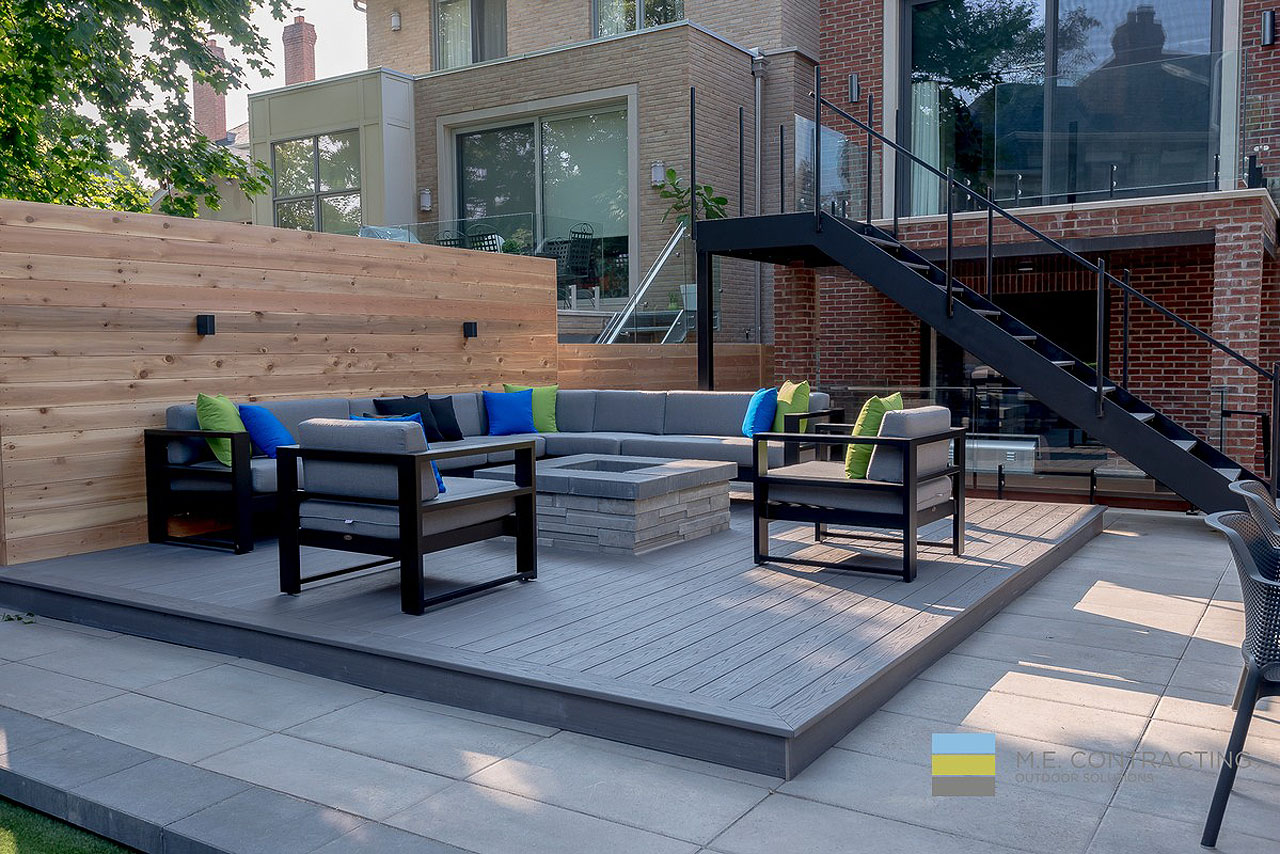 A Custom Fire Pit sits in the middle of a decked area surrounded by a large L-Shaped Sofa and Two Single Seaters. This Modern Backyard design has a grey colour scheme that goes from the paving to the deck to the fire pit down to the cushions used for the bench and single seaters. The design here is of course the raised grey deck and seating area with focus on fire pit. The L-shaped sofa and single seaters are cleverly arranged around a square fire pit made from bricks with a table top surface.
Large Urban Garden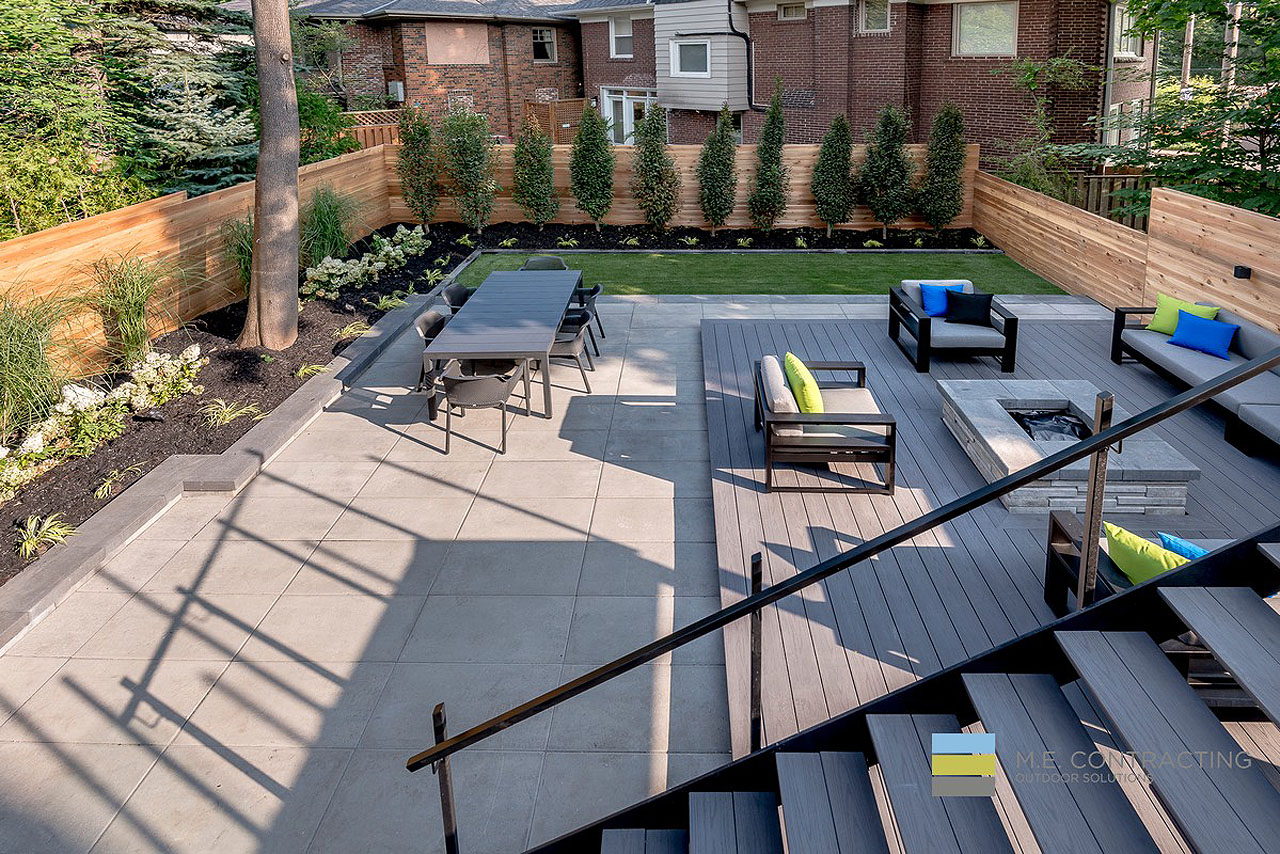 Here is another look at the same modern backyard design featured previously with grey decking. This time, a wider view of the garden. You get a glimpse of how big this backyard is. Even though the grey decked area is big, it is just about a third of the space in the garden. Viewed from higher up, the garden has a separate dining area and patio space on the left, with lawn and trees at the far end. Finally, slatted wooden fence surrounds the garden.
Pool Side Fire Pit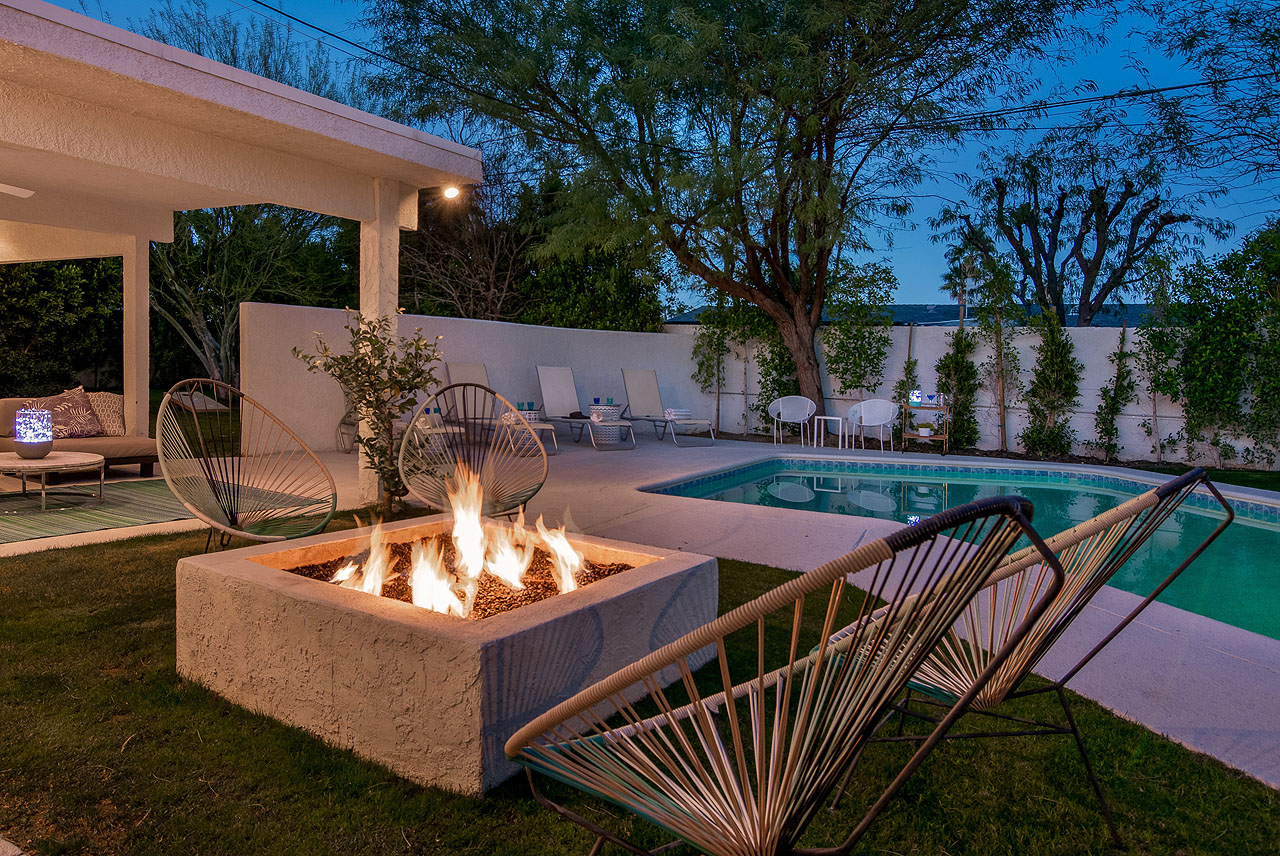 What is more inviting than swimming in the evening in your own private pool, being able to get out of the pool, wrapped in your pool towel and keep warm in front of the fire. This is what the modern backyard poolside fire pit design offers Using nothing but outdoor Acapulco single seater chairs around the fire place, these Mexican inspired loungers are timeless allow one to kick back and relax.
Where is the Fire Pit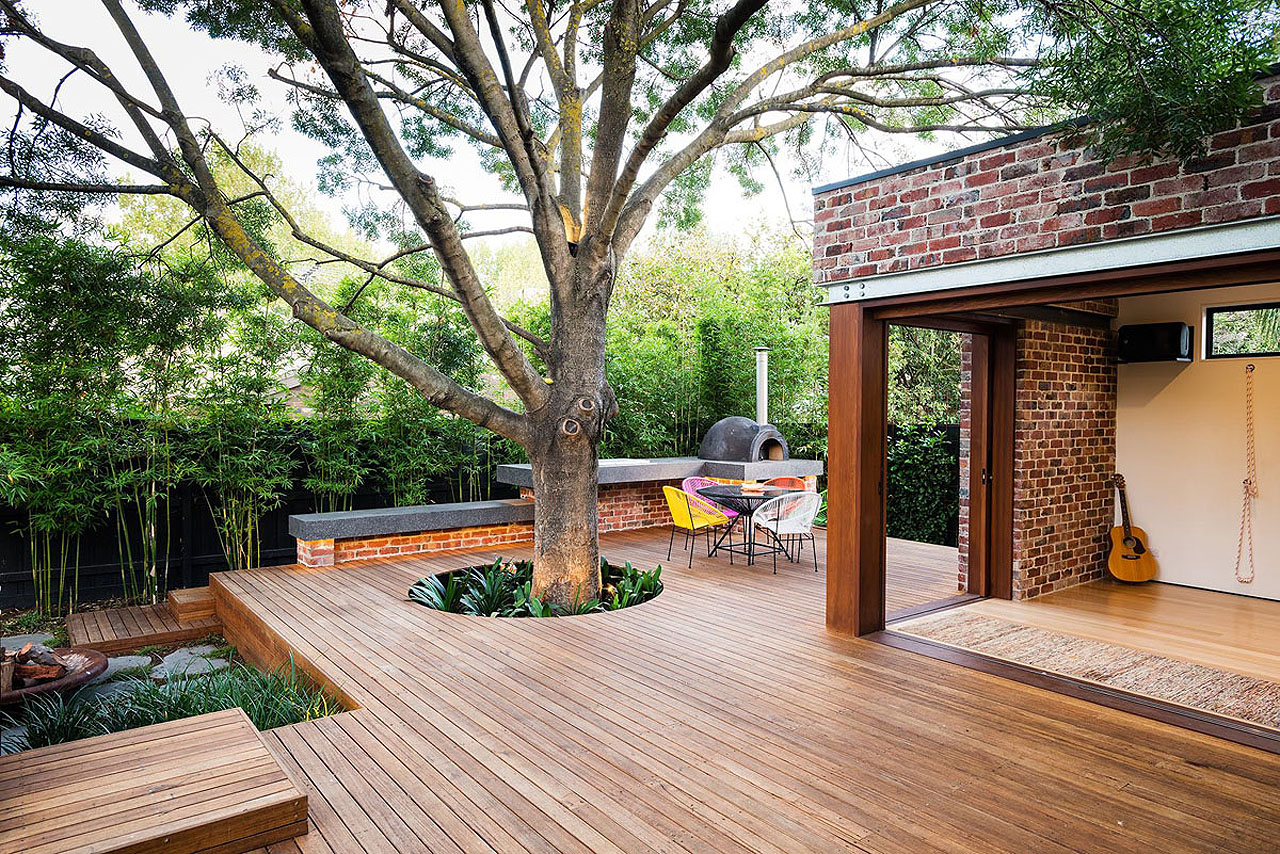 It may be immediately obvious but it's there. The Modern Backyard Project Design centres on a huge Wooden Deck, a dining area, Pizza Oven and is sympathetic to an existing tree by carving out a round section of the deck to accommodate this. But beyond the raised wooden deck to the left is the fire pit itself safely tucked away from the wood.
Huge Bowl Fire Pit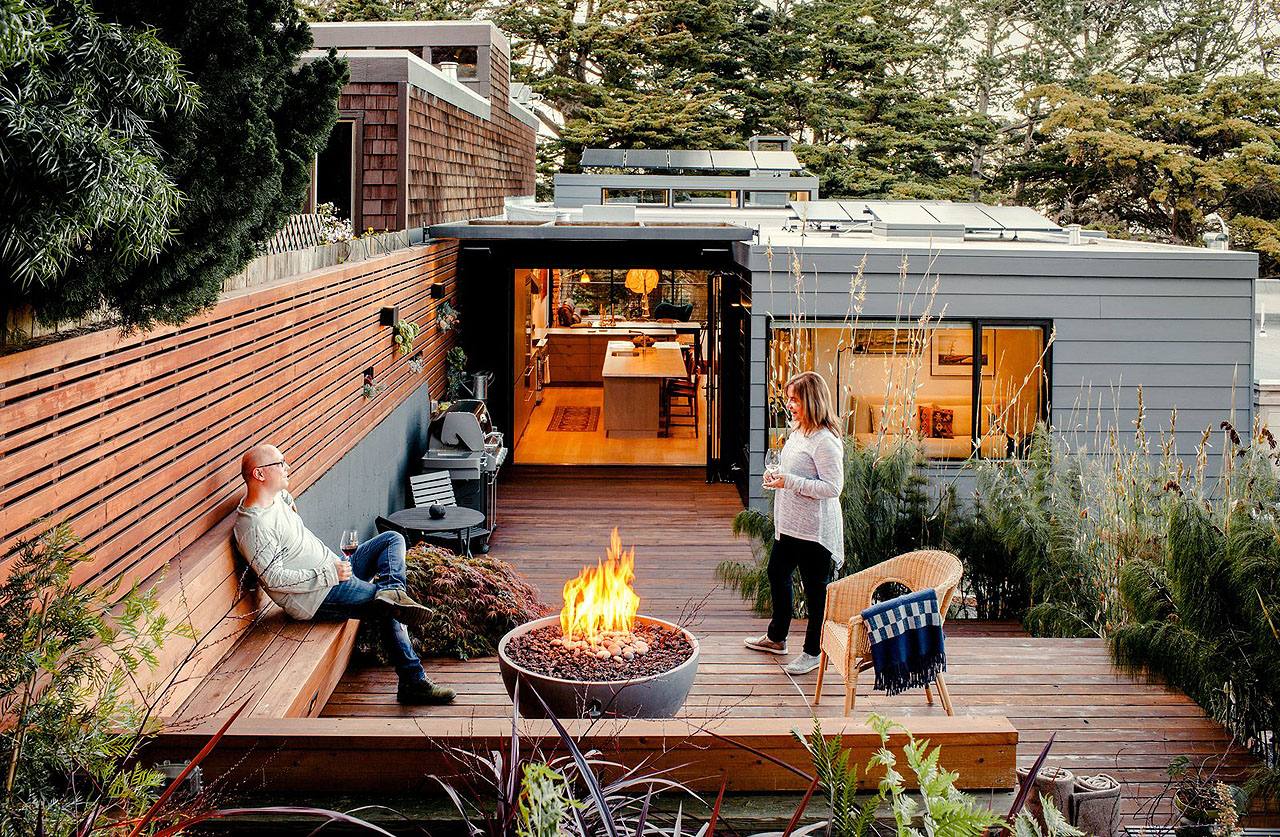 Next we have a Modern Backyard design, a walled garden with Redwood Decking, Recessed Planters and tall slatted fence. A custom built L-shaped bench envelopes the big bowl fire pit on the deck. Our only slight concern is the wood and fire being so close but hey we are all responsible adults and don't leave open fire unattended.
Rectangular Modern Fire Pit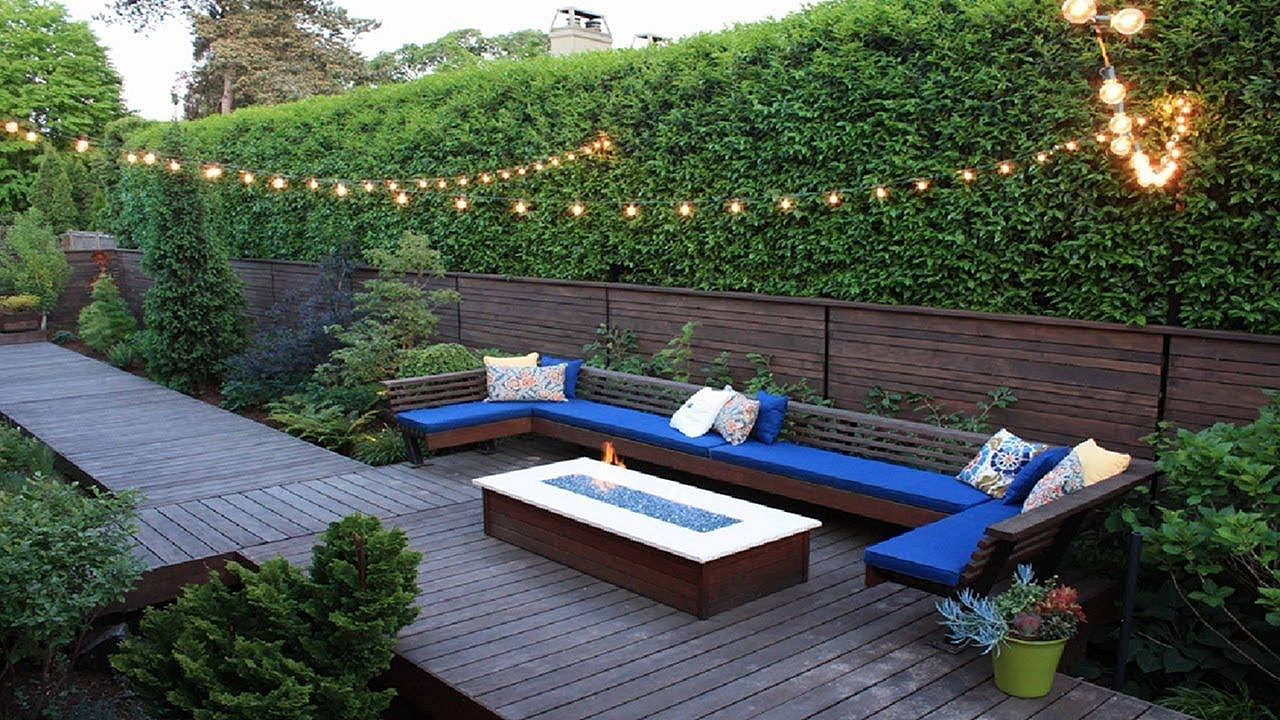 This Modern Backyard is unique in that it has a gel fire pit table that is rectangle. This custom built rectangle fire pit table is made to fit the custom built U shaped bench. Both the fire pit and bench is located on a raised wooden deck surrounded by recessed planters, low slatted fence and tall hedges.
Modern Fire Pit Next to A Water Feature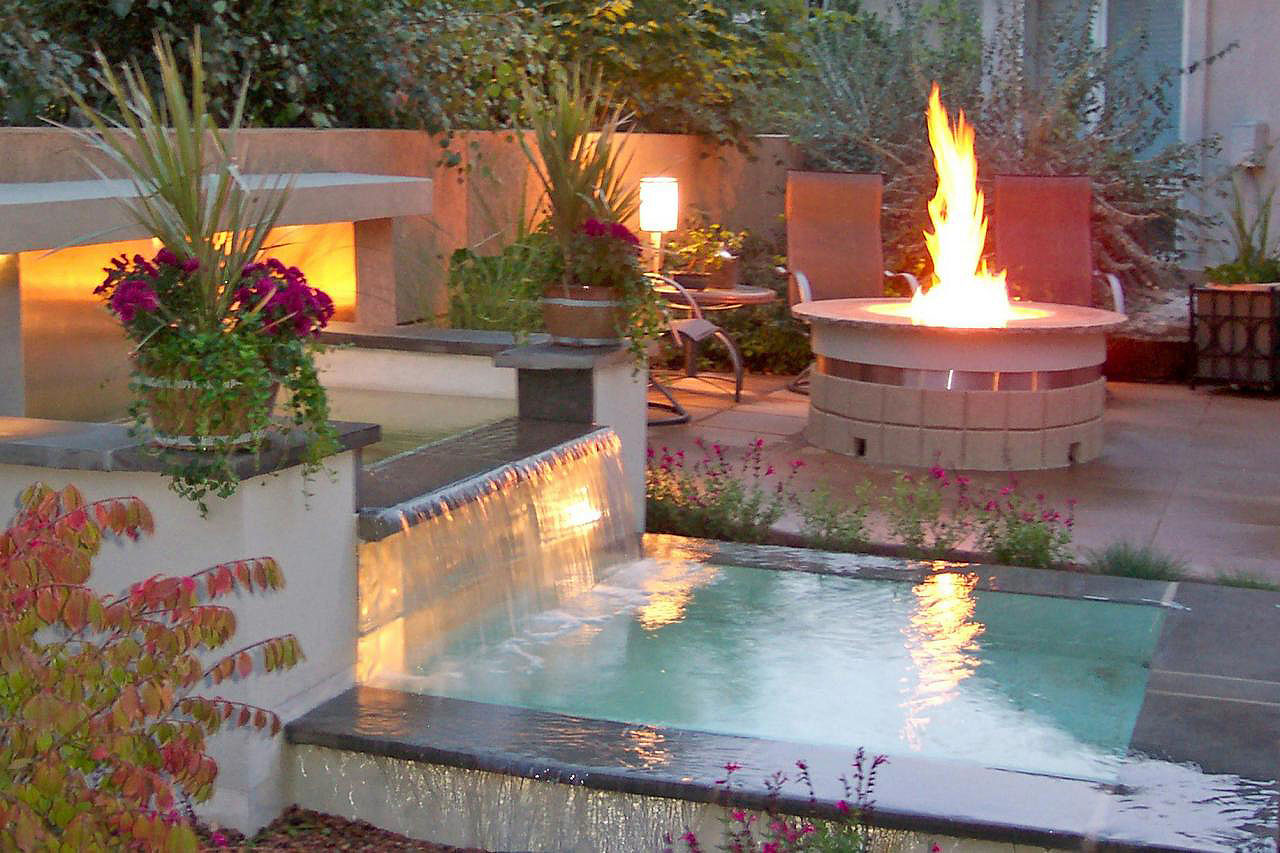 We couldn't decide if this falls under the category of Modern Backyard with Water Feature or Fire pit. Both are equally impressive and just as big. The flame won us over.
Contemporary and Modern Backyard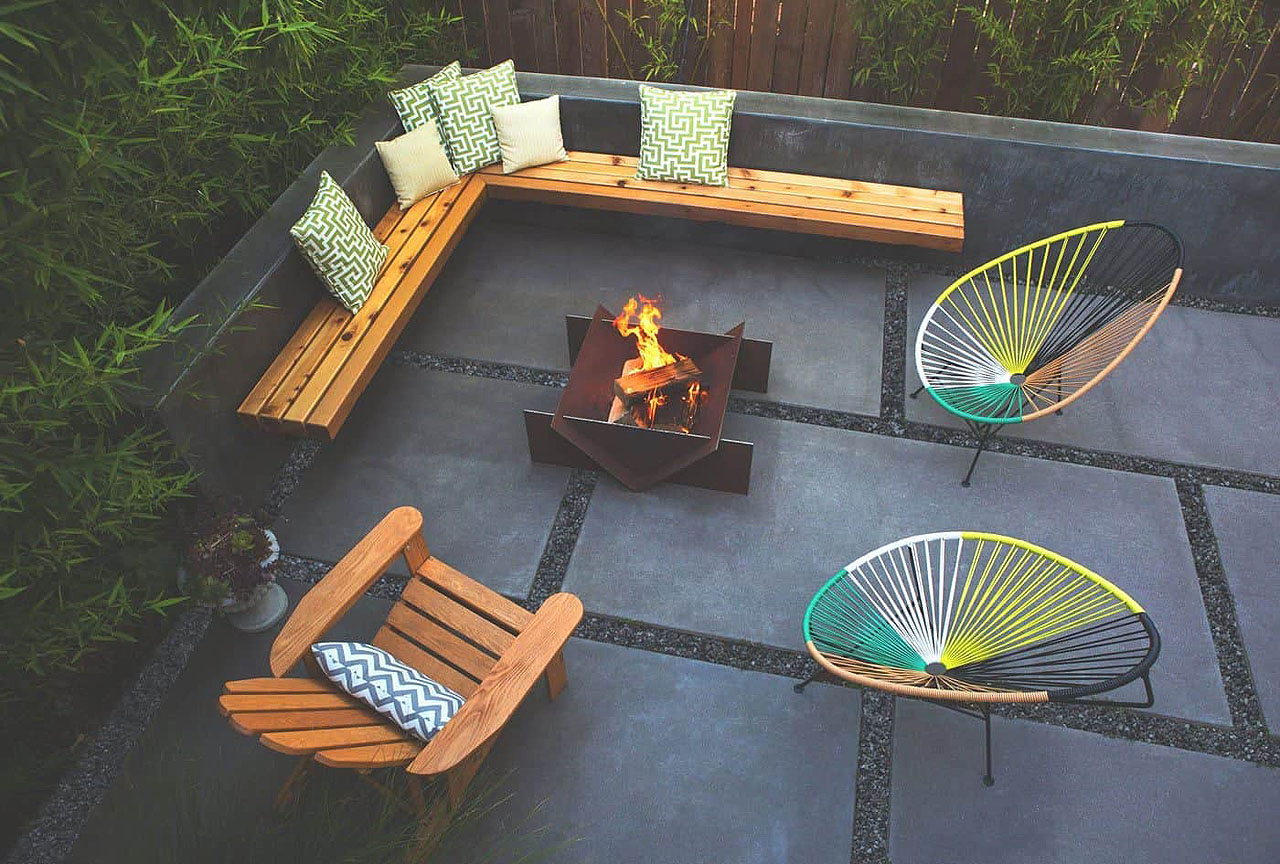 This modern backyard design has huge slabs with pebbled borders for floor, an L-shaped custom built wooden bench, Acapulco Chairs and a wooden reclining garden chair. But at the centre of all that is a modern movable steel fire pit or log burner. Although, we won't recommend moving it when lit. Also, make sure that there are not kids around or wondering near unsupervised.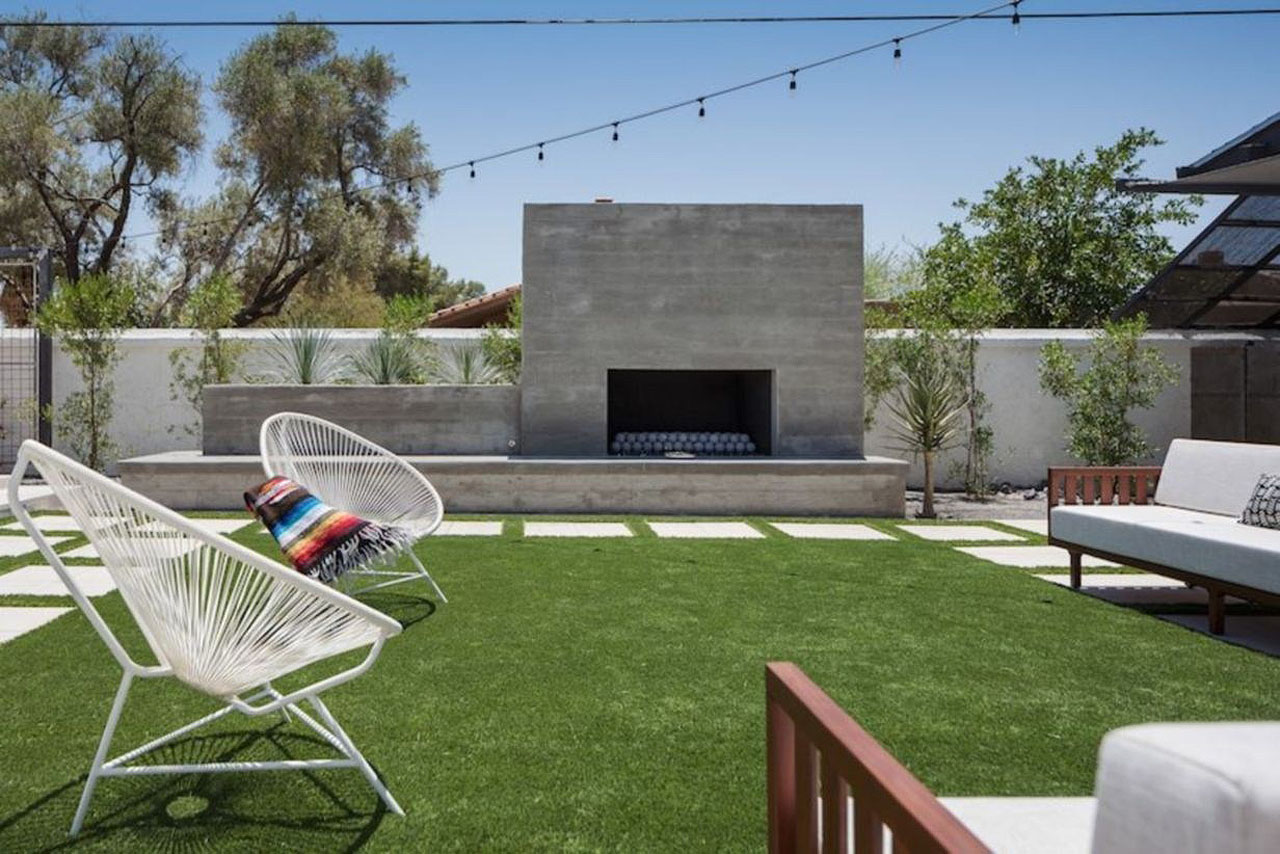 It's those Acapulco chairs again, they are everywhere. This time on a perfectly manicured lawn in a private walled backyard. Furthermore, a huge fireplace set as the backdrop and focal point of this garden. Plus, more seats are available in the form of long sofas. Still, that Mid-Century Fireplace is bound to wow all your guests and friends.
Custom Built Fire Pit and Seating Area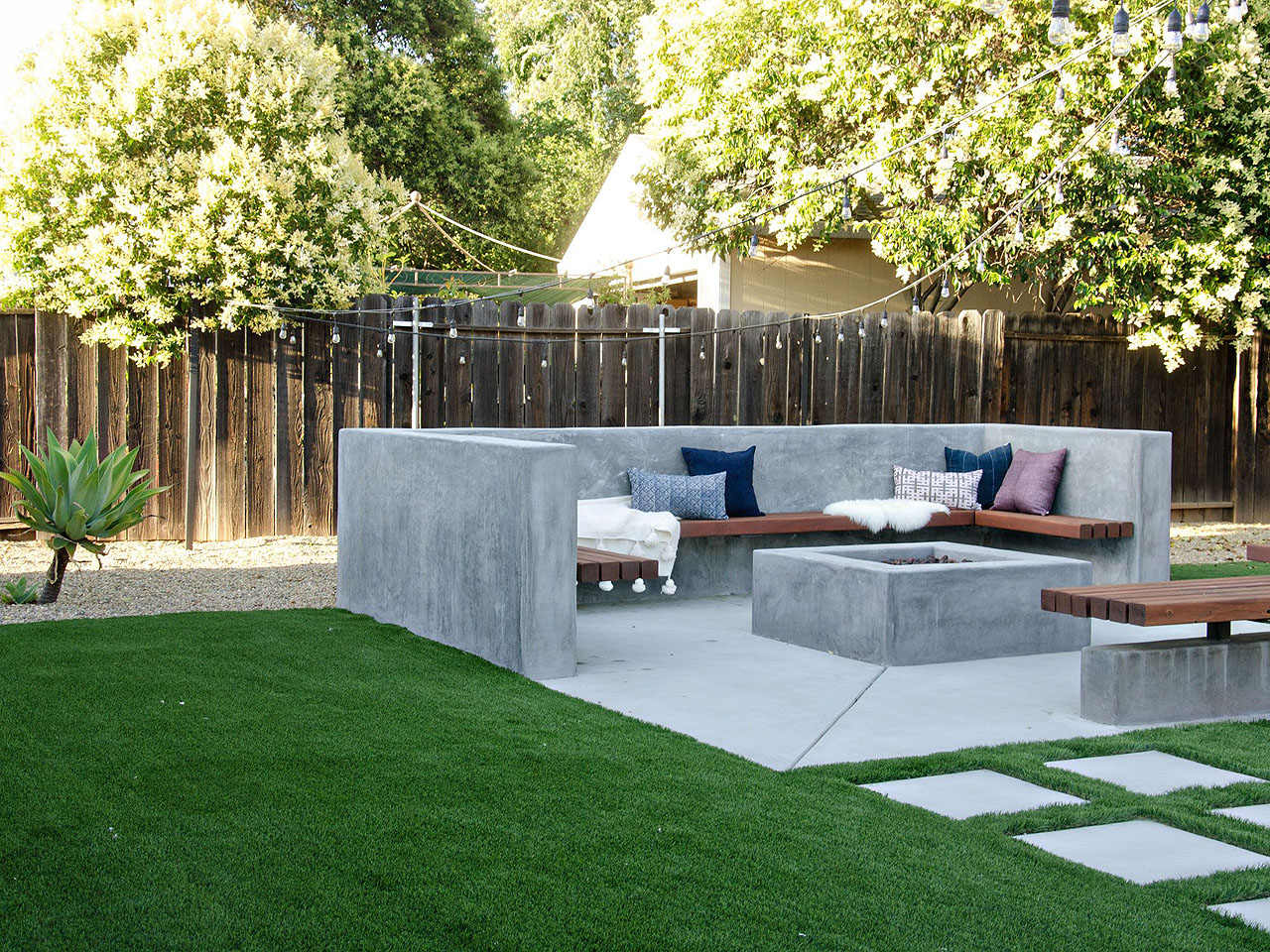 This Modern Cement fire pit and U shape seating and benches are just what this garden needs. Throw some blankets and cushions on the bench and you have an inviting alcove to entertain friends and family. The wood fire pit is far enough to keep a safe distance while still providing warmth from the evening chill breeze.
Another Contemporary Cement Wood Fire Pit
Yet another contemporary design with cement wood fire pit. Built as a corner L-shape seating arrangement. This makes it more accessible instead of being boxed in like befoire. The Modern-Backyard has a paved patio with raised planter. The bench is made of wood and the rectangular fireplace fits nicely with the L-shaped bench.
A Complete Outdoor Sofa Setty with Fire Place
The Modern Backyard Garden with Water-Feature, Modular Sofa, Parasol and Wall with Built-in Fireplace.
This backyard oasis combines modern design with the warmth of nature, creating an inviting outdoor living space perfect for relaxation and entertainment. The space is anchored by a sleek modular sofa set with clean lines and neutral tones, harmoniously blending with the surrounding greenery. At the heart, a contemporary linear fireplace acts as a stunning focal point, offering both warmth and visual appeal. The garden is meticulously landscaped with soft grass and stepping stones leading to a raised water feature, further enhancing the tranquility of the space. Strategically placed lighting accentuates the garden's features, providing a soft glow that enhances the ambience during the evening hours. This backyard is a testament to tasteful design that respects and amplifies the beauty of the outdoor environment.
A Complete Do-It-All Backyard For Entertaining
This modern backyard is a quintessential space for outdoor dining and relaxation, presenting a harmonious blend of industrial chic and organic elements. It features a spacious dining area with a sturdy, minimalist table and benches, perfect for al fresco meals.
It's those Acapulco styled chairs and cement fire pit that we are focusing on for this article. Instead of wood, this is more a gas powered fire pit making it easy to light and gets stated. A part from the two chairs, there is a dining area with long table and benches before you get to the BBQ and Pizza Oven at the back.
Above, a canopy of festoon lights twinkles against the dusk, enhancing the enchanting ambiance of this backyard sanctuary, which seamlessly combines functionality with aesthetic appeal.
Wooden Fire Place on Paved Garden
Modern Backyard Landscaping Idea with bench seating and fireplace on paved flooring.
Nestled among lush foliage and mature trees, this backyard is a perfect symphony of modern landscaping and functional design. The space is thoughtfully arranged with geometric paving stones and contrasting pebble inlays, creating a pathway that invites exploration. At its center lies a simple yet elegant square fire pit, adding warmth and a gathering spot for cool evenings. Flanking the fire feature are built-in benches with crisp, blue cushions, offering comfortable seating and a splash of color that complements the natural greens surrounding the area. The strategic placement of vibrant ferns adds texture and a sense of privacy, making this outdoor space an idyllic retreat for relaxation and socializing amidst nature's beauty.
Fire Pit in a Small Urban Terraced Garden
Modern Backyard with terraced wall, multi-level landscaping, built-in bench, fireplace and steps to dining area.
This beautifully designed multi-level backyard is a masterclass in contemporary landscape architecture, offering both aesthetic charm and practicality. The upper level is a secluded dining area, complete with sleek, dark furniture, set against a backdrop of rich, warm-toned wooden fencing that provides privacy and a touch of nature. On the lower level, the space opens up to an inviting lounge area, where a built-in bench adorned with plush white cushions promises comfort and style.
The centerpiece is a minimalist rectangular fire pit, surrounded by large paving stones interspersed with pebbles, creating a clean and sophisticated look. Elegant wooden steps provide a natural flow between the levels, while the surrounding greenery and strategically placed lighting create a cozy and enchanting atmosphere. This backyard is a perfect example of how functional elements and natural beauty can be fused to create an outdoor sanctuary.
Poolside Recessed Seating Area and Fire Place
This contemporary patio design epitomises modern luxury with its clean lines and sophisticated material palette. The space is outfitted with built-in alcove seating, upholstered in chic grey fabric, offering ample and stylish relaxation spots. These seating areas are complemented by a sleek, low-profile coffee table, and accented with striped and solid pillows for added comfort and visual interest.
The rich tones of the wooden decking contrast beautifully with the dark stone of an impressive outdoor fireplace, which serves as both a visual anchor and a cozy gathering place. Lush green hedges and tropical foliage border the space, providing privacy and a touch of verdant life against the structured design elements. Overlooking a tranquil swimming pool, this patio is a perfect blend of form and function, creating an inviting outdoor living space that's both elegant and comfortable.
Low Maintenance Urban Backyard with Outdoor "Fire Place"
Modern-Small-Backyard-Design long garden fake grass raised bench and giant outdoor TV built into the fireplace. Now, don't for a second be fooled by the word fireplace. There is no real fireplace apart from those you display on the screen. Simply search for fireplace video on YouTube and you will have yourself an authentic looking fire scene perfect for the outdoor big screen. I wouldn't try and put real fire or a firepit anywhere near plastic turf. The radiating heat alone will burn the fake grass. The main idea is of course to have an open outdoor space to enjoy seasonal games and sports on the outdoor TV.