The second part of our four part series featuring modern backyard design ideas, this time we look at inspiring backyards with water feature and/or decorative pond. Extend your outdoor living space around a water feature or pond as part of your garden landscape if you like the sound of water.
The Modern Backyard Design Series
Following our series of beautifully designed and built modern and contemporary backyard spaces, this time we take a look at something more relaxing. We look at modern backyard design ideas that incorporate more laid back elements, the water feature or pond.
The latter is a more up to date take with no fish or plants, simply a shallow pool of water to act as borders or as extension of the water feature. Sometimes, water plants are added. The former, a water feature that can be installed below or above ground with standalone unit or custom built.
If water is not your think and you would rather keep warm with a fire place or fire pit, take a look at our elegant modern backyard ideas with an outdoor fireplace of fire pit. Great for any evenings or even during the day and perfect for autumn and winter months, you can't go wrong with one.
But, if you are the active type or prefers more spa like qualities in your backyard then take a look at how one can design their backyard around the pool, jacuzzi or hot tub.
Shaded Dining and Seating Areas Surrounded by Water Feature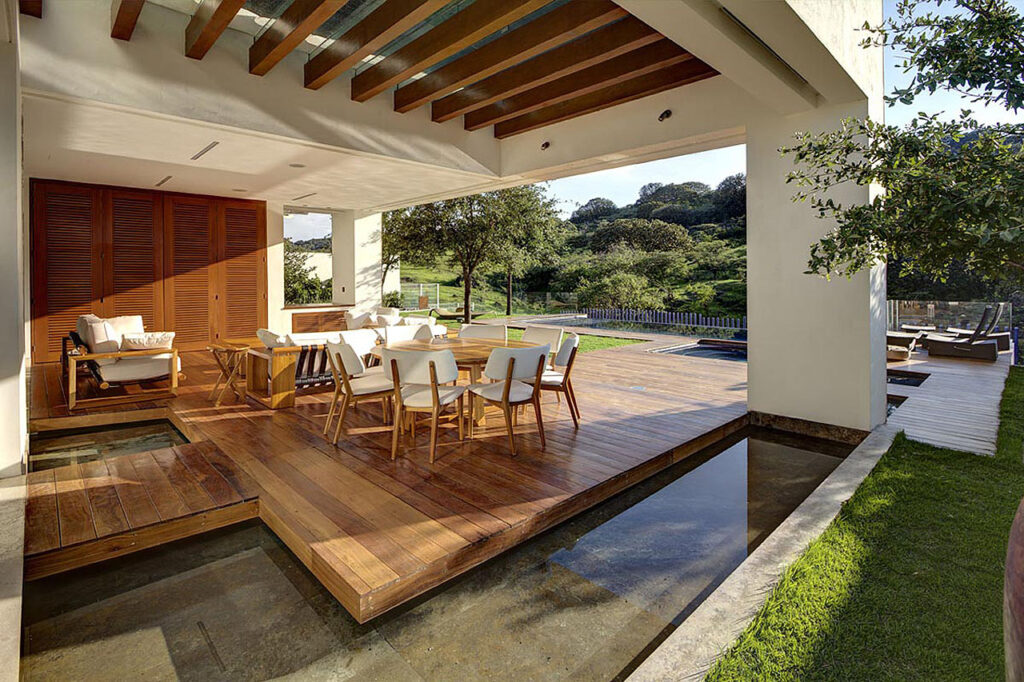 Modern Backyard design of the Casa S Zapopan in Mexico. This features a shallow water run around the open dining area and seating area. Both spaces are covered in a giant purpose built pergola attached to the main building.
Small Private Backyard with Mysterious Raised Water Feature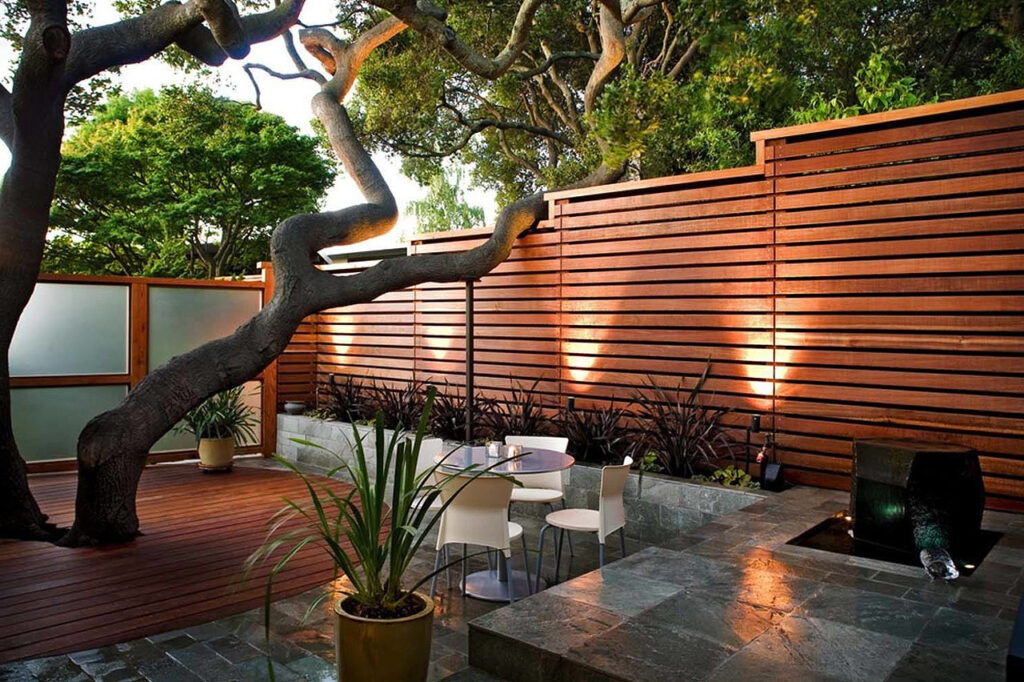 Modern Backyard Patio Ideas and Contemporary Landscaping incorporating an existing tree. Round wooden deck enclosed by tiled space forms part of this space. The small dining table and chairs are located just under the tree. Stripe wooden fence and raised planter forms part of the gardens perimeter. What strikes us most is the small water feature in black on a raised floor.
Multiple Water Features: Cascading Water Wall, Water Fall Blade and Fountains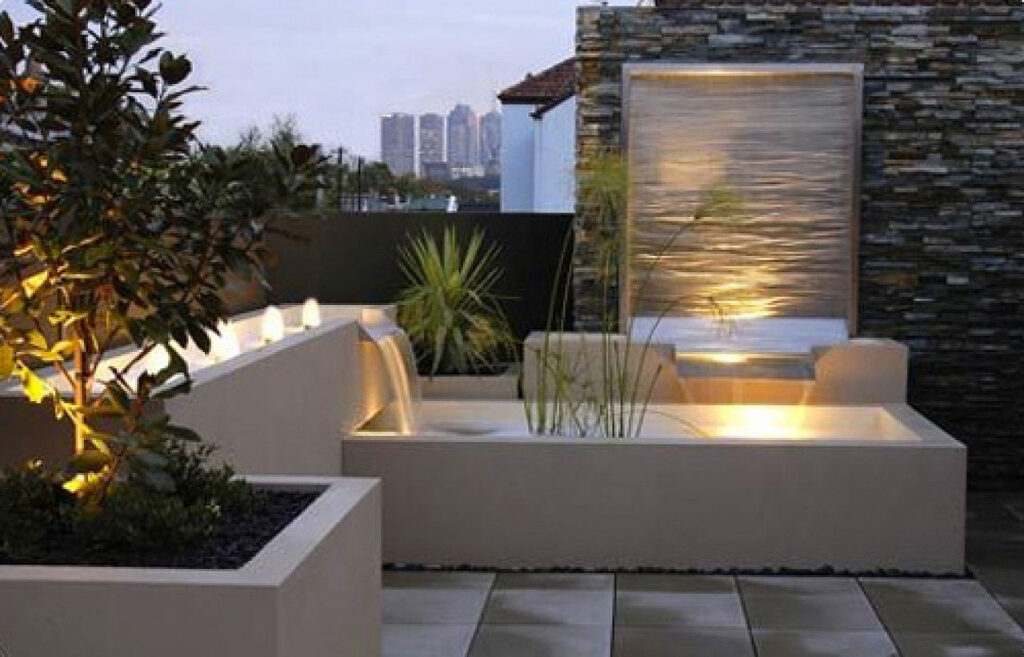 This multi faceted water feature, both on the wall and in raised ponds forms a major part of this modern backyard design. Furthermore, the use of lighting for the fountains in the water, the pond and the cascading water wall all goes to accentuate the feel of the space. Plus, there are a couple of waterfall blades sending the water from one section into another. This contemporary outdoor goes to show that even in a small space one can have any design they wish.
Mid-Century Pot Based Water Fountain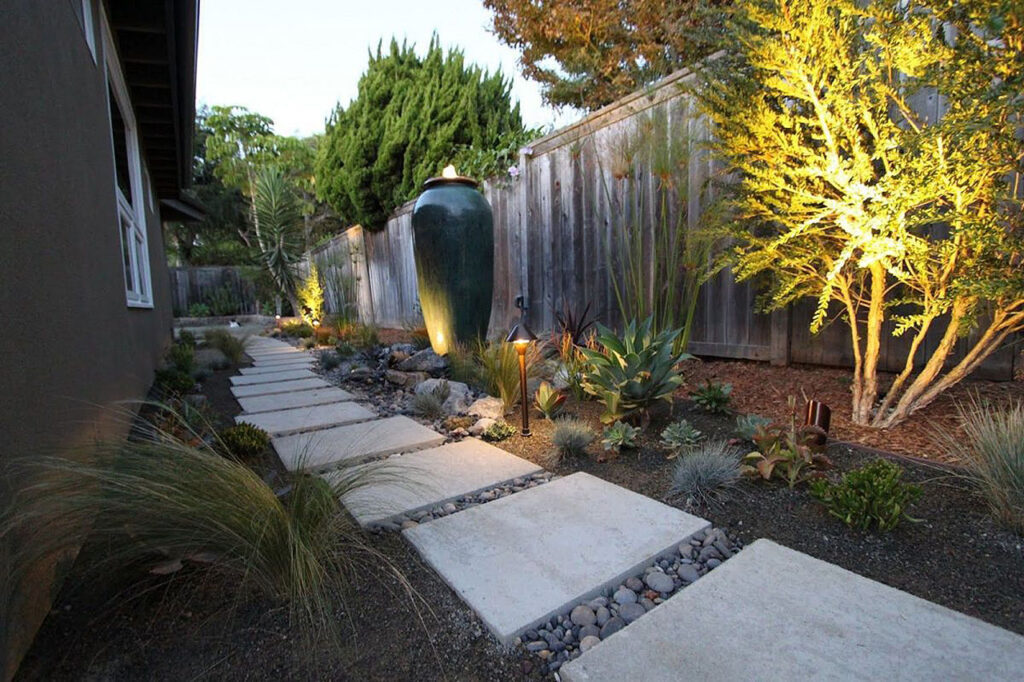 A narrow side garden doesn't stop the owner from adding a paved path punctuated with pebbles, plans on both sides and a water feature made from a tall earthen vase. We think the design is Mid Century. With added garden lights, it looks incredible even in the evening.
Waterfall Blade in a Compact Urban Backyard
Modern Backyard Design Small Garden with Lawn, separate Seating area and Water Feature at the far end. The compact urban backyard has everything one needs complete with a waterfall blade water feature, raised planters. The garden is surrounded by tall wooden fence for privacy. The dining area is on a paved section.
Far East Inspired Backyard with Water Fountain, Pebbles and Bordered Paving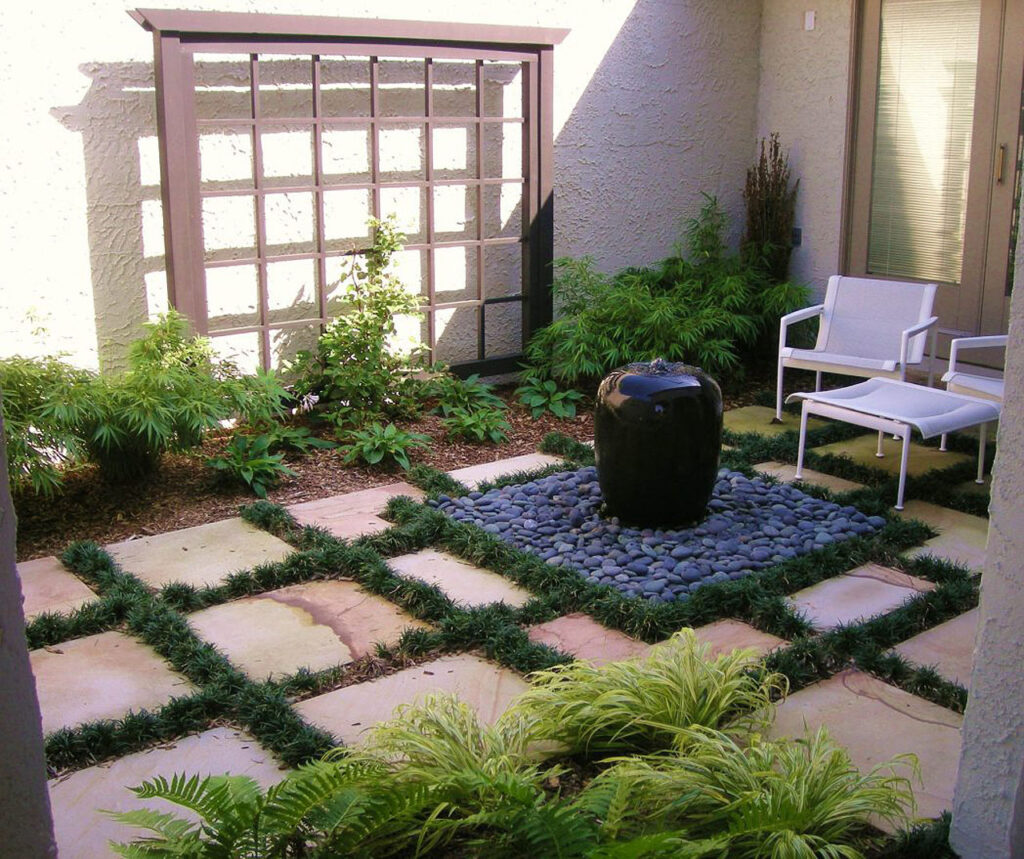 Modern Backyard Fountains Water Feature Patios Oasis. Another small urban garden, a medium dark pot takes center stage as the water feature. A mid-century styled fountain, the water cascades into grey pebbles arranged in a square situated in the middle of a grid of paving with living borders. Near the wall is an asian styled screen.
Ultra Modern Water Feature and Pond Design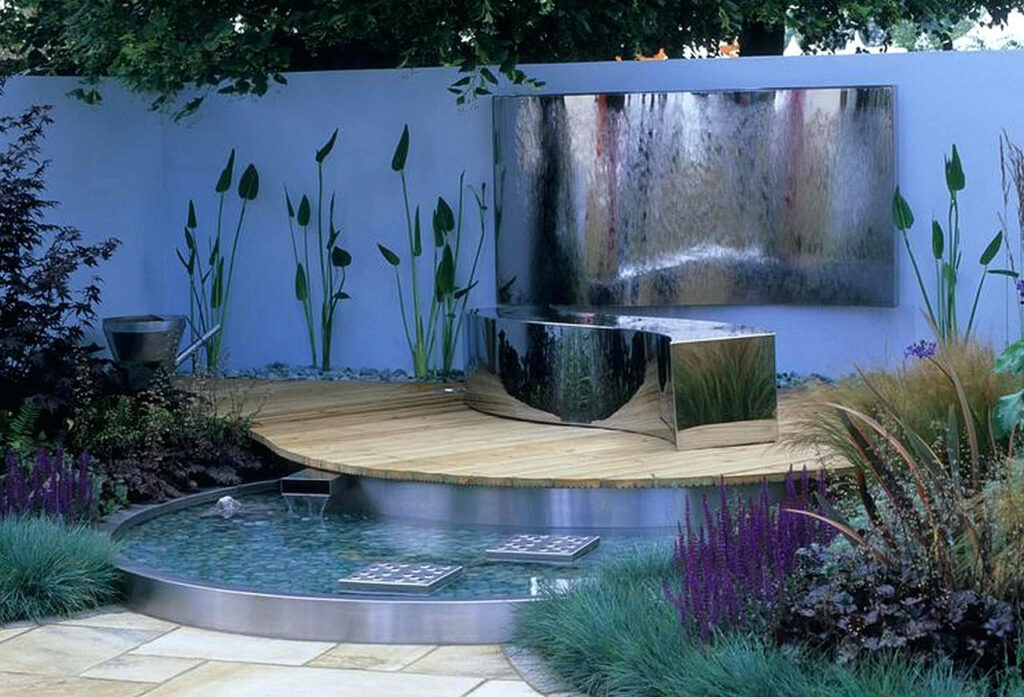 Modern Backyard Garden Fountains Water Features. This design has generous used of chrome and shiny surfaces. The multi-tiered water feature includes a waterfall wall and a waterfall blade as well as a separate shallow pond complete with steps to get to a seating bench. The bench is also made of chrome or stainless steel and sits on a wooden deck.
Pond with Steps, Slow Cascading Waterfall, Paved Area and Lawn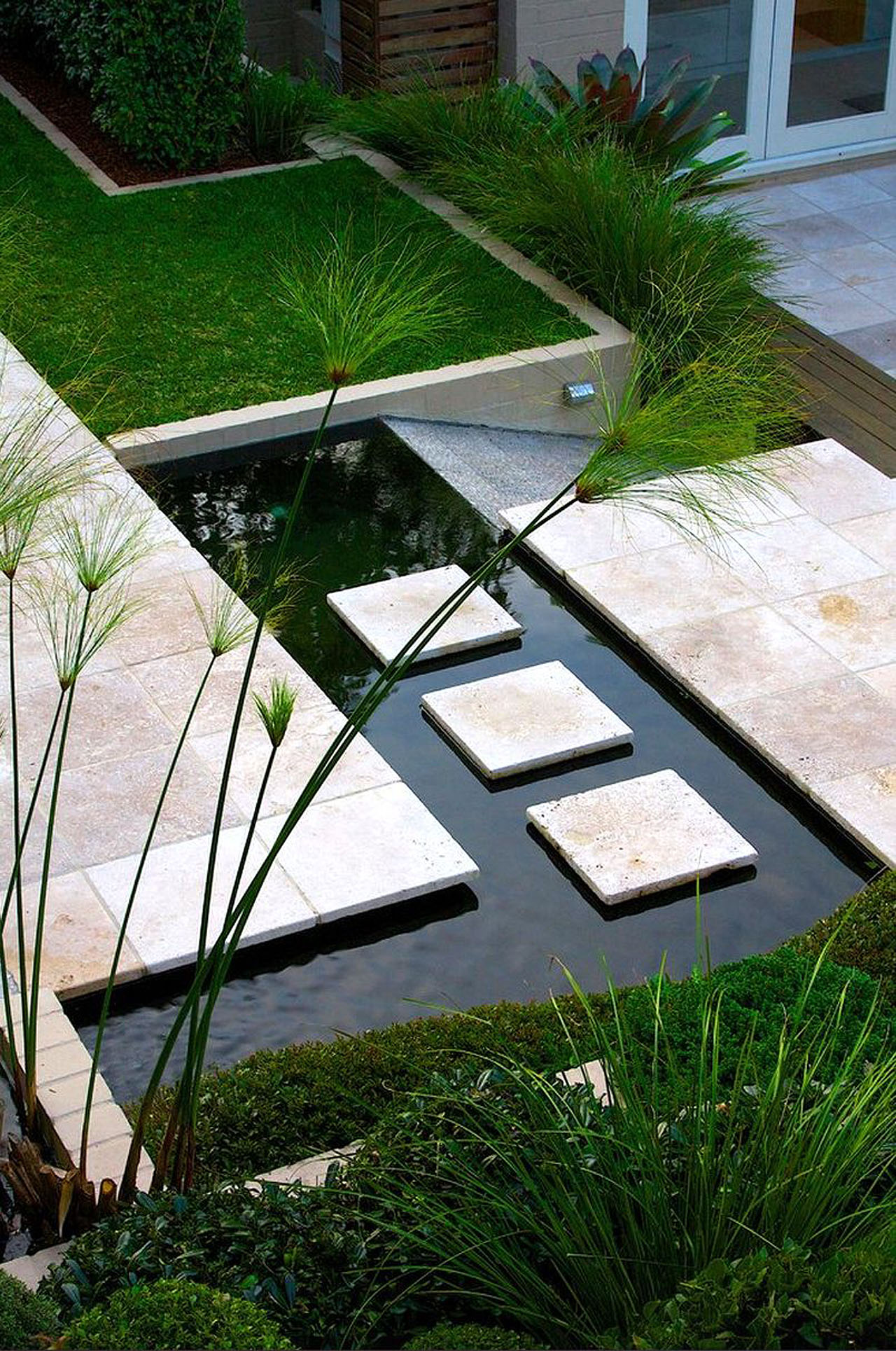 Modern Backyard with Integrated Water Feature and Paving on raised platform. The small backyard has a compact landscaped garden incorporating a paved area, a shallow pond, a cascading water feature and wooden bench closer to the french doors. Also, there is a small lawn and area for bush and hedges.
Koi Pond with Dual Water Feature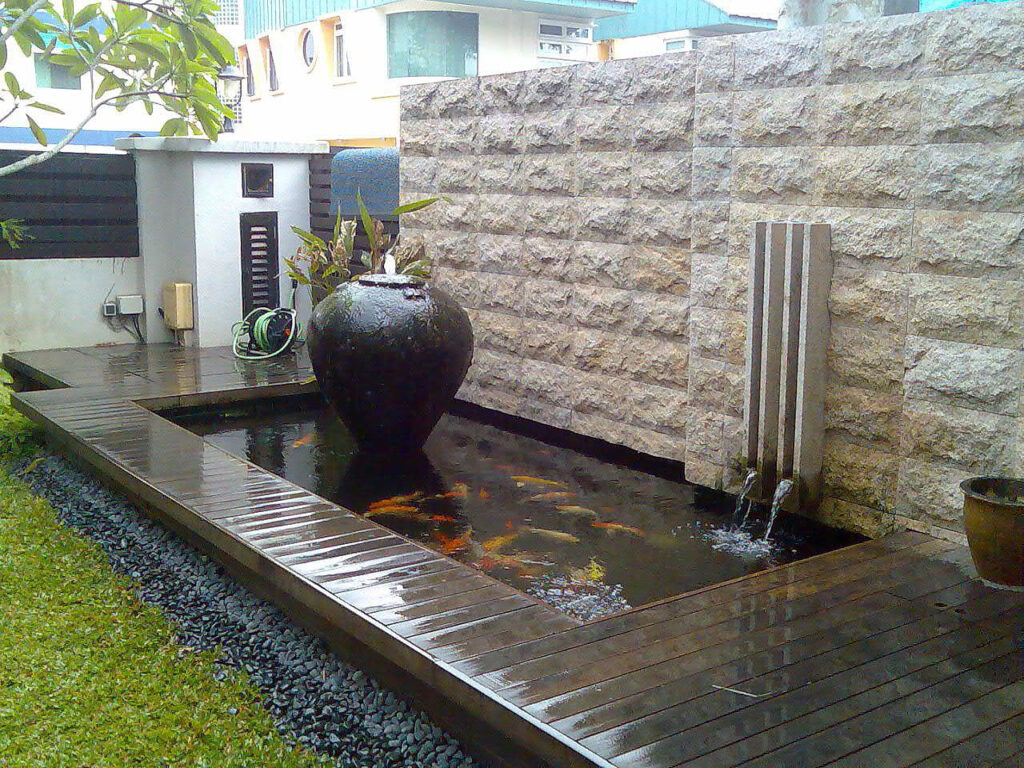 Modern Backyard Koi Pond Water Feature Deck. In this garden, there is not one but two water feature in the koi pond. The first is a mid-century style giant flower vase fountain while the other is built into the stone fence. A raised deck surrounds the koi pond. The raised deck has a black pebble border to keep things interesting.
Walled Garden With Multi-faceted Water Feature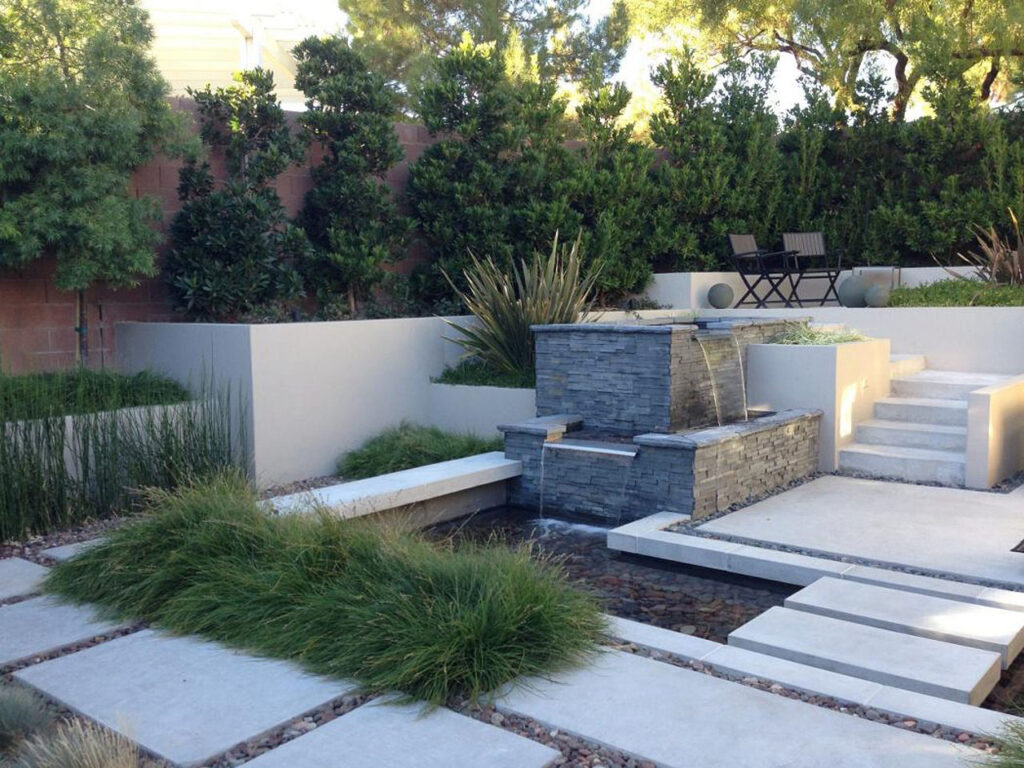 Modern Backyard Landscaping Designs Raised Planter Water Feature Paving. This multi faceted and multi level cascading water feature using waterfall blades has steps to access the upper deck where a seating area. White raised planter us built along the stone wall while pebble bordered paving as well as steps are used for the paths.
Mature Backyard with Pond and Water Feature
Here is a double take at a huge pond with floating path that cuts through in the middle. The big garden is designed with room for water plants in the pond on either sides.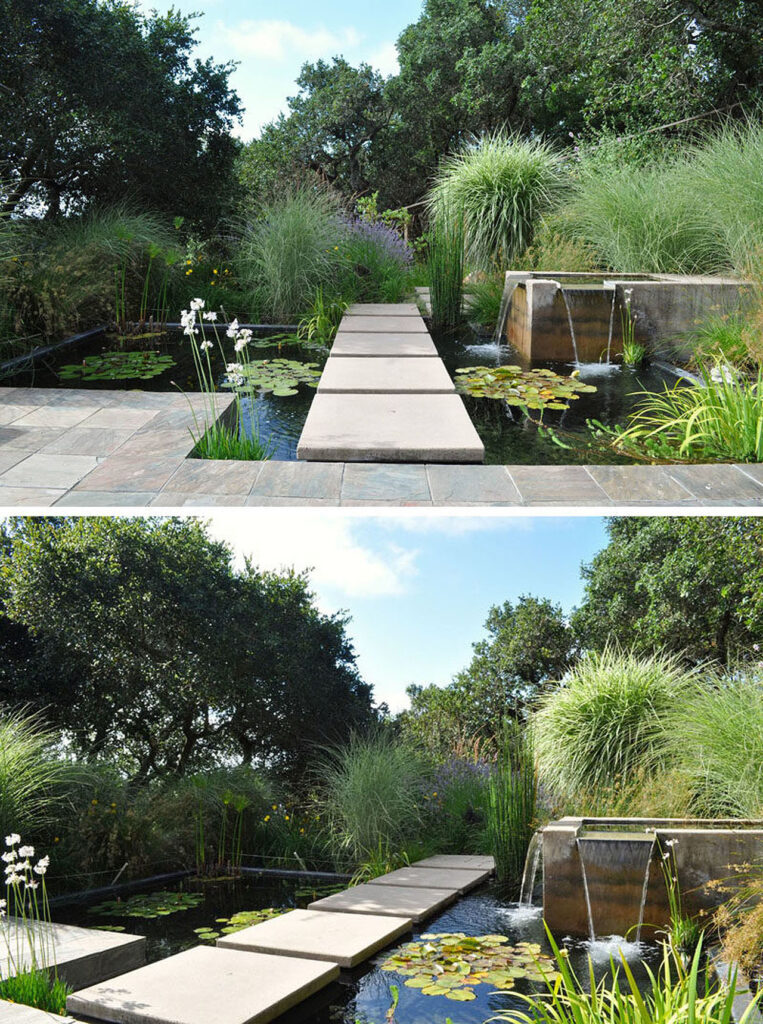 The water feature is basically a raised concrete block with waterfall blades on either sides allowing water to cascade down into the pond. Floating path allows you to access the mature garden in the back.
Modern Pergola and Shallow Water Pond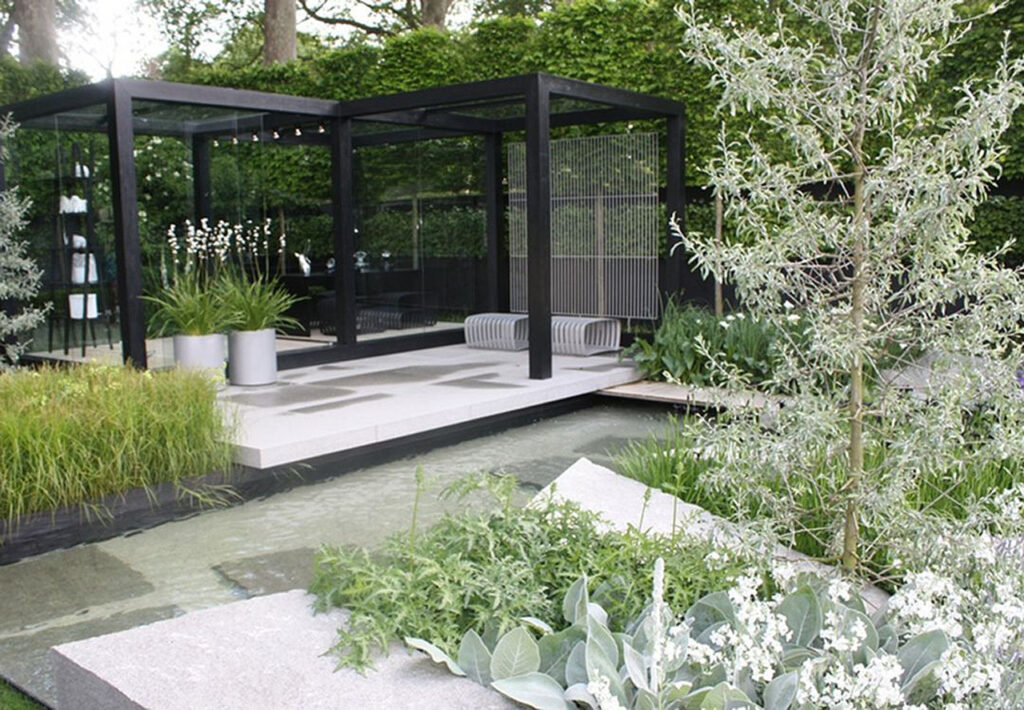 Modern backyard pergola on bright concrete floor 'floating' on a shallow pond forms this ultra modern design. Under the pergola, you get designer chairs, stripe screens and modern vase. Furthermore, a choice of light coloured green accentuates the garden keeping things light and fresh.
Rustic and Modern Backyard with Water Feature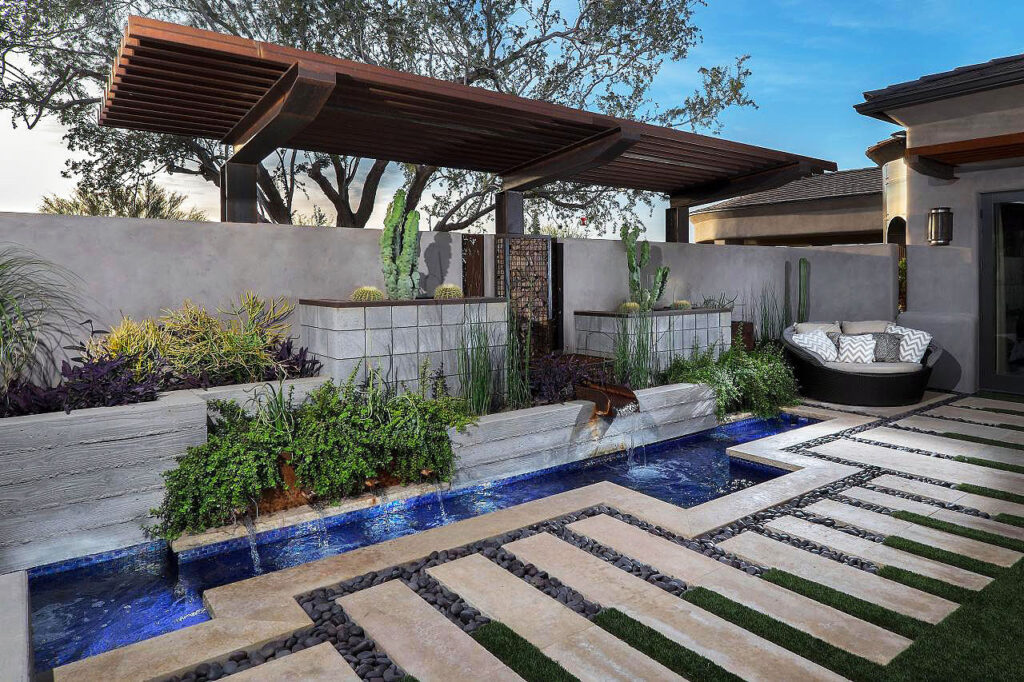 This funky and rustic backyard has a full length raised planter against the wall. At the centre of the planter is a water fall that runs into pond. Above the raised planter is a rustic pergola made from steel. In rusty oxidised finish, the structure is anchored only on one side and is built using I beams.
Split Backyard with Rockery and Shrubs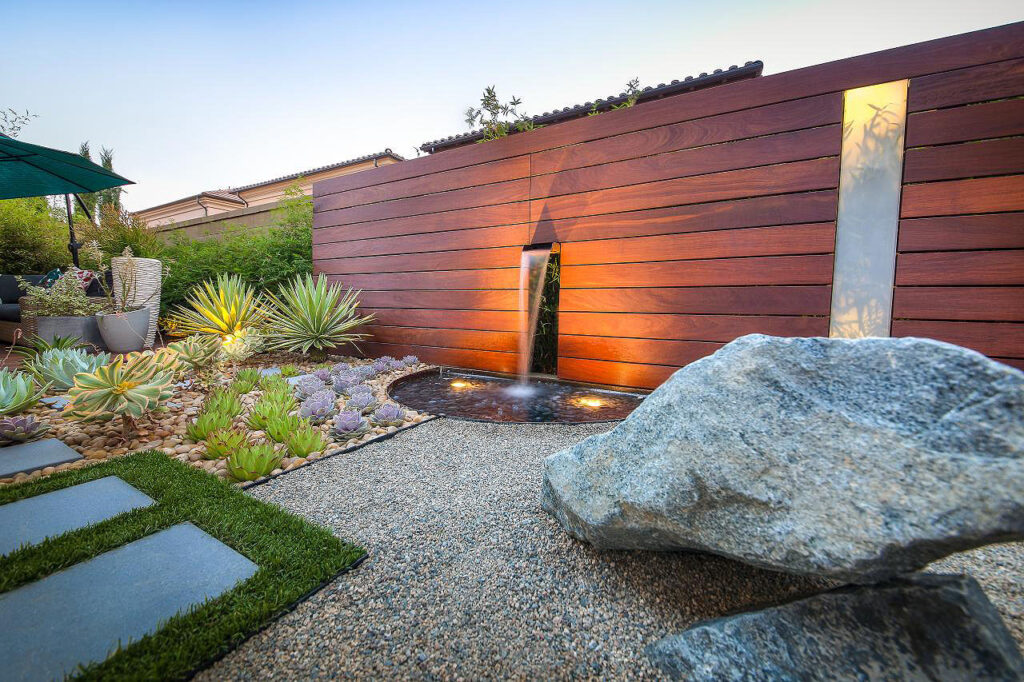 Low maintenance backyard design has a waterfall blade that runs into a semi-circle pond. The latter is the focus of the garden, splitting the garden into two distinct areas; the rockery and area for shrubs. In addition to that, a slabbed path with green borders serves as access to both sides.
Rectangular Pond with Low Fountains
A center path that cuts through the middle of the rectangular pond lets you cross to the other side but also serves to connect the two halves of the pond. Each side of the pond has s small fountain. The backyard is huge with a separate lawn area and further paved area but the pond is a good starting point that greets visitors as they come into the garden.
Modern Urban Backyard Design
A long raised pond runs the full depth of this urban garden. The low maintenance garden is fully paved with a raised planter and bench seat the the far end. Inside the raised planter are young bamboo trees forming a hedge near the back wall. The back wall is also where the water feature is located. It consists of a concrete block with waterfall blade. A metal planter sits on the raised pond where a mini palm tree grows.
Private and Shaded Pergola and Pond
This modern backyard design is perfect for a small and narrow garden. It consists of a private pergola. The pergola is built to create a small seating area and offers plenty of shade. In front of the pergola is a small manicured lawn while to the left is a path made from floating slabs over the square pond.
Small and Cosy Private Garden
Triple Fountain Water Feature
If you are looking to build your own water feature, this may be up your street. A simple three blade waterfall is perfect for a wide or deep garden depending on where you locate the water feature. The water goes into a rectangular floor level pond. For the waterfall blade, you can get ready made stainless steel spillway to create the sheer descent effect.
A Different Take On The Triple Fountain Water Feature
Why have one when you can have three water fall blades. The is another take on the triple water fountain feature as seen in the previous design. Except, this time, the water feature backs into the corner of the garden and the floor level pond is a semi-circle. Lighting is used in the pond to shine upwards to highlight the sheer descent.
Ultra Modern Minimalist Backyard
This ultra modern backyard has built-in corner seating and coffee table. A huge glass door opens to the garden with the view of a modern waterfall built into the wall using tiles and concrete. A simple sheer water descent fountain is all the garden needs for ambience. The pond has a raised border.
Simple Low Maintenance Urban Garden
You can't go wrong with a perfectly manicured lawn. To divide the garden into different parts; two paved areas joined by a wooden decked path sandwich the lawn. The first paved area has a below ground pond for some water plants. To take this further as a low maintenance garden, use fake lawn.
Huge Water Feature with Rustic Floating Path
If you have the space, here is a modern water feature idea that towers the landscape of your garden. Made from brick walls, concrete blocks and sheer descent water blades, the water fall has plenty of altitude on which to drop the water, creating a big splash when it hits the pond. Floating rustic and staggered paving cuts through the pond.
Above Ground Pond with Water Feature and Bench
This Modern Courtyard has a Raised Pond with built-in wooden bench for seats and raised Planter made from thick steel sheets. The planters create a multi-level border for the pond. Water Feature
Infinity Pond with Sheer Descent Water Feature
This modern backyard garden has a sheer drop water fountain and infinity pond as its water features. A clever combination of light and black tiles makes this modern design stands out. As you can see, this can be applied even to tight spaces and is suitable for urban or county backyard.
Urban Low Maintenance Backyard Design
Modern-Backyard Small Garden Free Standing Water Feature Lounger Round Dining Table Bench
This low maintenance urban backyard is fully decked with a custom built wrap around corner bench, round table and movable seats. There is also a standalone stainless steel water fall water feature with attached above ground pond also designed to go in the corner. A couple of tall outdoor plant dots the backyard to add colour. To top of off, there is even a sun lounger in a corner.
Compact Above Ground Water Feature
If space is limited, build your own water feature such as one shown above. It incorporates above ground planters and an above ground pond. For the water fountain, this modern backyard design uses a single sheer descent water fountain.
Wide Backyard with Bench and Water Feature
In a different shaped garden, this backyard design also features an above ground pond, raised planters and sheer descent water fountain. But, it goes further by adding long seating benches on either sides given how wide the garden is. Access to the water feature and benches is via a path across the lawn.
Private Sanctuary with a Big Water Feature
This Modern Backyard Design is not only big but made the most of the space by dividing it into sections. You can see a lot of squares and rectangles joint together to form the garden. But the main feature of the garden is the expansive pond that goes from the house to the end of the garden. To cross over from one side to the other, a flat bridge is used. This bridge also splits the pond into two, with the smaller side a place for water plants. Landscape-High-Fence-Seating-Pond-Design
Multi Use Garden with Pergola, Free Standing Hammock, Bench, Dining and Seating Area
This is one of the most complete backyard design. The large garden has many different spaces with the water feature being the center of the garden. It has a Pergola, Free Standing Hammock, Bench, Dining and Seating Area, enough to keep everyone happy.
Black Rock Water Feature
Water feature doesn't have to be complicated or overly dominating. A small water feature as simple as a black rock on a raised floor with lighting like one shown in above is all one needs. The modern outdoor patio design has a tiled and decked area, raised planter, horizontal slatted fence and frosted glass screens.
Modern-Outdoor-Terraced Garden with Water Feature running on floor level. Here is another low maintenance garden with tiled and gravelled floor. For the fence, horizontal stripes or slats of wood are used. These long and thin pieces of wood makes the garden feel more expansive and doubles as privacy screen. Access to the upper terraces is through through the floating pavings over the below ground pond. At the end of the garden is a raise planter. This adds more depth to the garden and forms part of the terraced look.
Urban Backyard With Outdoor Seating and Storage
Modern Urban Backyard Garden Idea with clean lines plenty of storage and seating area. The floor of the space is completely tiled. On the wall and fence are storage and shelving units, wooden corner styled sofa and box plants. Finally, there is of course the added bonus of a simple water feature.
Big Pond and Water Fountain
If you have the space for it, a big water feature such as one above with multiple pond water fountain in a co-ordinated fashion.