The fourth and final part in our series of modern backyard design ideas, this time we look at inspiring backyard with swimming pool, jacuzzi or hot tub. Extend your living space around the pool, jacuzzi or hot tub with these great ideas.
The Modern Backyard Design Series
Following our series of beautifully designed and built modern and contemporary backyard space, this time we take a look at something more active. Previously, we looked at modern backyard design ideas that incorporate more laid back elements such as landscaping, water feature and outdoor fireplace or fire pit. But, if you are the active type or prefers a more spa like quality in your backyard then take a look at how one can design their backyard with a pool, jacuzzi or hot tub in mind.
Must Have Accessories for Modern Backyard with Swimming Pool, Jacuzzi or Hot Tub
Beyond the wooden deck here are a list of essentials to complete your modern backyard.
Sun loungers
Waterproof seats and sofa
Parasol or Gazebo
Bench
Raised Planters
Big Flower Pot Planers
Outdoor String Lights
Poolside Lighting
Outdoor Sound System
Outdoor Love Seat
Hammock with Frame
Long and Narrow Swimming Pool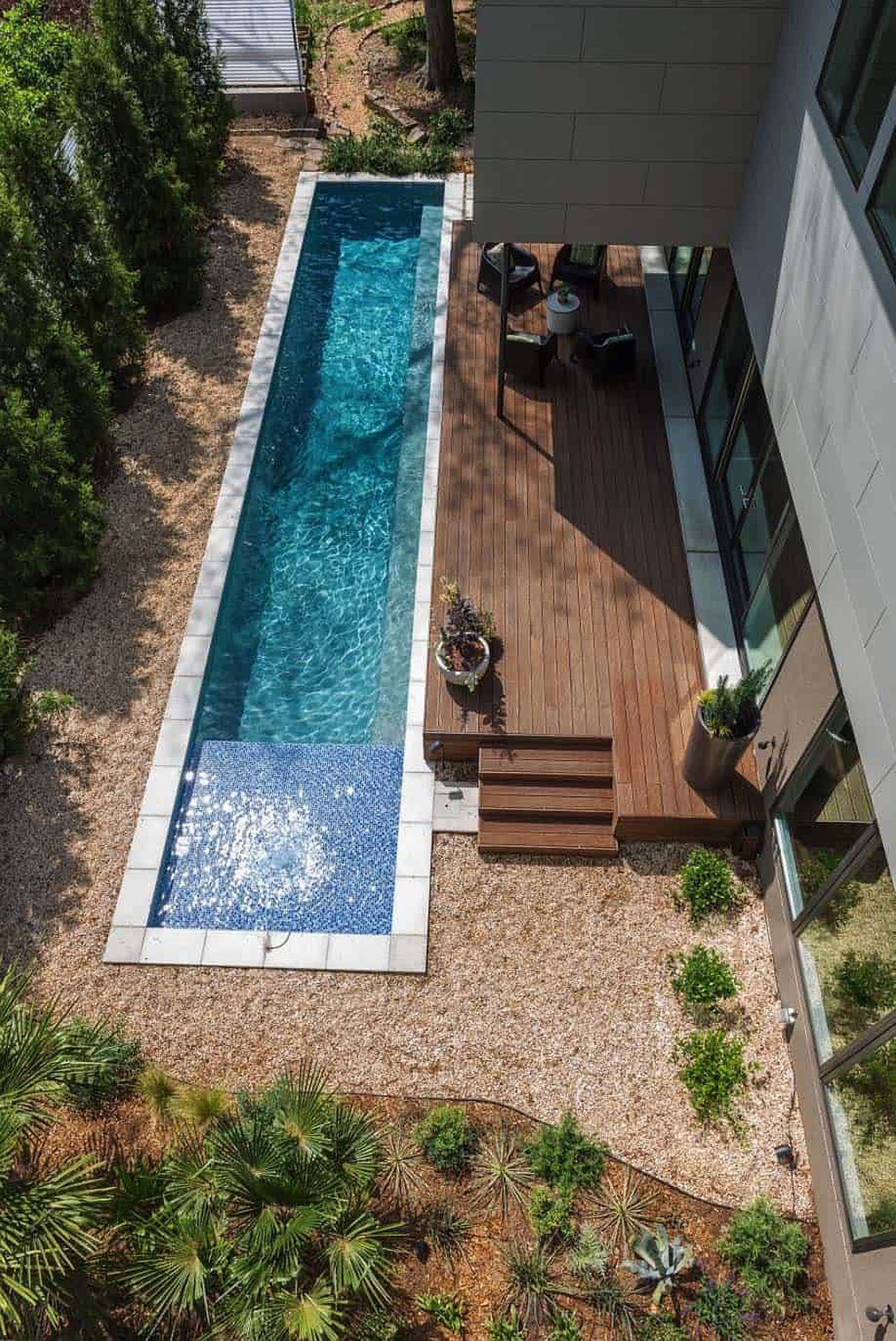 Here is a long swimming pool and wooden deck for a narrow backyard. A cosy seating area is located at the far end on the deck leaving plenty of room on the deck for other furnitures.
Jacuzzi Hot Tub and Pool Side Escape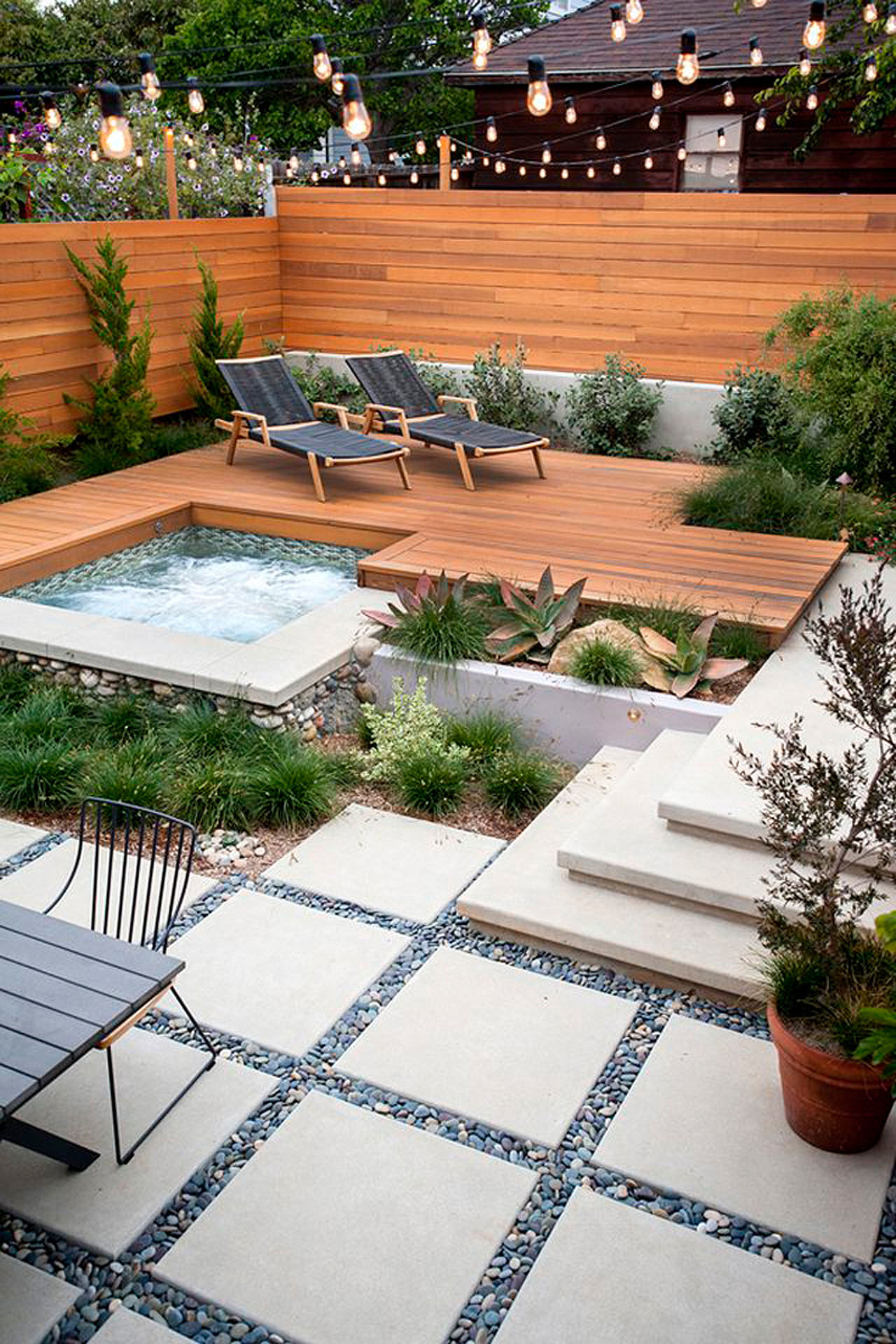 Here is a close-up look of the modern backyard makeover that incorporates a hot tub / Jacuzzi. For a wider view, see photo below. There are even a couple of sun lounger next to the hot tub to act as a pool side escape.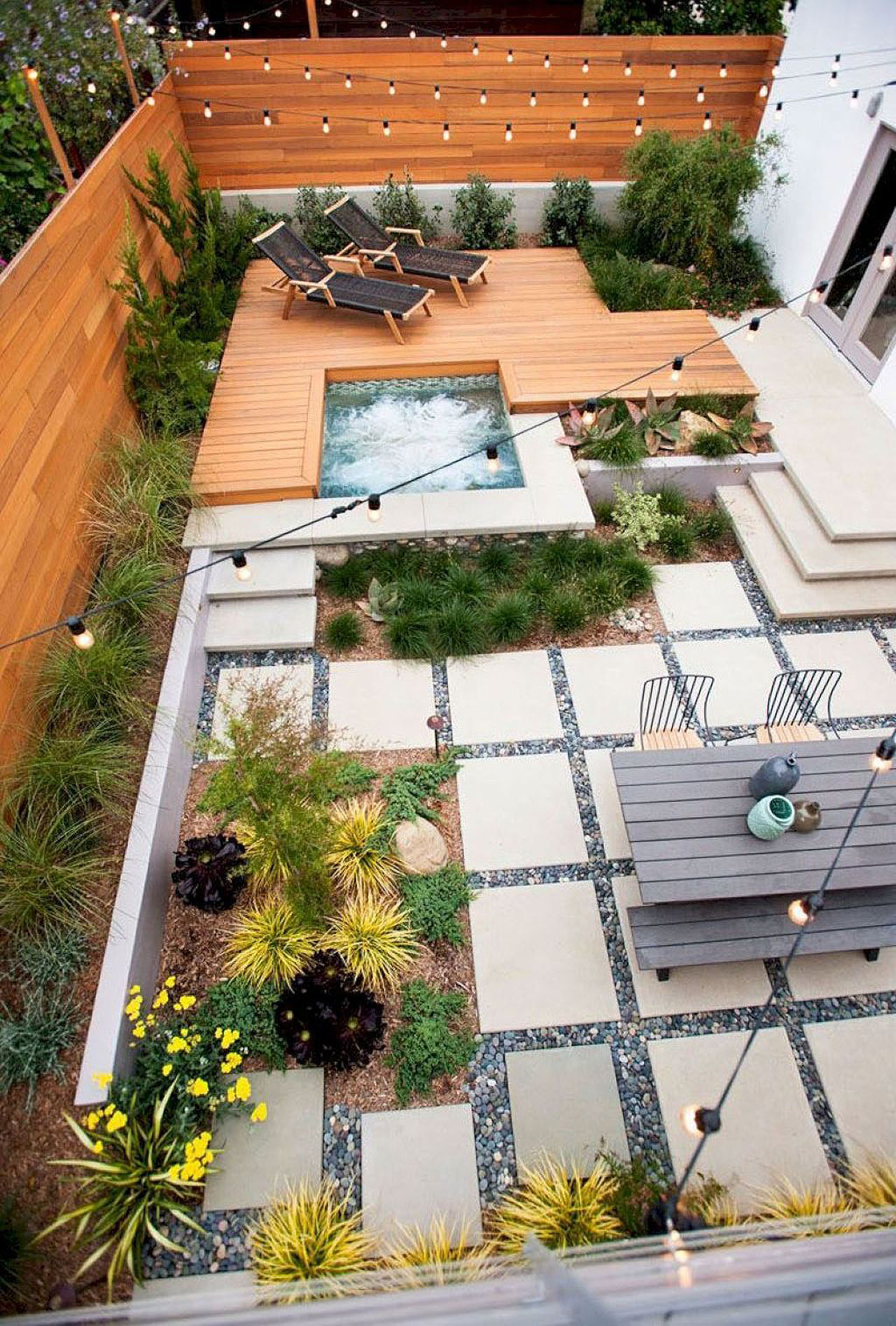 Luxurious Pool Side Seating Area with Raised See Through Swimming Pool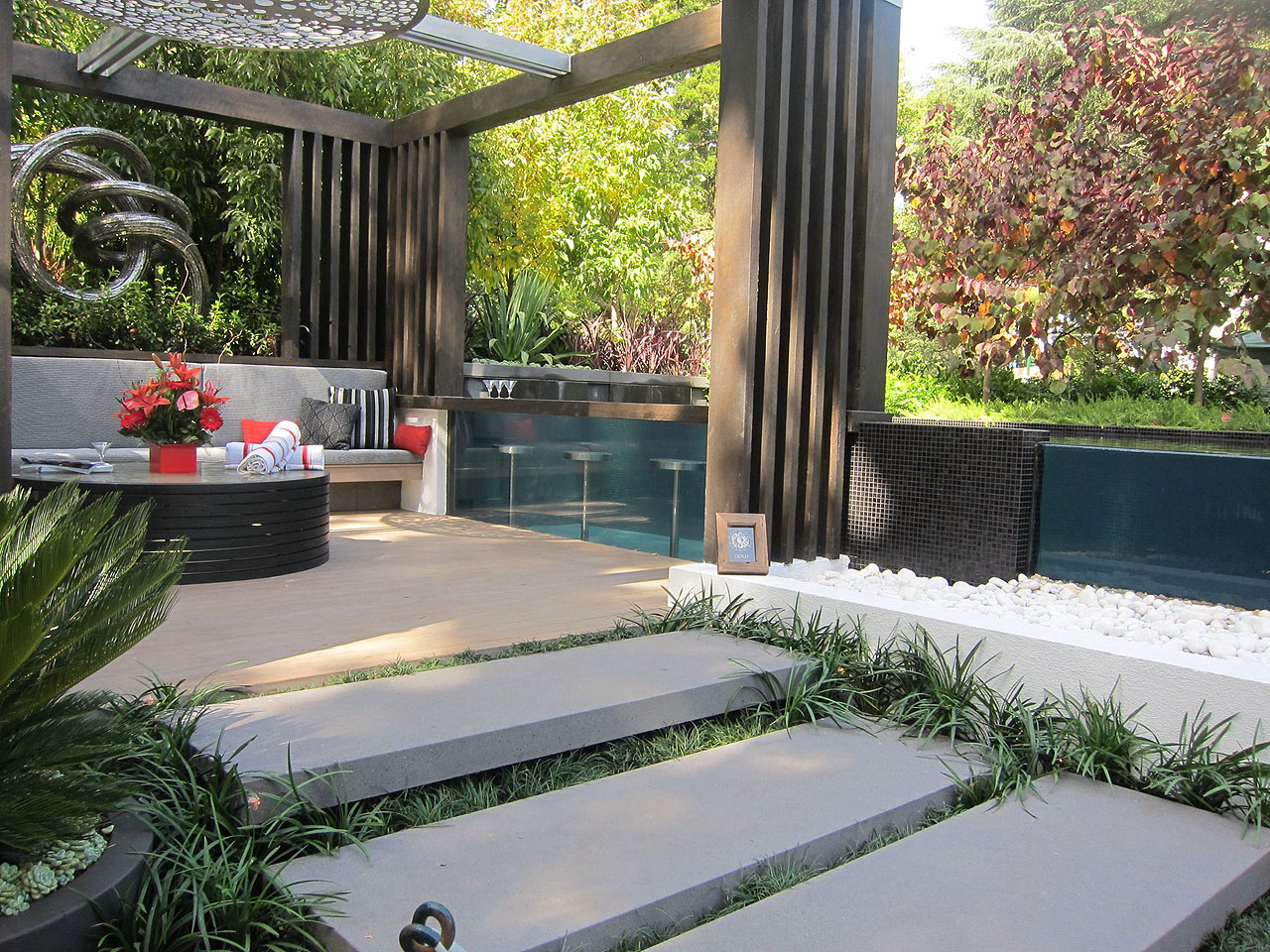 For a small urban garden, nothing beat a hot tub or Jacuzzi. Make the most of your hot tub by building a raised deck around it to act as a lounging area. Throw in a couple of sun loungers and you have a little pool side experience except. To top if off, the modern backyard incorporates a dining area, landscaped garden, steps and paving. Finally, for privacy, the backyard uses stripe wooden fencing and raised planters.
Cozy Shaded and Comfortable Seating Area Overlooking the Swimming Pool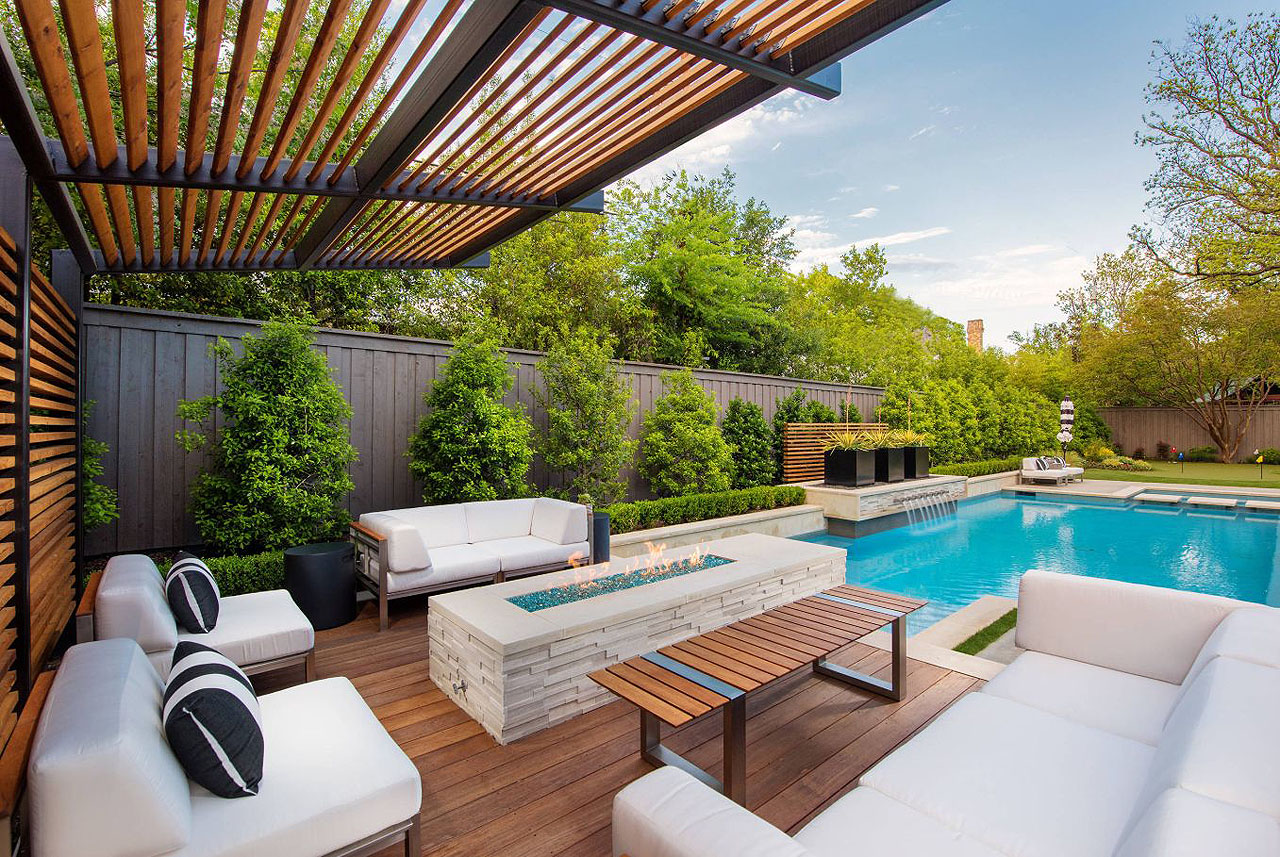 This is by far the most complete modern backyard design in our list. Yes, there is no sign of sun lounger anywhere but who needs them when you have everything else. Not only does it have a swimming pool but a decked seating area with pergola that incorporates a fireplace and coffee table surrounded by a three seater, a two seater and two single seater sofa. The pool also has a water feature. To top if off, there are raised planters and hedges before the fence. Located at the far end is yet another mini lounging area.
Contemporary Pool Side Design for a Compact Garden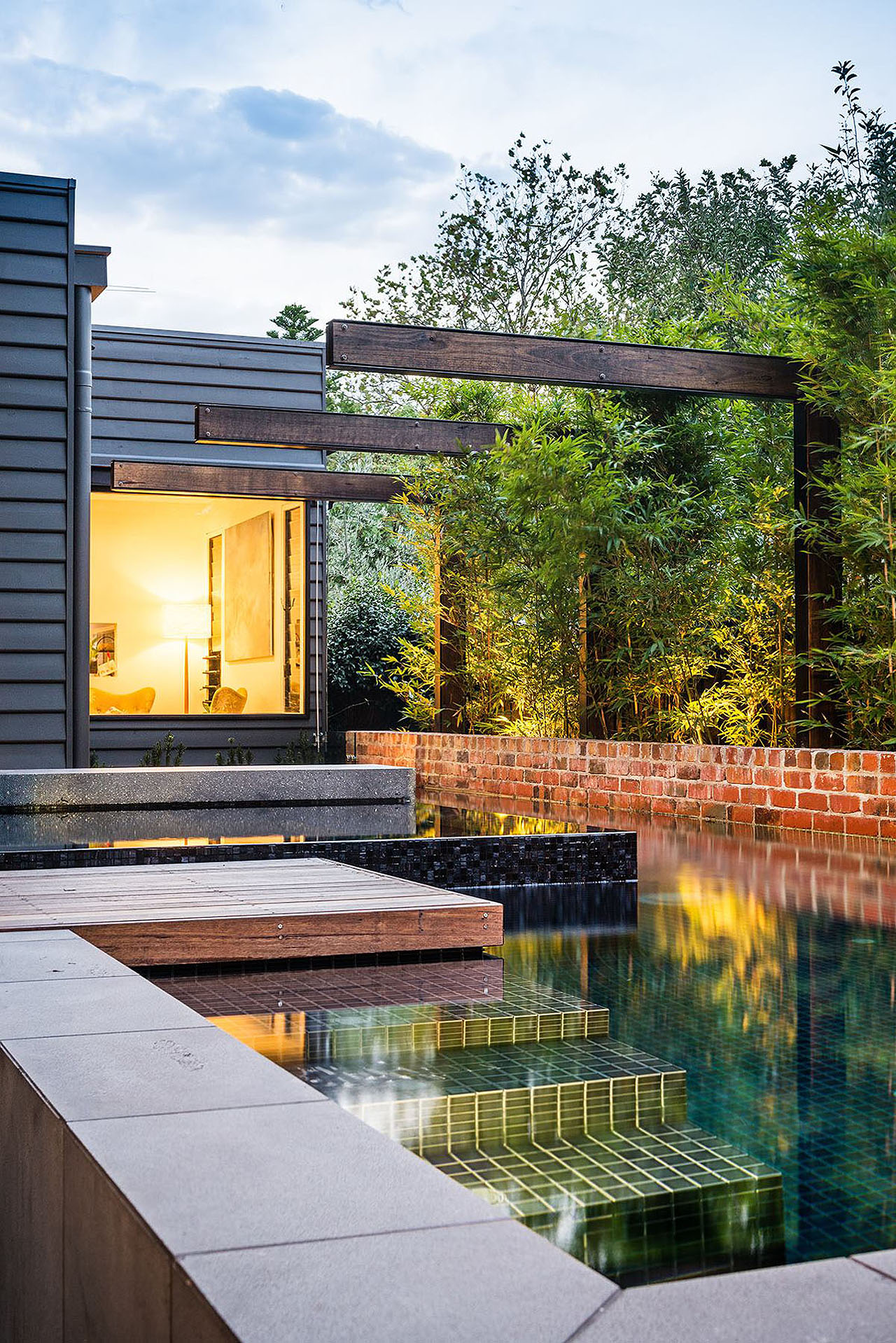 Next, this stunning backyard design caters to a pool side design with limited garden space. For privacy, bamboo hedges are used. In addition to that, three steel sculptures were added for aesthetics. The surfaces are finished with different materials and they all work well together.
Plain and Simple is Perfect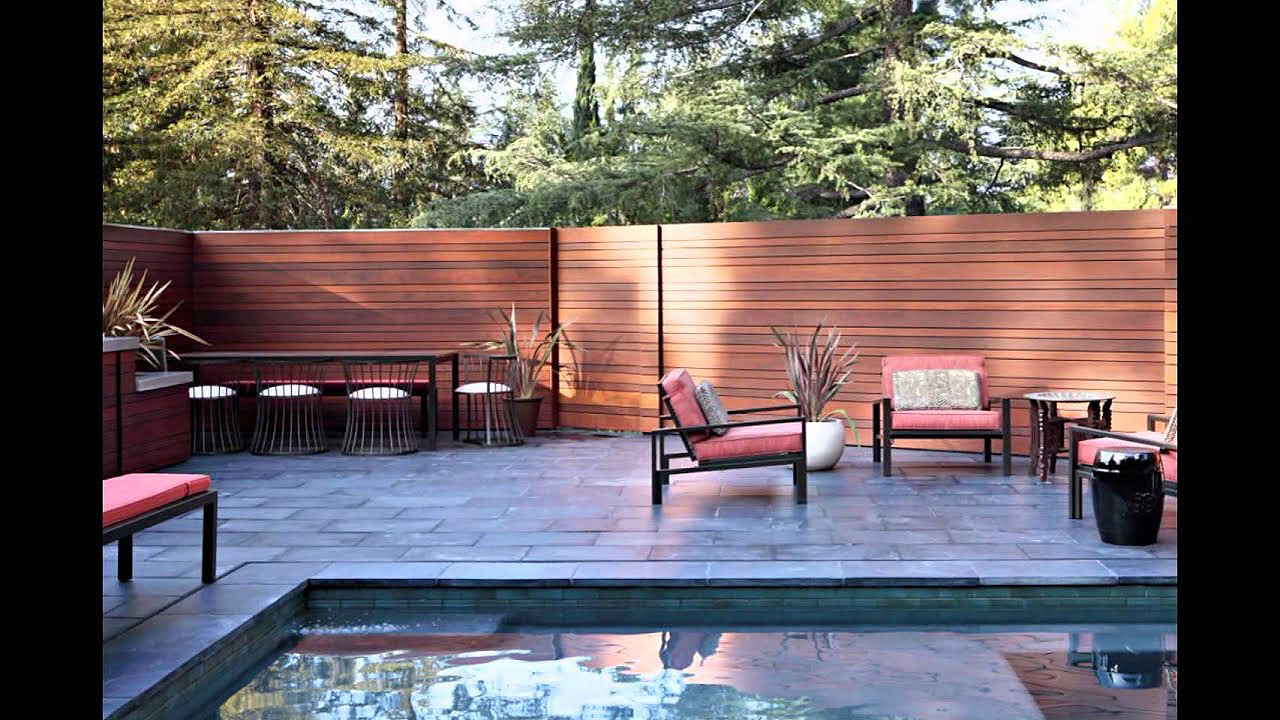 This modern backyard design idea has a poolside seating, dining area and privacy fence with an integrated backdoor. In contrast, the swimming pool does not have a safety barrier. You may need to check with the local authorities or building regulations to see if one is required in your area. The layout is simple and the furnitures are just off the shelf, nothing built in or custom made. This means it is quicker and easier to set up.
Ultra Modern Minimalist Backyard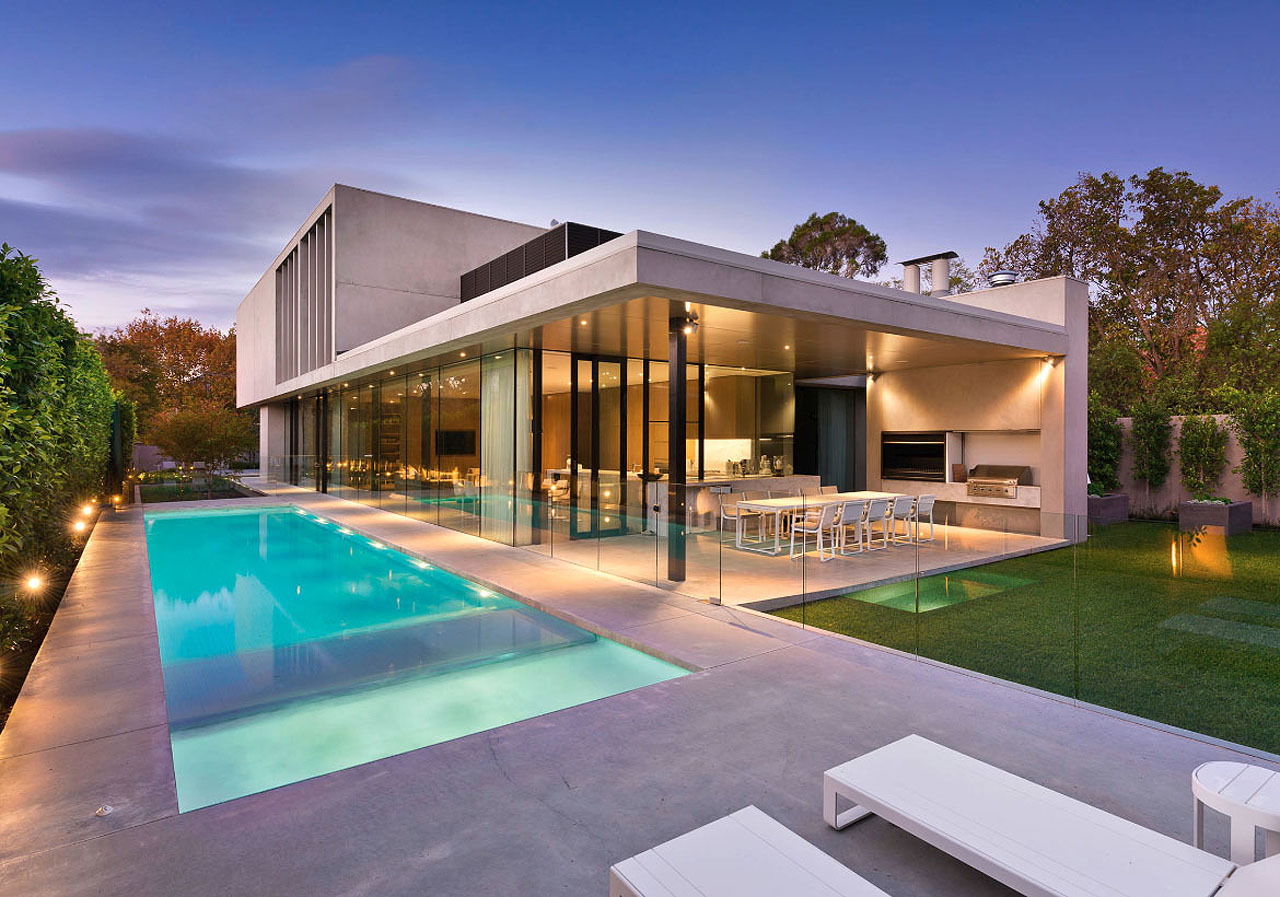 This ultra modern building with huge glass walls, glass doors and outdoor covered dining and barbecue space looks towards the equally big swimming pool. Designed by Sebring-Design-Build, the large open space has clean straight lines and a minimalist look. Additionally, both the pool and garden are brightly lit for evening use. A safety glass fence runs along the entire length of the garden.
All Decked Out Backyard with a Raised Pool
Modern Backyard Naroon-by-Signature-Landscapes-Design-Serenity-Pools. The pool area has a secure glass screen. Furthermore, the pool is raised with wooden steps to access it.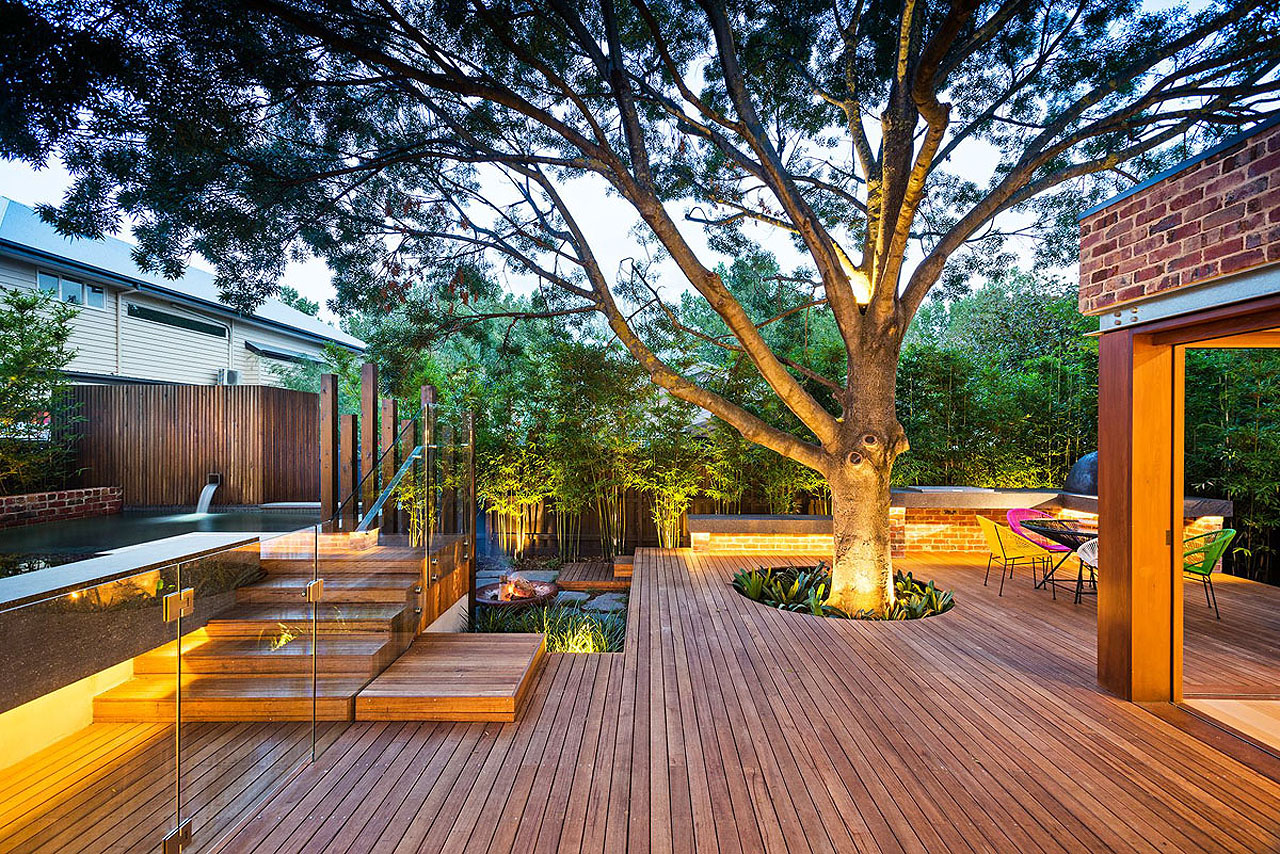 Another look at the Modern Backyard Naroon-by-Signature-Landscapes-Design-Serenity-Pools. The wooden deck covers most of the floor surface in the backyard. It is even designed around an existing tree with room for smaller plants to grow around it.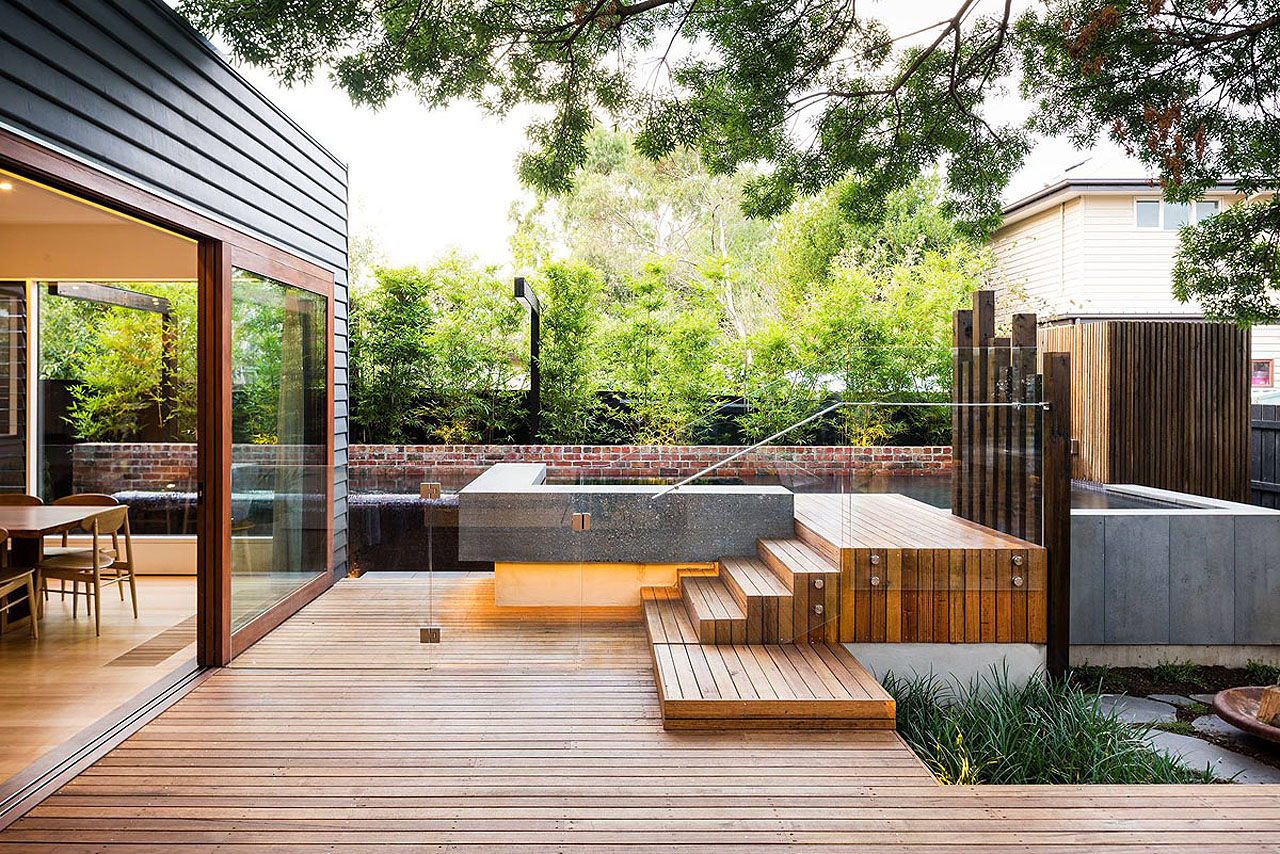 The last of the Modern Backyard Naroon-by-Signature-Landscapes-Design-Serenity-Pools. This time viewed from the dining area towards the building interior. Large sliding doors bring the outdoor space inside or indoor space outside depending on how you look at it.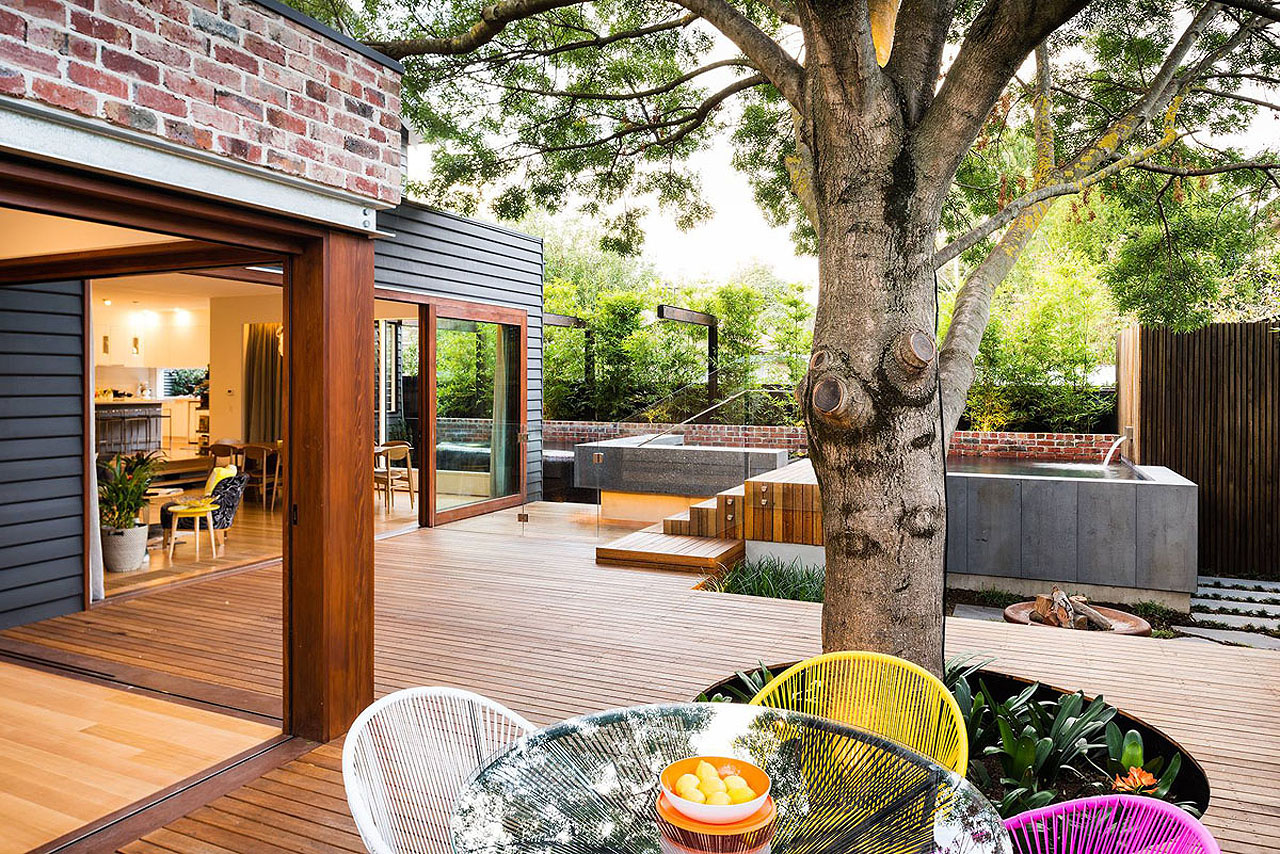 A Garden With A View… Jacuzzi, Lounger, Seating Area and Landscaping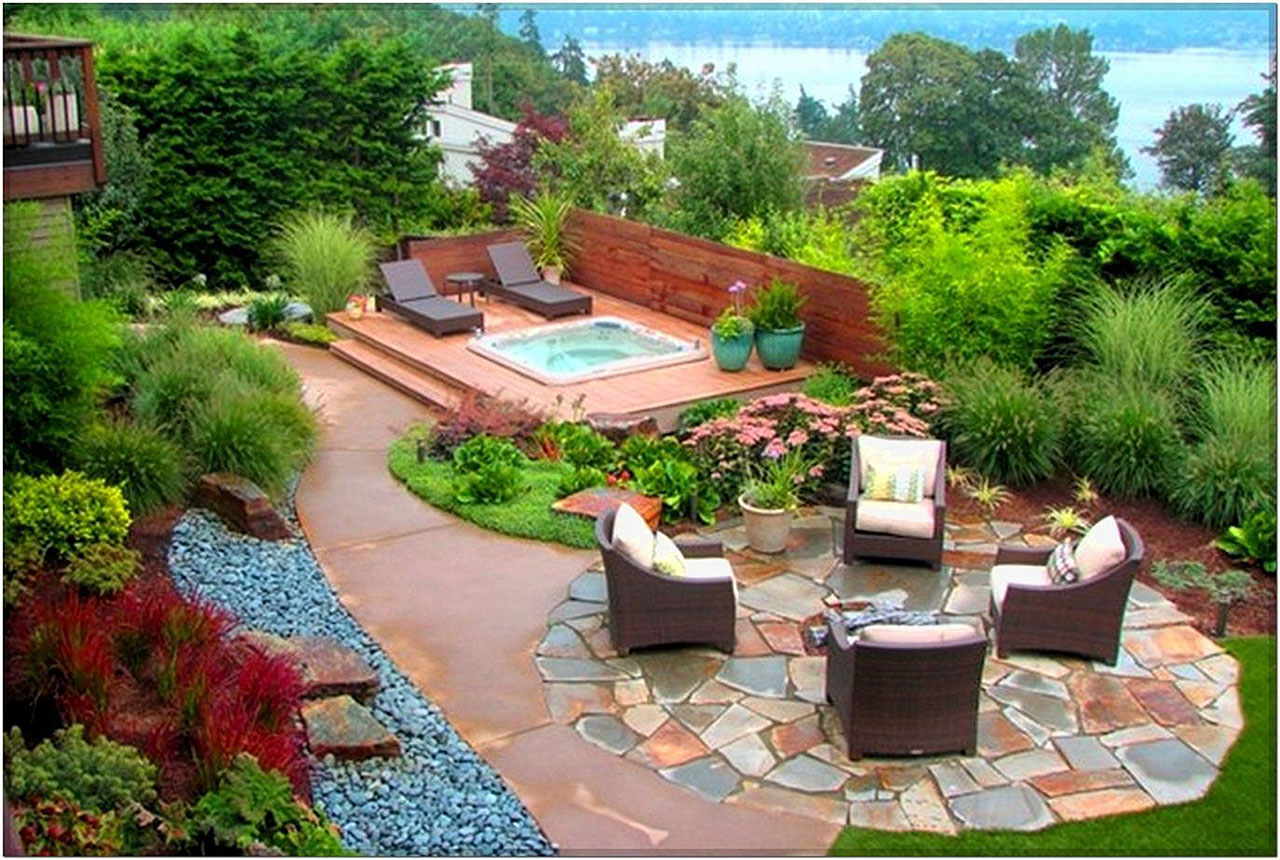 Finally, here is a Cool Backyard Landscape Ideas that has everything one needs. From outdoor seating area to flower patch to wooden deck and hot tub with sun loungers. Additionally, there is a rockery that runs the full length of the backyard. The flooring is a combination of stone, tiles, cement, concrete, pebbles and lawn. Furthermore, a view of the coast line can be seen in the distance.