The butler's pantry has evolved from a traditional service area to a highly coveted kitchen adjunct, offering extra storage, prep space, and sometimes even acting as an entertaining hub. Today's butler's pantries blend functionality with style, ensuring that they complement modern living requirements. Whether you have a compact apartment or a spacious home, there are butler's pantry ideas to suit your space and needs.
Butler's pantries are a classy addition to your kitchen. They not only add to the aesthetic appeal of the space but also provide a perfect fix to all your storage needs! They can be utilised to store spices, preservatives, seasonings, kitchen appliances and out of use utensils in an organised and safe manner.
While the idea of a butler pantry may be enticing, there is a ton to be regarded with respect to the installation of the pantry. Creating space for the pantry can particularly challenging if you are installing it into a preexisting small or overly crowded kitchen. But as you will see, these can be resolved through effective spatial management. In this article, you will find some tasteful and space effective design ideas for inspiration as well as an outline of what you need to set up the perfect butler's pantry in your kitchen.
Design ideas by Size:
A. For Small Spaces: The Minimalist Butler's Pantry
Not all homes come with the luxury of ample space, but this doesn't mean you have to forgo a butler's pantry. For smaller homes or apartments, consider a minimalist approach. A narrow hallway or underused closet can be transformed into a sleek storage area with floor-to-ceiling shelving and a sliding barn door or a retractable screen to keep things concealed yet accessible. Opt for bright lighting and light color palettes to give the illusion of a larger space. Include multi-tiered organisers that make the most of vertical space for storing glassware, dishes, and non-perishable foods.
Essentials for a Small Butler's Pantry
When it comes to the essentials for a small butler's pantry, smart design is key to maximizing utility without sacrificing style. Slim shelving units and pull-out drawers are non-negotiable, making the most of limited space and keeping items orderly and within reach. Over-the-door organizers offer a clever solution for hanging utensils, towels, or storing spices and smaller pantry items, capitalizing on often underused space.
Under-shelf baskets can hang beneath shelves to stow linens and napkins, optimizing every square inch of available space. Integrated lighting is another crucial element—LED strip lights or puck lights under the shelves or cabinets can brighten the area, making it easier to find what you need while creating an illusion of a more expansive space. These design choices and fixtures work cohesively to transform a cramped area into a functional and chic small butler's pantry, ensuring that even the coziest of homes can enjoy the luxury of added efficiency and organization.
Slim shelving units
Pull-out drawers
Over-the-door organizers
Under-shelf baskets
Integrated lighting solutions
B. For Mid-Sized Elegance: The Classic Butler's Pantry
A mid-sized butler's pantry can afford more in terms of storage and functionality. Classic butler's pantries often include a countertop for food preparation and a sink for cleanup, acting as a mini-kitchen. The cabinetry can be customized to your storage needs, with spaces for appliances that you may not want on display in your main kitchen, like microwaves and wine coolers. Choosing materials that match or complement your main kitchen will create a cohesive feel between the spaces.
Essentials for a Mid-Sized Butler's Pantry
A mid-sized butler's pantry bridges the gap between mere storage space and a secondary kitchen, calling for essentials that cater to both functionality and aesthetics. A robust countertop is paramount—think granite, marble, or quartz, materials that couple durability with timeless appeal, offering a resilient surface for preparation tasks. Beneath, undercounter cabinets can hide away bulky items and pantry essentials, keeping them accessible yet out of sight.
The inclusion of a modestly sized sink, paired with an elegant faucet, grants an area for quick rinses or hand-washing delicate stemware. Built-in or under-counter appliances such as a microwave, wine cooler, or dishwasher drawers speak to the ultimate in convenience, allowing for easy entertaining or day-to-day family life. To complete the look, an elegant backsplash not only protects the walls from splashes but also serves as a focal point, adding character and a touch of personal flair to the space. With these essentials, a mid-sized butler's pantry becomes not just a luxury, but a cornerstone of a well-organized and stylish home.
Quality countertop (e.g., granite, marble, or quartz)
Undercounter cabinets
A small sink and faucet
Built-in or under-counter appliances
Elegant backsplash
C. For Larger Areas: The Entertainer's Dream
When space isn't an issue, a butler's pantry can become a room of its own, perfect for those who love to entertain. This version can accommodate everything from a coffee station and wine fridge to a full-service bar. For an extra touch of luxury, add a dishwasher drawer, an ice maker, or a secondary oven. Incorporating a mix of open shelving and glass-front cabinets can create a showcase for fine china and crystal while keeping everyday items tucked away.
Essentials for a Large Butler's Pantry
In a large butler's pantry where space is abundant, the essentials elevate the room to a sanctuary of culinary preparation and sophisticated hosting. Deluxe appliances, including a wine cooler, a secondary oven for catering to large gatherings, and even a warming drawer, become integral for an entertainer's arsenal. A full-sized sink, possibly even a double basin, ensures ample space for cleaning up after soirees, while an ice maker keeps drinks perpetually chilled. Expansive countertop spaces beckon for food prep and buffet-style spreads, crafted from high-end materials that marry functionality with luxe design.
Storage is plentiful and varied, with deep drawers for linens, vertical dividers for trays and cutting boards, and custom cabinetry designed to house everything from oversized platters to a collection of fine spirits. Lighting too is thoughtfully appointed; with display lights to accentuate fine china, under-cabinet lights to illuminate prep areas, and statement fixtures that add ambiance and drama. This bountiful configuration offers not just a space to store and prepare, but a haven for the modern connoisseur to curate and celebrate the art of living well.
Deluxe appliances (wine cooler, secondary oven, warming drawer)
A full-sized sink
Ample countertop space for serving and prep
A variety of storage options (cabinets, drawers, open shelving)
Specialty lighting (under-cabinet, display lighting)
Design Ideas by Features:
To get you started, here are some design ideas to fit any space.
1. Open shelving
If you wish to have an elegant storage solution while utilising minimal space, an open shelf pantry is the perfect solution for you. It can be installed in the form of slabs supported by beams on a preexisting wall. If you don't have an empty wall you can utilize, you may even avail the space over the sink or countertop to create the pantry.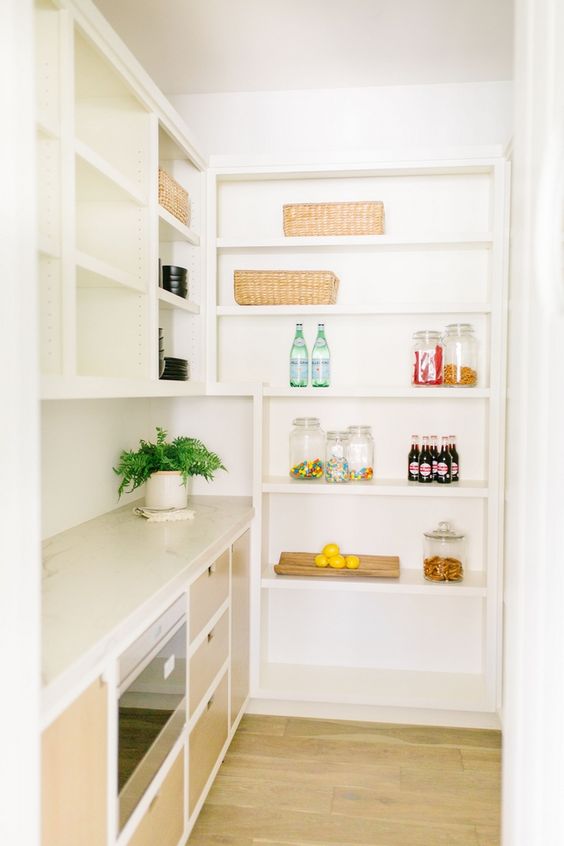 2. Ultra compact pantry
Adding drawers to your butler's pantry creates a retractable storage space which would not take up much space inside your kitchen. You can get them installed under your cabinets or as a separate unit if sufficient space is available.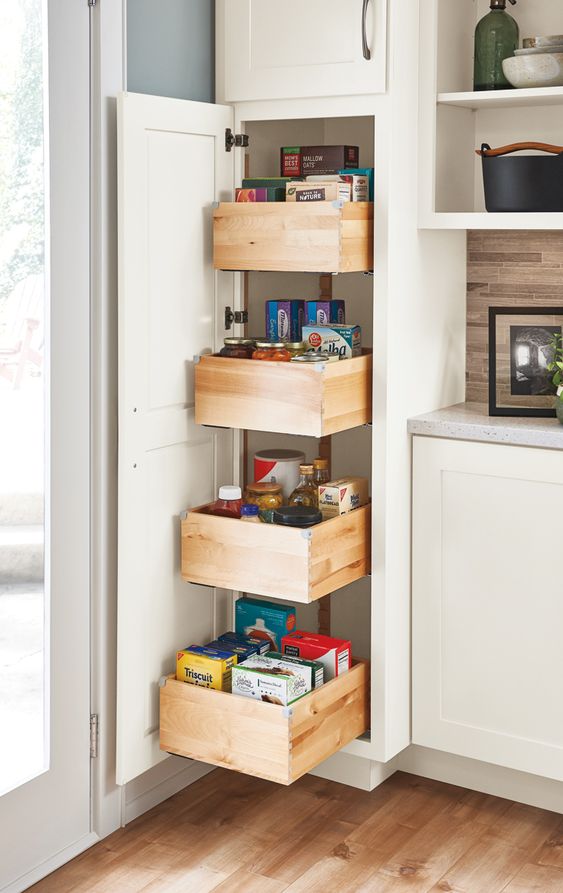 3. A wine chiller and drink prep
A wine fridge would make a super innovative, classy and resourceful addition to your butler's pantry by providing you with a cool spare storage space for your drinks and refrigerated items. This would allow you to accommodate food and drink items that require refrigeration. It will require a small corner of the kitchen to be refitted for this purpose but if you like . You would also have to take into regard the electrical connection requirements of your wine fridge before installation.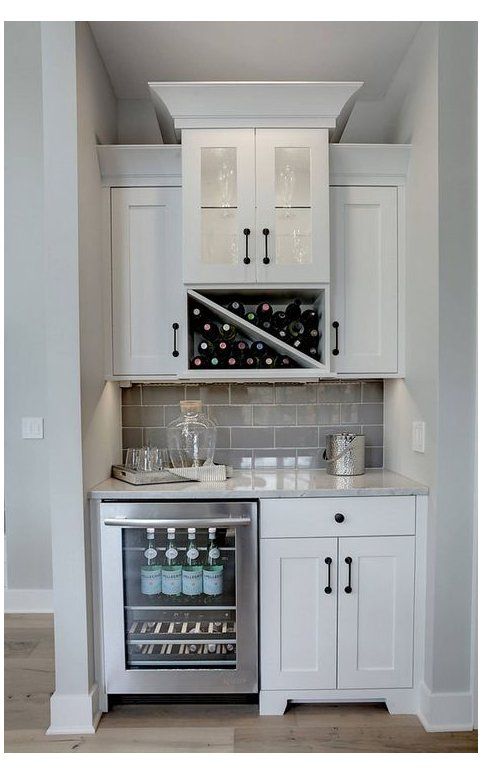 4. Utilise vertical space
Another great idea to fit a butler's pantry in your kitchen is to utilize the vertical space available. This cuts down on the need for floor space and maximise the use of overhead room. You can create a single horizontal shelf close to the ceiling or a series of compartments starting from the lower end of the wall to the ceiling. You may need to consider a lightweight foldable step ladder to help reach things stored in the top compartments.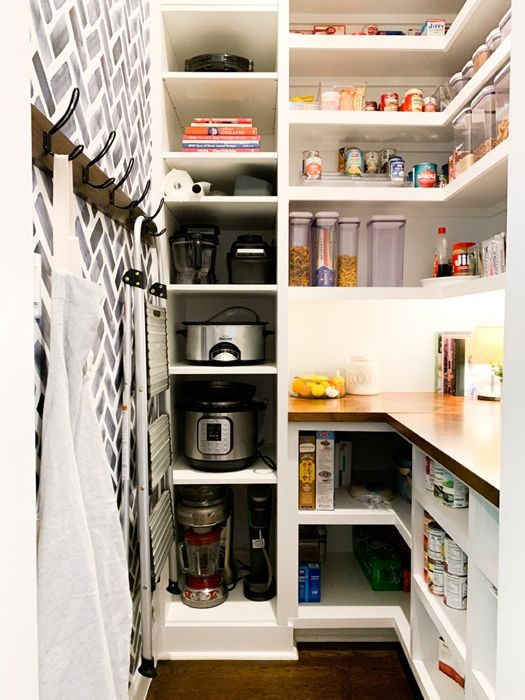 5. Use pocket doors
A very important space consideration is allowing room for pantry doors to open and shut. You can save the need for that by opting for the installation of pocket doors. These doors simply slide into 'pockets' when open, removing the need for swinging space. Unlike conventional doors, you can also leave pocket doors open and create an open shelf look without it looking out of place. As the doors are out of sight, this avoids the awkward open-door look.
6. Experiment with colours
When installing a butler's pantry, the design possibilities are limitless. Simply deciding on a cool colour scheme can go a long way to give your pantry an artsy, tasteful look. You can either go with a color scheme that match the rest of your kitchen and blend right in, or you can go for a complementary colour which would look incredible in contrast and liven up your kitchen.
Practically, you would want to pick from the lighter shades of the colour palette in order to enhance visibility of the shelf. If the rest of your kitchen is white, some cool colours you can choose for the job are light grey, lime green, beige or sky blue.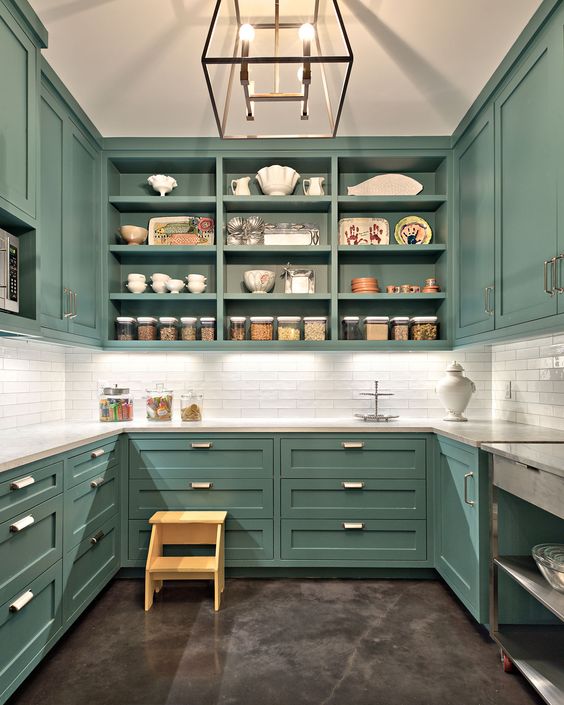 7. Decorate your space!
If you are short on space to put up picture frames or wall decor, you can style up your kitchen by decorating your pantry doors! You may add photographs, quotes, a clock or other decorative pieces onto the pantry door by fixing them securely in place, preferably mounted to ensure that they stay fixed to the door even with frequent opening and closing. Otherwise, consider hanging photos and images where there is room on the wall. Lastly, you can also choose to display your table ware, crystals and glasses in the storage cabinet as part of your decor.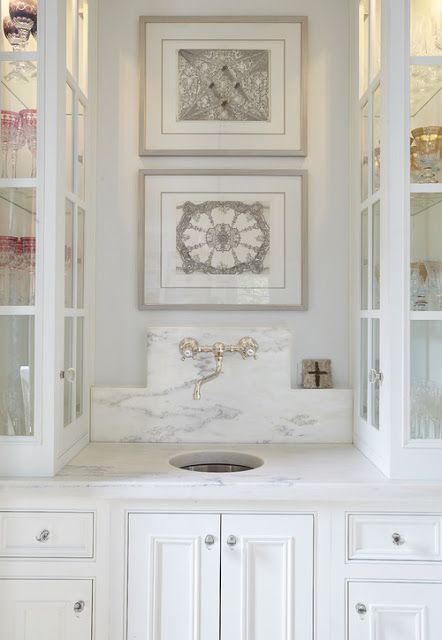 What you need for a butler's pantry
Regardless of the size, certain design principles apply when creating a modern butler's pantry.
1. Available space
Start with the available space for your pantry. Will this be part of the kitchen or a separate room? Perhaps a dedicated storage cabinet or a series of floor to ceiling storage to be added to the opposite end of the kitchen. If it is a separate room, will this take up a corner of your kitchen or is part of an extension? You can consider converting an under stair cupboard or under used utility room into a walk in larder and pantry.
2. Decide on the size
In order to decide on the size, you need to be aware of your pantry's purpose and then space it accordingly. If you plan to use it for storing utensils, create enough space for them to be stacked safely and far enough from the edge to be securely stashed. If you plan on placing electrical appliances on the countertop of your pantry, make sure you have enough electrical outlets to plug them into so that you do not have to move them each time you wish to use them. Whatever it is, knowing what you want in your pantry lets you plan and size it accordingly.
3. Material
One common question that arises is what material should be opted for when installing a butler's pantry. You can either go for whatever material is predominantly used for the rest of your kitchen cabinetry so that it fits right in, or a distinct material in order to make your butler's pantry stand out from the rest of the space. The key things to consider when choosing material are the following: style, maintenance and durability.
Quartz is a durable, scratch resistant material which would give your pantry a classy, elegant look. You can go for transparent, glass doors for your cabinets if you wish to create a contemporary look. Opt for durable tempered glass or safety glass in order to avoid the risk of cracking or breaking. Wooden materials like butcher blocks are also a great lightweight and cost effective material as worktop for your pantry.
A. Hardware
The choice of hardware in a butler's pantry is a subtle yet powerful design statement that unifies the space with the main kitchen. Whether you opt for sleek, modern pulls and knobs in brushed nickel, classic cup handles in polished brass, or perhaps industrial-inspired fixtures in matte black, the hardware should echo the design language of your kitchen's cabinetry. It's these small touches that create a seamless transition between the two areas.
Consider the shape and finish of the handles as well as their functionality—soft curves or bold lines, a glossy or a muted finish—all can either complement or provide a delightful contrast to your main kitchen's features. Beyond aesthetics, the tactile experience of the hardware should not be underestimated; after all, these are the pieces you will touch every day. They should feel solid, operate smoothly, and endure the rigors of everyday use. By choosing hardware that resonates with the overarching theme of your home, you instill a sense of harmony and considered craftsmanship in your space.
B. Counter
Countertops in a butler's pantry must marry resilience with style, serving as both the workhorse and the showpiece of the space. Natural stone like granite or marble, with their unique veins and robust nature, can offer a luxurious touch that withstands the test of time and the heat of hot pans. Quartz, being non-porous and stain-resistant, provides a maintenance-free option without compromising on the elegance. For those who desire the look of natural stone without the investment, modern high-quality laminates can mimic these finishes with surprising fidelity and offer exceptional durability and ease of cleaning.
Whichever material you choose, it should be able to endure knife work, resist stains from spills, and be simple to wipe down, ensuring that your butler's pantry remains as practical as it is visually appealing. The right countertop will not only stand up to the daily demands of preparation and service but also contribute to the overall design aesthetic of your home.
C. Backsplash
The backsplash in a butler's pantry is an ideal canvas for expressing personal style and adding an element of visual intrigue. Whether it's the subtle shimmer of glass tiles that catch the light, the rustic charm of brick veneer, or the bold statement of hand-painted ceramic, a backsplash can transform the space. A pop of colour can invigorate a neutral palette, drawing the eye and injecting vitality into the room. For those with a penchant for understated elegance, a backsplash with a textured but monochromatic pattern can add depth without overwhelming the senses.
Mosaic patterns, whether geometric or floral, can infuse the space with an artisanal touch, making the walls a focal point. Not just decorative, the backsplash is a functional surface, protecting the walls from moisture and cooking splatters, making it an essential component that doesn't skimp on style. Selecting the right materials and design for your backsplash can elevate the butler's pantry from a simple storage area to a sophisticated extension of your kitchen's aesthetic.
4. Lighting
You would want your butler's pantry to be well lit in order to make it convenient to view, rummage through and access the items you wish to avail. You can invest in some bright coloured paint and lacquering to make your pantry more visible and reflective of light. You can also install extra lights over the pantry or invest in LED strip lights to brighten up the space, especially those deep shelves.
5. Decor
Good decor goes a long way to liven up your space. You can opt for a pretty wallpaper to complement your cabinets, or accessorise your pantry by adding wall hangings, picture frames, posters and stickers. The decor also gives your space a homely, personalised touch and creates a comfortable space to be in.
6. Workforce
Once you have decided on the specifications, you would want to hire a professional workforce for the project.
An interior designer can help you incorporate your butler's pantry in your kitchen in the best way possible by creating an aesthetically pleasing and space efficient design in accordance with your preferences and needs.
A contractor would be able to professionally oversee the project, obtain materials, supervise workers and get the job done to perfection.
You would want to hire carpenters in order to get the construction of your pantry done in the most tidy and optimal way.
An electrician would be able to help establish electrical outlets for your appliances as well as work on lighting projects for the pantry.
Next you would want professional painters in order to give your pantry a tasteful color and finishing.
Alternatively, you can take the job up as a DIY project and find resources and materials for yourself from the market to carry out the job on your own. There are plenty of free of cost tutorials available online nowadays to guide you through the process and help you fulfil the task.
In this article we walked you through the design ideas and practical requirements of a butler's pantry. We hope you found it to be useful and informative!
ZG