When homeowners look to add flair, function, and extra square footage to their living spaces, the concept of a mezzanine floor becomes an attractive innovation. Characteristically open and situated between two existing floors, a mezzanine can transform an area within your home into a visually striking and practical new space.
Whether you're dreaming of a cozy reading nook, an airy home office, or a secluded bedroom retreat, the addition of a mezzanine floor offers a wealth of design possibilities.
A mezzanine floor is a unit constructed between the floor and the ceiling within a single storey of the house to create an intermediate floor. They are not only tasteful architectural additions to your house especially those with high ceiling, but also an effective solution for space limitations and storage needs. If you are looking to add a mezzanine floor to your residence but not sure where to start and what to, you've come to the right place.
Considerations
The main considerations when embarking
1. Permissions
Before embarking on the addition of a mezzanine, check your local building codes and obtain the necessary permits. Regulations will typically cover aspects such as minimum ceiling height, railing requirements, and emergency egress.
The first thing you need to consider is obtaining a permit. Depending on the region you live in and it's respective building regulations, you will need planning permission from the relevant authorities. In several regions around the world such as Singapore, building a mezzanine floor is not permitted as it modifies the purpose, floor space, and plot ratio of a property. In most areas however, planning is allowed as long as it complies with building regulations of the land. If you live in a listed area, you may require permission from your local authority. 
If you are to construct the mezzanine next to a party wall in your house, a wall shared with your neighbours, you may have to acquire an agreement in order to follow through with the construction. Additionally, if you are a leaseholder, you may have to obtain the permission of the freeholder of the property to make structural changes.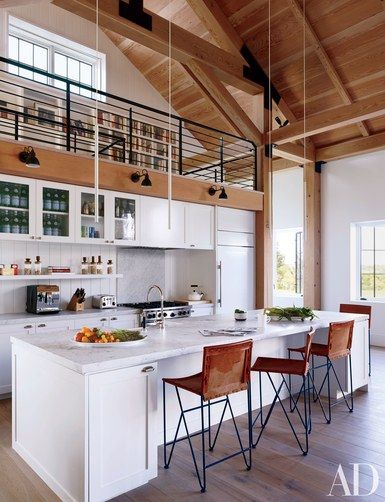 2. Safety
Next thing you need to consider is safety. Safety is the utmost importance when it comes to buildings. Here, we consider aspects of safety namely structural and fire.
A. Structural Integrity
Adding a mezzanine floor would increase the overall structural weight of your property. It should be ascertained that the building is capable of withstanding additional load to its structure without the risk of collapsing or being damaged. It is recommended for you to consult a structural engineer to survey the potential risks associated with installing a mezzanine before you go through with the project in order to ensure you are able to establish a secure and structurally sound unit in your house. 
On top of that, the staircase accessing your mezzanine floor should be safe to mount if it is to be party supported by the wall. A free standing staircase unit will also need secure railings and balustrade to reduce the risk of tripping, especially if when have children or elderly in your house.
B. Fire safety
Fire safety is an essential factor to be taken into account while installing a mezzanine floor for your home. It is important to ensure that the floor abides by your region's fire safety regulations. A fire exit should be sought out and developed and sprinklers and extinguishers should be put into place as a precautionary measure.
3. Space and Volume
A mezzanine floor can only be installed if your room is tall enough to accommodate one. Mezzanines are often installed under lofty ceilings as the concave shape allows for sufficient space in terms of height. Consider the space you require for the floor according to how you aim to utilise it. The floor may serve as a home office, a compact closet, or even a bedroom. Ideally, a mezzanine room should be around 2.6 meters tall in order to allow for ease of movement for an average individual. 
A mezzanine is best suited to homes with high ceilings and ample volume. The ideal scenario is a space with at least double the usual floor-to-ceiling height, allowing the mezzanine to sit comfortably above head height on the lower floor while still providing adequate clearance on the upper level.
4. Lighting and windows
When you construct a mezzanine floor, it would require its own lighting and electrical connections. You may add a window or two to let natural light in during the day. In doing so, you may need to consider sound proofing and insulation. You may install acoustic grade glass to help with noise reduction and double glazed windows to improve insulation, in case windows are installed. Enlist the help of an electrical engineer for your electrical installation.
Consideration of lighting is vital. The installation of a mezzanine can affect the distribution of light within the space. Thoughtful placement of artificial lighting and strategic design to allow for natural light penetration are important aspects of your planning.
5. Access
A mezzanine is accessed via a ladder or staircase. Ideally, you would want to get a full size stairs with stable railings set up for the job in order to ensure the safety of yourself and others in your house. These can be created entirely out of timer or steel.
Stairs or ladders are the typical means of access to a mezzanine. The design should be in harmony with the mezzanine's function, the home's aesthetic, and it must also comply with safety standards.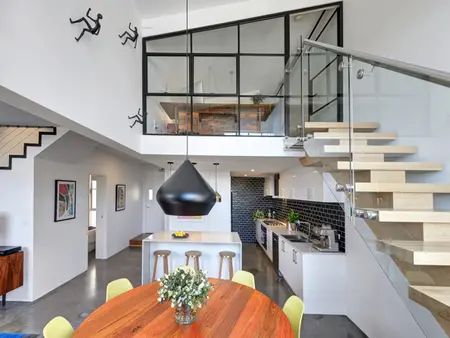 6. Lighting
Consideration of lighting is vital. The installation of a mezzanine can affect the distribution of light within the space. Thoughtful placement of artificial lighting and strategic design to allow for natural light penetration are important aspects of your planning.
7. Privacy
Depending on its intended use, the open nature of a mezzanine may require creative solutions for privacy, which can include partial walls, glass barriers, or drapery.
8. Acoustics
Acoustics of a mezzanine space is a delicate balance between design and science. The open nature of the area can lead to sound carrying and echoing, which can intrude on the quietness of other home spaces. To cultivate an acoustically harmonious environment, strategic placement of sound-dampening materials is essential. Consider installing thick carpets or rugs that not only add warmth and texture underfoot but also serve to muffle footsteps and absorb sound.
Utilize upholstered furniture and wall fabrics which act as natural sound barriers. For heightened acoustic control, installing specialized acoustic panels can blend seamlessly with your décor while significantly reducing noise levels. These panels can be custom-fitted and come in various finishes to complement the overall design aesthetic. With these elements in place, your mezzanine can maintain its visual connectivity to the home while acoustically respecting the tranquility of shared spaces.
Sound travels easily in open spaces, so incorporating acoustic solutions into your design will ensure the mezzanine doesn't disrupt the ambiance of the surrounding areas.
9. Architecture
Employing a professional architect for the job allow you to establish the perfect mezzanine space according to your design preferences with the additional professional perspective. You would need to get accurate measurements of the space you need for the construction of the mezzanine floor in order to create an accurate and effective blueprint and acquire materials accordingly

Next, you need construction materials. Decide on the type of mezzanine floor you wish to install. Typically, mezzanine floors are constructed in the form of a wooden deck. A lumber mill would be able to construct you a solid flooring for your unit if you provide them with the measurements and design idea. Make sure to get a good finishing job on the flooring in order to prevent termite infestations and make the floor easy to clean and maintain. 

The flooring of the mezzanine floor is held up by strong beams. You would want to employ a professional builder to install the beams securely before the floor is set up. You would want to be certain that the floor is completely safe and well constructed. Solid I beams are typically used for as support beams for the floor. 
Design Ideas for Your Mezzanine
When it comes to setting up and designing a mezzanine floor, the possibilities are limitless. The floor can serve a variety of purposes, and can be set up accordingly with immense aesthetic appeal. Let's take a look at some of the most elegant yet artsy design ideas for your mezzanine. 
1. Bedroom Loft
For a studio-type or open-plan home, a mezzanine bedroom adds an element of separation and privacy. Keep the design light and airy with cable railings and floating nightstands to enhance the loft feel.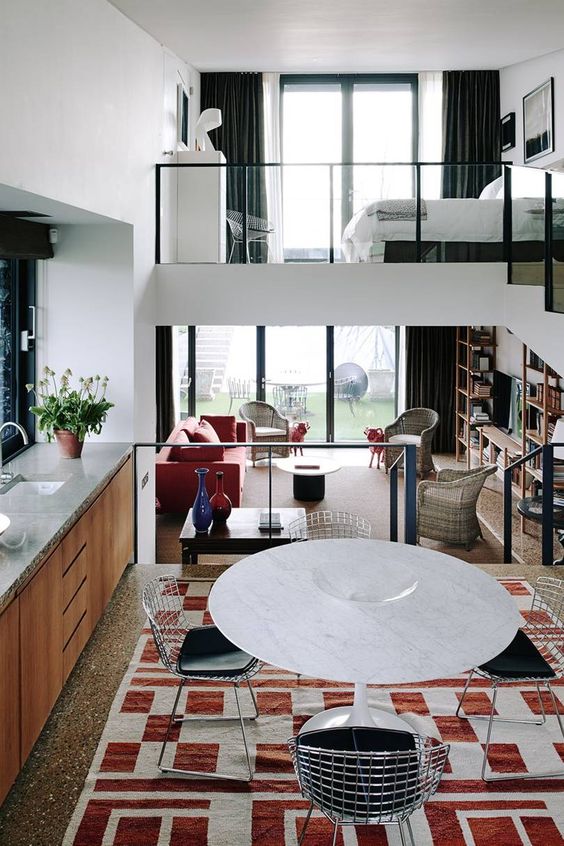 Mezzanine units function incredibly as bedrooms. You can install one in a bedroom to create space for an extra bed and have an entirely new room! The walls may be customised with a preferred wallpaper, frames or posters to give it a personalised touch and bedside tables or a dresser may be tossed in to make the space all the more viable. 
If your mezzanine unit has windows, you can add plants next to them to keep the air fresh. If your mezzanine floor is part of the lofty ceiling, consider installing roof windows. These are great for natural light during the day and ventilation for when it gets too hot in the summer.
2. Children's Play Area
A mezzanine can become a magical play area for children. Include safety nets or guardrails and utilize vibrant colors and playful decor to stimulate creativity and fun.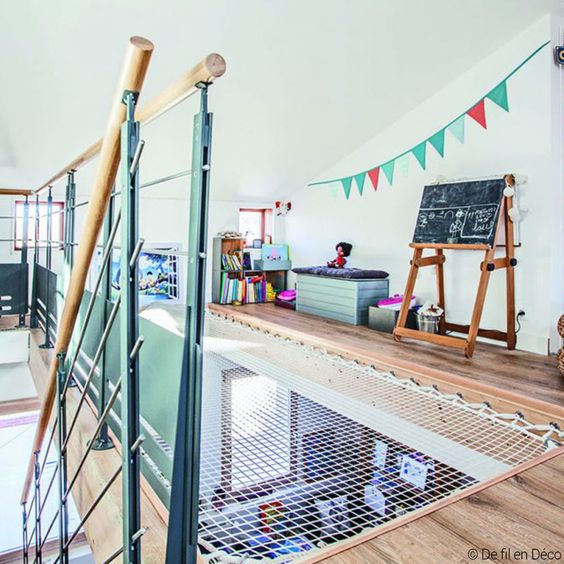 If you have children, a mezzanine floor is perfect to cater to their need for space to play and unleash their creative sides. The unit can make a perfect play area when designed with bright colours and set up with some anti-slip carpeting and recreational items such as toys, storybooks and art supplies. A very important consideration to make here however is safety. In order to keep the kids safe especially on a heighted platform, it is imperative to install secure railings, balustrade and barriers both on the floor and on the stairs, in order to prevent risks of falling and injury. You can also get creative and introduce braided hammocks and professionally installed safety net that doubles as trampoline. 
3. Closet
If you are in need of some extra storage space for your clothes or belongings, a mezzanine floor can serve as a great closet space. You can store your out of season clothes in an organised manner in shelves or cupboards placed inside the unit.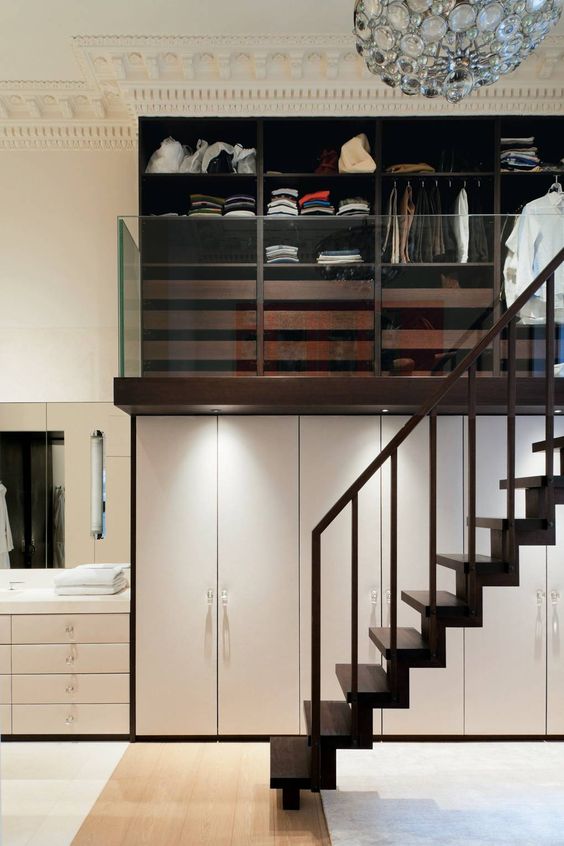 4. Study room/ Home office
Design a mezzanine home office that overlooks your living space. Incorporate sleek glass partitions for quietude without sacrificing visual openness. Opt for minimalist furniture that complements the structural elements of the mezzanine.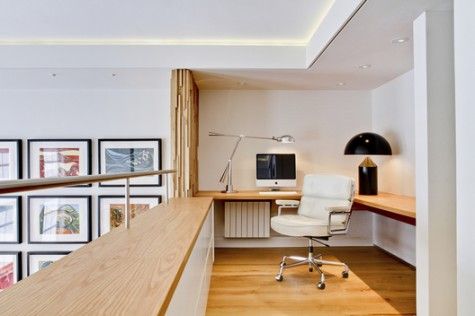 Whether you work from home, are a student in need of space to focus or an adult who wishes to perform important tasks in isolation away from distraction, a mezzanine floor can serve as a great study for you. You can customise the place to create a resourceful and productive environment. You can add a study desk or custom wall mounted table top, some bright lamps, a cooling system for temperature control, an ergonomic chair and a cabinet for storing and organising your work and documents. 
5. Lounge Area
Transform your mezzanine into a tranquil lounge area. Soft furnishings, warm lighting, and a small library can create a peaceful retreat. Floor cushions and low sofas can make the area inviting and comfortable.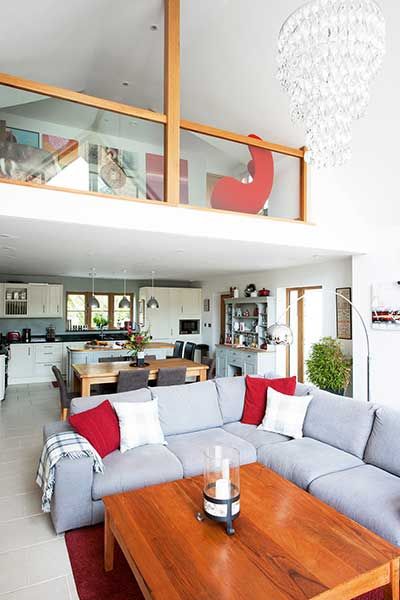 Envision your mezzanine transformed into an elegant lounge area, a serene alcove perched above the hustle and bustle of daily life. This elevated nook is styled with comfort in mind—think plush, oversized armchairs and a soft, inviting sofa, all arranged to encourage conversation and relaxation. Luxurious throws and a selection of eclectic cushions add texture and warmth. The color scheme is calming and cohesive, with perhaps a striking piece of art or a statement lighting fixture to anchor the space.
A sleek coffee table hosts a stack of curated books and a vintage record player, setting the tone for unwinding or casually entertaining. Ambient lighting is key; a mix of floor lamps and sconces creates a soft glow that complements the mellow atmosphere. It's a space where the clink of glasses, the murmur of intimate dialogues, and the faint melody of music converge to form the perfect backdrop to leisurely afternoons and evenings.
6. Entertainment and Media Room
Set up a media room on the mezzanine for movie nights and entertainment. Soundproofing will enhance the acoustics and provide privacy.
Enhancing your mezzanine to serve as an entertainment and media room is about creating a captivating escape that resonates with cinematic vibrancy. It's about combining comfort with state-of-the-art technology for a truly immersive experience. Plush tiered seating can mimic the allure of a movie theater, while cutting-edge audio-visual equipment envelops the senses, transforming film nights into panoramic events. Opt for a high-quality surround sound system that fills the room without overwhelming it, and a 4K UHD projector that casts life-sized images for an authentic theater feel.
Smart technology can be integrated for seamless control of sound, lighting, and visual equipment, creating a user-friendly environment. To personalize the space, theme it with décor that reflects the genres you love—vintage film reels for classic cinema buffs, futuristic art for sci-fi enthusiasts, or sports memorabilia for the avid fan. This mezzanine transformation should result in a sanctuary of entertainment, where each screening is an occasion and every game played is an experience to remember.
7. Creative Studio Space
Artists or hobbyists can turn a mezzanine level into a bright and inspiring studio space. Install skylights to provide plenty of natural light and design built-in storage to hold supplies.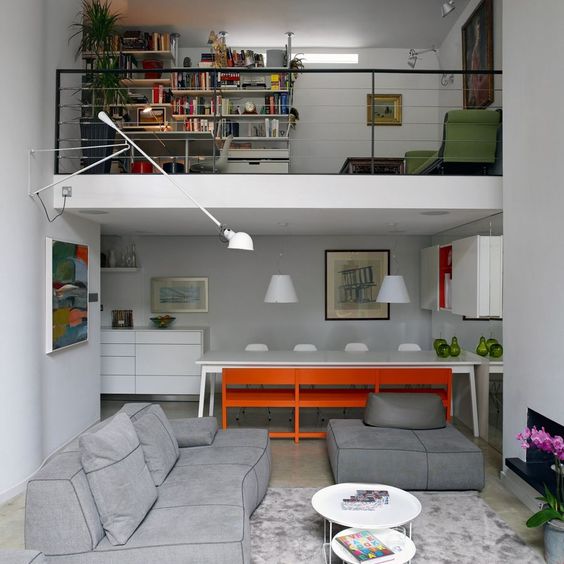 Crafting a mezzanine into a creative studio space offers an inspiring sanctuary for artists and creators alike. Bathed in natural light from skylights or large windows, this lofty perch is ideal for painters, writers, or designers seeking an uplifting retreat. Opt for a clean, minimalist design with neutral colors to ensure that your artworks or designs remain the focal point of the space. Invest in clever storage solutions like wall-mounted cupboards and retractable work surfaces to keep your tools organized yet easily accessible.
Incorporate a sleek, ergonomic chair and a spacious worktable that can comfortably accommodate canvases or computer equipment, whichever your craft demands. A gallery wall can serve as a rotating exhibit of your latest creations, while soft, diffused lighting will keep the ambiance calm and your focus sharp. This mezzanine studio is not just a functional workspace but a crucible of creativity, nestled high above the daily rhythms of domestic life.
8. Green Oasis
For those with a green thumb, a mezzanine can be a perfect indoor garden spot. With the right conditions for sunlight, you can create an elevated green space with hanging planters and terraced plant shelves.
Turning a mezzanine into a verdant green oasis allows you to elevate your passion for gardening and create a peaceful retreat within your home. Imagine a space where lush foliage cascades from planters aligned along the railings, and sun-loving herbs bask in the generous light of a towering window. This elevated garden can be a tapestry of textures and hues, with hanging terrariums adding a touch of whimsy and vertical plant walls maximising greenery without sacrificing floor space.
Opt for an assortment of plants that vary in size, shape, and color to create a visually stimulating environment, and consider installing an automated drip irrigation system for ease of care. The inclusion of a comfortable seating area amidst the green can carve out a niche for relaxation or meditation. This mezzanine-level green space promises not just an aesthetic enhancement to your home, but a sanctuary for both you and your plants to thrive.
9. Fitness Mezzanine
Create a dedicated workout area with a view. Include rubber flooring for shock absorption and mirrors to ensure proper form while exercising.
Creating a fitness mezzanine is about sculpting a space as dynamic as your workout routine. With a soaring view over the rest of your home, this dedicated exercise area blends functionality with inspiration. Equip it with a variety of high-quality gym essentials—free weights, a yoga mat, resistance bands, and perhaps a stationary bike or treadmill, all underlined by shock-absorbent rubber flooring for both safety and comfort. Mirrored walls not only give the illusion of a larger space but also allow for form correction during workouts. Integrated sound systems can pump motivational tunes to keep your energy high, and a mounted TV can display workout videos or serene landscapes to enhance the ambiance. The result is a bespoke fitness hub that encourages a healthier lifestyle, symbolizing a commitment to well-being that rises above the everyday.
Final Thoughts
Mezzanine floors can serve endless purposes, but it can be a little overwhelming to initiate a construction project when there is so much to consider. Here were some considerations and design ideas for you to go through and seek inspiration from, we hope you enjoyed the read and found the article to be informative and thorough. Until next time, we leave you with more inspiring builds in our gallery below.
ZG