My sudden obsession with Sputnik Chandeliers have led me to search the web for some of the best examples. Use this list as a point of reference for modern, glitzy, retro, industrial, mid-century, futuristic and classy sputnik chandeliers. These can be illuminated with globes, sparkles, crystals, LED or retro light bulbs. Truly a statement piece for any home.
From the annals of mid-century modern design comes an icon that has illuminated the path of interior styling with its distinctive burst of energy and style: the Sputnik Chandelier. This luminary does more than cast light in a room; it projects the spirit of an era fascinated with space, atomic energy, and the boundless possibilities of the future.
They take their inspiration from the first satellite to be launched into orbit back in 1957, these ceiling fitted chandeliers work well in the living room, dining room or even the bedroom and bathroom.  The first thing to consider is its size, and with that comes the number of lights. You can find small units starting with 5 lights for small rooms such as the office, bedroom or bathrooms. Big units with a dozen lights or more. So, depending on the size of your room and the required level of illumination, choose your Sputnik Chandelier accordingly. But before that, we take a look at how the Sputnik Chandelier lights up design through history.
The Cosmic Dawn of the Sputnik Chandelier
The history of the Sputnik Chandelier is a celestial confluence of design, culture, and technology. Its origins are inexorably linked to the dawn of the Space Age. The year 1957 marked a watershed moment when the Soviet Union successfully launched the first artificial satellite, Sputnik, into orbit. This small, beeping sphere captured the world's imagination and triggered a race to the stars. It was a time of looking upward and onward, and these sentiments spilled over into the realm of design.
Design Takes Flight
Eager to encapsulate the zeitgeist of the era, designers began to mirror the satellite's structure in various mediums. The chandelier, with its multiple arms extending from a central sphere, seemed to perfectly echo the shape of Sputnik and its protruding antennas. It didn't take long for the lighting fixture, which came to be known as the Sputnik Chandelier, to make an appearance in stylish interiors from New York to Paris.
The Anatomy of a Design Icon
The Sputnik Chandelier is characteriaed by its starburst design, where arms of varying lengths burst forth from a central core, typically ending in light bulbs that mimic the stars twinkling in the night sky. The original designs often featured a mix of brass and copper, while later iterations experimented with chrome and other metals, reflecting advancements in material technology and changing tastes.
A Symbol of Modernism
As a design icon, the Sputnik Chandelier became synonymous with modernity and a forward-thinking aesthetic. It graced the ceilings of mid-century homes and became a fixture in forward-looking public and commercial spaces. The design broke away from the traditional crystal and heavily ornamented chandeliers of the past, embracing a new, minimalist approach that was all about simplicity, function, and a little bit of drama.
The Sputnik Chandelier Today
Far from being a relic of the past, the Sputnik Chandelier has endured as a beloved piece in the world of interior design. It has experienced a renaissance, with contemporary designers embracing its historic legacy while giving it a modern twist. Today's Sputniks may play with scale, color, and material, but they remain faithful to the original concept of radiating arms—a burst of creative energy frozen in time.
Material and finish: Black, Brushed Brass, Chrome Silver, Brushed Nickel, Gold
Lighting: Multi-directional or horizontal
Incorporating a Sputnik Chandelier into an interior space is to make a statement of both a reverence for the mid-century ethos and a nod to timeless design. Whether it's hanging in a minimalist setting or juxtaposing a traditional decor, the Sputnik commands attention and sparks conversation.
1. MOTINI 5-Light Sputnik Chandeliers Polished Nickel Firework
The illumination is provided y five lighting points coming from the centre of the chandelier but in a single horizontal plane. The Motini 5-light chandelier works in small spaces such as a small dining area seen below or open plan kitchen diner diner.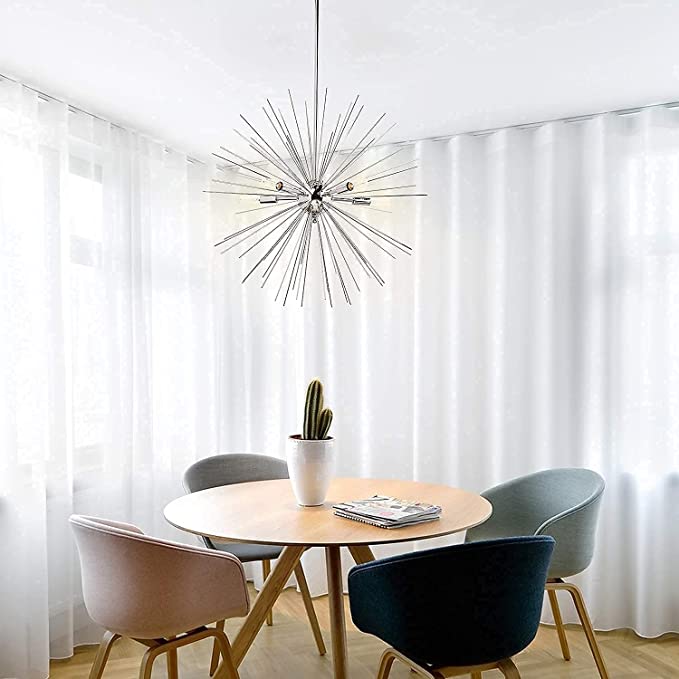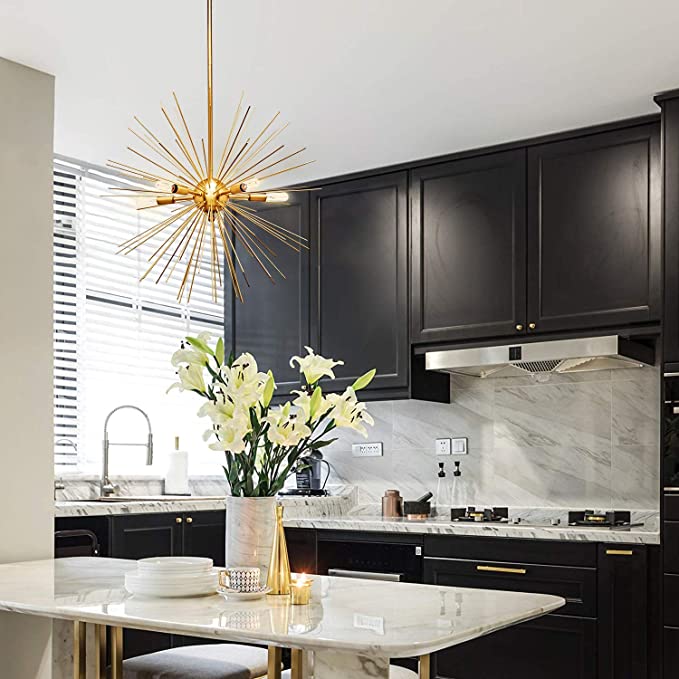 2. KALRI Golden Sputnik Chandelier 22-inch or 29.5-inch
Illumination is provided by multiple lighting points again, coming from the centre of the chandelier but spread evenly in all directions, not just arranged in a single plane. The Kalri offers a more sophisticated albeit busy Sputnik design with more 'arms' finished in chrome gold for more reflective surfaces. The KALRI Golden Sputnik Chandelier is a real statement piece and works best in wide open spaces such as a modern dining room.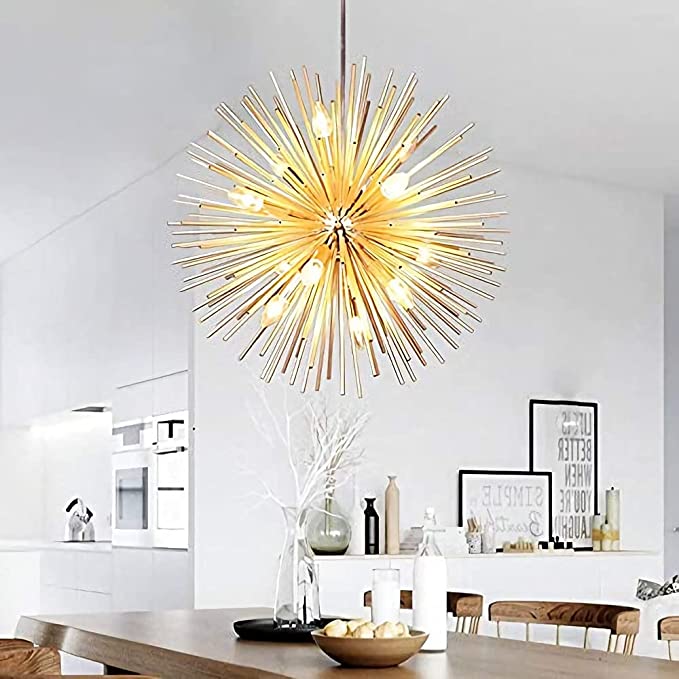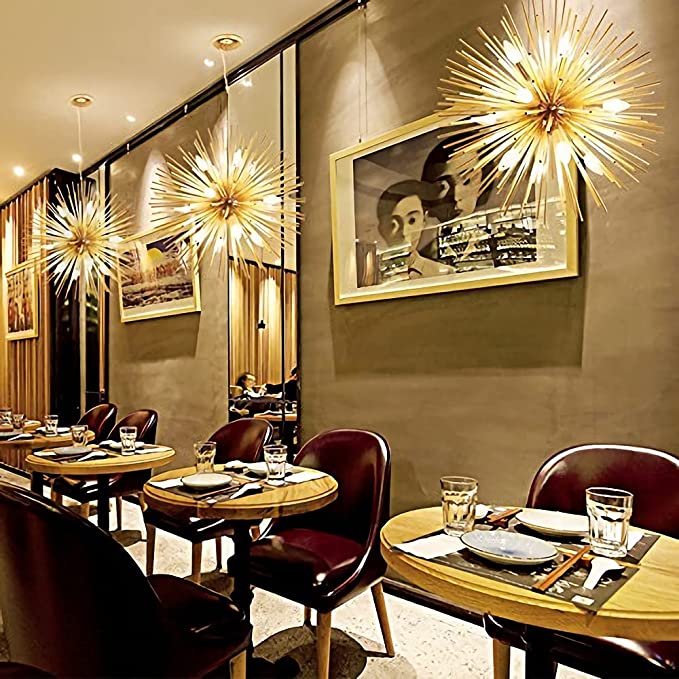 3. MAXvolador Sputnik Chandelier 10-lights,
The MAXvolador sputnik Chandelier is available in Black, Gold or Silver. It has a single rod that suspends the chandelier from the ceiling. The lighting points are also held by rigid rods coming from a globe mount in the middle. LynPon sputnik chandelier below is a similar lighting but with 12 lights instead of 10. These chandeliers do not have that starburst effect but still exudes that vintage and retro charm while fitting in with modern decor.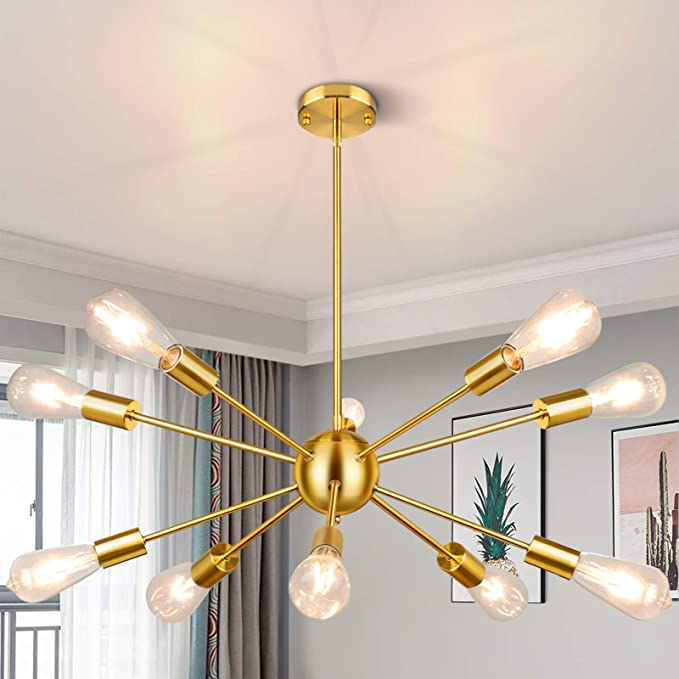 4. Mirrea Vintage Metal Large Dimmable Sputnik
Using the same sputnik design but finished in black and paired with retro LED filament style bulbs, this mire vintage dimmable sputnik looks absolutely industrial and retro. Perfect to match for rooms with dark interior, retro furniture and industrial finishes. The Mirrea chandelier also has a lot more rods and lighting points, 18 to be exact giving it a much busier feel.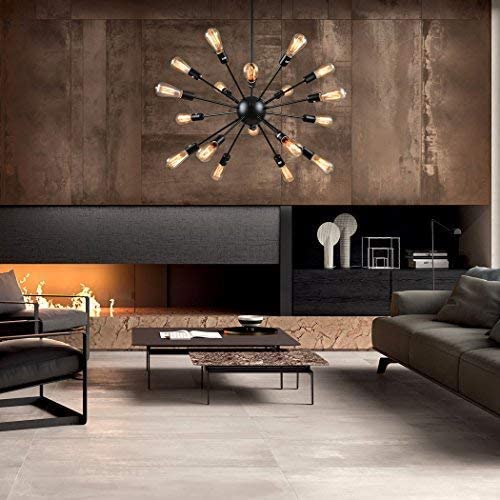 5. BONLICHT Sputnik Chandelier 10 Light Brushed Brass
A variation of the above, instead of having suspending rods coming from the centre globe, the BONLICHT Sputnik Chandelier comes with batons with end to end lighting arranged to look like they attach magnetically to the globe in the middle. Options for finish includes black, brushed nickel, chrome and brushed brass as seen below.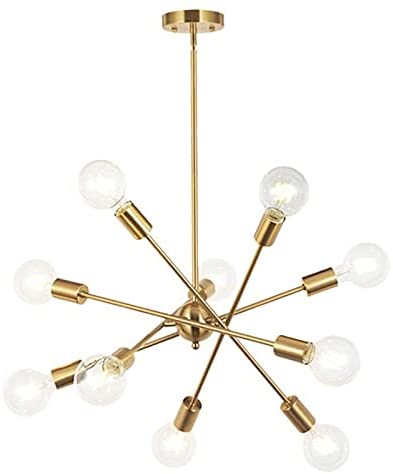 Search Sputnik Chandeliers on Amazon
6. Caserti Sputnik Mid Century Modern Chandelier
If retro and bare lighting bulb does not do it for you, here is your mid-century design chandelier with globe lighting. Not only does it bring back the globe light from 1749 but it combines it with the Sputnik inspired design albeit in the horizontal plane. Rods come out of the centre cylindrical holder to hold a light globe at the end. The globes are matt white while the chandelier itself is finished in brush gold.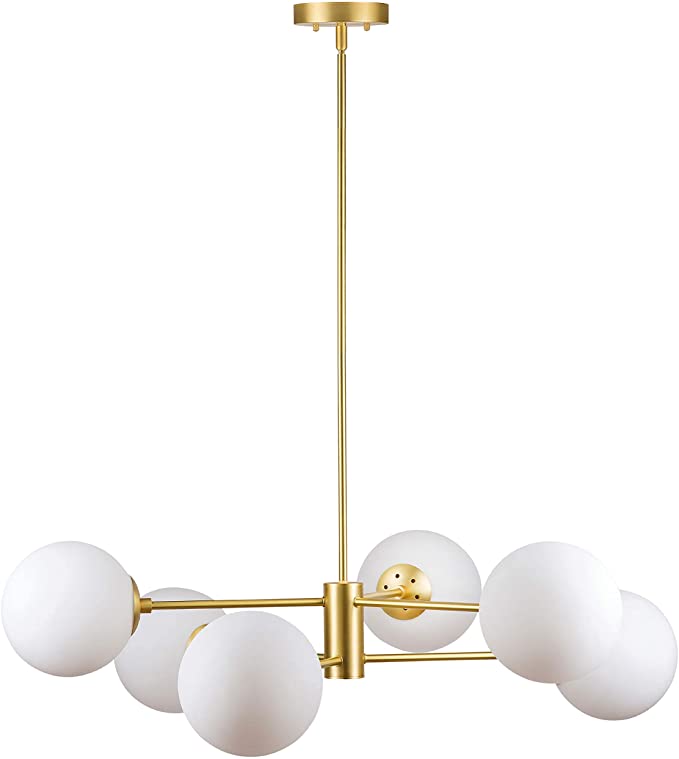 7. VINLUZ Sputnik Chandelier
Available in Chrome, Black, Brushed Brass or Silver, the VINLUZ Sputnik Chandelier is a more simplistic lighting unit with fewer lighting points, in this case 8. It works well in small apartments such as the living room, dining room or kitchen diner. Pick the right colour to go with your funiture or fittings and you have yourself a theme that runs throughout your space.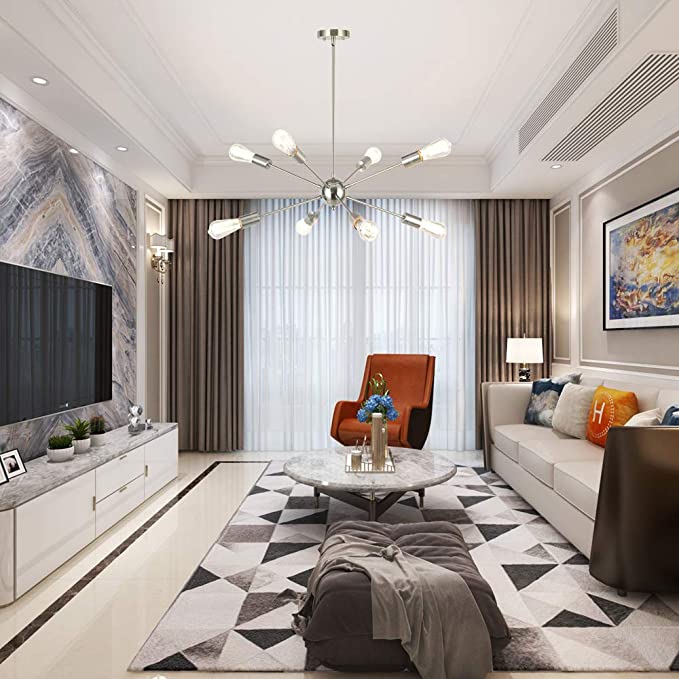 8. LynPon Gold Sputnik Chandelier 12-lights
4 more lights than the 8 in the earlier units, the LynPon Gold Sputnik Chandelier is for those who wants to inject a little poshness into their room. Finished in glittering gold, the LynPon Chandelier will definitely be the talking point in any home.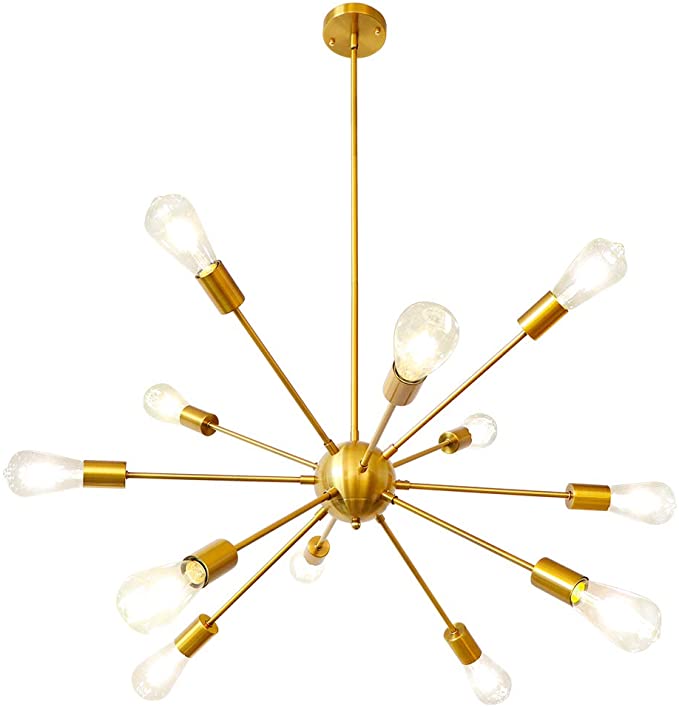 9. LEDMO Sputnik Chandeliers 18 Lights Industrial Vintage
For a more industrial look while keeping the room perfectly lit is this LEDMO Sputnik Chandelier. Pair it with retro LED bulbs and you have yourself a rugged looking lighting unit. It is not short of lighting points either with 18 bulbs, it is one of the biggest units on our list.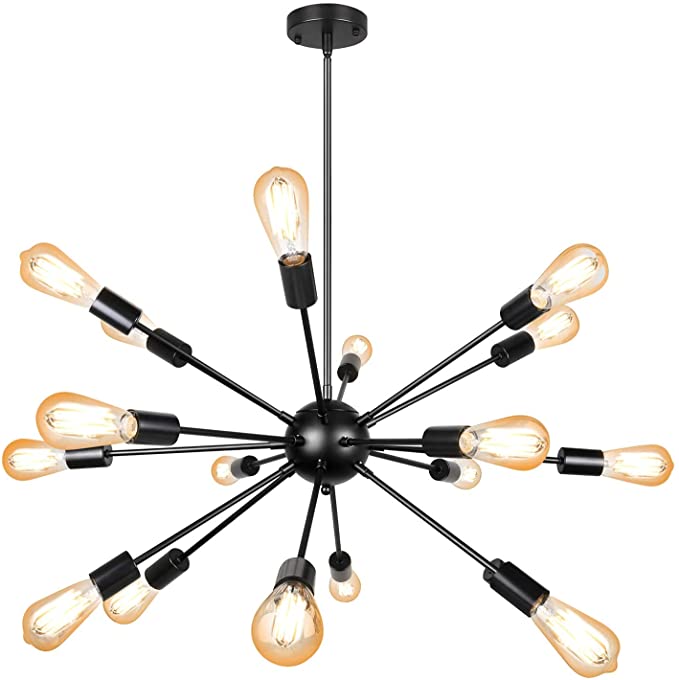 10. SaiPIS Black Sputnik Chandeliers 6-lights
Carrying on that industrial look is SaiPIS Black Sputnik Chandelier. This is again a take on the Sputnik where the rods do not come from a centre point but as attached batons with end to end lights. Randomly set at different directions, there are altogether three batons, carrying 6 bulbs in total. These are suspended via a rod and wire ceiling holder.
Search Sputnik Chandeliers on Amazon
More Sputnik Chandeliers
Here are more sputnik chandeliers to whet your appetite.
KCO Modern Sputnik Chandelier Brushed Brass
Dellemade XD00940 Sputnik Chandelier
Dellemade Modern Sputnik Chandelier – 6 lights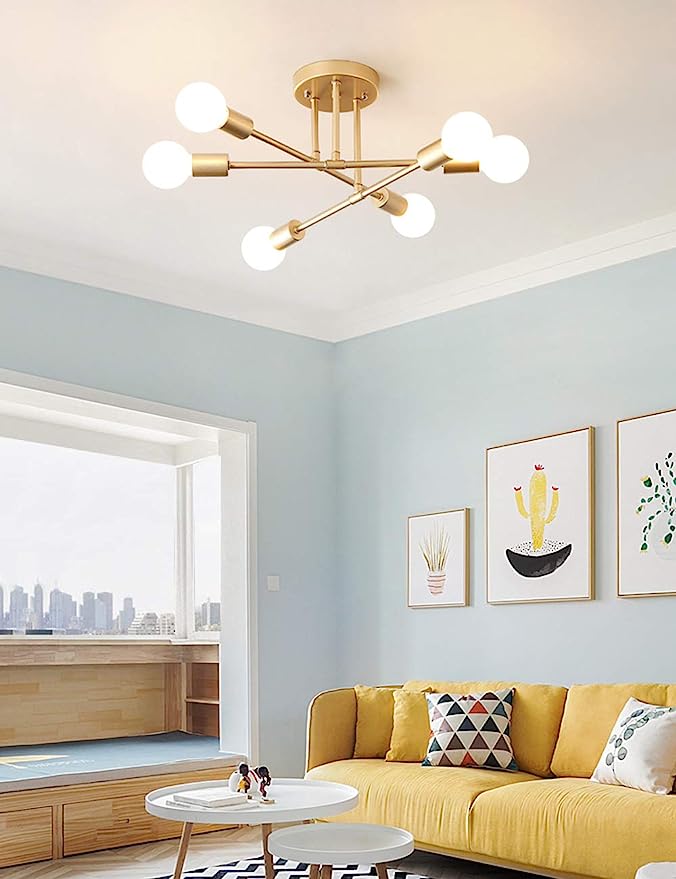 MEEROSEE Sputnik Chandeliers Modern Glass Bubble Chandelier
JONATHAN Y JYL9017A Glenn
KAISITE Black and Gold Chandelier 44s106 5/6/8/10/12-lights
Weesalife Sputnik Chandeliers Modern Crystal Pendant Light Chandelier 6-lights
Weesalife Sputnik Modern Chandelier 15-Lights
GDNS Chandeliers Firework LED Light
Illuminating Advice for Design Enthusiasts
For those looking to integrate a Sputnik Chandelier into their decor, consider the following:
Scale and Proportion: Ensure the size of the chandelier is in harmony with your space. A large Sputnik can become a focal point in a spacious room, while smaller versions can offer a subtle nod to the design in more compact areas.
Style and Contrast: Modern Sputniks can complement a range of styles. Consider the finish and the color; a classic brass chandelier might pair well with warm tones and wood, while a chrome or black fixture could suit a monochromatic or contemporary interior.
Placement and Purpose: While traditionally reserved for the dining room or foyer, modern Sputnik Chandeliers can work almost anywhere, from bedrooms to libraries, adding a sculptural element alongside their practical purpose.
The Legacy Continues
The Sputnik Chandelier is not just a fixture; it's a piece of history, a slice of the cosmos brought indoors, a reminder of humanity's endless creativity. As designers and homeowners continue to look to the stars for inspiration, the Sputnik Chandelier remains a luminescent beacon of timeless design, proving that what is truly iconic never goes out of style.
Search Sputnik Chandeliers on Amazon