Need a dedicated space to work from home? Here are over 40 tiny home office set-ups to get you inspired. Ultra compact workspace that you can drop into any room or space even the tiniest corners, instantly creating a hot desk for the kids or yourself.
When juggling between work from home, the kids and life at home, it is easy to muddle things up. The dining table can be makeshift homework space, the kitchen counter can be for arts and craft and the breakfast canteen can be breakout room for snacks and drinks. These spaces can be used interchangeably, and that is when the chaos kicks in. In order to keep your work separate, we recommend a dedicated work from home station.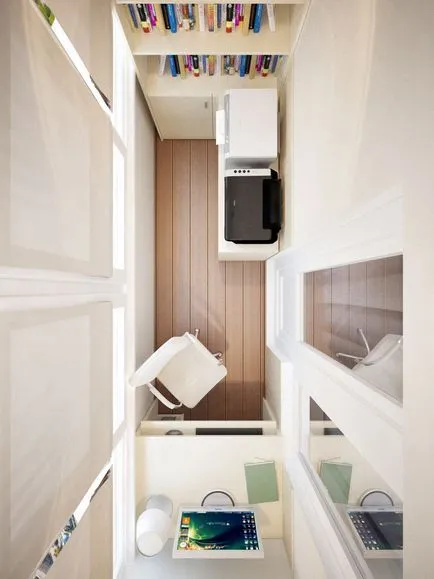 Ultra Compact Work Room White with Printer Station Wall Cupboard
Ultra Compact Home Office Set Ups & Tips
These ultra compact home office designs are great for anywhere you can find some space in the house be it a corner in the living room, dining room or kitchen. Ultra compact home office work space can fit anywhere, even in the tiniest of space. Don't believe me, check out our list below.
1. Shelves and Lighting
When you do not have enough floor space, look to maximising the overhead room. Add wall hanging cabinets or shelves for storage. Make sure you have a hanging lamp too, which will illuminate your workspace. This helps save space on the table or floor compared to using a desk or floor lamp. Even better, have the lights integrated into the storage solution. Here are some examples with clever lighting.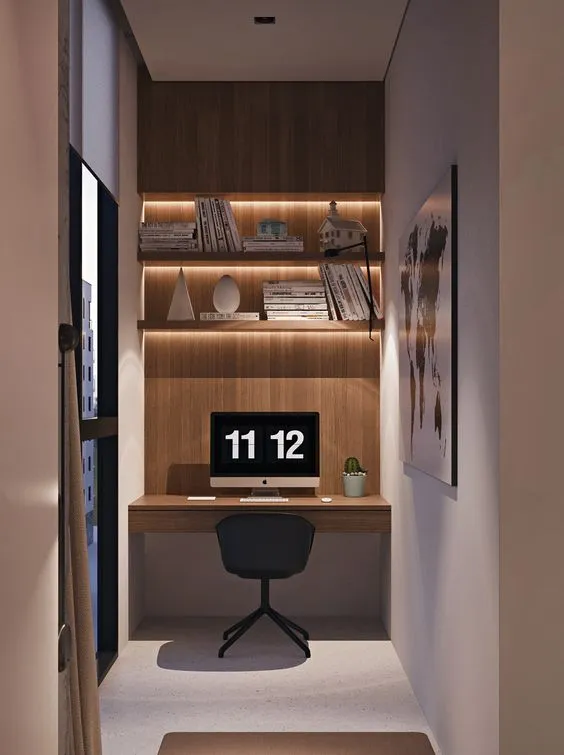 Ultra Compact Home Office with Wood Effect Wall Shelves and integrated Lights. Floating Desk with drawers offer extra storage.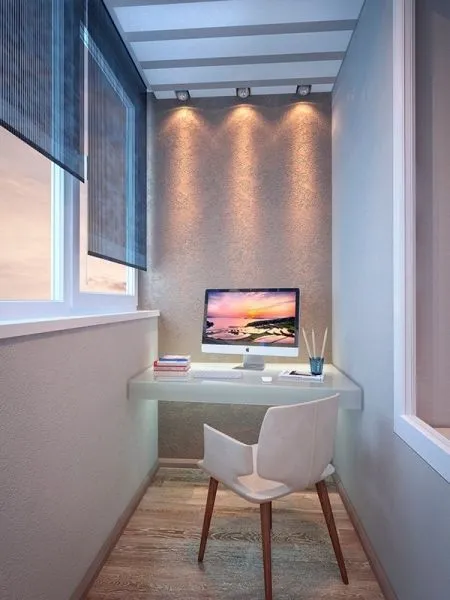 Ultra Compact Funky Floating Table Illuminated Space, Down Lights Near Wall For Cascading Light Effect
2. Natural Light
Where possible, natural light is preferred, so having your work desk in the narrow closed balcony or corner of the room next to the window would be ideal. However, use roller blinds when the sun gets too much. Beyond shelves, you can also consider a narrow set of drawers for storage.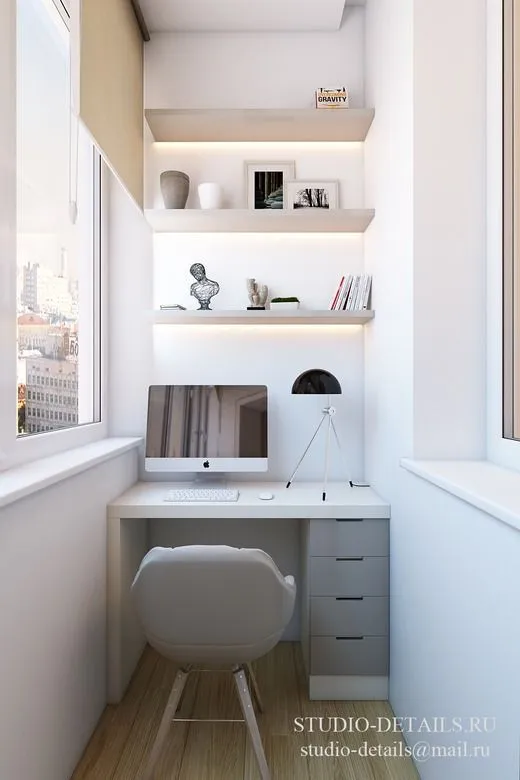 Ultra Compact Balcony Work Desk Floating Shelves and Desk with Storage Drawers. Plenty of Natural Light and Roller Blinds To Soften the Light When It Gets Too Much.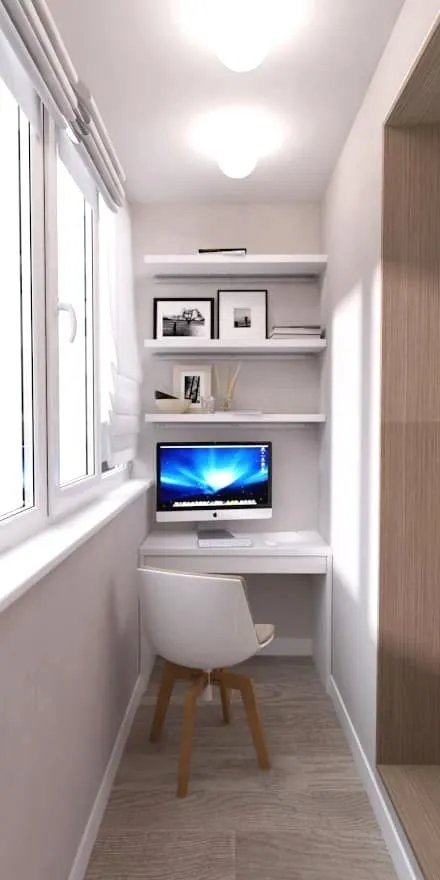 Ultra Compact All White Work From Home Office with Roman Blinds
3. Offset the White
Alternatively, you can choose furnitures that contrast and offset a white room. This means when the light comes through the Balcony floor to ceiling window, it will not be overly glaring. Here you find a wooden effect integrated work desk with overhead storage and lighting. The dark leather chair offers the same calming effect.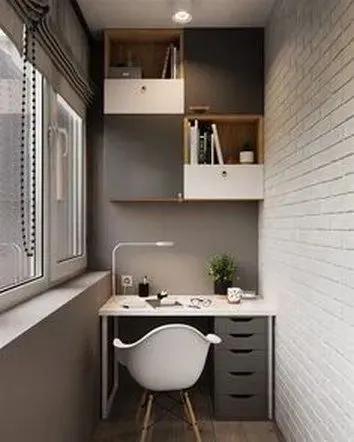 Ultra Compact Modern Small Balcony Work Top Hanging Cabinets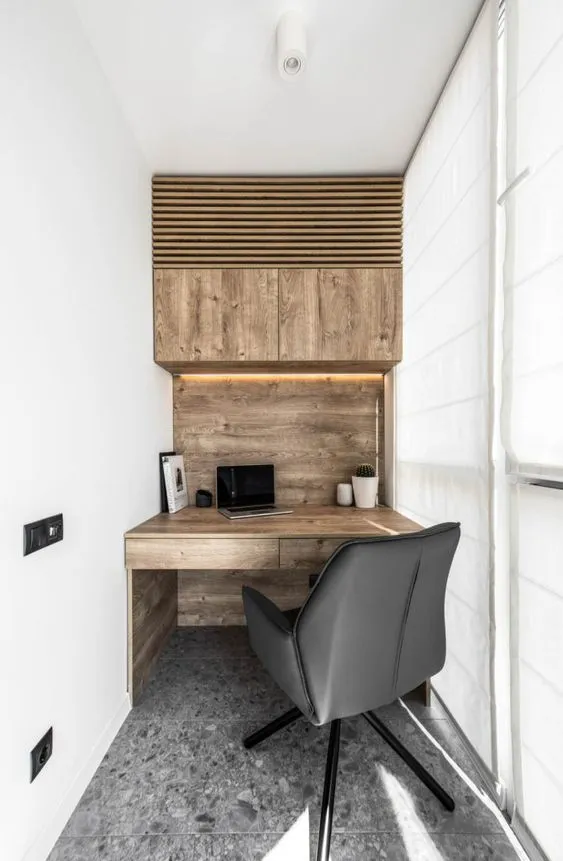 Compact Custom Furniture Wooden Finish Dark Grey Leather Chair to Tone Down The Natural Bright Light in a White Room, Especially Converted Balcony.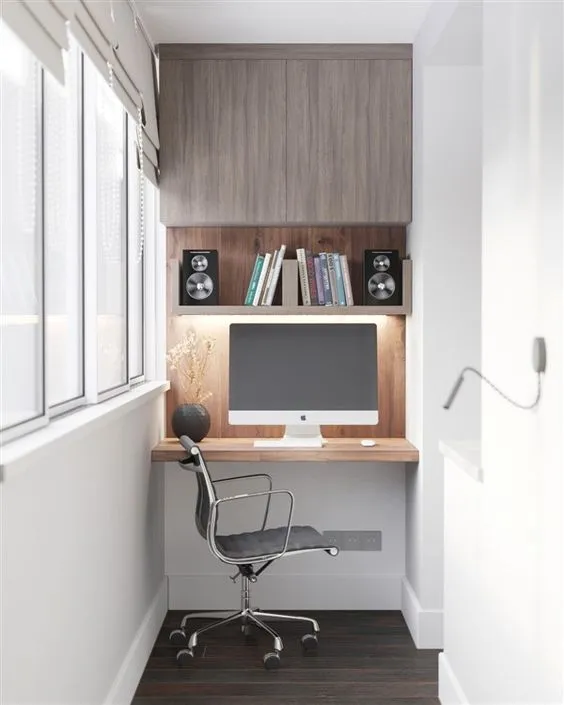 Ultra Compact Balcony WorkDesk White Suite Feature Wall Hanging Cabinet
4. Squeeze Every Inch of Available Space
Even in tightest of spaces, you can still create a worktop using narrow high counter and bar stools. Here is a good example of a tiny balcony conversion with storage cabinets at the far end behind a soft lounging area. Use of tiny soft furnishings make the space look less crowded. Ceiling down lights light up the space at night, otherwise there is plenty of natural light from the windows.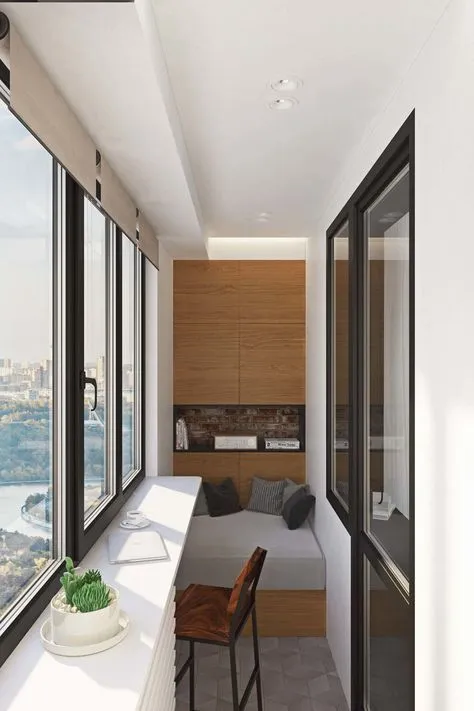 Compact Bar Stools Workspace with Lounging Area
5. Use a Floating Desk
No room for a table or desk, use a wall-to-wall mounted narrow desk instead. If you have windows on one side, mount the shelves to the corner for overhead storage. Use a low back conference chair and paint the room white or light colour for an impression of space. Details like exposed brick wall effect in light shades adds a nice touch.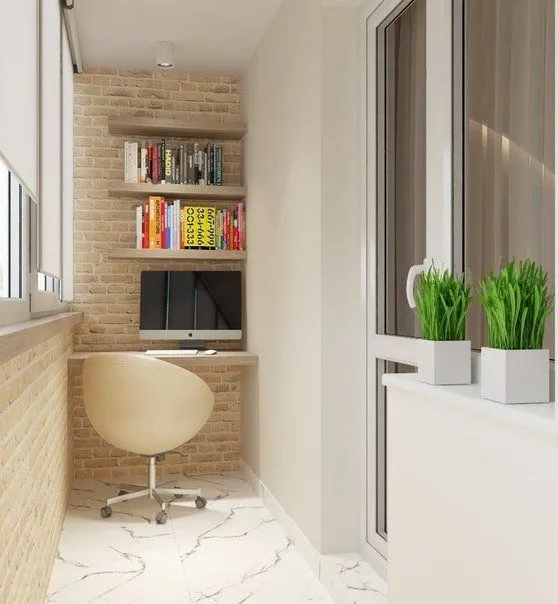 Ultra Compact Balcony Egg Shaped Chair Home Office Mounted Desk and Shelves Exposed Brick Wall Effect
6. Floor Board to Wall Cladding
Floor laminates and engineered wood floorboards are cheap and light enough to go on the wall as wall cladding, creating a feature wall. Use this to complete your workspace, creating a textured surface with wood grains and shades. Here, you can also include a custom-built or off-the-shelf work desk that ties in with the wooden feel like the pine wood example below.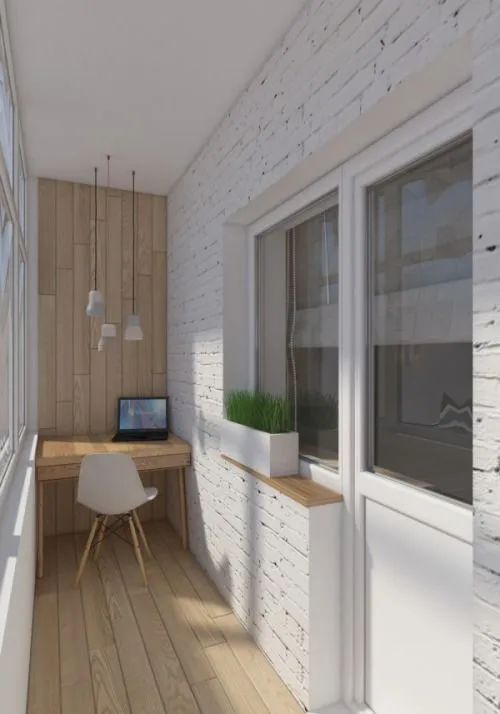 Compact Wooden Floor and Floorboard Feature Wall Home Office
7. Buy Ready Made Desk
If you have the space for it and if you are lucky to find the right work desk that fits, get it. This makes the job of kitting up your home office a lot quicker. This can also be cheaper compared to a custom job involving workmen and carpentry.
Again, choose a dark furniture to offset a bright room. A low back seat so the space does not feel overcrowded. And finally, allow in plenty of natural light with white translucent roman blinds to soften the heat and harsh sunlight. The following are two such examples.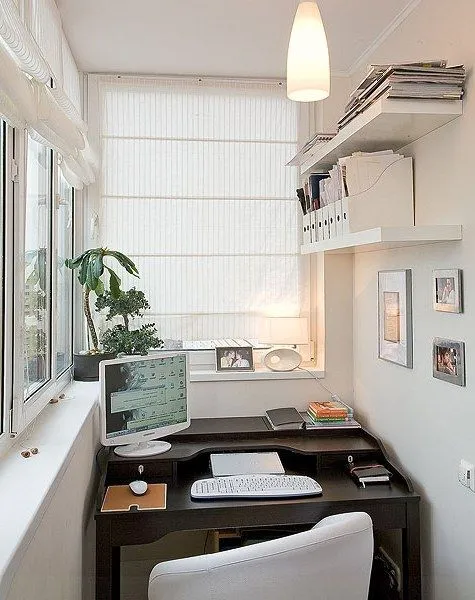 Compact Brown, Shop Bought Desk Shelves Work Corner Roman Blinds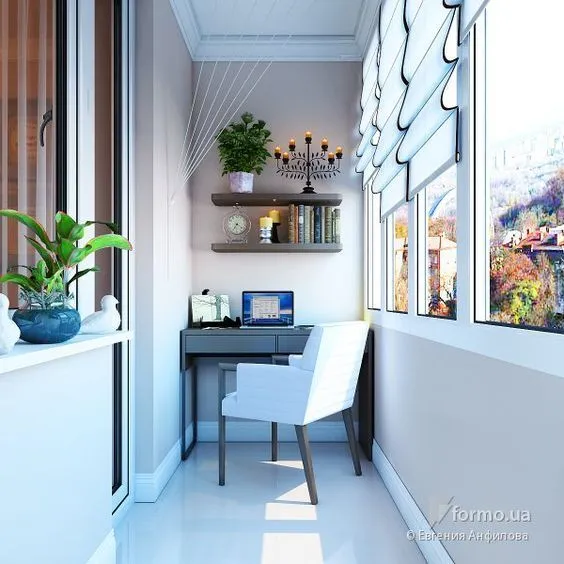 Ultra Compact Off the Shelf Grey Table Wooden Shelves Comfy Chair Roman Blinds
Search Small Home Office Desks on Amazon
8. Keep it Tidy
It is difficult but if you can, keep it simple and tidy. The lack of space means not a lot in way of storage and that can be a good thing. Less is more. Store or give away things you do not need. Do not clutter your workspace. Room is a premium when working with tiny spaces. Tiny desk, tiny storage shelves is all one needs. This is especially important when space is limited.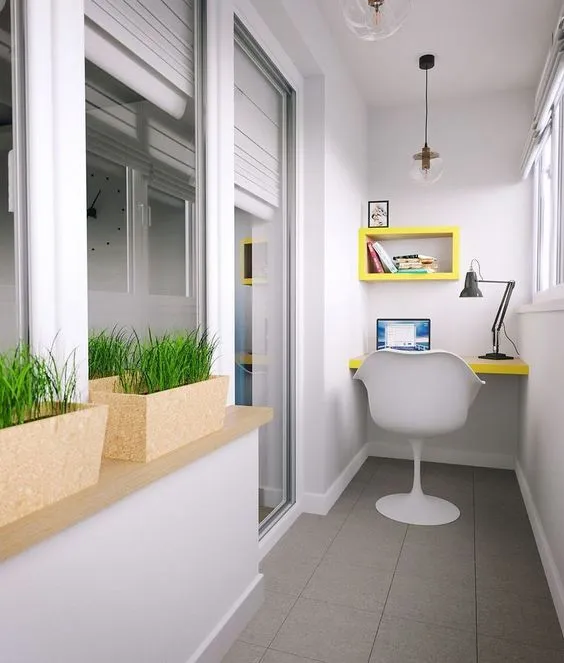 9. Be Daring With Colours
Don't be afraid to try out different colours. Instead of just being safe and keeping to white, try bolder and darker colours. You don't really have to hold back, especially when there is plenty of natural light like this closed balcony. You can even add coloured Venetian blinds for an even more dramatic effect. We enclosed three examples below.
Compact Work Top and Shelves Brown Feature Wall with Venetian Blinds
Ultra Compact Closed Balcony with Work Desk Purple Feature Wall and Black Venetian Blinds
Compact Balcony Work Desk Blue Feature Wall with Roller Blinds
10. Multi-use Space
Your work room need not be just that, a home office. It can also be a small sitting room or reading area. Here we explore some amazing examples of multi-use space that among other thing act as a coffee lounging area, offer bar and high stool seating and that all important work desk.
11. Try A Corner Unit
In order to enjoy the view from the window, try a corner unit or corner desk design. This will allow you to maximise the workspace. You can use part of the table for writing while keeping your laptop open and switch between the two easily. With more desk space, it may restrict your movement especially in a small room but that is the price to pay for more work top space. Here are a few design ideas with a corner unit.
12. A Touch of Minimalist Magic
You can't go wrong with modern minimalist. It's easy to maintain and gives a sense of space and oozes plenty of style. Think high ceiling, hanging desk (no legs to get in the way), integrated drawers that closes seamlessly and become hidden, modern desk lamp and ultra slim glass shelf.
13. Custom Built Furniture
Whatever the size, nothing beats built to measure furnitures. From top to bottom and side to side, you get the sense that it is designed to fit. You can have wall hanging cabinets that go all the way right up to the ceiling and open shelves that does that same. Or opt for gapless design, table made to fit exactly in the available space, shelves that are centered and furniture that looks like they belong. These custom-built designs can also incorporate a feature wall for added flair.
14. Explore Other Materials
Go beyond MDF, try glass shelves, clear polycarbonate plastic chair, exposed brickwork and stainless steel legs. It gives the room a sanitised feel, like the bathroom, if you are into that sort of thing.
15. Rustic Moroccan Tiles
Don't forget the floor. You can introduce some Moorish charm to your office space with rustic Moroccan or modern imitations. These offer plenty in way of character and are designed to last. They also contrast the white walls and looks great in the sunlight.
16. Quirky with Bright Colours
Don't limit yourself to just white. Mix together some primary colours and you get an exciting work space. Add a touch of green with potted plants, use a traffic light red chair and yellow shelf. All the little touches add an element of fun to the room.
17. For The Kids
Don't leave out the kids, these work from home desk can also be used by other members of the family especially the little ones. These can be for their arts and crafts, homework or simply as a study area. Adapt to their needs and applications accordingly. Moving them to the corner free up other spaces in the house. It also helps keep the things they need in one place e.g. the art easel, stationary and books.
18. The Tiniest of Work Space
Finally, we leave you with the tiniest office space. A balcony conversion using custom-built gate legged work desk and a simple dining chair. The opposite end of this narrow one seat deep space is a narrow bookshelf. You might have to spin around on the spot to get to the bookshelf.