It has been said that cooking a risotto is an art; the preparing of the beautifully rounded grains of Aborrio rice, stirred and mixed in the congruous mixture of olive oil and melted butter, swirled until each grain is a shiny translucent colour, the careful addition of seasoned stock, the gentle yet consistent and constant stirring . The combination of all those efforts to arrive at a rich, creamy and smooth dish.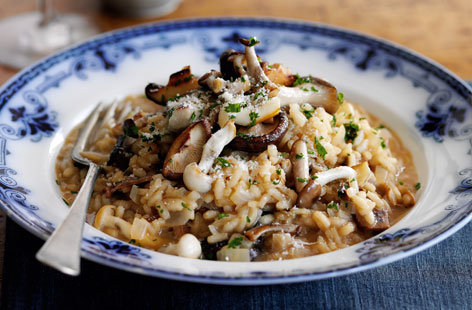 Risotto, a native dish of Northern Italy, consists of short, rounded grains of rice cooked slowly in a broth of meat or vegetables. The perfect risotto being a combination of smooth, rich and creamy while maintaining an al-dente bite.
Often served with a generous helping of rich parmesan cheese, a risotto is at best an excellent starter, or primo,showcasing the skills of the chef or at worst a comfort food, perfect for scooping up in delicious mouthfuls while curled up in front of the television.
It is also the perfect food for children of all ages. It's versatility making it as sophisticated as the Risotto Milanese with flavoured and coloured with saffron or as simple as the Risotto al Funghi – mushroom risotto (porcini mushrooms optional).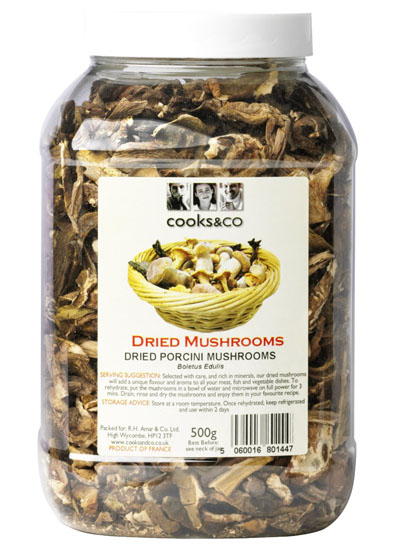 If you're a big fan of risottos yet slaving away over a hot stove for the perfect risotto is not your idea of fun, then you really must check out these dedicated risotto makers. Complete with a stirrer to ensure the required constant stirring, and a pre-cook function that will allow you to saute the initial ingredients, these risotto makers assure you of the perfect risotto without the demanding task of constant stirring for 40 minutes.
Combined with a slow cooker function, these risotto makers can also be adapted for other uses such as soups or other slow cooker recipes.
Top 3 Best Risotto Cookers
A quick overview of our risotto cookers:
The combination cooker that makes tender slow cooked meals, stir-free risotto, and fluffy rice all in the same bowl. This meant less cook ware to wash after, no transferring or spilling in between and no rushing about getting different things together, a true blessing for risotto fans.
Make authentic risotto with the Risotto Plus advanced multi cooker functions with saute setting to add other ingredients such as meat and vegetable.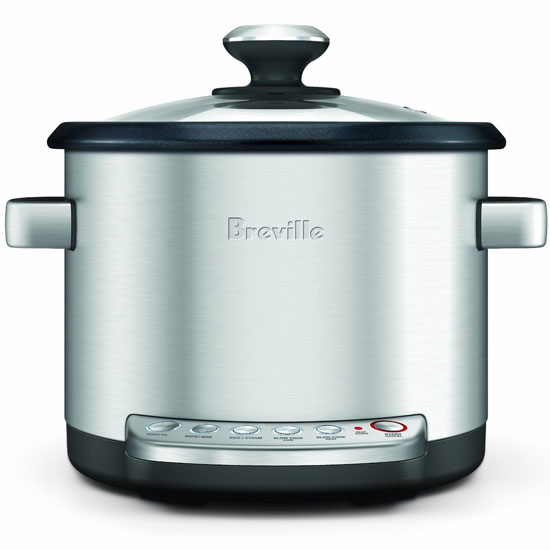 Capacity: 10-Cup (Uncooked), 20-Cup (Cooked)

Risotto making function creates creamy, authentic risottos without 40 minutes of constant stirring

Advanced multi-cooker that can make tender slow-cooked meals, stir-free risotto and quinoa all in the same cooking bowl

Aluminum nonstick bowl with easy clean nonstick coating

Removable cord for serving at the table and for easy storage

Saute setting that allows you to caramelize all your lovely fresh ingredients
The Multi Cooker from Sage by Heston Blumenthal is the same cooker and has all the features you would find from the Breville above. Distribution for the same cooker is licensed to different companies depending on the geographical region hence the rebranding but these cookers are essentially the same with all the features you need to cook great Risotto.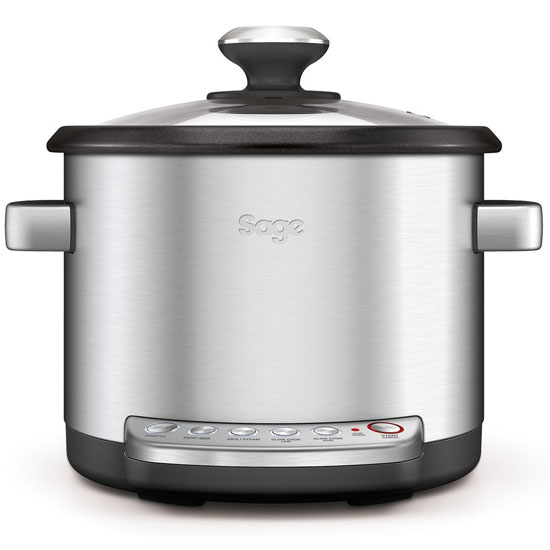 Cooks rice, creates stir free risotto, steams and slow cooks all in the one appliance
Searing function allows you to sear in the same pot keeping all of those caramelised flavours in the final dish
Dishwasher safe tempered glass lid for easy viewing
Keep warm function, keeps your dinner ready for when you are
Non stick interior means cleaning is as easy as cooking in this one pot wonder
This Salter Multi Cooker is a kitchen favorite with is 1.8-litre capacity, LED control panel and multi functional capability. With 12 essential cooking programmes including risotto, pasta, stew, rice, roast, soup, steam, porridge, fry, slow cook, meat and poultry; you will never be stuck with the Salter Auto Stir Multi Cooker. The cooker has the ability to fry, boil and slow cook, and has a 4.4 litre cooked food capacity.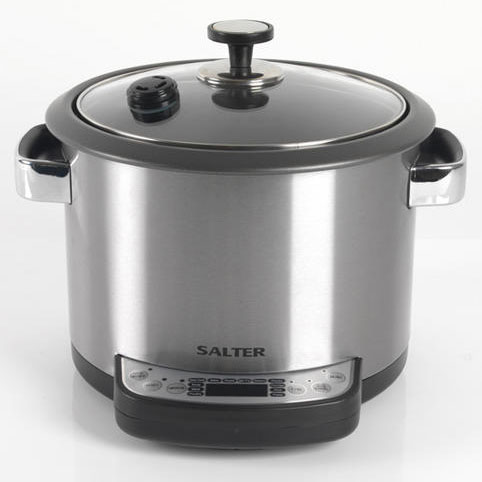 1.8 litre capacity multi cooker with risotto maker for up to 4.4 litre cooked food capacity
800 watts
LED control panel
12 Cooking programmes
Includes carry handle, measuring cup, steamer rack and spoon
A quick overview of our risotto cookers:
Recommended Risotto Recipe Books
To get you started with your new risotto maker, there are some popular cook books featuring tonnes of risotto recipes.
Search Risotto Recipe Book on Amazon