If the thought of a standalone bin is unsightly and takes up too much space, then one of these built-in bin is your answer.
The Types of Built-in Bins
Free up your floor space and get a built-in bin. These are bins that either sit inside the kitchen cabinet floor or mounted to the cabinet door away from sight. While some are bigger than others, door mounted bins tend to be smaller. The slide out or pull out bins either sit on a set of rails or hug in a frame for ease of sliding in and out.
The other things to look for in built-in bin is the shape and how space efficient these are. Obviously rectangular or square bins make better use of space while the conventional round bins have the looks.
Finally, there are also those with multiple compartments for sorting of rubbish for recycling. This is particularly handy if you live in a flat or apartment and have limited storage space.
Top 10 Best Built-in Bins
To make your buying decision easier, we have listed these built-in bins according to size and capacity. Here is a quick overview of our line-up with indication of its type, shape and features. Please use the links below to access the different bins on Amazon.
Small Capacity
Standard
Large Capacity
Closer Look
Now for a look at the details.
Small Capacity
A no nonsense door mounted plastic black bin. At 10 Litre, the bin takes up very little space in the cabinet and is great for a small household.
Dimensions: Length 210 mm height 330 mm width 260 mm depth 210 mm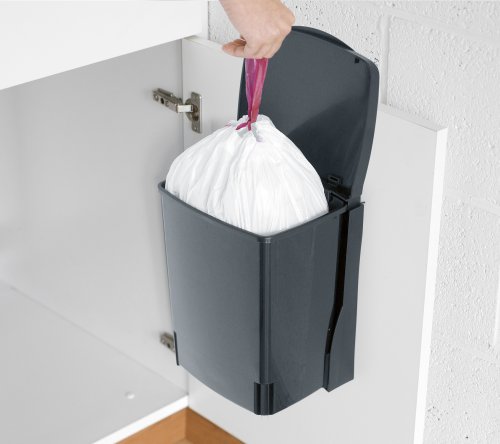 The Wesco stainless steel trash can be mounted on the left or right opening cabinet door. The actual mount itself is on the wall of the cabinet and not the door relieving the door's hinges from the weight of the bin, avoiding damage or stress. The trash can is compact and round with an 11 litre capacity, great for small cabinets. Catches attached to the door can be used to pull the bin out or released leaving the bin inside the cabinet.
A double unit of the black plastic bin from Brabantia above, the Brabantia Built-in Recycling Bin is also made from durable plastic and offers twice the capacity of a single bin. As it is colour coded, it can be used to sort recycling from general waste. The bin can be mounted on cabinet with doors that open to the left or right.
Dimensions: 30 x 52 x 34 cm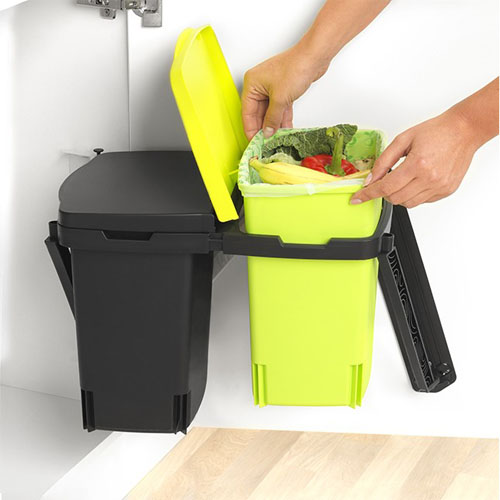 A new and bigger version of the above is now available. The Brabantia Sort & Go Waste bin also comes in a pair but with bigger bin capacity of 12 litre each instead of 10 litre each. The colour combination; grey and mint is also much more pleasing to the eye. Instead of just hanging them on the door, the bins come with a sturdy mounting frame which is self supporting. As a result, you won't have to worry about sagging doors. Plus, unlike the bins above, the Sort & Go bin comes with sturdy handle for ease of lifting from the bracket. While, a convenient grip is located on the base for easy emptying.
Dimensions: H43 x W52 x D33 cm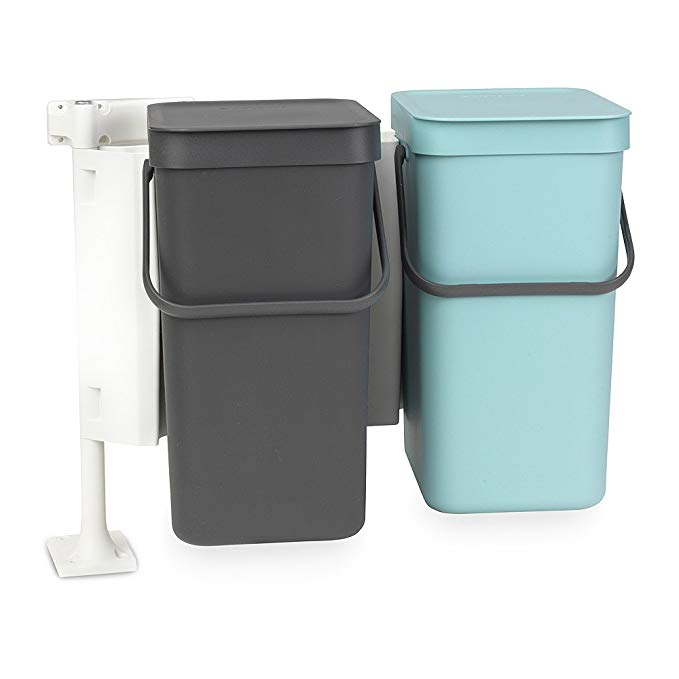 If you are not one for measuring, drilling and fixing, this simplehuman in cabinet waste bin is for you. All you need to do is to assemble then hang the bin on a cabinet door. The heavy duty steel hook will hold the bin. But, if a more permanent fixture is required, there is also the option of mounting it to the door with screws. Either way, some crucial measurements you ought to know before deciding to go with this are that the top fo the bin sits 5cm below the top of the hanger while the cabinet needs to have a minimum height of 23cm.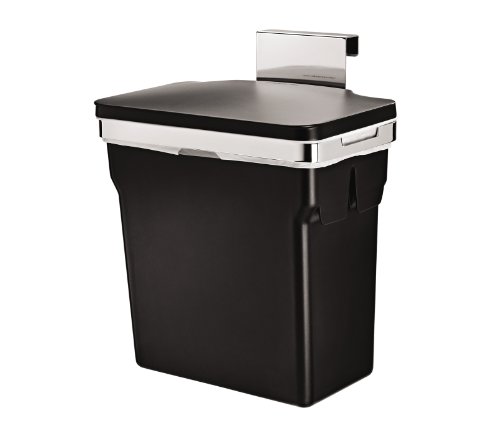 Dimensions: 22 x 29 x 36 cm
Standard
From the brand synonymous to bins and kitchen ware, Brabantia's Built-in Bin has a removable plastic inner bucket, lid that opens automatically when the cupboard door is opens and body made from high grade chromium steel. The bin can be mounted on cabinet with doors that open to the left or right. A white version is also available.
Dimensions: 34 x 29 x 31.7 cm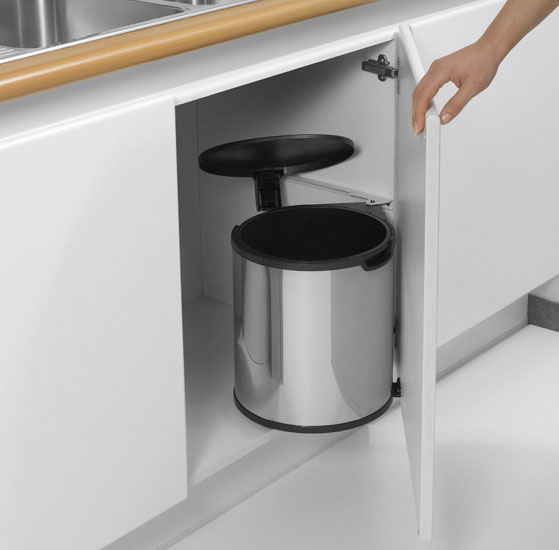 The Brabantia Built-in Bin 15L in White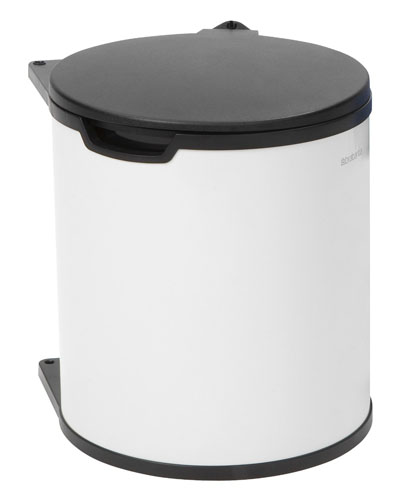 Here is a cheaper alternative to the Brabantia above, the Hailo Compact-Box also offers 15 Litre capacity and is suitable for use on carousel units upwards of 40 cm wide. The bin can be attached to the right or left hand door with ease. The lid is lifted automatically using a springless tilt and turn mechanism.
Dimensions: 29 x 31 x 37 cm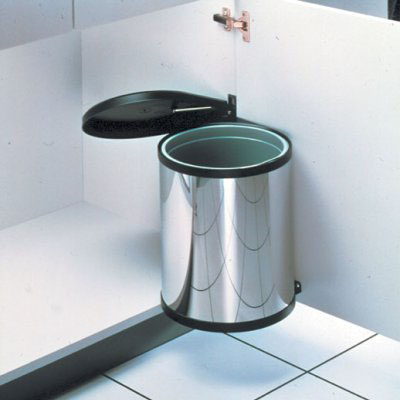 The Hailo Compact-Box White Bin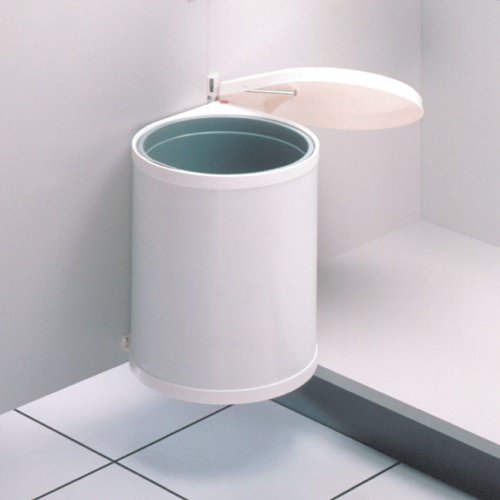 The Wesco Built-in Pull-Out Bin has a patented automatic lid lever and double bin at 7.5 Litre capacity each giving a total waste capacity of 15 Litre.
Fits cupboard width: 30 cm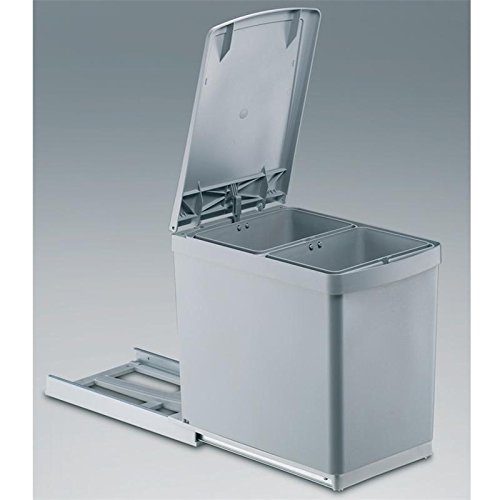 Also available: Wesco Built-in Pull-Out Bin 16L – SLIDE OUT, RECTANGLE
We agree that not many people are going to see these in cabinet waste bins but if they do, here is one that looks really good. Finished in polished chrome, the Uno Waste Bin is not only elegant but big too with a huge waste capacity of 18 litres.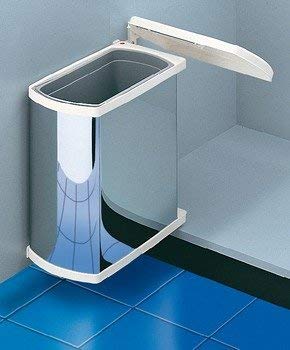 Dimensions: 38.9 x 20.3 x 41.2 cm
Large Capacity
This pull-out bin holds your rubbish neatly concealed inside the cabinet. As it is quite tall, it does not come with a lid and will fit in a base unit cabinet. The easy-to-install bin glides out of the cabinet on a smooth ball bearing track providing quick and easy access. A convenient stainless steel handle lets you reach and pull the bin out easily.
Dimensions: 50.8 x 48.3 x 25.4 cm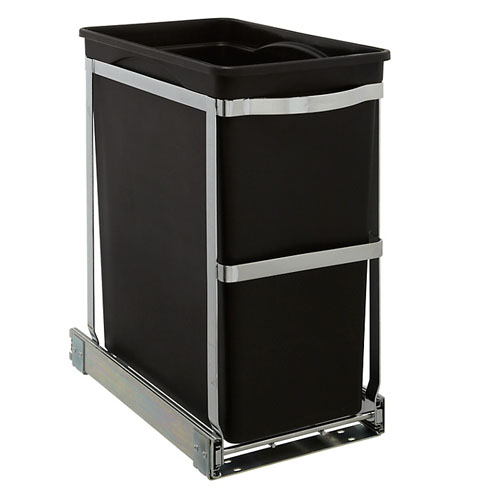 Also available: simplehuman Under Counter Pull Out 2 Compartment Recycler 35L (20+15) – SLIDE OUT, RECTANGLE, RECYCLING
Dimensions: 45.5cm(D) x 24.8cm(W) x 48.5cm(H)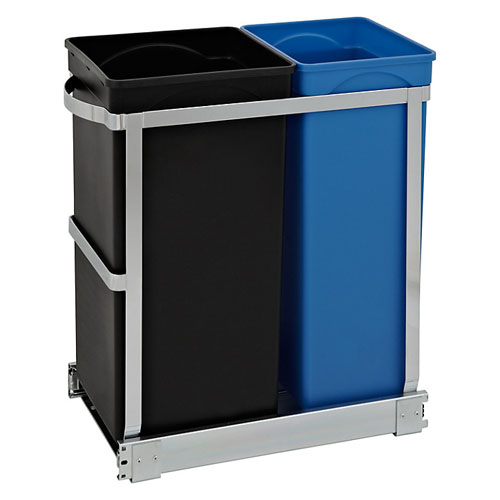 The Wesco Big Double Built-in Bin is another twin bin with generous capacity of 26 Litre per bin giving a total of 52L. The bin does not need to be mounted as it comes with its own support frame and pull out rails. It will however require a cabinet width of at least 40cm.
Dimensions: W*D*H, 338 (W) x 475 (D) x 465 (H) mm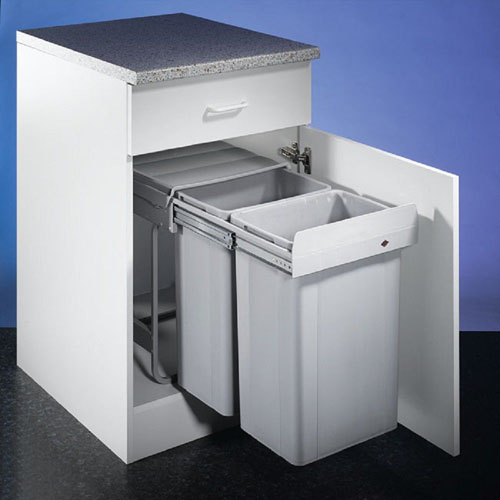 The Euro-Cargo 45 offers a whooping 70 L capacity with its two compartment bin at 35L each. Suitable for 450mm wide cabinets, mount the pull out rails to the cabinet walls and the door to the front door frame and have yourself a proper built-in waste bin. This can either be retro-fitted to existing 450mm wide cabinet and door or for new kitchen unit. The bin has a built-in lid that doubles as a shelf once fitted and the door and rail has a soft close mechanism. However, the installed depth is larger than standard depth at 528mm so make sure there is room for this. It is recommended that the thickness of the cabinet wall to be between 15-19mm.
Here is a look at other built-in cabinet bin with compartments for recycling.