When we started looking for a security camera system, we knew that we definitely wanted a wire-free solution. We also wanted one that we could DIY and did not require professional installation. It had to have no trailing wires for power nor video feed and definitely no monthly cloud storage subscription fee to pay. Anker's eufyCam security cameras fitted all of those criteria but which one, was the ultimate question?
Comparing eufyCam 2C Pro to the standard eufyCam 2C
The eufyCam 2C is approximately 23% cheaper compared to eufyCam 2C Pro when considering the two camera and base station kit. For the premium, the Pro model gets 2K resolution cameras instead of Full HD 1080p, double the resolution and therefore more detail and sharpness in the footage. Beyond that, both cameras share all the same features.
Comparing eufyCam 2C Pro to eufyCam 2 Pro
We know that the Pro refers to the higher 2K resolution cameras, and that is what you get with both eufyCam 2C Pro and eufyCam 2 Pro. The main difference is that the eufyCam 2C Pro cameras come with spotlight while the eufyCam 2 Pro relies on InfraRed night vision only.
And, because of the built-in spotlight and among other things, this shortens the battery life from 1 year to about 1/2 or 180-days per charge. Other subtle differences are that the eufyCam 2C Pro cameras have a slightly narrow field of view at 135-degree versus 140-degree and no anti-theft support.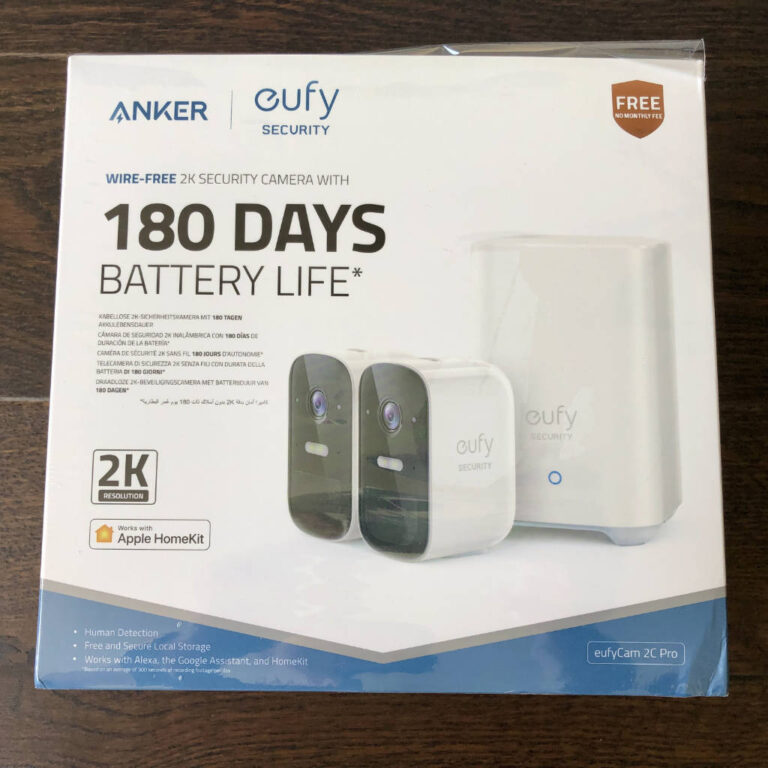 Which eufyCam is right for you?
When it comes down it it, it is a toss up between how often you need to take the camera down to charge, what video resolution and colour or black and white video clips. Here are the questions that you need to ask yourself when deciding which eufyCam to buy.
2K or FullHD 1080p video clips – For 2K choose eufyCam 2C Pro or eufyCam 2 Pro
Colour or BW (black and white) video clips – For Colour choose eufyCam 2C or eufyCam 2C Pro
Spotlight or Night Vision only – For spotlight choose eufyCam 2C or eufyCam 2C Pro. For Night Vision only, choose eufyCam 2 or eufyCam 2 Pro
180-day or 1-year battery life – For 180-day choose eufyCam 2C or eufyCam 2C Pro. For double the battery life up to 1 year, choose eufyCam 2 or eufyCam 2 Pro.
Shape and design preference – for compact design choose eufyCam 2C or eufyCam 2C Pro. For bullet or oblong shape, choose eufyCam 2 or eufyCam 2 Pro.
Start with your most important criteria above and work your way down. Personally, I value video quality above anything else. The captured video clip needs to have as much information and sharpness as possible. At 2K resolution with the option of full colour evening clips, this allows me to view what is on the video properly even in low light.
Colour Mode vs Infrared (Black and White) Mode
The C models come with the option to use the spotlight at night to capture video in colour mode over the option of just black and white night vision in infrared mode. On the flip side, this also means that with the spotlight, the rechargeable battery drains faster, leaving only half year use per charge. You've been warned.
Now, if you are happy with black and white video clips in low light using only night vision in infrared mode, then save yourself some money and opt for the eufyCam 2. This being the entry level multi-camera kit, you will get Full HD resolution footage only but with up to a full years battery life per charge as there is no built-in spotlight. A mid point between this and the enfyCam 2C is the eufyCam 2 Pro. This gets a higher 2K resolution for maximum clarity and details.
To summarise, here are the cameras arrange in order of features and quality of captured video clips.
eufyCam 2 [Full HD, infrared mode only]
eufyCam 2C [Full HD, spotlight and colour mode]
eufyCam 2 Pro [2K, infrared mode only]
eufyCam 2C Pro [2K, spotlight and colour mode]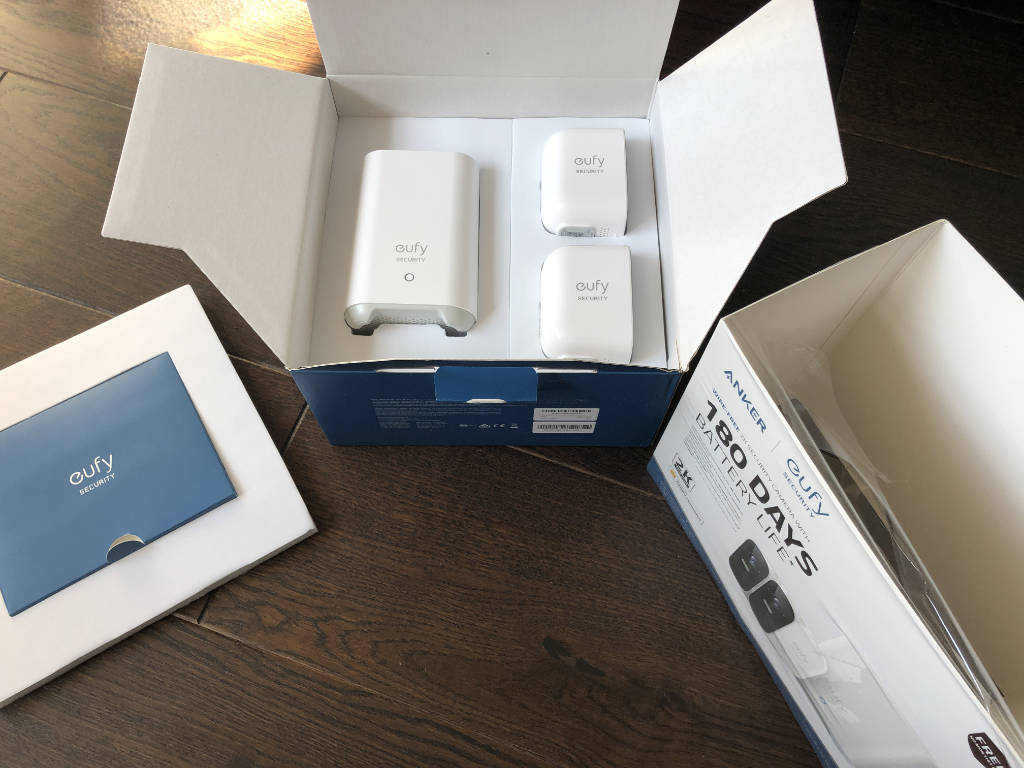 Why we chose the eufyCam 2C Pro
In our books, at the cost of lower battery life, the eufyCam 2C Pro is the best wire-free security camera solution out there. It is future proof as it captures high resolution videos at 2K resolution. 2K resolution cameras are quickly becoming the norm overtaking Full HD or 1080p resolution cameras. Eufy is introducing cameras with 2K sensors across the line including it's video doorbell, floodlight camera and solo outdoor cameras. The Arlo Pro 3 and Arlo Pro 4 cameras from its direct competitor also captures 2K videos footages.
The spotlight when triggered at night makes intruders aware that they are being recorded. That, and the benefit of video clips captured in full colour and clarity. While infrared option is also available if you wish to save on power.
As a wireless security system with HomeBase 2, the video footage is stored centrally and you won't lose the footage if the camera decides to pack it or is stolen. The point of writing, the eufyCam 2 Pro [2K and without spotlight] seems to be priced higher than this model.
Another feature that we considered is the availability of centralised local storage. Eufy's SoloCam series and floodlight camera come with its' own onboard storage memory but you would need to be access and manage them separately. After having compared the different security camera solutions, we settled on envyCam 3C Pro and never looked back.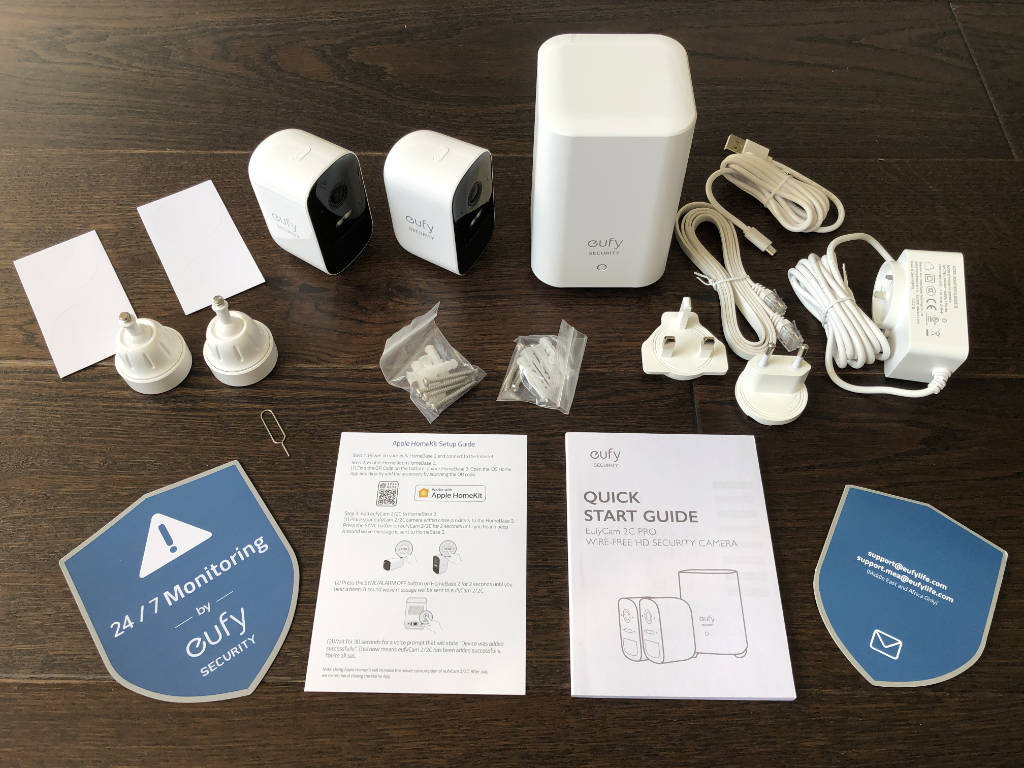 Search eufyCam 2C Pro on Amazon
What we like about the eufyCam 2C Pro
There are features that we accept as necessary and as such not included in the list below. By that we mean the local secure storage removing the need for subscription-based cloud storage, on-board intruder siren which by the way is a loud 100dB, weather proof design (IP67 rated) and two-way voice support. We already established that the battery life will last up to 180 days but that is likely to be less depending on how frequent the cameras are triggered. A good statistics page in the app will help you understand this better. Here are the real reasons why we love the cameras.
1. Easy Setup
Installation is a breeze. Start by powering up the HomeBase 2 after connecting it to the router via supplied network cable. Use the eufy Security app on your smartphone connected to the same WiFi network and follow the instruction there to Add Device then choose HomeBase 2. You even get voice prompts to from the unit to assist in connecting and when it is ready.
Next, add the cameras one at a time via Add Device then choose eufyCam 2C or 2C Pro, powering them up and leaving them under 1 meter from the HomeBase 2 unit. Press power up, press the sync button for 2 seconds until you hear a beep from the camera. Again, voice prompt from the HomeBase 2 unit will let you know when the camera is connected.
2. Make the HomeBase 2 Wire-Free
Before you disconnect and move the HomeBase 2's , switch over to WiFi using the app. Under HomeBase 2 Settings, go to Connection section then Wi-Fi Setup to follow the steps there. Here is where you will find options to test the WiFi signal and settings for your configured WiFi network. Once configured, disconnect the network and power cable, move the HomeBase 2 to your intended site and connect it there. Wait for it to power up and test there.
3. Extending the Coverage
You can put the HomeBase 2 unit closer to your camera(s). This will increase the coverage area allowing all your cameras to connect to the local network and to the Internet for remote access. Where WiFi signal from the router is weak, add the HomeBase 2 there. It works as a hub and repeater. You cameras can then decide to connect via the HomeBase or directly to the wireless router.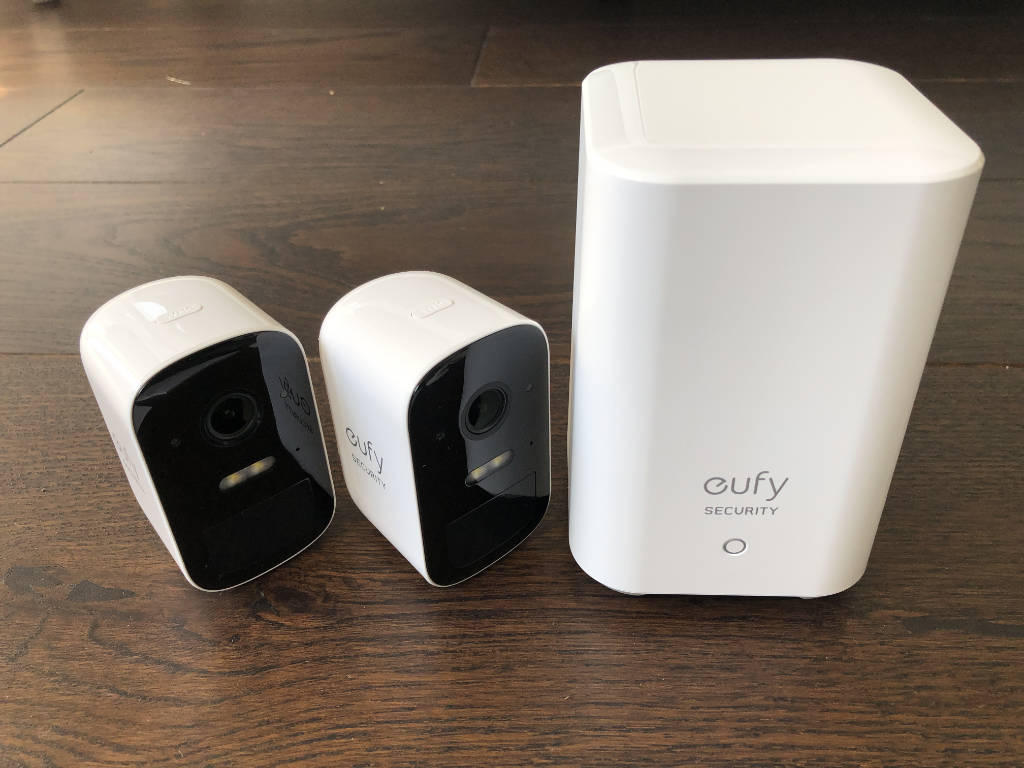 4. Good Sustained Connections
One of the benefits of choosing eufyCam security camera system is its ability to connect and stay connected to the WiFi network. Other devices may struggle with low signal and supposed black spots, but from our tests, the cameras coped really well even when there are obstacles in between like a concrete walls, glass and partitions. As for coverage, take advantage of HomeBase 2 as a hub to extend your WiFi signal. This in turn offers better live feed, streaming of captured video clips and faster response time in pushing out the notifications, all of which are very important for a real time security system.
5. B&W or Colour Night Vision
You have a choice of black and white footage with Infra Red LED mode or colour footage with spotlight mode. This can be set per camera, so if you have other light source nearby, you can even decide to turn both IR LED and Spotlight off. All we can say is we are pretty impressed with the image and video clarity both on clips recorded during the day and night. To make better use of the high resolution cameras, don't just look at the video clips on your smartphone, download and review them on a tablet.
6. Picture and Video Quality
Image and video quality is amazing. We recommend installing the eufy Security app on a tablet with big screen or use a smart display to access the live feed for maximum clarity, detail and impact. You still get fisheye effect around the edges but it comes with the territory especially when the camera as a wide 135-degree angle lens. Only with time will we know if the glass lens will fog up with change of weather, causing recordings to go misty and blurry especially at night.
Search eufyCam 2C Pro on Amazon
7. Power and Eagerness Settings
We like that you can control the cameras detection time period also known as retriever interval and video clip length. You can also set the motion sensor's sensitivity level and Activity Zone as well as decide to only pick up human motion during the day. This will help reduce the number of false triggers like pets during the day or cars passing by at night. To converse energy, you can also customise the spotlight's brightness level.
8. App is Intuitive and Stable
We have seen our fair share of poorly designed apps with difficult to understand options and settings. Accessing the cameras live stream, recorded clips or settings is easy straight from the main dash. The options under Settings are easy to understand and while it is quite a long list, you will soon become familiar with them and what they do.
9. Human Detection
This is a great feature as it cuts out notifications, alerts and video clips triggered by wind, bird, pets, wild or stray animals. We think this is great to not only cut out false alarms but help with energy efficiency, not having to record everything that moves. There are limitations which we will discuss in the following section.
10. Integration with Amazon Alexa and Apple HomeKit
A single page documentation is included to setup the cameras to work with Apple HomeKit. While we have not attempted to set this up with the Apple TV or Google Assistant, Alexa devices immediately picked up the cameras and announced its presence on the local network. Adding the cameras are easy. Once the cameras are named, you can add the necessary skill and ask Alexa to display the live feed on the Fire tablet or smart display directly.
What could be better with the eufyCam 2C Pro
Here are some of what we feel the eufyCam 2C Pro could be better:
Need longer battery life
The battery life could be better using four instead of two cell battery allowing for double the capacity and twice the battery life. The eufyCam 2 and eufyCam 2 Pro cameras with oblong bullet profile allowed it to carry 4 double A cells. On the other hand, the eufyCam 2C and eufyCam 2C Pro with its compact profile carried only 2 double A batteries each. We don't mind Anker bulking up the eufyCam 2C and 2C Pro with extra batteries to make the cameras last longer per charge. As it stand, the battery capacity is 6700mAh with up to 180 days battery life.
Need more storage
The eufyCam 2C and 2C Pro kit do not come with storage expansion slot in the Home Base unit. The old eufyCam E kit includes an SD card slot capable of accepting up to 128GB SD Card for extra storage. While all HomeBase comes with 16GB eMMC storage as standard, what eufy claims to be enough for up to 3 months of use, we would love bigger storage to keep at least up to 6 months worth. Luckily, eufy promises a special USB storage dongle to add more storage that way. We just hope that it is compact enough to to sit in the port and not get in the way.
Need an easy way to take them down to charge
Also, the cameras do not come with magnetic mounts. It would be good if they do as we can detach and take them down from the mounts to recharge the battery quickly and safely. We see this used on Canary, Arlo, Google Nest and even budget wire-free cameras. The fact that only screw mounts are included, limit the mounting option. Eufy does say on their website that they will soon be releasing magnetic mounts as an optional purchase. We are beginning to see a pattern here of Eufy trying to extract more money from existing customers.
Finally, there is mention of human and face detection in the specification table below. Just to be clear, this is to differentiate humans from animals coming in view of the camera. The camera is capable of picking up body shape and face patterns but this only works during the day. Also, it is not smart enough to remember and identify different individuals. Human detection technology may be the term used to describe this feature but not to a level that it is able to differentiate friends from foes, or in our case, family or strangers.
Visit Manufacturer's Website eufylife.com
Table of Comparison Between the Models
| | | | | |
| --- | --- | --- | --- | --- |
| | eufyCam 2C Pro | eufyCam 2C | eufyCam E | eufyCam 2 |
| Resolution | 2K | 1080p | 1080p | 1080p, Sony Starvis sensor |
| Field of View | 135-degree | 135-degree | 140-degree | 140-degree |
| Battery Life | 6 Months | 6 Months | 1-Year | 1-Year |
| Weather Proof | IP67 | IP67 | IP65 | IP67 |
| AI | Human Detection Face Detection | Human Detection Face Detection | No | Human Detection Face Detection |
| Spotlight | Yes | Yes | No | No |
| Anti-theft | No | No | Yes | Yes |
| Video Storage | 16GB EMMC, 3 Months Usage | 16GB EMMC, 3 Months Usage | 16GB SD Card, 3 Months Usage | 16GB EMMC, 3 Months Usage |
| Storage Expansion | NA | NA | Up to 128GB SD Card | USB storage expansion* *coming soon |
| Monthly Fee | No | No | No | No |
Search eufyCam 2C Pro on Amazon