Omni-directional 360° wireless portable speakers have carved out a special niche. These speakers are designed to disperse sound evenly in all directions, creating an immersive listening experience that fills any room with rich, detailed audio.
Whether for a party, a personal music session, or enhancing the audio of a movie, these speakers bring a new dimension to wireless sound. Let's explore the top 10 best omni-directional 360° wireless portable speakers available in the market.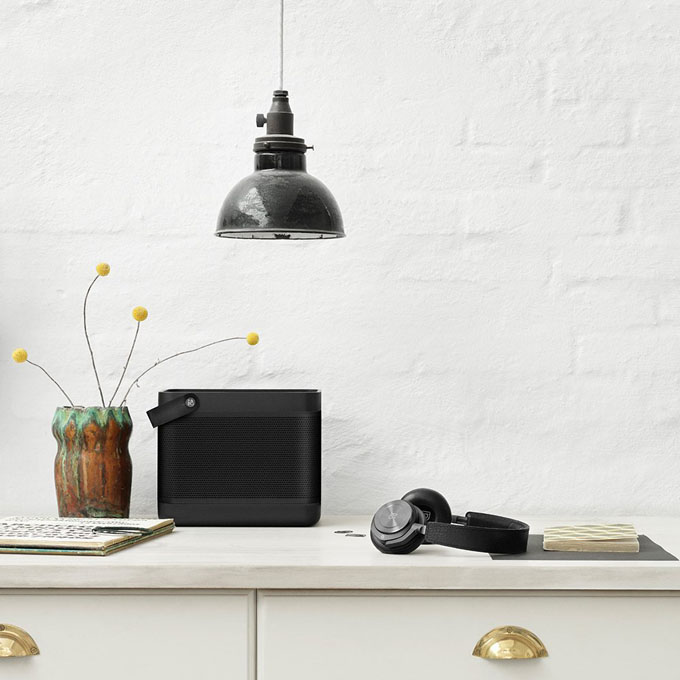 What To Look For When Choosing a Wireless Portable Speaker
We love our music, so much so that we want to take it with us wherever we go to share it with others. And if you like sharing, these speakers do it best. Key features to look for are:
Durability
If you are always out and about, get a shockproof and waterproof speaker to make sure that it is ready for the outdoor and is weather resistant. If the intention is to have a portable speaker that you can move around indoors say from the bedroom to the home office to the kitchen then you have a wider choice. To help you decide, both standard and waterproof or weather resistant models are clearly marked in our list below.
Design and Colour
Whether you are a traditionalist, a minimalist or the outgoing sort, there is a design for you. From dark shades of black to bright white and all the colours in between, there is a 360° omni-directional speaker to suit everyone.
Connectivity
Bluetooth and WiFi versatility. Most standard wireless portable speakers use Bluetooth to connect to your mobile device. There are now portable speakers that als support streaming over WiFi. These speakers can stream directly from the Internet negating the need for a mobile device. Some speakers support multi-host for playing songs from two  to three Bluetooth devices so they can take turns swapping tracks. For ease of pairing with mobile devices, some speakers support NFC (Near Field Communication) letting you connect your speakers to your smartphone quickly.
Multi-room and Multi-speakers
if you have more than one speaker in the vicinity why not play your tunes on two or more speakers to push up the volume, great for real stereo, parties and multi-room setup. In multi-room mode, you can have your home 'wired' up virtually to play the same music in grouped mode.
Battery Life
You want your speakers to last at least the day when you are out before needing to find a wall socket. Speakers in our lasts from 8 hours per charge, plenty of time to enjoy your tunes. The best playtime we have seen lasts up to 24 hours on a single charge. Most speakers also lets you charge your device such as smartphone or tablet, should you need to keep the groove going.
Size
It is always a toss up when considering speakers by size. Bigger speakers naturally means bigger sound and higher volume. It also offers deeper base with use of bass radiators and bigger drivers. Still, the smaller speakers in our line-up are more than capable of producing quality sound with a small compromise.
Form Factor
Most speakers are water bottle or cylindrical form factor making the 360° sound projection possible. Still there are other clever omni-directional speakers with revolutionary tri-projection design or the more conventional ice box profile. It really comes down to personal choice.
Top 10 Best Omni-directional 360° Wireless Portable Speakers
The world of surround speakers doesn't stand still. A couple of new portable speakers hit the scene since our article. These are:
Bang & Olufsen Beosound A5
Twice the power of Beloit 20, the Beosound A5 is a portable speaker capable of room filling 360 degree sound for a big room 10-50 m². Inside, you will find a huge 5.25-inch woofer, dual 2-inch full range drivers and a single 0.8-inch tweeter. These speakers are powered by three Class D amplifier rated at 70W each.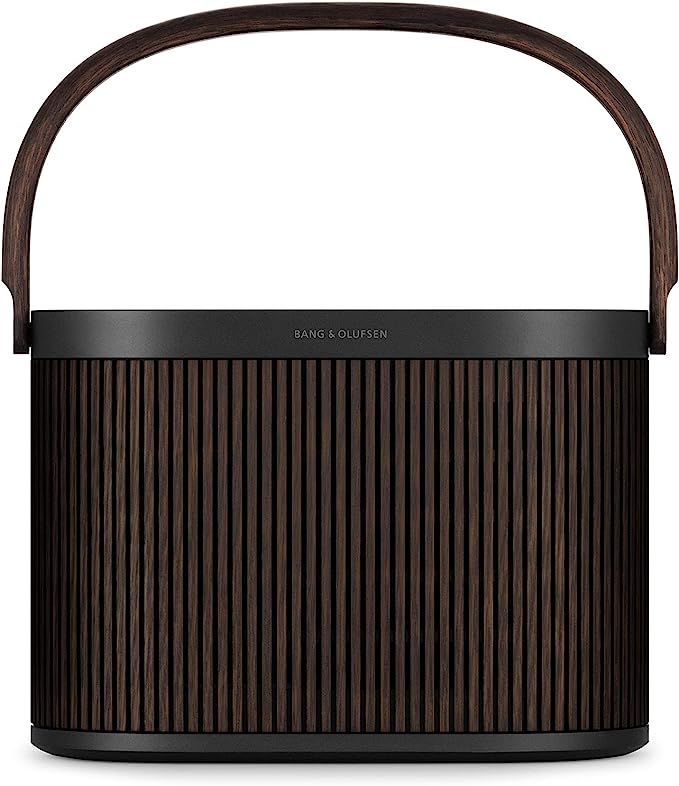 Like the updated Beolit 20, it comes with wireless charging built-in for smartphone, long lasting 12-hour battery and both WiFi and Bluetooth wireless connectivity. What makes it stand out is not just the powerful amplifiers but two different Scandinavian design and materials including real oak and aluminium.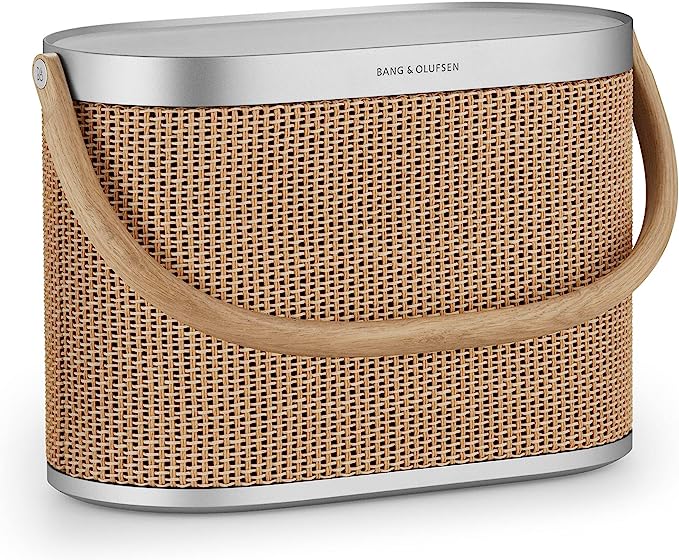 1. Bose SoundLink Revolve+ Series II
The Bose SoundLink Revolve+ is a true embodiment of both aesthetic and acoustic excellence, setting a high standard in the portable speaker market. Its cylindrical design is not just for show; it plays a crucial role in dispersing rich, full-bodied sound uniformly in every direction, creating a consistent and immersive listening experience regardless of where you are in relation to the speaker.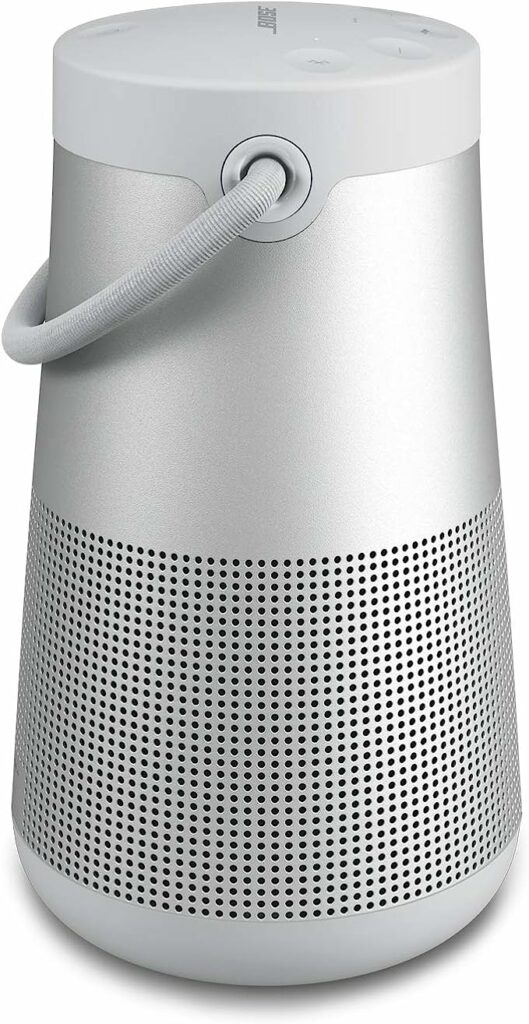 This 360-degree sound coverage is backed by Bose's renowned sound engineering, ensuring that the audio quality is crystal clear, with deep bass and no distortions, even at higher volumes. Built to last, the SoundLink Revolve+ features a durable aluminum body, making it resilient against the elements, a trait that, along with its IPX4 water-resistant rating, renders it perfect for outdoor adventures.
The addition of a flexible fabric handle is a thoughtful touch, enhancing its portability and making it effortless to carry around, whether you're moving from room to room or heading out. It also supports Bluetooth pairing, making it incredibly easy to connect to your devices. Whether you're hosting a party, enjoying a solo music session, or needing a reliable audio companion for outdoor events, the Bose SoundLink Revolve+ stands out as a versatile, high-quality option that delivers consistent, room-filling sound.
2. Ultimate Ears MEGABOOM 3
The Ultimate Ears MEGABOOM 3 is a powerhouse in the portable speaker segment, engineered to deliver an audacious and immersive sound experience. This speaker stands out with its signature deep, thunderous bass and a rich, balanced audio output that remains pristine even at high volume levels. What sets the MEGABOOM 3 apart is its robust construction; it's not just waterproof, dustproof, and shockproof, but also designed to float, making it the ultimate speaker for all types of outdoor adventures, from pool parties to rugged hiking trips.

The 360-degree sound projection ensures that the audio experience is uniform and engaging from any angle, filling your surroundings with consistent, high-quality sound. Another significant advantage of the MEGABOOM 3 is its impressive 20-hour battery life, which is ideal for extended listening sessions without the need for frequent recharging. Whether you're at an all-day beach outing or a camping trip, this speaker is built to keep the music going.
Its striking cylindrical design and a range of vibrant colors also add to its appeal, making it not just a great sounding speaker but also a stylish accessory. In essence, the Ultimate Ears MEGABOOM 3 is more than just a portable speaker; it's a durable, dependable, and dynamic audio device that's ready for whatever adventure comes your way.
3. JBL Pulse 5
4. B&O Beosound A1
With its predecessor known as Bang & Olufsen Beoplay A1, the Beosound A1 now in its 2nd generation redefines what a compact portable speaker can deliver, both in terms of style and audio performance. This elegantly designed speaker, with its sleek, rounded form and high-quality materials, is a quintessential example of B&O's commitment to aesthetic excellence. Despite its small size, the Beosound A1 packs a significant punch, offering a powerful 360° sound experience that belies its diminutive stature.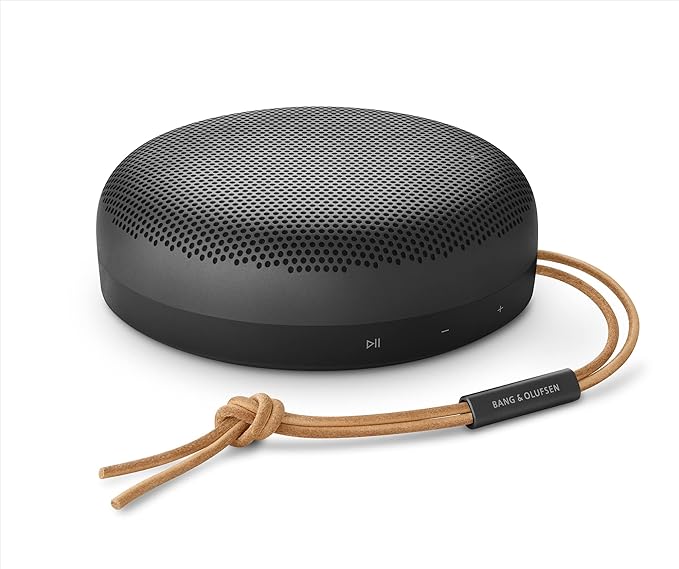 The sound is rich, clear, and well-balanced, with enough volume to fill a room and a bass response that is impressive for a speaker of this size. Its portability is enhanced by a durable build and a dust and splash-resistant design, making it ideal for on-the-go music enjoyment. Additionally, the Beosound A1 boasts a significant battery life, ensuring that it can provide hours of continuous playback. It's not just a speaker; it's a piece of portable luxury that offers premium sound quality, making it perfect for those who appreciate the finer things in music and design.
5. Bang & Olufsen Beolit 20
The Bang & Olufsen Beolit 20 is a remarkable embodiment of high-end design meeting superior sound performance in the realm of portable speakers. Staying true to B&O's legacy of elegant aesthetics, the Beolit 20 features a sophisticated, minimalist design, characterized by its sleek aluminum grille and durable leather strap, making it both stylish and easy to carry. Beyond its visual appeal, the speaker excels in delivering a 360-degree sound experience. This capability allows the Beolit 20 to project rich, powerful, and detailed audio uniformly in every direction, ensuring an immersive listening experience no matter where you are in the room.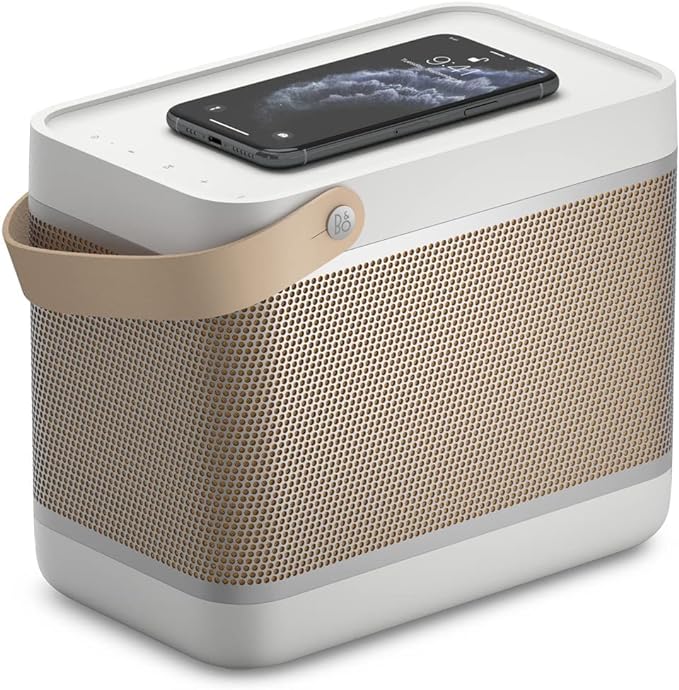 The sound profile is balanced with deep bass, clear mids, and crisp highs, typical of Bang & Olufsen's commitment to acoustic excellence. Additionally, the Beolit 20 boasts a substantial battery life, supporting extended listening sessions, and features wireless Qi charging, adding to its modern convenience. It's a perfect choice for audiophiles and design aficionados alike who seek a portable speaker that offers both stunning looks and an equally impressive soundstage.
6. Bang & Olufsen Beosound Explore
The Bang & Olufsen Beosound Explore is a high-end portable speaker that stands out for its exceptional build quality and superior sound performance. This speaker is designed for audiophiles who are also outdoor enthusiasts, as it comes with a robust, waterproof and dustproof design, holding an IP67 rating, which makes it ideal for all-weather use.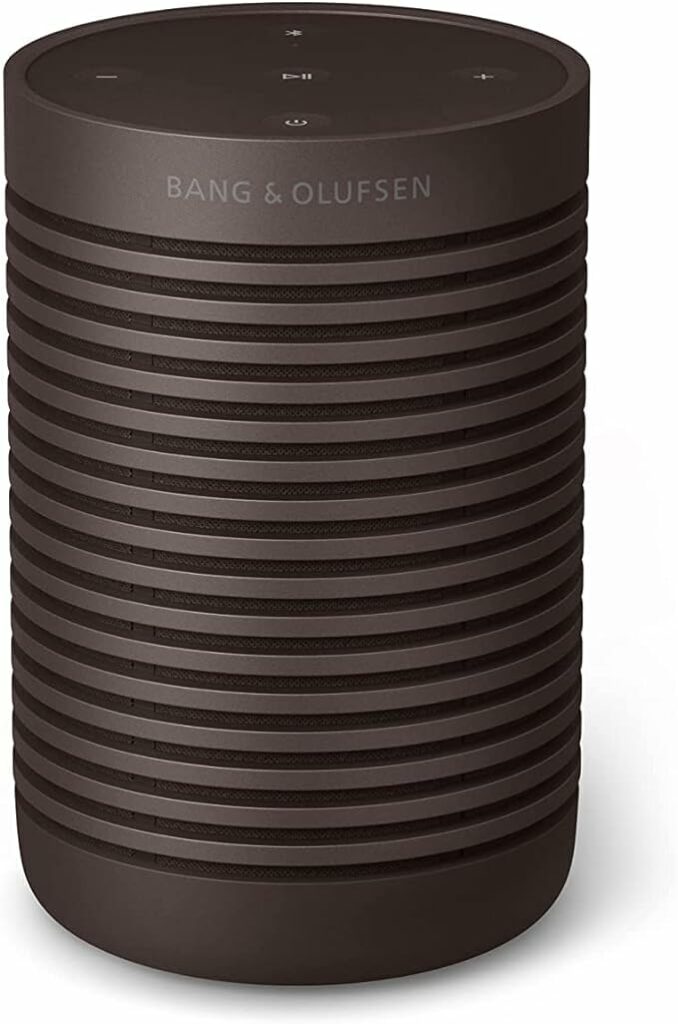 Its most notable feature is the rich, clear sound profile, a hallmark of Bang & Olufsen products, delivering deep bass and detailed acoustics even in outdoor environments. The Beosound Explore is also known for its long battery life, offering up to 27 hours of playback on a single charge, which is quite impressive for its size.
In terms of design, it boasts a sleek, cylindrical shape with a durable aluminum casing, available in several stylish colors. The addition of a practical strap makes it easy to carry on any adventure. This speaker is a perfect blend of luxury design, durability, and exceptional sound quality, catering to those who desire a premium audio experience on the go.
7. Libratone ZIPP 2
The Libratone ZIPP 2 is a testament to the blend of style, functionality, and audio performance in the wireless speaker market. Its distinctive design, characterized by a cylindrical shape and a variety of colorful fabric covers, makes it not just a speaker but a fashion statement that can complement any room decor. Beyond its aesthetics, the ZIPP 2 is a powerhouse of sound, providing a 360° audio experience that fills the room with rich, detailed, and immersive sound.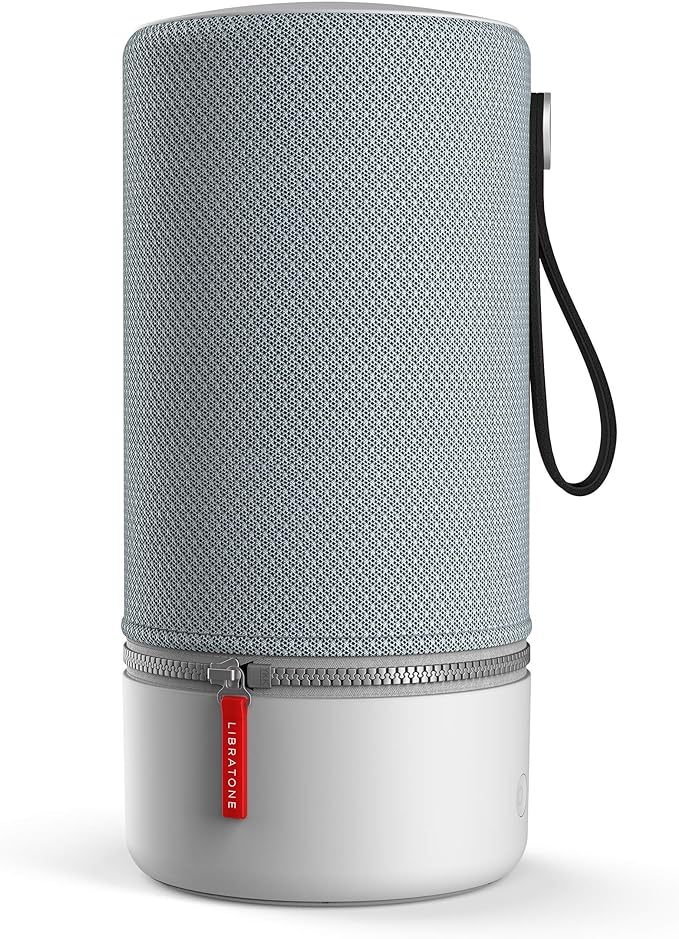 This makes it ideal for any setting, whether you're hosting a party, enjoying a personal listening session, or creating a surround sound setup for a home cinema experience. The speaker's versatility is further enhanced by its dual connectivity options; it supports both WiFi and Bluetooth, allowing for easy streaming from a wide range of devices and services.
Additionally, the ZIPP 2 offers advanced features like voice control compatibility with Amazon Alexa, making it a smart and convenient choice for modern users. The multi-room functionality means you can connect multiple ZIPP 2 speakers or other compatible speakers to create a seamless audio experience throughout your home. With its combination of distinctive design, versatile connectivity, and superb sound quality, the Libratone ZIPP 2 is a top contender for anyone looking for a stylish and functional portable speaker.
8. Sonos Roam Portable Speaker
Second portable Sonos after Sonos Move (below), the Roam is a lot more compact and is certainly more portable. No bigger than a water bottle, it has a sleek triangular body so you can stand it up or leave it on flat surface. But don't be deceived by its look. The speaker is designed to be durable using shock absorbent materials. It is also ready for the elements with IP67 dust and water resistance rating. With up to 10 hours battery life on a charge, Amazon Alexa, WiFi and Bluetooth streaming plus Apple AirPlay 2 support, it a fully capable speaker. When it runs flat, you can charge it using the included USB-C cable or any Qi wireless charger.

9. Anker Soundcore Flare 2
The Anker Soundcore Flare 2 is an excellent choice for budget-conscious consumers seeking a high-quality audio experience without a hefty price tag. This speaker is designed to deliver an immersive 360° sound, ensuring that its crisp, balanced audio is evenly distributed in all directions, making it perfect for group settings or filling a room with music. One of the standout features of the Flare 2 is its dynamic LED ring at the base, which provides a captivating, rhythm-synced light show, adding a visual flair to your music listening experience.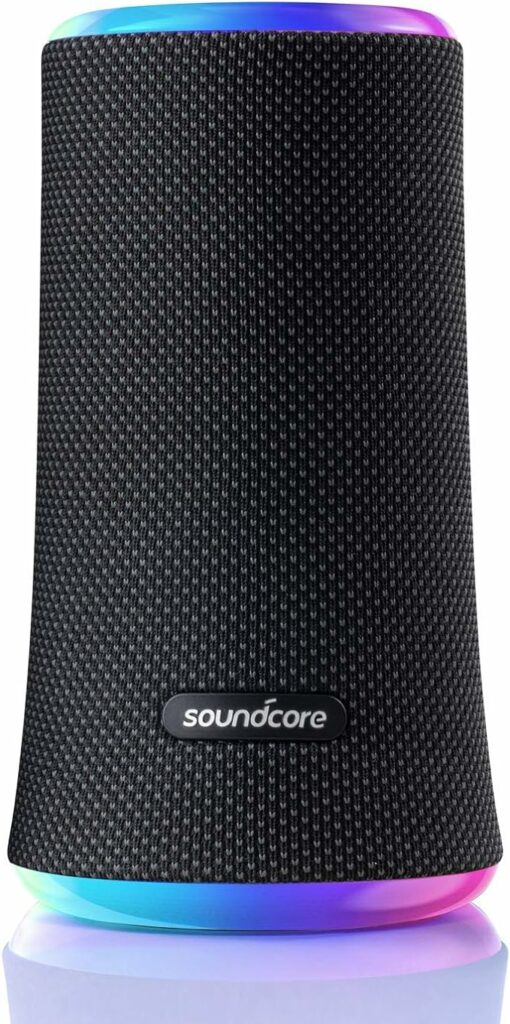 This, coupled with its IPX7 water resistance, makes the Flare 2 not just a party starter but also a durable companion for outdoor events or poolside relaxation. The speaker's customization options are impressive too, with the ability to tweak the EQ settings via the Soundcore app to suit your listening preferences. Compact yet robust, the Soundcore Flare 2 strikes a perfect balance between affordability, functionality, and performance, making it an attractive option for those who want a feature-packed portable speaker without breaking the bank.
10. Sonos Move 2
Much bigger and more powerful than the Roam but still features a built-in battery with up to 10 hours battery life per charge and Bluetooth connectivity for when you are away from the home's WiFi is Sonos Move. The chassis is weather proof, drop resistant and can withstand moisture, dust, UV rays and even extreme temperatures. You are looking at a unit for the pool side, garden or anywhere outside of the house. A conceal handle lets you carry and more the unit easily but we wouldn't go as far as to take this with you on our outings. You have the Sonos Roam for that. Built-in Alexa and AirPlay 2 add even more ways to use the speaker.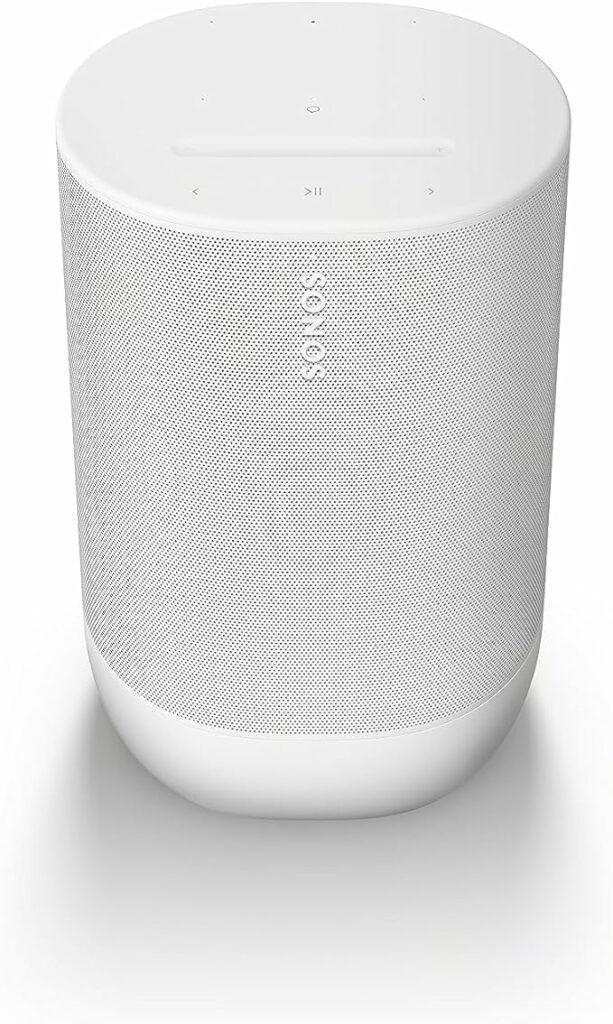 BONUS: Ultimate Ears Wonderboom 3
The Ultimate Ears Wonderboom 3 is an impressive portable speaker, known for delivering robust, 360-degree sound in a compact, durable design. In fact, it is the most portable of all the speakers here. This latest iteration in the Wonderboom series enhances its predecessor's already strong performance with improved battery life, offering up to 14 hours of continuous playtime. Its small size doesn't compromise on sound quality, as it provides surprisingly deep bass and clear, balanced audio.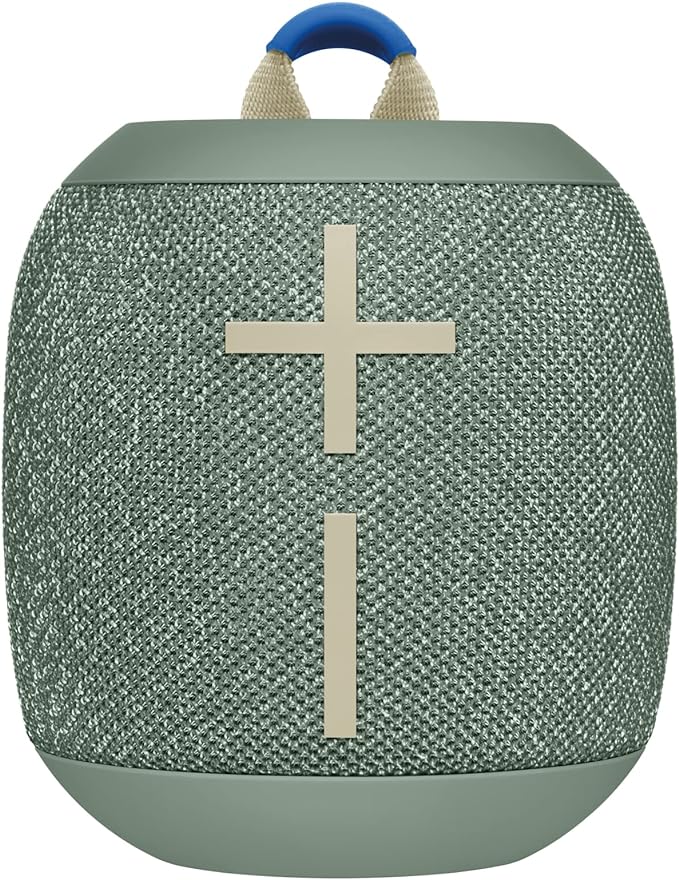 The Wonderboom 3 is also designed for adventure, featuring an IP67 rating for water and dust resistance, making it perfect for outdoor use. A standout feature is its wireless pairing capability, allowing users to connect two Wonderboom speakers for an amplified audio experience. Additionally, its range of vibrant colors and a convenient loop for easy carrying make it not only a functional audio device but also a stylish accessory.
Final Thoughts
Omni-directional 360° wireless portable speakers are all about bringing a dynamic and immersive sound experience to any space. These speakers are designed to cater to a variety of needs and preferences, from outdoor durability to sophisticated design and smart functionality. Whether you're looking to fill a room with balanced sound or want a portable speaker that can power a party, there's an option for everyone in this diverse and innovative market segment.