Trends have a habit of coming and going. They are born with a breakthrough in technology and die with newer tech. A trend that started some time ago and has slowly evolved towards a more advanced technology is portable speakers. Previously, plain and simple Bluetooth speakers were the talk of the town, now are the day and age of smart speakers and even smart displays.
What are Smart Speakers
Smart speakers come with Internet Connectivity via WiFi and voice activated service backed by the cloud that allow them to respond to general query, follow and understand instructions from the users to control other smart devices and fetch streaming media be it music, audio book or podcast on demand. Of course, they are also good at being plain old Bluetooth or AirPlay speakers and play locally saved media stored on your devices or the local network drive.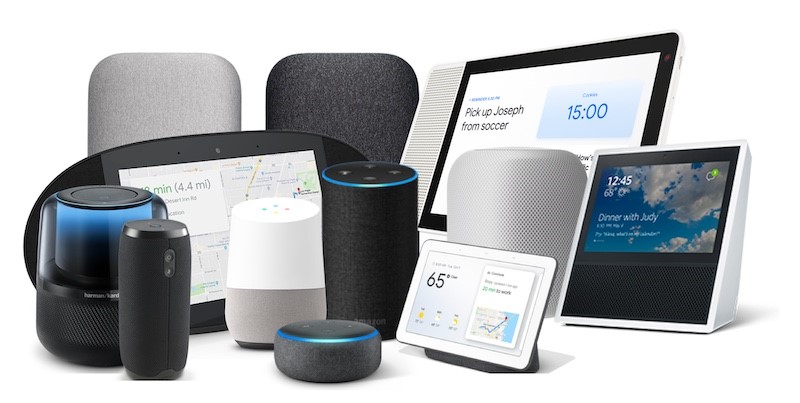 Smart speakers are extremely intelligent devices that are equipped with different skills. Developers take advantage of the voice activated assistant to integrate their own services called skills. All you have to do is install and enable these skills and you can access their services from ordering items from e-shop or dinner, booking a cab and even controlling the electrical switches, lights, heating and security system at your home for completely handsfree and automated living. The best part is that these devices don't cost much but their potential applications is tremendous.
As far as speakers go, they can access different streaming services, online radio, podcast and audio books.  There are also battery cases available that make them portable or ones with battery built in like Sonos Roam, great for bonfire beach parties. For that you will need to connect them to your phone's hotspot for a party in the middle of nowhere. Many of these speakers come with aux ports for connecting bigger external speaker systems if you choose to go old school and make the most of your HiFi amplifier and sparkers.
Today we will look at some of the best and most popular smart speakers and displays that you can own with very little money. Affordable and cheap, these speakers punch way above their price tag with smart features that continue to deliver and can only become better over time.
1. Amazon Echo Dot Smart Speaker 3rd Gen
The 3rd Generation Echo Dot has much better sound than its predecessors making it an exceptional buy as an entry-level Alexa speaker. It comes in a new profile with rounded edges and a fabric covering instead of the hard plastic shell of the previous generation Echo Dots. Those really do look more like a hockey puck. The premium feel is enhanced with the Echo Dot retaining the ringed LED that is activated when Alexa is awoken with the wake word. On the top panel, the buttons remain the same. With fabric covering and dimension change means custom skins and cases are no longer compatible with the Echo Dot. However, new accessories for the 3rd Gen speaker is already appearing in the market including battery base, new skin, mount and charger.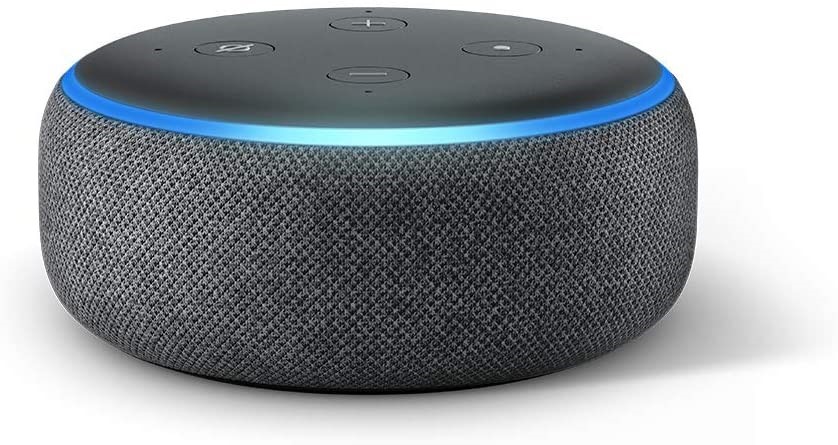 Search Amazon Echo Dot 3rd Gen on Amazon
Its 3.5mm jacks allow you to connect external high-powered speaker systems and it also retains the Bluetooth feature to connect directly to smartphone or tablet. The 3rd Gen Echo Dot also has improved Wi-Fi connectivity and is a bit larger than the 2nd Gen with bigger and better speaker drivers that deliver rich audio with a hint of bass. There are improvements in the skills of the AI assistant that now allow you to tune the equalizer and bass of the speaker itself through voice command. The 3rd Gen Echo Dot incorporates close to 50,000 skills of Alexa and the list keeps growing.
2. Google Nest Mini 2nd Gen
The Nest Mini 2nd Gen is Google's answer to Amazon's improved Echo Dot 3rd Gen and comes with a bagful of improvements such as better sound quality with faster and detailed responses that delivers an overall better listening experience for Google fanboys than its predecessor. It is a wonderful entry-level device for those looking to enter the smart home space. Although Google is about to replace its Nest Mini lineup with Nest Audio below that is costlier and offers significantly robust audio performance, you can still purchase the Nest Mini from Google.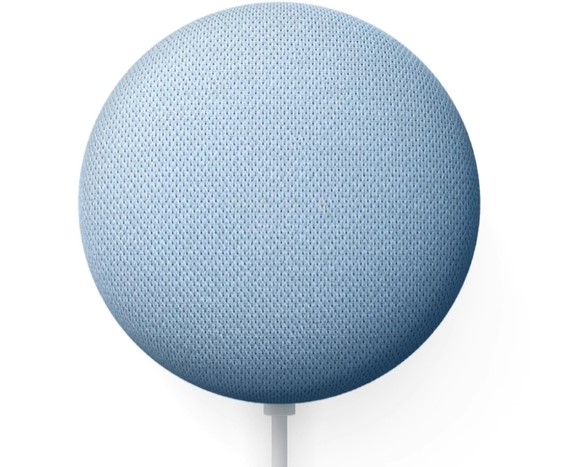 Search Google Nest Mini 2nd Gen on Amazon
The 2nd Gen Mini looks identical to the Home Mini. It comes in a fabric design with four colour choices and retains a similar rounded shape. There are design improvements such as wall mounting screw cut-out at the base. The microphone-off slider switch is retained and capacitive volume buttons are now located on the sides of the device with LEDs that point to their placement.
The Nest Mini has shifted to a 15-watt DC power adapter instead of a Micro USB port earlier. Unfortunately, there is no external speaker support, but there is Bluetooth. There is also automatic volume setting as the device adjusts its volume based on environment background noise. In comparison to its competitors, the Nest Mini has exceptional clarity but lower loudness and bass. It outperforms others in detecting voice owing to a TeraOPS machine learning chip soldered on the silicon board inside.
3. Google Nest Audio
Google's Nest Audio would suit anyone who likes Android and Google ecosystems, especially those who own Android tablets and smartphones. There are many IoT (Internet of Things) gadgets designed and configured to work with Google Assistant. More and more manufacturers are designing their product to work with Google Assistant. The company is promising a much-improved audio system through the Nest Audio, its newest smart speakers. You can make it respond to multiple voices by adding the Google accounts of your family members.
It is a full-sized speaker with a fresh look, better feel and completely revamped sound in comparison to the Nest Mini. The external fabric wrap is the same as in the Nest Mini but with an overall bigger dimension the Nest Audio speakers offer a robust performance enough to be at the centre stage of your living room.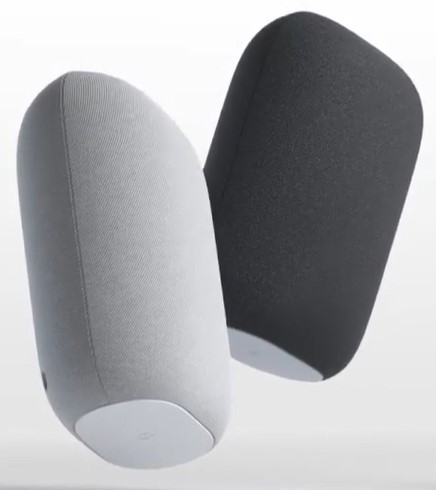 Search Google Nest Audio 2nd Gen on Amazon
The Nest Audio with its sophisticated looks allowing it to blend in with the decor of your living room. The indicator lights are at the front with a touch-sensitive top that allows you to control music playback and volume. The microphone slider switch is retained from the Nest Mini and is at the rear end of the device along with the Google emblem.
There are three far-field microphones that capture sound even in a noisy environment and are much better at speech recognition than the Echo Dots. The Nest Audio's bigger size allows it to house a 75mm mid-woofer and 19mm tweeter for bass with clarity in the sound produced. Unlike the Nest Mini that comes with just a tweeter inside and sounds meek in comparison to its bigger sibling. The sound produced is sharp, much refined, and more detailed with natural and balanced sonic signatures.
It also supports dual-band Wi-Fi (2.4GHz/ 5GHz) and Bluetooth 5 which is again better than the Nest Mini. Additionally, there is Chromecast support for casting audio from compatible mobile devices but a 3.5mm aux port is still absent, there is no scope for wired connectivity here at all.
4. Apple HomePod Mini Smart Speaker
The Apple HomePod Mini is a smaller iteration of the smart HomePods and has gained quite a reputation for outperforming other smart speakers in its category in both performance and size. At just 8.4cm tall and 9.8cm wide, the Home Pod Mini is around half the size of the Echo Dot and comes wrapped in a fabric mesh that imparts style and with excellent acoustic properties. In terms of visuals, the HomePod Mini betters all with a glass top panel that is opaque when the speaker is inactive but lights up with a swirling orb of coloured light when Siri is listening or processing commands.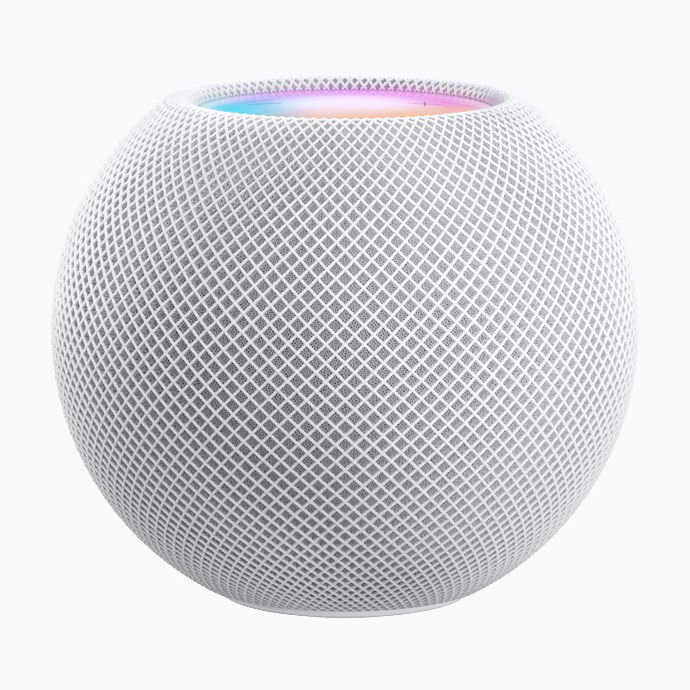 Search Apple HomePod mini on Amazon
Apple's mini smart speaker does not feature any physical buttons and it's only when the glass panel on top is active that volume controls are revealed. The centre of the panel acts as the pause/resume button and a double-tap skips the music forwards. Siri activates listening mode when the centre is long pressed.
The smart speaker does not have any physical audio connections and has a fixed power cable with a USB-C port that uses the same 20 watts charger of the iPads. Inside the plastic housing is an Apple-designed, full-range audio driver firing downwards and out of the 360-degree waveguide design at the bottom. The audio sounds weightier than it should due to a suspended driver system and two passive radiators at the sides.
The HomePod Mini comes with an S5 chip that is intelligent recognizes the recipient of instructions even when multiple Apple devices are nearby and responds accordingly. It intelligently processes instructions with the S5 chip that enables computational audio in the speakers. It can control Siri-powered home equipment and carry out regular functions like setting alarms, timers, sending messages and making phone calls.
5. Amazon Echo Dot Smart Speaker 4th Gen
Amazon has continued to update the Echo Dot speaker range and has recently incorporated a clock into its 4th Gen Echo Dot along with a few structural changes that have seen the audio quality improve a lot. The puck-shaped design has been taken over by a nifty fabric-covered globular design that is a bit larger than the 3rd Gen Echo. The new smart speaker has a multi-color LED at the bottom instead of the top but the buttons retain their location at the top of the sphere. The 4th Gen Echo Dot has a futuristic look and fits nicely with any room's decor.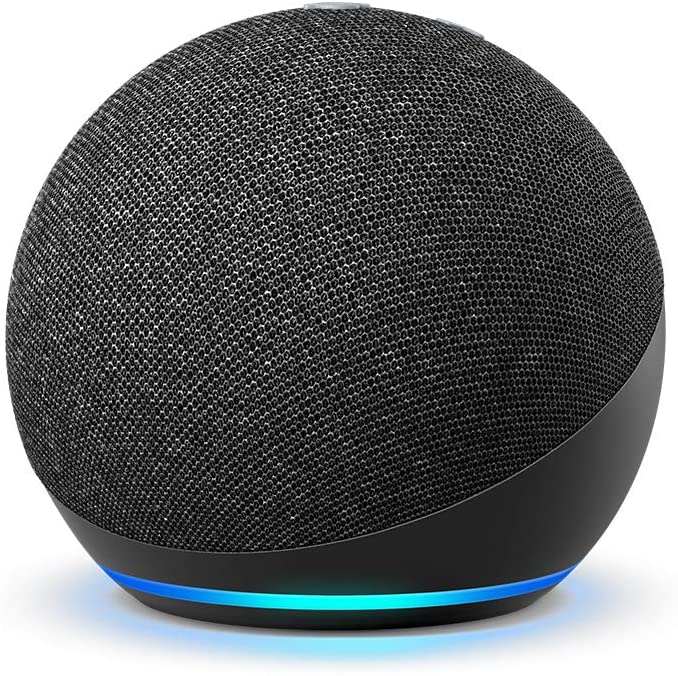 Search Amazon Echo Dot 4th Genon Amazon
The Echo Dot 3rd Gen brought wholesome improvement in the audio quality but lacked a bit of loudness which has been addressed in the 4th Gen Echo where the speaker size has been increased to 1.6-inch and angled for front-firing to be more efficient. The 3.5mm audio jack is retained and the Alexa technology has been improved with new features like Alexa Guard Plus and Care Hub. The latter in particular is extremely useful when you have septa and octogenarians in your family who need continued monitoring and care.
ALSO: Amazon Echo Dot 4th Gen with Clock
The new Echo Dot comes with a climate-friendly tag as it is made using climate-friendly plastics and recycled aluminium. For a bit more money, the 4th Gen Echo is also available with an LED clock under fabric cover that can show temperature and timers in addition to the regular time.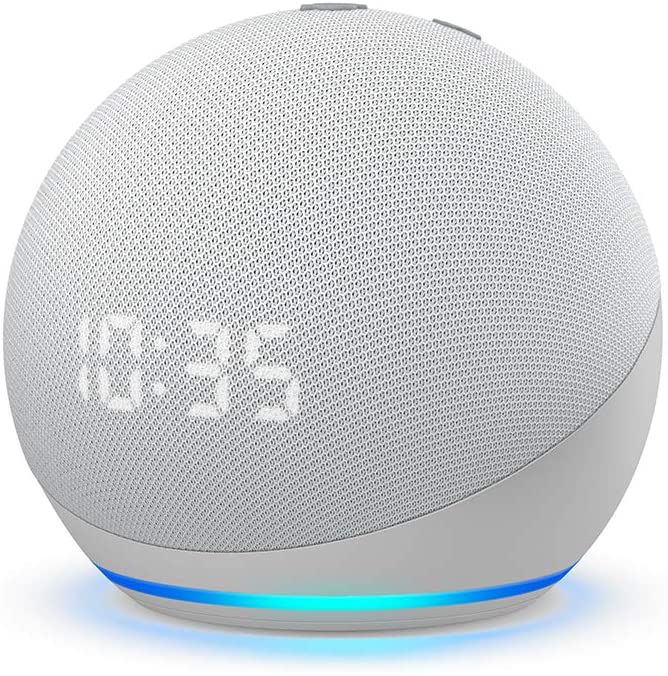 Affordable Smart Displays
Taking the idea of a voice activated assistant to the next level are these smart displays. Based on the same technology with speakers, far field microphones and voice activated services these smart displays also come with a full colour touchscreen and some even include a web cam for video calls. Here are some of the most affordable smart displays in the market.
6. Amazon Echo Show 5 2nd Gen
Amazon launched a display-supported smart device in June 2017 called the Echo Show. Since then, it has launched several improved versions and the Echo Show 5 2nd Generation is the latest from its smart display portfolio. The new device comes with 5.5-inch display, the smallest of all the Show devices, complete with an improved 2-megapixel web cam but the 3.5mm jack has been done away with.
Just as compact as before, the 5.5-inch sports 960 x 480-pixel resolution, supports touch input, is bright and colourful. The compact display acts as an excellent monitor for security cameras and video doorbells but it is not quite perfect for binge-watching content from OTT streaming providers due to a low resolution and screen size. However, it is plenty of simple instructional videos and cooking shows.

Search Amazon Echo Show 5 on Amazon
The Echo Show 5 comes with a single speaker inside the wedge-shaped housing that has good volume levels and bass for its tiny size. It does not support Zoom and is best suited for Internet calls between two Echo Show devices. The processor speed is where the new Show still needs improvement as it takes a long time to load video feeds and even rapid navigation is an issue.
7. Amazon Echo Show 8 2nd Gen
Amazon's Echo Show 8 is perhaps a device better suited for binge lovers. It is faster than the Echo Show 5 and betters it in most parameters. Firstly, the screen measures at a modest 8-inches and comes with an HD+ resolution. The screen can adjust its colour along with white balance according to the lighting of the room. The 2-megapixel camera on the Show 5 sees an improvement here, pushed to 13 megapixels for improvds video calling capabilities. The processor is also better than the Show 5 for faster responses and snappy performance.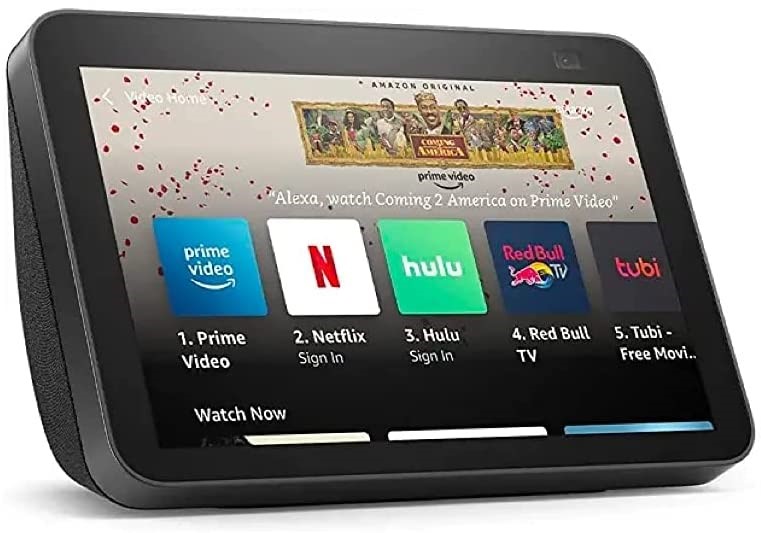 Search Amazon Echo Show 8 on Amazon
Alexa integration is extremely smooth with the assistant now allowing users to open applications and join video calls on Zoom through voice commands. The screen however is not adequate for group calls as anything shared on the screen appears small and difficult to see. As for the sound, the Echo 8's wedge-shaped chassis, it houses two speaker drivers. This let out loud and clear audio with decent bass. Overall, it might not seen like a major improvement as physically, it looks just looks like a bigger Echo Show 5. However, but a lot of minor improvements in various specifications that add up and make the Echo Show 8 a comprehensive package.
8. Google Nest Hub
With smart speakers flooding the market, the next big thing is sure to be smart displays and Google is going head-to-head with Amazon Echo Show. Being marketed as a digital photo frame, the Nest Hub has all the features of a smart display. Unlike other similar devices that are designed as a continuous blob, the Nest Hub looks like a 7-inch tablet that has been attached to a wedge-shaped base. This reduces the footprint of the device but also robs it of any visual glory.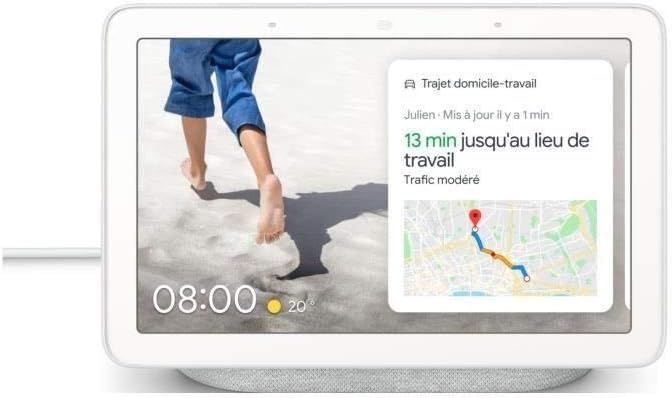 Search Google Nest Hub on Amazon
The smart display comes with physical volume buttons on the rear right along with a power inlet port on the fabric-covered base. As with other Google smart products, you need the Home app for a smooth set-up. When the device is idle, it displays a photo frame by default that chooses your best photos from Google Photos and starts a slideshow.
You can also link your device with Facebook or Flickr for additional photos. There is support for multiple Goole accounts allowing the entire family to control the device using their voice. The display supports card-based actions from downwards and upwards swipes and it does this proactively to actually help users without being triggered every time for help like in the Echo devices. There is no camera and hence the Nest Hub cannot be used for video calls.
BONUS: Echo 4th Generation
As a proud owner of the 1st generation Echo, a cylindrical water bottle shaped smart speaker, the Echo 4th Gen gets a refreshing new look. It adopts the same globe shaped design as the smaller Echo Dot 4th Gen albeit bigger. It is way more powerful given its dynamic mid-range and deep base thanks to the two 0.8-inch tweeters and a large upward facing 3-inch woofer. The small echo comes only with a 1.6-inch front firing speaker. You will appreciate the difference in sound quality as it even supports Dolby audio when paired with another Echo, Echo Studio and Echo Sub.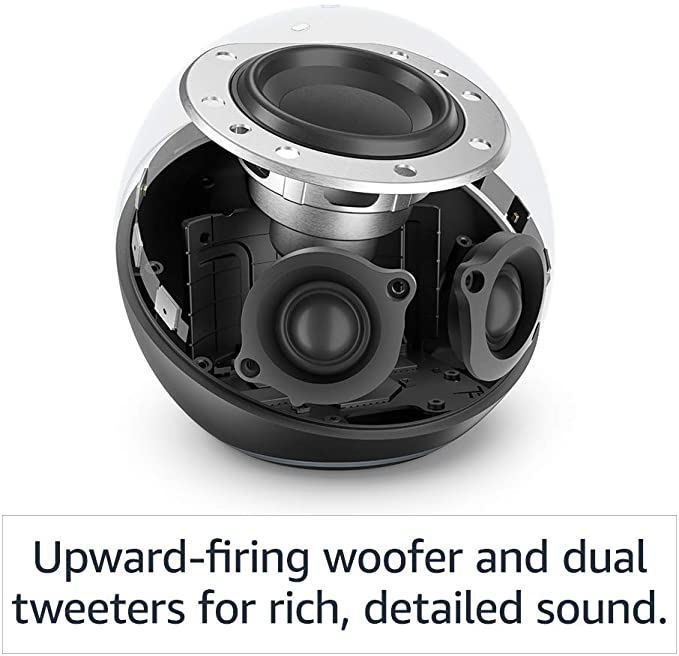 Search Amazon Echo 4th Gen on Amazon
Tactile buttons for action, volume controls and microphone switch is located at the top of its fabric covered speakers while the 3.5mm audio line in or out and power port is located at the back of the unit near the bottom close to the light ring. I may be bias but for the money, I would go with the Echo 4th Gen over the Echo Dot 4th Gen any day.
Final Thoughts
Amongst a host of smart speakers and displays in the market right now, investing in the right product could be a tedious task. The primary thing to consider here is the quality of the speakers and the sound produced because above all they are speakers first. This can be difficult to achieve for small speakers such as those listed here. If you take the approach of minimal investment with the aim of accessing voice activated assistant as your primary requirement, then these affordable speakers and displays would be more than adequate.
Only a few speakers such as the Amazon Echo 4th Gen, Google Nest Audio and Apple HomePod offer a well-balanced sound on a budget. If sound quality is utmost on your list, consider bigger smart speakers such as the Echo Studio and Echo Sub, Sonos One or Sonos Move as these would undoubtedly push bigger sound and cover a wider range.
Still, you may have other reasons for getting one of the smaller and more affordable smart speakers. This could be due to room size, available space or simply to access their ability for home automation in every room with compatible smart home devices. Right now, almost all the voice assistants be it from Amazon, Google or Apple are equally capable. The choice would boil down to your preference of the hardware.
Article by DEBJYOTI MUSTAFI edited by Samuel J TAN