Stuck in the office or working from home all day? You need your very own personal air purifier to ensure that the air you breathe is safe and dust free. Use one of these desktop or table top personal air purifiers with HEPA filter to do the job.
Modern Day Air Purifiers: Features and benefits
Air purifiers are becoming cheaper and more affordable. Available in different sizes to suit every need, these smaller varieties are lightweight, compact and space saving. They work equally hard to remove contaminants from the air in any small to medium room helping to improve indoor air quality. They are particularly suited for people with dust and pollen allergies but it goes beyond that.
Normal and healthy individuals can benefit from the use of air purifiers too in their home or office. It doesn't have to be just for people with allergies. These air purifiers will filter out contaminants such as dust, allergens and bacteria from the air leaving it fresh, clean and safe.
Models with HEPA filter goes even further to help filter out to pet dander, pollen and mould spores. While nothing can really replace the fresh air you get from going outdoors, it is good to know that what you breathe indoor is proactively cleansed with one of these purifiers.
Each of these purifiers is HEPA-based, which has been proven to eliminate 99.97% of allergy-triggering particles.
Models with with UV light can destroy micro-organisms such as germs, viruses, bacteria and fungi making it even better than just relying on particulate filters alone. UV-C light technology has been around for some time now. Using it to treat the air we breathe is just another step towards eliminating airborne micro-organisms.
Last but not least, these air purifiers also use activated carbon filters that trap and neutralise household odours.
Advanced Features To Look Out For in Air Purifiers
More advanced models come with air quality monitor and indicator, low noise fan, variable speed and automatic function as well as timer to keep the unit working for a fixed time before automatically going off.
Even with the use of the air purifiers, we recommend where possible that you open the windows and draw the curtains to let fresh air in at least once a day for a couple of hours. Stale and trapped air can  can all live and thrive indoors, sometimes at levels more than 100 times higher than outdoors.
Whichever one you choose, just know that these purifiers will keep you breathing in clean, fresh and healthier air.
Top 5 Best Desktop or Table Top Personal Air Purifiers
Get your very own personal air purifier for use in the office, small spaces or small room to help you breathe easy knowing that the air around you is clean. These are designed for small to medium sized room and are light enough to be lifted and placed on a desk. Some have really small, compact and flat for those with limited space.
---
From Pure Enrichment comes PureZone 3-in-1 HEPA air purifier. The unit is designed to totally sanitise the air around it with three different filters. There is the True HEPA 3 stage filter that helps eliminate 99.97% of air pollutant. The three stage filter consists of a pre-filter to remove particles, activated carbon filter to remove odours and HEPA filter for deeper clean. Together the 3 stage filter is capable of removing particles as small as 0.3 microns.
On top of that, there is the UV-C light that kills dangerous micro-organisms. Measuring only 12.1-inch high, 10.8-inch wide and 6.9-inch deep the unit is no bigger than your medium sized tower computer. Yet it is capable of CADR rating of 80 cfm, operate in near silent mode with noise level as low as 30dB (in low fan setting) and has a cleaning capacity of up to 200 sq ft.
Useful features include automatic shut down timer, filter change reminder and variable speed settings.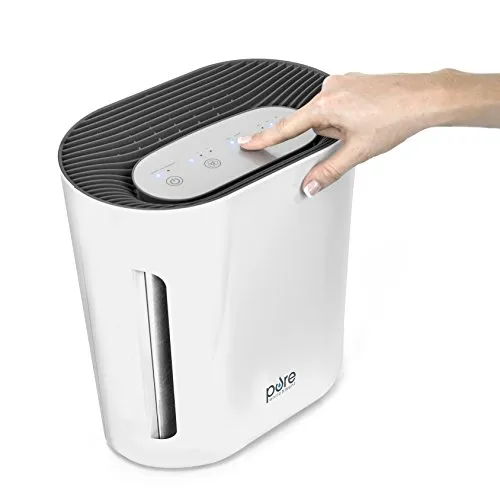 Key Features:
3 Speeds; low, medium or high setting
2, 4 and 8 hour timer
CADR: 80 cfm
Noise level 30dB (low), 40dB (medium) and 50dB (high)
UV-C Air Sanitizer: Wavelength: 254nm | Lamp life: Approx. 20,000 hours
Dimensions: 10.8" L x 6.9" W x 12.1" H
---
This air purifier looks like an old cash register but smaller. The unit comes with True HEPA filter that captures of 99.97% of microscopic allergens. It will filter out particles down to 0.3 microns. The Honeywell air purifier is said to be 35% quieter than previous version and comes complete with SurroundSeal Technology to minimise air leakage.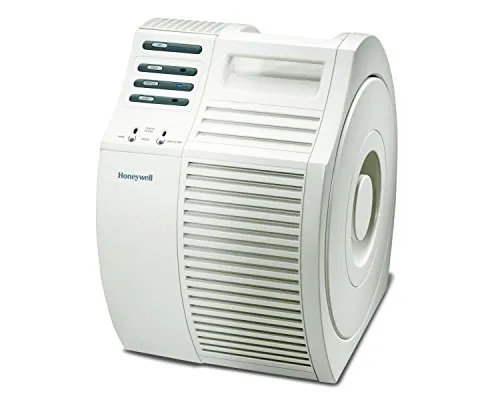 Key Features:
Clean air capacity 200 sq ft

3 cleaning levels. Tobacco Smoke: 130. Dust: 130. Pollen: 130

Dimensions: 15.8 x 13.1 x 17.1 inches
---
This very small personal air purifier takes up the least amount of space. It goes on the desk to clean the air you breathe. The HEPA filter takes out 99% of air pollutants including dust, smoke, pollen, odour, spores, mould and pet dander. It will filter out small particles as small as 2-micron. With three speed settings, the unit can be placed standing up or flat and can be fitted with optional air ioniser.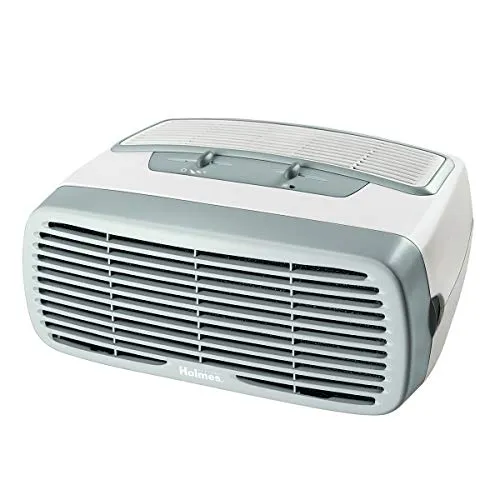 Key Features:
3 Speeds setting
Cleaning capacity: up to 109 square feet or 10′ x 11′
Optional Ionizer, HAP242-NUC
Smoke: CADR 70
Dimensions: 14.8 x 11.4 x 7.2 inches
---
The GermGuardian's Desktop Air Purifier looks more like a speaker with an easy access power switch and dial on the front grill. The unit comes with a 3-in-1 HEPA filter to capture dust mites, pollen, pet dander and other allergy triggers.
It comes with a built-in UV-C light with Titanium Dioxide to kill airborne germs and a pre-filter with activated carbon neutralise odours typically created from cooking, pets and smoke. A new and slightly bigger tower from GermGuardian with the same design measuring 22-inch tall vs 10.4-inch is also available for a higher CADR rating of over 101. The controls for this taller tower is located on the top.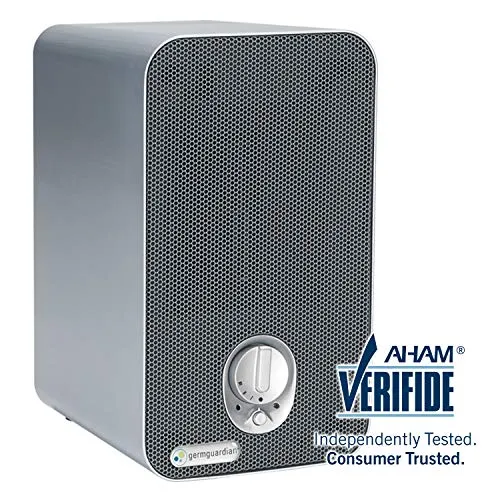 Key Features:
UV Sanitizer
Filter replacement reminder
On/Off UV-C control
3 speed setting
Odor Reduction
11-Inch Table Top Tower
Dimensions: 7.5 x 6.4 x 10.4 inches
---
There is small desktop air purifier adopts a cylindrical design with the fan blowing upward. It measures 8.5-inch in diameter and only 14.5-inch tall, small enough to sit on the desk or the side table. It has a True HEPA filter to take out Pet Dander, Smoke, Odours and Dust Particle.
With three speed settings, you can decide how fast or slow the unit works. Lower speed equals quieter operation with noise level at just 25dB at low mode. If used at night, set the dual lighting mode to ambience or off for comfort.
What is doesn't have is UV-C light treatment nor does it come with built-in air ioniser.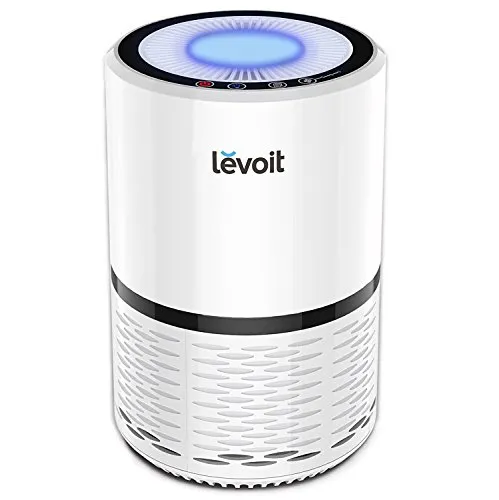 Key Features:
Compact Design
3 speed settings
Change Filter Reminder
3 Stage HEPA filter
Dimensions: 8.5 x 8.5 x 14.5 inches
---
BONUS:
The updated GermGuardian AC4300 PET is a successor to the best selling GermGuardian AC4825. Both unit measures 22-inch tall. The new AC4300 spots a minimalist design with a rectangular instead of cylindrical shape. The unit features 3-in-1 True HEPA Filter with Pet Pure Treatment, a full room air purifier for allergies and pets.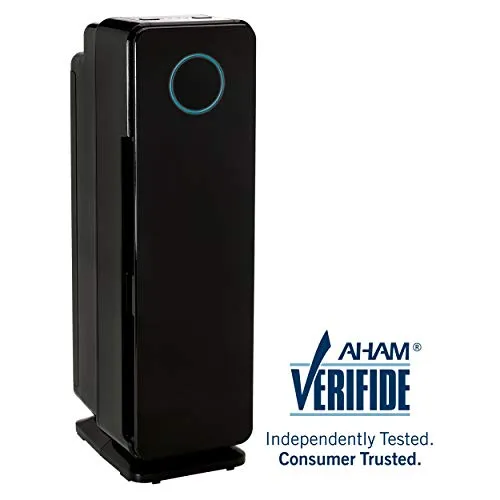 Key Features:
UVC Sanitizer
22-inch tall tower
3 speed settings
Cleaning capacity up to 153 Sq Ft
CADR Dust (107), Pollen (116) and Smoke (99)
Dimensions: 8.9 x 5.4 x 22 inches
---