Don't have the space for a full 5.1 surround sound system or a bulky subwoofer, but still want the best sound from your flat screen TV? While soundbars are usually a good addition, they are not particularly good at producing low range sound and therefore are usually paired with a sub woofer. Why not try a sound plinths instead?
Sound Plinths, Sound Base, Sound Plate, Sound Stand, Speaker Board whatever you call them, these sound system are built into a rectangular base or a low profile pedestal for the flat panel TV.
With speakers to produce the full range of sound built-in including sub-woofer, they are designed to be flat, no higher than 5cm and sits between your TV and the TV cabinet so it doesn't raise the height of the TV too much.
As you have guessed by now, it is particularly suited for unmounted flat panel TVs.Reasons for a Sound Plinth
Simple: one box, all-in-one sound system
Quick Installation: some models come with one optical cable solution
No clutter: no separate left and right speakers and subwoofer
No cables: to deal with especially when there are
Space Saving: doesn't take up any more space, stay seated between the TV and TV cabinet
Bluetooth: for wireless Music Streaming from mobile devices or compatible TVs
Versatile: most offers one or more channels plus subwoofer; Front, Center, Surround and Bass Reflex
Big on Sound: don't be fooled by its size, it won't match up to a full size entertainment systems but still packs a good enough punch
Cheaper: certainly cheaper when compared to most multi speaker or soundbar and subwoofer systems
Digital Amplifiers and Digital Signal Processing: advanced technology for handling music and movie sound tracks offering surrounds and sound modes
A Quick Look
Here is a quick rundown of our list:
Other(s):
A Closer Look
And now for a comparitive look at the systems: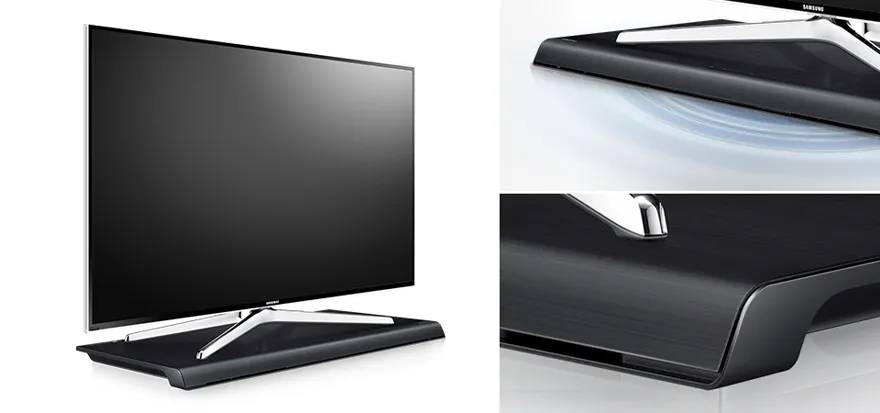 A super compact sound system mesuring only 35mm in height, the Samsung Sound Stand with its powerful built-in subwoofer provides clearer and better sound with surround effects. With Bluetooth compatibility, you can use your smartphone to turn on the speaker with a Samsung app. With a compatible TV with TV SoundConnect (from all Samsung 3D TVs from 2013), you can also pair the sound system with the TV and enjoy superior sound without cables and trailing wires. HDMI connectivity is also available to turn on and control the volume of the speaker with the TV remote.
Power: 80W 4.2 Channels with build in Subwoofer supports Dolby Digital, DTS, Surround Sound Expansion, 4 x DSP (Sound Modes)
Connections: Bluetooth, NFC, TV SoundConnect, Anynet+ (HDMI-CEC), 1 x HDMI Input/Output, 1 x Audio Input, ARC (Audio Return Channel), USB Host 2.0, app supported
Suitable for TV Sizes from 55″ to 60″
Dimensions and Weight: 735 x 36.5 x 360 mm (W x H x D), 5.0 kg – SLIM

Capable of holding up to 27kg, the Denon DHT-T110 will support screens up to 50″. The sound system also supports Dynamic Bass Technology to produce powerful low frequency sound without needing a separate sub woofer with separate drivers for two way stereo for both tweeters and subwoofers.. The Bluetooth connectivity lets you stream high quality music over the air from your tablet, smartphone or any Bluetooth equipped laptop or desktop.
Power: 20 x 2 Watts RMS supports Dolby Digital Decoding, 3 x Listening Modes (Music, Movie and Dialogue) with Virtual Surround Sound and Night Mode (for high fidelity sound at night without disturbing other members of the family)
Connections: AptX Bluetooth for streaming CD quality music from a smartphone, Digital audio inputs, 3.5mm auxiliary input, optical input,
Suitable for TV Sizes up to 50″
Dimensions and Weight: 71 x 608 x 355 mm (H x W x D), 4.3 kg

From the people who pioneered soundbars, here is a sound base that again sets the standards for incredibly powerful sound from the high to low range. Yamaha uses what they call Digital Sound Projector technology to bounce sound off the wall creating a virtual surround sound. A combination of speakers from tweeters to woofers and subwoofers covers the entire sound range and if that is not enough, there is a subwoofer output terminal should you feel the need for even more bass.
Power: 5.1 channel, 136 Watt (2W x 8 beam drivers + 60W (30W x 2) woofer + 60W (30W x 2) subwoofer – Dual built-in subwoofers with bass reflex ports supports Digital Sound Projector for surround sound, 4 x DSP (Movie, Music, Sports, Game), Dolby Digital, DTS.
Suitable for TV Sizes up to 55″
Connections: AptX Bluetooth for wireless music streaming and Home Theater Controller app remote, Subwoofer output terminal for expansion.
Dimensions and Weight: 780 x 77 x 370 mm (W x H x D), 8.8 kg

No list will be complete without a Sony. The Sony HT-XT1 is a 2.1 channel sound base with built-in subwoofer. The dual downward firing drivers and bass reflex has the lower range covered. The two front facing drivers uses Sony's unique S-Force PRO Front Surround technology to deliver virtual surround sound and together with the rumbling bass tones gives you an immersive sound experience.  Support for NFC meant ease of pairing with NFC enabled smartphones or tablets to connect via Bluetooth and start streaming.
Power: 170 Watt total output 2.1 Channels with supports for Dolby Digital, Dolby TrueHD,  DTS HD Master Audio, Bass and Treble control and night mode. Sony uses
Connections: Wireless music streaming with NFC and Bluetooth, 3x HDMI input, 1x HDMI output, Optical Audio Input, Analog Audio Input,
Dimensions and Weight: 720 x 72 x 310mm; 9 kg

Available in Black or Silver, the Panasonic SC-HTE80 provides the balance in price, performance and features. It's 4 speakers system produces a powerful dynamic sound and together with its dual Aero Stream Ports it tunes the sound and channel it to fill the room. A notable feature is the auto gain control that kicks in every time your TV show is interrupted with adverts, to automatically adjusts the volume to stop those sudden peaks.
Power: 120 Watt total output from 2 x subwoofers (2 x 30W), 2 x front/centre drivers (2 x 30W) and 2 x Aero Stream Port with Dolby Digital, Dolby Pro Logic II, DTS and 6 sound modes (Standard, Stadium, Music, Cinema, News and Stereo)
Connections: NFC for one touch wireless connection, Bluetooth, HDMI, ARC, digital optical audio (SPDIF), analogue RCA audio
Maximum loading weight: 30 kg (irrespective of size)
Dimensions and Weight: 460 x 60 x 280 mm, 3.2 kg

The Orbitsound SB60LX sound system is built into a high density resin covered wooden cabinet for a beautiful finish. The downward firing subwoofers provides a smooth and deep bass while the side firing airSOUND speakers and 2 high definition center drivers cover the surround and front channels. While it is mighty powerful, the system lacks in connectivity options.
Power: 200 Watt total output from 5 speakers powered by airSOUND Technology, 4.1 channels (2 front/center, 2 spatial, 1 subwoofer)
Connections: 2 analogue AUX inputs and digital optical connectivity with cables included.
Supports flat or curved TV from 32″ to 55″
Dimensions and Weight: 60 x 33 x 8 cm (WxDxH), 9 kg – SLIM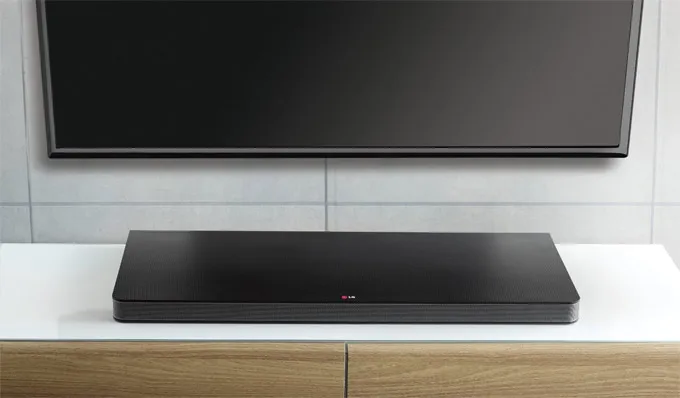 LG has got the design of the LAP340 sound plate right with its 4.1 channel speakers; a pair of built-in downward firing subwoofers with Aero duct for increased bass performance mated with four neodymium speakers for front and surround in an impressively slim 35 mm high package. The system works with LG TVs to support automatic on and off via Bluetooth. If you haven't got an LG TV, it still supports automatic power on and off via Optical cable.
Power: 120 Watt total output from 4.1 channels; 2 x front drivers (20W x 2) and 2 x surround drivers (20W x 2) and 2 x sub-woofers (20W x 2) that supports Dolby Digital, DTS 2.0, LPCM and Natural EQ sound mode
Connections: Bluetooth for SoundSync cabless operation and music streaming from Bluetooth enabled devices, Optical cable
Fits most TV sizes from 32" to 55"
Dimensions and Weight: 700 X 35 X 320 mm, 3.6 kg – SLIM

One of two Maxell on our list, the MXSP-SB3000 Digital Soundbar is a 2.1 channel sound system with a 100W subwoofer built-in. It is also great on connectivity with 3 HDMI input connections, 1 optiocal, 1 coaxial with 1 HDMI output that supports ARC. There are 5 sound modes or Equaliser settings and it supports SRS WOW HD 3D processing. Apart from cables, it also supports Bluetooth 4.0 for music streaming from mobile devices.
Power: 160 Watt total ouput, 2 x 30W front speakers and 100W subwoofer, 2.1 channels with support for SRS WOW HD 3D audio technology. Listening modes; Cinema, Speech, Music, Sport, Standard.
Connections 5 x Digital connections ( 3 x HDMI, 1 x optical, 1 x coaxial) and 2 x analogue connections ( 1 x RCA, 1 x 3.5mm Aux in), 1 x HDMI output (ARC enabled) and AptX Bluetooth 4.0 for music streaming.
Suitable for TV up to 80 kg
Dimensions and Weight: 82 x 939 x 390 mm, 8kg

The Minx TV is one of three Speaker Base systems from Cambridge Audio, the other two; the Cambridge Audio TV2 and TV5 supports even bigger TVs. The smallest of the three, the Minx TV has a Balance Mode Radiator (BMR) drivers system, a 6.5-inch subwoofer and supports Bluetooth streaming. It supports one button pairing and remembers up to 8 audio devices. The speaker housing is built from composite wood with acoustic damping to minimise vibration and distortion and designed to take up to 30kg weight.
Power: DSP and adjustable EQ modes
Connections: Digital optical link, RCA link level, 3.5mm headphone jack, Bluetooth wireless
Suitable for TVs up to 47″ or 30kg
Included: Remote controller
Dimensions and Weight: 560 x 120 x 300mm, 5.2kg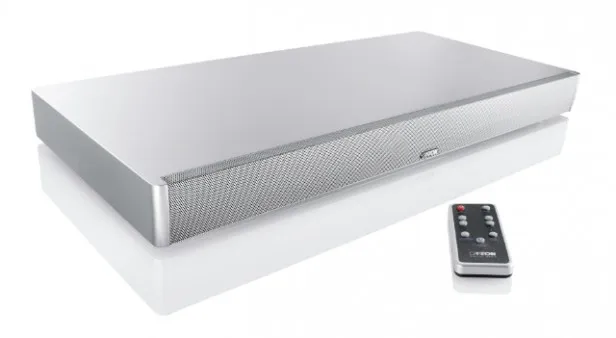 Award winning sound base for large TV, the Canton DM75 is the bigger version of the DM50 with downward firing bass drivers. Being big meant the size won't work for smaller screens but there is always the DM50. Second to only the Yamaha SRT1000, the Canton DM75 is not cheap. But you do get what you paid for with German engineering and quality in a solid unit that houses a pair of soft dome tweeters, a pair of midrange speakers and four dedicated subwoofer units. It supports three preset EQ modes (Sound Modes) and Bluetooth Music streaming. If there is not enough there is a subwoofer output that lets you connect an active subwoofer.
Power: 200w total output 2.1 channel with virtual surround, base and treble control, Dolby Digital decoder, DTS TruSurround, LipSync function and stereo playback.
Connections: 1 x analogue (input), 1 x Bluetooth 4.0 with Apt-X codec, 1 x digital coaxial input, 1 x digital optical input, 1 subwoofer output.
Included: Remote controller
Dimensions and Weight: 72.5 x 6.95 x 32.0 cm, 7.75kg
Available in Matt Black, Matt Silver or Matt White

The bigger of the two pedestal speaker offerings from Bose, the Bose Solo 15 uses a singular connection for simplicity, offers an adjustable bass knob hidden away at the rear of the unit and a universal remote.
Suitable for TVs from 46″ to 50″
Connection: SPDIF digital optical input, Coaxial digital input, R-L audio input (analog)
Included: Universal remote
Dimensions and Weight:  7.60 cm (H) x 62.80 cm (W) x 35.60 cm (D), 6.35 kg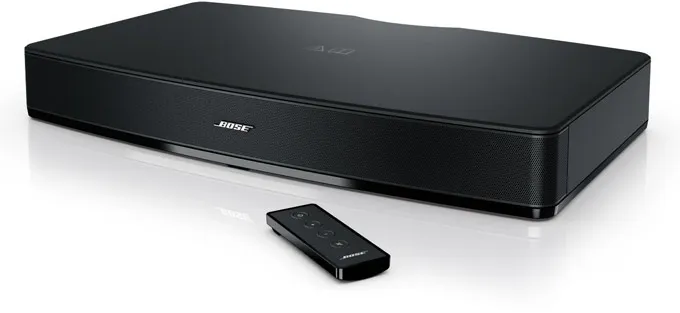 The smaller and therefore cheaper pedestal speaker from Bose, the Bose Solo comes with a simple four button remote, a single connection for simplicity and Bose's quality sound. With Bose's proprietary digital signal processing and advanced speaker array, the system has the whole range of sounds covered and the sound level is optimised and adjusted at any volume level.
Suitable for TVs up to 37″ or 81 cm to 106 cm
Connections: SPDIF digital optical input, Coaxial digital input, R-L audio input (analog)
Included: 4 button remote
Dimensions and Weight:  7.00 cm (H) x 52.50 cm (W) x 30.90 cm (D), 4.6 kg

The smaller of the two Maxell soundbase, this is also the cheapest on our list. An updated version of the MXSB-250, here is a compact sound plinth that also has all the connectivity of the bigger Maxell MXSP-SB3000 but without the Bluetooth connectivity
Power: 70W total output, 4 x 10W front speakers, 1 x 30W subwoofer
Connections:  4 x digital inputs (3 x HDMI, 1 x Optical), 2 x analogue inputs (1 x RCA, 1 x 3.5mm Aux), 1 x HDMI output
Suitable for TVs up to 50kg
Dimensions and Weight: 54 x 720 x 340 mm, 3.4kg
Our Line-up
Here is a quick look at our line-up again, for the latest pricing please click on the links below. For the most up to date prices, please click on the links below:
Other(s)