Later this year we will see the launch of the next generation Sonos flagship speaker, the Sonos PLAY:5. Judging from the specifications, the speaker still lacks Bluetooth connectivity that some of us yearn to connect the speaker to smartphones and tablets.
The lack of Bluetooth connectivity plagues the Sonos family with many in the discussion boards and community venting their frustration at the company for choosing to leave something as common as Bluetooth and AirPlay compatibility out of their speakers.
Being able to connect via Bluetooth allows the sound system to be used for games and apps such as YouTube. Companies like Samsung, Bose, LG and Naim include Bluetooth support as standard.
Sonos is able to wirelessly play your iTunes® music, direct from your iPhone®, iPad® or iPod touch®, to any room in your home via the Controller app but having Bluetooth connectivity does go beyond that.
So if you have a considerable investment in a Sonos multi-room system already and not looking to 'rip' it up and start again, here are a couple of options for you to add Bluetooth connectivity to the system.
Apple AirPlay 2 and Sonos Move / Roam / Era 100 & Era 300
You can now Apple AirPlay 2 from your iOS devices e.g. iPad or iPhone including YouTube video and Netflix movies directly to Sonos speakers. Update your speakers via the Sonos app and you will instantly have support for AirPlay 2 on your Sonos.
Also, Sonos has finally released new generation speakers with Bluetooth connectivity. You can now get Sonos Move or the smaller Sonos Roam, portable and durable battery powered wireless speakers for indoor and outdoor use. New, bigger planted (non-portable) versions, Era 100 and Era 300 are also available. While they support WiFi and Apple AirPlay 2, they also supports Bluetooth.
This does not mean that it can share your Bluetooth source with the entire network of speakers. Bluetooth support is local to Sonos Move or Sonos Roam. This still leaves all the other Sonos speaker and system with no inherent support for Bluetooth.
More about new generation Sonos speakers with Bluetooth connectivity at the bottom of this article.
How to Add Bluetooth Connectivity to Sonos
So how does one add Bluetooth support to their network of speakers, stream from one Bluetooth source to all (in party mode) or select speakers in the house? Here are your options.
OPTION 1: Use the Auxiliary Input (only on PLAY:5 or Sonos Five) and a Bluetooth receiver
The PLAY:5 (both first and second generation) or Sonos Five (third generation) has an auto-detecting 3.5 mm audio line-in connection. This can be used to connect a Bluetooth receiver that outputs analogue sound to the speaker. These receivers are relatively cheap to buy and easy to set up. Some come with rechargeable batteries, other require a power supply from a USB port or wall power adapter.
Once connected and paired with the smartphone or tablet, start you app and listen to the sound on the speaker. You can control the volume both from the mobile device and Controller app. We have taken to list these relatively cheap Bluetooth to Audio receivers below to make it easier for you.
You can then select Line-in as the source from the Controller app and choose to listen to it on PLAY:5, other PLAYER (speaker) or group of PLAYERs (speakers) for this source.
Now, instead of a standard Bluetooth Receiver, consider a smart, connected device such as the Amazon Echo Dot or the Google Home Mini, both offering Bluetooth streaming from mobile device and WiFi connectivity for direct Internet streaming. More on this later.
OPTION 2: Get Sonos CONNECT and a Bluetooth receiver
If you do not have a Sonos PLAY:5 or the PLAY:5 is not in the best place or room to connect to the smartphone or tablet then Sonos CONNECT and a Bluetooth receiver is your answer.
Using the analog audio input on the CONNECT, connect to the Bluetooth receiver's audio output. This acts as an external audio source. Pair your smartphone or tablet to the receiver using Bluetooth and play your music or audio on any or all Sonos players in your multi speaker system.
CONNECT lets you choose which PLAYER or group of PLAYERs to use. This can be Sonos PLAY:1, PLAY:3, PLAY:5, Sonos One and other Sonos speakers for TV such as the Beam, Playbase, Playbar and Sub.
Again, instead of a standard Bluetooth Receiver, consider a smart, connected device such as the Amazon Echo Dot or the Google Home Mini both offering Bluetooth streaming from mobile devices and WiFi connectivity for direct Internet streaming. See bottom of the post for more information.
Bluetooth Receivers with Analogue Output
The limitation of course is that the auxiliary or line-in connection is only present in the PLAY:5. Owners of PLAY:3 and PLAY:1 cannot apply OPTION1 and will need OPTION2. In any case, you would need one of the following Bluetooth receivers. Use the links below to access the individual product pages on Amazon.
The most complete Bluetooth Receiver in terms of connectivity options, the 1Mii B06 Plus has both RCA and 3.5mmstereo jack output. It also comes with onboard sound processor to add 3D sound effect with a dedicated button on the controls. Switching 3D surround sound on changes the LED power indicator from blue to green.
But, what is really important is it supports Bluetooth 4.2 for high fidelity transmission with aptX and aptX low latency. A power adapter is included and upon connection the receiver will turn on and automatically connect to the previously pair device saving you time. For controls there is a dedicated power switch and a big pause play button in the middle of the unit.
Finally, Dual Bluetooth connectivity feature allows for pairing of up to two Bluetooth devices simultaneously and to switch between them.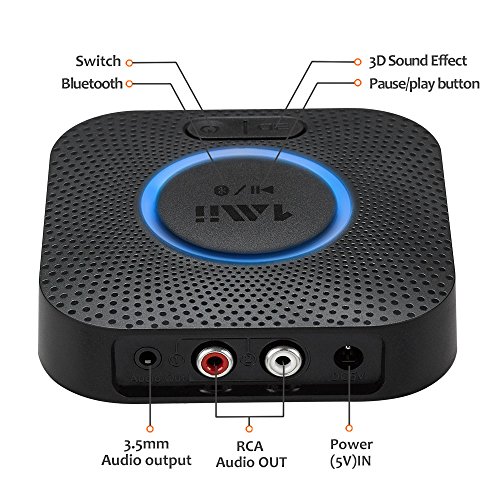 Range: 164ft (50m) line-of-sight in open air and up to 50-70ft (20-30m) indoor
---
The Logitech Bluetooth Audio Receiver adds wireless connectivity to home stereo systems that do not support Bluetooth. it is easy to setup and will automatically reconnect to your devices when in range. It even supports Multipoint Bluetooth allowing for pairing of up to 2 Bluetooth source so you can switch between devices to stream audio wirelessly.
Pairing is super easy, simply press the Bluetooth pairing button, search and connect to the device on your phone initially. Once connected, the device will automatically reconnect when in range. It comes with both RCA and 3.5mm stereo output, perfect for powered speakers or full size AV receiver and Amplifier. A powere adapter is supplied with the receiver.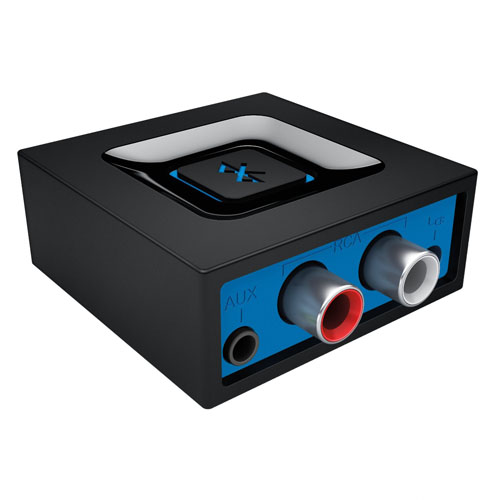 Technology: Bluetooth 3.0 A2DP technology
Distance: up to 50 feet 15 m line-of-sight range
Audio Output: RCA or 3.5mm socket, RCA to 3.5mm cable and power cable included
Power Source: Power supply included
---
On first look both esinkin and Logitech Bluetooth audio adapters look the same. The only difference is the logo. The esinkin version also supports Multipoint Bluetooth to pair up to 2 devices simultaneously and switch between them. For outputs, it also comes with both RCA and 3.5mm socket. In fact, like the Logitech offering, the RCA to 3.5mm cable, power cable and adapter are included. Even the front blue accent lighting near the bottom of the box is the same.
---
Do not mistake this for the Bose SoundTouch Wireless Link Adapter. The Bose Bluetooth Audio Adapter is a Bluetooth receiver to send audio signal to smart speaker or home stereo so you can play music from your pair device wirelessly.
On the other hand, the Bose SoundTouch Wireless Link Adapter is a transmitter that when connected to a media player (CD player, PC output) or home theater's optical, AUX or RCA output, transmits signal audio wirelessly to Bluetooth enabled speakers.
These work very differently so be sure to get the right one for your application. To add Bluetooth connectivity to a Sonos Play:5 you will need a Bluetooth receiver.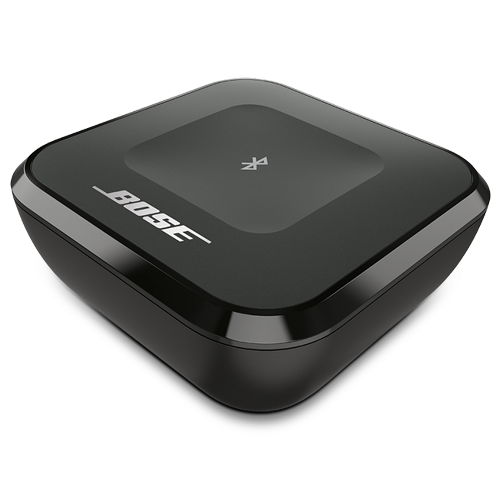 Technology: Bluetooth 4.0 technology with A2DP audio streaming and aptX® technology, which streams CD-quality audio using your aptX®-enabled device. Pair up to 8 Bluetooth devices, and switch among three at any time.
Distance: 30 feet (10 meters)
Audio Output: Optical out and 3.5mm socket (only use one at a time). Optical cable, 3.5 mm audio cable, 3.5 mm female-to-RCA cable and USB-to-USB micro-B cable for charging.
Power Source: USB charging, power adapter included
---
Use this audio receiver to stream music from your mobile device to a powered speaker or AV receiver via Bluetooth. The Harman TrueStream connectivity offers quality connection from the source device to the speaker. It is both compact and lightweight and will remember up to 8 different Bluetooth devices to easy pairing. A blue LED indicator light is used to show when it is in pairing or searching mode and when it is connected.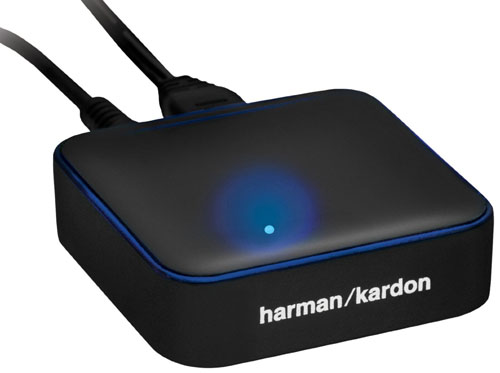 Technology: Bluetooth 2.1+ EDR with A2DP, Harman TrueStream connectivity ensures the highest-quality connection.
Distance: 10 meters line of sight
Audio Output: choice of 3.5mm or RCA phonos cables – both supplied with the unit.
Power Source: power adapter included
---
Want to remove the hassle of pairing, the TP-LINK HA100 supports NFC for quick pairing with other NFC enabled mobile devices. A separate duplicate tag is included allowing for flexibility of pairing either by tapping on the unit itself or on the tag. This is great for in-car use if you wish to conceal the receiver. The tag can be stuck on the dash or rear seat to allow passenger to quicky pair their device.
The unit also supports up to 20 meters range or 66 feet double that of standard receivers. But that is not all, with a CSR chip onboard, it supports Bluetooth 4.1 and A2DP v1.2 technology for top quality wireless music performance. While it only comes with a 3.5mm output a cable adapter is included to connect to a device with RCA input. Also, it can be charged using a standard USB charger or via the included power adapter.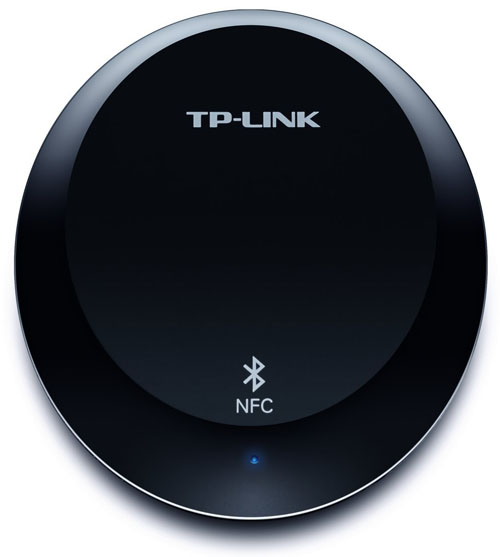 Technology: Bluetooth 4.1, compatible with all A2DP stereo Bluetooth devices with NFC – NFC
Distance: Transmits up to 20 meters (66 feet) away, within direct line of sight – BETTER DISTANCE
Audio Output: Connects to any stereo supporting 3.5mm or RCA jacks, 3.5mm to 3.5mm cable, 3.5mm to RCA cable, USB cable included.
Power Source: power adapter included
---
Finally, we have a Bluetooth Audio Receiver which is also NFC-enabled from HomeSpot. Like the TP-Link offering, you can quickly tap and pair as well as tap to connect to the receiver quickly from an NFC enabled phone. For wireless connectivity, it supports Bluetooth 4.0 (A2DP profile) and can remember up to 8 last paired devices.
The unit comes with a single 3.5mm output but a 3.5mm to 3.5mm and a 3.5mm to RCA cable adapters are included. For power, use the USB cable to connect to an in car USB charging port or to the supplied adapter. And, like the TP-Link unit, it has a line of sight receiving range of up to 66 feet.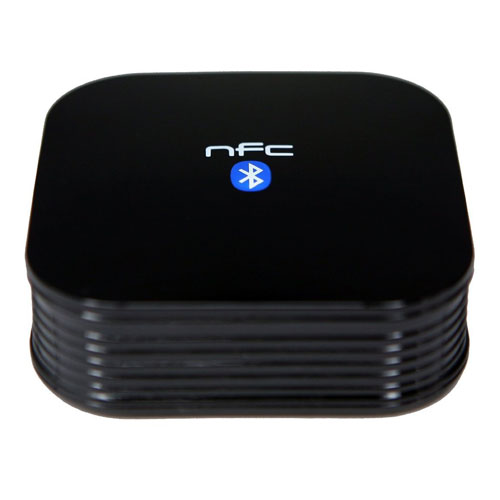 Technology:Bluetooth 4.0 supports auto-reconnect function; (connects automatically to the last paired device during power up); with NFC for tap and pair and tap and connect support. – NFC
Distance: Transmit up to 20m – line of sight – BETTER DISTANCE
Audio Output: 3.5mm headphone socket, Aux-to-RCA audio cable, 3.5mm – 3.5mm Aux-out audio cable
Power Source: USB charging cable with power adapter included
---
Next, we look at in-car bluetooth receivers with built-in battery. The receivers above are of the desktop variety and require separate power adapters to work. The following Bluetooth receivers however are more compact and come with its own rechargeable battery. This offers the flexibility of not only using it at home but in the car or on the go. The latter is as a Bluetooth receiver for wired headphones.
Smart Music Streaming Choices
Here we look at the Amazon Echo Dot and the Google Chromecast Audio or Google Home Mini; both offering Bluetooth streaming from mobile device and WiFi connectivity for direct Internet streaming with analogue output to hook up to either the Sonos PLAY:5 or the Sonos CONNECT.
The baby version of Amazon's popular voice activated smart speaker is now in its 4th iteration. It can connect to devices using your home WiFi or Bluetooth. The Echo Dot allows you hands-free convenience as it can hear you from across the room. Even when the environment is noisy, the seven microphones and beam-forming technology lets it pick up on your voice using the far-field voice recognition. Use this to access Alexa Voice services and stream music from your favourite service. Add Sonos skills and you can simply ask Alexa to play to your Sonos speakers.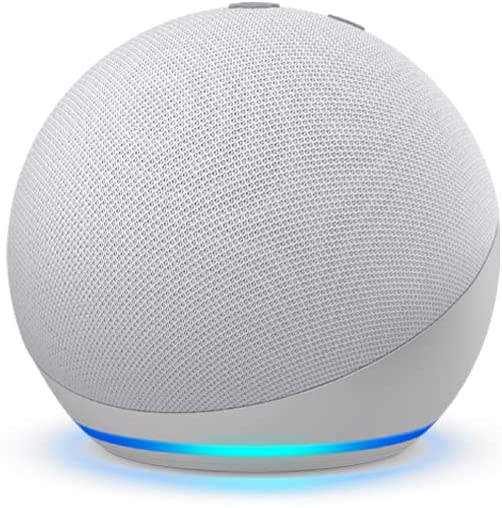 Amazon Echo Dot features a built-in speaker. You can also connect to your own speakers or headphones over Bluetooth or through a 3.5 mm audio cable to deliver stereo sound to the Sonos PLAY:5 or Sonos CONNECT (and in turn to any Sonos speakers).
The Google Home Mini is now Google Nest Mini. It is a smart speaker with Google Assistant built in. Use voice to play music, listen to audiobooks, or stream shows, movies and more to your TV with Chromecast. It does not have a physical audio output like the Amazon Echo Dot but it can connect to other Bluetooth speakers. Pairing a Bluetooth speaker with Google Home Mini boosts the volume and sound quality compared to what you get from the onboard speaker.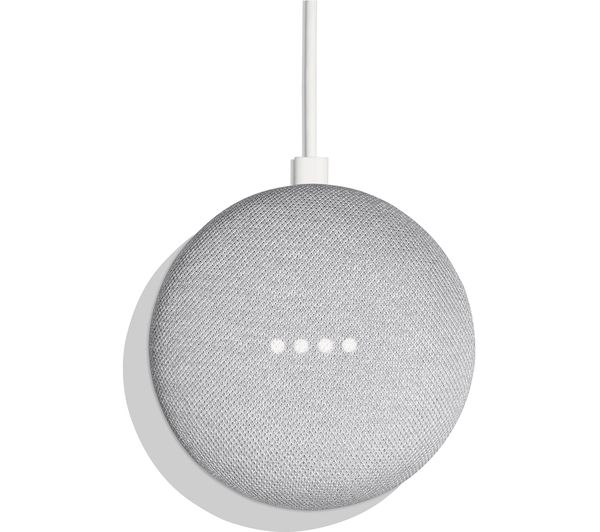 ---
Other Multi-room Speakers with Bluetooth and WiFi
If you are new to the whole multi-room music system and really can not do without Bluetooth connectivity then consider one of the multi-room speaker systems that also support Bluetooth.
1. Bose Smart Speaker 500
The Bose Smart Speaker 500 is a testament to Bose's commitment to merging superior sound quality with smart technology. This compact speaker packs a punch with its wall-to-wall stereo sound from a single unit, thanks to Bose's proprietary audio technology. It stands out with an impressive, spacious soundstage that belies its relatively small size, making it an excellent choice for filling a room with rich, detailed sound.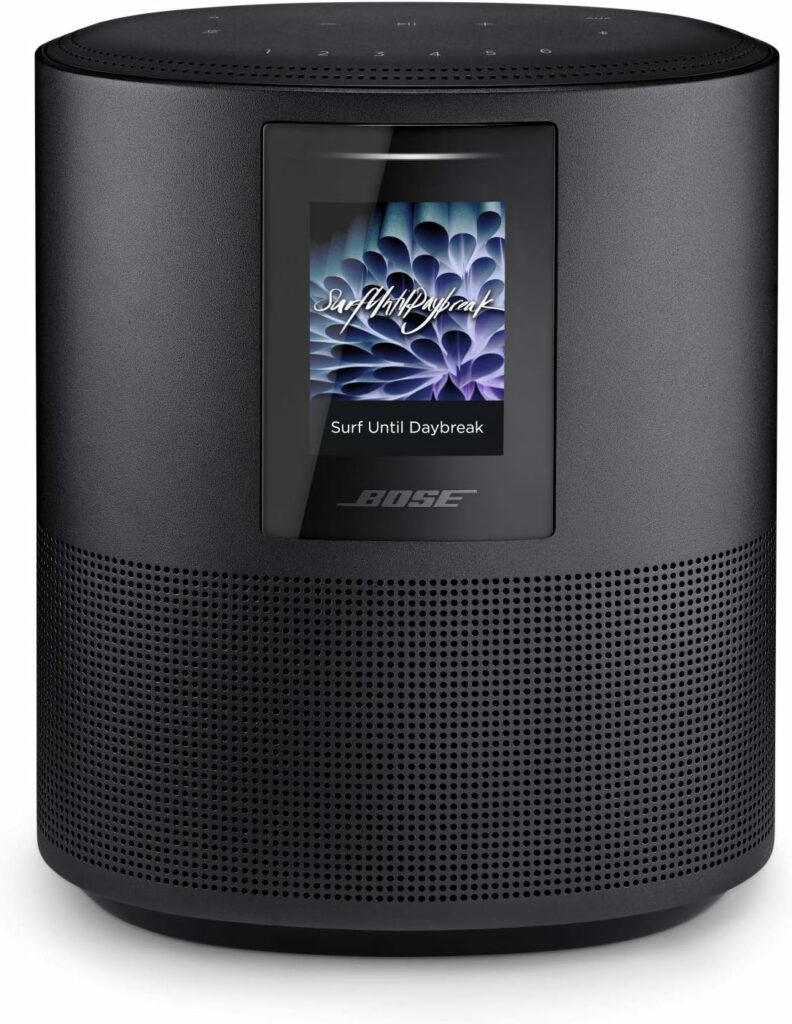 The Smart Speaker 500 also boasts built-in voice control from Alexa and Google Assistant, allowing for hands-free operation and seamless integration into your smart home ecosystem. Additionally, it features WiFi and Bluetooth connectivity, offering flexibility in streaming music from various sources, including popular music services over a home network or directly from a phone or tablet.
The speaker's sleek design, characterised by an aluminium finish and a small footprint, ensures it fits elegantly into any home decor. For those seeking a blend of premium sound, smart features, and aesthetic appeal, the Bose Smart Speaker 500 is a compelling choice.
2. Marshall Stanmore III
For those who love a classic design, the Marshall Stanmore III is a perfect blend of vintage aesthetics and modern technology. This speaker offers excellent sound quality with even wider soundstage than its predecessor, Bluetooth functionality, and WiFi connectivity.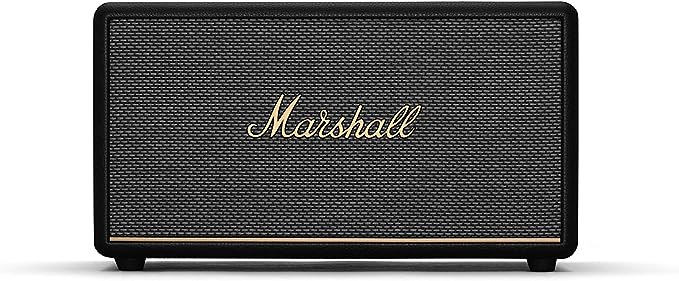 For voice control, pick the smaller Marshall Uxbridge Voice with voice control capabilities through Alexa or Google Assistant. It can easily integrate with other Marshall multi-room speakers, creating a unified audio experience throughout the home. Use the Marshall Multi-room App to set up the single or multi-room wireless system.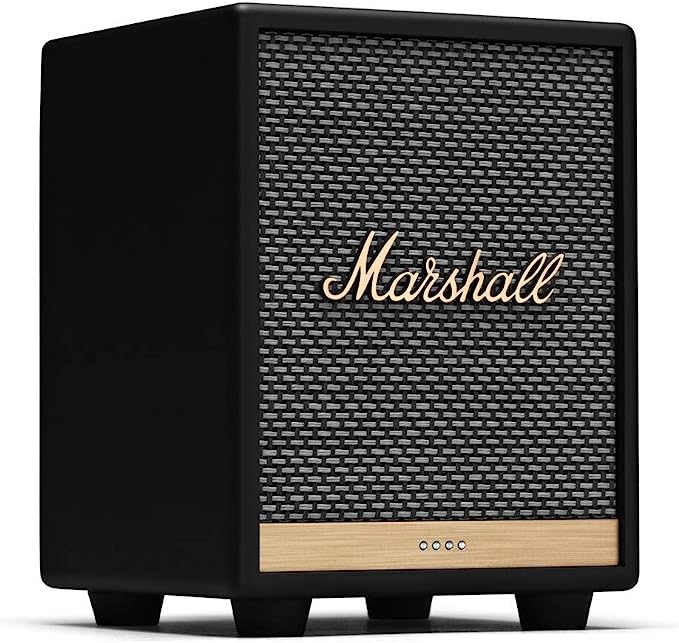 3. Yamaha MusicCast 50
Yamaha MusicCast 50 is a versatile, powerful multi-room speaker that supports both WiFi and Bluetooth. It stands out with its ability to be part of Yamaha's MusicCast system, allowing for a flexible and extensive multi-room setup. Additionally, it supports AirPlay 2, making it a great choice for Apple users. Smaller MusicCast 20 and subwoofer, MusicCast SUB 100 are also available to expand your multi-room network.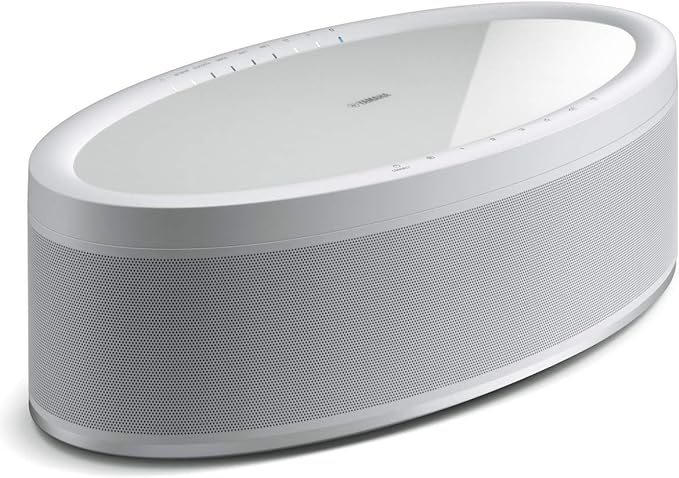 4. Denon Home 350 Wireless Speaker
The Denon Home 350 Wireless Speaker is a standout offering in the realm of high-end home audio systems, designed for audiophiles who demand exceptional sound quality. This substantial speaker delivers a powerful audio performance with deep, rich bass and crystal-clear highs, thanks to its expertly engineered six-driver array.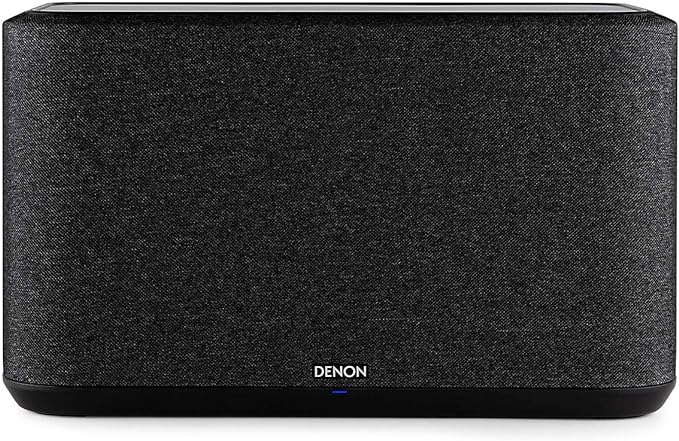 It's a true behemoth in the wireless speaker market, capable of filling even large rooms with its expansive and immersive sound. The Home 350 supports both WiFi and Bluetooth connectivity, allowing for versatile streaming options from various music services, and it integrates seamlessly into Denon's HEOS multi-room audio system.
Furthermore, the Denon Home 350 is equipped with built-in Alexa, providing convenient voice control and integration into a smart home setup. For those seeking a robust and high-fidelity audio experience, the Denon Home 350 together with smaller 250 and 150 Wireless Speakers are formidable choices.
5. Bang & Olufsen Beoplay A9
For those who prioritise design as much as sound, the floor standing Bang & Olufsen Beoplay A9 is a statement piece. This stunning speaker offers room-filling sound, WiFi and Bluetooth connectivity, and multi-room audio support through B&O's BeoLink Multiroom system. It also integrates beautifully into any home decor. You will have to pay a premium for both the sound quality, design and ability to full any room with built-in Active Room Compensation with its 7 drivers and 480 watt digital amplifier system. For connectivity, it supports everything from Bluetooth, WiFi, AirPlay 2 and even Chromecast.
New Generation Sonos Speakers with Bluetooth Connectivity
1. Sonos Era 300
The Sonos Era 300, as part of Sonos's esteemed lineup of audio products, stands out as a remarkable innovation in the world of wireless multi-room speakers. Designed with a keen focus on delivering immersive audio, the Era 300 is particularly notable for its spatial audio capabilities, which provide a rich, room-filling sound experience. This speaker harnesses advanced acoustic technology to project sound both horizontally and vertically, creating an enveloping audio atmosphere that's especially noticeable when playing spatial audio tracks.
Its WiFi connectivity allows it to integrate seamlessly into a Sonos multi-room setup, while Bluetooth compatibility ensures easy streaming from various devices. The Era 300, with its sleek, modern design, not only sounds exceptional but also adds a touch of elegance to any room. It's a perfect choice for audiophiles and casual listeners alike who are seeking a sophisticated and high-quality audio experience in their homes.
2. Sonos Era 100
The Sonos Era 100 is a recent addition to the Sonos family, designed to offer an immersive audio experience with the simplicity of multi-room functionality. Its WiFi capabilities enable it to integrate seamlessly with other Sonos speakers for synchronized music throughout your home. Additionally, Bluetooth support allows for direct streaming from devices, making it versatile for both in-home and on-the-go use. The Era 100, with its superior sound quality and user-friendly interface, is an excellent choice for those looking to start or expand their multi-room system.
3. Sonos Move 2- Portable Smart Speaker
Sonos Move 2 takes the multi-room experience outdoors. This battery-powered speaker is designed for portability without compromising on sound quality. With both WiFi and Bluetooth connectivity, it can be part of your home's Sonos system or function as a standalone speaker when you're away. Its durable design makes it weather-resistant, ideal for outdoor gatherings or simply enjoying music by the pool.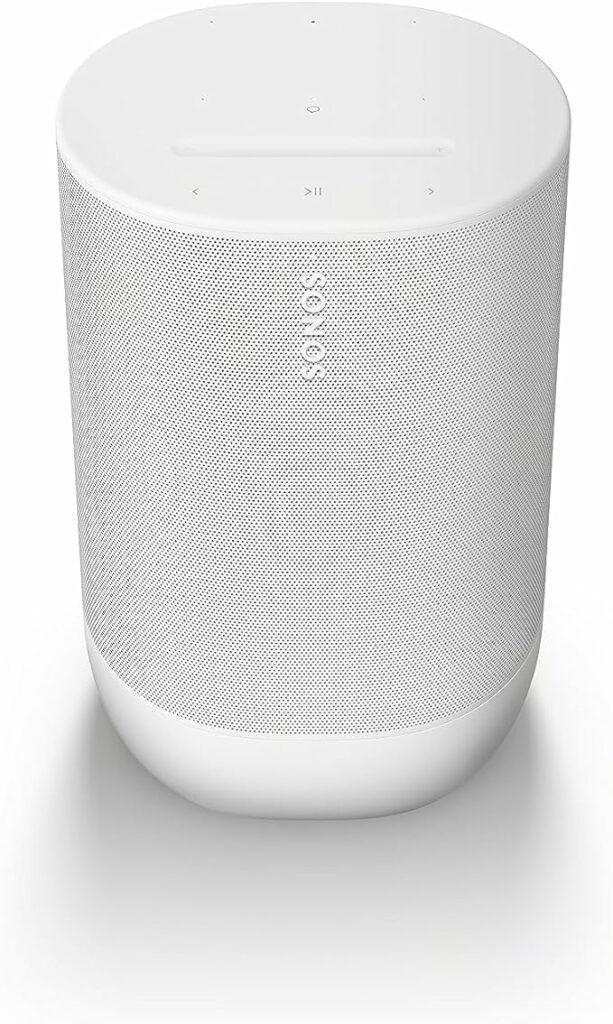 4. Sonos Roam – Ultra Portable Smart
The Sonos Roam offers the most compact and versatile option in the Sonos line-up. This small yet powerful speaker provides WiFi and Bluetooth connectivity, making it perfect for integrating into your Sonos multi-room system or taking on the go. Its rugged build and waterproof features mean it can accompany you on all sorts of adventures, ensuring you have quality sound wherever you roam.